Why Remote Team Extension for Your Business?
Essential remote team extension benefits that help your business projects grow.
Why Choose SolGuruz for the Staff Augmentation
Why Choose SolGuruz for the Staff Augmentation
Choose the Right Team for Your Project with SolGuruz!
We help you hire the best dedicated remote team for critical business projects.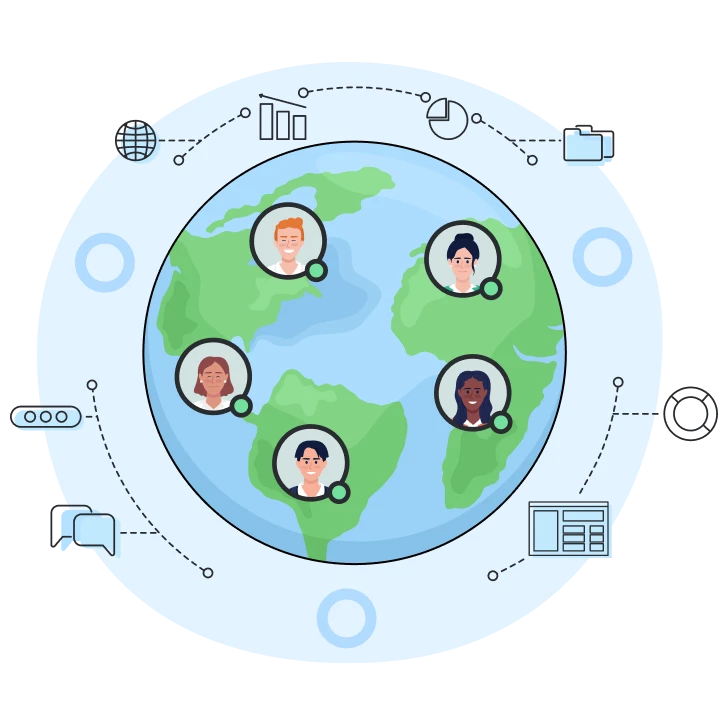 Available Team for the Staff Augmentation
Below teams are available to help you grow your business with our remote team extension services.
SolGuruz Process for Hiring Remote Team
Businesses can hire our remote team and succeed in their ongoing projects. Here is a simple yet agile process for remote team extension.

Enhance 10X Productivity by Hiring Our Remote Team
Answers to some of the questions
What is Remote Team Extension, & How Does it Work?
Remote team extension is a service that allows businesses to extend their team with remote professionals who work remotely but collaborate seamlessly. SolGuruz provides access to a pool of skilled professionals who can work with you on your projects from anywhere in the world.
What Types of Businesses Can Benefit from Remote Team Extension Services?
Any business that needs specialized skills or additional resources to complete its projects can benefit from remote team extension services. SolGuruz's services are particularly useful for businesses looking to expand operations, reduce costs, and increase efficiency.
What Types of Services Can SolGuruz's Remote Team Provide?
SolGuruz's remote team can provide various services, including software development, mobile app development, web development, Artificial Intelligence, Machine Learning, UI/UX design, CMS Development, Emerging Technologies, and more.
How Does SolGuruz Ensure the Quality of Work Delivered by the Remote Team?
SolGuruz ensures the quality of work delivered by its remote team by carefully selecting and vetting each candidate based on their skills, experience, and work history. Additionally, SolGuruz provides regular performance reviews and progress reports to ensure the work meets the desired quality and standards.
How Does SolGuruz Handle Communication & Collaboration with The Remote Team?
We use modern collaboration tools like Slack, Trello, Zoom, Bitbucket, Github, Gitlab, Clickand others to ensure seamless communication and collaboration with the remote team. This allows for real-time communication, regular updates, and prompt resolution of any issues or challenges that may arise.
What Is the Pricing Structure for SolGuruz's Remote Team Extension Services?
SolGuruz's pricing structure varies depending on the specific services and project requirements. However, we offer flexible pricing models, including hourly and fixed-price, to accommodate various business needs and budgets.