Ready to do business with us?
When it comes to current markets, music streaming is among the most profitable. The expansion of music streaming app like Spotify is rapid. It's hardly shocking that Music App Development dedicated to music streaming is trending.
Music Streaming Apps are on the rise and a fantastic resource for fans looking to broaden their listening habits. Do you want to know how to create a Music Streaming App Like Spotify?
We will provide all the information on how to create a music streaming app like Spotify. The fundamentals of creating a music streaming app will be covered in detail. It's 2023, so let's get started and change the way people listen to music.
In fact, during the year of the pandemic, streaming income increased by about 20%, as reported by the International Federation of the Phonographic Industry's Global Music Report. It has 443 million users and generates $13.4 billion annually.
Spotify is the best online music service available today. Unless you pay for a membership, you can't listen to Spotify ad-free. There's a cheaper Student Plan, a shared Family Plan, and a free option where you may watch with occasional commercial interruptions.
How can Spotify (and the artists included there) generate money? If so, many consumers stream without paying.
So, what is the Spotify app?
Spotify is a Music Streaming App founded in 2008 and headquartered in Stockholm, Sweden. It's a free service that gives consumers access to legally protected audio tracks. This implies that people may lawfully get their preferred musical selections without resorting to illegal ways.
In terms of pricing, Spotify uses a freemium strategy. This implies that customers ready to pay more money may access premium features such as more material, quicker download speeds, and the absence of commercials. A large user base attests to this app's usefulness. This is so because they save money by not having to purchase individual albums.
But for a monthly fee, consumers may listen to any of the thousands of songs in their library. Additionally, Spotify employs cutting-edge technology that reduces the data used when streaming. Cache memory keeps track of the user's most recently played music. As a result, very little information is consumed when these songs are played.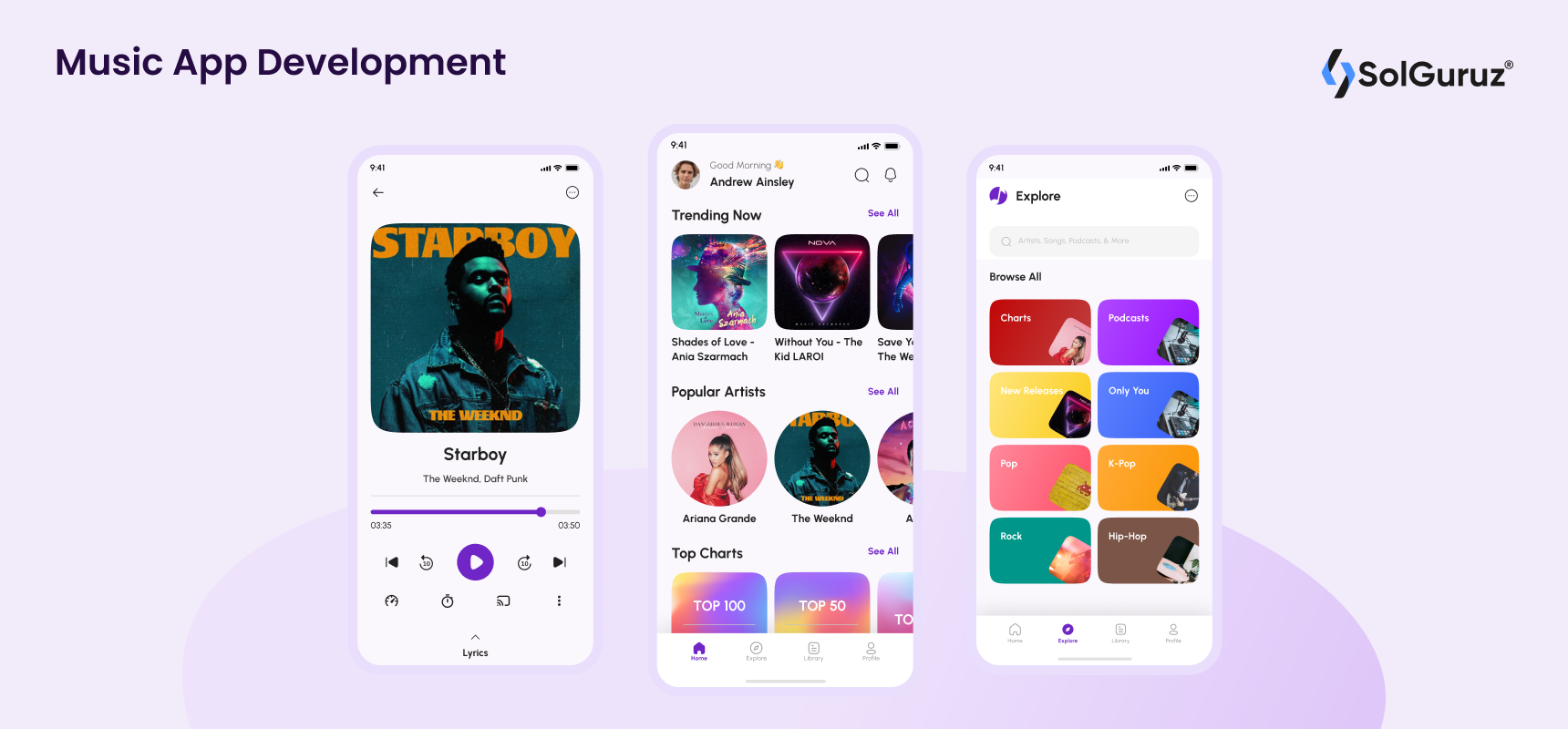 How does Spotify get its revenue?
The music collection may be accessed with the use of Spotify. Users who do not pay for the service may also access it. As a result, it has devised a business model whereby it can generate money from free and paid business users. The revenue model relies mainly on these three streams of revenue:
Revenue from User Subscriptions

More than three-quarters of Spotify's revenue comes from paid memberships to the streaming service. Users who pay for Spotify's premium service are eligible for various extra perks and privileges. They are permitted to construct playlists, and the music they choose is played without delay or commercials being played before or after.

Additionally, they can listen to music in high definition, whilst free users cannot. Students are eligible for a discount that is increased by fifty percent since they make up a significant portion of Spotify's subscriber base.

Revenue from running Ads between Songs

Spotify has discovered a method to earn money off of free users as well, and it does it by displaying advertisements to them. Users who use the service for free must take in commercials at various points during the song.

Spotify has used several creative solutions, such as sponsored playlists, to generate revenue from its free consumers. These playlists are tailored to the needs of specific categories of consumers. For instance, sports businesses could be interested in connecting with those who regularly engage in physical activity.

They can accomplish it, thanks to Spotify. The playlist may be called after the brand, and it's also possible that it may incorporate commercials for the brand at regular intervals.

Revenue from Promotions

Spotify also extracts payment from up-and-coming musicians to include their songs in the company's playlists. Given the enormous user base that Spotify currently has, this makes it easier for musicians to achieve mainstream success.

5 Free Ways to Make Money Using a Music Streaming App Like Spotify
Wondering how apps like Spotify are making huge money by just entertaining people with their favorite choice of songs? Here are five free ways that highlight how does Spotify make money.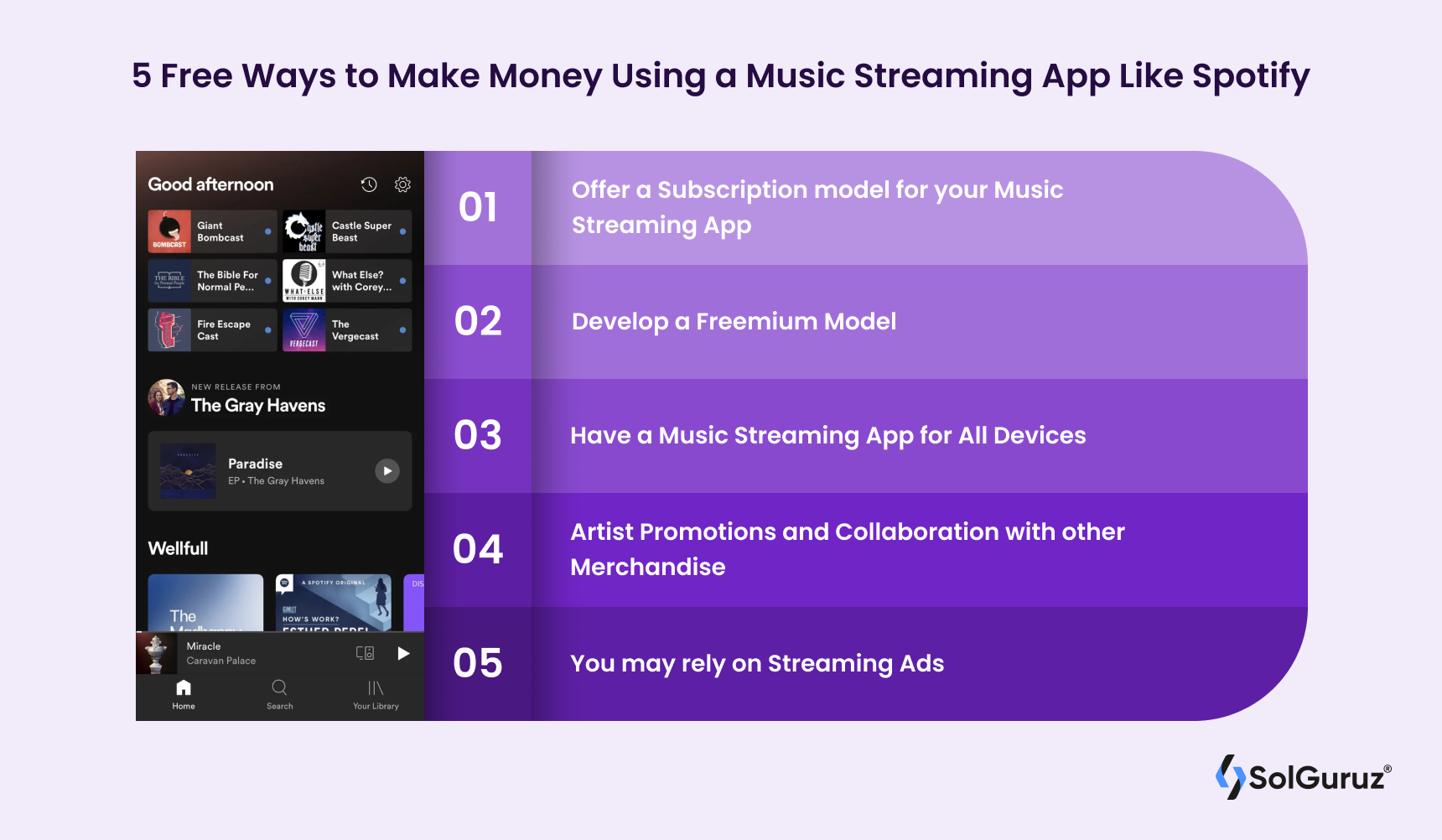 Offer a Subscription model for your Music Streaming App

When you have enough freemium subscribers who enjoy your audio streams and platform, you can convince them to upgrade from the free ad-supported plan to the premium ad-free video subscription plan for an affordable price so they can listen to music without interruptions.

Distinct groups, such as students, families, and others, may benefit from different over-the-top price structures, and you may easily create them.

Develop a Freemium Model

It's the first rung to establish rapport with your clientele. Starting with incorporation, you may provide the free music and then, using a paid premium service, reserve unique pieces for a premium charge.

Have a Music Streaming App for All Devices

A profitable business model is essential for any streaming service. In this instance, you must be reachable from any electronic device. You can only provide your hand picked material to as many people as possible.

This will help you attract more customers and get them to tune in to what you want them to see.

Artist Promotions and Collaboration with other Merchandise

Make sure to capitalize on carefully chosen occasions when you can expect a high return on investment from your content in the form of coupon codes and promotional discounts to elicit a positive reaction from your brand's target audience.

You can also earn by promoting other Merchandise, such as clothing or food, on your music streaming app.

You may rely on Streaming Ads

Put together a fresh perspective by integrating adverts into your one-of-a-kind music streaming business, where you'll have two ways to generate income. Two standard methods are display ads and ads embedded into articles.

You may increase your stream's overall income by combining brief audio advertising, in-content commercials, ad breaks between audio numbers, and display clicks to generate huge impressions.
What Are the Pros of Making Money by Creating Music Streaming App Like Spotify?
Top music streaming apps are making great money by integrating the right features in them. You can establish yourself as a distinct brand whether you're just starting in the creative world or have worked in several fields for decades. You will always come ahead when you streamline your income stream in the digital era to support your most ambitious plans.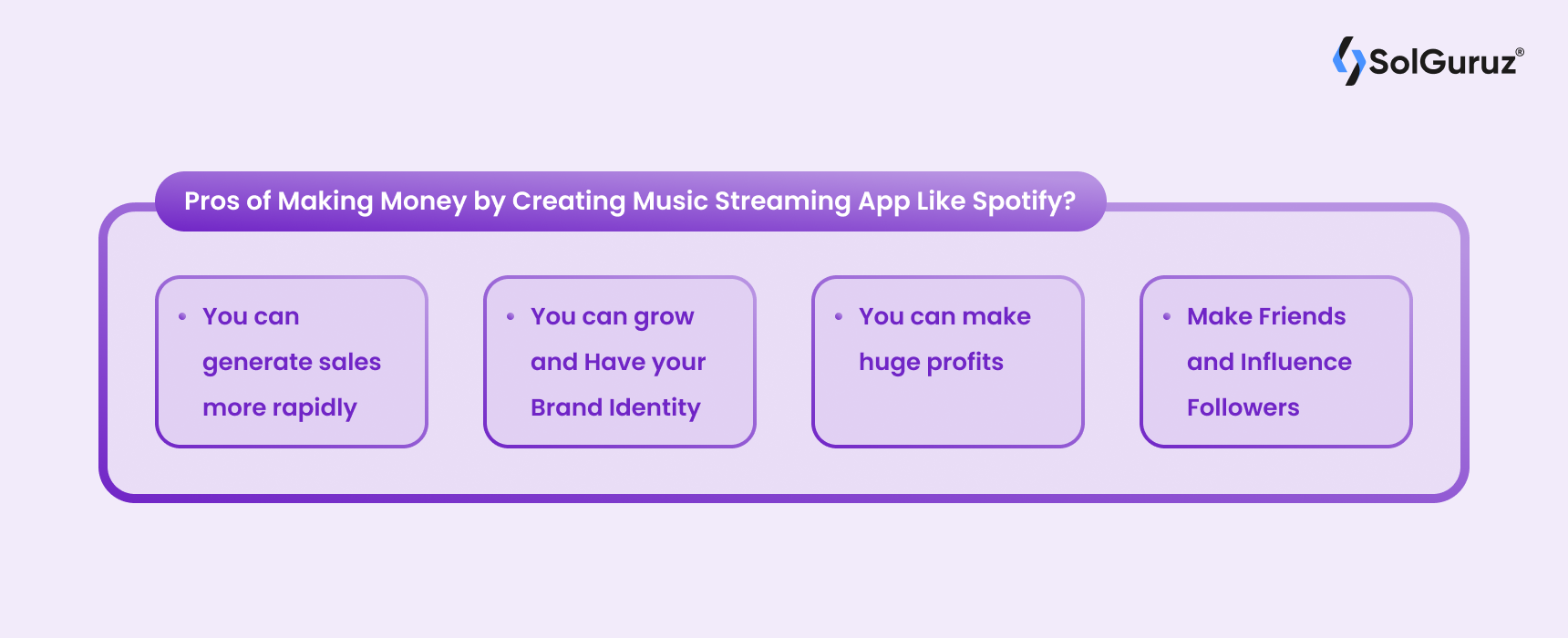 You can generate sales more rapidly

It would help if you considered scalability while figuring out how streaming services earn money. Once upon a time, when copies of music were only available on cassette tapes or compact discs, the scope of dissemination was much narrower. Also, a great illustration of actual music performances includes restrictions on how many tickets may be sold at once.

But today, with online streaming, it's a breeze to make money off your music streaming app; your streaming sales may expand infinitely, and you can grow into as many markets as you desire.

You can grow and Have your Brand Identity

Streaming services and music apps provide several opportunities to make money from your energetic musical output. You and your band may individually benefit from both, and there are many. In little time, you will have scaled up from showcasing top-tier, time-intensive soundtracks to broadcasting performances in real-time.

You can make huge profits

Putting your music in digital form broadens your potential audience. Minimal cognitive effort is necessary to resolve the issue. More downloads and listeners mean you're more likely to engage your audience. Additionally, you can expect to make additional money as it becomes well-known.

Make Friends and Influence Followers

As a performing artist, your revenue stream remains untouched and even productive while you focus on live shows and performances. Creating digital assets out of your evergreen content allows you to stay in touch with your audience indefinitely.

As a consequence, this facilitates the rapid promotion of your material. Making money off of music streaming might help you maintain your fan base when you return to playing at normal performance venues.
How to Create a Music Player App?
Making an app that plays music is a laborious process that requires a lot of time and effort. Several steps involve brainstorming, sketching, coding, testing, and finally, releasing.
Don't worry when you are working with a top-class music streaming app development company like SolGuruz.
Have a look at what the market is like for Music Streaming App Like Spotify.

The first thing to do is research the industry and the competitors. It can help you determine what features your app needs.

Draught a strategy for your Music Streaming App

The next thing to do is make a strategy to assist you in keeping focused and on track. The next step is to develop the app's layout, which involves making the UI and UX.

Create the UI for your Music Streaming App Like Spotify.

The initial step at this stage is to sketch out your idea roughly. Your ability to explain your thought process to others will be much enhanced.

The next step is to create a framework for your concept. Wireframing is building a simple model of your app. You may begin wireframing after you have a general idea of how you want your app to function. It's a useful tool for planning out the structure and functionality of your app.

Creating a high-fidelity prototype of your app is possible once you have established its structure and flow. When evaluating the viability and usefulness of a potential app, a "prototype" is created.

Coding of Music Streaming Apps, including APIs and SDKs.

The first stage in developing the final product is to write the backend code after the prototype has been completed. This code controls the server-side functionality, such as user registration and music playing.

The next phase involves developing the user interface programming. The last step of developing an app involves integrating its backend and frontend code.

Testing and Publishing

Upon finishing development, testing is required to guarantee the final product meets all requirements. It is crucial to test the app often during development to ensure its reliability. Finds flaws in the app and makes sure it's release-ready.
Conclusion
The great thing about music monetization and how much it costs to make a music streaming app is that you can experiment to find the best approach for you and your company.
The trick is always to spotlight your branded audio solutions that manage to grab the attention of your target audience despite the ever-evolving nature of these methods.
If you are in thought of creating a music streaming app like Spotify – Contact us Now!
FAQs
How do you begin a music streaming app, and what are the most critical components?
Building an acoustic music streaming app requires an end-to-end infrastructure with the o live-streaming capabilities. Integrations on the front and back ends can be tailored to your needs. You'll have access to a robust content management system and various other features, including on-premises and cloud computing, novel approaches to making money, secure digital encryption, and various other organizational tools.
How Safe Is It To Develop A Music Streaming App?
Recent years have seen a tumultuous crucible for content providers and broadcasters due to the proliferation of streaming technologies. Given the current data security and theft climate, several OTT platform providers have included obfuscating encryption and anti-piracy layers such as multi-DRM systems.
What business model do music streaming services use to monetize their services?
Advertising is often the major revenue source for music streaming applications like Spotify, and paid subscriptions are the primary means through which the app gains new users and increases its monthly active user base.