Ready to do business with us?
Boosting app user engagement is crucial for the success of any mobile app. Learn about various engagement metrics and strategies to improve them in this article.
The mobile app industry is so competitive that it still cannot guarantee its success even after building a fantastic mobile app and acquiring new users consistently.
Most mobile applications face a significant problem in declining app user engagement and retention rates.
An app user engagement rate refers to the time users spend on your application. It helps marketers and advertisers decide what features the app users like and what they don't. Plus, a mobile app with a higher app user engagement rate has lower customer acquisition costs and higher consumer lifetime value (CLV).
A user retention rate refers to the percentage of people who still use your app after a certain period of, say, a week or month. Stats show that 80% of users leave the app within 90 Days.
So, if you want to expand your business, having loyal, engaging users is extremely important.
In this article, we will talk in detail about different app user engagement metrics and tips on how to improve them.
App User Engagement Metrics for Your Mobile App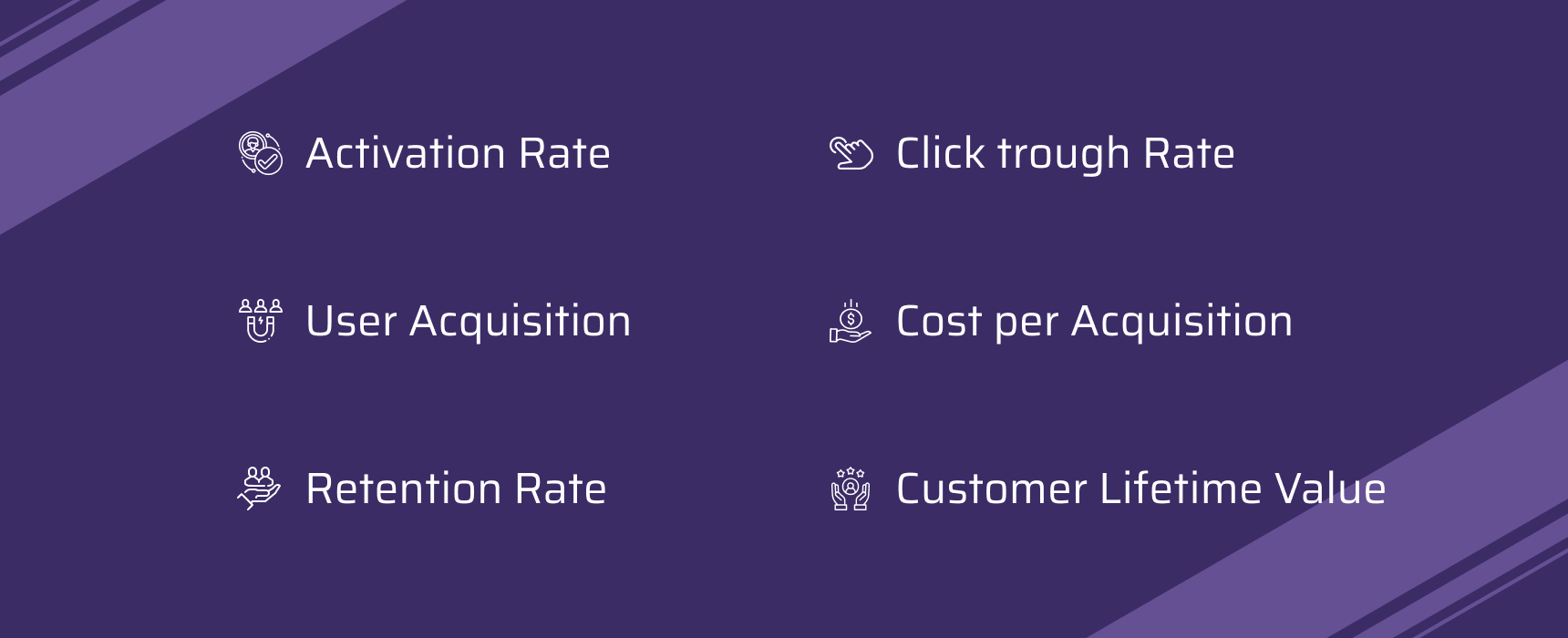 These metrics will give you an insight into understanding if your app is acquiring enough new users, their activity status, retention rate, referrals, and ultimately revenue.
Some of the most crucial metrics for Mobile app user engagement can be:
Activation rate

After a user downloads your app, you must ensure they complete the activation process, like creating a user account, completing the onboarding process, or taking actions to get the most value out of your mobile app. You can calculate your activation rate by dividing the number of activations done in a certain period by the total number of activations done, multiplied by a hundred.

Start by deciding what app event you want to collect information about and integrate a specific API in your code to analyse your app's activity.

User Acquisition

Another crucial metric tells about how many users your app gets through multiple channels. So, the next you launch a marketing campaign, you will understand if something is working out in favor of your mobile app. By default, the App Store Connect and Google Console will offer you detailed user acquisition data.

Retention rate

Retention rate is calculated to define the number of people who came back on your app more than once. For instance, if you had 1000 users in Jan and 300 users came back to reaccess the app in Feb, that means your mobile app has a retention rate of 30%.

So, you can calculate it as:

Retention Rate %= the number of retained users in a specified time/ Total number of users from the previous period *100.

The retention rate is an excellent way to understand what makes your customers come back for more and how they are using your app. You can get this too on App Store Connect and Google Console.

Click-through Rate

Click-through rates tell you the percentage of people who clicked on your ad to get access to your selling offer. It is one of the most essential metrics for Mobile app engagement to consider when launching your marketing campaigns.

You can calculate it as-.

Click-through Rate % = (Total number of clicks / Total number of impressions) * 100%

Most brands believe in running multiple ads on different portals, user groups, and platforms. A higher CTR (Click-through rate) indicates that users are interested in your offer, and a low CTR indicates that the ads or offers aren't persuasive enough to make them click.

Cost Per Acquisition

Cost per Acquisition is the total cost incurred to acquire a new user. You can calculate your CPA in the following manner-

Cost Per Acquisition= Total cost incurred in the acquisition campaign/ Total number of customers acquired from the campaign

You can easily calculate your acquisition cost by integrating various analytical platforms in your app.

Customer Lifetime Value

The Customer Lifetime Value calculates the total revenue generated by a user.

You can calculate CLV through-

Average purchase made * Average number of purchases made in a year * Average customer retention (in years)

Calculating CLA helps businesses gain financial visibility in the long term. A higher CLA indicates more profits, brand loyalty, and business success.
15 Strategies to Boost Your App User Engagement and Retention
Simplify the Onboarding Process

Statistics show that the user-retention rate for your app can increase by 50% with smooth and effective onboarding.

So, if you want your users to stick around much longer, you have to make the most out of their onboarding experience.

You can do this in the following ways-

Creating your account shouldn't be more than three steps in your mobile app.
Don't stuff too many words; humans are more inclined to visual content.
Give multiple options to your user for sign-in, including Gmail or social media logins.
Walk your users through the app and help them understand how your app works.
Highlight your app's features but in a sales way.

Integrate Deep Links for Effective Mobile App Engagement

Deep links work best while retargeting users. Often, users do not finish their registration process and jump out of your mobile app. So, you can reach out to them via email and give specific URLs that will directly take them to the step they left.

Deep links are now used almost everywhere. Marketers integrate deep links while selling on Google or social media platforms. So, when a visitor clicks on an ad, they are directed to either the app's website or to the app store, where they can download the application.

Also, with the help of Google's App Indexing, your in-app content can appear on Google search results. The search engine will take users to the exact information on your app.

Gamify User's Experience

Who doesn't want to get appreciated for their win?

Many apps now use people's desire to win as a trigger to keep them hooked on their apps. It can be in the form of points, emails, or notifications congratulating them on hitting their goals.

To get more attention, app owners had made this lucrative by offering discount coupons, and special offers of access to certain levels.

Setting up such attention-grabbing elements encourages users to come back and spend as much time on the app. It is beneficial for businesses that run on ads in terms of Mobile app engagement. The more users stay on the app, the more ads they see.

Give Location-based Suggestions to Users.

Mobile app owners use behavioral insights to identify what their users mostly enjoy and make suggestions, therefore.

Many popular apps like Spotify, Zomato, and Facebook use such information to offer location-based or habit-based suggestions.

This way, users get exposed to elements similar to their interests and keep coming back to surf more.

Use Push Notifications

Statistically, app users who receive at least one push notification show a retention rate as high as 190%. 

However, push notifications are irritating if not used properly or excessively. The thumb rule to follow here is to push out relevant notifications to the user.

To send out personalised push notifications, you have to utilise the user's activity on the app, and filter offers that don't meet the user's interest.

Push notifications can be used by retail shops (via location-based notification) and service-based apps (via identifying user engagement on the app)

These are also excellent mobile app engagement tactics for grabbing the interest of old users and encouraging them to come to your app.

Add Chatbots

Users now want prompt responses to their queries, which is only possible with a chatbot.

Chatbots are AI-efficient technologies that mimic human behavior and conduct online conversations via text or text-to-speech features.

Many mobile apps have also integrated Siri as their chatbot as a medium of Mobile app engagement. This is useful for scrapping out any repetitive workflow of opening and surfing the app to finally reach what they are looking for.

Here, they can command, and the mobile app will automatically open, search, or manually enter the user's query.

Keep a Tab on Your App's Analytics

We cannot emphasize enough how important it is for mobile app owners to understand their behavioural patterns to handle Mobile app engagement efficiently.

Without having the numbers in place, you cannot define your future KPIs nor analyse if the app is performing as per your standards.  These insights will help you identify discrepancies in your app that you might not have discovered.

Take Away the Cognitive Load

Cognitive load refers to the information that our brain can handle at a given point. But, when you receive excess information, there are chances of cognitive overload. So, while building your app, you need to keep this load as minimal as possible; otherwise, it will only lead to frustration and uninstallation.

For instance, our brains have memorized the meaning of icons on an app interface, like the hamburger-shaped one is for the menu, the heart is the like button, or the dustbin icon is to delete any information. Now, if you change the meaning of all these icons in your app or integrate something new, most people might log off and uninstall.

It is not because your app wasn't functional but because you suddenly raised the cognitive power of your brain to grasp things.

Beta Testing Your Application

One of the essential parts of a launch process is beta testing. Focusing on this is vital for improving Mobile app engagement.

It is carried out when the developers push the app to real users to analyze it. Thus, giving themselves a chance to resolve any flaws that the app might contain with regular usage.

Implementing this approach will guarantee that your mobile app is ready for launch. Another advantage of beta testing is that you can provide early access to eager consumers and establish brand recognition and customer loyalty well before your application is released in the App Store.

Soft Launch your App for Mobile app engagement

Before releasing your mobile app, you can do soft launches to optimise its performance.

A soft launch is a launch for a limited audience to uncover methods to enhance your mobile app before releasing it on a large scale.

In other words, soft-launching enables you to make your app available to only a tiny target audience group. This strategy allows developers the time to curate a fundamental user base, test how useful the app is to the target customers, and check KPI compatibility before launch.

Thereafter, brands get valuable business insights into the product viability, engagement ratio of its features and onboarding quality. With these pointers in place, it is easier for developers to optimize their apps before the final launch date and increase Mobile app engagement.

Measure Application's Performance

In user acquisition, measuring app performance is essential as it helps you know which area to focus and put your marketing efforts on. In addition, brands know how to approach a new base of customers.  Also, the data about your customers' activity points to the potential pain areas so you can better them for increased user engagement.

For the best assessment, it is essential to measure various metrics related to features and more. These include counting the user cumulative numbers per session, the average count per user, and the average total of features usage per runtime hour. Based on aspects like these, it is possible to measure the performance level of different apps and strategise one's mobile app engagement measures. Then, one can optimise the retention rates by focusing on improving the pain points, like features with low usage levels.

UI/UX Should be Usable, Pleasant, Convenient, and User-Friendly

Mobile Apps with a decent UI/UX provide you with a market advantage in a rapidly changing environment where corporations are beginning to recognize the value of a positive user experience.

When considering what constitutes an exemplary user interface, we frequently consider how it appears or what developers refer to as the UI or graphics. Because they bridge usefulness and appeal, visuals make applications more engaging.

It improves mobile app engagement and overall customer satisfaction by making complicated conceptual frameworks accessible and straightforward. App user interfaces are crucial because they engage with your business to meet its demands and achieve its objectives.

Continuously Develop and Improvising the App

Consistently maintaining and enhancing the mobile app with new features, fixing bugs, and others are beneficial for improving the mobile app engagement of users.  In fact, according to the trends seen in the market, developers should update the app at least once a month. However, successful apps update their app four times a month.

As users discover a mobile app, they interact with many functional components, and it is the ideal opportunity to showcase capabilities that might enhance their app-using experience.

Creating a business app and releasing it to the app store isn't enough to ensure success. It is necessary to constantly improve the app's functionality and effectiveness by incorporating user input. Prevalent app enhancement leads to positive buzz and increased ROI and installs. An app can present a more significant experience for users by using tools and assistance bots.

Engage Users with In-App Messages

It is a known fact that the more aligned your app experience is with the user preferences and needs, the more they would want to stay. Thus, increasing the retention rate of the app would optimize mobile app engagement rates.

Thanks to in-app message services, allow brands to stay in touch with the user continuously.

Statistics show by continuously communicating with the user, their retention rate increased from 61% to 74% in just 28 days.

These messages are notifications about payment failures, app issues, and version upgrades given to the users. They do not require any immediate action but only keep users informed. Moreover, the tool also allows you to segment the audience to ensure the information they are receiving is valuable. You can make this possible by targeting through the location.

Collect and Act on User Feedback

Collecting user feedback is crucial for increasing user engagement on your new launch. Moreover, the best way to do that is by using micro surveys. These are brief questions shown to the users about how well they liked the product, the features they found most beneficial, and other relevant questions.

These surveys increase engagement by allowing you to collect data in the most accessible way possible. Also, they allow you to target better and enable you to hear the concerns of the product. So, after you collect the data, you can act on them accordingly.
Conclusion
With so many apps launching on the app stores, it's challenging to build a mobile app that differentiates itself and has a massive user base.
Getting downloads is not the only challenging part; you have to be on your toes to get people hooked to your app. There are a lot of mistakes that we make even before building the app, which has a direct effect on your app's user engagement and retention rates.
If you strategically follow these tips, you will surely notice a boost in your user engagement and retention rates.
However, no tricks will work if you have built just another slow bug-ridden app.
Take your time and hire expert mobile app developers to build an app with all such features, and follow these tips to the core.
If you want to create an app that meets all of your needs, we can assist you. SolGuruz is an app development company with experienced flutter app developers for hire who can assist you at any stage of mobile app development. What are you waiting for? Reach out to our experts and see your app idea turn into reality.
App User Engagement FAQs
What do we mean by mobile app engagement?
Mobile app engagement is defined through a set of metrics. These metrics measure how well the user is interacting with the app. To name some metrics, they include the duration of customers' usage, how many times users are opening the app, and the actions they are taking within the app.
How to calculate app user engagement and retention of users?
You can do it by isolating the particular behaviours of users and noticing how they affect the retention rate with time. Next, identify the specific action and set of performance new users are undertaking. Lastly, correlate the data collected to find retention statistics.
How to differentiate retention from mobile app engagement?
To put it simply, retention is when users visit your app repeatedly but may or may not take any action. However, when it comes to user engagement, it is the measure of time a user is spending on the app while completing a particular action or surfing a certain feature.
How to make users use your app?
There are many strategies for doing so. However, to name some, they include promoting your app on your website, using social media to reach audiences, developing an email marketing campaign, etc.
Ways to introduce your new app?
You can start a blog or use social media to inform your users about the new launch. However, companies are also adopting new ways to introduce mobile apps like tutorials, contacting writers of the same niche, or creating intro videos of the app. These options are effective for improving mobile app engagement as well.