Ready to do business with us?
There is no question that online educational platforms are supplanting traditional learning methods due to the advancement of new technology. The use of mobile apps in the classroom, is an example of how technology is being used to make learning more exciting, and engaging for kids. Education app ideas and the best educational app developers are the most important things to consider in this digital age, since people require education for their personal development.
Students are finding it more challenging, to keep up with the rapid changes in the educational system at their current school. Apps for education are transforming the way students learn, from identifying and solving common classroom issues, to connecting with instructors and learning via games and quizzes.
In today's world, educational applications are making a significant impact on students and instructors alike. Teachers and students may now communicate in real-time using educational apps developed by several schools, colleges, institutes, and universities. In addition to educational institutions, several ed-tech businesses are making investments in the creation of educational apps with Flutter for Education app development. Over $325 billion is expected to be spent in the worldwide eLearning industry by 2025.
Top Education App Ideas for an EduTech Startup
We've discussed several Education App ideas for an excellent instructional app in this post for E-Learning Apps development. Implementing some of the Education App Ideas from the given list, will be a hit with kids and instructors alike.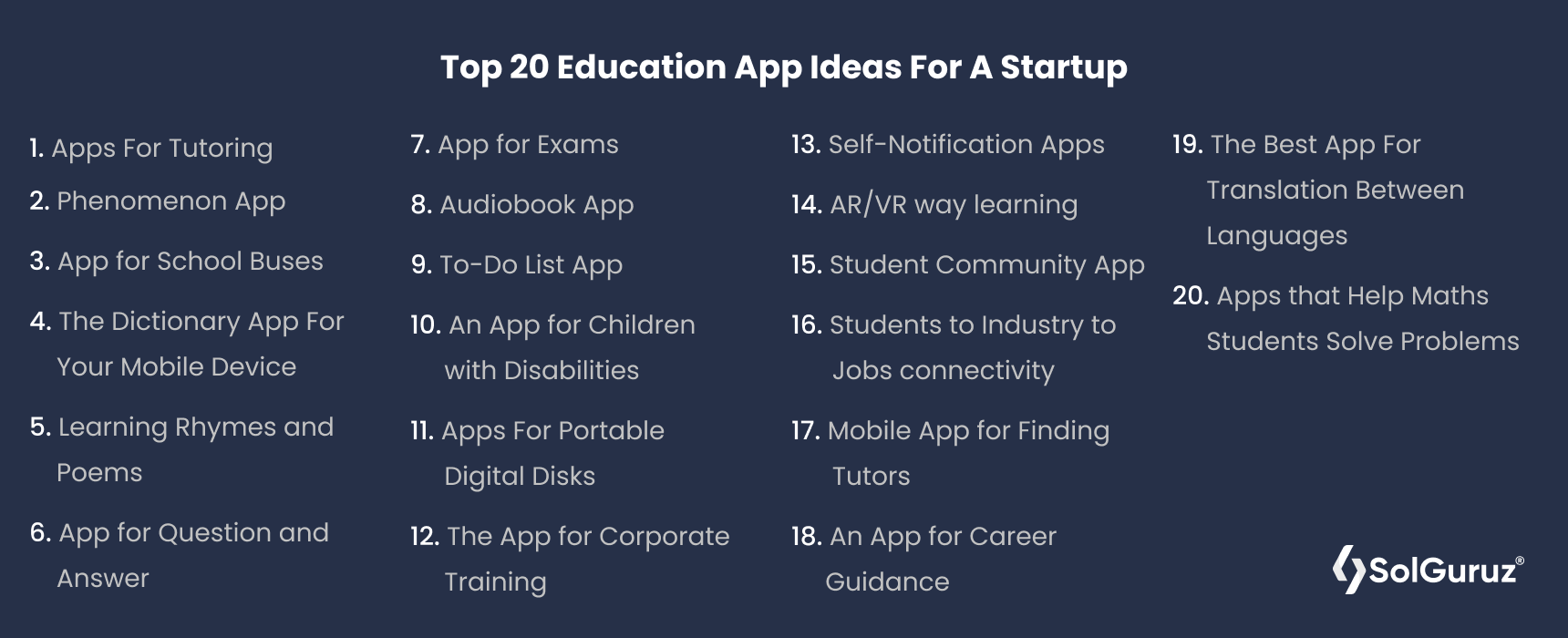 Apps For Tutoring

As students are near their professors, they may obtain answers to all of their concerns and difficulties right away in a coaching session. Students may benefit from online tutoring and get quick answers to their questions with the tutor app.

Students may quickly answer their concerns, store lectures for revisions, speak to the teacher directly through video chat, conduct group discussions, take online quizzes, etc., using online learning platforms. To jump on the competition, familiarise yourself with the Tutor app development process.

The Dictionary App For Your Mobile Device

People can instantly look up the meaning of any complicated term thanks to the proliferation of smartphone dictionary apps. Alternatively, you may create a dictionary app that contains elements such as idioms and phrases that aid in the user's vocabulary growth.

App for Question and Answer

It's one of the great ideas among other Education App Ideas, to create an app that allows kids to ask questions about any subject, chapter, or topic and then have professors respond to them. Students and instructors of various ages may benefit from the application. Students aren't the only ones who use apps like Quora to get answers to their questions.

Apps like BYJU also provide user Q&A functionalities. Students study all of the modules and chapters using an application that aids with test preparation. Self-assessment assessments are also included in these educational applications, which help students better understand a subject and learn. Every time a learner attempts a question in a QA application, they get detailed answers.

Phenomenon App

By answering the puzzles provided in the program, users may improve their ability or do brainstorming exercises. This program has a variety of puzzles and an aptitude section that helps students with their problem-solving skills. Students will benefit from this software since it will enable them to increase their mental ability.

Learning Rhymes and Poems

The use of rhymes and poetry may help young children retain information better. However, primary-school-taught poetry isn't enough. So, parents may use these applications to teach their children new rhymes. These applications are ideal for children between 3 and 8 years old. To boost their memory, they may watch animated poetry videos.

An App for Children with Disabilities

A mobile app for children with disabilities is a second option for you as a school, college, university, or ed-tech firm. Students with disabilities may now study and learn from the convenience of their own homes thanks to a particular mobile device. Specific software for disabled students will be created so that they may attend live courses and communicate with professors in real-time through the Internet. Because of this software, instructors, Education App Development Company, and students with disabilities will no longer be separated. Therefore, if you come up with a novel concept for an app, you'll be able to stand out from the pack.

App for School Buses

Using a new app concept, parents and school officials may follow the school bus driver in real-time. Live location and speed tracking are available to both the driver and the passengers. A real-time message alerts parents when the bus is close, so they can make sure their children arrive at school on time.

App for Exams

This is a fantastic concept for educational software and educational app features. To assist students study, remembering, and staying on track at test time, create a smartphone app. Students will be able to access sections of the textbook that they do not need to review or study to pass their exams using the app. In addition, this software will allow applicants to create a list of examinations they need to take. As a result, when it comes time to take exams, they don't forget the essential item. Students and instructors may communicate through video or live chat using this app.

The App for Corporate Training

Corporate training is the most efficient way to educate employees about business policies. Traditional methods of corporate training need a significant investment of time and money. However, with the right corporate training software, this can be done in minutes. Mobile apps for corporate training provide organisations a fantastic way to educate their employees while also reducing the related costs to an absolute minimum. These apps may help fill in any gaps in your workforce's skills and help you find and keep the best people. In addition, training may be offered to all workers at any time and from any location utilising these tools.

Apps For Portable Digital Disks

As a learning aid, these applications may be fun to use since they are often gamified, making it easier to retain information. It's possible to tailor them to meet the needs of students at all stages of education, from elementary school through college and even graduate school, making them a valuable tool for students of all ages.

The Best App For Translation Between Languages

Education applications in English, French, and other widely spoken languages may access a wide range of educational resources. Because of the ease of usage that the language gives, a French-speaking learner may find it easier to understand English topics than if they were presented in French.

Audiobook App

One of the most delicate features of any educational software is allowing students to study as they listen to their chapters on a podcast or a song. You may have to fork out more money for an online audiobook, so plan.

To-Do List App

Students are reminded of the due dates for assignments, homework, exams, and more every day at school. A task reminder app is an excellent tool for keeping students and instructors alike aware of upcoming deadlines and important dates. So that they don't lose sight of their obligation, thanks to this software, they can communicate more rapidly and hold themselves more responsible.

Mobile App for Finding Tutors

Using this app, students can identify and interact with the top private teachers in their region, all from their own homes. Students will be able to clear up their concerns and grasp essential topics with the aid of a knowledgeable instructor in this manner. Students may also acquire remarks from the expert and set up further appointments if necessary.

Apps that Help Maths Students Solve Problems

You will never go wrong with a maths problem-solving app, regardless of whether you're making it for Android or iOS. Mathematical issues are a source of frustration for the majority of pupils. In fact, at times, they cannot grasp the underlying issue of a challenging inquiry.

Think of a technique to make the mathematical problems easier to solve by creating an application that explains the issue. Additionally, you may provide students with the ability to submit new maths problems they need help with and then direct them to the appropriate resources.

An App for Career Guidance

Many students have a difficult time deciding on a professional choice. As a result, individuals cannot make the proper job choices and pursue their dreams.

A career advising tool might be a lifesaver for these youngsters. Students may get the help they need to achieve their career goals by using these applications, which connect them to career counsellors who can provide it.

Self-Notification Apps

Teachers and students alike can benefit significantly from self-note applications. Teachers may write notes for pupils to assist them in studying better for the test by handing them out to students. Having these applications on your phone or tablet is helpful since you can use them. Notebooks aren't meant for that. These applications promote research that can be readily shared and learned.

Student Community App

It is an exclusive app designed for students. This app provides a medium to connect on a single platform to students of different schools and colleges for specific requirements. It provides a comfortable medium to interact comfortably within a similar age group. They can connect and discuss any topic or confusion related to their studies and exams.

AR/VR way learning

Constant Technology enhancement provides unique modes to connect and interact. AR/VR way learning with specific educational applications is a friendly mode to understand the core concept of any topic or subject. It also helps teachers provide a brief description through augmented reality and virtual reality to understand topics like solar systems, human bodies, the universe, etc.

Students to Industry to Jobs connectivity

This app is beneficial for students preparing for jobs in various industries and competitive exams. Through this application, students discover the mode to connect and interact for opening in the industrial platform, competitive exam dates, and other details. Students can also connect to prepare for the exams and discuss various topics like group study sessions.
Conclusion
There are various ways technology may be used to enhance education and advancement for supportive assistance. Free online resources, tailored learning tools, and chances for advanced learning benefit educators, students, and parents alike. The adoption of new technology by school districts may be seen as a wise investment in the future of their kids' education. After all, technology is here to stay and is a valuable tool in any classroom today.
If you need the best solutions and technological assistance to build an effective education- niche application or website for your start-up, with implementing the listed education app ideas or even more. You can use cutting-edge technology and simplified user-interface that you can launch for higher user acquisition. SolGuruz is the top education app development company and a leading custom software development company, and our team will assist you with your requirements for building an Education App.
FAQs:
How much does it cost to make an educational app?
Building an educational application is usually based on the features and technology stack used. Considering the standard statistics, with essential features and modules, a user-accessible and robust education app will cost around $10,000 to $15,000.
Which are the top education app development companies in the USA?
Any software company can make educational app, but if you want to go to someone who has domain knowledge and expertise in education app development. Then, SolGuruz is a renowned solution in this field that you can trust for the service.
How do the teachers get assistance with the educational application?
Teachers get high-end supporting assistance with the educational apps and their specific features. Adapting existing methods for teaching with updated data and information and managing the digital records of each student's performance, doubts, and improvement assist the teachers in providing advanced guidance and support to students.
How long does it take to build educational apps?
The time for developing educational apps is not the same for every app type. Depending on the plan for development, specifications to add, education app ideas to implement, resources to use, and skill set of the development team, the time can extend to a few weeks or a few months.
What are the different types of educational app models?
There are multiple types of educational app ideas or models that companies use. Some of these options are: A) Q&A-based app B) AR educational app C) Educational app for disabled D) Preschoolers app E) Tutoring app F) School bus app G) Gamified educational apps with quizzes H) Special course apps I) Competitive exam apps J) Subject-specific educational apps