Ready to do business with us?
In the wake of the pandemic, the education sector has undergone a significant transformation, paving the way for E-Learning App Trends. Rather than lectures, notes, and assignments, education is all about creativity, networking, and critical thinking. It was only possible to learn in the confines of a classroom in the past. Now, students may learn anywhere in the world. Education has just recently begun to take full use of the rapid advancements in technology.
To your surprise, education-related apps are now the second most popular in the world's app stores with 9.31% shares, according to Statista. Because of technological advances, it is now possible to artistically display information, making it much simpler for students to absorb new ideas and concepts in general. Thousands of smartphone applications have been developed by top educational app developers who use various innovative ways to aid learning.
The worldwide mobile education market grew at a CAGR of over 24% between 2015 and 2020. Between 2021 and 2026, IMARC Group predicted that the market would continue to develop substantially. Mobile applications for education have emerged as an essential topic for people searching for methods to study and those wishing for e-learning app development. Today's eLearning is meant to preserve the essence of knowledge exchange and training. Knowledge acquisition has been elevated to a new level thanks to various options and module selection.
The Educational Advantages of Mobile Apps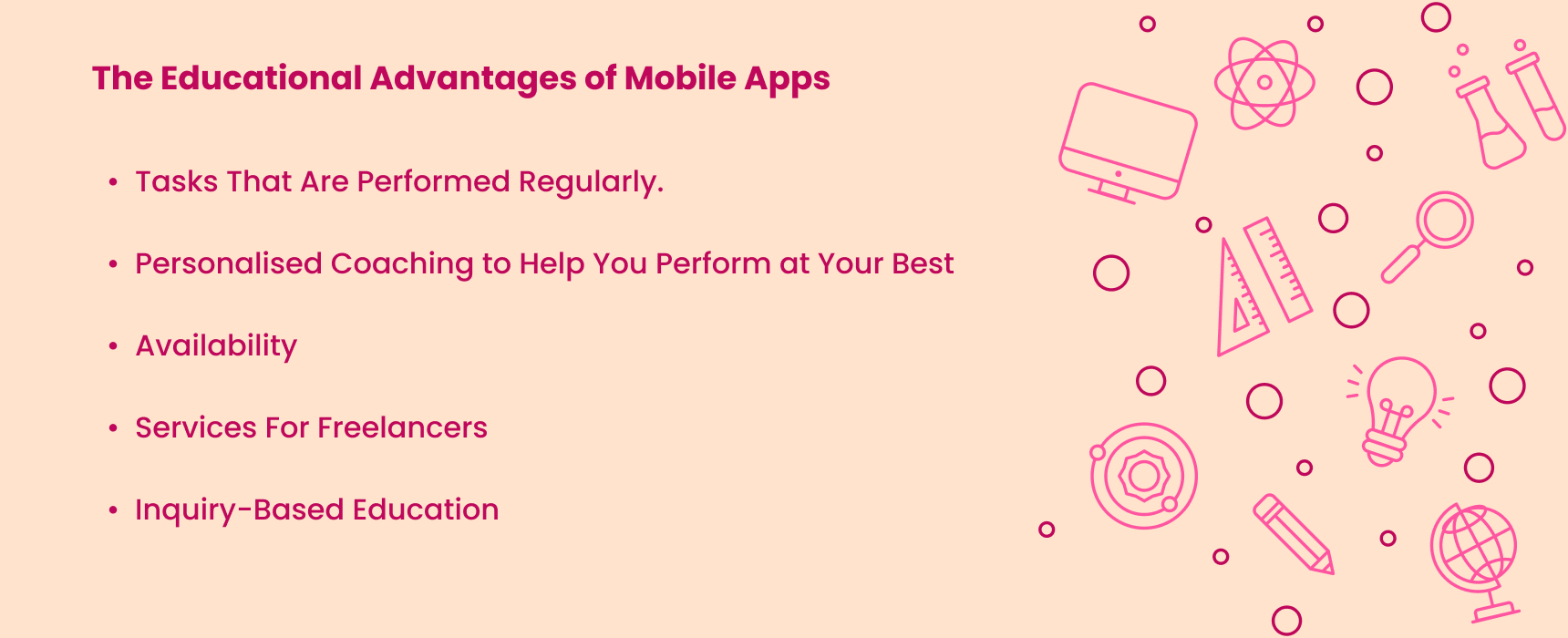 Learning is easier and more convenient when you can access material from any location. Information is readily available through mobile phones in today's rapidly changing world. A mobile phone may make it easier for many chores and save you time. Data collecting is no longer a problem after a trip to the library.
In education, a digitization tsunami is sweeping over the industry. Students are increasingly relying on e-learning. Education app development company and E-learning mobile applications are becoming more popular because of their ability to make studying enjoyable for students.
Tasks That Are Performed Regularly

With a few clicks on the screen, you can do all of your daily chores. It doesn't matter whether we're dealing with duties like paying fees or other transactions that need us to wait in line for hours or if we're dealing with the arduous task of marking attendance that drives instructors insane. Educational app features in place have eliminated all of this tedious work. Each ecosystem member may now live a more straightforward and more functional existence.

Personalised Coaching to Help You Perform at Your Best

There are educational applications available that can keep tabs on your strengths and shortcomings. These applications may help you improve your performance by providing individualised study programs. Using artificial intelligence (AI), mobile educational applications may construct a graph and give you tailored results that are particular to each part of the topic. These reports may also provide preparation and performance-enhancing advice.

Availability

On the other hand, mobile apps are always at your disposal, unlike in the classroom. There is no need to stress about sticking to a timetable. Classrooms may be found in the most unexpected places. App learning isn't time-bound; it's a more laid-back education. Children's safety is the primary focus of the majority of the applications. The equipment should be kept out of the way until the child is ready to study. It's simple to use, even for little children.

Services For Freelancers

However, several mobile applications like Upwork may assist you in finding freelancers to assist with your projects or other educational needs. To put it another way, you may discover and hire online teachers from all around the globe to help you learn a language or solve challenging mathematics, for example.

Inquiry-Based Education

Multimedia material such as animations, films, and infographics in educational applications has exploded in recent years. It is considerably simpler to instruct pupils with the aid of innovative methods. Additionally, instructors and content creators might find new avenues of income via creative learning. Education has risen to the status of a fundamental human right in our day. In addition, not everyone can afford it. However, if creative content providers have other sources of money, such as social network adverts, product marketing, etc., they can provide instructional information free.
E-Learning App Trends Define the Future of Educational Apps
During the pandemic outbreak, students, professionals, and children found themselves in a predicament where they were expected to work and complete their education while confined to their own homes. That's when online education came into its own. E-learning applications save money, time, and effort.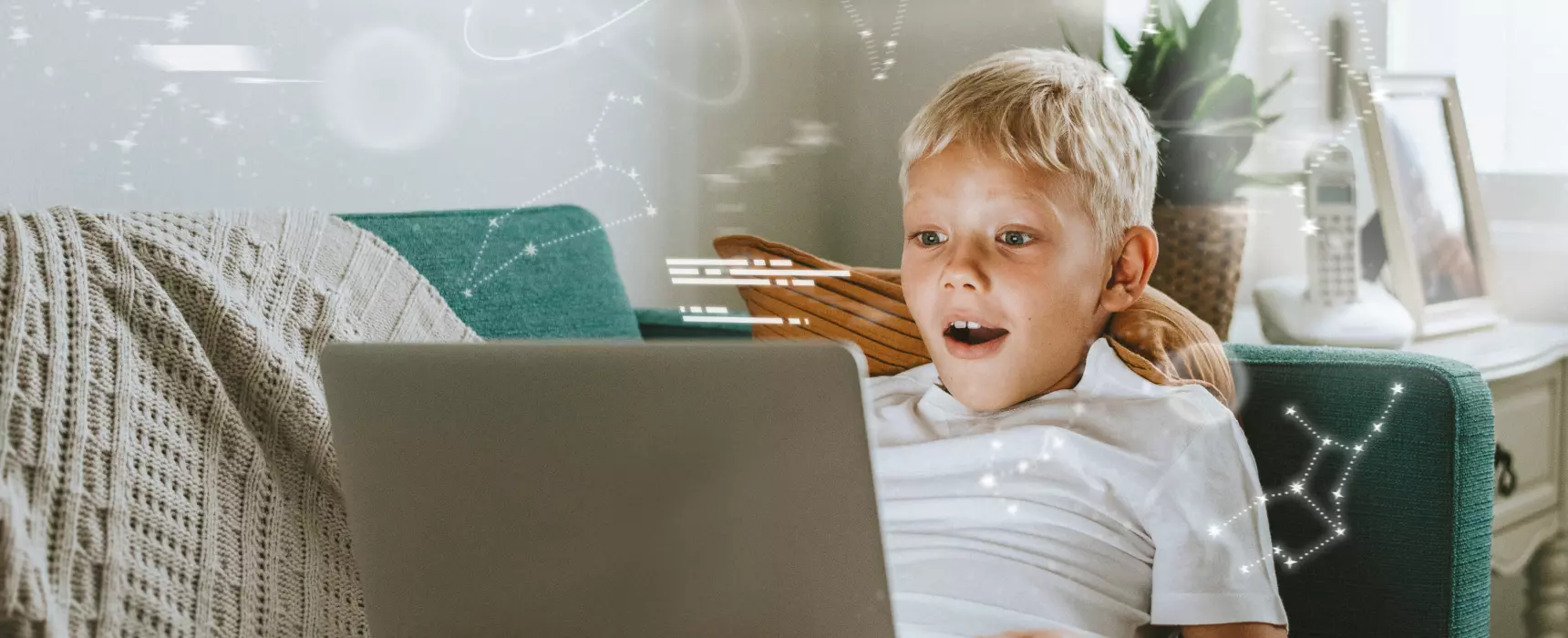 A new and unique e-learning mobile solution is now more viable than ever before. Therefore, it makes sense to introduce it to the market. Go for it if you'd want to develop or upgrade an app like this one. It's impossible to build a successful and lucrative mobile app for learning without staying up with the current trends in e-learning app creation and applying them to your company, which is something that the best education app developers do every day. Our e-learning app creation tutorial is a great place to start if you wonder how to create an educational app for children or adults.
Using A Game-Based Methodology

In the present day and age, this kind of fashion is quite fashionable. App developers have already developed e-learning applications that are more like video games. Some developers opt flutter for education app development as it offers apps for both Android and iOS platforms with single coding. This is partly because gamification of education makes the work more appealing to pupils, which is a significant component of their interest. Students will be more engaged in your online course if they can set and meet daily objectives.

To make educational applications for kids, a game-based approach is necessary. This is because it is far more challenging to catch a child's attention to learn than it is for an adult. Additionally, by using this technique, even the most routine domestic chores or hobbies become fun for the kids. Progress bars, virtual awards, stages, and leaderboards may help students study in a fun and engaging way. The Proko e-learning software, for example, is a good example. App rewards for viewing videos in their entirety, completing projects, and helping other users worked well to keep kids interested.

Personalised Training That Is Both Flexible And Worthwhile

Mobile applications in education are popular with younger generations, particularly millennials and Gen-Zers since they provide a personalised learning experience suited to their interests and preferences. They are looking for information that is tailored to their individual needs. So, while creating instructional software, keep customization in mind. It's something to think about and put money towards.

Personalization of learning apps provides students with a higher education experience and more control over their learning system, allowing them to design their syllabuses and, to some part, decide the general pace. It also allows users the opportunity to design and implement their learning environment. As a result, students are given greater flexibility, and the discovery-oriented approach to learning makes the process more enjoyable, gratifying, and comfortable. As a result, your app will have a better chance of attracting new users and keeping them engaged. Consider your target audience's preferences, interests, ambitions, previous experiences, and future requirements while developing educational software.

Microlearning

Microlearning is gaining popularity for several reasons, including its ability to teach material quickly and easily. Rather than providing a long stream of knowledge, this approach breaks it down into manageable portions that students may go back to whenever they choose. Designed to assist learners in achieving a particular learning objective, these bite-sized chunks of knowledge are simple to digest. In addition to being a powerful learning tool, microlearning has several advantages, including:

Savings in both money and time
Dedicated to Students
The knowledge that Is Free From Prejudice and Dedicated to a Specific Goal
It's portable so that you can use it anywhere.
Learners will find it easier to understand.

Using microlearning is ideal for firms with limited time for training since these short sessions may convey high-quality knowledge without being a distraction. The use of microlearning in eLearning has grown in popularity, and educators believe it will continue to gain traction in the coming years.

Learning Through Video

Even though this trend has been around for some time, instructional videos have recently shot to the top of the eLearning heap. One of the advantages of video education is that it can be used in various ways. For example, video-based learning may take place on a wide range of devices. Learners may access instructional films on corporate websites and social media platforms like YouTube. Video learning also makes it possible to create interactive, engaging, and aesthetically beautiful information, all of which are sure to increase student interest and retention.

Additionally, creating educational videos is a simple process. As an e-learning application developed, this method has become quite popular in education systems. Instructors may create a broad range of interactive resources for their students using today's technology. Organisations may utilise videos to handle their training since they can be used in a variety of ways:

To support or augment the demands of the company's training
To encourage non-formal education
As a way to enhance social or collaborative learning.
This system aims to assist with instructor-led training and virtual instructional training.
Intuitive Education

Pupils' attention spans seem to be shortening, and as a result, educators are seeking more flexible teaching methods to assist students in better remembering and preserving the content they learn. On the other hand, immersive training methods may help students form a stronger bond with the content they are studying.

Instructors may depend on the quality of learning provided by these three methods. Using the physical environment with digital information layered on top is known as augmented reality. This method gives students a degree of real-world experience that is unsurpassed by its rivals. When providing students with an immersive learning experience, virtual reality relies only on digital technology. Virtual reality is an excellent tool for online education, even if it is more typically associated with games. It enables students to comprehend topics that may call for risky action. Students may engage with both the actual world and a virtual one in a mixed reality setting.

A fully immersive module may be helpful if you are constructing an eLearning software. This method is well-liked since it helps students remember more of what they've learned. By adding immersive learning into their employee training programs, Fortune 500 firms like Boeing, Walmart, and UPS reap the rewards. Despite the high educational app cost, this teaching strategy may provide excellent outcomes for those who use it.

Because of these developments, educational institutions have been able to broaden the scope of their curriculum. Advanced LMS Cloud Solutions, Rich Learning Spaces, Custom Learning Paths, and responsive Integrated Learning Management Systems have been pushed by technology improvements in Custom Learning Management System (LMS) Software Solutions. This feature ensures that students aren't confined to the four walls of the classroom. On the other hand, immersive learning and gamification are revolutionising the educational landscape. Consider adding some of these trends into your eLearning system to get the most out of it.
What Are the Most Popular Mobile Learning Apps?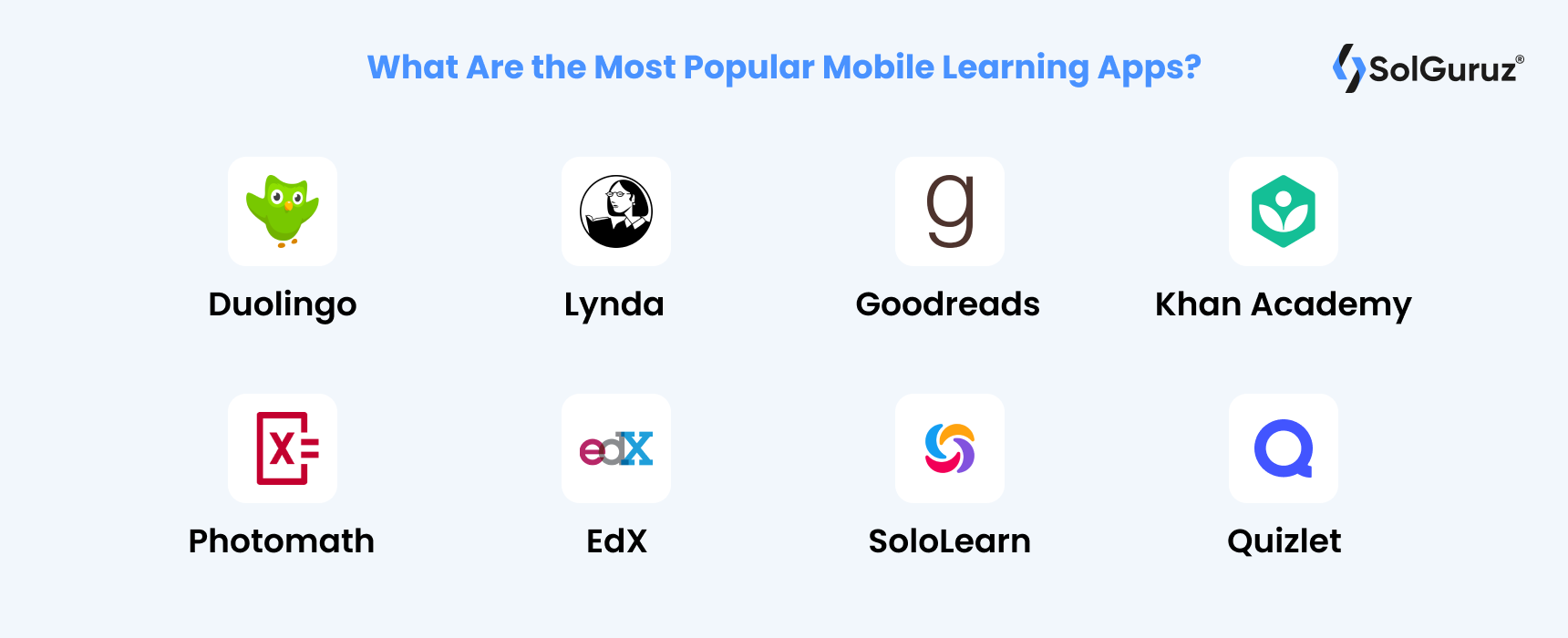 One of the trendiest commodities in today's contemporary times is mobile smartphones. The value of conventional education, such as attending school, checking out libraries, and doing experiments, cannot be overstated. However, learning via mobile applications has become crucial in our modern-day. Thus, e-learning apps development companies are gaining a lot of traction these days.
Education is now more readily available to everyone because of the rapid development of internet technology and mobile technologies. There are no longer any restrictions on who may access various educational resources. To Microsoft Office, which requires a key code for Windows, numerous technical advancements may aid in your current study. These days, there are several instructional applications to choose from. You may use specific applications to brush up on broad knowledge, while others will help you hone your particular abilities.
Duolingo

Is learning a new language something you're terrified of? The Duolingo team is ready to help you solve this challenge. In-app purchases are not required with Duolingo since it is free to use. Students may monitor their progress and hone their abilities by playing games. Furthermore, it provides a comprehensive education from the ground up.

Lynda

Lynda, like Skillshare and Udemy, offers a diverse selection of courses. With Lynda, you have complete control over when and how fast you study. It may allow you to use your abilities whenever and wherever you choose. On the other hand, Lynda's courses are available on a subscription basis, unlike Udemy's free courses. That means you may attend as many lessons as you like each month. Whether you are not sure if you want to commit to a monthly payment, you may take Lynda for a free ten-day test drive.

Goodreads

More than 30 million people have signed up for the Goodreads network. Over a billion books are accessible on Android and iOS devices, the icing on the cake. You may search for books by title, author, or ISBN, making it the most prominent mobile book app globally. Additionally, individuals may post book evaluations to aid in selecting future reading material for themselves and others.

Khan Academy

Students in elementary and middle schools may access Khan Academy for free. Among the courses it offers are history, economics and mathematics, chemistry, and physics. With this program, thousands of instructional videos, descriptions, step-by-step directions, and a wealth of practice questions are all at your fingertips.

Photomath

Photomath is best suited to the study of mathematics. Maths is regarded as among the most challenging topics among pupils. Systematic answers are shown on the student's screen utilising a smartphone camera.

EdX

EdX is one of the most unusual education applications since it doesn't provide classes from experts but rather from institutions themselves. You can't obtain an actual college degree for free courses in computer programming, architecture, history, psychology, nutrition, and a slew of other subjects. Live lectures, course updates, handouts, and tutorials are all included in the free service. Nevertheless, you'll have to pay for the whole program, including the certificate. This app should be on everyone's phone right now if they're looking to go to college.

SoloLearn

There is no better software than SoloLearn for learning how to code. Free online classes in every computer language are available via the app. Users may evaluate their abilities through online lessons that provide a pleasurable learning experience. You may ask questions, receive advice, or share your thoughts with others in the app's supportive community via the app's peer support network.

Quizlet

Quizlet is excellent software for improving your knowledge in various subjects, including the humanities, languages, mathematics, physics, and social sciences. Free online resources such as flashcards, diagrams, practice exams, and study guides make it simple and fun to learn new material.
How SolGuruz Can Help in Implementing E-Learning App Trends
Since the world has embraced technology-mediated activities in all disciplines, online education and eLearning have arisen as significant industries that need an app interface.
You should use a bespoke app for any educational institution or entrepreneur that wants to make their course or eLearning module available on mobile devices. On the other hand, an art form is the ability to design a responsive mobile-intuitive and even web-based online learning platform that is not only competitive but also convenient and entertaining for students. Are you looking for the best mobile educational app development service? SolGuruz is here to assist you. Hire our specialised mobile developers to create intelligent, user-friendly, compelling mobile apps.
E-Learning App Trends FAQs
What is the current trend in E-Learning?
Following are the E-learning App trends: A) Using A Game-Based Methodology B) Personalised Training That Is Both Flexible And Worthwhile C) Microlearning D) Learning Through Video E) Intuitive Education
What Are the Most Popular Mobile Learning Apps?
Duolingo, Lynda, Goodreads, Khan Academy, Photomath, EdX, SoloLearn, Quizlet are the some of the most popular E-Learning apps
How to hire top educational app developers in India?
There are online platforms available that feature a list of the top educational app developers available in India, like SolGuruz. You can search and contact the team for the project you require. Discuss the plan with the professionals during the initial meeting and hire the team after further deliberation.
What is the timeline one should prepare for during education app development?
A lot of factors can affect the overall timeline of the app development process. Common points include: - The app structure or plan may be very complex - You may have to add multiple features - The process of app development is challenging - The skillset of the attending team is limited - There are multiple coding errors to fix With such conditions, the time of app development can change. Typically, it takes some weeks or a year for a complex or straightforward app development project respectively.
What are the benefits of app development for educators?
App development helps educational institutions with: - More targeting engagement - Provide valuable content to students - Make learning accessible to more users - Create a high-quality brand name and increase recognition
How to select the best team for e-learning app development?
To choose the best team for app development of e-learning platforms, you should do the following steps: Conduct an online search Read through the official website of the company Browse the reviews, feedback, and testimonials Look at past projects that the team handled Get a meeting for a one-on-one discussion
What influences the cost of educational app development?
Many points determine the cost of education app development. They are the features to add, the platform for the app, the type of app model (native/hybrid/web app), the team in charge, technologies in use, and the total development time.