Ready to do business with us?
In recent years, you may have seen small businesses with an amazing online presence and wondered how they are doing it. Well, to feed your curiosity, it has been made possible by No-Code/Low-Code Platforms. It's a whole movement of No-Code/Low-Code going on which has been criticized by IT since they believe it's disrupting the IT industry.
That's a lot of discussions. Let's leave it for another blog.
Coming to the topic, No code/Low Code platforms are exactly what their name suggests. You can build your web and app applications without or with minimal coding using low-code/no-code development platforms.
However, be it business analysts, or normal people everyone gets confused between Low Code and No-Code platforms.
Maybe, because the details that distinguish both the platforms aren't visible at first glance or in the UI interface.
To make it easy for you to differentiate between both the platforms, let's discuss them in detail and, find out which one is more suitable for your project:
What is Low-code development?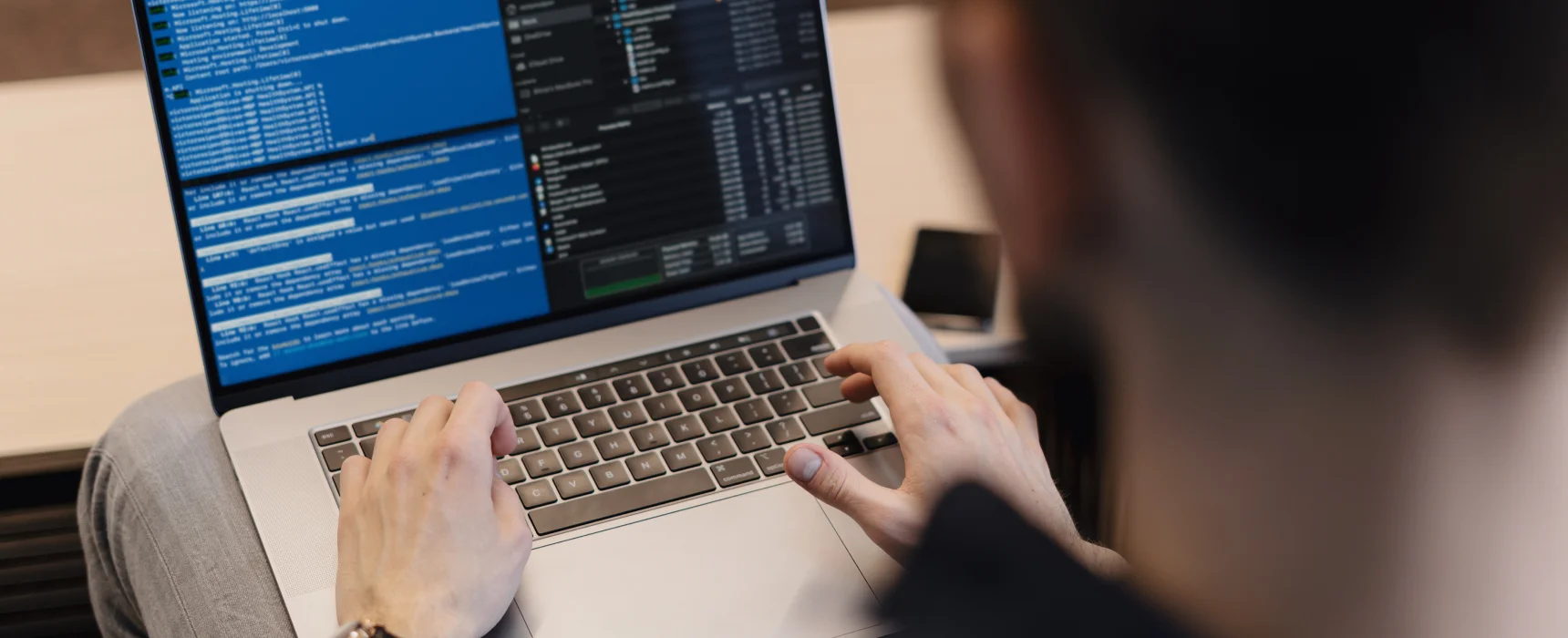 Low-code development platforms or services are a hybrid approach to app development that allows users the liberty to use visual techniques including drag-and-drop interfaces, reusable code templates, process modelling, and SDKs.
First coined in 2014 by Gartner, the term low code points to the fact that it does not require users to build applications by doing boring-repetitive coding.
However, Low-Code development platforms still require some custom coding and are more suitable for skilled developers.
Low-Code Platforms let developers focus on more important aspects of the development process such as architecture as they reduce coding by almost 90% for developers.
In 2021, 29 percent of participants, in a global survey, signified that low-code development is faster than traditional development by 40 to 60 percent.
What is No-code development?
Quite similar in approach, No-Code also provides a drag-and-drop, visual development feature to build an app.
Users of all skill levels can use No-Code Platforms to build their business models, which include even Non-IT and small business owners who do not have enough resources, knowledge, or investment to make and is budget-friendly.
No-Code, unlike Low-Code, doesn't even require users to do low coding for developing applications. Everything that you need for your project development is already built into the platform.
A perfect example of No-Code development is popular blogging platforms that allow users to create their web pages using prebuilt pages.
How do low-code and no-code work?
Low-Code/No-Code Platforms encapsulate all the work that developers do in the traditional approach such as coding, deployment process, testing and, much more behind a Graphic-User Interface.
No-code/Low-code software is constructed in such a way that you just need to check boxes as you select interface elements or modules from built-in ones.
As I mentioned earlier, No-Code and Low-code have differences that are not visible on the UI level. For instance, in Low-Code your system is free to move between platforms but in some No-Code sometimes your system gets locked into the same platform.
Why use No-Code/Low code platforms?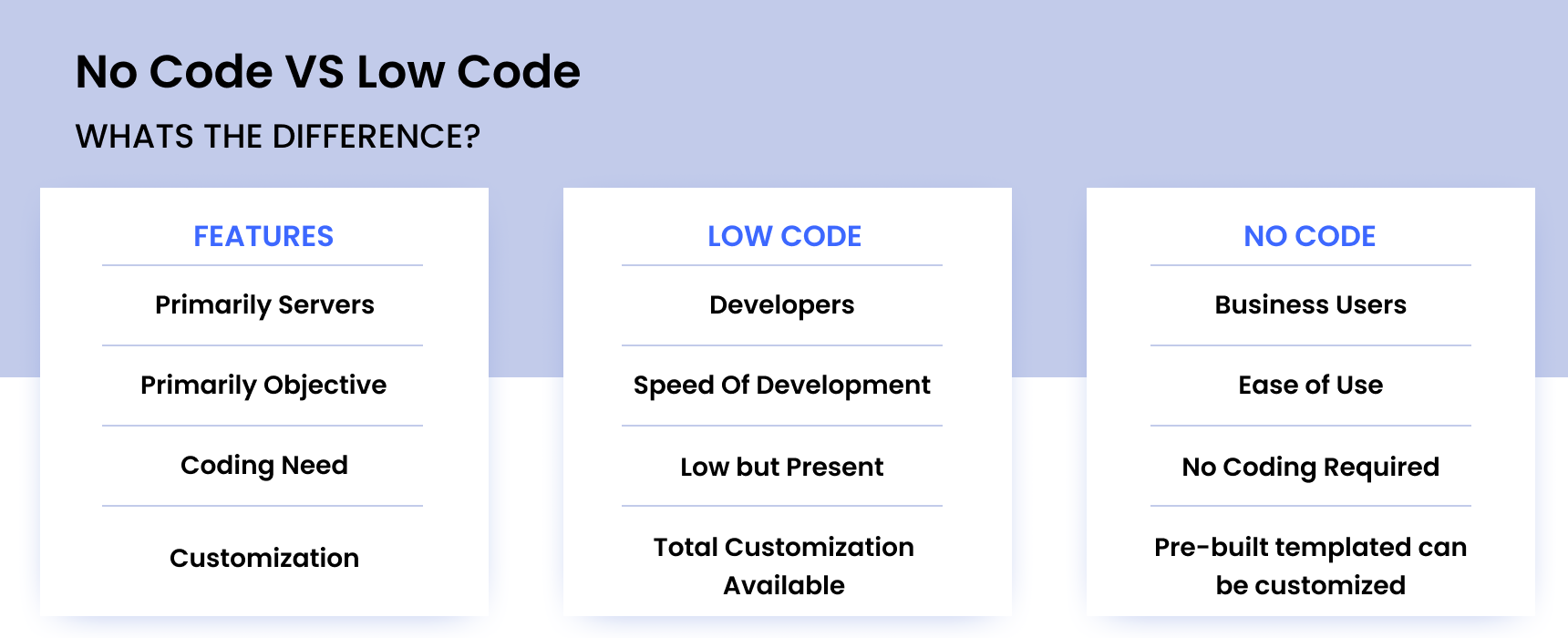 You may have guessed the answer yourself by now. Still, let me put it out there for you.
You may want to use No-Code/Low-Code Platform because it empowers users of all skill levels to easily create applications for their businesses and start their work with one-click deployment.
In a sentence, Low-Code/ No-Code development tools are quick, low-cost, and easy to use.
You do not need any additional resources, knowledge, or investment as these solutions work on basic logical understanding.
Another reason why you may want to opt for No-Code/Low-Code is that it helps users to overcome the backlog problem of applications. Unlike the traditional approach, in which it is difficult to make changes mid-way, No-Code/Low-Code Allows users to make changes in no time creating a better user experience and keeping their business automated.
Low-Code vs. No-code: When to use what?
Low code solutions may require some custom coding, however, they work on digital transformation initiatives, and various data sources, and can be integrated with other systems, which is perfect for developing standalone mobile or web apps.
In fact, except for systems that work with external data sources or multiple backends, you can use the Low-Code platform to develop any kind of app you want.
However, No-Code development platforms can only be used for developing simple applications which do not require any modifications. The application of No-Code lies in the front-end use cases.
Best Low-Code and No-Code App Development Platforms
With the growing popularity of Low-Code/ No-Code development platforms, more and more companies are innovating every day and coming up with more advanced tools.
However, every Low-Code/ No-Code development platform has a different target audience.
Therefore, a Platform that is perfect for a small enterprise with a small team may not be productive for a big firm with a team of core developers.
Therefore, we have provided 3 Low-Code and No-Code development platforms each for you to choose that you believe will fit your team:
Best Low-Code App Development Tools
Zoho Creator – It has been in the market for more than a decade now and is one of the leading low-code development suppliers.Earlier, it used to be a simple online database maker but now has turned into a fully featured low-code app development tool.Along with the smooth learning experience, it has a ton of learning resources on its site. However, it doesn't support third-party integrations.Amazing fit for Small and Medium-sized businesses.
OutSystems – OutSystems works amazing for developers as it has all the essential tools such as code editor, UI editor, version control, deployment control, logging, and monitoring.They can even track their development process as they can peek at the preview of what they are creating as in UI, during the development process.When you rename objects, it also automatically refactors your code.Since it has all these features for programmers, it is the best fit for Companies with several developers.
Appian – Appian is a JAVA-based BPM application development tool and is considered the market leader in modern BPM and Case Management software.Appian helps enterprises in creating a better user experience with an easily customizable UI and provides real management tools that keep track of re-assign tasks, the performance of your company, and much more.Through a simple social interface, all your data is stored in one environment on any device. It is also flexible when it comes to integrating with different systems.
Best No-Code App Development Tools
Shopify – Shopify is a dream come true for anyone who wants to set up an online store to sell their products. Customized themes, enable them to create their store the way they want and also lets them market their products in their way.
Axonator – Axontor is an award-winning No-Code development platform.
Axonator boosts your productivity to another level as it lets you develop applications in weeks.It supports various use cases and also gives enterprises user-level security and scalability. Apps built using Axonator support large forms and are battery-optimized. Axonator has a modern interface and easily integrates with various third-party apps. It helps enterprises provide a better customer experience to their users.
Kissflow – Kissflow is a No-Code app development tool that is known for its simplicity, low-cost and, helping businesses maximize their productivity and efficiency.One of the amazing features of KissFlow is that it seamlessly integrates with your Google Domain and automatically syncs all your customers.Even if you come from a non-technical background, you will have no problem creating applications as it supports easy workflows.
Benefits of using Low-code and No-code platforms:
Faster – Low-Code Development Apps minimize the time is taken in creating apps drastically, now developers do not have to create complicated elements repeatedly. In some cases, it even reduces the development process to hours, increasing the productivity of enterprises.With Low-Code you can even create apps for multiple platforms simultaneously, which again boosts the speed of software development.
Accessible to all – Another benefit of Low-Code/No-Code, which is quite obvious now since you have read the article till here, is that it is accessible for all since Low-Code/No-Code doesn't require you to have expertise in programming languages or any other technical knowledge to create your business models.It is a boon for SMBs who do not have enough resources to invest in qualified programmsmmers.
Integration with other systems – Low-Code supports the data integration and even has a cross-platform feature built-in that can be easily customized and also provides security.
Decreased Costs – No Code/Low Code development is providing development tools at cheap prices. Not only that, it even saves the cost that goes into hiring developers and investing in resources.
Reduced Complexity – Low-code platforms also support DevOps which is a complex development practice that uses principles such as communication, collaboration and, utilizing the right tools, mostly for software testing, building and release.
Challenges of low-code development and platforms
Low-Code apps aren't quite efficient at managing debugs.
With Low-Code development apps, there is an issue of ownership. Code written by you is never really your code and it's difficult to get your data out of a low-code platform.
With the increase in the number of users on the system, the burden on the system also increases. It becomes challenging for the Low-Code platforms to manage large datasets due to their generic architecture, which slows down your app.
With Low-Code as I mentioned before, you have to do some amount of custom coding for which you may need developers if you do not have experience in coding yourself.Unlike No-Code where you do not need to write a single line of code.
It is sometimes easier to just write code to solve a problem instead of using a visual language such as Business Process Modelling (BPMN) for building business logic.
Low-Code Development Platforms come with a lot of limitations also. For instance, if you are creating something that requires customizing it becomes difficult as you can only use the blocks provided by the low code platform tDue to the limitations in the low-code platform, it becomes difficult to integrate with certain systems.
With Low-Code  you will be provided with security protocols but it doesn't match the level of security provided by traditional development methods.
Challenges of No-Code development and platforms
No-Code platforms don't really leave a scope of innovation for users as it comes with limited templates to choose and design from.
No-Code platform development doesn't provide any special game creation tools.
One of the challenges of No-Code is Scalability as it offers limited integration.
Traditional developers have experience in handling risks and security issues that come along with the application development process, while business owners with non-technical backgrounds do not have expertise in solving these issues.No-Code platforms users are demanding that platforms include security in their products.
Is one better than the other?
The answer depends on the system that you want to build. If you are creating something that requires customization or integration with other systems, then you should definitely choose Low-Code development platforms.
Otherwise for simple to-do tasks you should go for No-Code development platforms. As they provide off-the-shelf
Future with low-code and no-code development
No-Code/Low-Code app development will become more and more popular as they are a beneficial method of app development for SMBs on a budget.
Though, they do have lots of drawbacks such as security problems, backlogs, and other technical difficulties.
If these weren't tackled by No-Code/Low-Code Designers very soon, then the future won't be as bright for these platforms.
Also, No-Code/Low-Code won't be able to completely replace the traditional method of development as we would still need developers to create No-Code/Low-Code app development platforms, for low-coding in Low-Code platforms, in creating 2,3,4 versions for apps and for everything that No-Code/Low-Code apps can't do.
Final Words
No-Code/Low-Code platforms have their challenges but their quick development and deployment features that increase productivity win over them.
From SMBs to big firms, there is no doubt that companies will definitely be using No-Code/Low-Code platforms for innovative projects.
However, the traditional method of developing applications will prevail when it comes to developing extensive fully-secured end-to-end projects with large datasets, complex UI/UX, and a complex set of features. Are you looking for an offshore development agency or an app development partner? Then we at SolGuruz have highly skilled mobile app developers who can guide you in choosing the best platform and development frameworks for your idea(s) or application(s), we would be happy to provide a free consultation call or maybe work together as an app development partner, we are just an email or a message away!