Ready to do business with us?
This post will provide tips for Choosing the Right App Development Company. 
Choosing the ideal mobile app development company to work with might be challenging since you want to ensure they share your vision for the App. But it'll be much simpler if you have the right knowledge. 
These guidelines will be helpful whether you're searching for a small development team or a big, full-service organization. However, not all businesses are the same, so do your homework before committing to anything. Let the search begin!
Are you still wondering – why it is critical to understand the importance of a mobile app and its development? Given that there are over 6,300,000,000 smartphone users globally, it is not surprising that the mobile app business is flourishing.
The number of business mobile apps increases each year exponentially. Nevertheless, only a small fraction of the many mobile applications available for meeting a wide range of requirements and wants provide what their developers and customers promise. Indeed, it takes more than just a brilliant concept for a mobile app to be successful. To succeed, businesses need help from a professional Mobile app development company.
To choose a mobile app development company that can meet your needs and achieve what you want in terms of user experience and income, you need to consider a number of things.
8 Key Tips for Choosing the Right App Development Company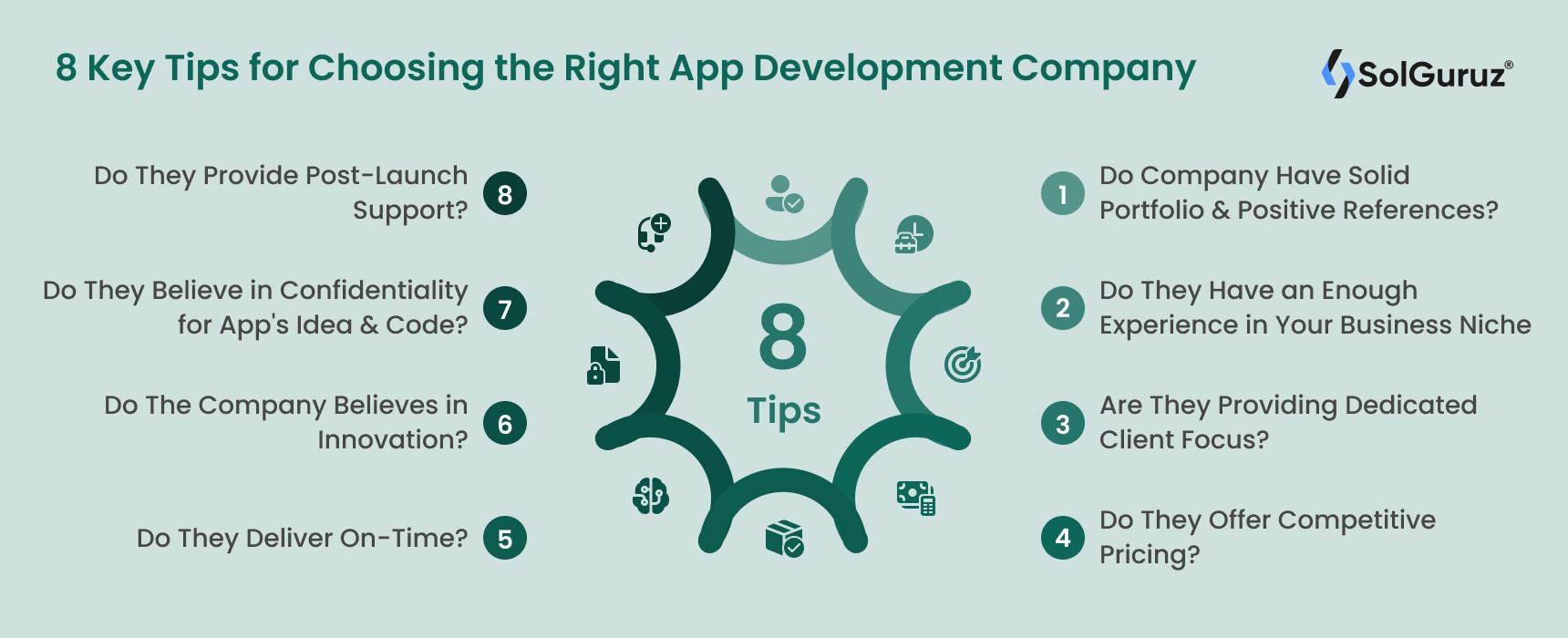 Thousands upon thousands of app development firms are fighting for your business. From project inception to deployment, you'll be up against several formidable obstacles, each of which requires careful consideration when choosing an app development business. 
In this case, it is essential to establish a plan that will guide your selection of a firm that can help you achieve your professional objectives and fulfill your highest standards.   
These are the eight most crucial aspects to consider when making this tough decision. We have presented these as questions. You may ask these questions while selecting a mobile app development company.
Do The Mobile Development Company Have a Solid Portfolio and Positive References

We check the reviews and references when shopping online or offline. A similar thing goes with the mobile app development company. 

Looking through a company's project portfolio is another good method for selecting one mobile app development company over another—the company's track record of successfully delivering mobile apps by reading case studies and success stories.

While reviewing a company's client and project portfolio, watch for applications with a polished user experience. Your App's success will depend on the accuracy of user input on the usage of its many resources and features.

In addition to reading reviews and looking at the company's portfolio, you can also request references from previous customers who have worked on mobile app projects comparable to yours. Asking for references is a smart method to gauge their level of expertise and understanding of partnership dynamics.

Exploring the evaluations is one of the most dependable techniques to check the development company's expertise and reputation. You can tell whether a company is any good at mobile app development and has the kind of track record of satisfied customers you want by looking at their ratings and reviews.

Based on extensive industry research and analysis, various reliable sources have compiled lists of the best mobile app development firms. Companies may research and hire the best digital companies by consulting online directories like Clutch, TechReviewer, and GoodFirms, which rate and evaluate agencies in the industry.

Do They Have an Enough Experience in Your Business Niche

The mobile app development company's experience in your business may be a significant factor to consider. It is especially important in highly regulated industries like banking and healthcare. 

If they have worked in your business, they have likely encountered some of the same issues that your app will answer or have dealt with comparable services. This may save development time and improve the quality of the application.

‍Are They Providing Dedicated Client Focus?

Larger does not necessarily imply better. What is more crucial is knowing that the team working on your project is steady and committed, has a thorough knowledge of your narrative, and consistently provides value. 

A business focused on its customers works hard and meets their needs promptly. So, checking to see whether the firm prioritizes the satisfaction of its customers is an essential step in selecting the most suitable mobile app development partner for your needs. 

The company must supply adequate customer care to avoid significant problems. Companies with a good reputation are aware of the worth of their customers. They would always be quick to provide enough support should problems arise. 

Since they focus on the needs of their customers, they can deliver services of the highest quality and error-free, as well as enough customer assistance both when it is needed and when it arises.

Do They Offer Competitive Pricing?

With so many moving parts, from initial features and project scope to maintenance and upgrades, it can be challenging to put a price tag on developing an app. The different quotes will have various justifications, so it's crucial to understand why you're getting different numbers. 

If the top mobile app development company you choose can't provide what they claim, going with the lowest bid might cost you twice as much.

A professional leading mobile app development company will provide a customized quotation with detailed costs. This way, you may compare the time and cost estimates rather than the price. Time estimates for a single feature may vary widely amongst agencies. 

Inquire more into the agencies' thoughts on what is required for that function. These considerations will aid you in setting priorities for your App's development and optimizing your resources.

Do They Deliver On-Time?

There have been several complaints from businesses and corporations that their mobile app development company failed to update them on their mobile App's development status. 

In many instances, the inability to effectively communicate with the Development Company has resulted in a customer being dissatisfied with their mobile App's end product.

The firm must keep the customer informed of all relevant developments to ensure that the mobile App is developed efficiently and without error. Maintaining close contact with the App's development is crucial for meeting deadlines. 

Businesses need to ensure that their Development Company is adhering to the standards for the efficient administration of service delivery.

Do The Company Believes in Innovation?

The ability to think beyond the box is a major differentiator between a generic company and a top-class mobile app development company. 

A competent mobile app development company will constantly look forward to ensuring that your App makes the most of emerging technologies like the Internet of Things (IoT), wearable devices, AI, alternative programming languages, and augmented reality.

Do They Believe in Confidentiality for App's Idea & Code?

The most significant risk that businesses and startup founders face in the modern day is that their app ideas and concepts will become public. 

Since mobile app development businesses don't need more security precautions, numerous low-quality copies of popular applications have appeared in app stores before the authentic versions. That's a problem.

Businesses and business owners must ensure that the information technology firm they choose to design and develop their corporate mobile applications adhere to several stringent safety protocols. 

Before it can be released into the app stores, the App's idea and concept must remain a closely guarded secret. The mobile app development company must be prepared to sign a non-disclosure agreement to guarantee the safety of the application's core idea and concept.

Do They Provide Post-Launch Support?

A fantastic app developed just today may become obsolete in a very short period. Also, mobile operating systems get updates regularly throughout the year. 

However, there is no such thing as flawless software available for purchase, and even the very best of them might have performance issues. Thus, make it a point to collaborate with a company that can provide enough assistance whenever the product needs to be modified or updated.

Do they provide service and maintenance contracts that are official?
Can they assist you once you have launched the App?
What is their stance on repairing errors after the product has been released?
Wrap Up
‍To summarise, making an informed decision about the mobile app development company you will work with within 2023 will improve the likelihood of your project's success.
It's only sometimes a cakewalk to create apps for mobile platforms. Choose a reliable mobile app development company to work with. These tips for choosing the right app development company will help. 
Investigate the agencies you're considering working with to see whether they have experience with companies like yours, expertise with mobile app technologies like the ones you need, how excellent their app products are, and how satisfied their customers are with the working relationship.
Selecting the best agency is important to ensuring a successful outcome, so take your time. Contact us & schedule an appointment to learn more about custom mobile app development services.
FAQs
Do you review our company's needs before creating a custom app?
Yes. Before getting into the development process - we at SolGuruz conduct a thorough research about the business and explore the possibilities of the feature which can be included.
Will you assign a dedicated team to this project?
Yes. When we sign a contract for app development, a dedicated team with a project manager is assigned to your project.
Who will be responsible for the App's launch to the Stores?
Well – that depends on the contract terms. We provide the services for the app deployment on the Play store and App store. Still, if you want to do it yourself - we have no issues handing over the original app file.