Ready to do business with us?
Over the last few years, the mobile app industry has grown tremendously due to the high demand for mobile apps among consumers. To explain, statistics show that smartphone users spend 88% of their mobile usage time on apps alone.
Statistics show that there are around 4.4 million iOS apps and 2.9 million Android apps available.
With so many options available, brands must focus on aspects like their mobile app launch strategy to attract their target audience and make them their loyal customer'.
However, it has been observed that a mobile application sheds 95% of its customer traffic during the first ninety days. So, to create an effective launch strategy with high-profit potential, you must plan your initiative carefully and hire app developers that have extensive knowledge. Focus on all steps of the launch, from development to deployment of the app. In this article, you would learn in more detail about various approaches and strategies you can take to successfully launch your app.
Factors to Consider Before Launching Your Mobile App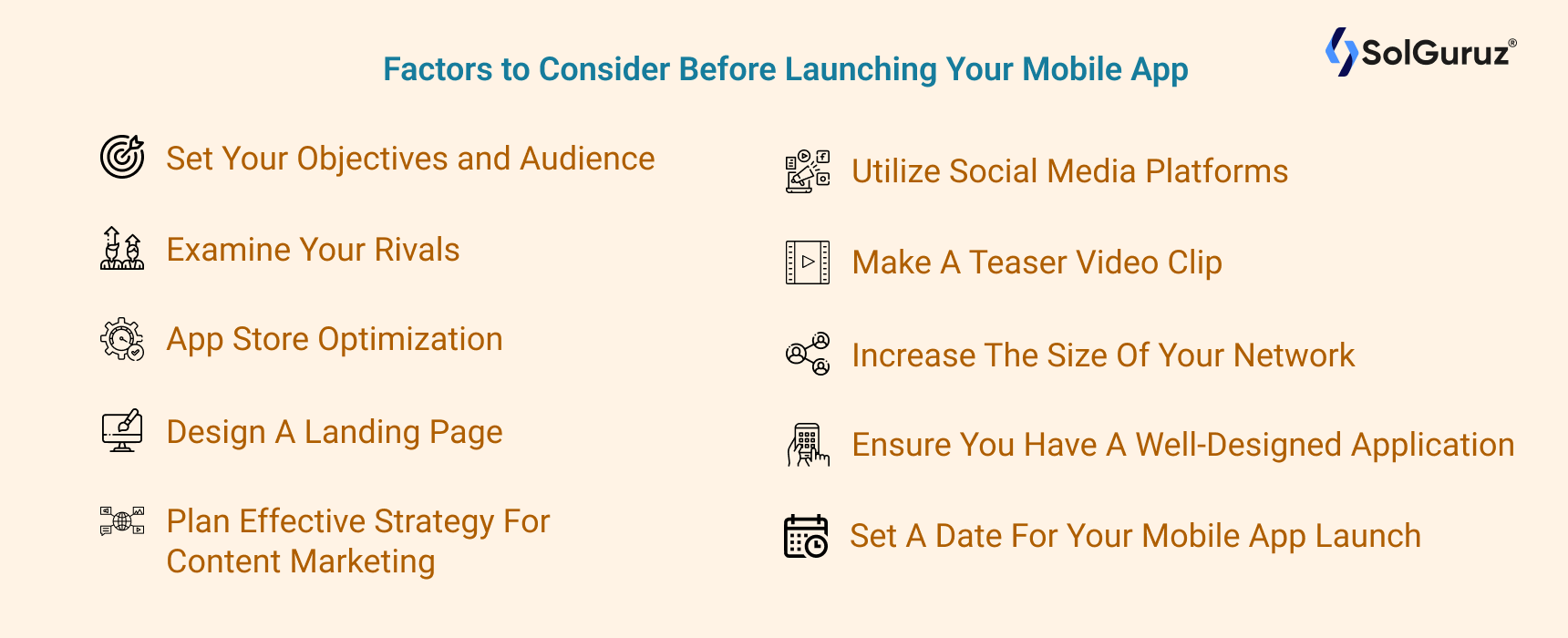 With far more than 8 million applications available on the app market, grabbing the attention of target consumers can get challenging. Here, we will guide you through all factors you must consider before releasing your application.
Set your Objectives and Audience

First and foremost, see whether your application is distinctive and unique before investing your necessary time designing and growing it. Thousands of applications are available in mobile application stores. For many companies, standing out among this competition takes more effort like extra resources and costs. However, without a set plan in place, these efforts would drain your budget further.

So, set reasonable objectives for mobile app launch regarding the target audience and your profit expectations from the app. Research the consumer base first and determine your buyers' persona. Based on that, outline and plan your goals. Here, focus on the following questions for an easier time setting your goals:

What are the primary features of it?
What problems are you trying to solve?
What kind of people would benefit most from your applications or games?
Which feature would become the main attraction of the app?
How can users solve their main issue with the help of your app- the process of using the app?

Examine your Rivals

Search for similar applications on the app stores and test them to see their shortcomings and qualities. Statistically, 30,000 iOS apps and 100,000 Android apps launch on Apple App Store and Google Play Store respectively every month.

A lot of these apps are from competitor brands that are launching similar apps like yours. Study their apps, their unique features, and things that are comparable to your app.   Look at their ratings and reviews to understand customers' reactions to their app. If you want you can also hire iOS developers who will take care of it all to make the process easy for you.

Based on what you find, add or remove features and capabilities on your mobile app model. Avoid imitating others; making a unique app would provide you with a higher likelihood of attracting more customers. Examine your competition and exploit its flaws.

App Store Optimization (ASO)

App Store Optimization is important to focus on before your mobile app launch on the different application stores. App Store Optimization (ASO) can help you increase shop awareness, improve conversion rates, and drive more simple installations. Before publishing your application, ensure that all your App Store Optimization (ASO) aspects (app store listings) are optimized. Also, make sure you beat your competition before you compete with them.

Design a landing page

Make a landing page for your intended audience and send them there to increase traffic. You may use this landing page to highlight all of your brand's capabilities and beliefs while also promoting your application.

You may make a landing page with Wix, WordPress, or another website-building platform. Make your landing page widespread by sharing it on your social media platform.

Plan Effective Strategy for Content Marketing

Aim to pique their interest with exciting and engaging material.  Create compelling content for your application and keep it alive by regularly posting about it on your blog. You must be considering your intended audience again at the same time. Determine what people need to see and where they are most likely to discover it. However, this can be hard for some rookies who have no knowledge of SEO. So, hire mobile developers for doing the part for you.

Moreover, along with building your blog, you may contact some organizations with traffic that matches your target audience and swap guest posts.  Demonstrate the value and functionality of your brand, and provide connections to your content page.

Utilize Social Media platforms

Focus on promoting the features and functions of your application on various social media sites. You do not have to use every single Social Media Channel available.

Instead, concentrate on the areas where your intended audience spends the most time and provide fresh, engaging information regularly. You may build even more excitement by delivering email reminders with your mobile app launch date highlighted. It stimulates as much intrigue as possible.

Make a Teaser Video Clip

Create a video that highlights the most critical aspects of your software and keeps it short and straightforward. You must capture your target consumers' interest in the first five seconds and include a call-to-action text.  Make the most of every chance to increase engagement in your application.

Increase the Size of Your Network

Begin creating new associations with networking professionals for app promotion before preparing your launch plan. For example, it is useful to approach media connections for cross-platform promotion. Influencers have a significant social media following. They may spread awareness about the applications to their fans. It will assist you in getting more people excited for your mobile app launch – additionally, form partnerships with other journals and writers.

Ensure You Have a Well-Designed Application

Before launching your application, you will need to evaluate your app for any defects.

Statistically, 90% of users churn within 90 of installing and using an app. Some of the common reasons for this are UX issues, bugs, and system lags.

Despite running the apps through many testing phases, some issues can go undetected under the development team. Many professionals cannot see the problem areas because they focus on small details, not an objective overview of the whole app structure. Instead of only relying on input from your department, now you need some outside perspective. In other words, you need to hire app developers.

Allow a few potential customers to beta-test your application and provide feedback on what improvements your application requires. Once you eventually launch your application, be sure you praise them.  You may give them free access to certain features or provide them with special discounts, or deals, or any other beneficial things.

Set a Date for Your Mobile App Launch

We understand that you want to release your application when the developer declares the application is ready. However, being practical, this is not always a good idea. As discussed in this post, you will need to create excitement before releasing your application to the marketplaces. Make sure you have quite enough time to advertise your application.
Best Practices to Ensure Successful Mobile App Launch
We hope you have probably thought of a terrific application concept and set a target to obtain a lot of installs when it launches. Let's look at some suggestions and practices for launching a successful app and keeping customers for the long run.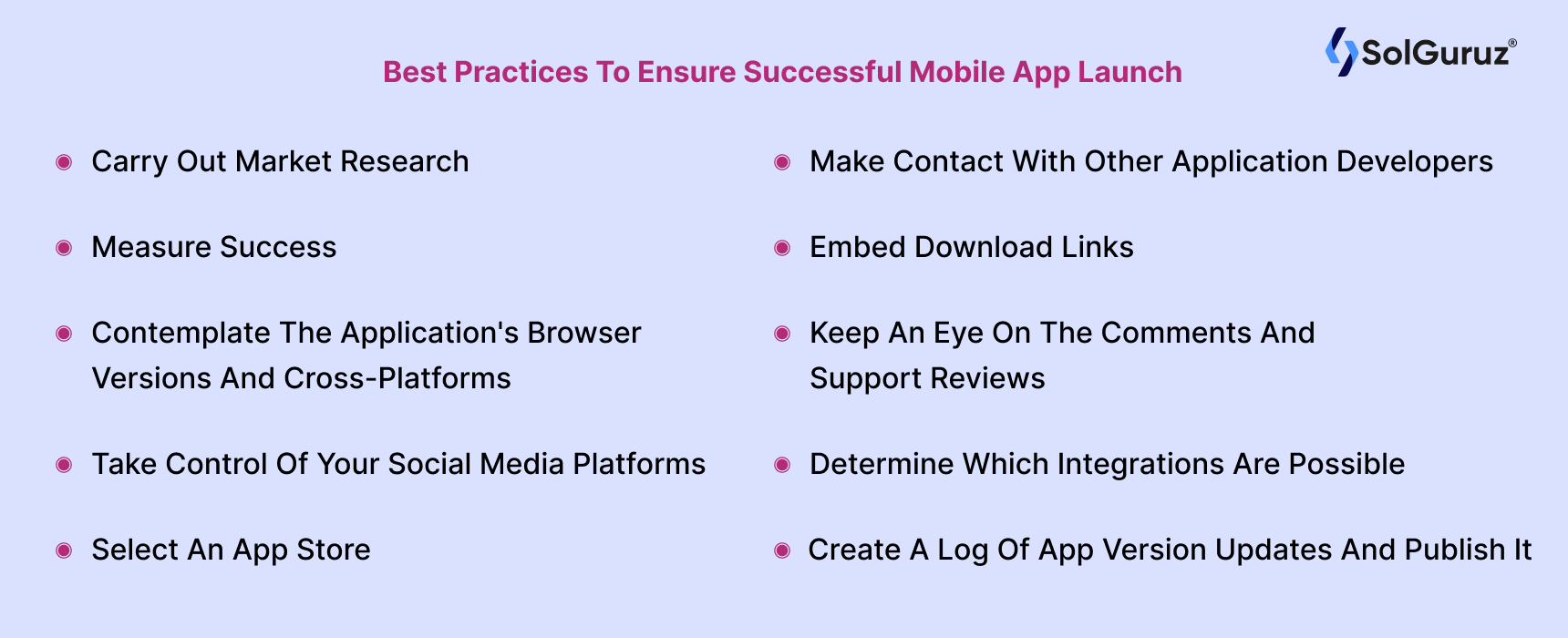 Carry Out Market Research

To properly establish your application, you must undertake extensive market research. You must learn about the top applications in your industry, identify where they miss the mark, and apply what you have learned to improve your application.

Considering your budget, you can conduct primary user research. On the other hand, secondary research can provide a wealth of information. Examine user reviews on rival App Stores' application sites and ratings on blogs to discover what genuine users think about the competitors.

Measure success

If you want to build a viable mobile application, you must first define what exactly success entails.  Establish a few quantifiable objectives for your mobile app launch. We suggest tracking your ongoing install rates, retention rate (the number of users who download your app but don't remove it), percentage of evaluations, overall rating in the app store, and income earned from your application.

Contemplate the Application's Browser Versions and Cross-Platforms

Sticking on one platform is not enough (typically Android or iOS). It is now essential to be accessible on numerous platforms to reach a broader audience. Cross-platform programming is not just the best approach to expand your reach, but it is also more cost-effective in the foreseeable future.

Take Control of Your Social Media Platforms


While the software is still under creation, you may utilize your social media profiles to promote it and gather comments and suggestions from potential users. However, after your app is out, be sure to update the links in your social networking bios to point to the app store installation. Ultimately, the aim is not to increase site visitors. But it is to increase downloads and installs.

Select an App Store

You will like to release your application in just one app store at first. It should assist you in obtaining the maximum possible density of customers and evaluations.

Furthermore, within the first few weeks following mobile app launch, you will be creating a lot of modifications and enhancements to your application, and keeping it in a single store will assist you in expediting those upgrades. Thus, feel free to spread your application to other app stores after it has gained traction.

The Android-based Google App Store and iOS-centric Apple App Store are the main app marketplaces. However, there are many others like HubSpot. Finally, if you are still confused, conduct some market research and see which app store your target audience prefers.

Make Contact with Other Application Developers

We would recommend consulting another app development agency who have developed similar apps and whose consumers might be interested in using yours. You may build up a mutually advantageous co-marketing arrangement that benefits both of you and increases your installation rates.

Make careful to hire android developers and hire iOS developers with positive credibility in the application store. No one wants their application to be associated with a subpar application.

Embed Download Links

After you make your application live, you should provide download links for your application on your marketing emails, blogs, the main page of your site, and social media profiles. You can even develop a custom tab for your social media page.

Keep an Eye on the Comments and Support Reviews

You should keep track of customer comments on your application and aggressively encourage them to provide reviews.  This technique not only allows you to uncover issues you otherwise couldn't understand about it. It also helps you recognize problems and make instant adjustments for a better user experience. Keep users informed about your accomplishments so they know you pay attention and react to their suggestions.

Determine Which Integrations Are Possible

You may have observed that the average smartphone user has over 40 or even more applications on their phones. Also, you have noticed that some of these applications interface with each other. For example, you may use Facebook to get into your Pinterest profile.

It is more important for users, and greatest of all, if you connect smoothly with applications that your customers already have, you may enhance retention. However, if you are finding this intimidating you can always hire app development partners to assist you in the process.

Create a Log of App Version Updates and Publish It

Visibility has become increasingly essential to customers. One approach to be more upfront with users regarding your application is to keep them informed about any updates and additions as they become available.

The most straightforward approach to achieve it is to keep an updated record. Deliver these logs to the app store listings, and create a separate version log page on your website. It enables the users to quickly see what modifications they have made in the last several weeks.

By keeping users informed about app upgrades, you can improve retention rates when users notice new features. Furthermore, you may send push alerts and in-app pop-ups to customers asking them to visit a specific page on your website to get a summary of these new capabilities.
How to Launch an Application on Google Play Store?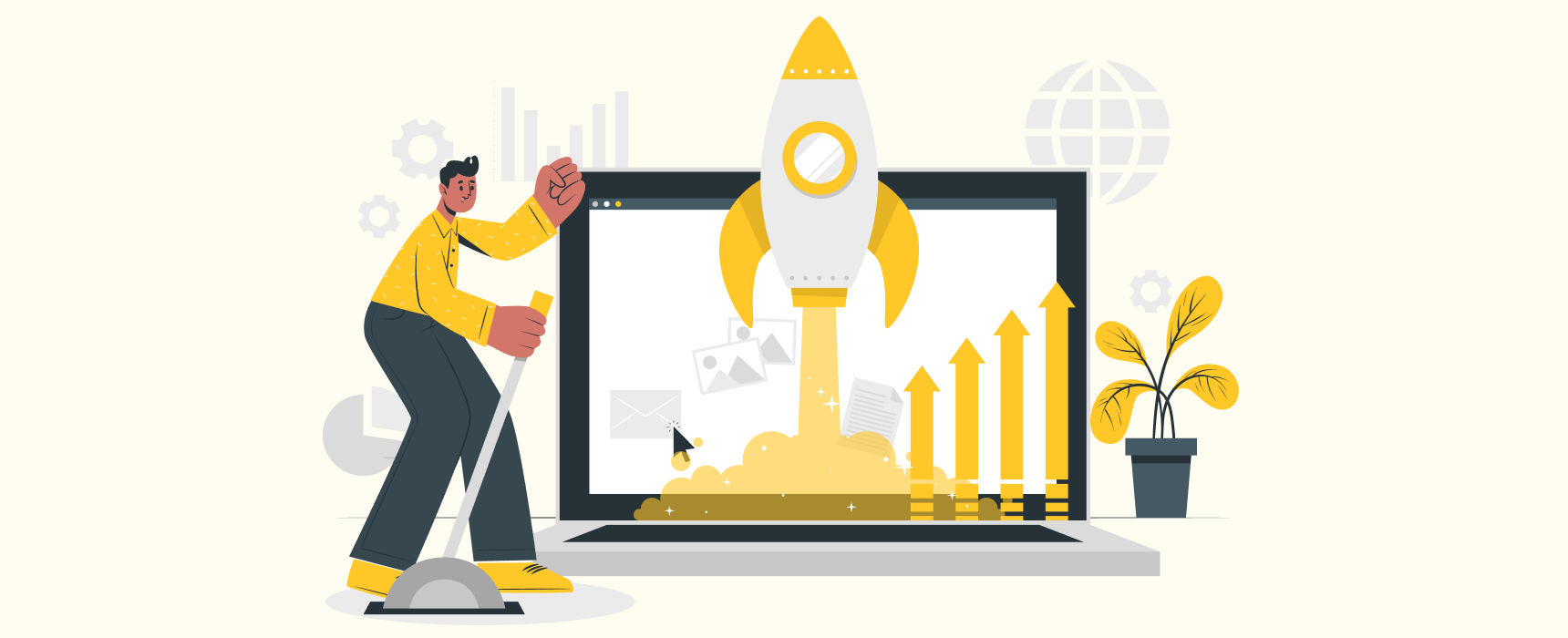 When publishing Android apps, the Google Play store is the finest marketplace. There are several procedures to do when you have finished your final version. Here's a step-by-step guide to launching your app on the Google Play Store. Then, publish it to Google Play Developer Console and double-check that it follows all of Google's rules.
Step 1: To begin, you must first establish a Developer Account. You may easily create one by logging in with your Google Account.
Step 2: You will need to set up a payments center profile to launch a paid app or offer in-app purchases. It is often known as a merchant account.  Here is the step-wise solution to create a merchant account.

Log in to the Play Console.
Select the Financial option from the Download Reports.
Then, choose 'Set up a merchant account now.'
Enter your business's details.
Confirm the details to finalize the account.

After registering the profile, the Merchant account will be instantly linked to your developer account.

Step 3: You may now add your application to your Play Console. Here's the procedure you should follow for adding your app on the play console:

First, in the menu, select the 'All Applications' option.
Select 'Create Application.'
Now from the drop-down option, choose your application's default language.
Then put a title for your application.
Select "Create."
After you release your app, the title will appear on Google Play.
Step 4: You must then prepare your application's store listing before publication. There are numerous types of information you'll need for your store listing:

Product details
Graphic assets
Language and Translation
Categorization
Contact Detail
Privacy Policy
Step 5: It's time to check up on your APK (Android Package Kit) file after you have established the groundwork for eventually uploading your program. The APK is a file format for distributing and installing programs on the Android operating system.
Step 6: Include a suitable content rating. If you fail to give it a rating, it will be shown as 'Unrated.' Applications marked as 'Unrated' on Google Play may be deleted.
Step 7: You must decide on a revenue plan for your app.  Once you have figured out how your app will earn money, you may decide whether to make it free or premium.
Step 8: After assuring you have handled everything else, the last step is to evaluate and push out your mobile app launch.
How to Launch an Application on Apple Play Store?
After several months of the development process, the top mobile developers must focus on the launch. Here are the steps of the main launch process you should complete before submitting your software to the Apple App Store:
Step 1: First, you must be registered in the Apple Developer Program.
Step 2: Your software must go through an app certification procedure before publishing. Before approving it for publication, ensure that it complies with the App Store rules.
Step 3: You are now prepared to start building your App Store listing. The following are the components you must provide in your Apple app store listing:

App name and category
Privacy policy
Pricing
App Release options
Step 4: Make your screenshots with various methods and post them to the Apple app store.
Step 5: Using Xcode, link your program to the App Store

Your program must function properly and be error-free.
Then, you must have Xcode set up with your Signing and Team information. If you are releasing a new app, you should change the version to 1.0.0.
Step 6: Upload your application to the Apple store for reviews and assessments.
Conclusion
Although mobile app launch is a one-time activity, your application journey does not stop yet. To attain consistent success, strive to continuously advertise, assess, and refine your app approach. Depending on your product, you will need to execute the appropriate techniques, tips, and strategies differently. However, keep in mind that advertising your app and generating interest. Pick a schedule for your app's launch and ensure to attract users and advertise it.
Launching an app is a lengthy process that requires a lot of attention and expertise. If you are carrying out such an initiative and need expert support, we can assist you in the matter. The professionals at SolGuruz are trained in different aspects of the app development process, from planning to deployment.
So, what are you waiting for? Talk to us soon and we will prepare the best app launch program for you, providing affordable mobile app development services to you from start to finish.
FAQs
How long is necessary to complete preparation for app launch?
Carry out the pre-launch marketing initiatives over 6 months if your app is not developed at the time. In case the app is built already, summarize the main points of the app pre-launch. Keep the time limit for this preparation to a week and then focus on the post-launch process.
What is the key to preparing a successful strategy for app deployment?
To prepare the best possible launch strategy for a mobile app, the key element you should focus on is user research. All aspects, from the features to add to the branding initiatives, relies on customer satisfaction and retaining the target audience's interest. So, center your launch plan around user-center conditions, like content marketing, social media marketing, and visual representation.
What is the main constraint of launching apps and expecting high profits for companies?
The main problem businesses face while launching their apps is the highly competitive market. the number of apps from brands is high, thus giving more options to consumers. So, it becomes difficult for new apps to perform well since the competition is extremely high.
How to prepare a useful app launch-centric press release?
To prepare a high-quality press release, you must write it from the point of view of the audience. The one receiving the press release would advertise the app properly if they get the information that prompts them to positively promote the app. So, prepare your statement keeping their mindset in focus.
What points to focus on after launching an app to ensure its success?
After deploying a mobile app, here are the main things you should focus on to ensure your launch is successful. A) Focus on ongoing engagement points, like in-app ads and push notifications B) Prepare and deliver regular app updates C) Review the performance of the app by checking customer reaction D) Recheck your marketing strategy and make modifications, if necessary, or re-engagement
Why is it necessary to beta test a mobile app before launching?
Testing the app through a live audience is necessary before releasing the app since it gives the top mobile developers an idea of its usability. The client creating the app can also get a basic idea of the kind of reception they can get from their target audience after launch. Beta testing provides conceptual feedback on app functions, design, and usability.
How long does it take to test an app before launch?
Testing the functional condition of an app can take an extensive amount of time, divided over the course of the development period. Alpha testing, which the developers conduct at the end of the development cycle, also requires an undetermined amount of time. The last stage of testing, i.e., beta testing, can take a few weeks to some months.