Ready to do business with us?
As the title suggests, today, we will discuss how custom mobile app development helps your business grow.
Let's begin with why you need to invest in custom mobile app development.
Statista predicts that by 2022, there will have been a whopping 230 billion app downloads, a 63% increase from 2016. Your mobile app is now required to connect with customers and expand your company. On the contrary, it's crucial.
What is Custom Mobile Apps Development?
In the corporate world, not all criteria and demands are the same. And we aren't simply talking about businesses in various sectors.
Even two direct rivals might have contrasting priorities and expectations.
Your mobile app's style, feel, and functionality will be customized to your company's unique demands and requirements.
Mobile app development tailored to a specific business is called "custom app development." However, regarding usability, scalability, Security, and other criteria, bespoke app development or custom software development, is the preferable alternative despite the longer development time.
Suppose you want to improve client retention or satisfaction. In that case, a personalized mobile app will get you there faster than pre-made software.
Developing a mobile app specifically for a user's needs has several advantages.
Superior Safety
Highly Scalable
Simpler Upkeep
However, you may be debating whether or not it is reasonable to go for the less expensive choice and use an already-existing app. Quickly, let's look at this in contrast.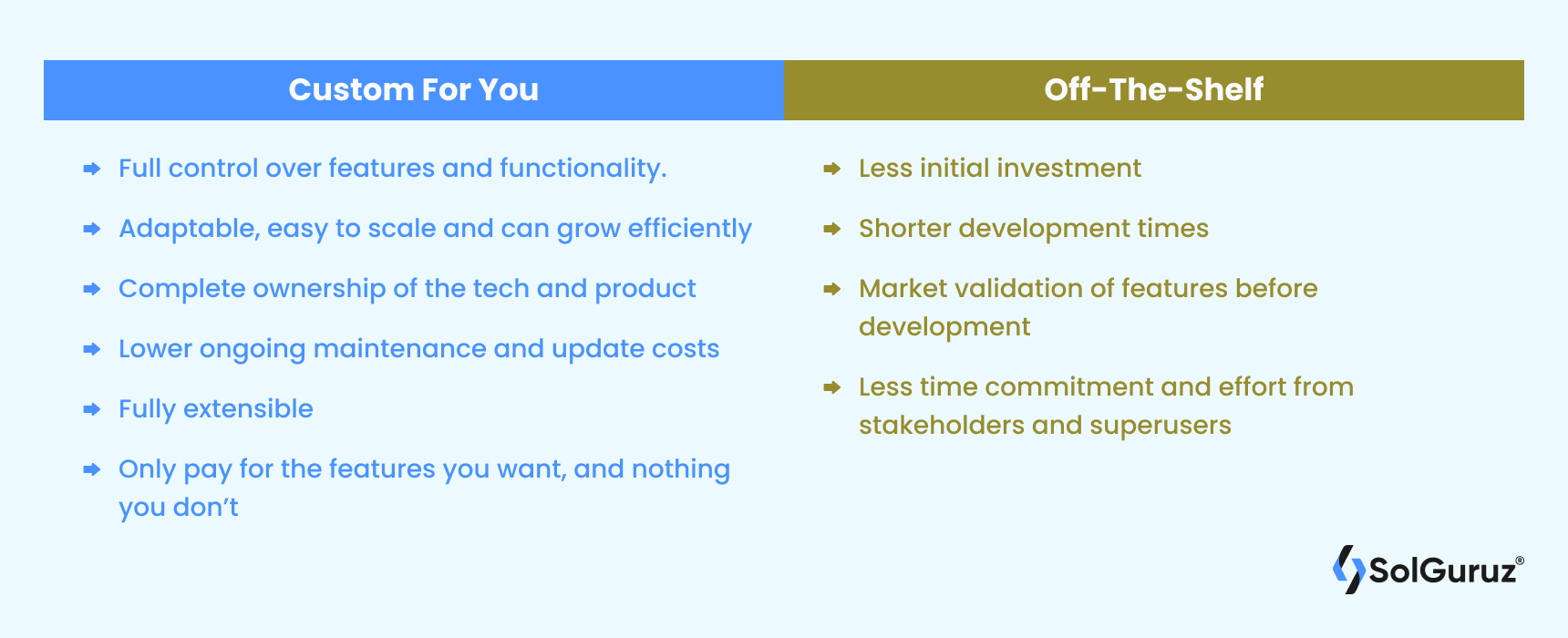 What are the Different Types of Custom Mobile Apps?
Here are some common categories of custom mobile apps:
Web Applications
Hybrid Mobile Applications
Native Mobile Applications
Web Applications

Web-based applications are mobile apps that can be accessed from any web browser, eliminating the need to download any additional software. A web app may be downloaded directly from the web browser, eliminating the need to visit an app store.

Instead, you may use a web browser to go to it. People prefer web apps over mobile applications because of the former's reduced need for hardware resources like storage and RAM.

Among the many advantages of using web apps are the following:

App stores are not required.
Support several operating systems.
Simple implementation and rollout processes.
Less expensive than comparable smartphone apps.

Hybrid Mobile Applications

Hybrid Mobile Applications are built on single code and work on multiple platforms. A platform-agnostic version of these programs is not possible without an interpreter.

You should probably start with Android or iOS unless you have millions of cash for cross-platform app development. This is because, unlike a hybrid, which might seem irritating at best, the combination can frequently feel intuitive.

But they are something to think about if you want to create an app that runs on iOS and Android without creating two separate native applications.

These days, Flutter for hybrid app development is getting popular; the reasons are: 1) You need to invest in one platform development only; against that, you would be able to generate apps for Android, iOS, desktop, and web as well. Flutter for web development is in the early stages, though. Still, eventually, it will evolve, and the existing code developed for the mobile apps can be utilized later for publishing desktop and web apps.

Native Mobile Applications

What we mean by "native mobile apps" is an app developed specifically for mobile devices. So, you'll be developing native apps for Android or iOS platforms. A Windows phone, on the other hand, maybe an option.

These apps are quick, provide a simplified user experience, and are simple to use since they are developed with the target platforms in mind.

Native mobile apps have several advantages.

Exhibit the Highest Level of Performance
are safer, more engaging, and user-friendly
By removing limitations placed on developers by the OS, more functionality may be added to applications with fewer bugs.

Now that we know the many categories of custom mobile applications, let's examine their advantages.
What are the Incredible Benefits of Custom Mobile Apps Development for Businesses
Following are the three key benefits of custom mobile app development for your business:
Custom Mobile Apps are Flexible
Custom Mobile Apps are highly Scalable
Custom Mobile Apps Have Enhanced Security
Custom mobile Apps are Flexible
Too many companies nowadays are introducing new products and services at an alarming rate. In addition, bespoke mobile applications are the way to go if you care about catering to your company's unique specifications. Off-the-shelf apps, as is common knowledge, are standardized, pre-made answers. There's also a potential that these programs won't work for your situation. Custom mobile app creation is a beautiful strategic and cost-effective long-term option, regardless of whether you require an application for customer relationship management, logistics, or anything else.
Custom mobile Apps are highly Scalable.
Not all mobile applications can scale as well as the norm. Over time, your company's needs might change. Let's say you've decided to add a new feature to your mobile app in preparation for a company expansion somewhere in the next quarter. However, it's important to remember that pre-made applications seldom provide the same scalability or support as custom mobile apps, even after being modified. Custom mobile apps may adapt to your business's changing needs. You may talk to your engineers about anything, from adding a new feature to adding tens of thousands of people.
Custom mobile Apps have Enhanced Security.
In today's information age, data is the lifeblood of every business. The prevalence of data breaches highlights the need for organizations to take appropriate precautions to protect their customers' private information. When weighing the benefits of custom-built mobile apps vs. those of ready-made ones, it's important to remember that the latter provides you less say over the data-security technology and protocol used in their development.
What is the Entire Process of Custom Mobile App Development?
Put our whole bespoke mobile application development process in front of you to get a sense of the way forward:
Focus on your Targeted Audience and Niche
Create a Business Plan and hire a Mobile App Development Company
Create a Working Model
Strategize your approach to entering the market
Go Ahead with Next-Gen Mobile Application Development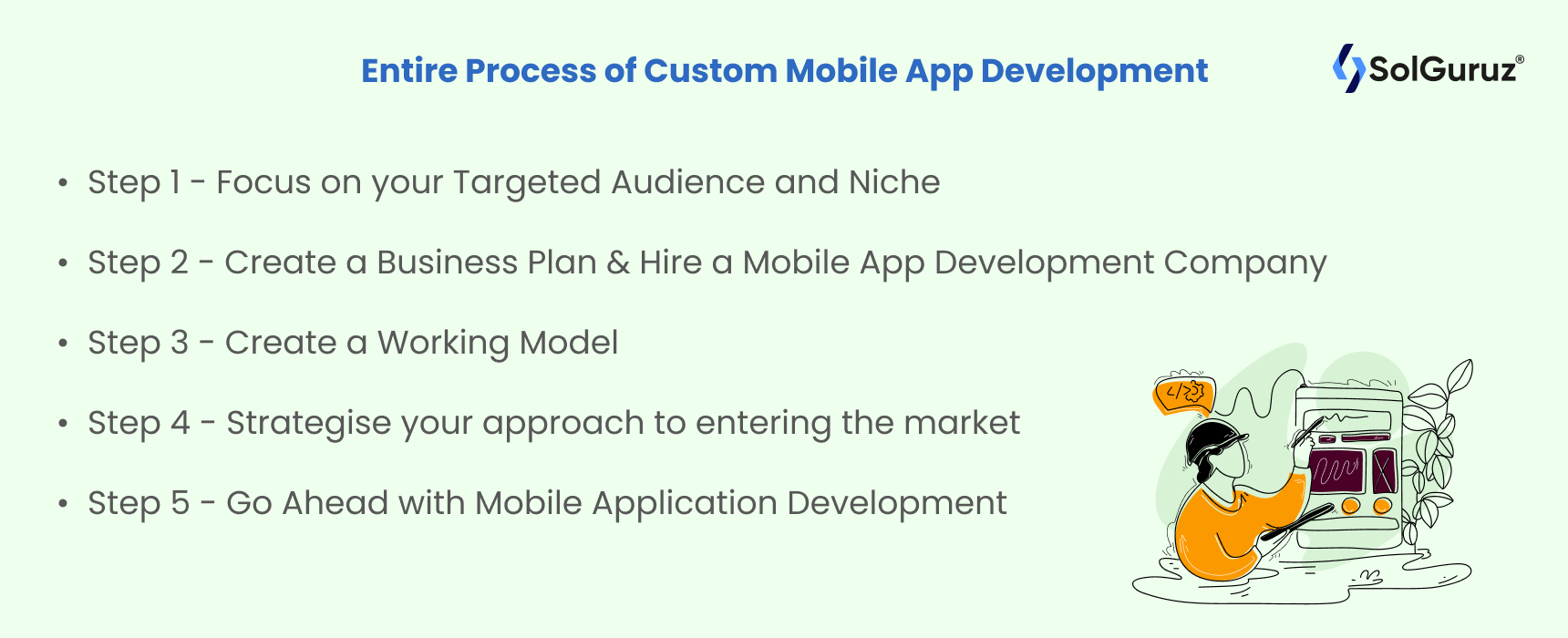 Let's go through these procedures for creating a mobile app from scratch.
Step 1 – Focus on your Targeted Audience and Niche

When it comes to custom mobile apps – the very first thing you need to decide is what is your target audience. You must be aware of your target audience.

The mobile app development company will work only when you are clear about who you are catering to! And why you are catering to them.

Narrowing your audience to its core demographic will allow you to understand their needs and challenges better. It will also highlight your mobile app's value to your target demographic.

You may use this to map out your strategy for your mobile app and settle on things like:

Whether or not you plan to create a single app with numerous functions.
What it can do and what it has to offer are its many features and functions.

Step 2 – Create a Business Plan & Hire a Mobile App Development Company

A business strategy is required to determine whether or not the app may be valuable. Consider if you want to use the app to make money or streamline a specific number of operations inside your company.

Here are some inquiries you and your group need to make:

In what ways will the intended readers profit?
In what ways will our co-workers and business partners profit?
If you were to look at the application from a commercial standpoint, would you still want to use it?
Do we want the app to aid revenue generation or simplify one or more of our internal operations?

Collect information about your intended audience's requirements and preferences, and set your sights accordingly.

Also, with this data at your disposal, you should formulate a business plan to share with your in-house or app development staff.

It's time to create a crack squad of professionals to aid in app creation. You may consult with a mobile app development company. Remember that the method of delivery is integral to the product itself.

Look for a group of product strategists who will consider your requirements and company strategy and instruct and test your assumptions about your proposed application.

Step 3 – Create a Working Model

The next step is the layout.

Design and prototyping are the first steps in developing any bespoke software. That's true regardless of whether you're a solopreneur with a bright new concept or a Fortune 500 company CEO.

In the design phase, you will see an almost finalized version of your app, except for the coding details. Imagine it as if it were a home you have yet to construct. You've completed the planning and design stages, so the building comes.

There is a plethora of causes behind this, but some of the more important ones are as follows:

More money is saved. You may buy designs for far less than the expense of making them from scratch.

You are free to act on your initiative. A lack of action is one of the most lethal things for a startup. So, you may take the plunge without breaking the bank by having a bespoke app designed.

It paves the way for a more precise prediction of future growth. The final design of your app may alter significantly from your first vision. A more accurate development cost estimate may be attained with the help of a visual overview of your concept.

You not only receive results, but they are valuable ones. While this might vary depending on how and with whom you decide to construct your app, with SolGuruz, you can have access to world-class designs in a flash.

Step 4 – Strategize your approach to entering the market

In the next stage, you would create a plan for developing the app. An MVP's development expenses may be estimated, and significant features can be outlined with a roadmap.

Planned Timeline and Budget for Minimal Viable Product Development

As a bonus, it will assist in facilitating your application development team's ability to synchronize their goals with those of the program's features.

Once a roadmap has been drafted, it should be presented to the decision-makers for approval before any work can begin on an MVP's budget, timetable, or cost.

Step 5 – Go Ahead with Mobile Application Development

The app development team can finally go to work now.

So long as you're involved in regular internal meetings, they should continue forward with developing your mobile app.
Wrap Up:
Custom mobile application development has several advantages. To enjoy these advantages, you must connect with a reliable collaborator.
Get in touch with us if you have a concept and want to give it a concrete form to grow to a larger scale and maintain an advantage over the competition. Our large team of specialists allows us to meet any of your company's requirements. We provide various app development services, including one-on-one custom mobile apps.
FAQs
What is a Custom Mobile App?
Developing a custom app means creating software that meets your company's unique requirements. Such an app, whether fully or partly tailored, is designed to meet the demands of a specific demographic rather than the masses.
How Much Does It Cost to Build a Custom Mobile App?
The cost part of the development depends upon n-number of factors such as tech platform, feature, cloud connectivity, database, etc. Contact our sales team with your requirements to get the perfect quote.
Will I own the source code after the application is built?
Yes. Definitely - Your Intellectual property will remain secure with us, and we do NDA with our developers concerning your business privacy.