Ready to do business with us?
Podcasting Market Insights
Podcasts are very interesting because of their high-quality material and the care with which they are seasoned with silliness and fun. Listening to a podcast takes very little time or effort from the listener. Unlike blog posts and videos, podcasts may be listened to on the move. Thus, it is reasonable to conclude that building a Podcast App is an effective decision in 2023!
Even stats back the idea of Podcast App Development as More and more people tune in to podcasts every year. There are 424 million listeners as of the first quarter of 2022, up from around 275 million in 2019.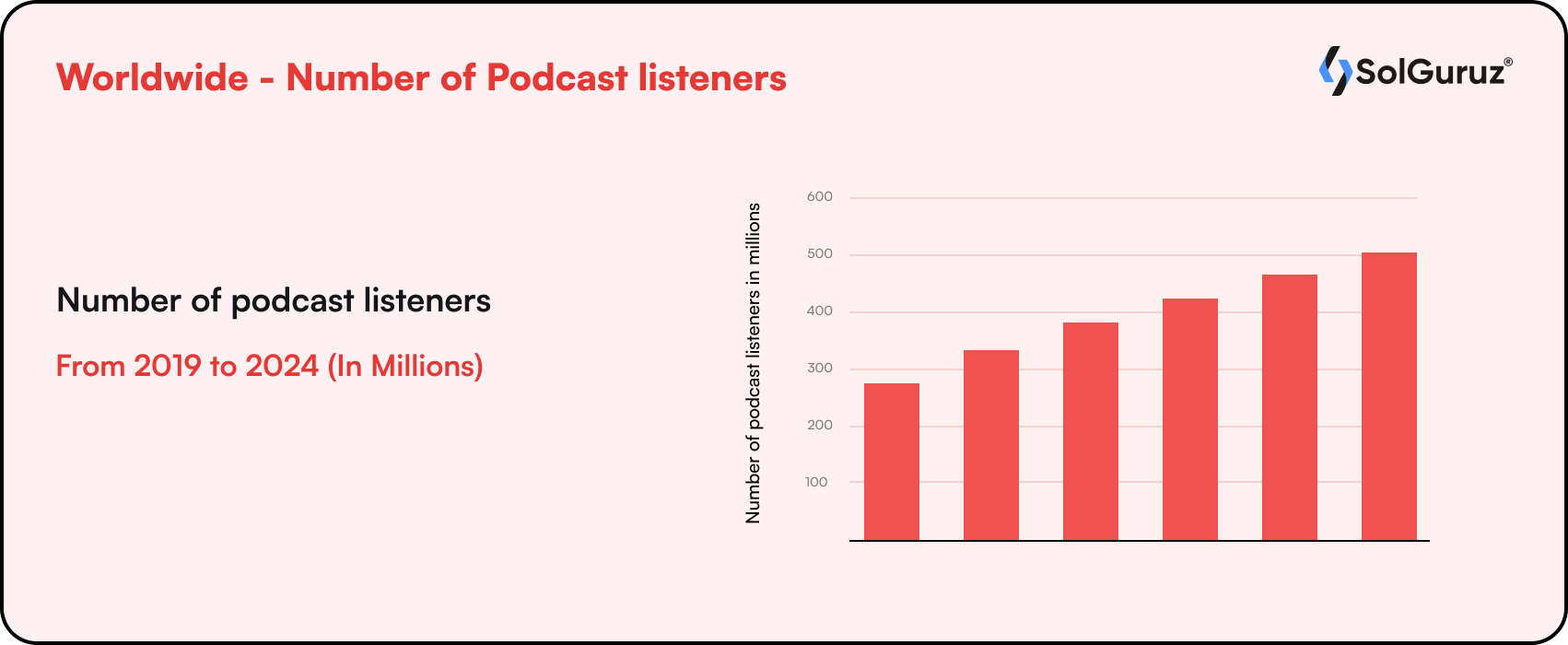 Recent statistics indicate that by 2022, the podcast business will be worth $94.88 billion. In addition, as of 2022, there are 424.2 million podcast listeners worldwide, which amounts to around 20.3% of all internet users.
Several businesses see the potential in the explosive Podcast Mobile App Development. They are working feverishly to introduce mobile podcast applications. Startups in the podcasting industry are always innovating to serve their audience better.
This article is for you if you are looking to build a Podcast App in 2023. Here, we'll examine all the moving parts of making a fully-featured podcast app for mobile devices. We'll also analyze the market's leading podcast applications, the essential elements of a podcast app, and the related development costs. 
Okay, so let's begin.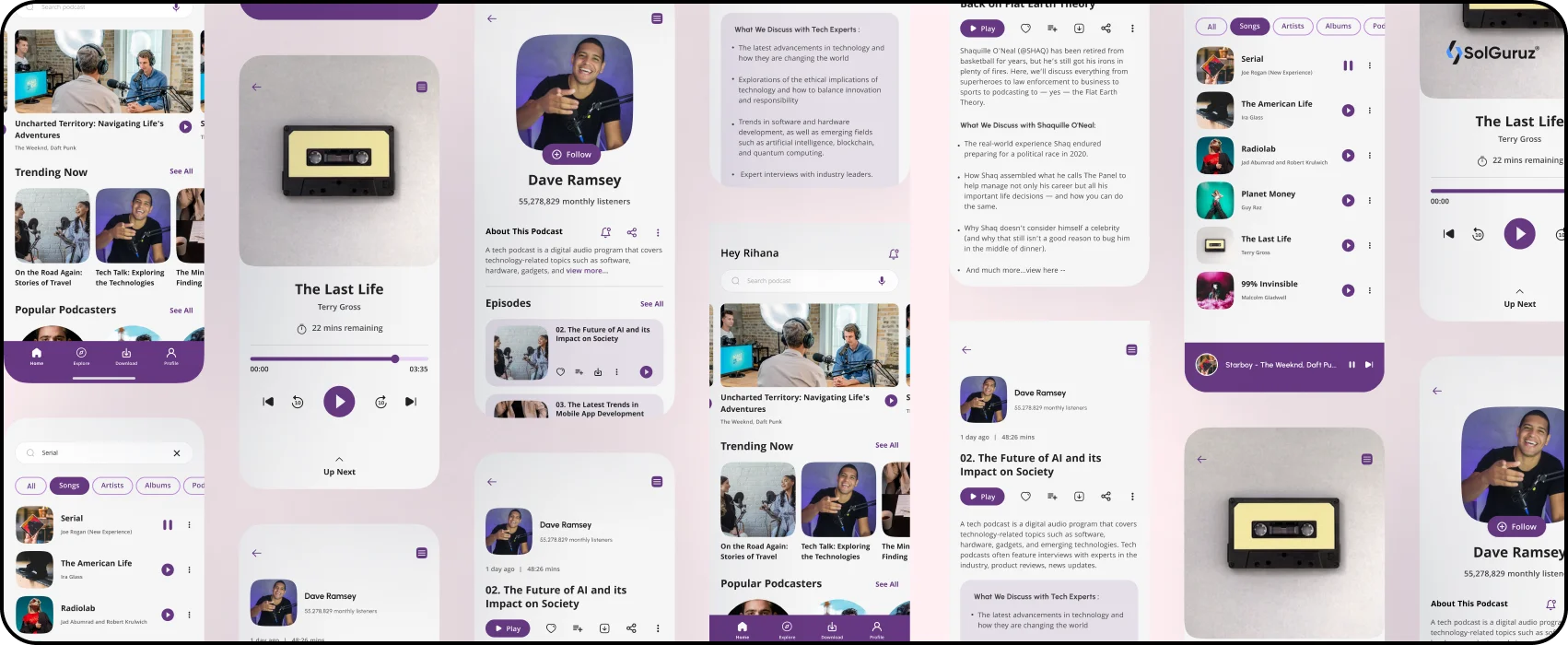 What is a podcast?
Although podcasts have been available for over two decades, it is only in the past six years that the format has flourished. Podcast popularity has increased thanks to several factors, including an increase in the number of episodes, the participation of celebrities, the backing of major corporations like Spotify, and the expansion of awareness-raising technology like smart speakers.
"Podcast" is an acronym for "iPod + broadcast." So, the phrase first referred to anything that could be listened to on an iPod. In modern use, however, the term "podcasting" encompasses more than only audio recordings. The time describes how digital audio files are disseminated via the Internet so that they may be played on many devices.
Whether you want to know "what are the finest summer movies?" or "how to design and develop a fitness app," there is a podcast. People may tune in to their favorite podcasts as they premiere or download individual episodes to listen to at a more convenient time.
A podcast is a collection of audio recordings that may be listened to online or downloaded in installments. These days, podcasts can be made by anybody with an internet connection. A wide variety of podcasts are available from various sources, including people, radio and television stations, businesses, authors, and podcast-only channels.
Podcasts may range widely in duration, format, and production style. To start a podcast, you must speak about the subjects that fascinate you. Podcasts' primary strengths lie in their low production costs and intuitive creation processes. And they're becoming more and more well-known every day.
Why are Podcasts popular among users in recent trends?
The variety of range is a positive aspect. Music, film, culture, politics, history, gaming, philosophy, and personal experiences are all discussed. The listener may choose a subject or episode based on their current state of mind and area of interest. The podcasting market is insatiable in terms of demand. Two brothers, for instance, reread the Self-Help books and talked about them in a podcast.
Podcasts may be easily included in our everyday routines. Podcast listeners are shown to be entertained, educated, and kept intrigued despite the rigorous schedules to which practically everyone is subjected. The Podcast is perfect for those so busy that they seldom have time to read books or watch television.
The fact that it's simple to create a podcast is likely a big factor in the medium's success. A microphone and maybe a friend or two are all you need to broadcast your message to the globe. Make a recording of your conversation, polish it up, and share it with the world! Followers will appear if you've prepared properly. Be sure to release new episodes often to maintain a steady stream of viewers.
Podcasts may be accessed on desktop computers and various mobile devices, which is why their fame keeps growing.
Different Types of Podcast Apps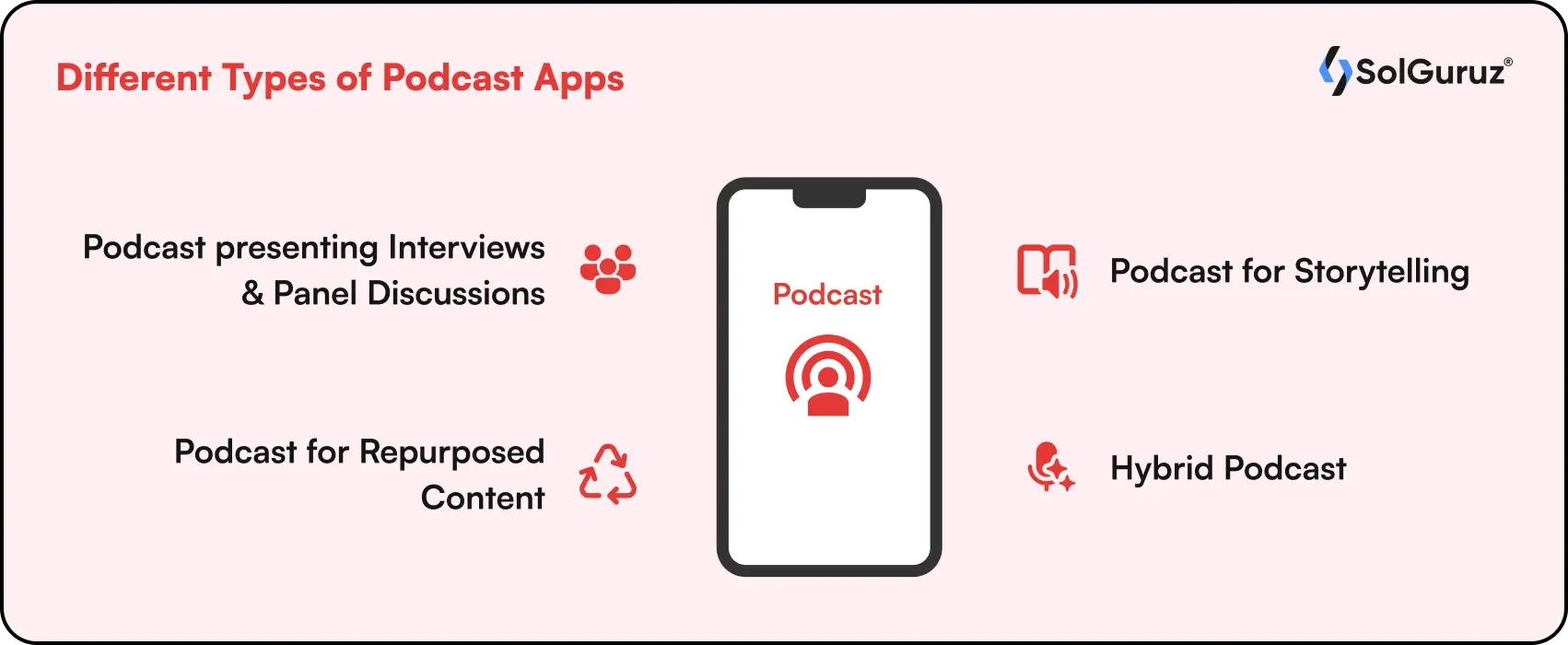 Do not jump into Podcast App Development directly without deciding what type of Podcast you want to create. Podcasting is a massive business; many avenues are open to you for telling tales via sound. Some examples of podcast applications are shown below to help you get started:
Podcast presenting Interviews & Panel Discussions

These podcasts are designed for conversational formats such as interviews and roundtable discussions. They typically have a permanent anchor who interviews a single or more guest at once.

The Podcast presents its audience with several different points of view. Political discussions held on this medium keep audiences interested all the way through.

The standard format for an interview is a conversation between the interviewee and the presenter or hosts. This individual may be a well-known figure with fascinating anecdotes to share or a subject matter specialist. 

Therefore, to ask pertinent questions, the interviewer(s) should do some background reading on both the visitor and the subject. As a result, more information, perspectives, and ideas will be available. One such program is 22 Yarns by Gaurav Kapoor, where he interviews cricket experts to get detailed cricketing insights.

Podcast for Repurposed Content

Numerous podcast listeners nowadays are partial to shows that recycle old episodes. This includes talks with famous people, seminars, workshops, etc. These podcasts are excellent resources for expanding one's horizons of knowledge.

If you have many old materials lying around but want to give them a go, repurposed content is the way. Build a Podcast App from your written pieces. Doing so will allow you to reach more people by providing more material.

Podcast for Storytelling

Podcasts that convey tales via audio recordings may be based on true or made-up events. These podcasts are really interesting because they hook listeners right away. They are, nevertheless, a little bit difficult to master.

Journalists and other media members often listen to this Podcast to get the inside scoop on various topics and breaking events. Both factual and fictitious stories may be told using the art of storytelling, using recorded audio excerpts from the subject being interviewed.

Hybrid Podcast

Podcast series that have the same presenter or anchor for the whole of the show are considered hybrid. However, there is always a new and interesting guest on each episode.

Podcasts of this kind are often used to document talks, such as interviews or panels. In each episode, the presenter offers opening remarks or monologues and then narrates in-depth interviews with the night's featured guest.

Multiple hosts and guests arrange separate podcasting sessions in a hybrid podcast mobile app. A hybrid podcast may serve several functions, from in-depth interviews to group discussions. The beginnings of podcasts of this kind often include host comments, sarcasm, or a monologue directed at the guest.
Top Podcast Mobile Apps In The Market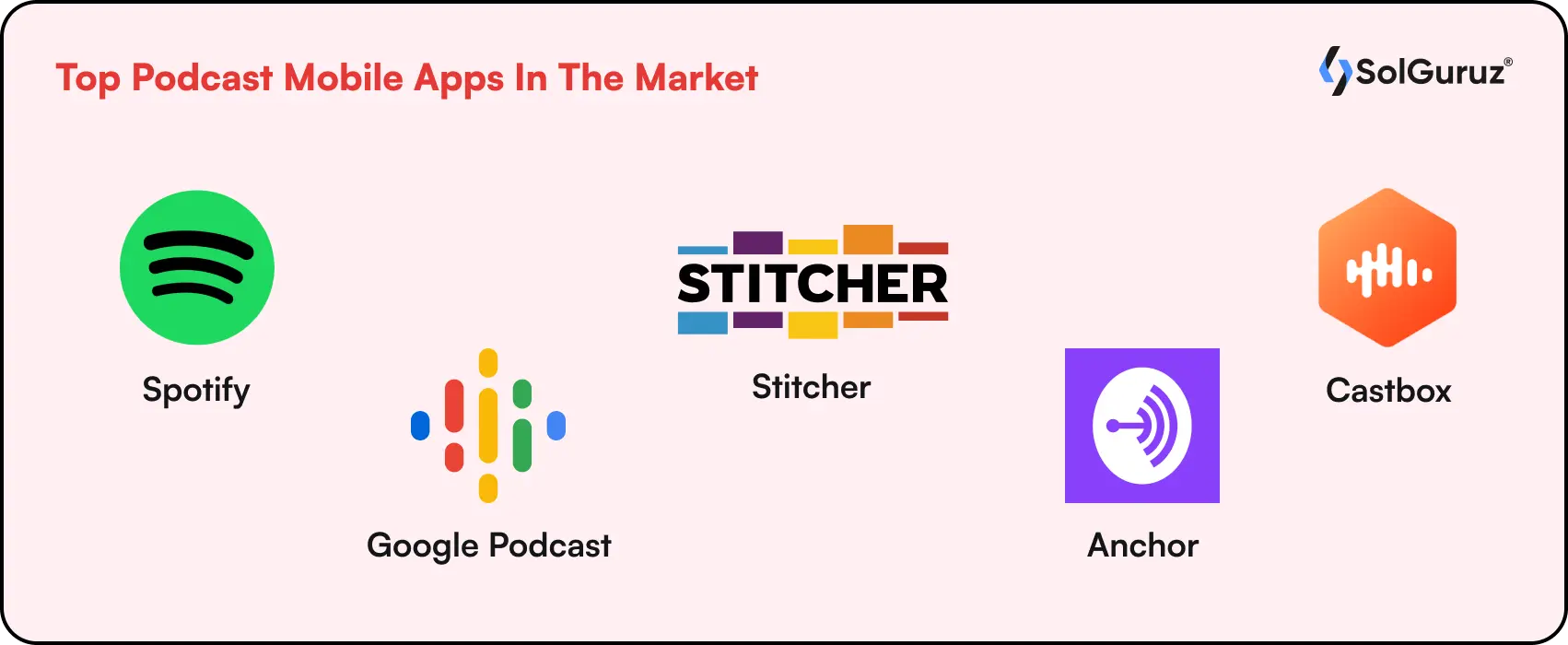 Like hundreds of other Android and iOS applications, podcast apps are available in the Play Store and cover a broad variety of topics. Here are the Top Podcast mobile apps that can satisfy your need for episodic, long-form, or entirely random podcasts.
Spotify

Suppose you like listening to music on the Spotify app. In that case, you may also enjoy the convenience of having just one app to use for all your requirements. Nevertheless, the app's functionality is restricted, particularly in discovering new music to listen to, since it does not make intelligent suggestions but rather provides a selected selection. 

Some listeners could also become lost if they have music and podcasts available simultaneously in their collection or when browsing. However, seasons aren't supported. Thus it's more difficult to locate the right episode. Spotify is easy to use in its most basic form since everything is in one location. You'll need to go elsewhere if you require additional functionality and want to manage your collection better.

Google Podcast

Google Podcasts is a solid choice if you don't have time to deliberate about which app to use. Listening to podcasts is simple, and a subscription is not even required. In addition, it makes insightful suggestions based on the content you already follow and may like. 

As strange as it may seem for a Google app, the program's built-in search isn't trustworthy, making it less than ideal for perusing numerous possibilities. Search results aren't always reliable, and you can't find specific episodes within a series.

Finding the correct podcast might be difficult if you mostly listen to ones organized by season. Once you have your queue set up, using it is simple and intuitive. Features like automatic episode downloads, variable playing speed, quiet elimination, and a sleep timer are welcome additions.

In addition, the app syncs with the cloud, so you can easily continue listening on the go using the app's accompanying free online player. For the most part, Google Podcasts is an easy-to-use software that may be a decent choice for many people despite its lack of more complex capabilities.

Stitcher

Stitcher has an intuitive layout and several practical extras. You can easily navigate the inventory. However, you won't find any helpful suggestions. Similarly, suppose your podcasts are separated out by season. In that case, discovering what you need will be more difficult than with other applications. The playback controls, silence elimination, and automatic sleep timer are welcome additions. 

Stitcher is a terrific alternative for daily podcast sessions because of its nice UI and useful features. Still, if you need individualized suggestions or season support for your episodes, you'll need to go elsewhere.

Anchor

Most of these recommendations are podcasting applications that may be used to subscribe to and listen to your favorite shows. We figured we'd throw in at least one program that provides instructions for making your own. Anchor provides limitless storage space for your podcasts. 

Using this app, you can create audio recordings, share them on platforms like iTunes and Google Podcasts, and even import files from other devices to add to your recordings. It's a clever notion, and the business model is set up so you and Anchor can profit from your success. Still, both the software and the hosting are without cost, so if you're interested in creating your own podcast, go ahead and give it a go.

Castbox

It's worth noting that Castbox is one of the few free podcast applications available. It claims to have over a million podcasts removed from other sites like iTunes. In addition to being compatible with Chromecast and Amazon Echo, the app offers support for 70 languages and a language-learning podcast. 

Support for synchronizing across numerous devices through the cloud is included as well. It's not the best podcast software, but it has some advanced features that power users will like. We dislike the free version's many pop-up advertising and the restriction on the number of podcasts you may subscribe to. The $0.99 monthly fee is reasonable, thankfully.

The list of Top podcast mobile apps can go on and on, but we have provided the best according to the Market.
Steps To Create A Podcast For Your Business
So, now that you have grasped the concept of the Types of Podcasts to Select? and Top Podcast Mobile Apps in the Market, let us see the core steps to create a Podcast For Your Business. 
Here are some key bullets that will help you start a Podcast For Your Business.
 In the very first stage, You must Hire a Top Mobile App development company and have a Project Manager working on your App Project. The company and PM will be responsible for conducting interactions with business stakeholders and gathering business needs.
Build a Perfect Development Team – comprises UI Experts, mobile app developers, database experts, backend developers, QA and Testers, etc. 
Get the Development and Execution of the mobile app development.
Use APIs and SDKs to add vital functionality since doing so will accelerate the project.
Get Testing and Demo Right of the Prototype.
Launch and Market the App.
Monetization Opportunities For Podcast Mobile App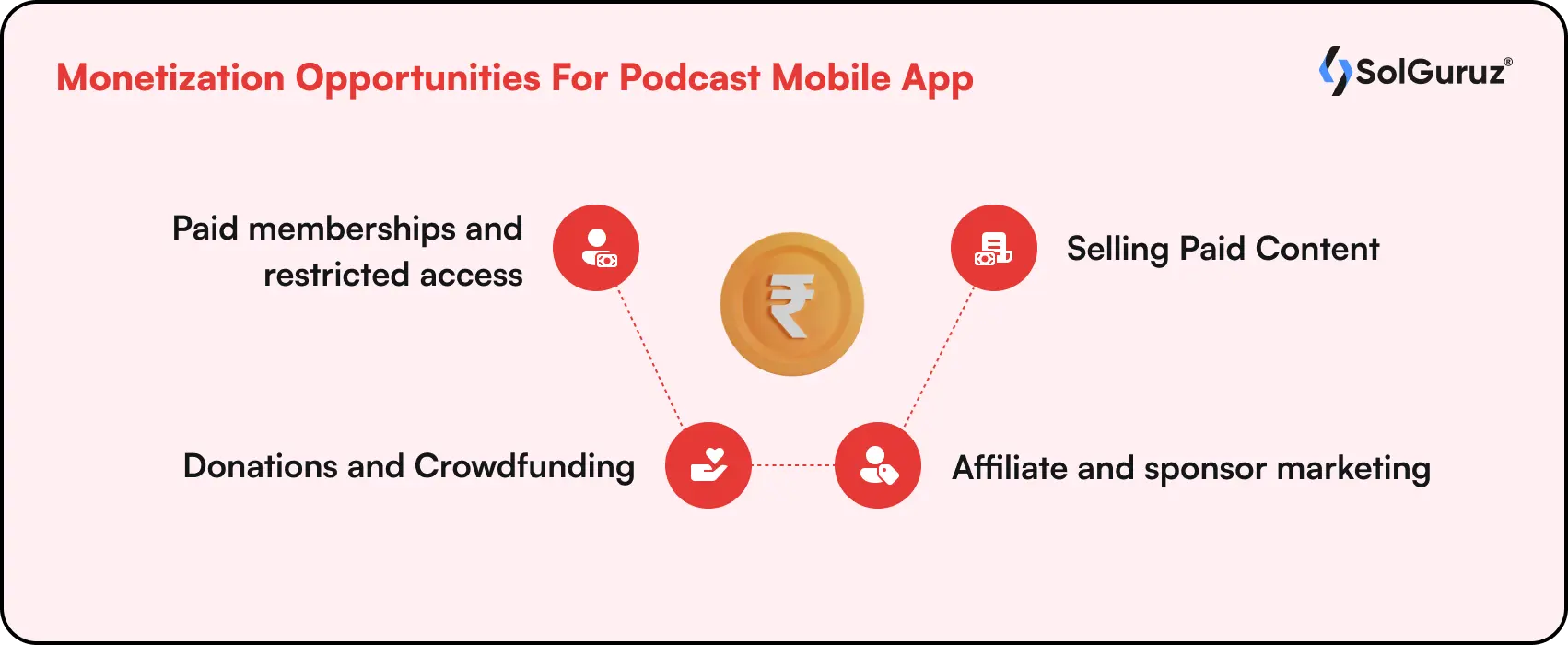 After you get your podcast app up and running, you may wonder what to do to recoup your time and energy. To create a popular podcast, you must put yourself in the listener's shoes and give them what they desire. Several further steps are needed, nevertheless, to turn a profit.
Here are some of the most important things you can do to start earning money with your podcast right away:
Paid memberships and restricted access

Subscribing your audience to a premium membership is another option to monetize your content. The downside of this strategy is the additional effort required to come up with enticing incentive systems, such as behind-the-scenes access or discounted items, for your contributors.

Donations and Crowdfunding

Another option is to solicit financial assistance from your listeners. The crowdfunding platform Patreon has gained significant traction among independent producers seeking financial support. But, this strategy is most effective if you have established a large following.

Affiliate and sponsor marketing

Sponsorships may be a great way to get your podcast exposure and financial support. Connecting customers to other businesses may earn a commission via affiliate marketing.

Although these strategies might be successful, they also come with the risk of having your originality stifled by corporations who want just a specific kind of material connected with them.

Selling Paid Content 

You may also direct listeners to your premium content by mentioning it in your podcast. Your podcast may act as a bridge between you and potential customers for whatever products or services you provide, whether they be physical goods, digital courses, books, or consulting sessions.

Remember that your audience will tune out if you try to sell too much. Even so, your podcast ought to provide your listeners value in exchange for their time.
Key Reasons Why You Should Build a Podcast App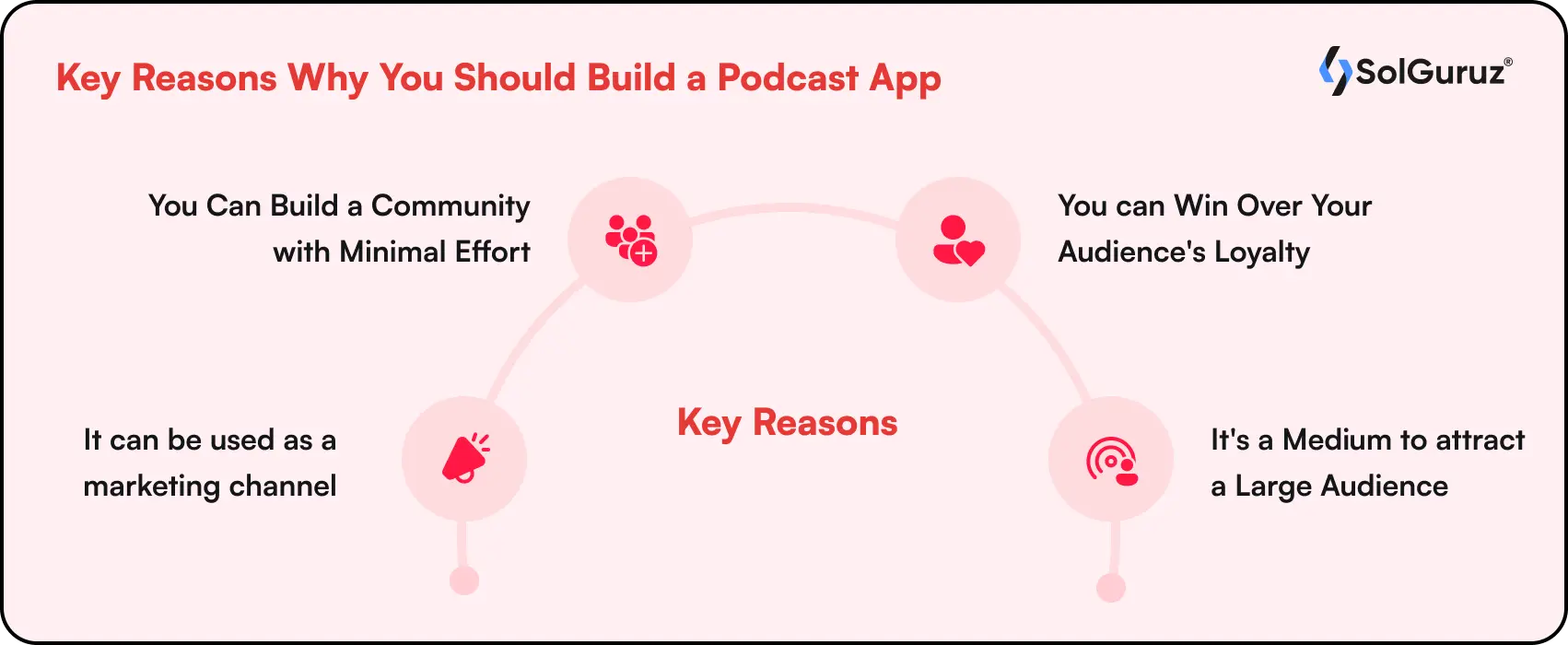 Podcasts' primary appeal is their convenient delivery of content. Users are especially fond of the many programs available and their ease of use.
When we talk about accessibility, what exactly do we mean? Your choice of smart gadget is all that is required to listen to podcasts. Using podcast applications, information was previously only available in long-form articles or movies. Still, it can now be accessed anytime and from any location.
The widespread interest in podcasts has stimulated growth in the market for software that facilitates their dissemination. It's easy to envisage the possibilities if someone created podcast software enabling anybody to access interesting shows and even participate in their creation.
After reading about the following advantages of podcast apps, you will be convinced about Podcast App Development.
It can be used as a marketing channel

You may advertise your current company using the podcast app. Use the app to introduce your business and provide information about your platform's features.

By the way, a recent poll conducted in Canada found that a majority of respondents (59%) paid closer attention to podcast advertisements than they did to TV commercials.

You Can Build a Community with Minimal Effort

Build a Podcast App dedicated to a niche interest group. Now, all you need to know is that podcasts with a central theme tend to attract a dedicated audience; we can go into the specifics of content and podcast client apps later. You can create a website where people can talk about their favorite books and films or a podcast app full of interesting interviews.

You can Win Over Your Audience's Loyalty

The podcast app will help you win over listeners if you have a consistently charismatic presenter. In this manner, an audience might get used to a certain tone of voice, presentation style, etc. Keeping an eye on the material in your app is essential if you want to develop a community for podcasters and earn their confidence.

It's a Medium to attract a Large Audience

Creating a podcast app will allow you to reach a wide audience. Why is it even possible? The issue is one of accessibility, as we've discussed before. A lifesaver, especially for those who lack the time or resources to comprehend visual material, audio format is a great alternative.

Market research firm Deloitte Insights predicts that by 2025 the podcasting industry in the United States will be worth $3.3 billion.
Must-Have Features for Podcast Mobile App Development
Now that you are familiar with the most common podcast application categories, you can see that there is much possibility for innovation in this space.
You may go with the very minimum features for your mobile podcast app. No matter what kind of podcast app you build, it must include the features we'll go over today.
Sign Up & Direct Sign in with Social Media

Creating an account is often the first step in using any mobile app. Add social network logins to make this procedure as painless as feasible.

User Profile

The podcast app's user profile dashboard is an excellent example of this. Here, the user may see their playlists and listener data. In addition, here is where users may submit their information and preferences for receiving more tailored suggestions from your app.

Create & Edit A Podcast

This is an essential tool for those who work directly in audio production. That's why if you want to reach this demographic with your podcast app, you need to provide users with the option to record and edit their audio.

Podcast Editing Features (Trim Audio & Voice Editing)

The recording function by itself won't be enough. Give podcasters a helping hand by allowing them to tweak their voices inside the app. 

Since it's meant to be a podcast app and not a recording studio, the features may be kept simple. Sounds may be copied, pasted, and deleted using some more elementary editing tools.

Search Podcasts Feature

The search function of your podcast app should be user-friendly and have a wide variety of filters. Simply put, this function facilitates the user's movement across your site.

Media Player for Podcast

Without a media player, you won't be able to use any app that plays audio. Users will have no trouble skipping between songs if you activate this function.

Analytics in Real Time

With this feature, you can evaluate critical app data and make better choices about your app's future development. Data may be analyzed by analyzing the number of app downloads, most popular podcasts, etc.

Tracking and Monitoring User Data

You and the Mobile App Development company will find this function useful. It will let you get information from users and examine it for trends. To what end does this play out? The user experience is enhanced, in-app advertisements are more relevant, and the consumer is more invested in the app.

Rewards for Loyalty

Building user confidence has previously been highlighted, and podcast apps may help you do that. Including a loyalty program option is a big step in the right direction. You may use this through discounts or even free access to paid material.

Offline Availability

One of the most important recommendations by media and entertainment app developers is prioritizing offline access when making a podcast app. Because even with a bare minimum release, you can provide your consumers the option of using your app when their device is in airplane mode, we've decided to keep this functionality in the MVP build.
What Is the Average Cost for Podcast App Development?
The Total Cost to Build a Podcast App will vary according to various variables. Let's take a look at each one individually.
The technological stack is the first variable in total cost. While each app concept calls for a unique technology stack, it's generally true that building your APIs and SDKs from scratch will be more expensive than using pre-existing or third-party interfaces.
Technology integration is another major component that affects the final price tag of making a podcast app. Although we recommend incorporating AI into the app, using technologies such as IoT or Blockchain for mobile apps would inevitably drive-up development costs.
Another factor in a podcast app's final price is its features' complexity. In general, the cost of developing an application rises in proportion to the complexity of its features. The capacity to record and broadcast podcasts or live events illustrates this. 
We suggest integrating features crucial to your app's operation at the minimum viable product stage.
Since the quantity of podcasts that make an app popular is often on the upper side, it may become quite simple for a designer to clutter the app. The goal of the developers working on the project should be to design a basic app. However, it takes knowledge and money to create a layout that logically presents the various podcasts.
Winding up, we can say that the average cost of building a podcast app varies from 20,000 USD to 50,000 USD. 
Tech Stack for the Development of Podcast App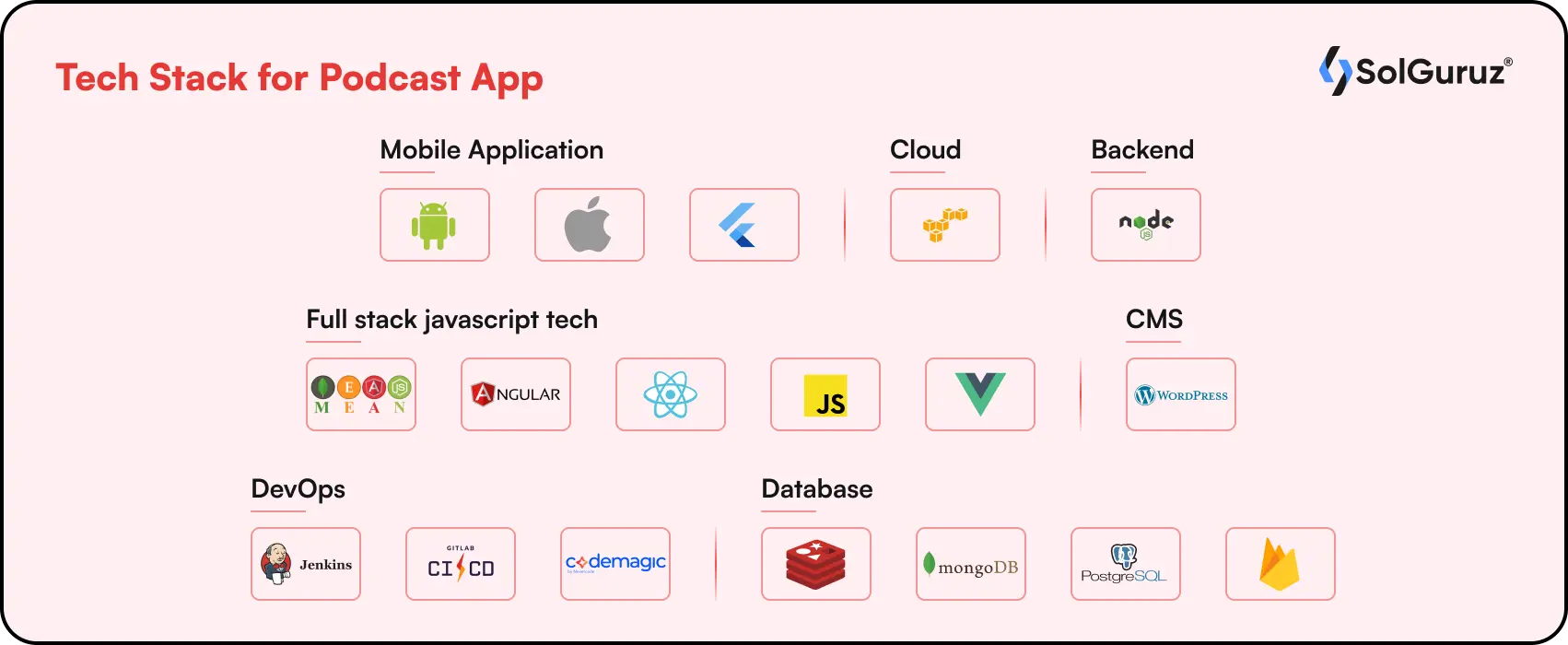 If you want your podcast app to stand out from the crowd, you need to use cutting-edge techniques and technology. Suppose you want your podcast app to be reliable and easy to use. In that case, you should only use the most popular technology. The technologies (split into groups) you'll need to build a podcast app are outlined below.
Wrap Up
Building a Podcast app may be a challenging and time-consuming endeavor. However, suppose you take the time to plan and implement a solid development strategy. In that case, your app has the potential to benefit its customers. As a result, you may employ an app development business if you want to design a successful podcast app and hasten the development process.
Also, creating a podcast app requires a lot of code, so if you need the help of professional app developers to get it done right, you can get a free quotation by getting in touch with us or posting your questions below.
If you have any comments or suggestions on this post, we'd much appreciate hearing from you. Our specialists welcome your questions and comments on this blog so that they may better serve you. 
Contact us to get a free quote now!
FAQs
Is it possible to make money with Podcast App?
Creating a sustainable business model for podcasting applications involves several steps. The podcast app may generate revenue in several ways, including via advertisements, sponsorships, in-app purchases, donations, and subscriptions.
What is the average time frame to build a podcast app?
Building a podcast app typically takes about 3-5 months. On the other hand, this estimate is quite optimistic. The best time to develop a podcast app is between seven and ten months. This is after considering several hidden elements, such as the amount of time needed for communication and making decisions.
When creating a podcast app, who is responsible for the research phase?
The podcast app's eventual owner may do a preliminary market and audience analysis and spec out its core features. The podcast app development team can assist if he is unfamiliar with the process.