Ready to do business with us?
Would you invest in a product to find out later that it has no market and demand? The answer is NO. And it should be!!
Investing in a product to find out there is no demand for it is a nightmare for any company. To create a groundbreaking product, an MVP is a way to go. Making a "Minimum Viable Product" (MVP) is a common way to get a new business off the ground, and it's done brilliantly for companies like Dropbox, Figma, Uber, and many more.
Develop a minimum viable product before developing the next great thing. But the buzz before creating your first MVP can drive anyone insane. You are flooded with ideas that you want each one of them on the screen.
And this is where the mess starts. Users come across so many features that they start losing the essence of your app. Humans only have an attention span of 8 seconds. If your app fails to seize its awareness during this timelapse, it will probably be uninstalled or not opened again.
25% of applications are never used again after being used once, according to Statista.
Meanwhile, there is a rise in the overall number of them available in app stores, leading to fiercer levels of competition.
The idea behind minimum viable products is to prevent businesses' time and resources on valuable features.
The primary aim of building Your First MVP is to introduce the users to your app and reach out for feedback.
Having an MVP will help you navigate the waters and identify the future of the app before you invest too much of your time and energy into something that doesn't excite people.
The MVP stands as an instrument of insight, a guiding light through uncharted waters, enabling the discernment of your app's trajectory before committing an exorbitant share of your temporal and creative reserves to an endeavor that fails to ignite passion.
As we delve deeper into the narrative, let's unfurl the intricacies and nuances underlying the cultivation of an MVP, unraveling a tapestry woven from innovation and foresight.
What is the Minimum Viable Product?
The concept of MVP came up in 2011 in the book "The Lean Startup by Eric Ries," which talked about the latest trends for business startups, including MVP. It defines MVP as "A version of a new product a team uses to collect the maximum amount of validated learning about customers with the least effort.".
MVP is a basic version of your app, which only constitutes the core idea. The application is then observed to get user feedback and see if it can succeed.
A great example of this could be Amazon; Jeff Bezos started this platform to sell books online. He ensured he would only move forward when the idea seemed foolproof with orders pouring in.
And when that happened, Jeff got the inspiration to do better, and then the rest is history. He only started with a single feature of selling books (Minimum + Product) on a fast website that was searchable and scalable (Viable).
If Jeff had started pouring all its features on day-1, do you think Amazon would have been successful?
Also, there is a massive difference between "Minimum Viable Product" and "Minimum Marketable Product," These terms are poles apart but are often mixed.
As we mentioned, the Minimum Viable Product is still in the development phase; it would require changes; frankly speaking, it is developed to change with the ideas of the user market. However, Minimum Marketable Product is a complete app; it already has the additional features the application should have. In short, it's ready to sell.
So, the next time you doubt, distinguish MVP from MMP.
How The Concept of a Minimum Viable Product Works in Product Development
Startups may get valuable feedback by releasing their "minimal viable product" (MVP). Delivering just the most essential features that your early adopters will find helpful is the foundation of the minimum viable product (MVP) strategy. To create a product that succeeds in the long run, getting input from people and incorporating their suggestions is essential.
Along with other consumer feedback collection techniques, such as win-loss analyses, beta programs, and focus groups, the MVP strategy still needs to eliminate the necessity for market research.
First, you need to identify the issues that consumers in your market are looking to have resolved. Yet, the MVP strategy suggests you should be fine with fixing every problem immediately. Focus on correcting the most significant and apparent issues first, then see what others think. The goal is to increase knowledge while decreasing expenditures on research and development.
There is a risk that people would associate the word "minimal" with a level of functioning that is insufficient to warrant attention. Yet, this is different from what transpires.
To solve market issues quickly, the minimal viable product strategy emphasizes selecting product needs such that only the most essential features are implemented. Because of the nature of rapid iterations, you can only handle a subset of product requirements with each release; therefore, prioritize your needs carefully while using this method.
The temptation to release a beta version of the product often is vital for most entrepreneurs. Be wary of clients that lack this vision since they may have you working in circles and prevent you from getting functional. Input from early adopters who do grasp your goal and can see past the (now restricted) capabilities.
Steps To Build a Minimum Viable Product
Once, the American entrepreneur Reid Hoffman said that if you're not horrified by your first product, you released it too late. Yet, Hoffman's statements caused many company founders, particularly first-time entrepreneurs, to concentrate primarily on 'M' and nearly altogether disregard 'V.' It led to ordinary rather than exceptional results.
For instance, entrepreneurs create a free sub-domain website with very little content and refer to themselves as startups. When it fails to attract users, they refer to it as a failed MVP and seek a remedy for the so-called MVP issue.
The underlying problem is a need for more knowledge of MVP development processes. To effectively create Your First MVP, As a business owner, you must consider each of the following stages:
Define The Purpose of Your App

Sometimes, concepts will only be a good match for the market. Before launching a concept and beginning Your First MVP for your application, you must define the purpose of the application. The primary purpose of any company should be to meet the demands of its intended audience.

Taking the time to conduct surveys is a worthwhile investment for any company. A company's prospects improve with the amount of knowledge it has. Keep sight of what your rivals are doing, and consider how your offering may differ.

Start by asking yourself these questions-

What problem does my app solve?
Do they need my product?
Is there something new here?
Why would people want to switch to your app?

You can curate your list of questions to get through the core idea.

When Snapchat came up in 2011, its motive was only to help users share pictures that would disappear within 24 hrs. No filters, No steaks, nothing.

"Keep Things Small, And Get Them Moving Fast."

They first analyzed the app idea and then built an MVP.

Get Your Market Research Done Right.

After you have finalized your app idea, the next step is to define your app market for Your First MVP.

It is among the most important things you must do before launching your MVP. An app idea isn't enough if you don't know who to sell to.

And many entrepreneurs skip this part, believing that their app is unbeatable.

The Gartner research stated that 42% of mobile apps fail because they did not research the market's needs. You can read more on why mobile apps fail here.

Your competitors are the primary source that could fetch relevant information on your ideal customers.

They are already in the market, have built a brand, and interact with people with similar interests.

Various tools in the market could help you fetch crucial information on their monthly traffic. Its sources, the geographical location of its users, and other critical details could help you build an excellent buyer persona.

The more detailed the insights are, the better it will be to understand your market. We suggest you make the most of here, or it might not be fruitful.

As Minimum Viable Product presents, the product must provide value to consumers in its most basic form. Begin by defining the users and build Your First MVP according to their requirements.

Map-Out User Journey in The App

The design procedure is crucial for Your First MVP. You must thus build the application to be user-friendly. The company has to examine the app from the user's point of view from the moment they open it through the completion of the end transaction (such as a purchase or delivery).

In addition, user flow is essential since it guarantees that nothing is overlooked when considering future product development and user happiness. To establish the process steps, it is required to define the user flow.

It is necessary to describe the procedures needed to achieve the primary aim. Rather than features, the emphasis should be on fundamental operations such as locating and purchasing the product or handling and receiving orders.

These are the objectives that end-users will pursue while using the product. After each method step has been outlined, it is time to specify each step's characteristics.

Mapping out a user's journey is like defining their path on your platform. Let's take Zappos, one of the first platforms that started the trend of selling online. Zappos was an e-commerce site that sold shoes to people on the internet.

What should be the user journey here?

The user reaches the site, types in the shoe model via "find a shoe," select a shoe, clicks "buy a shoe," and places the order. The user can also find more information on "manage orders" to cancel or re-order them.

See, it is so simple.

These are the basic steps that a user will surely take to shop from the platform seamlessly, and this is what you need to do for your app.

Address The Core Features

After you have defined a pathway for your users, the next step would be to add features that help users navigate. Now, most entrepreneurs try to add not-so-needed features that can distract user attention, and some might run away.

You have to only look into the core idea of building the app. Please list everything you want to be included in the MVP and rank them in order of importance. Consider the answers to queries like "What do people want?" while prioritizing features for the minimum viable product. Does this product provide them with any advantages?

For instance, if you are launching a social media platform, define the core features that make your app distinct. Here, you don't have to add too many filters and emoticons or allow users to change chat themes.

These are just "nice-to-have" features but are not a necessity.

Start by bifurcating your feature list into three categories- main features, nice-to-have features but not required, and last is not at all needed. This way, you would recapture the app's essence and not distract users with too much unnecessary slogging.

Launch & Test MVP

Finally, you have reached the last step of launching Your First MVP. Right now, you know your target audience, the core features of your app, and the user journey.

You can leverage this information in building your MVP.

An MVP is just a stepping-stone in creating something phenomenal. It gives you an insight into how users conceive your idea and what changes you might make for your next update.

Make sure you only move ahead when you see people appreciating the idea; otherwise, it would be a massive loss of time and money.

Remember that although an MVP doesn't have to be perfect, it must address buyers' concerns. Hence, it has to be accessible, engaging, and appropriate for the target audience.
Benefits of building a Minimum Viable Product (MVP)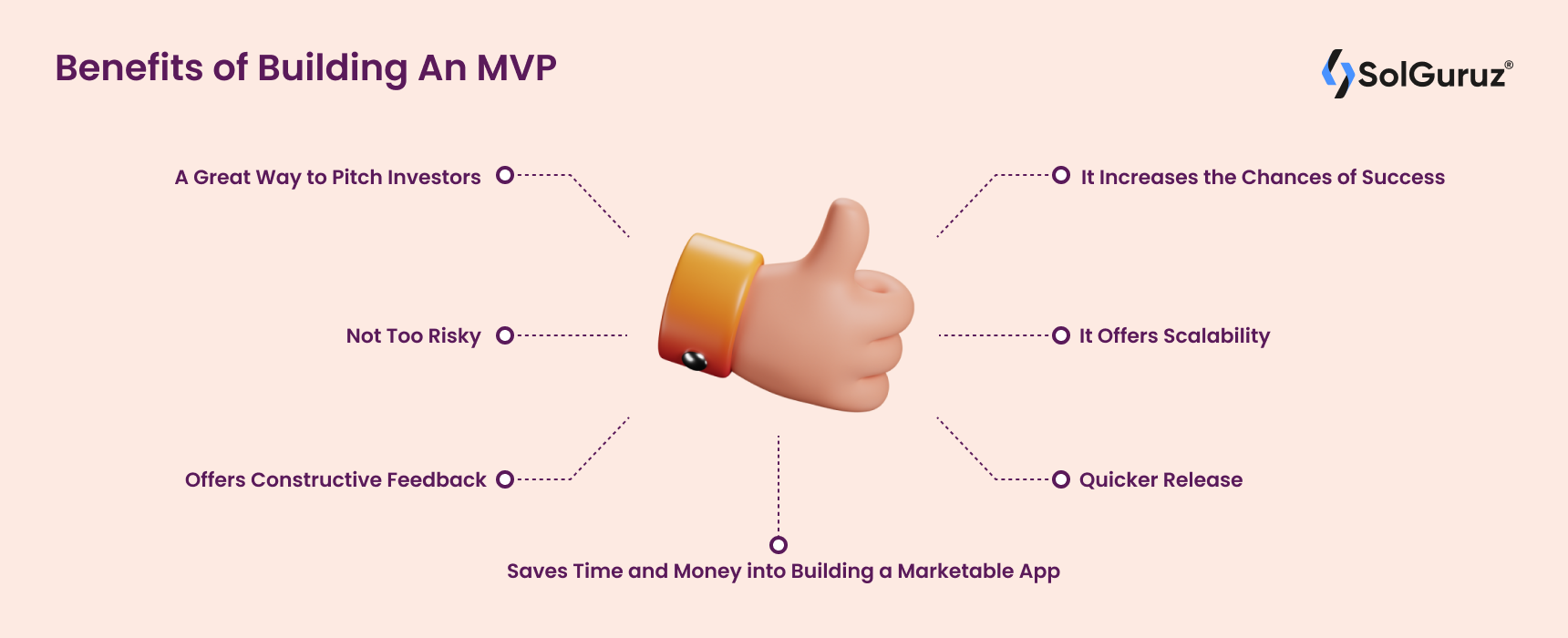 These are the top seven advantages of MVP development for companies that assure a successful product launch, from testing company concepts and assessing monetization potential to verifying market demand and investor buy-in.
A Great Way to Pitch Investors

Making a minimum viable product also boosts interest from investors and VCs. A minimum viable product (MVP) shows potential backers that the firm has a strategy for reaching its goals.

It also demonstrates the company's dedication to its research and its mastery of its market. Potential investors are more willing to invest money in a firm with a well-defined strategy and a history of success, which is good news.

Dropbox, for instance, was able to attract investors by presenting a minimum viable product (MVP) that proved the viability of its cloud storage business. The MVP was an introductory video outlining how the service would operate and benefit its customers.

In April of 2007, they uploaded the video on the website Hacker News. This 30-second clip piqued investors, and the business was able to raise the capital it needed to finish developing its product. Now, Dropbox has over 700 million active users and over $1 billion in revenue.

CB Insights found that inadequate funding is the primary cause of startup failure. The ability to raise capital is often the deciding factor between success and failure for new businesses, underscoring the importance of doing so. Creating a minimum viable product (MVP) may aid businesses in pursuing financing and reduce the likelihood of failure.

Not Too Risky

Launching Your First MVP is all about validating your app idea. Often entrepreneurs make the mistake of not building an MVP and launching their product immediately, wanting it to be successful. While we can't deny that it might blow up and become the biggest hit, it can also go downhill.

And we are sure that you wouldn't want to take such a high risk. BuildingYour First MVP is not about selling but acquiring early adopters. As we mentioned, Amazon Jeff didn't advance until he was sure this would work. So, before investing time and money into building something big, ensure the ball is in your court.

Offers Constructive Feedback

Creating a minimum viable product (MVP) enables you to get insightful consumer feedback. Feedback on the product's usability, design, and overall value may be gathered by distributing a stripped-down version to a select set of consumers. This information will allow you to adjust before distributing the product to the public.

Early user feedback collection may also help you find and fix bugs in the product before it's released to the public. Adjustments may then be made to enhance the product's usability, ultimately leading to happier customers and a more successful launch.

Including customer input also improves the likelihood of product-market fit and guarantees that the solution solves user issues and meets user demands.

Most people love when businesses take a step in acknowledging their feedback and making changes likewise. MVP is about getting that constructive feedback that prepares you before jumping into the market.

Saves Time and Money into Building a Marketable App

Time and money savings are significant perks of developing a minimum viable product (MVP). Businesses may save time and money on product testing and market validation by focusing solely on the most crucial aspects.

Using this technique, you may quickly and easily gather information from prospective consumers. Before committing to constructing a whole product, you can make any required revisions.

In addition, organizations may save money by testing an MVP before investing in developing and launching a complete product that may not be profitable.

Developing an app requires a project manager, UI/UX designer, and front-end and back-end developers, which costs a lot of money.

Plus, building a fully-fledged app would require 3-9 months, so you have to invest your time and money into something that you still haven't even validated.

Sounds insane, right?

However, when you develop Your First MVP, it's all about the core features. It's a cost-efficient option where you can hire a developer on a contract basis or give the entire project freelance.

And, once you are sure that your app has made quite a buzz, adding more features would be a great option.

Quicker Release

One of the main advantages of MVP development is that it shortens the time it takes to get a product to market. It removes the requirement to construct all of its features before evaluating its feasibility with consumers.

Launching an MVP gives you a competitive edge, specifically against someone just waiting for their app idea to be transformed into a phenomenal mobile app, with no proof of whether it would even work.

Thousands of mobile apps are launched every day; it becomes crucial for business owners to validate their idea via an MVP. This will allow your app to get its early adopters and begin its existence in the app world.

It Offers Scalability

The capacity to expand into new markets is the primary gain from developing an MVP. If your product becomes wildly successful, you can continually expand its capabilities. More preferable to spending time and money making something nobody wants, just in case.

The scalability of the product may be tested using the MVP development strategy. Suppose the minimum viable product is well received. In that case, more resources may be allocated to the product to fulfill the increasing demand.

It Increases the Chances of Success

A minimum viable product (MVP) helps businesses gauge customer interest in their concepts before devoting significant resources to developing a full product version. Finding and fixing problems before they become catastrophic improves the odds of success.

Developing a Minimum Viable Product (MVP) can potentially boost the company's chances of success.

Developing a mediocre product that serves its purpose for the time being but will eventually be superseded is not what MVPs are about. They focus on making something excellent that can be enhanced in the future without losing its original function.

Airbnb is a firm that has successfully used the minimum viable product strategy. The original AirBnB was just a website where people could post available rooms for rent and then pay online. They then gave complimentary stays to friends and family to gauge interest and feedback on this prototype.

They used the responses to make changes to the site, test new features, and iterate until they had a fully working app by 2012. Airbnb is now valued at over $64 billion, and it has over 5.6 million listings all over the globe.

The microblogging service Twitter is yet another such. With its first release, Twitter focused on a core feature: the transmission and reception of 140-character messages. This minimum viable product allowed them to test the waters with the concept and get feedback from early adopters.

They used the comments to make changes to the site and kept testing and iterating until they had a product ready for widespread use. Currently, Twitter is one of the most popular social networking sites, with over 450 million active users per month.
Minimum Viable Product (MVP) vs. Proof of Concept (POC)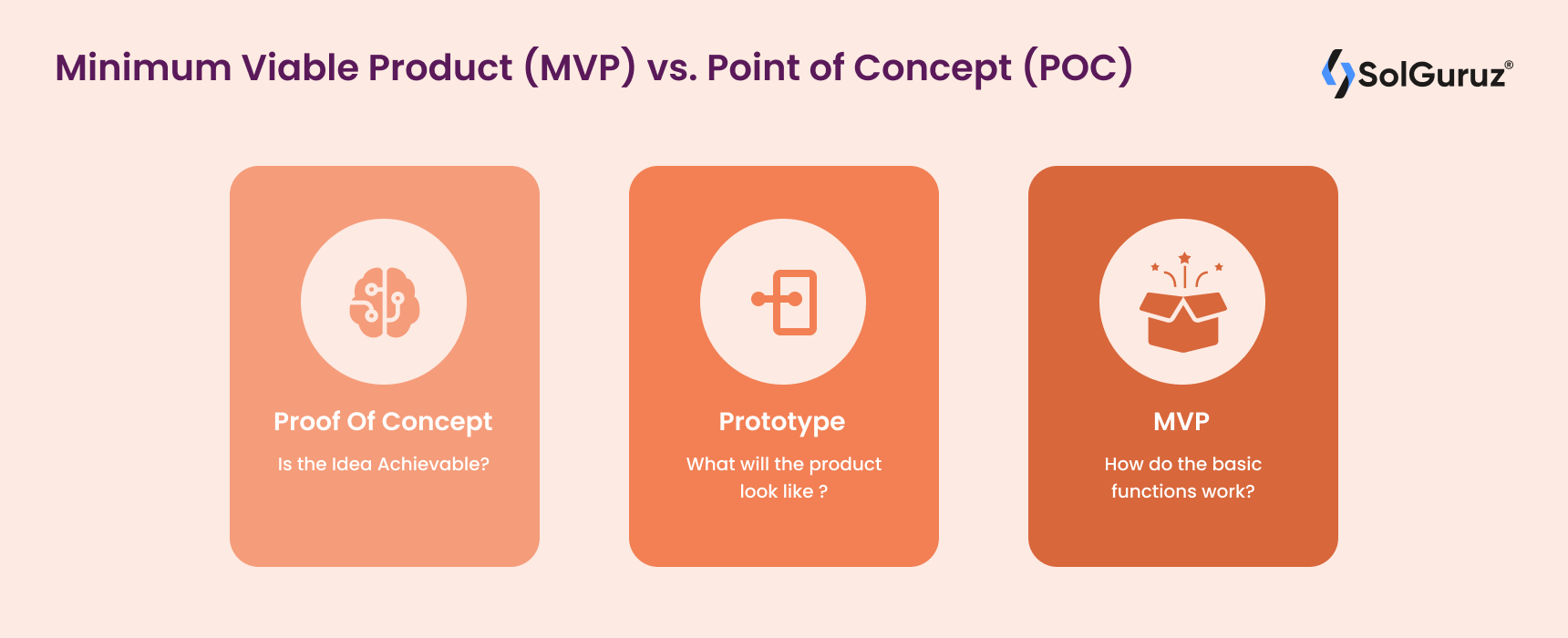 Now that we have discussed all the major components of developing an MVP, the next most frequently asked question would be the difference between MVP and POC.
What is a POC?POC is a shortened form for Proof of Concept; just like the name suggests, it validates your app idea before launching an MVP.Let's discuss how?POC is mainly done for new concepts that the market hasn't explored. For instance, when Walmart first used blockchain to get more insights into its logistic system. It was primarily a POC that later became the biggest hit and was utilized by hundreds of businesses to analyze crucial data.Likewise, developing a POC would be a great option if you have come across a new idea; otherwise, it's not much needed. A proof of concept would validate the operational workability of the idea of whether you should move forward.Developing a POC is inexpensive and can pitch to ideal investors as we do for MVP. This will help you stay ahead of the game with no added risk.
What is an MVP?We have discussed a lot about MVP in this article.Just like building a POC to validate the technological aspect of the app idea, having an MVP is to see how the app is conceived in the market.Its primary motive is to gain user interaction and feedback so that you can develop the latest updates and new features resonating with the ideal market.
What to choose? MVP or POC
If you want to check whether your app idea is technically possible, go for a POC. Once you have that, you can pitch to as many investors as possible and close high-ticket deals. This is important for new application ideas and has not been much tested. Developing a POC only takes a couple of days to max a month, so you can spare some time to get it done.
MVP is the next step of POC; now that you know your idea is feasible, understand your target audience and whether they like the picture as you do.
And, as you move forward, you can keep adding features that make your app more exciting and engaging.
How to Determine What Elements Should Be Included in Your Minimum Viable Product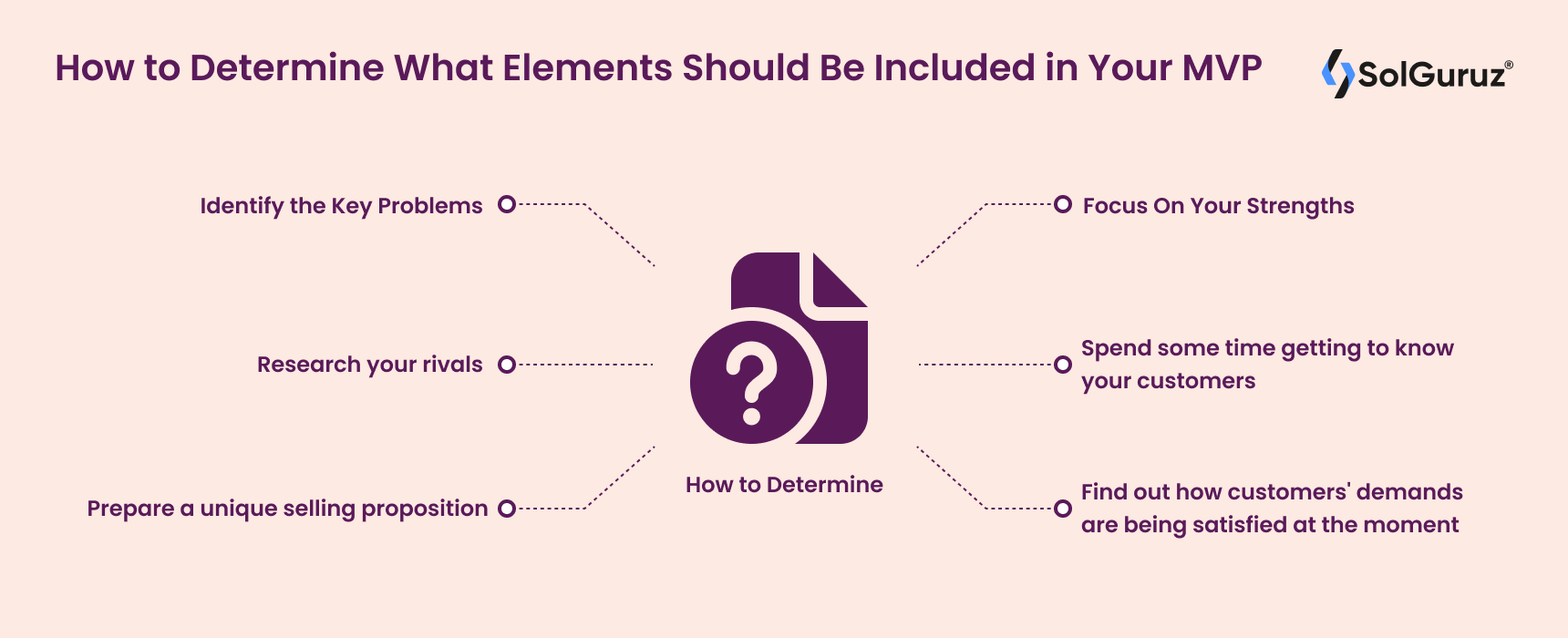 The question is how to determine which product qualities are most important. Deciding which ones belong and which don't is a complex undertaking that calls for expert knowledge of the field.
The phases of deciding which features to include in the MVP are outlined below.
Identify the Key Problems

Now that you have a mental picture of your target demographic, you can consider their challenges. What kinds of problems do they often encounter? Add a description of how your program would improve consumers' lives by addressing these problems.

Research your rivals

You face two types of competitors: those who are in direct competition with you and those who are in the same industry but are appealing to clients you could otherwise reach. Choose what features to include in your MVP by analyzing their strengths and drawbacks.

Prepare a unique selling proposition.

Consider the benefits your product offers over the competition. Which tasks does your app need to do that no other app does? You will emphasize these specific qualities. You can better prioritize your product's minimum viable features (MVPs) if you have a firm grasp on what sets your product apart from the competition.

Focus On Your Strengths

Now, specify what features of your product make it unique from competing products. Never underestimate the power of a well-executed design and user-friendly interface in swaying a customer's final decision.

Domino's pizza, for instance, has an app that allows users to make orders with a single tap, giving them a leg up on the competition. Yet, canceling just only a single click.

Spend some time getting to know your customers

It would help if you had an in-depth understanding of your target demographic to design the feature set for your minimum viable product (MVP). Understanding this can help you in your efforts to write user stories.

Find out how customers' demands are being satisfied at the moment.

Customers are still finding answers to their problems and overcoming their obstacles. Still, it may take them longer or more creative approaches than you'd want.

Discovering their process can inform your decision-making when choosing features for your minimum viable product.

Prioritizing one feature above another should always be done considering the customer's wants and requirements.
How to design and rank your most important features for a minimum viable product
Selecting features for your project's minimum viable product (MVP) shouldn't be done on the spur of the moment or out of pure intuition.
To make a rapid deployment to the market

The main goal of developing a minimum viable product is rapidly evaluating a company concept. Quickly and with as few resources as possible, you must provide your MVP. It is helpful to prioritize features so that you know which ones to focus on first to get to market faster and which ones may wait until later.

To identify the minimum viable product features that will meet the immediate demands of your target consumers, you will need to do extensive research and analysis. The following are some of the most critical considerations for defining and prioritizing features for your minimum viable product:

To develop a one-of-a-kind product

To avoid starting from scratch, defining and prioritizing features for your minimum viable product (MVP) is important. It's essential to be sure that your product's solutions are novel while dedicating so much time and effort to its creation.

To Achieve your professional objectives

The production of a quality product is insufficient. As soon as you determine interest in your first MVP, it would help if you prioritized improving its quality. Your solution may not entirely address Users' concerns if it lacks the functionality they've been waiting for. It's thus important to prioritize features to ensure success in meeting company objectives and user expectations.

To develop a sought-after commodity

Lack of market demand is cited as the leading cause of launch failure in 42% of cases. Creators of new businesses often exaggerate the significance of their wares. It's possible that consumers don't care about the issue you're trying to address with your product. The lack of substantial market demand may result from insufficient market research.

There is work involved in prioritizing minimum viable product features. We'll teach you how to identify features for your MVP and advise you on prioritizing them to get you started.
Mistakes to Avoid While Building a Minimum Viable Product (MVP)?
Building MVP doesn't guarantee success! It should be done the right way. Many businesses still focus on merely establishing an MVP without realizing their mistakes, which can affect the final product's performance.
Here are the seven most common mistakes CTOs, founders, or executives make while building an MVP: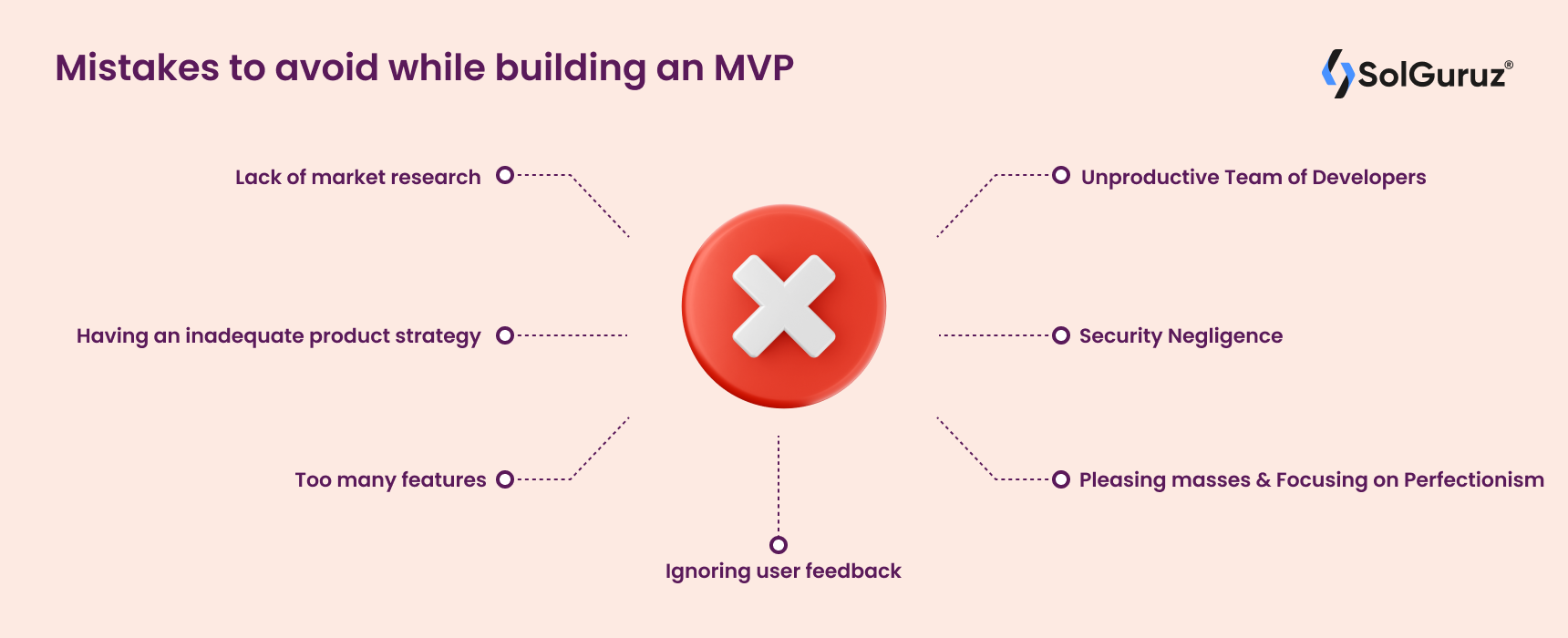 Lack of market research

Insufficient market research is one of the most frequent and potentially damaging MVP mistakes. Keep in mind that the reason your app exists is to provide a solution to a problem in a particular industry. You can't know for sure until you poll your potential customers.

Indeed, relying on presumptions that could be incorrect is not always safe and leads to severe consequences. A great example is the app Quibi, which allows users to broadcast videos.

Quibi had several advantages: $2 billion in finance, a management team led by former Disney chairman Jeffrey Katzenberg, and the backing of famous actors. Despite these benefits, the app tanked within six months after its release.

Its central premise (like Netflix, but for short films) wasn't interesting enough, ultimately leading to the company's demise. Its $4.99 monthly price tag puts it in direct competition with free alternatives like Tiktok and YouTube.

The Quibi founders made several decisions based on gut feelings alone, but those decisions were incorrect. They may have developed a more marketable app concept by doing more in-depth market research.

In the same vein, MVPs are also important. You must first identify the target audience for your minimum viable product. That's an excellent way to ensure you don't spend money and effort on an app nobody wants.

Having an Inadequate Product Strategy

Product strategy refers to the high-level planning businesses do to accomplish product goals. So, when you lack an adequate product strategy, you waste your resources on unproductive things.

Many businesses cannot even answer basic questions about their product development strategy and burn most of the budget on not-so-required things. So, What can you do to avoid it?

Plan each step.
Define your goals and bifurcate them into phases.
Don't take decisions abruptly.

Too Many Features

Overloading your MVP with features is the worst thing you can do. Many businesses confuse MVP with a full-blown product, but that's the opposite. Here, you only have to focus on the core features that reflect your app goals and keep your platform running.

Making your MVP this way will need more work and cost more money. Moreover, it may get distracted, leading to faulty user input. Incorporating unnecessary features delays the development process and makes the rework challenging. You must only focus on features that serve your user group and do not take over three months to build.

The secret to making a successful MVP is paring down to the essentials. The MVP should have fewer or fewer qualities than these to achieve its goals.

You can't deny the difficulty of the situation. When you brainstorm, you're likely to come up with an extensive list of features, many of which will seem essential.

The MoSCoW matrix may be used to determine which features are most important:

Features may be prioritized according to their effect, effort, and risk using the MoSCoW matrix (an acronym for "must-have," "should have," "could have," and "will-not-have").

High-impact features (meaning they deliver a lot of value to consumers) and low-effort/risk should be included in your minimum viable product.

Should-haves are features that have a significant effect yet need an excessive amount of work or danger. Instead, they may be included in the final software release.

It's the same with nice-to-haves or low-value items that are simple or harmless to implement.

Some things are just not wanted. These are unnecessary and should be removed from your software.

It would be best to eliminate so many functions in your first MVP that it's useless to everyone. While designing a minimal viable product, balancing features and utility is essential.

Ignoring User Feedback

Not listening to feedback at the early stages of product development can turn cruel. These users are the first to try your product, and you can pick their brains to develop a better platform.

However, sometimes you can feel the pressure of incorporating too much feedback, but that isn't ideal. When you have fewer users, it's easier to identify what they want.

But, with a larger audience, you can start by building a system that collects and streamlines data that helps make accurate decisions.

Pleasing Masses & Focusing on Perfectionism

Having users' input is crucial to making a great app. To make MVPs, data collection is an essential step. But as the quote goes, "If you try pleasing everyone, you please no one."

Whatever your product might be, it would cater to only certain user groups; finding those is extremely important. These customers are your early adopters; they would give you crucial feedback for building a successful application.

So, stop characterizing your product as a perfect fit for everyone. Once you start meeting your ideal customers, you will realize the importance of your product in their lives.

Building an MVP is all about developing a skeleton for your full-blown app. At the start, you cannot focus on having everything perfect. Most of the big brands you see started way differently as MVPs.

One significant example would be Netflix, which started by selling DVDs and is now a premium streaming platform that caters to millions. So, instead of focusing on building the perfect MVP, try validating your idea to transform it into a scalpel platform.

Security Negligence

Never let privacy and security take a back seat since doing so might end your MVP and business. A data breach is a major occurrence that may result in significant financial and legal consequences.

Suppose a business violates European Union's (EU) General Data Protection Regulation (GDPR). In that case, it might face a punishment of up to €10 million. Even if you're not based in Europe, serving customers in the EU means you must comply with GDPR.

Developers under time pressure to release a minimum viable product (MVP) sometimes skimp on security. Users will be jeopardized if you do this.

An MVP has to be more than just functional; it must also be useable and trustworthy.

Unproductive Team of Developers

Your MVP will only be as excellent as the team working on it. Because of this, it is prudent to hire a top-tier development team. It's a standard error for companies to employ the least expensive developers.

The reasoning goes like this: because an MVP is a stripped-down version of your app, anybody with a halfway decent team can build it.

Absolutely the opposite is true.

When you consider your minimum viable product (MVP) to be the backbone of your app, it becomes apparent that you should have only the most skilled programmers build it.

The time and money spent on developing a minimum viable product (MVP) may be prolonged if a full-service team is used.

Hiring a specialized App development company like SolGuruz is a viable option.
How can you determine whether your MVP is overburdened with features?
You do not know how many tasks are necessary to achieve the MVP's primary aim.

Can you define precisely why you are creating your MVP? If you cannot answer this question in a single statement, it indicates impending problems. MVPs that have been optimized are laser-focused.

Without a clear purpose, you won't be able to determine whether your MVP has become bloated with unnecessary features.

Your MVP contains too many significant tasks.

In a typical estimate, the time needed to complete an average job is between 2 and 4 days. If you have more than three things in your estimating spreadsheet that require 6–10 days to finish, this is a strong indication that you need to divide them down. Big, intricate jobs that lack granularity are ideal settings for feature overload to arise.

You do not know which features are designed to fulfill the requirements of your primary user group.

When constructing a minimum viable product, you should have a solid understanding of your primary end customers. As opposed to attempting to meet the demands of all possible customers, the only purpose of developing a minimum viable product is to validate your primary hypotheses with a specific client group.

If you try to broaden your audience too much, you risk including too many features.

Your MVP requires over three months to develop

As an Experience Web Development Company, two to three months is an acceptable timetable for producing one. If the estimate you've obtained from your development team exceeds this period, you should reevaluate your timeline.
How to prioritize MVP features?
Businesses may choose from various methodologies and methods when classifying an app's characteristics, despite the absence of a single universal standard. The best techniques for deciding which product features should come first are outlined below.
The MoSCow matrix

We have already discussed this earlier in this blog.

To prioritize, we may categorize each element of the MVP as either "must have," "should have," "could have," or "not at this time." Essential features are those that can't be compromised in any way. It should have features that are nice to have but aren't necessary.

A set of desirable features that aren't essential but would be wonderful to have made up the could-have category. Functionalities that are not a top priority right now but might be introduced in the future fall under the "won't have this time" category.

Numerical assignment

This strategy, also known as grouping, divides product features into tiers of importance, such as "important," "moderate," and "optional." These communities go by a variety of names. All parties involved must have a firm grasp on who falls into which categories.

The numerical assignment technique assigns a number value to each class. By way of illustration, the first number represents the most important features, the second represents features of moderate importance, and the third represents features with low importance.

Bubble sort technique

With this technique, you may prioritize features and remove less crucial ones. It comprises listing all of the MVP features in an array, comparing the features next to each other, then rearranging them according to their relative relevance.

There are several loops in this procedure. Functions with the greatest priority rise to the top of the list with each iteration, much like bubbles in the water.

Effort and impact technique

Value and complexity methodology is another name for this approach. It helps prioritize MVP features by assessing the work involved in implementing them and the results they will have on the product and the user experience. A matrix is then used to show the analysis's findings.

In evaluating a feature, we consider the benefit it will provide to your target user personas and the financial gain it is expected to bring your business. Also, find the operating expenses, development hours, and hazards of adopting each feature.

When a feature has been evaluated, its score is plotted on the chart below, along with a visual representation of its complexity, value, and effect.

The Kano model technique


The Kano model prioritizes features from the perspective of the end user. It defines three categories of product features: threshold attributes, which are the bare minimum for a product to meet; performance attributes, which are optional but have a significant impact on users' satisfaction; and excitement attributes, which customers don't even expect but are ecstatic to receive.

The Kano matrix illustrates how the features of a product impact buyers' opinions of it.
How to measure success after launching your MVP?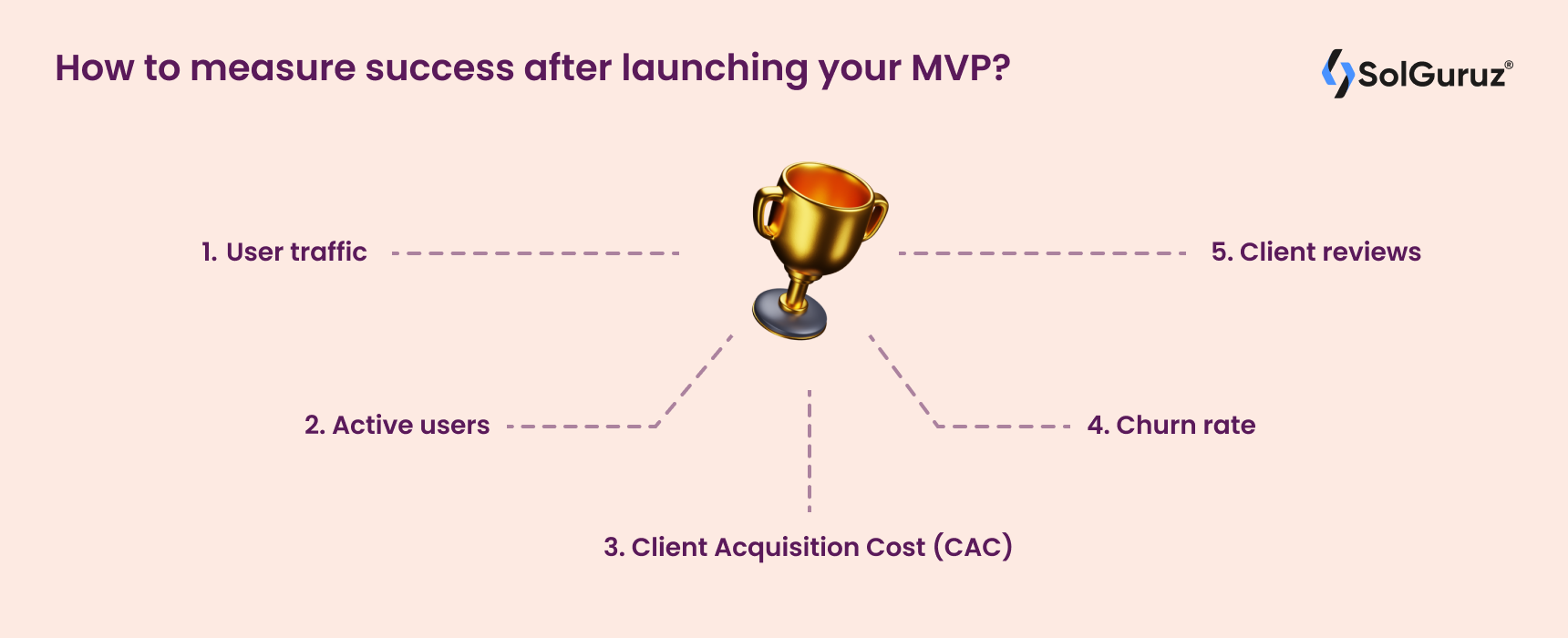 Now that you have launched your app, you must analyze your platform's performance. Some of them are-
 User traffic

The primary metric is to calculate the application download rate. It shows how many were impressed by your idea and trusted to be your early adopters. You can quickly analyze your app's performance through their feedback.

Active users

Many times, people download the app and rarely use it. So, the success of your application is wider than people who merely downloaded your app and never returned. 77% of users never return to an app after 72 hrs. To see the actual development, measure your app's monthly and daily active users, giving you accurate customer behavior trends.

Client Acquisition Cost (CAC)

It is essential to calculate your overall cost of acquiring a paid client. This can be calculated by dividing the money spent on traction channels by the number of customers.

If you get an amount over your product price, you have spent more than you could make out of it, which could be better.

Churn rate:

The rate refers to the percentage of people who uninstalled or stopped using your app. You can further calculate the churn rate for free and paid users weekly and monthly. It is calculated as the number of churns per month or week divided by the total number of users since the beginning of the month or week.

Client reviews

Head to your app feedback section to grasp what your target audience thinks of your app. The apple app and play store contain a rating option where people can rate their app between 1-5 and add comments. Here, you can check your user reviews and get insights into your app's performance.
How To Scale Your App from MVP To a Fully-Fledged App?
Developing the MVP was just a start, but now you must take proper measures to make it a full-blown app. These are some of the items on your to-do lists that will help you scale your MVP: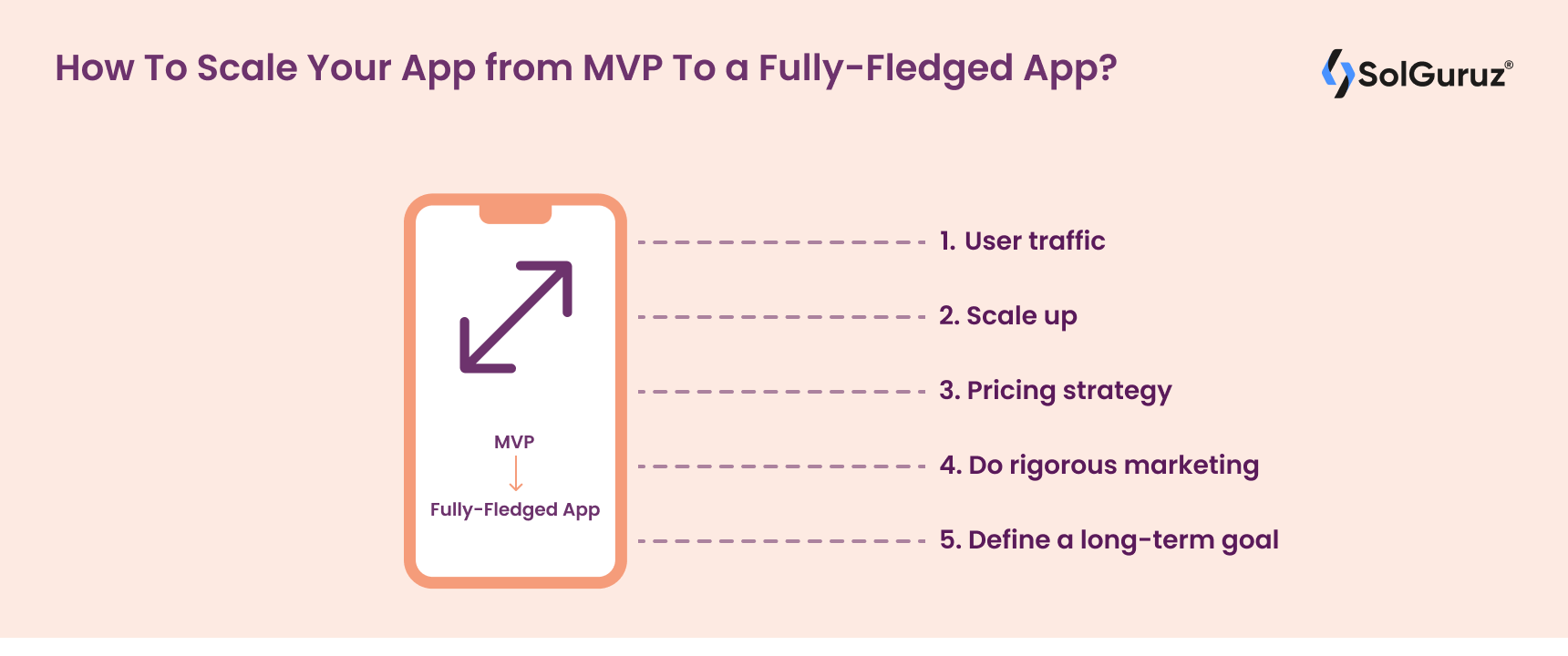 Address Feedback

Launching an MVP is a way to get into the user's head; once people start interacting with your product, they will give you valuable feedback. Your job is to gather and streamline such advice to form further steps your business will take to ensure that people are satisfied with your final product. You can easily do this by tracking different metrics discussed in the previous section.

Scale Up

Now that we have successfully launched an MVP focused on limited features to solve dedicated problems, it's time to break through and scale. You can develop more functionalities in your defined industry to reach more people and build authority.

Define a Long-Term Goal

When building an MVP, we usually focus on solving dedicated problems with minimal features. This was done to verify the idea and gather initial adopters. Our next step would be to look at the bigger picture and solve multiple pain points targeting a long-term goal. Start by mapping out what problems you can cater to. How many more people will you target and calculate other revenue metrics if you do this?

Pricing Strategy

In the MVP stage, businesses do not prefer having paid offers as they are unsure whether their idea is relevant. However, scaling is not just about building more features but also about earning money. Most businesses do not make little from the MVP model as it is free from ads or other earning options. But now, when your idea is validated, and people trust your app, this is the right time to launch the paid versions and make good money.

Do Rigorous Marketing

Even if Your First MVP isn't a final product, don't shy away from marketing it. People can only know you exist when they hear of your brand. To launch a full-blown app, you would require rigorous marketing tactics to get attention from your target customers.
Types of Minimum Viable Product (MVP)
MVPs can be divided into two major categories- low-fidelity MVP and high-fidelity MVP.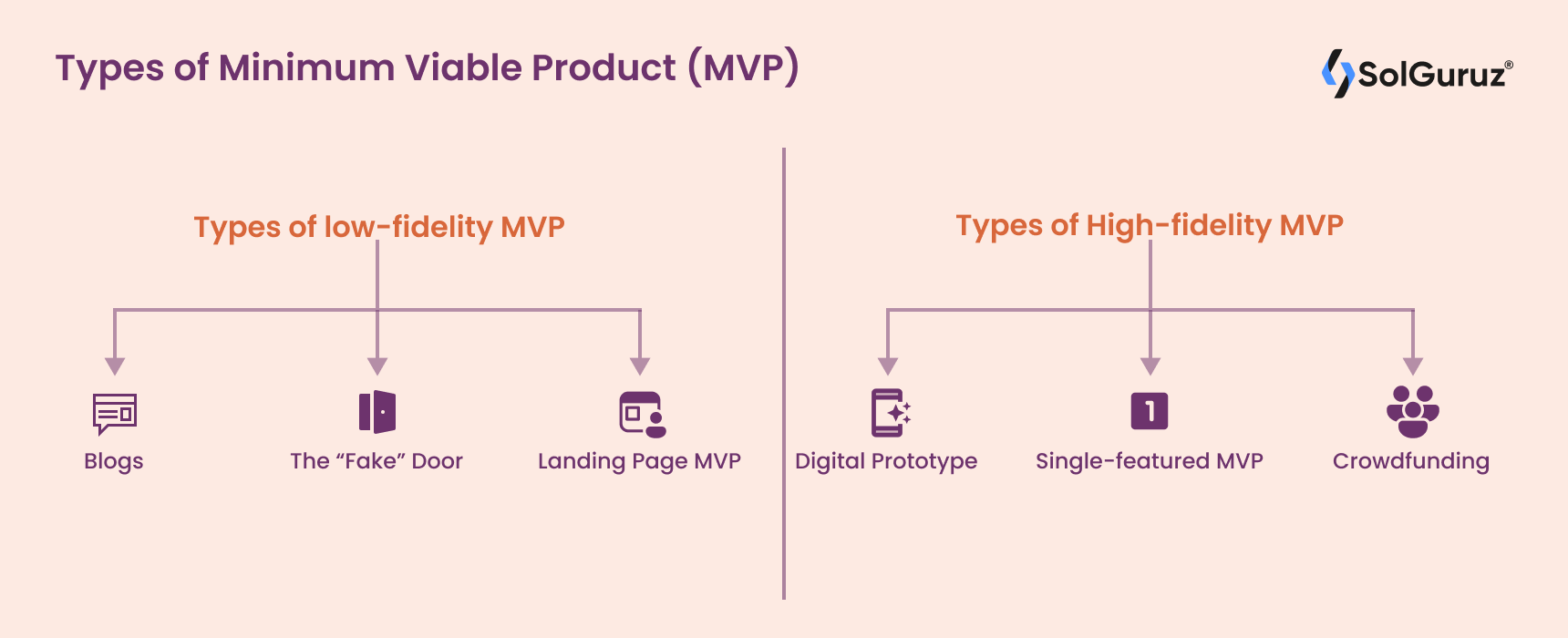 A low-fidelity MVP is done to validate your app idea between target groups. This helps gain better customer understanding and identify if people are ready to spend money on your offer.
In contrast, high-fidelity MVP tests whether your application solves the claimed problems. Here, you find the early adopters to understand how your app performs and grasp other growth potentials.
In low fidelity, you identify whether the idea is worth solving. In high fidelity, you understand if your app is competent enough to solve the problem.
Let's look at different low-fidelity and high-fidelity MVPs to test and validate your app idea.
Types of low-fidelity MVP
Blogs

Blogs are always underrated as it takes more time to give you results. There are a few free options available in the market that could give you similar results to blogs. When you set up a blog, you can initiate two-way communication by posting consistently and driving enough traffic. This will benefit you long and be a channel of contact for your brand.

The "Fake" door MVP

"The Fake Door" MVP is sometimes known as "an MVP before the MVP" or "audience building MVP." It's useful for gauging potential demand for a product or feature before committing to development.

You might, for instance, set up a landing page that advertises a beta version of a feature you're interested in exploring. Let's imagine you're wondering whether your potential customers might be interested in a Premium version of your service with some extra features.

To find out how many people respond to your call to action, you publish it on a landing page along with the pertinent information. Nevertheless, clicking the button does not take you to a payment or subscription page. This capability is "under development," according to the resulting notice. You may gather their email addresses to inform people when it's available.

It is a marketing technique where you can market your product before it's even in development. You can ask people to sign into your email list through ad campaigns or landing pages. They will get a notification once the product is launched. So this way, you get to understand how many people are interested in the product without even building it.

Customer interview

Customer interviews are a direct way to understand your target audience. You can ask your potential customers to give you straightforward answers on your product idea and what problems it was able to solve. You can also ask for pricing, promotion, features, or anything contributing to your app's success.

Landing Page MVP

Before launching the final version of the product, this form of MVP is given to the public to gain traction and receive user input. In addition to market research and conventional advertising, you can utilize a landing page MVP to see whether your product concept would sell.To create a minimum viable product (MVP), you may make a landing page by creating a simple website (thus the name) and measuring how people react to the material you provide. As a result, you may start selling your product even before it is made.

You may observe user behavior and interactions after posting some inventive advertising material and creating engaging media content for the product you want to provide. By observing how users navigate your site and what content generates the greatest attention, you can determine what features your audience values most.
Types of High-Fidelity MVP
Digital prototypes

Instead of building a product and validating whether it's helpful, primarily start with developing prototypes and mock-ups. Digital prototypes are made to translate your idea onto your screen. This makes it easier to spot and resolve queries concerning functionality and usability.

Single-Featured MVP

This form of minimum viable product (MVP) isolates and optimizes a significant aspect of an app's functioning. The effort put into designing the core functionality may be resource-intensive. Hence the single-feature MVP is considered a high-fidelity sort of MVP.

If you want to go this route, you need to zero in on the one feature that will make or break your app concept and figure out how to construct the core functionality as quickly as possible.

Here is one way of looking at it: For what purpose do you hope the app will be used? An appropriate response to this question often defines the app's primary features. You may roll out more polish or functionality to a broader audience as demand rises.

Crowdfunding

Crowdfunding is one of the best ways to get paid for developing your product. Crowdfunding is nothing but asking for pre-orders. This way, you get to analyze the demand for your product and get money to build the final product. Many brands have opted for crowdfunding, from mobile phones to board games.

However, to successfully collect funds from the public, you have to build immense trust among people. Your product should have a digital prototype to showcase how well it performs.
Examples Of Some Successful Minimum Viable Products (MVPs)
When we say most successful brands around were not the same when they started, we mean these: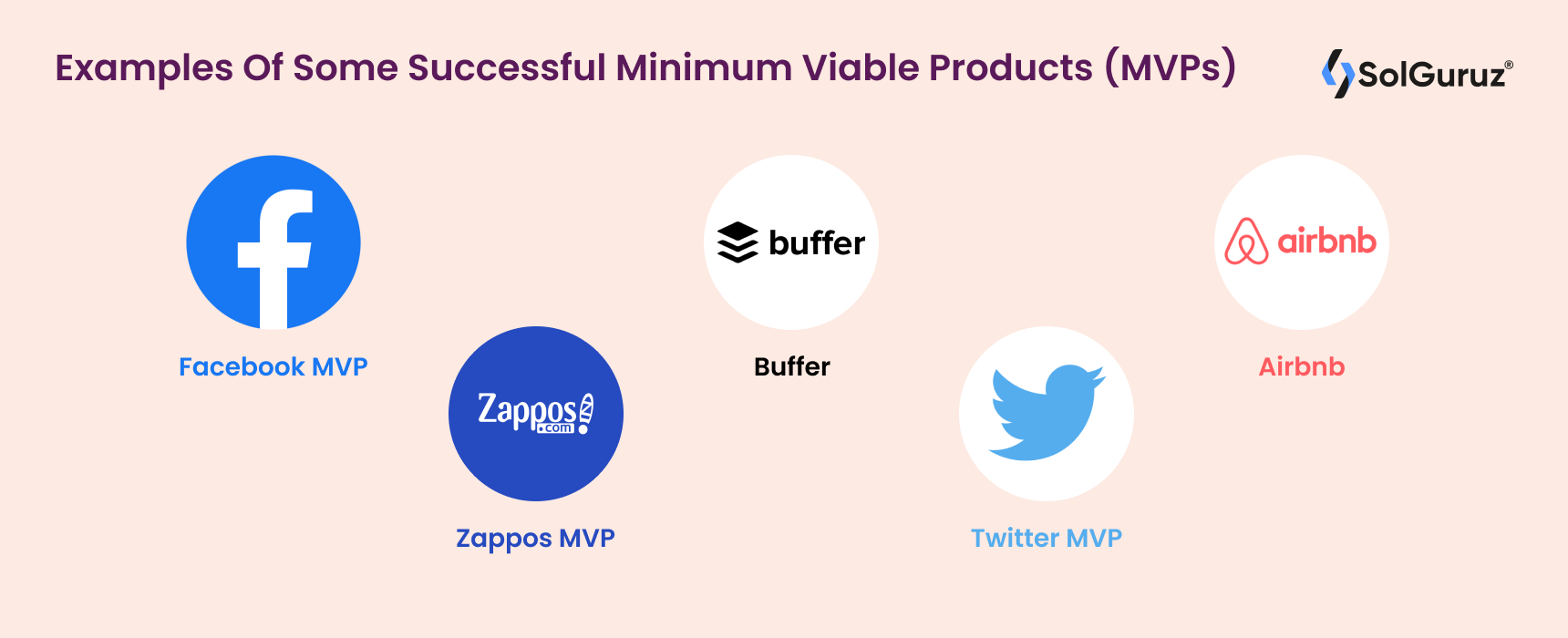 Facebook MVP

Facebook was primarily made to connect people only at Harvard University. It was done to allow people to get information on their classes, colleges, and classmates. But, when the idea went viral, it became the Facebook we see and use today.

Zappos MVP

Zappos was one of the first e-commerce sites where its owner Nick Swinmurn started selling shoes online without owning any stock. He would only buy shoes only when anyone placed the order. That was a great way to test the market without spending much on inventory.

Buffer MVP

Buffer is a social media tool that allows people to schedule their posts. But, when they started, the owner of Buffer, Joel Gascoigne, didn't want to navigate the waters before running into the market. He adopted a model where the potential would get on landing and see the pricing.Still, when they clicked on it, it would direct them to a page that communicated that said the product wasn't ready yet. This way, Joel understood the need for their development and targeted the right people.

Twitter MVP

Twitter was primarily used only for internal purposes by the employees of Odeo, a podcasting company. Later, when the owners of Odeo found out most employees were interested in texting and posting on the platform, it changed from "twttr" to "Twitter and made it public.

Airbnb

Airbnb's primary goal is to eliminate intermediaries by offering a service for short-term rentals. Brian Chesky and Joe Gebbia, who shared a San Francisco loft, struggled to make monthly payments. That's when they decided to take a chance and make good on a long-held ambition by opening a company of their own.

They offered to lodge those who came to town for a design conference to test the concept. Brian and Joe could host three paying guests in their apartment with only a few photos and an essential website. With creator Paul Chesky staying in Airbnb entirely to "dog food" the product, Airbnb grew naturally.
Conclusion
The most important thing you should learn from this post is that a minimum viable product (MVP) doesn't have to be complicated or feature-rich.
Your MVP doesn't always have to be a fully-fledged version of your product; in fact, in certain circumstances (as with email campaigns or landing page MVPs), it doesn't even need to exist at all, so long as you can use it to verify your app concept effectively.
Launching your first MVP is always scary; you must consider many things before entering the market.
MVP is just like the back door of your house; not well-furnished but does its core job of letting anyone in and out well.
So, if you are looking for experts to launch your MVP, SolGurz can be your mobile app development partner. We are a team of experts with fair experience building MVPs that stand out and grab users' attention.
You can contact us for a dedicated one-to-one call with our experts for free.
FAQs
What are the three elements of MVP?
The three important elements of MVP refers as A) Its value B) Its future benefits C) Its guide to further development
Why should I focus on building an MVP?
MVP leads to faster product development. It eliminates a lot of errors from the development phase and brings forth clarity.
Is market research important for building MVP?
Yes, market research stands crucial and the very initial step to building an MVP.