Ready to do business with us?
In today's digital age, mobile applications are necessary for businesses to stay relevant and competitive. With the increasing demand for mobile apps, companies are seeking app development outsourcing partners to bring their ideas to life. Locating the perfect app development outsourcing partner can be challenging, given the numerous options available.
Statista report states that the worldwide mobile app industry will achieve a staggering worth of $935.2 billion by 2023. The statistics indicate fierce competition, and companies must choose their outsourcing partner wisely to ensure success. 
In this blog, we'll discuss how to find the perfect app development outsourcing partner and the benefits it offers. 
5 Benefits Of Getting An Outsourcing App Development Partner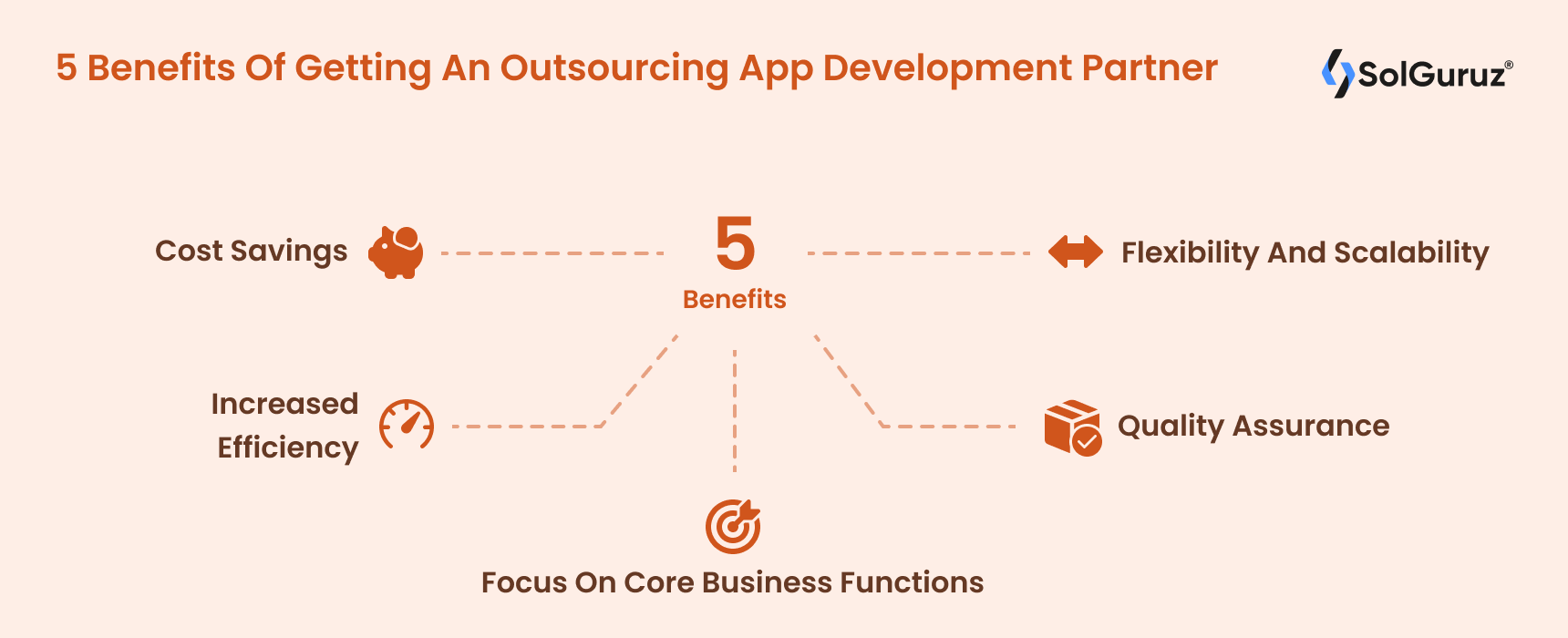 Cost Savings

Outsourcing app development has several benefits, one of which is cost savings. When you outsource app development to a company or a team of developers, you can save money on various costs, such as: 

Infrastructure 
Equipment
Human resources
Tools 
Training 
Additional benefits such as 401k, health insurance, etc. 

For years, outsourcing software development has been a successful practice for major corporations such as Google, Slack, and Skype. The primary reason that 70% of businesses favor outsourcing is the cost-effectiveness it offers. Outsourcing app development at a rate of $20-30 per hour for both iOS and Android can cost: 

$20,000 to $70,000 for a simple app 
$70,000 to $150,000 for a medium-complexity app 
$150,000 to $300,000+ for a complex app 

Businesses can reduce costs by opting for cross-platform development. For instance, the Flutter framework allows developers to create a single application operating simultaneously on several platforms. Outsourcing mobile app development via this approach is 60% cheaper than producing native products for iOS and Android.

Increased Efficiency

Indian companies specializing in iOS and Android app development have cutting-edge tools and resources to develop top-notch mobile apps. These companies offer the option of hiring a dedicated team of developers who can provide you with high-quality work.  

As a result, there's no need for you to build a team, as you can leverage their pre-existing team for your project needs.

In the long run, an app development outsourcing partner can quickly deliver high-quality work aligned with your vision for the project. Experienced mobile app developers possess years of expertise in developing applications. It enables them to offer valuable insights into the dos and don'ts of mobile app development.

Finally, the development team members are all located in one place and familiar with each other. It's convenient for them to coordinate and complete tasks without communication barriers.

Focus On Core Business Functions

The fundamental objective of any business is to deliver value to its customers and generate revenue. The more time you spend on non-core functions, such as managing your IT infrastructure, the less time you have to focus on these activities. 

Working with an app development outsourcing partner allows you: 

Leave the non-core and complex functions to a dedicated team that has expertise in this area
Not worry about finding employees with the right skills or training them yourself. 
Save time by hiring a team that already has experience in this area.

All this while you still have access to high-quality applications that help improve your productivity and build customer relationships.

Quality Assurance

App development outsourcing partner can ensure high-quality products due to the presence of experienced professionals in the development team. When you outsource, you can choose a partner with a strong reputation for quality or one with experience in building apps in your specific industry or niche. 

Your app development outsourcing partner will have a team of experienced professionals such as: 

Developers
Designers
Testers
Project managers 

The experts can bring their expertise to your project, leading to better quality, functionality, and user experience.

Moreover, outsourcing can help reduce the risk of errors or bugs in the app. This is because the outsourcing company typically follows a rigorous testing process. It helps ensure the app is bug-free and meets all requirements before release.

Flexibility And Scalability

App development outsourcing partner provides flexibility and scalability to businesses, allowing them to adjust their resources to meet their needs. For instance, outsourcing can help businesses scale up or down their development team, depending on the project's complexity, deadlines, and budget. 

Outsourcing can also help businesses manage peak periods of demand, such as during the holiday season, by providing access to additional resources without needing long-term hiring. 

Outsourcing brings a broader skill set to the development team. An outsourced team may have experience in multiple technologies and tools. It can help the business expand its range of services or products. This is especially beneficial for startups or small businesses that may not have the resources to hire full-time developers with expertise in multiple areas.
Steps To Find The Perfect App Development Outsourcing Partner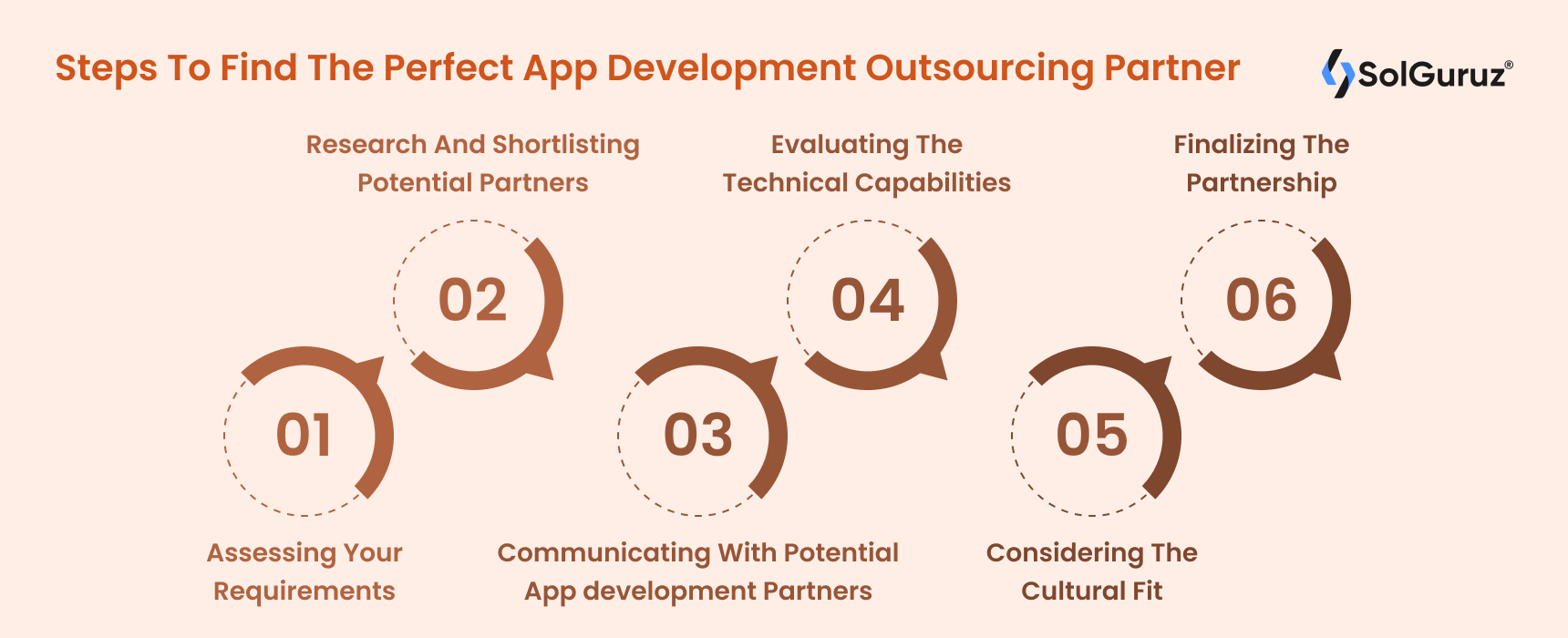 Assessing Your Requirements 

Assessing your requirements is a crucial first step when you choose an app development outsourcing partner. This involves defining the project scope, understanding your budget, and identifying the skills and experience needed for your project: 

Defining the project scope – Define what features and functionalities you want in the app, what platforms it should be available on, and what kind of user experience you want to provide. This will help you communicate your vision effectively to potential outsourcing partners and minimise potential mistakes. 
Understanding your budget – You need to clearly understand how much you're willing to spend on the app development project. This will help you find an outsourcing partner that can work within your budget and avoid surprises later. It is essential to consider the initial costs and continuing expenses, such as maintenance and updates.
Identifying the skills and experience needed – If you're developing a mobile game, you'll need an app development outsourcing partner with experience in game development. In contrast, if you're developing a business app, you'll need someone with expertise in enterprise app development. Make a list of the skills and experience you're looking for in an outsourcing partner, and use this as a checklist when evaluating potential candidates.

Defining all the requirements sets you up for success. This will ensure that you discover a suitable outsourcing partner to assist you in bringing your vision to fruition.

Research And Shortlisting Potential Partners 

Once you have assessed your requirements for an app development outsourcing partner, the next step is to research and shortlist potential partners. 

To find potential outsourcing partners for app development services, there are various online resources available. You can begin by searching for top app development companies that offer these services and browsing their websites to learn more about their capabilities and experience. 

In addition, you can read reviews and ratings on websites such as Upwork, GoodFirms, and Clutch to gain better insight about the outsourcing partner.

For instance, you can visit an outsourcing partner's Clutch profile to gain insight into their previous projects, client feedback, and overall reputation. This can help you make a more informed decision about selecting the right outsourcing partner for your app development needs.

Seeking recommendations can help you find trustworthy and experienced partners, as you can rely on the firsthand experience of people you trust. 

Evaluating the company's portfolio and testimonials is also crucial. You should take the time to review the following: 

The company's portfolio to understand its capabilities;
Areas of expertise;
Types of projects they have worked on. 

This will aid you in evaluating whether they possess the necessary skills and experience for your project. Additionally, read their website or online reviews' testimonials to understand what previous clients have said about their work.

Communicating With Potential App development Partners 

After shortlisting potential app development partners for outsourcing app development, the next step is to communicate with them. 

Provide a detailed project brief that outlines your vision, goals, features, functionalities, and user experience. This will help the outsourcing partner determine if they have the skills and expertise needed for the project. Then, they can provide an accurate estimate of the cost and timeline.

Ask your app development outsourcing partner about their communication channels, availability, and project management processes. 

Before the outsourcing partner satisfies you in terms of all the skills, team composition, and process requirements, evaluating their soft skills is essential.

Take note of their response to your inquiries, their tone of communication, and their level of professionalism. A professional outsourcing partner should be responsive, communicative, and transparent in their approach. 

Evaluating The Technical Capabilities 

When hiring an app development outsourcing partner, evaluating their technical capabilities is one of the most important factors. To evaluate their technical capabilities, there are several key points to consider. 

Development process – Understanding their methodology for app development, such as agile or waterfall, and how they approach project management.  To ensure the final product meets your standards, you should also ask about their quality assurance processes, including testing and debugging procedures. 
Technical capabilities – Assessing their proficiency with programming languages, such as Java or Python, and their ability to work with mobile platforms, such as iOS or Android. You should also consider their knowledge of app development frameworks and libraries, such as React Native or Flutter, which can help streamline the development process. 
Security and data protection measures – Evaluating their ability to protect sensitive data, such as user information and payment details, from potential cyber threats. You should ask about their use of encryption technologies, security protocols, and adherence to industry standards and regulations, such as GDPR or HIPAA.

Assessing the process and capabilities in app development helps you make the right decision. You can have confidence that they can deliver a high-quality app that meets the required standards. 

Considering The Cultural Fit 

In addition to evaluating the technical capabilities of an app development outsourcing partner, it is also important to consider the cultural fit. The best way to do this is by asking yourself some questions about your business and what you want from your outsourced team:

What values does your company have? Do their values align with those of the development team? If not, why would you even consider working with them?
How important is communication? Do you want regular updates on how things are progressing, or do you prefer email communication only? Do they use Skype or Slack? Are they willing to use tools like Trello or Basecamp so you can keep track of their progress?
How important is responsiveness? Is immediate response critical for them to be considered reliable? Or can they take a little longer if necessary — especially if it means they develop a better solution that requires more time?

Considering the cultural fit can help you choose a partner who shares your values and mission. It helps the outsourcing partner communicate effectively and collaborate well with your team. 

Finalizing The Partnership

The final step is to finalize the partnership. This involves negotiating the contract, establishing the payment and delivery timelines, and making a final decision. 

The contract should include project scope, timelines, deliverables, and payment terms. You can opt for fixed price or time and material contracts. It should also include provisions for dispute resolution and intellectual property rights.

Establishing the payment and delivery timelines to determine the project's payment schedule and delivery milestones. Collaborate with the outsourcing partner to create a realistic and attainable timeline. Consider factors such as development duration, testing, and deployment to create a realistic timeline. 

Once you establish the contract, payment, and delivery timelines, make a final decision. Consider all the information you have gathered about the outsourcing partner, including their technical capabilities, cultural fit, and contract terms. 

You should review the contract carefully to ensure that it reflects the terms you agreed upon with the outsourcing partner.
Unlock The Potential Of Your App Idea With SolGuruz: The Premier Outsourced Development Partner

SolGuruz is a premier outsourced development partner that can help you unlock the full potential of your app idea. Our team of experienced developers and designers can help you bring your app to life and take it to the next level. 
Whether you have a fully-formed app idea or a rough concept, SolGuruz can help you turn it into a successful product. We utilize cutting-edge technologies and development methodologies to guarantee that your application is sturdy, adaptable, and easy to maintain. We also offer continuing support and maintenance services to ensure that your app continues to perform at its best. 
Partnering with SolGuruz can help you unlock the full potential of your app idea and bring it to market faster and more cost-effectively than trying to do it on your own. 
Conclusion 
Finding the perfect app development outsourcing partner can be daunting, but it is a crucial step in ensuring the success of your project. By following the steps outlined in this article, you can increase your chances of finding a partner that fits your needs and can help you bring your app idea to life. 
Remember to consider their experience, communication skills, development process, pricing, and past client reviews. 
With the right outsourcing partner, you can create an app that meets your business goals and exceeds your users' expectations. So take the time to research and choose your partner wisely, and you will be on your way to app development success.
FAQs
What is the cost of outsourcing app development in india?
The cost of outsourcing app development to India can vary depending on factors such as the project's complexity, the developers' skill level, and the outsourcing company's location. On average, outsourcing app development to India costs between $20,000 and $150,000.
Is it better to outsource app development?
Outsourcing app development can be an excellent choice for companies seeking to save time and money. By outsourcing, businesses can access a wider pool of talented developers, reduce overhead costs, and speed up the development process.
How much does it cost to hire a company to build an app?
The cost of engaging a company to create an app can fluctuate based on various factors, including the app's complexity, the necessary features, and the degree of customization. On average, building an app with a professional development company can cost anywhere between $30,000 and $250,000.
How much does it cost to outsource app development?
The cost of outsourcing app development can vary from $30,000 to $250,000. Companies opt to outsource as it is more economical than recruiting an in-house team. They can save on overhead costs such as office space, equipment, and employee benefits and access a wider pool of skilled developers.
Is it better to outsource app development?
Whether it is better to outsource app development depends on your business needs, budget, and goals. Outsourcing can provide several benefits, including access to a broader talent pool and cost reductions. Still, it can also come with some risks, such as communication issues and quality control issues. Ultimately, it is the responsibility of each company to decide whether outsourcing app development is the appropriate decision for them.