Ready to do business with us?
The accessibility of free music has dramatically improved throughout the years. Now, with the help of a free music streaming app, you can find almost any music globally.
Music Streaming Apps like Apple Music, Tidal, Spotify, etc. have revolutionized the music streaming business, making it possible to listen to millions of songs from any device, anywhere in the world. However, suppose you're paying for a membership to one of these applications. In that case, you should know that many alternatives don't cost a dime.
What are Music Streaming Apps?
The basic principle of a music streaming app is that a streaming service sends data to a streamer in tiny increments, allowing the user to get pre-buffered audio a few minutes or seconds before the song starts playing.
Streaming technology allows for continuous playback without downloading and storing content on the user's device, so long as the user has a reliable internet connection. This innovation, and the streaming industry as a whole, emerged in reaction to music pirate websites of the late 1990s and early 2000s.
The 10 Best Free Music Streaming Apps for Your Phone
As of the end of the second quarter of 2021, the total number of subscribers to music streaming services throughout the globe was 523.9 million, up from slightly under 487 million at the end of the first quarter.
Did you know that of the 27% growth in music retail sales in the United States, 84% came from streaming services?
The premium subscriptions business is estimated to be worth $4.6 billion annually, with Spotify and Apple Music accounting for more than two-thirds of that figure. In addition, for the first time, over 80 million paid memberships were registered, indicating the market's popularity and low barrier to entry.
We at SolGuruz have extensive expertise in developing music streaming apps from scratch. Our portfolio has many examples of comparable projects.
Let's check out the top 10 best free music streaming apps for your phone.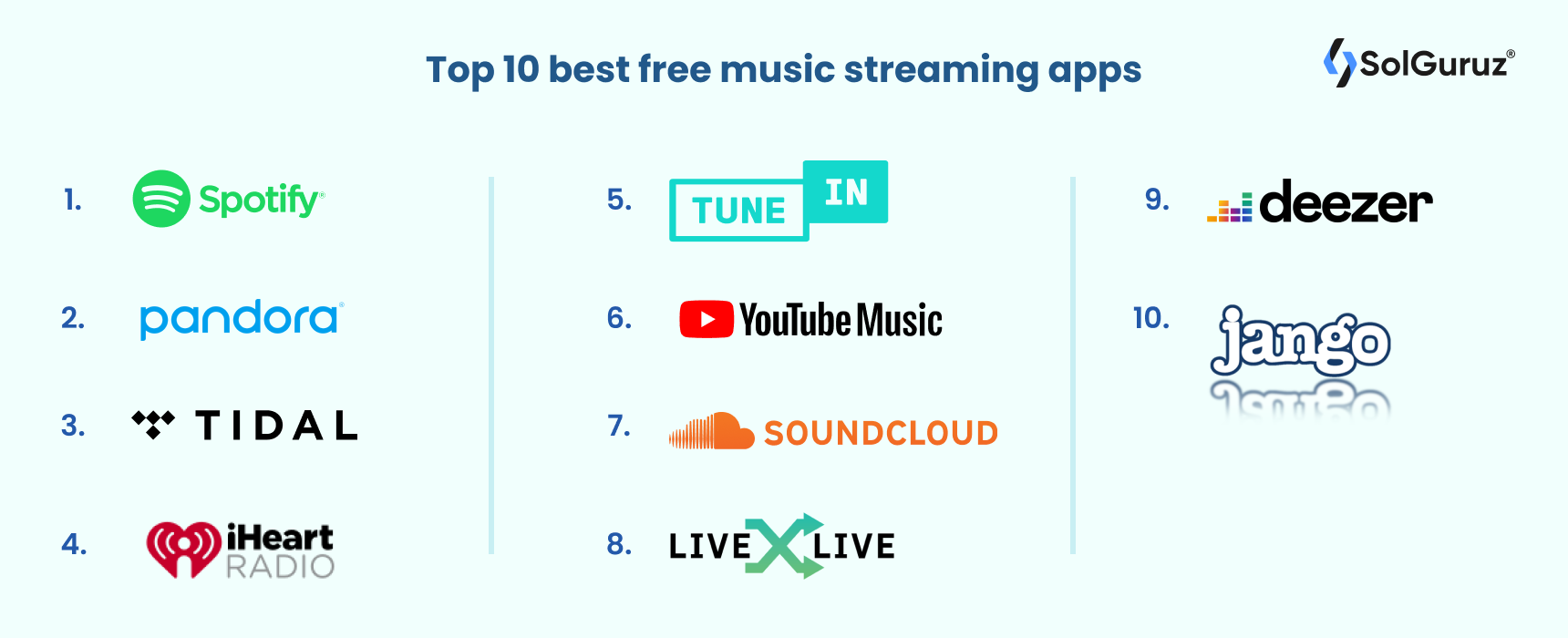 Spotify

Spotify is one of the world's most widely used music streaming applications, with millions of users. You can tune into their preferred music, albums, podcasts, and more.

They have a vast library of songs. You can use the Spotify app to stream music for free. Still, if you want to skip the ads or save songs to listen to later, you'll need to subscribe to one of Spotify's paid Premium tiers.

Pricing: 
The free version includes advertisements and a mobile app where your music remains on shuffle indefinitely; the app's premium version costs $9.99 or $12.99 on the App Store.

Platform: 
This music streaming application can be on Android, iOS, and Web Platforms.

Why Spotify?
One of the best parts about Spotify is that anybody can create and share their playlists, allowing their friends to listen to the same music on their own devices.

Several push notifications may be enabled inside the app, informing you of events such as the release of a new album by an artist you're following or updating a playlist you're subscribed to.
Conclusion
These are the top music streaming applications for mobile devices right now. Your choice will depend on factors like your preferred language and cell network.
Audio streaming applications have become more popular since they allow users to listen to high-quality music without wasting valuable storage space on their mobile devices. Consult a top mobile application development company like ours to build a feature-rich music streaming app.
FAQs
Can you name the most famous music streaming service?
Spotify is the world's most popular streaming platform, with 350 million users and 150 million subscriptions.
In what ways may a music app be useful?
The primary function of a music streaming app is to play songs stored in the service's databases, allow users to create their playlists, and provide recommendations for other songs they may like.
What variables influence music streaming?
Cost, available media, usability, societal trends, gender, and age are all examples of such variables.
How to build a music streaming app like Spotify?
To build a free music streaming app like Spotify, it is important to consult a mobile application development company like ours. We help you with ideas, an MVP, and an agile development process that helps you with the final application. For costing or features, connect with our business team.