Ready to do business with us?
Do you intend to develop a music app? If so, you are at the right place.
Time has changed due to technological growth, and our normal duties, such as supermarket buying, ticket purchasing, hotel booking, and music listening, have taken on new forms. Today, we utilize music streaming applications to listen to our favorite songs without instantly downloading them.
Did you know that 84 percent of the increase in music retail income in the United States was due to streaming services?
In addition, premium subscriptions such as Spotify and Apple Music now account for more than two-thirds of the market revenue for paid subscriptions ($4.6 billion). Additionally, more than 80 million paid memberships were reported for the first time, indicating the market's popularity and low entry barrier.
In 2023, it is expected that the music streaming market would generate $15.22 billion in revenue.
What are the various categories of Music Streaming Apps?
The most common music streaming applications are those that allow users to listen to radio or music on demand.
Radio Stations
Music may be streamed through radio stations, but it is a passive experience for the listener. Radio stations often play popular songs and albums. The music can't be customized to the user's tastes. Pandora Music and iHeart Radio are two examples of well-liked radio streaming applications. Music can't be played based on user preferences. They may choose to ignore particular parts of the audio.
For licensing, the brands need to work together with SESAC and BMI. Apps that stream radio stations cost less to license.
Do you want to create an app for listening to streaming music? If the answer to that question is "yes," then the on-demand music streaming market is where you should be.
However, it helps to understand what that challenge entails before taking on a challenge. When it comes to mobile music services, Spotify is unrivaled. Its innovative design and cutting-edge features make it an industry frontrunner.
On-Demand Music Streaming
The purpose of music applications in this category is to provide users with individualized musical experiences. A wide variety of audio options are available for your listening pleasure. Popular music companies team up with these apps to curate collections of songs.
In addition, they provide help with royalties and rights for musical works. This category includes widely used music applications like Spotify, SoundCloud, Apple Music, etc.
Streaming has great promise and also provides room for experimentation. However, you need to do some serious digging into the habits and preferences of your intended audience. You may then adjust the settings of your music app accordingly.
Why Should You Develop a Music App?
You should know why you want to create a music app before you get into the specifics.
Informing you that the music business is the fastest-growing and most popular in the entertainment sector is a must.
Approximately 14% of adults use streaming services every month.
Because the need for music apps is rising, your strategy to create one is excellent. As a result, expanding fan bases and bank accounts are in the cards.
The possibilities available in the music business are another factor. Market leaders choose to include cutting-edge technologies like augmented reality, virtual reality, 5G, artificial intelligence, and more in their applications.
Music is universal; as the industry develops and diversifies, there will always be markets.
This is why most business-minded entrepreneurs create a custom music streaming app and employ a group of programmers to help them realize their vision.
Don't Miss-out on these 19 features to build a market-leading music app
Streaming has great promise and also provides room for experimentation. However, you need to do some serious digging into the habits and preferences of your intended audience. You may then adjust the features of your music app accordingly.
The popular music streaming apps available online have also integrated these features for which are getting great engagement.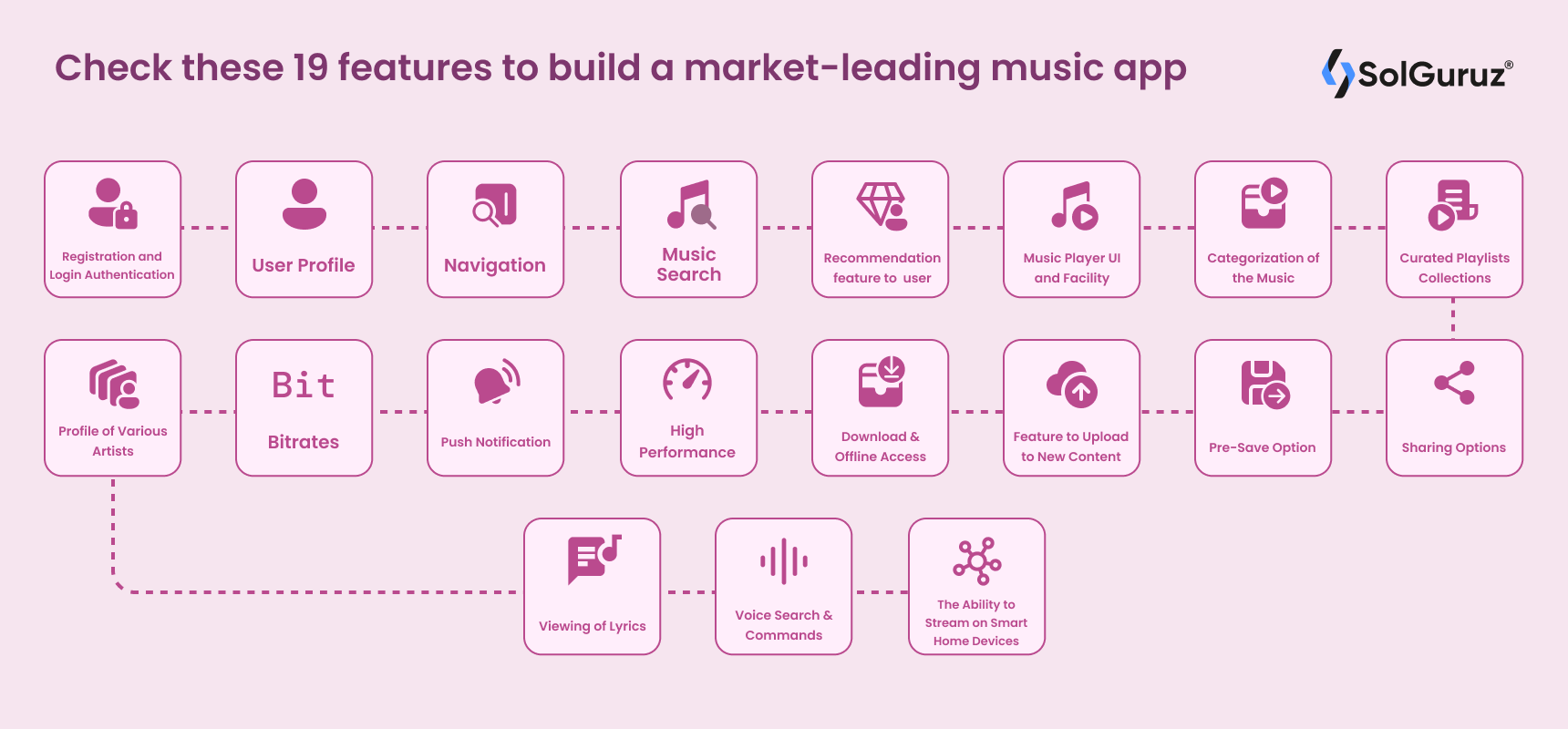 Registration and Login Authentication

It's a must-have function for recognizing the user and syncing his music and playlists with the service. New subscribers may be obtained via social media authorization.

Not coming across as irritating throughout the registration/login process is challenging. An attractive user interface, user experience design, and interaction with social media platforms may help with this issue.

This action not only aids in forming a solid community but also gives users exceptional customization. Users' ages and geographic locations might be used to provide personalized music recommendations. If that doesn't work, ask the individual what kind of music they like.

User Profile

After joining up, users should be able to quickly and painlessly complete a profile that will let them create and manage their unique playlists. This allows the app's creators to study user behavior and cater to their tastes. They may submit their songs and share them with others using this account.

Navigation

The app's natural navigation is facilitated by its straightforward navigation and layout.

Music Searching

Advanced search is one of the most requested features for music apps. Allow customers to search by song title or artist and mood, genre, remixes, etc.

Recommendation feature to the user

This might be an issue during the development phase. You must develop a distinct algorithm that can recommend playlists and music to consumers depending on their interests. The app may be based on either user behavior – most often played songs, preferred artists, skipped tracks, etc. or collaborative filtering.

Music Player UI and Facility

Adding shuffle, timing, and tuning options to the player will make music listening seem natural and effortless. Users may choose to highlight their favorite songs or compile them into personalized playlists.

Categorization of the Music

Users must have the option to search for songs and artists. You may give a classification by playlist, styles, frequency, other ratings, recording year, mood, activities, etc., for a seamless experience. Both browsing and music selection are crucial opportunities to impress prospective buyers.

Curated Playlists Collections

Curated playlists enhance the user experience in additional ways. They reflect your style and industry expertise and help your app become a trendsetter. Over half of U.S. users consider music collections to be one of the essential music app features.
Profile of Various Artists

Users are not the only essential stakeholders to consider. Musicians are also crucial to the success of the app. Typically; listeners are willing to follow their favorite artists and get updates and exclusives from them. Statista reports that over half of U.S. citizens consider this music app function one of the most crucial aspects.

Bitrates

To be streamed online, a song must be converted to digital format, which might include breaking it down into audio snapshots. Our minds then piece together all those individual frames into a seamless movie. The term "bitrate" is used to describe the level of quality in streamed music.

Here are the three main categories of sound quality for mobile applications:

High-resolution songs aim for higher-quality sound in convenient packaging that can be streamed from your device or played from a digital file on a specialized player.

Push Notifications

Please give them the lowdown on what's happening in their immediate vicinity, the latest music news, and the newest albums from their favorite performers.

The consumer won't put up with your app if it constantly plays sound. Notifications will politely pull you back into their minds while providing relevant information.

High Performance

The speed and resource consumption of the applications are significant factors in their usefulness, and they must improve in both areas. If a user clicks on a song to listen, it should begin playing within 300 milliseconds.

Download & Offline Access

With a single click on the playlist page, this music app feature may greatly improve the user experience.

Feature to Upload to New Content

One more thing that may set your app apart from the competition. It's common for people to want to share their music online. If you'd like, you may have your phone's music collection and the functions of your music app work in tandem.

Pre-Save Option

One upgrade option is called pre-saving. Some albums have been announced but are now inaccessible to the public. As a result, you might tell people to have it downloaded immediately when the album is added to the service.

Sharing Options

Apart from streamlining the verification procedure, using one's social media accounts does several other useful things. Through the use of social elements inherent in music apps, such as song sharing with friends, a community may be formed inside the app.

Viewing of Lyrics

Common listeners may be transformed into devoted followers with this easy addition. Users are interested in more than just hearing a song; they want to know everything about it, from the record label to the year it was released and any honors it may have received.

Voice Search and Commands

The addition of voice controls is another method to improve your music app. It's a practical answer in an age when voice search is rapidly gaining popularity, and it may improve productivity for end users.

The Ability to Stream on Smart Home Devices

It's hardly surprising that the average internet user switches between many devices throughout the day, making it all the more critical to be able to stream on more than one. Almost 70% of U.S. listeners stressed the significance of this aspect.
Wrap Up
That's quite the comprehensive set of advanced features for a music app; it'll set you apart from the competition. However, it would also be wise to locate a reliable mobile development service to consolidate the features above of music apps into a single cutting-edge option.
Whatever your application development needs are, the SolGuruz team is here to help. This includes further consulting on music app features and finding a reliable development partner. Contact Us now with your music streaming app idea and get a free quote.
FAQs
What is the objective of a music streaming app?
The primary objective of a free music app is to have millions of songs on its database that are both popular and the latest. Another aspect of a music streaming application is to offer custom playlists to its users.
What exactly is a music streaming application?
A music streaming app is an online music app that helps users to listen to their favorite songs online. There are two types of music apps- audio and video.
Which are the popular free music apps available today?
Spotify, YouTube Music, and Pandora are the three most used music streaming apps. They offer both free as well as premium streaming options.