Ready to do business with us?
Today, streaming media can be found in every corner of the globe. It influenced the kind and quantity of media we consume and introduced new business concepts. There is, however, plenty of room for yet another excellent music streaming service. However, one needs a detailed strategy and a skilled development staff to build a music app.
If you want to develop a music app, this article is for you. We'll go through the inner workings of a music app development, how it earns money, and how to create your own. But before we do that, let's look back and figure out how we got here.
Why Music Streaming Services and Music App Development Apps Are Trending?
To make yourself familiar with music app development and music streaming services – here are the statistics which prove that this is the right time to build a music app:
The market for music streaming apps is unyielding and will not give up. Every year, MIDiA compiles a study on the market share of music subscription services and finds that the number of music subscribers has increased dramatically (by 26,4%) over the previous year.


The worldwide music streaming market was estimated at $29.45 billion in 2021 and is anticipated to increase at an annualized growth rate (CAGR) of 14.7% between 2022 and 2030.



According to Statista – To put it in perspective, in 2015, the reported income from music streaming was just $2.8 billion globally. By 2021, that number had risen to a record-breaking $16.9 billion. More than 65% of all money made off recorded music worldwide comes from streaming services.


Streaming services are now an integral component of the music business, with 82.1 million paying members in the United States alone. Swedish behemoth Spotify has been at the forefront of the streaming industry for quite some time and now owns 32% of the U.S. market share. The competition, including Apple Music's 16 percent and Amazon Music's 13 percent, has struggled to stay up with Spotify's expanding user base.
According to another Statista report – By 2023, the music streaming market is expected to generate $15.19 billion in revenue.
The market is estimated to reach a volume of US$18.56bn by 2027, with a compound annual growth rate (CAGR) of 5.14% from 2023 to 2027.
The United States will be the largest contributor to worldwide revenues in 2023 (US$6,031.00m).
By 2027, it's estimated that 1.12 billion people will have used a music streaming service.
Predictions show that by 2027, the number of active users will have increased to 14.1% from the 12.0% forecasted for 2023.
In 2022, each user will bring in around $25 in income.
Spotify is still the leader in the industry with a 33% share, while Apple Music is still in second with a 15% share. Compared to Apple AAPL -1.8% of music's 15% market share, Spotify owns just under a third (31%). Yet, Spotify continues to dominate the market for streaming music services, with a larger percentage of the market than both Apple Music and Amazon Music.
From our perspective, the pandemic substantially contributed to the growth of the industry for digital streaming music. In all honesty, no sector of the economy would not have been impacted. Obedience to COVID restrictions meant that people had to spend more time at home, telecommuting, watching Netflix, ordering takeout, and listening to music.
What Are the Key Features to Focus on to Build a Music App
Throughout the process of creating a Music app, feature selection is an extremely important job. To build a music app, you must know and comprehend the most important aspects. Also, a mobile app development company can be helpful at this point. Here are some of the features to focus on: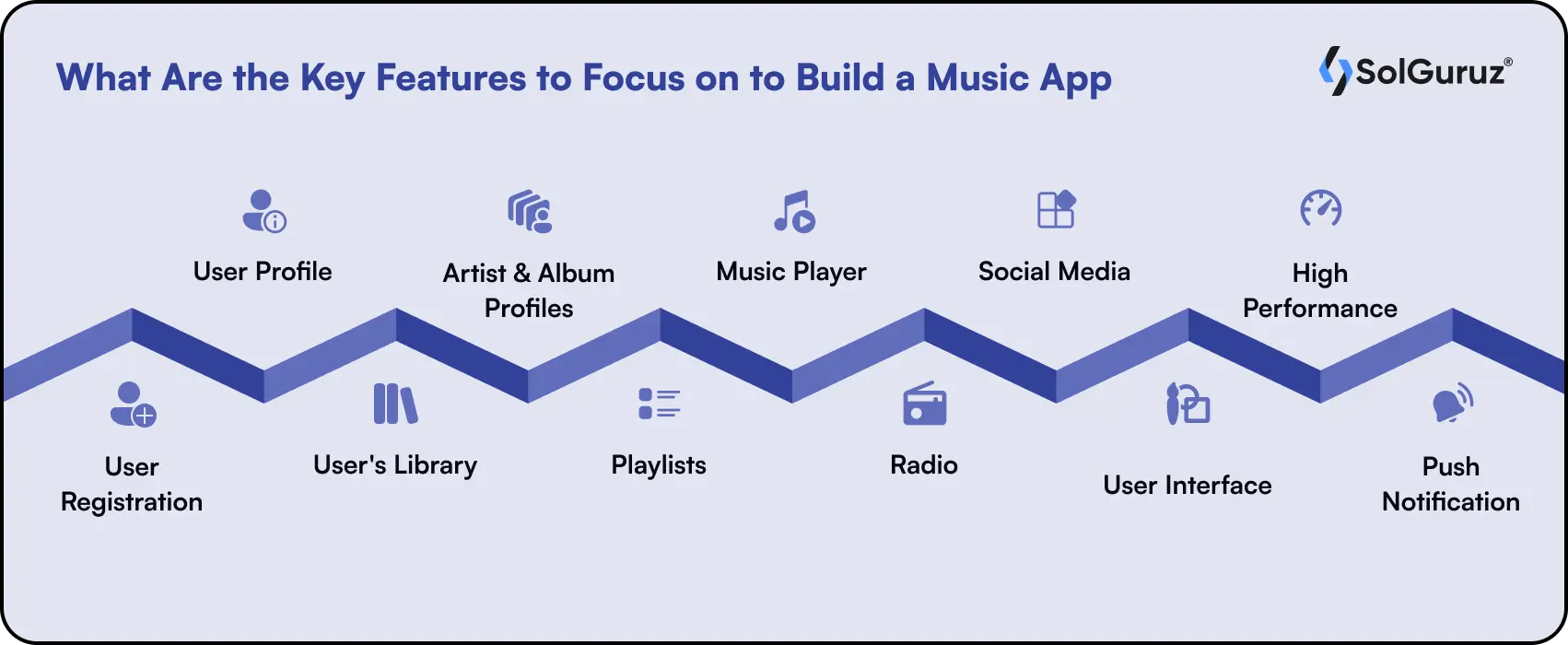 User Registration

To build a music app, Recognizing the user is crucial for syncing his music and playlists inside the service. Hence it is included as standard. New subscribers may be obtained quickly by social media login.

User Profile

Users should be able to quickly and painlessly set up a profile to make and manage their unique and personalized playlists once they have signed up or registered. The App's creators may utilize this information to cater to their users better. They may use this to connect with other music lovers and even post original songs.

User's Library

Make it easy for consumers to create and organize playlists in your App that perfectly suit their tastes. They'll see more user interaction and be encouraged to create endless playlists from their collections. 

Artist & Album Profiles

In music app development, creating a profile for the artist and an album for their work are voluntary additions. But please be aware that there is a need from your user base for more information on the current track. 

You can keep the pages uncluttered while providing crucial details such as top songs by the same artist, the date of release, the number of likes, and more. 

Playlists

Your App's music should transport listeners to the scene, whether a lively party with friends or a quiet family dinner. Most music fans now use mobile audio applications rather than the radio to listen to their favorite artists and songs. Create a curated playlist for each app user, or give them the tools to do it themselves. 

Music Player

You should use such capabilities to create custom timing, shuffle, and tuning controls for the music player in your App. Furthermore, users should be able to make custom playlists and store their favorite songs for subsequent listening. 

Radio

Suppose you want to build a music app. In that case, Radio streaming is another option for your audio app, letting users listen to their favorite songs without commercials interrupting them. 

Social Media

Most listeners like chatting with their friends about a song they're listening to on social media. With this addition, you may expect to see an increase in brand recognition. 

User Interface

Your application's user interface (UI) may make or break its success. When designing a user interface for a music app, it's important to keep things simple, straightforward, easy to use, and aesthetically appealing. 

High Performance

A key factor in deciding whether or not to use an app is how well it runs; thus, optimizing for speed and efficiency is essential. When a user clicks on a song to listen to, the music should start playing within 300 milliseconds. 

Push Notifications

More recent studies have shown that push alerts increase participation in every field. 

What are the Monetization Opportunities for Music Streaming apps?
Now that we've covered the essentials of music app development let's talk about the numerous methods to make money from the music app. Some of the most frequent are:
In addition, music streaming apps can develop various subscription plans to cater to the varied demographics of their audience. The following outlines how Spotify came up with its price policy: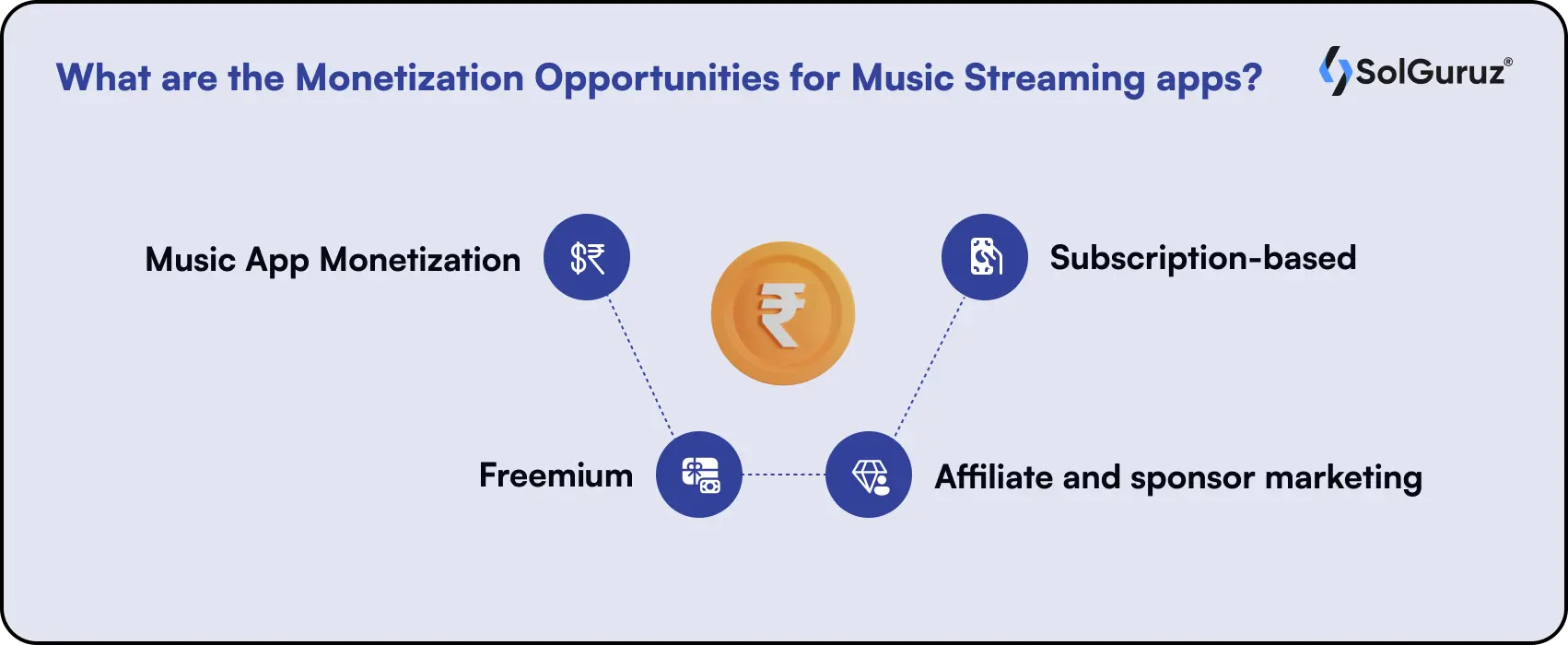 Music App Monetization

When you make your App accessible to individuals who purchased it without ever trying it out or with a brief trial period, paid apps are the rarest type of monetization.

A music app requires substantial beginning capital like any other company. Reduce uncertainty and maximize the likelihood of long-term success with a well-crafted business strategy.

Effective strategies for generating income from music streaming apps:

In-app adds
Premium features
User charges
Artist charges
Ticketing services
Karaoke live-streaming
Single song or album purchase option




You can integrate these ideas into one of the following business models:

Freemium

Its basic features may be used without charge, but additional features can be acquired for a fee. The term "freemium" refers to a business model in which consumers may access a product's most basic functions for free but are shown advertisements instead of having access to the full product. 

After the trial period, you may bill weekly, monthly, quarterly, or yearly. Big business names like Spotify and Apple Music have started using this method.

Premium

It is most effective for specialized items and access that require payment. Premium Individual is geared toward single users. Premium Student provides a fifty percent discount off the regular price for four years. 

Premium Duo is designed for couples that reside together and share a single account. Premium Family allows up to six individuals, all of whom hold Premium accounts, to purchase that tier at a discount.

Subscription-based

It's a recurring charge of the same amount every month.

Successful market strategies sometimes integrate many models. One such music streaming service is Spotify, which requires users to have a paid subscription to use the service. Pandora is based on a business model known as "freemium," in which consumers pay a monthly charge to listen to music uninterruptedly.

Maybe even more intriguing is that Premium subscription costs vary from country to country. It seems about right.

Advertising is one of the best and simplest ways to monetize music streaming applications. After every 3 or 5 songs, you may play an ad. It's effective, too! In the third quarter of 2022, advertising comprised about 13% of Spotify's overall income (Bloomberg).
What are the Key Steps to Build a Music App? 
So, after learning about the features and the business models – here are the steps involved in the music streaming app development. Here are the key steps to developing an audio streaming app:
Sharpen the focus of your unique selling proposition and creative concept.
Determine who you're trying to reach.
Choose the functionality and technology stack that must be included.
Put together a professional app development crew.
Choose a viable business structure.
Licensing
Create an MVP and build an App
Help and future developments
How Much Does It Cost to Build a Music App?
The reason why we can't give you a firm price for creating an audio app is that there are so many variables to take into account. 
The price tag of creating a music app is affected by several things. First, let's take a look at a couple of the more crucial ones:
Features

The price of your application will depend heavily on its functionality.

The app development cost is affected by the complexity of the App, which in turn is affected by the number of features you wish to add to the App.

Platforms & Devices

If you want to make applications for both Android and iOS, you should expect to pay almost twice as much.
The cost of building a music app depends on many factors, including the number of supported devices, our frameworks and technologies, and the complexity of the App's design. Wrapping this section with an approximate cost of building a music app like Spotify, 10000 – 25000 USD. 
Tech Stack for the Development of the Music App
If you want your music app to stand out from the crowd, you need to use cutting-edge techniques and technology. Suppose you want your music app to be reliable and easy to use. In that case, you should only use the most popular technology. The technologies (split into groups) you'll need to build a music app are outlined below.
Wrapping Up
The business of streaming music is becoming more popular in recent years. It is necessary to amass a sizable following and maintain competitiveness with the industry's frontrunners if you want to seize a sizable portion of the income in the music streaming business.
To build a music app is one of your goals; we at SolGuruz have a group of specialists and knowledgeable individuals who can assist you in realizing your ambitions and bringing your concept to fruition.
SolGuruz has an extensive portfolio that includes successful music app development in the market. We provide comprehensive app development services using the very finest and most up-to-date technology, highly trained teams, and scalable procedures for app development.
If you want to be successful, having an excellent concept is not enough; you also need to be able to execute it well. So, to create a successful audio streaming application, you need to engage the appropriate mobile app development company.
FAQs
How much does it cost to develop a music app like SoundCloud?
The typical cost of developing a similar app like SoundCloud is between $25,000 and $150,000. The location of the app development company, the features to be included in the App, the technological stack utilized, the UI/UX design, etc., all have a role in the final cost.
Is it expensive to make your music App?
If you want to develop a fully functional music streaming app with advanced features, it would be a bit costly.
Is making music app profitable?
Yes. Definitely - making music app is profitable with a suitable business model. Consult our experts for the business model ideas.
How much does it cost to create a music streaming app?
The typical price to create a music app is $20,000. The sum, however, might range from $10,000 to $40,000. An MVP (minimum viable product) music app with fewer features will cost less than a full-featured app.
How do you make your own music streaming App?
Here are a few steps to follow: 1) Consider the main features of the App 2) Choose licensing type for the App 3) Find the music app development company 4) Develop an audio streaming app UI/UX design 5) Create audio streaming app MVP