Ready to do business with us?
Looking to build an app like Pandora? Discover the technical requirements and what sets Pandora apart as one of the most widely used online radio and music streaming services.
There's no denying that the music business has exploded in recent years. Formerly dominated by record labels and their artists, the market for music apps is now open to anybody with a good idea.
With over 90 million monthly listeners, Pandora has established itself as one of the most widely used online radio and music streaming services. Established in 2000 by Will Glaser, Jon Kraft, and Tim Westergren, the business now has quarterly sales of $447 million. Pandora has had great success. This blog will explore what sets Pandora apart and the technical requirements to build an app like Pandora.
According to RIAA, streaming services made up 80% of the industry revenues in the U.S. music market.
Let's Start with, What Is Pandora App?
Regarding music streaming services, Pandora is in a league of its own. It listens to user preferences and then carefully selects and blends songs. The history of Pandora is rather extensive. The beginning of the Genome project in 1999 marks the beginning of the app's development.
The project aimed to examine several songs to establish criteria for categorizing music. Twenty-five experienced musicians spent days and nights listening to and evaluating music using a rubric of 400 criteria that included harmony, lyrics, rhythm, form, and more.
The carefully selected songs are the app's key selling point. But how exactly might a mobile app do this? The procedure is nicely designed. After signing up, listeners may begin customizing their radio by adding the stations, musicians, and songs they like the most. After that, Pandora finds your preferred songs and artists and creates a custom playlist.
The system employs a sophisticated search algorithm unlike any other movie streaming service to provide recommendations for films you may like. If you want Pandora to create the perfect playlist, you must consider the songs you enjoy and those you don't. This way, the app can predict which songs you'll like the most and recommend them to you.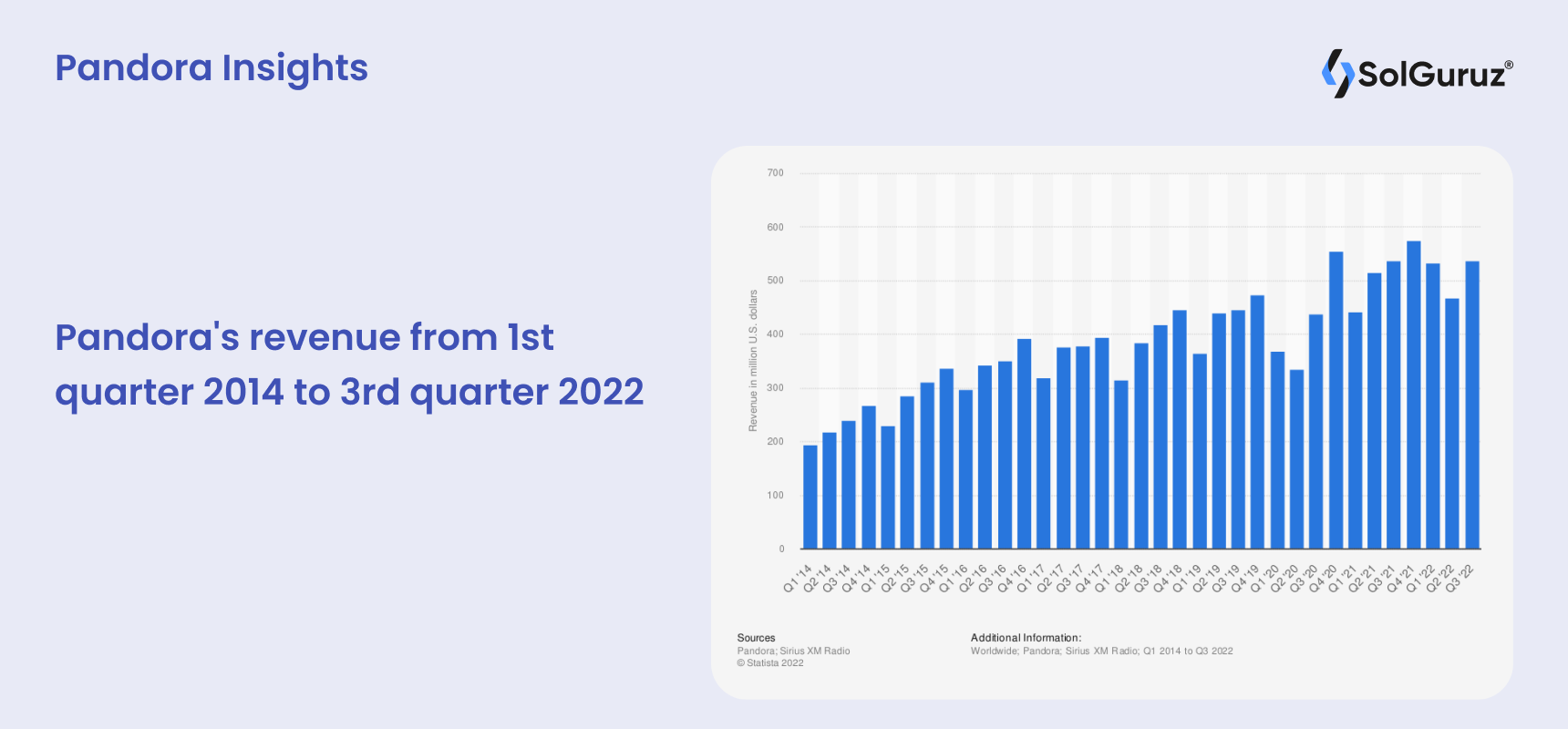 During the third quarter of 2022, Pandora made 538 million U.S. dollars in total revenue compared to the previous year's. At the beginning of 2019, SiriusXM Holdings bought Pandora.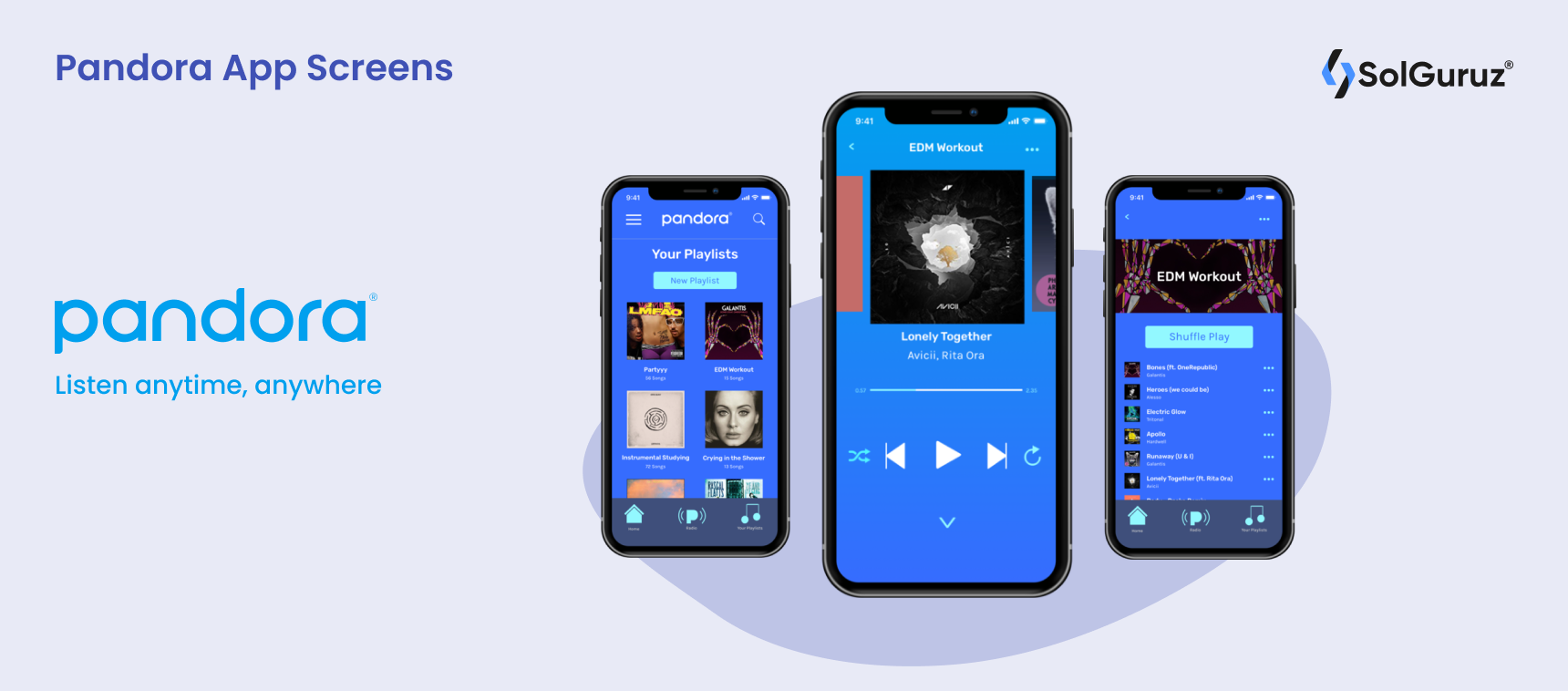 What Are Key Points to Keep in Mind to Build an App Like Pandora
A well-considered strategy is crucial to the achievement of any business goal. Here are the foundational actions to do if you want to build an app like Pandora: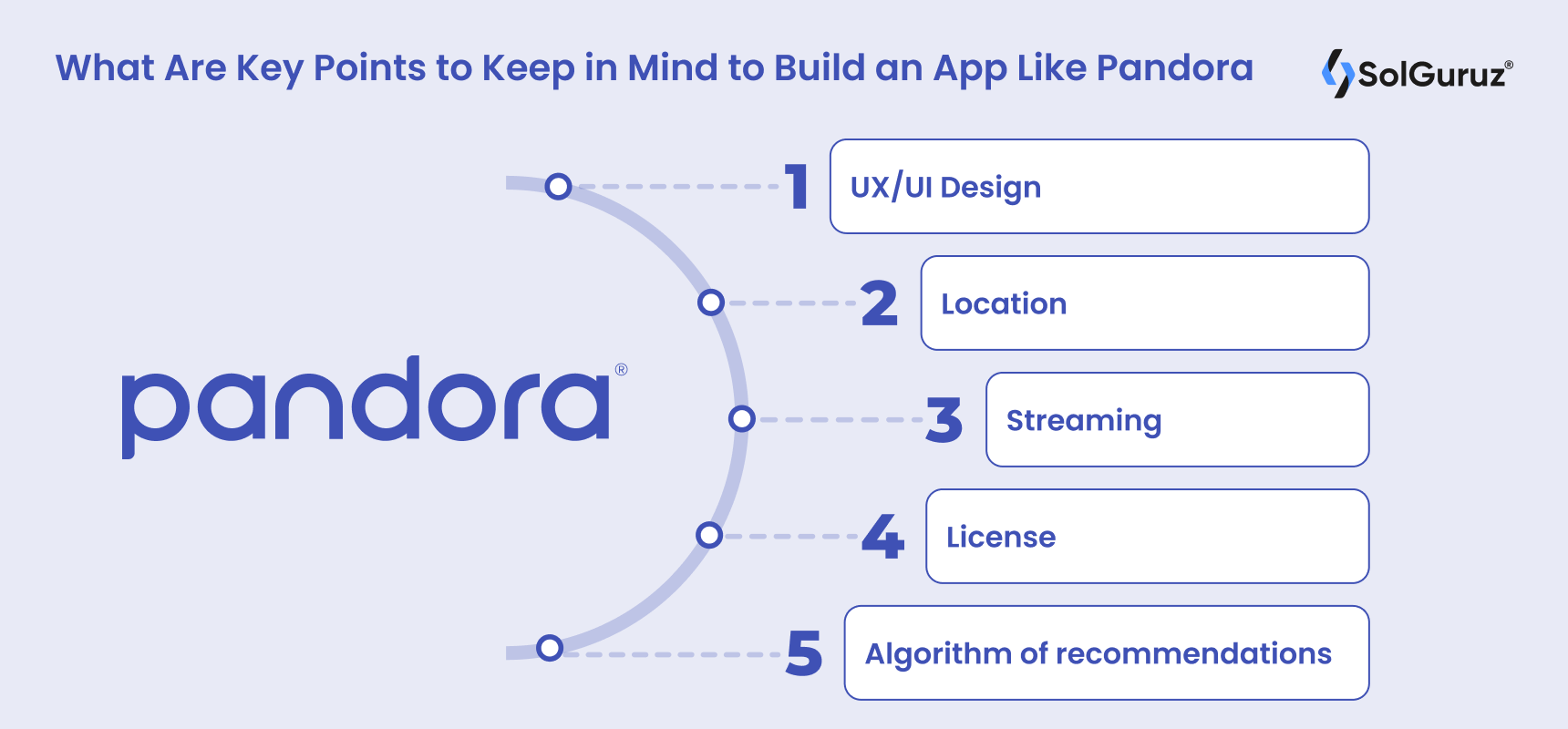 UX/UI Design

Having a sleek and simple UI is crucial in Mobile app development. The web and mobile apps should be intuitive enough that anybody can use them without training. In any event, you'll want to enlist the aid of a designer who can help you brainstorm and make excellent designs for your layouts.

A study conducted by Stanford University found that the visual appeal of an app/website was the most important factor in the consumers' perception of its quality. Even the most functional app will suffer from poorly designed templates.

Location

Identifying which nations will have access to your service should be your next step. The biggest streaming services still can't be seen everywhere because of internal limitations and regional restrictions imposed by governments.

Choosing a good site is essential since it will have far-reaching consequences for the company. It will be more challenging to break into a market, for instance, if several competing services are already operating there.

Streaming

Consider where and how you will store music if you plan on developing a music streaming service similar to Pandora.

Many data transport and storage methods are available depending on the project's needs, such as WEBRTC, RTMP, and cloud services. But these are crucial features that will greatly impact the app's efficiency.

License

A license is required to launch a streaming service. The laws protecting intellectual property will be broken if you do so.

Pandora spends around half of its revenue on music licensing fees. Look at the licensing requirements and fees for the nation where you want to publish the app. Given the right set of circumstances, you may need to relocate entirely.

Algorithm of recommendations

The algorithm behind Pandora is a major factor in its success. The technique through which listeners will locate tunes that most closely align with their tastes is something you should consider carefully. Essentially, you may choose one of two routes.

Input filtering with group participation. Tracking everyone's listening habits can reveal which albums and tracks are the most widely spread.
What are the key features to include in a custom mobile app like Pandora?
This section will discuss the features you want to include to Build an app like pandora.
Familiarity with Pandora's features is essential for creating a music streaming app like it. We've gone through some of the fundamentals of what a Pandora-style app should have to give you an idea of where to start.
We at SolGuruz recommend creating a Minimum Viable Product as a starting point. An MVP product is less difficult to develop and has better market longevity odds. In addition, it will help you save both time and money while convincing potential backers that your concept is brilliant.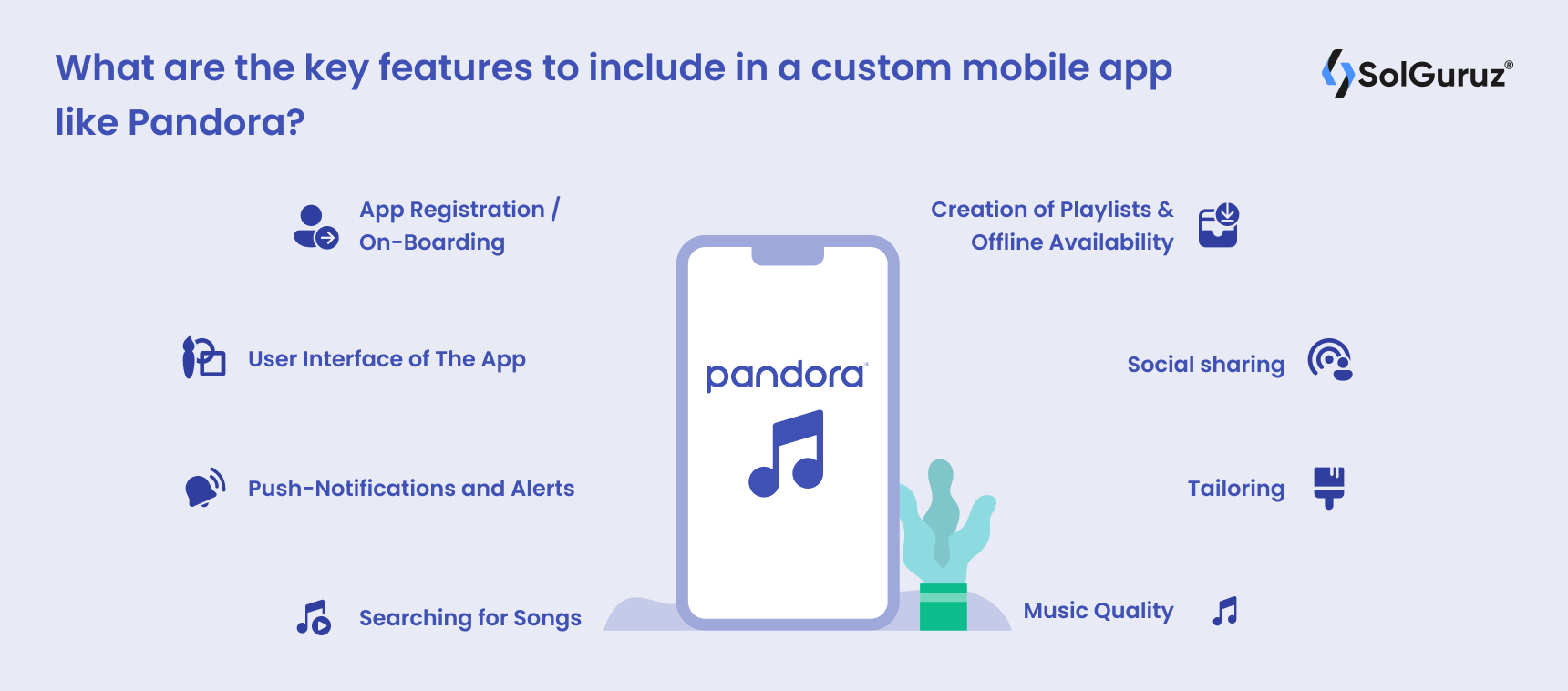 App Registration / On-Boarding

When building an app like pandora, ensure you include the bare essentials like user registration, as it is the first thing a user will notice.

Which login method, email, phone number, or social media you choose will determine how people access your site.

User Interface of The App

An intuitive and visually pleasing interface is essential for your music streaming app development. The layout has to be brought into the modern day by including some basic animations.

Push-Notifications and Alerts

In the world of mobile app development, push notifications are a must-have. Let's pretend you're developing a service for streaming music like pandora. In such a situation, the alerts should inform users of the most recent updates to the app.

Searching for Songs

The addition of music browsing functionality to your app is critical as it provides consumers with the exact functionality they need. To complement the automatic filters, you may also offer ones based on albums, songs, artists, etc.

Creation of Playlists & Offline Availability

The ability to construct a playlist by the user is essential; in the Pandora app, they are called radios. It's fairly uncommon for people to be in locations where they can't access the web.

For this reason, users should choose offline playlists so that their preferred music may be downloaded to the device cache and listened to whenever there is no network connection.

Social sharing

The ability to share content on social networks is a must-have for every modern app. Sharing one's preferences with others is encouraged, and the function also serves as free advertising for your app.

Tailoring

Customization in the application is the most useful aspect of risers since the features allow the theme to be changed according to the application's requirements and other variables.

Music Quality

It would take a long time and a lot of data to play music at its true size. Thus, a buffer is used. It's no secret that music streaming applications have attracted a massive audience, and the primary reason for this is the high quality of the available tracks. It solves the problem by letting consumers choose between several quality levels.

Pandora Vs Spotify: Key Differences
Which of these applications is best depends on a wide variety of factors, such as sound quality, music selection, search tools, simplicity of use, etc. However, the primary distinction between these channels is the demographics of their typical users.
For one, Spotify is ideal for those who wish to listen to and recommend songs they are already familiar with.
When seeking new music that suits one's preferences, Pandora is the best software to use. That doesn't mean they don't share certain characteristics, however.
Numerous similarities exist between Spotify and Pandora. However, the Pandora radio app won over listeners because of its superior matching algorithm.
Best Development Strategy for a Radio App
Before you begin Mobile app development, there are a few additional things to consider.
Is there a way to increase the number of people who find your service appealing? What changes can we make to ensure its continued success? The responses to these questions may also influence the system's performance. Here are some critical measures to take to build an app like Pandora.
Conduct market analysis.
Please find your target audience as much as possible by researching their demographics, culture, region, etc.
Think about the competition, and pay special attention to their weaknesses. Using this information as a starting point, you may improve your service and the result.
Get specific with your target audience.
Make sure the market segment you're applying to is either very popular with many people or completely untapped, making you a trailblazer. There has to be a demand in the niche. A lack of interest will result in a rejected application.
What Are the Key Points to Highlight While Designing a Music App? Keeping in Mind Good User Flow
Now that we understand how Pandora works, you may ask what makes for a good user experience in a music app. Here are some rules to follow when building an app like Pandora.
It Must Have Easy Navigation

The most important aspect of every smartphone app is its user-friendly interface and Navigation. It's well-known that consumers don't want to spend time learning how to utilize an app. If you're looking for new tunes, your favorite music app should always include a search box.

It Should Have Support for Multiple Languages

The minimum viable product of an app may launch with English as the sole language supported. Still, a music app should support various languages. If your audience consists of people who are not fluent in English, this is a huge step in the right direction.

It Should Have Minimal User Interaction

The number of buttons a user must hit before the music begins playing is an essential metric. Most listeners despise taping a song more than once to hear it. You should take steps to reduce the same, as a result.

Spotify and Deezer, two of the most widely used music applications, have this figured out to a T. If you have Spotify open, it will automatically play the last song you listened to when you opened the app. Users may begin using the app immediately by tapping the "Play" button. One touch is all it takes to go where you're going.

It Should be Visually Consistent With Similar Services

Let's pretend there is a library of pre-built apps at your disposal. The radio app then has to conform to the standard app design language.
Business Model Explained for Apps Like Pandora
Advertising and paid subscriptions are the two main revenue streams for personalized radio applications like Pandora and Spotify. Apps like Pandora, which play music, leverage both to their advantage.
However, we will also cover some of the less common forms of monetization below.
Premium Membership

Only 5% of Pandora's overall user base has subscribed to the premium edition of the service. However, the money it brings in is substantial, accounting for 20% of the total.

In-app Purchases

There are in-app purchases available on several music applications. Make sure your price is fair for whatever it is you're selling.

Users might, for instance, upload their entire music libraries to Google Music and then listen to them from any web-enabled device. The service was discontinued several years ago, unfortunately.

Advertising

Most Pandora listeners want a free way to listen to their favorite music. Thus, advertisements might be a good way to earn money. Additionally, it is the main moneymaker for applications of this kind. Banner and in-stream adverts account for over 80% of Pandora's revenue.

Charging Artists

Ads and paid subscriptions have long been the mainstays of music streaming apps like Pandora's business model. However, a different business strategy has been quite successful in recent years.

Although sites like Spotify and Pandora do pay musicians for the usage of their music, paid music marketing is becoming an increasingly popular strategy for making money in the industry. SoundCloud and similar services generate revenue by highlighting the work of up-and-coming musicians to increase their fan base. It's beneficial for both the streaming provider and the musicians.

Advertisements on the streaming music service Spotify are another. Artists may narrow their audience down to people of a certain age, gender, and location with app advertising. They may now reach out to anyone they believe might be interested.
How Much Does It Cost to Build an App Like Pandora?
The variety of required services and the complexity of the chosen technology determines the ultimate mobile app development cost.
Additionally, the price will increase if you want a mobile application. The precise sum has to be negotiated once the development team has carefully considered the technical requirements and calculated the time required to finish all jobs.
Wrap Up
Haven't found all the answers or need a free quote? Contact SolGuruz now! We have been assisting clients all around the world in developing and releasing their own streaming applications.
FAQs
How high-quality is the music on Pandora?
How well you can hear your membership level determines the sound. The bitrate used to broadcast music on Pandora for free users is 64k AAC+. Most folks shouldn't have any problems with this. If you're serious about your music, you'll want to upgrade to Pandora Plus or Premium. The audio quality of 192 kbps is available to paying subscribers.
What is the typical development timeframe for music software like Pandora?
It takes a long time to create an app like Pandora. However, the time required for development is estimated to be over a thousand hours. Therefore this is not a question without an answer. This, of course, is only an estimate, and the actual time needed may be more or less, depending on the features you choose.
What should be done when promoting a similar app, such as Pandora?
Promoting an app as sophisticated as Pandora is a multi-step process. Since there is no perfect advertising strategy, you need to zero in on your intended demographic. Ads on Google and Facebook are two examples of popular forms of online advertising. Still, it would help if you kept an eye out for other options.