Ready to do business with us?
Thanks to rapid technological advancements, businesses are no longer confined to choosing development teams that are close to them on the map. Today, you have endless opportunities to access superior talent from all over the world.
No matter the size or type of your business, hiring dedicated developers can be an intelligent move to outshine your competitors and have a successful blast. Even the top Fortune 500 companies rely on dedicated offshore developers for their software development needs.
However, 86% of HR professionals struggle to hire technical talent. If you're also one of them, this blog is meant for you!
This guide will shed light on 10 intelligent tips to hire dedicated developers for your project. So let's jump right into it!
10 tips to hire dedicated developers for your project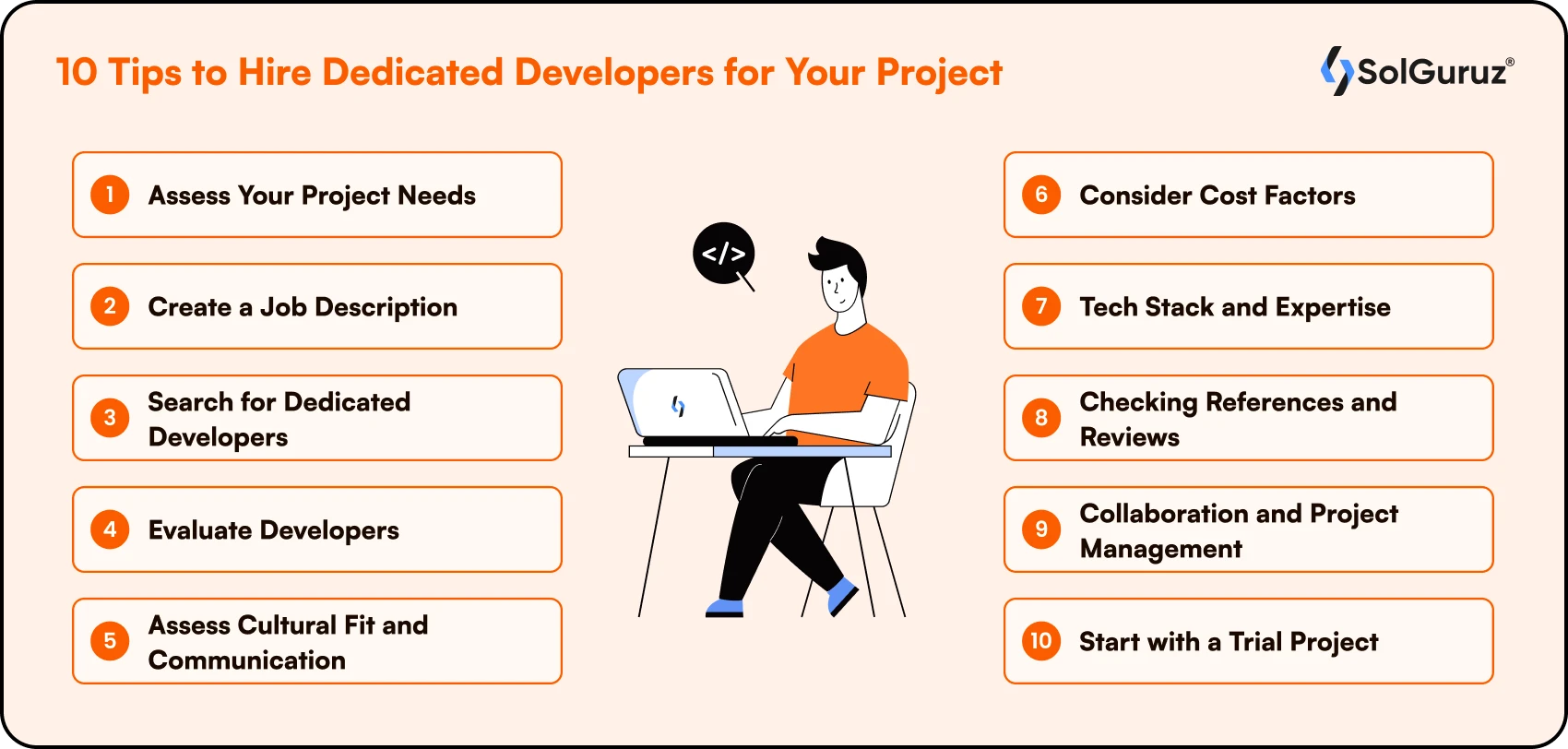 Assess Your Project Needs

The primary step to getting started with your hunt to hire dedicated developers begins with defining your project requirements and goals. Staying well-informed about your requirements helps you stick to the key point and ensures you invest your time in the right place. So before anything else, determine the scope and scale of your project.

Here are some crucial things to consider during the evaluation:

Identify the Scope: This includes identifying the features, functionalities, and technologies required for your project.
Budget: Evaluate how much you are willing to invest in hiring a dedicated development team and assess the cost-effectiveness of different options.
Timeline: Consider any time-sensitive factors, such as product launches, marketing campaigns, etc. Assess whether the dedicated developers team can work within your desired timeframe.
Required Skills and Expertise: Determine the required programming languages, frameworks, and platforms. Determine if you need specialists in areas like front-end development, UX/UI designers, etc.
Team Size: Evaluate your development project's workload, complexity, and timeline. Assess if you need to hire a software development team with multiple specialists or if a small team would work.

By comprehensively assessing your project needs, you can align your requirements with the right dedicated software developers team.

Create a Job Description

Now you know what you need. It's time to convey it with a job description that outlines the project details and objectives. Start with writing a job brief/summary discussing the requirements.

List the required technical skills, qualifications, and experience you're looking for when you hire dedicated developers.
Define the responsibilities and deliverables to ensure perfect alignment with your project's needs and outcomes.
State your project requirements clearly if they require specific technology or domain expertise.

Creating a job description will help you entice competent applicants while keeping expectations in place. It also ensures that both parties are aligned on the skills, responsibilities, and qualifications needed for the role.

Search for Dedicated Developers

There are multiple ways to find and hire dedicated developers for your project. Depending on your requirements, explore various hiring options. You must hire dedicated mobile app developers with the same experience and expertise you need.

Here are options you can try considering that can help you find the perfect app development outsourcing partner for your project:

Social Media: You can begin your search by hovering over the most popular platforms such as LinkedIn, Instagram, etc
Networking: You can contact your professional networks to check whether they know any dedicated development team.
Tech-specific platforms: If your project requires expertise in a specific technology stack, you can explore dedicated platforms or forums for that expertise.

It's important to note that you must extend your search to multiple options. Don't get fascinated by the few initial options. Take your time to explore the best choices by thoroughly researching them.

Evaluate Developers

Once you have some excellent options, conducting background checks and evaluating portfolios is essential to hire dedicated developers that best fit the requirements.

Review their resumes and portfolios to closely examine their experience, skills, and expertise. Consider conducting initial interviews to assess their technical skills. Ask relevant questions (real-life scenarios or coding challenges) to gauge problem-solving abilities.

You can administer coding tests or assignments to assess code quality, readability, adherence to best practices, and scalability. Apart from this, ensure to evaluate their:

Problem domain knowledge
References and testimonials
Team dynamics
Project constraints

Conducting a thorough evaluation will help you find the fit that best aligns with your project's needs. You can also consider interviewing potential candidates to shortlist them.

Assess Cultural Fit and Communication

When you're on your way to hire dedicated developers, assessing cultural fit and communication is paramount for a positive working environment.

Cultural fit ensures the company's values, work ethics, and communication styles align with your project and organization. You must assess their ability to work in a remote or distributed team for effective collaboration.

Furthermore, evaluating communication skills (verbal and written) ensures that the company can effectively understand and convey project requirements, provide timely updates, and address any concerns or issues. Make sure you consider time zones and language preferences as well.

Moreover, precise and efficient communication is the key to minimizing misunderstandings and strengthening the partnership between your organization and the dedicated development company.

Consider Cost Factors

Evaluating the costs of hiring a dedicated development team helps ensure it aligns with your project budget and financial constraints. It's essential to assess the value provided by them against the cost and check if it's cost-efficient.

Evaluate your budget constraints and cost expectations. Consider factors such as the team's hourly rates, payment terms, any additional fees, and the overall project scope. You can compare different pricing models (hourly rates, fixed prices).

Balancing cost considerations with the quality and expertise of the dedicated software development team ensures that you make an informed decision that meets your budgetary requirements while maintaining the desired level of development services for your project.

Tech Stack and Expertise

The success of your project depends heavily on the tech stack and expertise used. The set of tools, frameworks, libraries, and programming languages used to create a software solution is called the "tech stack."

The technology stack should match the demands and ultimate goals of your project. It's essential to evaluate whether the dedicated software development team has experience and proficiency in the specific technologies needed for your project.

Expertise plays a vital role in the success of a development dedicated software development team. Look for a team with experience working on projects like yours. Hire dedicated full-stack developers with a proven track record of completing similar projects or expertise in specific areas relevant to your project.

Consider their experience developing scalable, well-functioning, and secure applications, as a website with poor functionality can push away 42% of visitors.

Checking References and Reviews

Reviewing the references and reviews will help you ensure that the developer team walks the talk. Read reviews and recommendations from their previous clients to get insights into their work and deliverables.

Contact previous clients or employers for feedback on the team's expertise and dedication. It will enable feedback on the developer's work ethic and reliability.

Thoroughly researching references and reviews will help you make an informed decision.

Collaboration and Project Management

Besides checking references and reviews, collaboration and project management are crucial factors when selecting a dedicated app development team. Effective collaboration involves open communication, active participation, and aligning your project requirements and objectives.

Hire dedicated development teams that prioritize collaboration, have clear communication channels, and encourage client involvement throughout development.

Project management capabilities are equally important. A reliable development team should demonstrate strong project management skills, such as creating realistic timelines, managing resources effectively, and adapting to changing requirements.

Start with a Trial Project

Before committing to a dedicated development team, starting with a trial project can be beneficial. A trial project allows you to assess the team's skills, expertise, and compatibility with your custom mobile app project. It provides a practical opportunity to observe their communication, problem-solving abilities, and overall workflow.

During the trial project, you must pay attention to the team's responsiveness, ability to understand and interpret your project needs, and the quality of their deliverables. Evaluate their technical proficiency, attention to detail, and adherence to deadlines. It will help you evaluate their practical skills and see how they approach real-world problems.

By starting with a trial project, you can mitigate risks and gain firsthand experience working with the development team before you hire a dedicated development team and make a long-term commitment.
We are dedicated developers who create exceptional software with our rich experience after working on 48+ projects
SolGuruz has on-ground knowledge and expertise in developing software that stands the test of time. Our team of experienced developers can help you with custom software solutions guaranteed to surpass your expectations.
What makes us unrivalled?
Dedication and commitment: We are passionate about what we do. We take pride in our work and are committed to delivering projects on time and within budget.
Agile development approach: We follow an agile development methodology that allows us to adapt to changing requirements and deliver incremental updates.
Flexible engagement models: Whether you need a small team or a large development force, we can scale up or down according to your requirements.
Effective communication and collaboration: We're always available to address your queries, provide updates, and collaborate closely to ensure your vision is brought to life.
Quality-assured products: Our experts perform rigorous testing and debugging to identify and resolve issues, giving you a reliable and bug-free end product.

Conclusion
Hiring a team of dedicated developers is a strategic move for businesses looking to achieve their goals efficiently and effectively. Assembling a skilled and cohesive team requires careful consideration and the implementation of best practices.
The tips outlined in the blog can help you make the right choice for your business. Through these tips, you will likely hire dedicated software developers that align with your needs and foster long-term success.
Selecting the ideal dedicated development team is a tactical choice that can significantly impact your business's performance. You can establish a solid connection with knowledgeable specialists who will eventually support business growth, innovation, and competitive advantage by paying close attention to your unique needs.
FAQs
How can I ensure I hire dedicated software developers for my project?
To ensure you hire dedicated resources for your project, evaluate their background, check their experience, and check their skill set. You need to look for reviews and recommendations and ask about quality assurance.
What essential qualities or skills should be considered when hiring dedicated developers?
While hiring dedicated developers, you must ensure they have good problem-solving skills, proficient technical knowledge, curiosity and creativity, adequate time and resource management abilities, excellent communication skills, a positive attitude, and are passionate enough to create revolutionary solutions.
Should I prioritize experience or dedication when hiring developers for my project?
It's ideal to prioritize both experience and dedication when you hire developers. An experienced team of developers will likely be more proficient in technical skills. On the other hand, a dedicated team will possess more commitment and motivation.
What are some effective strategies for assessing the dedication of potential developers during the hiring process?
To assess the dedication of potential developers, review their past projects, ask about their passion for coding, inquire about side projects, and evaluate their willingness to learn and grow.
Are there any specific interview questions or techniques that can help gauge a developer's dedication?
You can ask questions about their long-term career goals, approach to challenging projects, willingness to take ownership of their work, and track record of meeting deadlines.
What potential challenges or risks are associated when you hire dedicated developers, and how can I mitigate them?
Burnout is a potential challenge when you hire dedicated developers. To mitigate this risk of burnout, you need to ensure a healthy work-life balance, provide opportunities for growth and learning, encourage open communication, and foster a supportive team environment. Regular check-ins, flexible schedules, and fair workload distribution can help maintain their motivation and prevent burnout.