Ready to do business with us?
The healthcare staffing industry is projected to hit $89.763.9 million in revenue and witness a growth rate of 8.9% CAGR in the upcoming decade.
With the increasing demand for nursing staff, two critical concerns arise. The first is the quality of care given to the patients. Following comes providing a satisfactory experience to the healthcare staff.
On top of that, to provide optimal patient care, it is equally pivotal to ensure the ultimate nursing staff recruitment is done.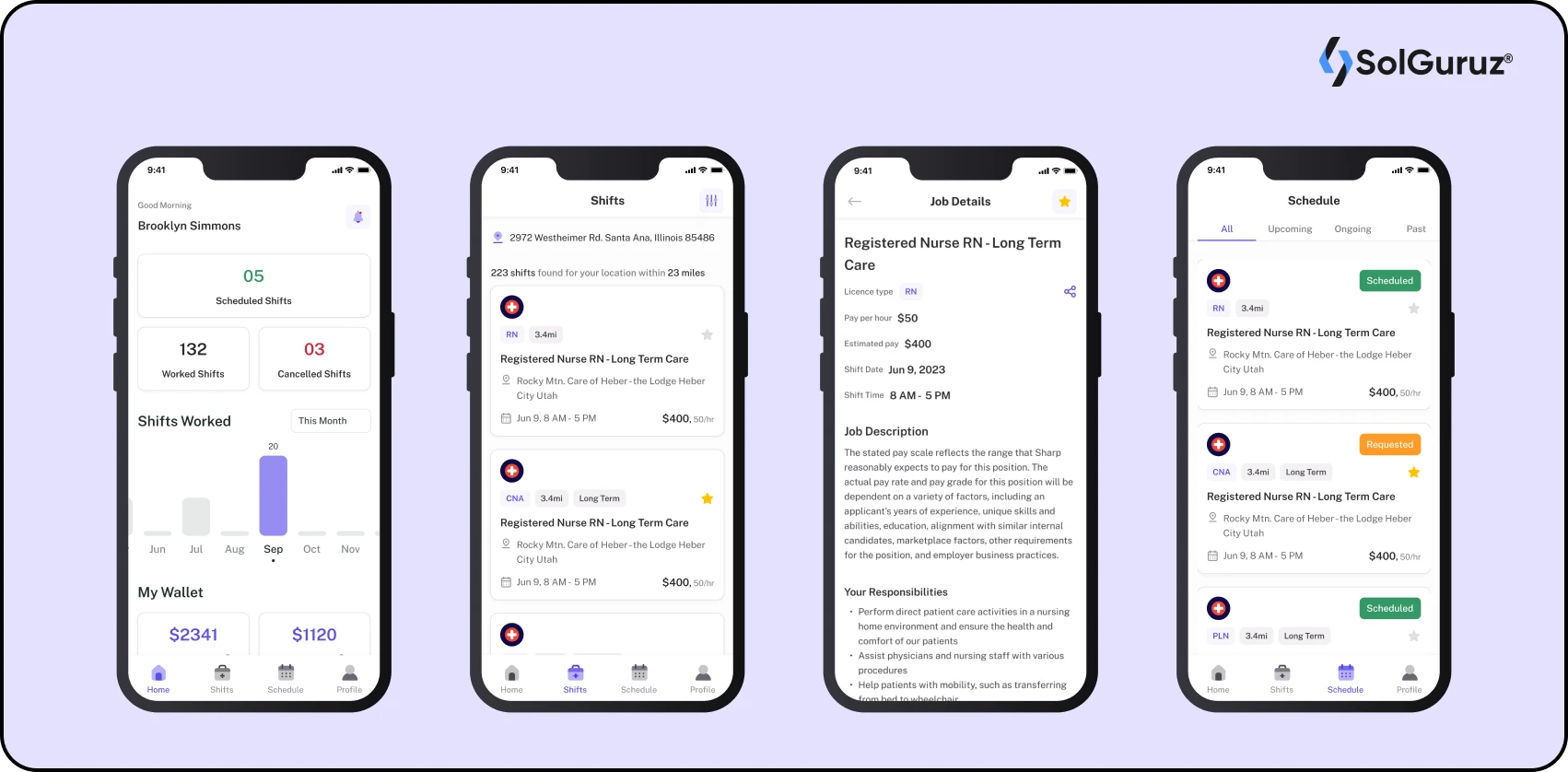 However, most medical staffing agencies struggle with that. Luckily, a healthcare staffing app can be the saviour . Healthcare staffing solutions can transform the way nursing staff recruitment is done.
In this blog, we'll look at six key steps to develop a healthcare staffing app with ease.
Key Considerations for Healthcare Staffing App Development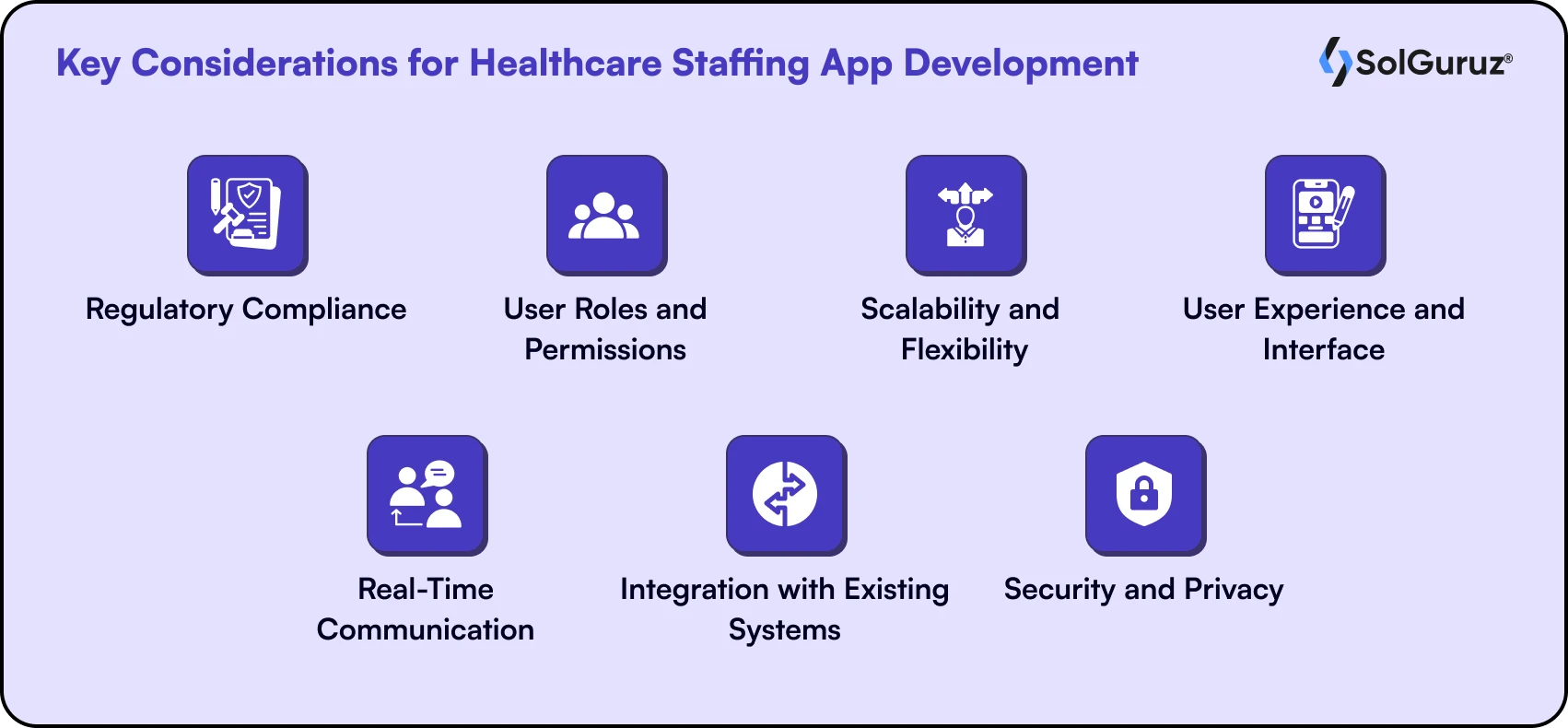 Before diving into creating a potential healthcare staffing app, some critical considerations must be remembered. Incorporating these helps create your favourite healthcare staffing app that stands the test of time.
Regulatory Compliance

A good travel nursing app is one that conforms with all pertinent laws, including HIPAA Compliance. It's vital to safeguard patient information and uphold confidentiality.

User Roles and Permissions

User roles and permissions provide a way to manage user access and permission levels. It is used to limit or control the tasks performed by the users or the level of information access.

Scalability and Flexibility

Create the app with seamless growth in mind as the user base and data volume increase. Make sure there is room for future customizations and improvements.

User Experience and Interface

Give top priority to an interface that is intuitive and easy to navigate. It must offer a seamless user experience for medical professionals using it.

Real-Time Communication

Real-time communication is crucial as it facilitates effective in-person conversations between healthcare members. The two most widely used communication options include instant messaging and video conferencing.

Integration with Existing Systems

During the app development process, ensure the app integrates with existing systems. It can be Electronic Health Records (EHR) or scheduling software. This helps to enable smooth data interchange and workflow integration.

Security and Privacy

Lastly, implementing strong security measures, including encryption, access limits, and HIPAA compliance, lets you secure sensitive data and uphold the privacy of patients. Moreover, update and conduct frequent security audits.

All in all, the reason why mobile app development projects fail is due to a lack of innovation and necessary features. It's important to develop an app while considering all the essential considerations. Now, let's explore the steps to develop a healthcare staffing app.
Six Steps to Develop a Healthcare Staffing App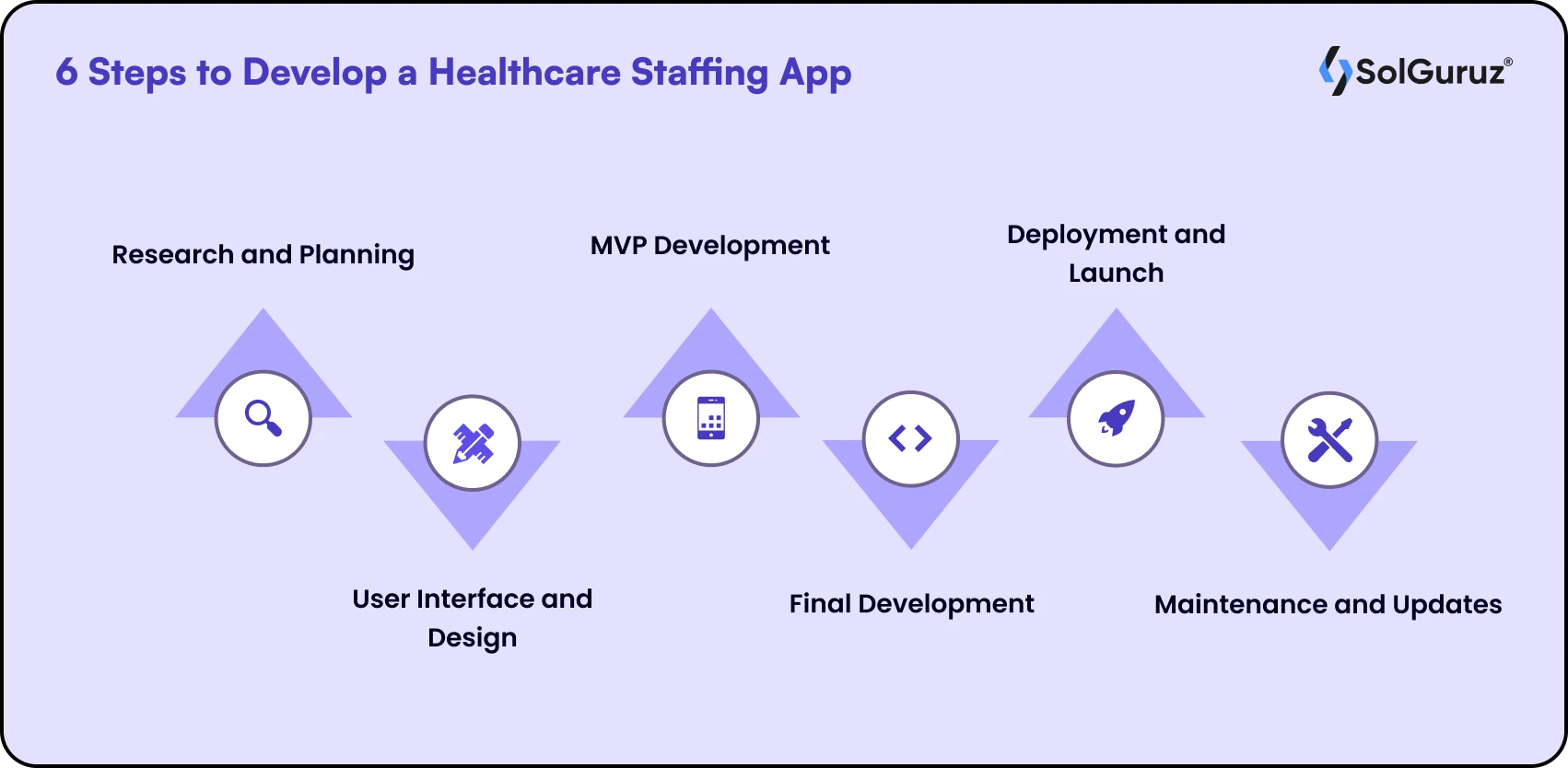 Creating an app is a process that can't be achieved immediately. Follow the steps to develop a healthcare staffing app as mentioned. Also, keep the latest mobile app development trends in mind for a successful app launch.
Research and Planning

The initial step in developing a healthcare staffing app involves research and planning. This reflects getting deeper into market research to gain insights into the latest nurse staffing app trends. Additionally, conducting comprehensive research also entails identifying potential competitors and understanding user needs and preferences.

Another step for medical staffing agencies is to define the goals and objectives of their healthcare staffing solution. It could be improving efficiency in nursing staff, enhancing communication between favorites in healthcare staffing, and ensuring optimal patient care. These early steps lay the foundation for a well-informed and successful development process.

User Interface and Design

This step starts with wireframing and prototyping the app. It helps to establish the app's layout and functionality. This process helps in visualizing the app's structure and user flow.

Designing an intuitive and easy-to-access interface can help you develop a successful app. The interface should be aesthetically appealing, easy to navigate, and optimized for next-generation mobile experiences.

Keeping these points at the forefront lets you enhance user engagement, create a responsive design, and productively use the screen space.

MVP Development

The third step involves developing the MVP (Minimum Viable Product). This phase involves several tasks to ensure the successful creation of the app.

Here's how minimum viable product development takes place.

It's important to select the appropriate technology stack and determine the programming languages, frameworks, and tools required for development. Setting up the development environment follows. It involves shaping up the essential software and hardware elements.

Next, the frontend and backend components are developed. This ensures a seamless user interface and efficient data processing. A smooth UI is likely to increase the number of visitors to a website by 200%.

Finally, rigorous testing and quality assurance are conducted to find and resolve any bugs prior to launching the app.

Final Development

The fourth step in a healthcare staffing app for travel nurse agencies is final development. It is the final crafting of the ultimate version of the product. In this phase, every component is looked after to ensure perfect alignment.

Configuring application programming interfaces (APIs) and integrations can be necessary for medical staffing agencies. Moreover, beta testing plays a vital role by allowing real users to use the app and give feedback.

This typical approach can help with final modifications and enhancements. Thus, users can get a satisfying experience.

Deployment and Launch

The fifth step involves making necessary improvements based on feedback received during the testing and beta phases.

The app is prepared for deployment by addressing any identified issues. The performance of the app is also optimized for travel nurses assignments. Additionally, all elements required for a smooth launch are carefully organized. This includes server configurations, database setup, and user support systems.

By utilizing some great mobile app launch strategies, and ensuring all aspects are in place, the mobile app launch and deployment can proceed seamlessly.

Maintenance and Updates

The last stage of developing a healthcare staffing app is maintenance and updates. It entails continuing to support and improve the application after the first draft is out.

To keep the application up-to-date, functioning, and secure, it comprises tasks like bug testing, performance optimization, security updates, and incorporating user input. This stage is essential to ensuring the app's long-term success and usability. It guarantees to meet the changing needs of medical staffing agencies and experts.

With that said, by following these steps to develop a healthcare staffing app, a well-performing app for travel nurse agencies can be created that caters to the needs of your healthcare organization.

Future Prospects and Advancements in the Healthcare Staffing Industry
Future growth and development in the healthcare staffing app market are anticipated to be driven by new technologies like AI.
Generative AI and Open AI-powered Apps will empower healthcare staffing agencies in multiple ways. For instance, the ability to match healthcare professionals with job opportunities based on their abilities, experience, and location expedites the hiring process and ensures effective and trustworthy placements.
Another significant development is real-time monitoring. It enables healthcare institutions to monitor employee status and availability in real-time. It also facilitates effective scheduling and minimizes coverage gaps.
In addition, integration with Electronic Health Records (EHR) is also gaining importance. It facilitates easy access to patient data and improves communication.
Overall, the industry for healthcare staffing apps has a bright future. The ongoing developments may increase the efficiency of healthcare management.
SolGuruz for Healthcare Staffing App Development
Embracing technology in your travel nurse company can act as fuel for the engine.
However, developing a healthcare application can be an uphill battle.
Partnering with a reliable app development company can take the guesswork out of the process. And you may get a successful outcome.
With over a decade of expertise in creating high-performance apps, we are the driving force behind multiple tailor-made solutions that exceed expectations.
Founded in 2019, we have achieved 40+ happy clients with our exceptional services.
SolGuruz has witnessed a growth rate of 81% in one year alone.
70% of our clients have found us through referrals, indicating our quality services.
With our unwavering commitment to quality and customer satisfaction, SolGuruz is the ultimate choice to transform your app idea into a reality. Connect with us today!
Conclusion
The benefits of developing a nurse staffing app are endless. A quality healthcare staffing app can resolve multiple issues that both healthcare facilities and professionals confront.
It can provide a more effective way to manage nursing staffing. Moreover, it guarantees top-notch patient care and eases administrative costs. When used correctly, these apps have the power to change the healthcare sector.
These revolutionary solutions can make healthcare staffing more competent.

FAQs
Why develop a healthcare app?
Medical staffing agencies can benefit from a healthcare staffing app in multiple ways. It includes improved patient care, streamlined workflows, enhanced communication, patient monitoring, and more.
Are there any legal or regulatory considerations for healthcare app development?
Yes, there are some critical legal and regulatory considerations to keep in mind. It includes data privacy regulations (e.g., HIPAA in the United States), security standards, and patient consent requirements, among others.
How much does it cost to build a healthcare app?
The cost associated with developing a travel nursing app varies based on several factors. Complexity, features, the development platform, design, integration requirements, and location of the development team matter.
How much does it cost to build a nursing staffing app?
The cost of building a nursing staffing app depends on the same factors mentioned earlier. For instance, the app's complexity, features, design, and integration needs.
How long does it take to develop a healthcare staffing app?
The average time taken to develop a healthcare staffing app is determined by multiple factors. This includes the complexity of the app, steps to develop a healthcare staffing app, features,and the team's expertise. It can take three to nine months to develop a fully-functional app.