Ready to do business with us?
As technology continuously progresses at a lightning pace, the role of AI in the real estate sector is growing daily. Despite being traditionally data-driven, the real estate industry has adapted to new tools like automated home valuations and virtual open houses to simplify tasks and enhance the experiences of both brokers and clients alike.
This article intends to shed some light on the current AI trend influencing our daily lives, even outside professional boundaries. By examining the applications of AI and machine learning in real estate practices, readers may appreciate the substantial differences these advanced technological solutions can yield compared to traditional methods.
What is the Role of AI and ML in Transforming the Real Estate Market?

AI and Machine Learning (ML) technologies have introduced several changes to how businesses function across industries. One such transformation can be seen in the real estate market, where AI and ML have become vital components of the industry's success.
Here is the Role of AI in the real estate sector and how it contributes to this transformation:
Automating Data Analysis

The real estate business, in particular, has grown to rely heavily on AI as it has been more integrated into contemporary life. Real estate professionals use artificial intelligence (AI) to sift through massive amounts of unstructured and structured data gathered from various sources, including construction licenses, zoning laws, property surveys, and titles. Data scientists use sophisticated statistical models and machine learning algorithms to sift through these information repositories in search of actionable insights that may aid real estate professionals in making more educated decisions throughout the buying, selling, renting, and building processes.

The Role of AI in the real estate sector may be shown by sentiment analysis. Real estate companies use artificial intelligence algorithms to analyze feedback obtained from social media and online evaluations of individual homes and brands. These deductions, gleaned using NLP and topic modeling methods, aid executives in zeroing down on key topics associated with brands or product classes. In light of these findings, management teams may decide whether or not to implement changes in response to negative comments made on social media or to build upon the positive feedback received.

Similarly, AI aids builders and developers in making the most efficient use of their funds, whether erecting new structures or renovating existing ones. Advanced analytics uses machine learning concepts to forecast project completion time frames by analyzing the connections between factors characterizing previous construction timetables and costs.

Incorporating weather forecasts, material availability delays due to supplier shortages, or work stoppages caused by labor disputes would further refine forecast accuracy. Executives can allocate funds more effectively when armed with these detailed projections or renegotiate construction deadlines with clients accordingly.

Overall, AI enables professionals in the real estate sector to gain critical insights derived from large data sets containing structured and unstructured information. These insights empower them to take calculated risks and allocate resources more efficiently as they seek new opportunities and maximize profits amid rapidly changing economic conditions or evolving societal needs.

Improved Decision Making

Talking about the Role of ML in the real estate sector has enabled real estate stakeholders to understand market performance scenarios better using advanced analytics and predictive models based on historical trends. Access to vast amounts of accurate and relevant data allows managers and investors to make informed decisions about buying, selling, renting, or developing properties.

For example, AI can help analyze large data sets such as rental income streams over time, resident turnover rates, or occupancy levels for specific neighborhoods or asset classes, which may inform leasing strategies for commercial property managers or support underwriting criteria for mortgage originators.

Meanwhile, ML algorithms can detect patterns and anomalies in sensor data from the Internet of Things (IoT)-enabled smart homes or offices that signal necessary repairs or maintenance procedures for facilities management groups.

Executives can optimize resource allocation by prioritizing urgent repairs or assigning appropriate personnel to address identified issues without overspending precious capital budgets.

Integrating AI and ML into the real estate ecosystem promotes greater efficiency and profitability across different functional areas by leveraging big data analytics to drive smarter decision-making.

Enhanced Marketing Strategies

Real estate developers and agents can employ AI and ML technologies to create highly effective digital marketing campaigns tailored toward specific demographics likely to be interested in their services. Targeted ad placements on social media platforms like Facebook or LinkedIn reach desired audiences more accurately than traditional broadsheet newspaper classified sections ever managed.

Machine learning algorithms monitor user engagement metrics to fine-tune messaging and visual content for maximum impact. As a result, personalized email newsletters and mobile push notifications keep subscribers apprised of newly listed residences matching their search preferences. Automated chatbots answer questions posed via website interfaces or messaging applications equipped with natural language processing capabilities to streamline communication between prospective buyers and sellers.

Customers receive prompt responses addressing concerns or direct links guiding them through the transaction process. Overall, the application of AI and ML facilitates improved lead generation via efficient digital communication channels while reducing the manual effort required by human agents.

Efficient Resource Management

Artificial Intelligence (AI) can greatly enhance resource allocation strategies during construction projects. By analyzing big data sets that track progress against predetermined milestones, companies can implement measures designed to ensure the timely completion of projects while simultaneously avoiding unnecessary expenses or material waste.

This involves spotting possible roadblocks and bottlenecks before they become major problems. Also, as an alternative to depending simply on preventative upkeep programs, AI facilitates predictive maintenance efforts, whereby building owners or operators place IoT sensors around their buildings to monitor equipment health statuses and arrange prompt repairs.

The second strategy often leads to unnecessary tests or the premature replacement of otherwise functional parts, resulting in a loss of time and money. Successful project results and optimum resource utilization may be guaranteed throughout all stages of development thanks to the use of AI in the building process.

Optimization of Processes

Integrating AI within the real estate industry allows organizations to optimize various aspects of their business. By implementing automated workflows, firms can effectively monitor and manage progress to ensure compliance with regulations. Additionally, robotic process automation introduces an innovative solution for repetitive and mundane tasks.

Document scanning and data entry become automatic processes handled by software robots, freeing up employees' time to focus on higher-value assignments or tackle complex problems requiring creativity and critical thinking skills.

Overall, AI improves operational efficiencies and fosters workforce enablement, allowing staff members to thrive in roles better aligned with individual strengths and interests, thus leading to increased job satisfaction and reduced attrition.

Changing Customer Expectations

In today's fast-paced world, buyers and sellers demand seamless transactions supported by quick access to essential information such as property details and transaction history through mobile devices. These individuals rely heavily on digital platforms, web portals, and online social media communities where they connect and brokers to streamline the home-buying experience.

With AI integration, user experiences significantly improve as advanced machine learning algorithms provide personalized recommendations customized to meet specific preferences. These intelligent suggestions help simplify searches and narrow down options based on unique criteria enabling faster discovery of suitable properties or investment opportunities.

By leveraging cutting-edge technology, stakeholders collaborate efficiently via modern communication channels, accelerating successful deals. While boosting customer satisfaction rates is crucial, it isn't always feasible without addressing privacy concerns that may arise due to the widespread use of digital platforms in the real estate sector.

As a result, artificial intelligence must safeguard sensitive information shared among participants involved in these interactions. Through encryption and secure authentication methods, AI solutions guarantee confidentiality across multiple communication mediums and protect valuable data stored on servers hosting transaction records and client profiles.

Transforming Design Standards

The real estate industry continues to experience rapid changes as new construction techniques gain popularity. One such technique involves integrating the Internet of Things (IoT) into buildings' core framework using intelligent sensor systems, solar panel or wind turbine installations, drone workforce utilization, 3D printer implementation, and augmented reality visualizations. These AI-powered tools aid architects and engineers in creating ideal living spaces tailored to contemporary requirements and futuristic scenarios.

When effectively embraced by industry leaders, The role of AI in the real estate sector offers massive opportunities for improved performance and global competitiveness. Although not all sectors would directly benefit from these technologies, denying the impact they bring would be unwise, given their vast advantages. Real estate firms should proactively embrace AI and ML innovations to compete in a rapidly evolving digitally driven economy.

Transforming Customer Feedback System & Content

As a real estate agent or broker, you always look for ways to improve your business and provide better service to your clients. One area that has seen significant advances is using artificial intelligence (AI) in various forms, such as chatbots like ChatGPT from OpenAI, generative AI models like Stable Diffusion from Google Brain, and others.

Chatbot platforms like ChatGPT in the Real Estate domain, allow agents to automate responses to common questions and concerns from potential buyers and sellers. These bots can answer basic queries about property listings, scheduling viewings, and other routine tasks, freeing up time for more complex matters or higher-value activities. The technology also allows agents to respond promptly around the clock, improving customer satisfaction and retention rates.

Generative AI systems generate new content based on data input. In a real estate context, this means generating descriptions and virtual tours of properties without requiring an onsite visit. With the ability to quickly create customized listing materials on demand, agents can market their inventory faster and with greater accuracy than ever before. This speedy response to changing conditions helps maintain high occupancy rates, attract tenants, and fully utilise assets.

In summary, deploying these technologies in your agency's workflow will not only enhance efficiency. Still, it will also enable your team members to do what they love most – work closely with people!
Real Estate Web and Mobile App Solutions – Case Study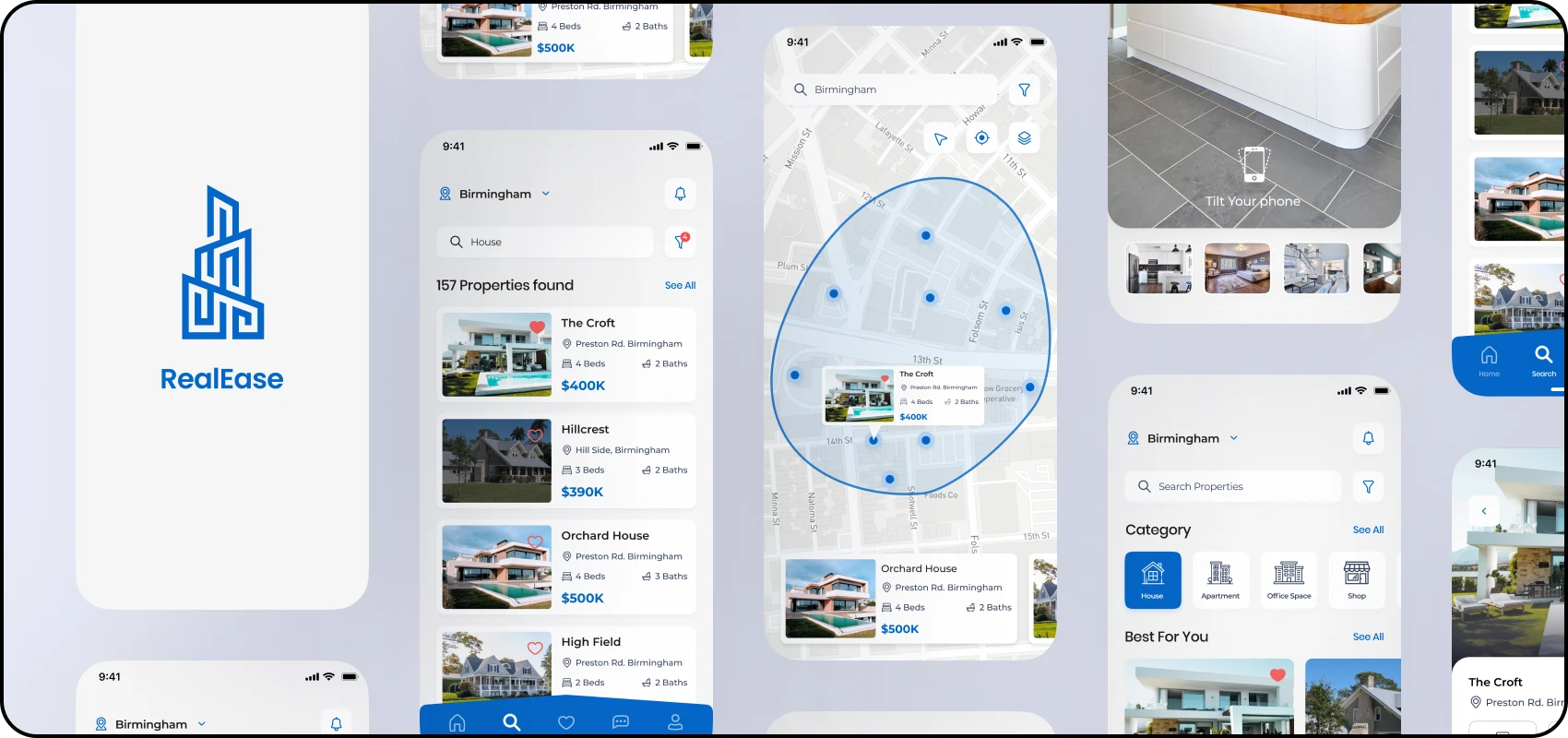 We have delivered multiple web and mobile app solutions for the real estate clients. In the recent story, we have delivered a real estate web and mobile application with modern features including a next-level property viewing experience, push notifications, alerts and reminders, and others to make the app more interesting. We can share more case studies and live project details over a quick consultancy call. Please schedule one and let's connect today!
Wrap Up
One cannot go unnoticed the role of AI in the real estate sector. AI has allowed smarter communication channels between individuals interested in buying/renting or selling property through its ability to analyze user preferences and habits to provide better recommendations based on location, budget, interests, etc.
This also allows real estate companies to target relevant customers more efficiently. AI in real estate markets has made it possible for people seeking properties to quickly find suitable options without physically browsing different locations or visiting multiple sites. It has also opened doors for real estate brokers looking to establish themselves online.
Lastly, machine learning algorithms give investors insight into the likelihood of success regarding individual projects, which helps them estimate risks and rewards associated with funding certain ventures.
Additionally, image recognition capabilities aid property descriptions by capturing minute details, leaving no stone unturned. Automatic processing of large quantities of data to detect abnormalities and digitize paperwork further propel the shift towards electronic transactions within the real estate sphere.
Overall, AI enhances the ease and speed at which real estate markets operate by facilitating fluid connections between parties involved in buying/selling transactions. Its capacity to gather, scrutinize, and act upon voluminous data continues transforming the future of real estate. Connect with us  to know more about real estate app development.

FAQs
What are some examples of specific AI applications used in the real estate industry?
Some common uses include automated virtual tours created using computer vision techniques, chatbots equipped with natural language processing (NLP), and recommendation engines utilizing supervised learning models trained on big datasets of previous sales trends and market conditions. Other AI technologies might involve generative adversarial networks (GANs) generating realistic images of proposed building designs, reinforcement learning algorithms optimizing floor plans for optimal energy usage, or deep belief nets clustering housing styles into distinct categories like contemporary versus colonial revival architecture.
Could you explain why AI could be particularly useful when evaluating residential construction sites for development projects?
AI might prove advantageous during site assessments because it can rapidly process visual information gathered from drones flying overhead, taking high-resolution imagery of prospective lots. Another asset could lie in AI systems analyzing satellite maps and aerial views when determining land suitability for single-family homes, duplexes, townhouses, etc.
Can you discuss how blockchain innovations are tied to smart contracts?
Decentralization means more intermediaries will face pressure to reduce fees paid to them for managing parts of the purchase/sale cycle since distributed ledger infrastructure replaces those functions formerly executed solitarily by incumbent players dominating transactional workflows involving legal and financial matters connected to commercial or residential transactions. This should lead to lower prices overall because fewer commission charges exist when peer-to-peer marketplaces employ cryptographic keys and self-executing scripts enforced by tamper-proof consensus mechanisms instead of relying upon central authorities policing those same agreements containing fine print terms dictated by lenders and agents serving their vested interests.