Ready to do business with us?
Are you familiar with the concept of crowdsourcing? Do you have any knowledge of the Real estate crowdfunding app? According to the findings of a recent research conducted by Market Research Future, the revenue generated by the crowdfunding market is anticipated to rise at a remarkable compound annual growth rate (CAGR) of 16.81%, along with a growth rate of 18.97% year over year (YoY).
The story of Fundrise's success proves that, with hard work and strategic execution, it is possible to create a successful real estate crowdfunding platform. Our intention is to provide helpful advice on developing top-notch real estate crowdfunding software in the mold of the popular Fundrise platform. Get ready to rock and roll because the party is about to begin!
What is a Real Estate Crowdfunding App?
The term "real estate crowdfunding" refers to the practice of obtaining funds for real estate enterprises via the collection of multiple individual contributions from investors who are or are not accredited.
Crowdfunding is advantageous for a number of reasons, including the improved simplicity with which financial resources may be secured and the decreased monetary barrier that is necessary for people to engage as investors. As a result of the flood of new shareholders, however, there is a possibility that current shareholders may have less influence over the ownership structure of the company and fewer choices for liquidating their shares. In the long run, this agreement will be beneficial to both of the persons involved.
In addition, these apps incorporate advanced data analytics and machine learning algorithms to analyse and evaluate investment prospects, helping investors optimise returns. Ultimately, real estate crowdfunding apps serve as a bridge between investors and developers and provide an essential service in today's dynamic real estate marketplace.
Real estate crowdfunding platforms serve as intermediaries between property developers/owners and investors who seek access to real estate investment opportunities. By leveraging online technologies, they streamline raising capital and acquiring assets. Through their digital platforms, users interact directly with one another, eliminating the need for traditional financial institutions to act as middlemen.
Critical Features to Focus on While Going For Real Estate Crowdfunding App Development
The central functionality behind any successful real estate crowdfunding platform involves catering to two critical groups – property managers/developers seeking capital and individual investors wishing to participate in real estate investments.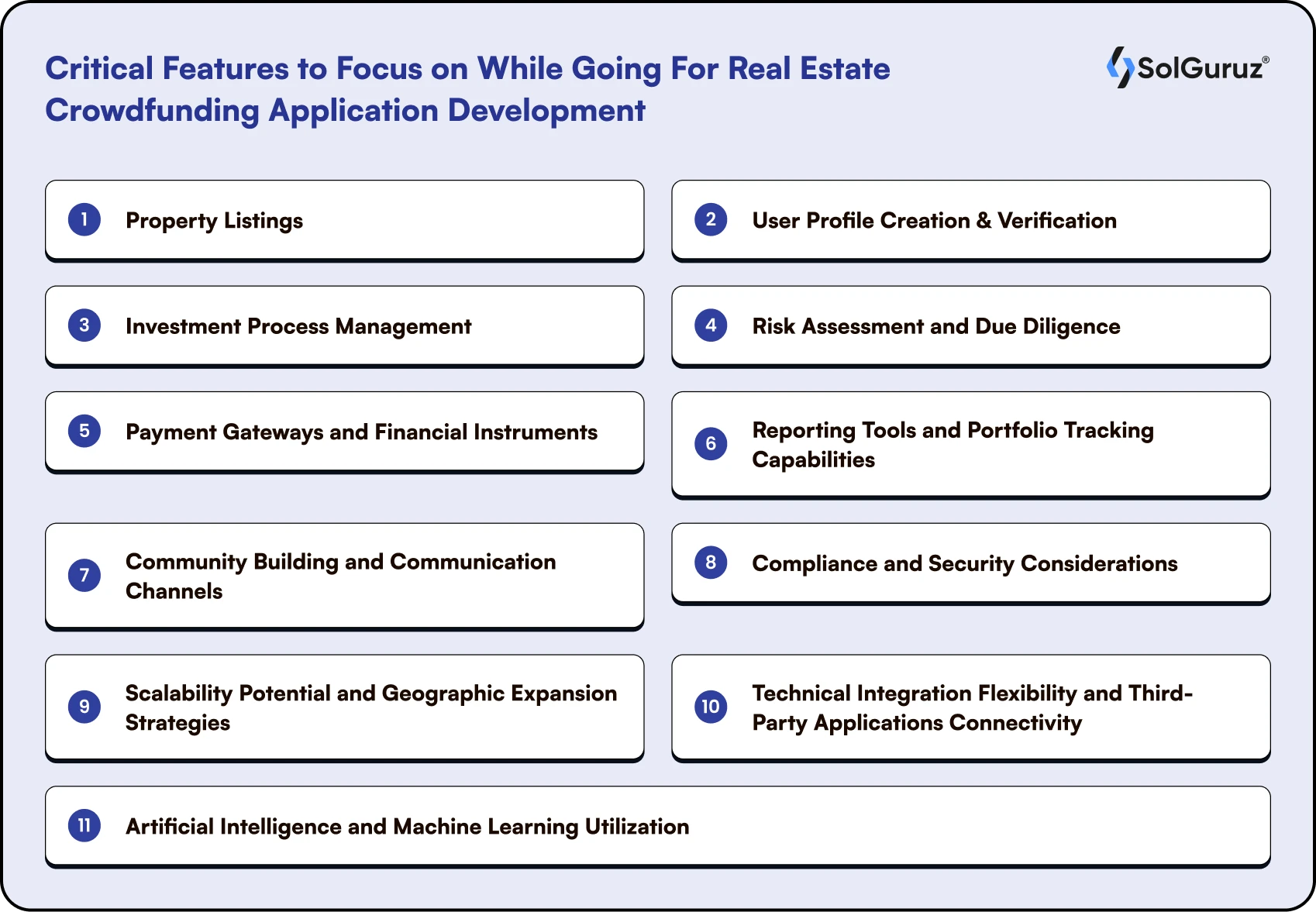 Here are some essential features common across most real estate crowdfunding applications:
Property Listings

Listings constitute the heart of every real estate crowdfunding platform. They showcase available investment opportunities, including details about the asset type, location, expected return, risk profile, and investment term.

Developers create listings describing their projects and specific information required to calculate potential yields. Both residential and commercial properties are usually listed.

User Profile Creation & Verification

To ensure security and regulatory compliance, real estate crowdfunding platforms require user verification before allowing them to explore investment options or post new offerings. Users typically confirm their identity via email address, phone number, social media accounts, or other commonly accepted methods.

Afterwards, each account holder receives a unique verification code, which grants access to various functionalities depending on their role – developer or retail investor.

Investment Process Management

Platform providers must guarantee the seamless handling of transactions from start to finish. Key components include escrow services, transaction tracking, and automated communications between deal parties.

During this stage, investors receive regular updates regarding progress toward meeting objectives outlined in original listing descriptions. Once all milestones are achieved, proceeds are distributed according to previously agreed-upon terms. Open communication channels foster transparency throughout the investment lifecycle, enhancing confidence levels among participants.

Risk Assessment and Due Diligence

Real estate crowdfunding platforms should incorporate robust processes to evaluate potential risks associated with different investment opportunities.

This includes analysing factors influencing local real estate markets, overall economic conditions, legal frameworks affecting ownership rights, zoning regulations, environmental impact considerations, construction costs, vacancy rates, rental income projections, and more. Developers must demonstrate comprehensive knowledge of their projects, highlighting mitigation strategies for identified hazards.

Payment Gateways and Financial Instruments

Establishing flexible payment options and multiple forms of currency acceptance increases appeal to global investors. Real estate crowdfunding platforms might integrate widely used e-wallets like PayPal or Stripe, credit cards, bank wire transfers, SEPA direct debits, SWIFT international payments, cryptocurrencies like Bitcoin or Ethereum, etc.

Enabling versatile fund transfer mechanisms helps satisfy varying preferences among contributors. Some crowdfunding players may focus exclusively on specific types of instruments or concentrate solely on fiat currencies versus virtual tokens. Ultimately, accommodating multifaceted requirements depends entirely on the chosen business strategy and target audience.

Reporting Tools and Portfolio Tracking Capabilities

Once invested capital is committed, users demand easy access to portfolios to monitor performance metrics and relevant key performance indicators (KPIs). Robust reporting capabilities allow viewing of current valuations, dividend distributions, interest accrual calculations, pricing adjustments, project status reports, tax documents, and other crucial data points.

Sophisticated dashboards permit custom filtering based on different parameters such as asset classifications (residential or commercial), development stages (planning, design, construction, completion), regions, countries, cities, postcodes, minimum/maximum deal sizes, yield expectations, risk categories, or even combinations thereof. These tools empower users to fine-tune their portfolios by concentrating holdings in preferred niches. Additionally, personalized notifications alert stakeholders when important events occur or require attention.

Community Building and Communication Channels

Effective real estate crowdfunding platforms cultivate active communities fostering collaboration and sharing experiences. Regularly scheduled webinars featuring industry experts, guest speakers, Q&A sessions, live chat rooms, discussion boards, blog articles, newsletters, event calendars, and dedicated mobile apps for iOS/Android devices enhance engagement and networking possibilities.

Interactive elements encourage positive word-of-mouth referrals through social media links/sharing buttons, enabling virality growth. Successful marketplaces often rely heavily on strong community ties and positive reviews to attract additional members.

Compliance and Security Considerations

Maintaining strict adherence to applicable laws and regulations governing crowdfunding activities within respective jurisdictions is indispensable for credibility. This entails implementing stringent KYC (know your customer) policies, ensuring only verified individuals contribute funds to ongoing ventures.

Threats identification and management protocols also play here to prevent unauthorised intrusions or cyber attacks compromising sensitive user information. Encryption technology protects sensitive data during transmission and storage. Two-factor authentication systems safeguard accessed accounts against unauthorised attempts at accessing private data.

Continuously monitoring security breaches and adapting defences minimises exposure to hackers exploiting vulnerabilities. Certifying compliance with globally recognised standards such as ISO 27001, SOC 2, PCI-DSS, HIPAA, GDPR, etc., demonstrates a commitment to maintaining high safety benchmarks. Privacy notices disclose how collected personal details will be utilised or shared with third parties to ensure transparency. Keeping these aspects top-of-mind reassures customers that their confidential information remains safe while participating in online real estate investments.

Scalability Potential and Geographic Expansion Strategies

Marketing efforts to promote the platform's brand and value proposition drive website traffic and signups. Leveraging search engine optimization techniques enhances visibility on Google search results pages. Cross-referencing links between sister company sites or partner affiliations could boost participation numbers too.

Creating shareable content through infographics, videos, whitepapers, interactive calculators, guides, etc., encourages like-minded people to join the network and spread enthusiasm among peers. Social media presence on Facebook, LinkedIn, Twitter, Instagram, Reddit, TikTok, or other popular destinations helps engage followers by posting educational materials, hosting contests, offering bonuses, or organising webinars. Engaging thought leaders as ambassadors spurs wider recognition.

Technical Integration Flexibility and Third-Party Applications Connectivity

Designing APIs (application programming interfaces) enables integration with external software programs or complementary products. By allowing developers to build applications interfacing directly with the platform's backend infrastructure, innovative solutions emerge rapidly. For example, fintech companies providing robo-advisory services might develop algorithms recommending optimal investment strategies for retail investors seeking assistance managing diversified portfolios across multiple asset classes within a unified interface.

Such integrations synergise benefits for all constituents involved. A growing ecosystem of application partners accelerates scalable expansion potential and increases overall competitiveness vis-à-vis rival platforms. API documentation should be easily accessible via developer portals for seamless incorporation into existing workflows.

Artificial Intelligence and Machine Learning Utilization

Leveraging advanced technologies allows platforms to gain insights into operational efficiency improvements. AI algorithms can analyse historical data to predict future trends and improve decision-making processes.

Fraud detection mechanisms using machine learning techniques may identify anomalous transactions helping prevent financial losses due to cybercrimes. Predictive analytics might optimise underwriting practices, optimise loan terms, and maximise returns for borrowers and lenders alike. Monitoring system health via automated error logs and diagnostic routines permits proactive maintenance reducing downtime risks.

How Does A Real Estate Crowdfunding Platform Work?
There are a number of critical variables that must be taken into account while developing a successful real estate crowdfunding investment platform. Making the platform accessible and simple for builders and investors is a crucial consideration.
It is essential to give customers secure, transparent, and quick financial transactions in order for them to feel comfortable doing business on the platform. Suppose the platform provides users in-depth descriptions of projects, risk analysis, and performance metrics. In that case, users will be able to make informed investment decisions with the help of the platform.
In addition, the platform's appeal to customers might be improved with the inclusion of features such as property dashboards, automated investment tools, and intelligent investment recommendations.
What are The Steps to Follow While Developing a Real Estate Crowdfunding App
Here are some steps to follow while developing a real estate crowdfunding investment platform: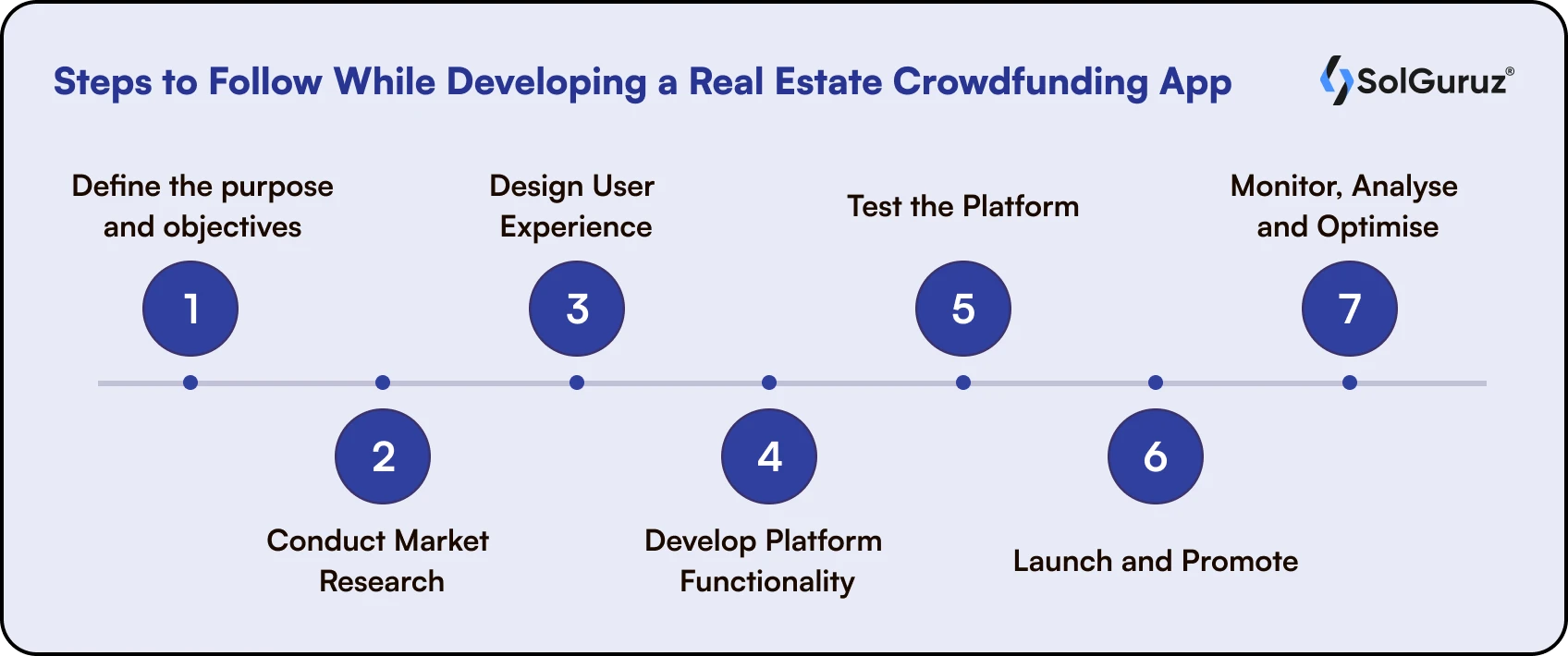 Define the purpose and objectives

Before embarking upon creating a real estate crowdfunding platform, it is crucial to define the key problems and goals that need resolution or achievement respectively through its implementation. Foremost among these would be understanding the target market segmentation and determining the platform's core purpose and USP (Unique Selling Proposition). Identifying the target audience entails gauging their preferences and desires regarding real estate investments, appreciation potentials, liquidity options etc., enabling the platform to cater to their aspirations better. Additionally, a crystal-clear objective statement helps shape the direction of future enhancements as per stakeholders' expectations. In essence, defining these aspects ensures constructing an optimal solution suited to the target community's interests – thus promoting engagement and eventual success.

Conduct Market Research

Determine what research is needed for the platform, including understanding the competition, target market, and overall state of the industry. Once collected, assess the findings to determine what could give the platform an edge over others in the space. Examine the data gathered to identify areas where additional improvement may be required. Then, leverage insights gained to inform decisions and actions moving forward. Ultimately, this process allows teams to make informed decisions based on solid information and analysis rather than intuition alone.

Design User Experience

After completing the research stage, the next step is to plan and develop the platform's User Experience (UX) design. Create wireframes and mockups based on the information obtained from research to ensure ease of use and compatibility with industry standards. Keeping simplicity at the forefront of designs helps attract new users and retain returning ones. Adherence to best practices upholds familiarity and trustworthiness essential for sustaining long-term success.

Develop Platform Functionality

Start building out the platform's features in accordance with the UX design. Protect sensitive data by implementing security standards, accepting multiple payment methods, increasing account visibility and reporting capabilities, and enabling automated investment.

Test the Platform

Thorough testing is critical before launching the platform to ensure everything works smoothly without issues. Perform tests, including unit, integration, acceptance, and endurance tests, to verify the platform's reliability and stability.

Launch and Promote

Finally, once the platform is ready, launch it and promote it through content marketing, social media campaigns, email marketing, search engine optimisation, referral traffic generation, etc.

Monitor, Analyse and Optimise

After launch, monitor usage patterns, gather customer feedback, track performance indicators, and continuously improve the platform to enhance customer satisfaction and value proposition.
Real estate crowdfunding app: Total Cost Break Down
Having Real estate app development similar to Fundrise incurs significant costs based on various factors such as chosen features, the technology utilised, labour force dimensions, and geographical location of the mobile app creation company.
For instance, when considering the aspects previously stated, the price could extend anywhere from $120K to $200K. Nonetheless, this amount might rise should you decide to work with programmers from the United States or Britain since their standard hourly charge falls within the $120 to $150 bracket compared to Indian professionals, whose charges lie between $50 and $100 per hour. Generally speaking, your group would consist of –
One Project Manager
1-2 User Interface / Experience Designers
1-2 Mobile Application Professionals proficient in Android
1-2 Mobile Application Professionals skilled in iOS
1-2 Quality Assurance Specialists
For your clarity, Once your system has been developed, you still have to cover expenses related to hosting and maintenance operations which usually run around $3,000 to $5,000 monthly.
How To Monetise Your Real Estate Crowdfunding App Platform
Once launched, there are several ways to generate income from a real estate investment platform. Some strategies may involve charging fees for using the platform or listing properties on the platform. Other possibilities include offering premium features or subscriptions at higher rates than basic memberships. Additionally, implementing advertising opportunities for external companies looking to reach users through targeted ad campaigns could bring in additional revenue streams. It's crucial to remember that while monetisation tactics require some initial setup and development time, they can provide long-term advantages and help sustain growth.
Wrap Up
In summary, constructing a first-rate real estate crowdfunding application equivalent to Fundrise entails thoughtful preparation, meticulous research, and efficient implementation. Key areas such as UX/UI design, integration of advanced features, security measures, and pricing strategy must also receive close attention.
Ultimately, partnering with experienced software providers like SolGuruz offers unparalleled resources and support tailored specifically for Real estate app development, enabling a streamlined pathway to marketplace triumph.
So, whether pursuing solo efforts or seeking assistance from seasoned experts, remain dedicated to continuous improvement and adaptability to ensure enduring achievement in today's rapidly evolving digital landscape. Contact SolGuruz today to begin crafting your groundbreaking real estate crowdfunding solution immediately!

FAQs
What are real estate crowdfunding platforms?
Real estate crowdfunding platforms serve as intermediaries between property developers and investors. These platforms allow developers to showcase upcoming projects and provide opportunities for interested parties to invest in them. This arrangement benefits everyone involved; developers get access to the capital they might otherwise struggle to secure, while investors gain exposure to potentially lucrative deals they would only sometimes hear about. With an effective crowdfunding platform, matching investors and developers becomes easier.
How can someone start a real estate crowdfunding investment platform?
Starting a real estate crowdfunding investment platform involves several steps. First, determine who your target audience is and what features your platform needs to include. Next, decide on the underlying technology and architecture supporting the platform. At this point, focus on creating a simple and intuitive interface for users to interact with. Finally, begin developing the platform, ensuring everything works correctly and efficiently. Following this process and staying organised throughout makes building a successful real estate crowdfunding platform easier.
Please describe your collaboration methodology during the development stages so we understand how our input will influence the outcome of the final product.
As a software development company, we always aim to create exceptional products tailored to each client's requirements. During the development phase, we believe in maintaining strong lines of communication and active collaboration with clients like yourself to achieve successful outcomes. To facilitate this interaction, we propose using tools like Slack, Jira, or Monday.com for messaging and task management, along with regular checkpoints where progress updates are shared and feedback is incorporated. While some flexibility remains essential in adapting to evolving project needs after the contract signature, our preference lies in defining clear objectives and parameters early on to minimise confusion or scope creep later. That way, we can deliver high-quality results without sacrificing timeliness or efficiency. Let us know if there's anything else we can clarify!