Ready to do business with us?
You can't deny that smartphones and information technology have disrupted every business sector. One such business sector is Real Estate. The real estate market has evolved considerably over time. Real Estate Mobile Application Development (Realtor app) has intensified competition and is booming currently.
Ask a Real Estate agent – How difficult is it to sell a house to a prospective purchaser? During the decision-making process, it takes time to go from one property site to another with each client, show what you have to offer, and participate in pricing negotiations. That's where a realtor app comes into the picture.
What is a Realtor App?
Applications developed specifically for the real estate industry are known as "real estate apps or Realtor Apps." The major stakeholders of the app are Buyers, sellers, landlords, real estate agents, and investors.
These applications often have databases with hundreds of thousands or even millions of listings. Online listing services are convenient for home buyers and investors, who can browse available homes, and landlords and property managers, who may advertise available units. Real estate agents and firms may also use many apps' advertising and marketing features.
But wait? Why would you believe the realtor app has any benefits? Because of the ease they provide to real estate searches, millions of people use real estate apps every month. According to the National Association of Realtors, 97% of home buyers start their hunts online, with 76% doing so on a mobile device.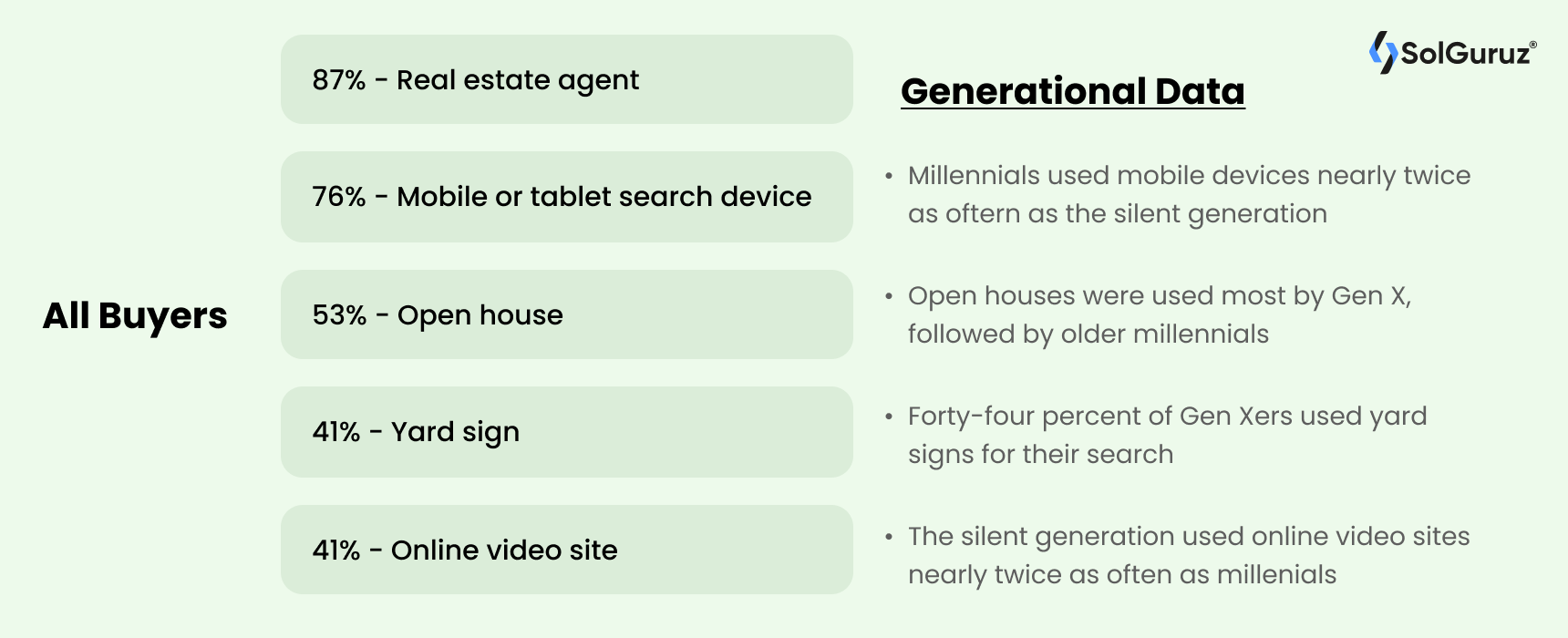 Source: 2022 Buyers and Seller Real-Estate Trends
Different Types of Realtor Apps
If you are into the real estate business – you must focus on the Real estate mobile app development due to the wide range of benefits of the realtor app to you and the customers.
The number of people downloading real estate-related smartphone applications in the United States has increased by 15%. The number of downloads of real estate apps in the UK increased by 7.6%.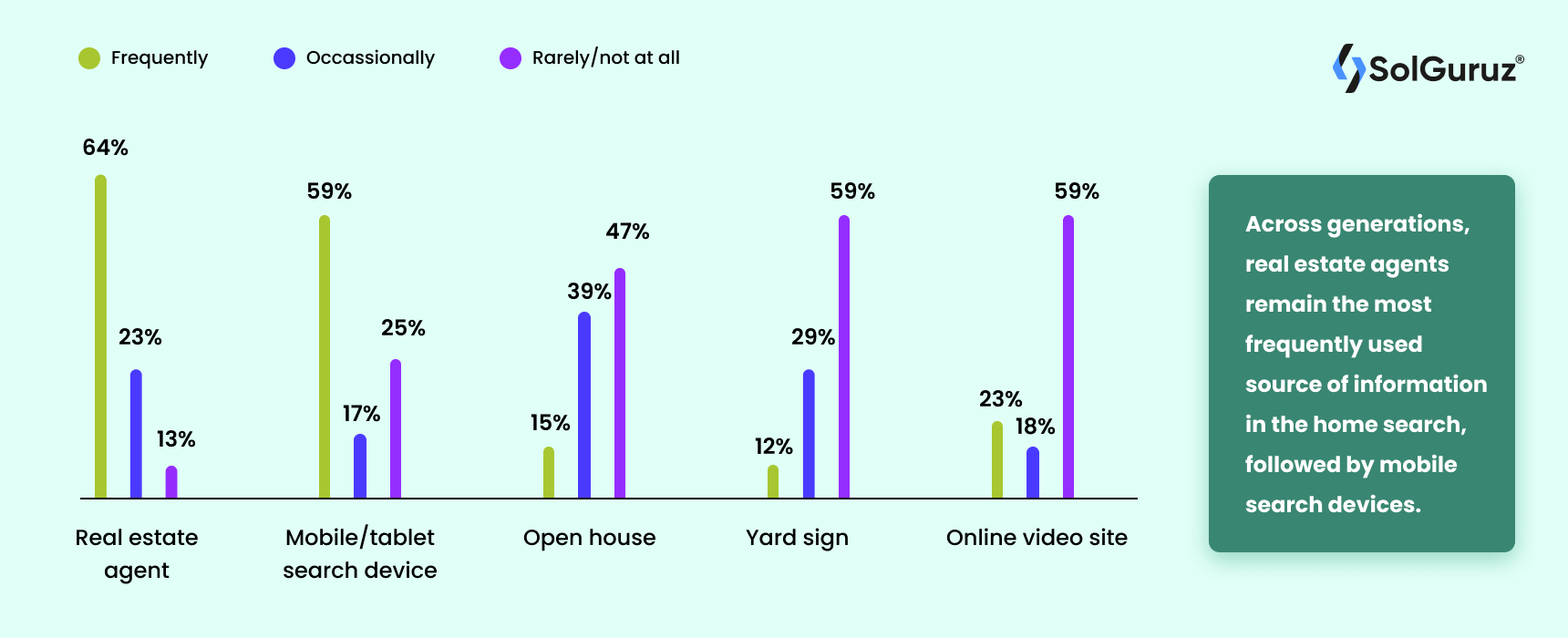 But still, many of the users think that there is just one kind of realtor app. However, a personalized real estate app is beneficial for many reasons, and this is a reality often overlooked. So, let's look at the many Real Estate-related app categories out there.
House rental app

As the name suggests, House rental apps provide a list of homes tailored to customers' needs; such applications demand the input of several parameters, such as the location, state, and city. In addition, You, as a customer, may customize your search based on your budget, region, and other factors.

Real-estate marketing app

If you're attempting to sell your home and are looking for a unique and innovative approach, a real estate mobile app like this is just what you need. This realtor app comes with several fantastic tools that will aid you in displaying your home, attracting more interested buyers, and speeding up the process of closing a sale.

Property management apps

These applications are built and created to assist property managers with the current status of their properties. Additionally, this Realtor app will provide the rent details for each house upon request.

Real-estate investment apps

This application is similar to the mobile app built for a company that wants to invest in real estate. An ideal app of this kind would be very customizable, displaying match-specific characteristics that might pique the user's interest.

Indoor navigation app

With the use of built-in capabilities and sensors of mobile devices, this app provides users with a virtual tour of their preferred home. The user's experience is improved at the user's house, another location, or the selected property.

A single app for connecting buyers and sellers

These realtor apps provide a platform for buyers and sellers to connect to buy, sell and rent their property. However, it includes real estate agents too!
Essential Features of a Realtor App
Now that you have grasped the concept of a Realtor App, its types, and the need for real estate app development – let us see what the must-have real estate app development features are.
No business wants a real estate app to be another option in the app stores that nobody uses. Therefore, it is necessary to monitor the newest trends and features and include them in the app.
Below, we describe several fundamental and contemporary aspects that should be included in your real estate application.
Registration/Login for Users

User onboarding is the most fundamental aspect of a real estate application, and it must be as straightforward as feasible. There are multiple methods to do this, like – direct authorization from Social Media Apps, Authorization through email, Phone verification, etc.

However, combining the above solutions for user login might also be a good idea. It will bring ease and flexibility to the users and simplify the registration procedure.

Setting up User Profile as Buyer, Seller, or Agent

Each user should be able to create a unique profile inside the app and use it for all their different purposes. It's important to have separate profiles for various user types.

Consider how the options provided to a buyer with a certain profile vary greatly from those presented to a seller with a different profile. Buyers can browse the house listings, store their preferences, see the specifics of particular listings, submit an inquiry, and so on.

On the other hand, the agent would have access to your information, including listings, timetables, lists of possible buyers, opinions on individual properties, advertising options, and more.

There may also be some shared variables. Such tools as navigation and messaging are available to all users.

Filters and Classifications

What is the most tedious aspect of looking for houses online as a customer? Locating the RIGHT & CORRECT property.

To ease the property search process, you must give consumers sophisticated search choices. To help consumers easily identify suitable rentals, it would be helpful to have filters and categories set up.

Property Descriptions

These profiles provide detailed facts about the property, such as descriptions, images, videos, rich media, pricing information, value propositions, neighborhood information, owner information, etc.

Most users, like 8 out of 10, decide whether or not to purchase a property based on the photographs and videos uploaded.

In addition, you may need to provide the property owner's or agent's contact information in property profiles.

Listings and Database

Listing properties is another fundamental component of Real estate mobile app development. All necessary details about the available properties must be included in the displayed list.

Users who want to offer their property for rent or sale should be able to do so without difficulties.

A sizable database will be necessary as the property listing grows. Eventually, there will be more customers and listings, so you'll want to be sure your system can handle the load. Every real estate program needs a reliable database.

Favorites / Starred Properties

Your application should enable users to list and store their preferred properties. It facilitates the decision-making process for them.

Users may view their preferred properties as well as their profile information.

In-App Notifications

Push notifications are an effective marketing strategy. For long-term success while real estate app development – you must ask for this feature from the developing team.

Push notifications assist you in retaining customers and remaining top-of-mind. It is also useful for advertising your services successfully.

You may utilize push notifications to reach prospects and give periodic industry updates. You may also inform users when prices change or a new property is uploaded in a certain area.

However, the messages must be customized to fully realize the advantages of push notifications. It would be best to deliver relevant, beneficial communications to end consumers.

Real Estate Expense Calculators

Price calculators may be a valuable addition to a mobile real estate application. You may request that developers include a feature that gives consumers an estimate of the overall property cost.

Ensure that the calculator is sufficiently detailed. Users should be able to estimate the whole price tag based on factors such as initial payment amount, taxation, the rate of interest on the mortgage, and the length of time it takes to pay back the loan.

Send a Direct Message or Call

Providing customers with comprehensive property details is just one component. By introducing a call or direct messaging function, you must advance the users to the next level of the sales funnel.

There are several methods to link buyers and agents:

Direct Talk
Chat
Direct Consultation

A potential purchaser needs a way to get in touch with the property's dealer or owner for further details.

Analytics

In the realm of real estate, analytics play a vital role in the creation of any mobile app.

Whether you're building an app for your business or a real estate marketplace where users can buy, sell, and rent property, you need to understand how customers interact with your app.

Using analytics, you may learn important details about your app's health and how it can be improved. Information on users and their in-app activities, such as how long they spend on a certain screen, might prove beneficial. Thanks to this data, you may now choose between apps with more knowledge.

To make the most of your data, you may segment your users depending on their activity and add them to various marketing initiatives.
Examples of best Realtor Apps
Mobile real estate applications provide a large database of homes, flats, and commercial properties in the palm of the user's hand. Searches may be filtered for prospective homebuyers, tenants, and landlords based on various factors, including geographic area, the number of bedrooms, the total square footage, and more.
We have picked the 3 best real estate applications based on their user interface, search effectiveness, inventory quantity and precision, customer service, and dependability.
Zillow
The app from Zillow is the finest overall due to its expansive coverage. Zillow is the most frequented real estate website in the United States, according to its website. Its efficient features include sharing a possible home with your spouse or roommate and the rapid application procedure for tenants. The application meets practically all of the user's needs. You can also read one of our blogs to know how much it cost to build an app like Zillow.
Redfin
Redfin is a real estate brokerage business that has developed a mobile application to transform buying and selling operations nationally. Because it blends cutting-edge Technology with genuine Redfin real estate agents and customer support representatives, the app is our top pick for house purchases.
Realtor
The National Association of Realtors is partnered with realtor.com. Real estate agents can keep their listings up to date with daily free updates, making it a clear frontrunner in the best for rentals category. When rental properties are kept up-to-date, landlords have a better chance of quickly locating appropriate renters.
5 Benefits of Using Realtor App for Property Dealers, Owners, and Agents
Mobile applications for real estate businesses should try to make their tasks easier while improving the customer experience. So let's check out the benefits of the realtor app.
Enhanced Customer Experience

For most people, a home purchase is one of the largest single investments they will ever make. Today, customers may do this with the help of a wide variety of apps. The primary focus of real estate app development should be to understand and address user issues.

The current customer base faces several challenges, including a lack of time to visit multiple properties to make a comparison physically, a lack of current information about each property, and difficulty finding a suitable dwelling that fits their financial and aesthetic requirements.

The shopping experience for customers is becoming better thanks to apps. Apps are more efficient and well-suited to mobile devices since they can use a phone's hardware.

For clients, the benefits of mobile real estate applications include the following:

Designing for ease of use
Access to industry professionals around the clock
Globalization and the growth of the market
The improved property viewing experience

It's been shown that 93 percent of house seekers use the internet, and 73 percent use mobile applications to find a new place to live. It's the simplest method for doing market surveys and analyses. However, some aspects of applications improve the user experience.

Realtor App Helps to Increase Brand Awareness & Marketing

The apps' capacity to collect and analyze user information is astounding. Not only does this provide a more tailored property search, but it also encourages a more personable experience overall.

Information on potential buyers and sellers is crucial for real estate salespeople. Realtors may sell to app users by segmenting them based on demographic, contextual, and behavioral data.

The users may be better understood when demographic data is combined with contextual data, which takes into account factors such as the kind of device being used, the time of day, the user's location, and so on. Also, the app may learn from the user's actions to tailor the shown attributes to the user's preferences.

All these things could work together to provide the user with an engaging experience and useful data. However, realtors may improve their marketing methods with the help of AI and data science.

Analytical tools allow for a more thorough examination and analysis of the search-related data that the app has collected.

It creates the ease of sharing documents and getting the necessary paperwork.

Interactions and exchanges between real estate agencies, their teams of agents, and their customers are essential. While an app's built-in chat function may do wonders, it's not enough; users also need a way to exchange and receive brochures, audio, and video files.

Realtors may save time on document preparation and client communication using mobile applications. However, new technologies also encourage electronic signatures. A mobile presence also benefits the customer service experience since responses can be made much quicker. In this manner, real estate firms may differentiate themselves from the competition and keep more clients.

Better Management and Organizing of Your Team

Eighty-two percent of all real estate transactions occur due to referrals or repeat customers. Therefore, a time-saving realtor app is essential for real estate agents. Success in a company depends on the ability of employees and customers to communicate effectively.

Any real estate mobile app worth it's salt should make it easy for all your agents to stay in touch with one another and their customers. Text messages are the preferred method of contact for 92% of agents. However, the offline mode may assist real estate agents in staying in contact even when the network is slow or unavailable.

Agents can keep tabs on leads and customers with customer tracking apps throughout the real estate sales process. Real estate agents, for instance, may see which properties their customers have just visited, hold conversations with them, and remind other team members to follow up on a lead.

Apps may improve communication procedures by encouraging the exchange of property profiles between agents and potential clients. Using precise, up-to-date house profiles, they can expedite the upkeep of real estate and comparative market studies.

In addition, apps provide individualized communication, which allows team members to concentrate their efforts on enhancing the quality of their interactions. They can aid in managing tasks such as appointment scheduling and linking properties and clients and may provide crucial calculations for clients.

You can then Leverage data on customer demographics & market.

The National Association of Realtors discovered that 76% of homebuyers used a mobile device to search for a property, and 17% used a mobile device to search for a real estate agent.

And as the millennial generation ages and develops an interest in real estate investment, real estate brokers will need to adapt their services to engage this demographic better. Potential visitors must reduce their options and select whether or not to visit a certain facility.

Major Data that helps businesses are:

Clear photos depicting various property angles.
Online listings with detailed information
Favorites / Premium Properties
Detailed and relevant information for the surrounding properties, etc.
Consulting the Best Realtor App Development Company
With an eye toward the future, real estate firms would do well to use mobile app technology. But Technology comes with a cost, and real estate app development cost depends on the business requirements and features. Also, Mobile real estate applications are substantially lower maintenance than their online portal counterparts.
If you want to expand your user base, you may develop and release your app on both platforms (Android & iOS). There is a growing need for mobile applications, making it a smart move for real estate agencies to hire a real estate mobile app development company to get all the benefits of the realtor app.
Do you need the services of a Mobile App Development Company to create your real estate app? Please get in touch with us to discuss your business needs and get a free quote.
Conclusion
An enterprise's success or failure depends on its app's success or failure. However, real estate companies can have a competitive advantage by investing and hiring a top-class Real estate mobile app development company for a high-quality mobile app.
Realtor apps have much to offer the housing industry, particularly in customized search and individualized online experiences. If created appropriately, apps for the real estate sector can automate and simplify several operations. In addition, data analysis facilitated communication with consumers.
FAQs
How Much Does it Cost to Build a Successful Realtor App?
Now that you understand why it is important for your real estate company to engage in app development, The following variables affect the overall cost tag for building a property-related app: Device (iOS or Android) and Technology, Features Set, etc. Still, if you want to know the approximate cost, you must connect with our business team.
What Exactly Are Real Estate Apps?
Real estate apps are mobile apps that streamline estate transactions. These applications make it simple for buyers, sellers, real estate agents, landlords, and investors to discover one another quickly and easily.
Are Real Estate Apps Accurate?
Since their inception, real estate applications have experienced accuracy concerns. Despite their popularity, traditional property searches techniques like newspapers and realtor-led home tours have been overtaken by real estate apps despite their accuracy problems. Since they harvest this information from online databases, apps provide more properties to buyers, renters, and investors. If there are inaccuracies in one of these databases, they will also be reflected in the application.