Ready to do business with us?
Every 1 in 4 people utilises a real estate mobile app to search and buy properties online. The real estate business is very profitable and lucrative; going online is a must nowadays. You can benefit yourself once you take your real estate business online. This will help you gain a firm footing on the market and attract new customers and clients.
You may wonder, is it worth investing in Real Estate Website Development? There are a lot of positives that your business will experience once you go online. Several Real estate businesses have gone online following the app trend. In addition, 81 percent of older millennials, 80 percent of younger millennials, and 78 percent of Gen X are buying properties online. You can also find a few baby boomers looking for properties online.
A whopping 95 percent of real estate businesses have their websites and property listings on them. Hence, you can see how the real estate business is changing with the advancement of technology. However, building a website is your first step; you can also develop an app for more exposure. This helps your clients to browse property listings conveniently. To stay ahead of competitors, users must use all of these simultaneously.
The Features You Need Focus for Real Estate App Development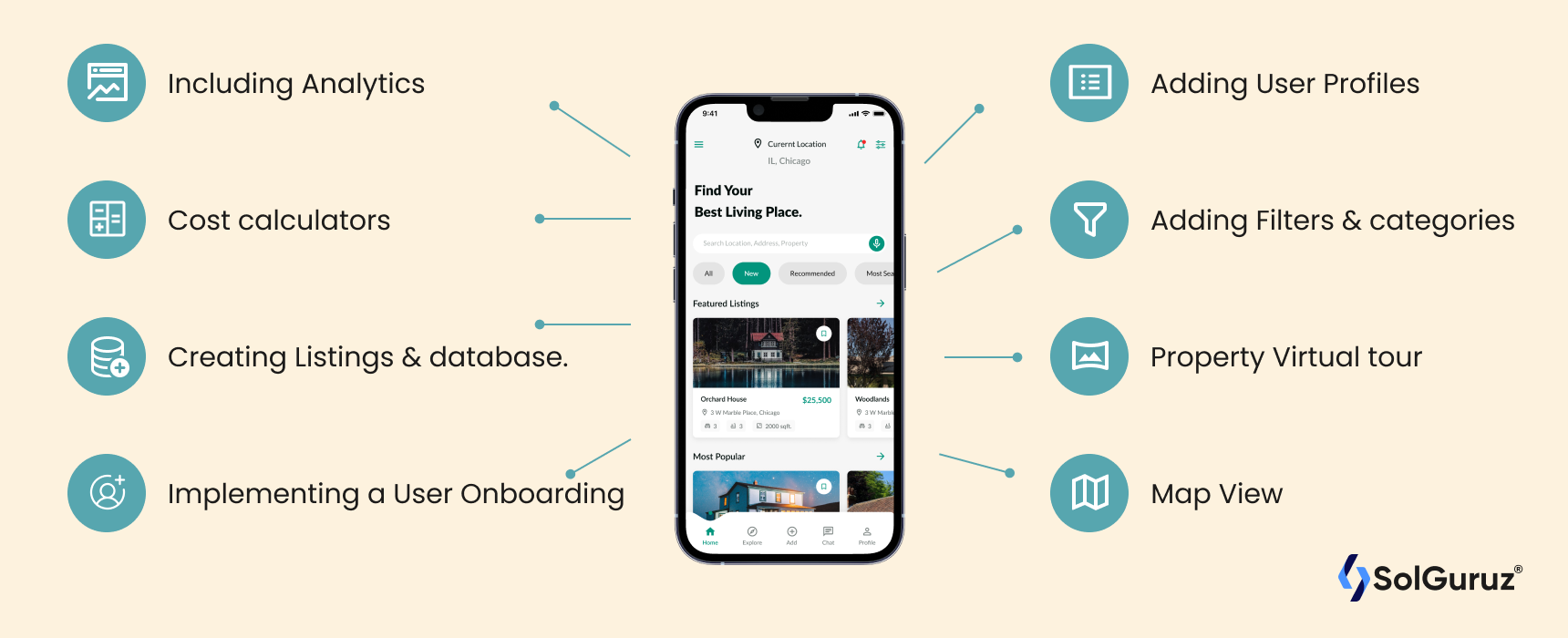 Features play a key role in real estate app development. It will take hardly a minute for a user to discard your app if it's not feature-rich.
Drawing the attention of your clients towards your app can be very challenging. It depends on your business niche regarding what features you want to put in the house hunting app. Therefore, before you hire a real estate application development company, you must outline the features you want in your application. If you are unsure what type of feature you should implement, here are a few to consider.
The vast competition in the app market is something you need to keep in mind while developing the app. You can consider making your app more visible on the app store in multiple ways. You must plan your marketing approach correctly and best to encourage your customers. The higher the engagement your clients will have with your app, the more traffic it will draw. Hence giving you a boost to your profits.
Implementing a User Onboarding to your real estate app

A user onboarding is a fundamental feature for any website or app related to a real estate business. The signup and login page your customers and clients visit first when they load up the app. Make sure that you make this process as simple as possible to increase your customers' comfort level. The best way to do it is to implement the following three steps.

Authorization of social media
Email verification
Verification via phone

It is always best to sketch out the first page before heading into Real Estate App Development. Moreover, you have the option of implementing either one or all the methods of verification. This will increase your customers' convenience and flexibility in logging into your app.

Adding User Profiles to Your App to Increase Individuality

Profiling your users can prove very useful for your company in the long run. Hence, you should implement a feature with which your users can create and maintain their profiles on the app. The user profiles help your customers keep their activities private from other users. Therefore, it is imperative to have different profiles for different users.

Moreover, a buyer's profile must differ vastly from an agent's. With this, a buyer can access the home listings, save the favorites, see individual listings, make inquiries, etc. At the same time, an agent should see their listings, schedules, list of potential buyers, views of individual listings, advertisement options, etc.

Giving your users these options will enhance their experience with the app exponentially. Consider these options when you go into Real Estate Mobile App Development.

Creating Listings and Their Database

One of the other essential features that every real estate app requires is its property listings. This will give the users a detailed view of all the properties they can avail of. At the same time, users who want to rent out or sell properties can put up their listings without difficulty. Remember that the more convenient your app is, the better traffic.

You will require a vast database as the property listing will keep growing. You can expect to have a higher influx of users, leading to more listings of properties. Hence, you have to make sure that you have an extensive and flexible database. In addition, ensure that your database is robust enough to handle the high load it will receive.

Adding Filters and Categories

When ample properties are listed on any app, users tend to get a headache finding the right property. To help your clients find the right property, you must include a feature that makes browsing easier. You can achieve this by adding the filter and categories feature. Your clients will browse the categories and find the properties they want.

Moreover, the Filters feature would allow your clients to put in the specific details about the property they want. This process of searching for properties will add to the overall experience with the app. Hence, this will give your clients a more convenient time with the app without hassle.

Give Your Customers the Convince of a Map View

Businesses that are not integrating maps, while real estate app development, can lose you a potential client in the recent era of digitalization. Your consumers will be eager to look at the area and location where they buy the property. Remember that the property's value also depends on the location where it is located.

This is also a great way to let clients browse properties in their preferred locations. In addition, it also displays the statistics of the preferred property and its location, like crime rate, infrastructure, nearby schools, Air Quality Index, etc. Hence, it positively benefits both your company and your clients.

Cost Calculators for the Property

This feature is essential in your app to give your clients the ease of calculating their costs. For example, they can calculate a property's price while viewing it on your app. The real estate business thrives on how quickly it can sell off a property. Hence, this reduces the time they will require to decide and allows them to calculate the cost themselves.

It is essential to make the calculator have details that allow the user to account for loans and initial payments. Hence, consider adding this feature during the Real Estate Mobile App Development phase.

Let Your Users Take a Virtual Tour

With the virtual tour feature, users can have a real-time experience of visiting the property from their place. Your app's users will appreciate the time savings and increased confidence in their purchase choice made possible by the 360-degree property view and virtual tour. The Virtual tour offers the users an interactive platform to view the property.

Of course, the inclusion of pictures and videos is still crucial. But with the virtual tour, they can view the property from any angle. Hence, increase the engagement the user will have with your app.

A 3D walkthrough, essentially the same as a virtual tour, may offer potential buyers a real sense of what it would be like to live in the home they are seeing.

The higher the user's engagement is with your app, the higher your profits will be. Therefore, keeping the clients satisfied will increase traffic and increase buying possibilities. Thus, improving your profit gain.

Including Analytics in the App

You should include analytics in your app, which is crucial for any mobile app. Therefore, you must consider this feature in your Real Estate Mobile App Development to effectively interact with your clients.

Analytics gives you all the details of the app and its performance. The analytics can help you to understand the likes and dislikes, and it helps you to know at what point a user ends their search/purchase journey. This information is crucial as you can decide what to change and improve the app.

Another aspect of including analytics is giving you information on your end users. The amount of time they spent on the app, viewing a property, etc. This will give you further information on the proper steps to handling and improving your app.

Get The Maximum Advantage of Push Notifications

The majority of effective marketing efforts take advantage of push notifications. This specific feature will determine whether or not your real estate app is successful in the long run. With push notifications, you can keep your subscribers up to speed on the latest market news, price changes, newly listed homes, and updates to their favorite properties.

It is an excellent strategy for establishing contact with prospective customers. On the other hand, for the messages to seem personal, they need to be relevant. To put it another way, the notifications your app sends out should be helpful to the people who use it. If you make too much use of this capability, you run the danger of turning off the people who use your app.

Provide AI Enabled Chatbots or An In-App Messaging System

With the ability to chat with or call real estate agents straight from inside the app, your customers will always have a means of contacting you. It may assist you in increasing income by directing app users toward the purchase choice.

You may contact the agent, property owner, or independent lister by making a phone call, requesting a call-back, or engaging in text chat. Those interested in purchasing a house can ask the listing agent or the seller about the listing.

Hence these are a few features you can consider during Real Estate Mobile App Development. Naturally, the more feature-rich your app is, the higher traffic it will draw. Although, it is essential to keep a balance.

You should not overburden your app with too many features that could become detrimental. Moreover, bug fixes can be a big issue when an app has too many features. Therefore, carefully select what type of features you want your app to have and how your clients can utilize them. You may consider including your internal stakeholders and consult a real estate application development company with experience in Real Estate App Development.
The Various stages of Real Estate App Development
The real estate business is an ever-growing, profitable, and lucrative business. Although, you need to keep your business up to date with the current technology and strategies to improve your business. You can take your business online to achieve this and successfully tap into the new age market.
Developing an app or a website is the easiest way to take your business online and connect with your clients. Although, before you do this, you must know the process. The various method of Real Estate Mobile App Development, is:
Establishing a plan

The first phase of the app development is to understand the project's core properly. You must also review the entire project with your developer and get their views.

Be clear about what type of realtor app you are making –

Are you making a buying, selling, and renting platform?
Are you making a Customer Relationship Management type of thing?
Are you making an investment platform?
Are you making a platform that lets you calculate your property's values and rents?

Once you are clear about these questions, the development can begin. Professional advice from a real estate application development company will help you set up a proper plan for its development. The more you understand the process, the better marketing you can plan for it.

The type of app will work as a pivot in selecting various features you want to implement. Finally, let your clients know the features they can expect during the marketing phase. This will ultimately lead to a rise in interest from the users and hence a rise in sales.

The planning stage is considered the most crucial– any changes after this stage could be proven costly.

Designing the App

Firstly, the UX and UI designers will polish the authorized wireframes to lead to the app-looking aesthetic. This process will include constructing UI elements, designing user flow, etc. It is important to note that creating a high-fidelity mock-up is necessary during this phase. Your engineers can then turn this mock-up into functioning applications.

Users tend to engage highly with very user-friendly apps. Hence, keep your app straightforward and do not overcomplicate the functionality.

Development

In this stage, the real estate application development company hired by you will start writing the code for your app. The most time-consuming process is the development phase. This is because your developers will sketch various models until they get one that fits your needs.

Although it is essential to have good communication with your developers to keep the development smooth, this will also help you understand the core of the model of the app, which will help you later. Making changes and testing the app will become easier once you know the application's core.

Testing the app

This is the last phase before launching your app and making it available to your target audience. There are various ways in which you can test your app. You can go into beta testing to select a few potential customers and release the app for them. Their valuable feedback will help you test the app in a better way.

Hence, these are the few basic stages your app will undergo for its development. It is crucial to have patience and remember what your app intends to accomplish. This will give you a clear idea and motivate you throughout the Real Estate Mobile App Development phases.
The Costs of developing a Real estate app
The cost of developing a real estate app will depend on many factors. One of the many factors is the complexity of the app you are trying to create. Although, on average, developing a real estate app can cost from $20,000 to $50,000. The cost can also rise from $75,000 to $100,000 if you include advanced features.
Hence, it is essential to realize the extent of your app and have realistic expectations from your developers. You can hire numerous development companies to help you through this process. Although, understanding the process and tallying them with the costs is the best way to approach it. Keep your app straightforward and feature-rich.
Top 5 Real Estate Mobile Apps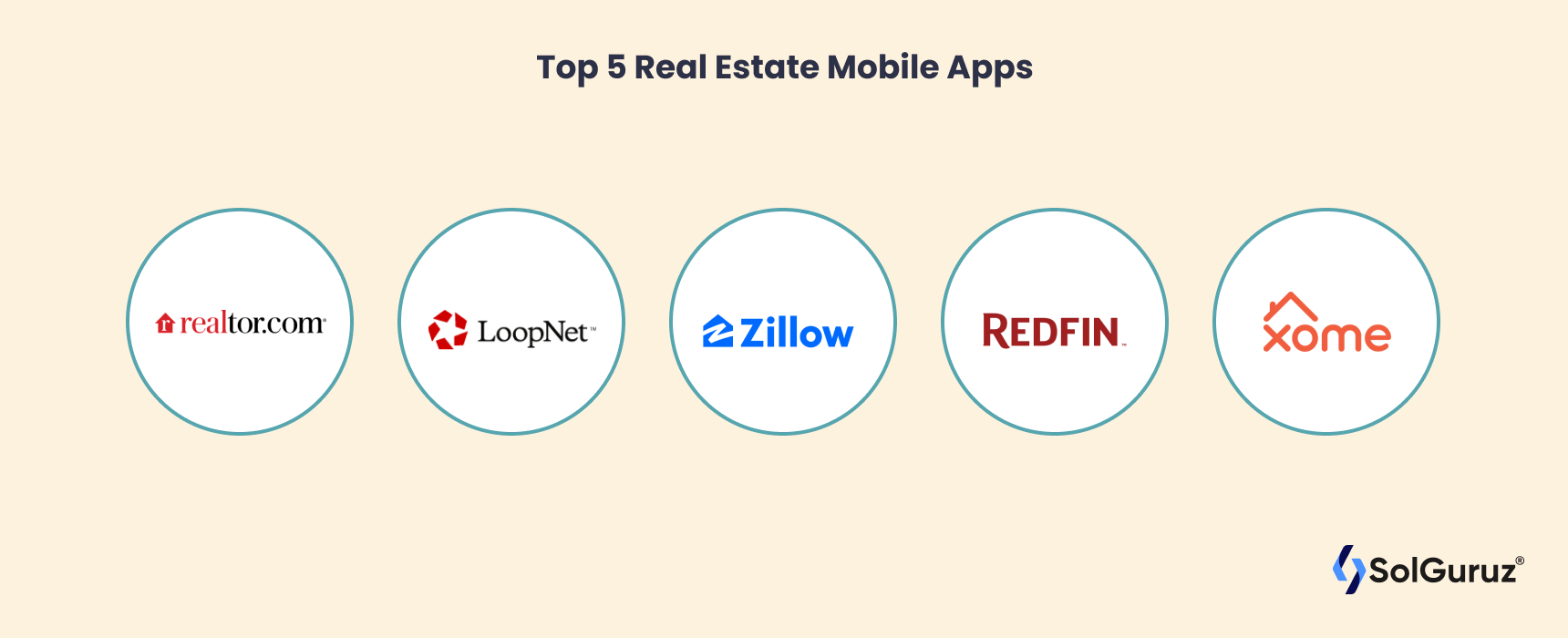 We analyzed five top real estate apps regarding their user-friendliness, search features, catalogue range, accuracy, and support services.
Mistakes to Avoid While Building a Real Estate App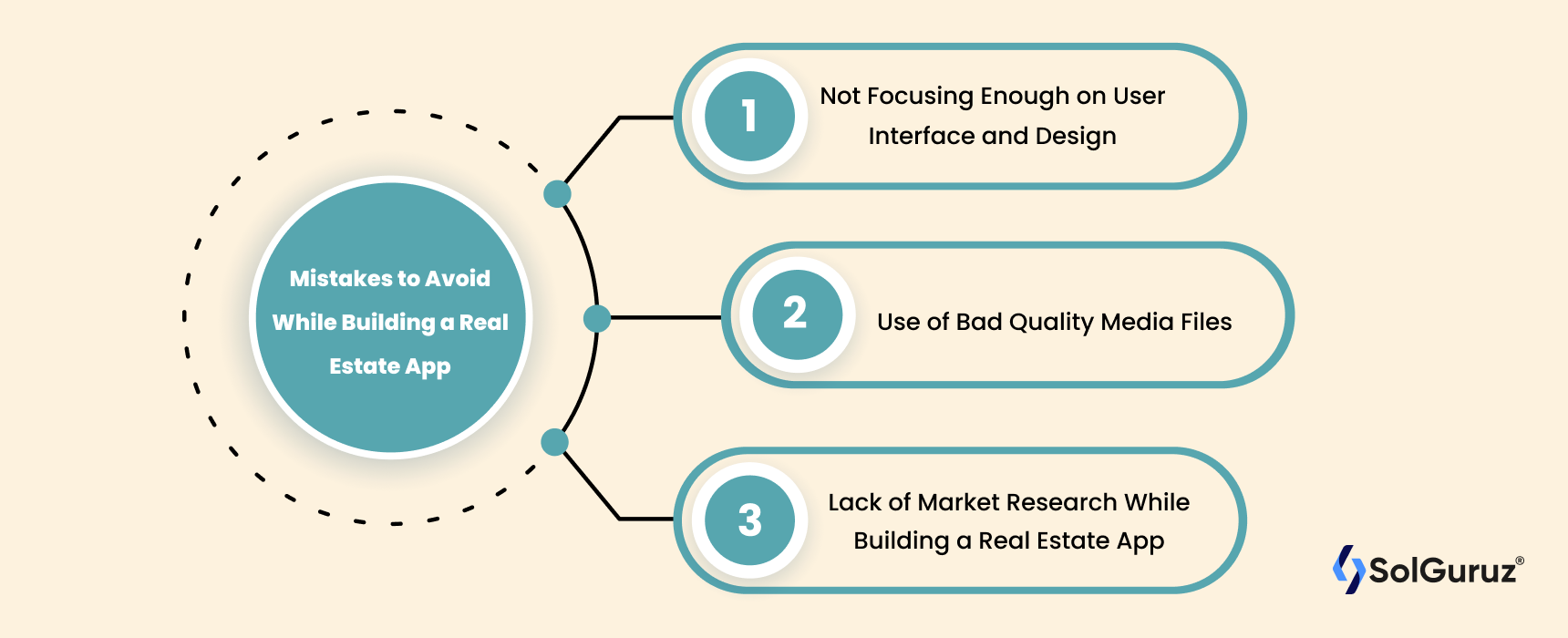 Just because your real estate firm has a mobile app doesn't imply you'll see an immediate increase in sales. You must be very careful in each real estate app development stage. If users find your apps annoying, they may switch to a competitor, costing you a lot of money.
Thus, we have included a list of Mistakes to Avoid While Building a Real Estate App.
Not Focusing Enough on User Interface and Design

Out of many mistakes to avoid in real estate app development, another serious mistake is bad UI. Users like interfaces that are easy to use. Despite the app's potentially impressive features, an excessively complicated interface is a barrier to the user experience.

The application's user interface has to be simple. UI must reflect buyers' wants and the product's intended to function in the design.

While building a real estate app, make it easy to use, and you should design it with a wide range of users in mind. This includes users who aren't very mobile-smart. Simplifying your interfaces will benefit your users and leave a good impression on your customers.

Use of Bad Quality Media Files

Photos and videos are the backbones of any real estate business. And if you're trying to sell a house and not capitalize on the power of photos and videos, good luck then! Additionally, visual material, such as photos and videos, is universally recognized as the most attention-grabbing content.

Since prospective buyers do extensive research before making a deal, setting yourself apart from the competition by providing high-quality media assets, such as home tours, may be a real advantage in closing the deals.

Lack of Market Research While Building a Real Estate App

Regarding features, brilliance is determined by the consumer value they provide. When establishing an app, businesses often make the trap of constructing it with preconceived preconceptions about the target audience.

The primary objective of the app you create should be to solve your customers' difficulties. And who better to ask than those who are now using the product?

Before commencing work on your app, it is essential to do market research with prospective consumers, explore previously present mobile applications on the market, and assess the weaknesses of these apps. Sometimes, the customer's requirements are simpler and less complex than the mobile app development company's expectations.
How Much Time Does It Take to Build a Real Estate App?
The overall time frame of Real Estate App Development is nearly 3-6 months. A real estate app may be developed in less than months but can also take up to one year as well.
How long it will take to finish your app relies largely on how many features you want to include, what type of tech stack you want to use, etc. In general, the development time will increase if you need highly specialized designs, specific features, or a different kind of distribution platform than what is typically used.

How To Go Commercial with Your Real Estate Mobile App?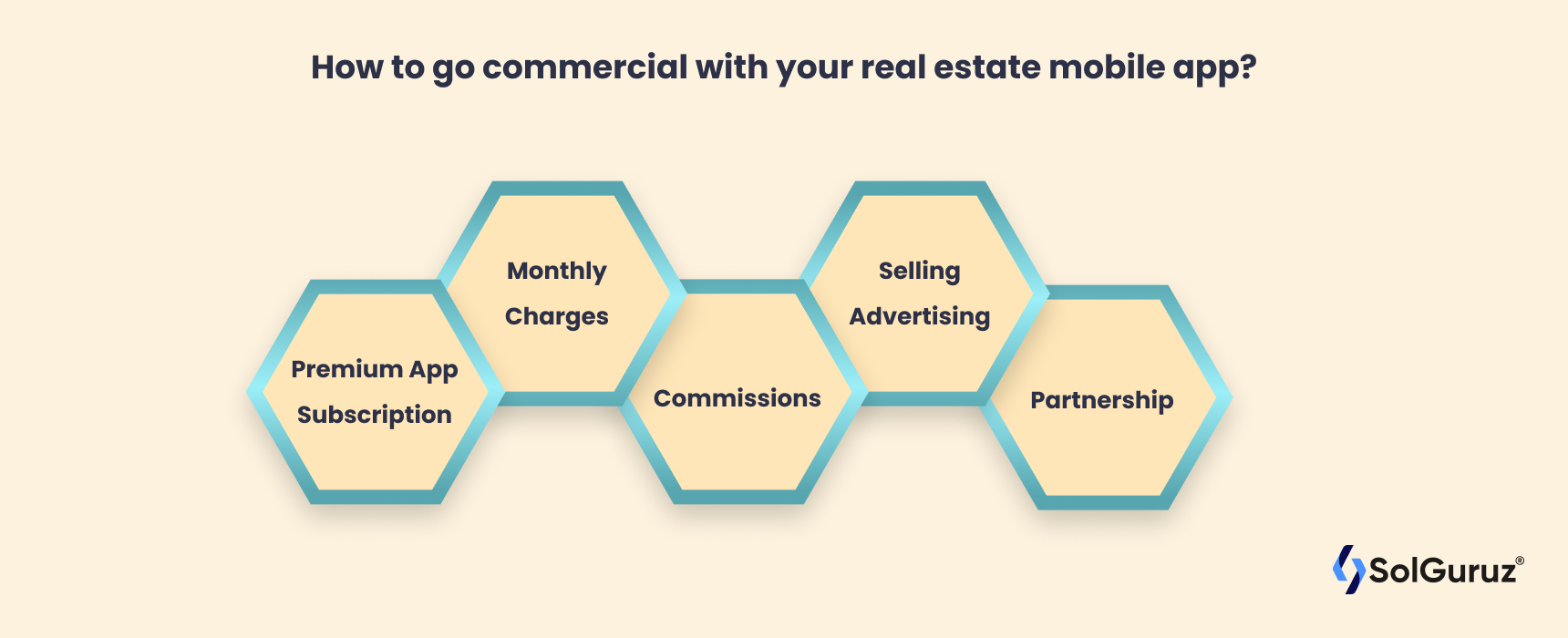 Suppose you want to utilize your app as your major source of money. In that case, you must consider revenue models that are more suitable for your app. You'll find the most popular models to employ listed below so that you can choose and optimize your app.
Premium App Subscription

Consumers may utilize a free version of your application, but it will have restricted functionality. Let customers utilize your app to its fullest extent by offering extra advantageous features for a fee. However, premium features must be valuable to encourage people to utilize a premium app.

Monthly Charges

Realtors will pay a monthly fee to be included in listings. Alternatively, they might pay to remain at the top of search results. In addition, you may give a trial period so that consumers can use this function for free.

Commissions

The most prevalent monetization technique is receiving a percentage of each successful deal. Nonetheless, it should not be too expensive since it may cause customers to move to a competitor's application.

Selling Advertising

Any real estate-related third-party firm may publish advertisements for a charge. Your application will allow mortgage lenders, designers, insurance companies, and others to market their services.

Partnership

You may partner with one or more banks to allow them to provide mortgage loans on advantageous terms. Thus, this integration will be an additional means of monetization.
Why SolGuruz for Real Estate App Development?
So, suppose you are looking to develop a real estate app. In that case, choosing a real estate application development company with a unique point of view and a significant understanding of the market's growth is vital.
At SolGuruz, we know that it is essential for your real estate mobile applications to use the most recent technological advancements. This will allow you to promptly react to changes in the market as well as the needs of your target audience.
Experienced developers
Best tools and infrastructure
Regular framework training
Constant guidance from seniors
Agile methodology
If you collaborate with SolGuruz, you will never need to be concerned about losing out on another possible client. Suppose you collaborate with SolGuruz for your Real Estate App Development Project. In that case, you will never need to be concerned about losing out on another possible client.
Real Estate App Development FAQs
How many features should a real estate app contain?
A real estate app should be as feature-rich as you can make it. Although some features are a must-have for a real estate app. Some features that you require to make you more appealing are: 1) Profiles 2) Filter 3) Favorites 4) Virtual Tour 5) Messaging 6) Price calculation 7) Push notification
Why is testing and quality assurance necessary for app development?
Testing your product before launch is imperative to encounter various issues you may have overlooked. Some of the usual problems you may experience could be bugs, UX issues, etc. Many companies offer the option of beta testing, where they open the app to select clients.
Why do Real Estate businesses need a mobile app?
The advancement of technology has made it more convenient and affordable for people to have smartphones. Hence, many more people use their smartphones for most activities. This means that many more people are looking for real estate on apps. So a real estate app opens up a new market too.
What does the database hold for the real estate app?
The database stores all the information displayed on the app or your real estate business website. You must maintain your database as your clients properly, and agents' profiles are stored there. If the database gets corrupted, it can corrupt all the profiles on your app. Hence, make a backup of your database.
How to get feedback on your Real Estate App?
You can get feedback on your app in multiple ways. One of the ways you can achieve this is by including a rating feature on your app. The clients will use this rating app and rate the app and the services, giving you a rough estimate. You can also opt for beta testing before the app launch.
Does SolGuruz offer maintenance and support services for mobile apps?
Yes, we offer complete support and maintenance for mobile applications that we build. Please consult our sales team for the same.
How to hire the best real estate app developer from SolGuruz?
SolGuruz appoints on your behalf the best developers for your real estate app development project. We make sure you get the best man for your dream project.