Ready to do business with us?
The real estate market has seen dramatic changes recently, becoming more competitive than ever. And it's all because of real estate mobile apps. Nobody understands this better than you do if you work in real estate. Convincing a prospective consumer to invest in real estate is a challenging endeavour. At the decision step, you'll need to engage in intensive price negotiation with each client after showing them the property site and proving that your offering is superior.
Smartphones and other mobile gadgets have become indispensable in today's society. The widespread availability of mobile technology has revolutionized numerous industries. Indeed, even real estate is not immune to this rule. With the proliferation of smartphones, buyers are looking for real estate mobile apps that will allow them to peruse listings at their leisure. More potential clients may go to your rivals if you don't include reator mobile app development in your strategy.
Why are Real Estate Apps so Popular?
Everyone is always on the move, either leaving their current location or seeking a new one. Further, COVID-19 is no longer an insurmountable obstacle.
Clients no longer need the aid of brokers and real estate agents during their search, which is the fundamental difference between the present period and the early 2000s. These are superseded by constantly accessible, third-party-free real estate mobile apps. It's easy to see why individuals would like instantaneous access to a massive database of residences rather than having to schedule viewings at various times throughout the city.
So, the traditional brokerage is struggling in the digital age, and that's why real estate professionals are looking forward to a rise in technology investments & partner with a real estate mobile app development services company.
Millions of people use real estate apps every month because they are helpful for quick, on-the-go research. According to the National Association of Realtors, most homebuyers (97%) start their hunt online, and of those (76%), 72% use a smartphone or tablet device.
Who are the Major Stakeholders to Consider While Real Estate Apps Development?
Before jumping into real estate app development, let us check its significant stakeholders.
Realtors/brokers act as go-betweens for buyers and sellers. Agents may be less in demand than they once were. However, the National Association of Realtors reports that 87% of American homebuyers still use them, even when they begin their search online. People still benefit significantly from having expert guidance when making life-altering financial choices, and realtors are well-positioned to provide this. These professionals may automate their mundane chores and have easier access to their clientele with dedicated applications.
Landlords fall under the category of "property managers." Managers of rental properties can have various responsibilities, from pricing and upkeep to tenant recruitment and problem resolution. They may streamline their process and get in touch with renters more quickly by using specialized mobile applications.
Those in the market who are looking to buy and sell the property by themselves. As a result, many have turned to real estate mobile apps as a convenient and up-to-date resource for learning about what is currently for sale or rent in their area.
Time is saved by more precise searches and the opportunity to pre-evaluate a home or apartment before seeing it, both of which are made possible by the site's flexible filtering options.
Engineers, architects, technologists, contractors, and everyone else are needed to build something or get something built. These people choose specialist applications since they streamline their regular tasks, provide a unified project management method, and compile all relevant data on the construction industry in one location.
Those who want to sell a property are known as sellers. With the correct maturity and ingenuity, utilizing an app to sell real estate may be quick and easy. First of all, in real estate, apps let agents showcase the greatest features of a listing. You can't understate the importance of good visuals in marketing. Second, sellers may stay in contact with numerous interested buyers thanks to the app's in-app messaging feature.
Key Reasons Why You Should Develop a Real Estate Mobile App.
A convenient, portable, and user-friendly digital tool, a real estate mobile application would put you ahead of the curve in this competitive environment.
You Can Have Better Customer Engagement & Can Gain Rapid Sales

The agents may speed up deals by utilizing specialized real estate mobile apps. An agent, for instance, may use his company's app to broadcast announcements about ongoing promotions.

In response, customers using their mobile app will be thrilled to benefit and act quickly to seize an opportunity before physically arriving at the appropriate property spot.

You Can Have Fast And Scalable Business Expansion

No one would be uninterested in the success of any firm, real estate or otherwise. Previous forms of interaction were insufficient. If you have the top property-searching app, you may reach more potential buyers at any time, no matter where they may be, and it will help your company grow quickly.

It Works As a Great Marketing Tool

A real estate agent may benefit from using a mobile app as a promotional tool because of how accessible it is. Users are constantly looking for the greatest alternatives, so packing your app with useful features like social network integration, alerts, and bargains on new houses is a way to attract downloads and turn it into a promotional tool.

You Can Build Your Business & Brand Identity

Creating a brand identity that is easily recognized is crucial for the success of any company. Accordingly, to achieve the same results, your software must be interesting enough to get more customers to download it. You may get back on track with the image of your real estate company by using a custom mobile app.

You Can Facilitate Customers With 24×7 In-App Communication.

The introduction of real estate mobile apps has provided us with several convenient new alternatives that make the formerly time-consuming process of finding a new home much more manageable.

People may contact realtors anytime with the convenience of real estate mobile applications. More importantly, the applications provide real-time data and analytics to facilitate the monitoring of their campaigns and subsequent rapid decision-making.
Types of Real Estate Apps
Real estate applications exist in numerous forms, the most obvious being those that facilitate transactions (buying/selling) and rentals (renting/leasing). Use our list as a starting point for brainstorming new project ideas or refining an existing one.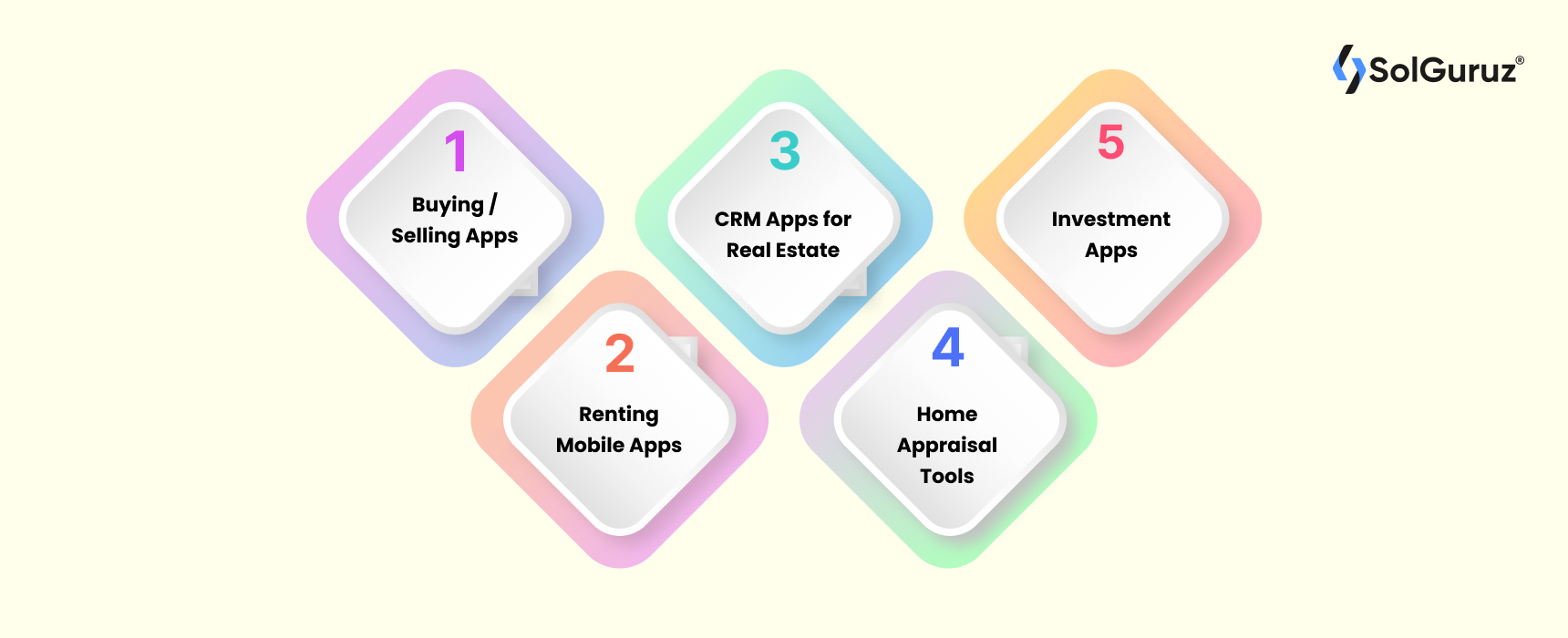 Buying/Selling Apps

As the name suggests, this is the most frequent real estate app. Most of them are MLSs, or multiple listing services, aggregating data from several real estate agents.

Home sellers and real estate agents may advertise their deals to a broader audience, and purchasers can browse all the listings in one convenient place.

They can locate one another using specialized search tools like geolocation, area descriptions, and picture uploading. The parties meet face-to-face, with or without real estate brokers present, and reach an agreement.

Renting Mobile Apps

A mobile rental app is a tool that facilitates the search for short-term or long-term accommodations for business or leisure travel. It's simpler for customers to locate the appropriate lodging if the app provides filters by location, price, and amenities.

CRM Apps For Real Estate

Real estate customer relationship management (CRM) applications help real estate companies and their customers (buyers or renters) work through any problems that may arise during the business. The goal of customer relationship management (CRM) software is to enhance customers' satisfaction with a company by maintaining open lines of contact with them, considering their opinions and suggestions, and meeting their needs.

Home Appraisal Tools

Home assessment apps and other home valuation tools provide estimates of property values. When selling the property, the owner might utilize them to determine a reasonable asking price. The calculation considers the home's square footage, age, and location.

Investment Apps

Real estate investment is a common source of passive income, and smartphone apps make it simple to get started. Users may make investments in physical land parcels in as little as a few minutes. An investing app for mobile devices may aid individuals with decision-making, risk assessment, and tax planning. You may add many features to your application, such as auctions, trusts, and crowdfunding initiatives.
How Real Estate Mobile Apps Can Increase Business Profits?
With the help of a real estate mobile apps development company like SolGuruz, we ensure that the resulting app will be a robust sales and promotion tool for your company.
We recommend that while developing real estate apps, you prioritize your users' needs first and foremost by incorporating accessible and versatile mobile tools and features. Creating a unique mobile app aims to increase interest in your real estate business, keep your current clients happy, and find new ones.
Let's examine how creating a real estate mobile app boosts your company's future success.
An Enhanced Customer Experience Can Help Establish A Solid Brand Image.

Thanks to real estate mobile app development efforts, customers may see listings without leaving the comfort of their homes. To ensure your mobile app's property listings are as helpful as possible, consult a real estate mobile apps development company.

Make sure that the mobile app can quickly access details such as pricing, site photos, and location. Consequently, users may rapidly browse properties that fit their needs and budgets by entering such parameters into the app on their mobile devices.

Furthermore, due to the specificity and refinement of real estate mobile app users' queries, you may anticipate reaching your target market more quickly. By doing so, you may avoid interaction with most potential buyers who visit your home's listing.

In addition, real estate apps include an enterprise administrative backend that offers a dashboard with a sophisticated reporting engine, allowing for a web and mobile view of data and analytics. Businesses may then develop a plan based on a thorough understanding of client needs and preferences.

Remember that your clients will only remember your brand if you provide them with something special. Real estate mobile app development that emphasizes client customization may give your company a distinct character in the marketplace and set it apart from the competition.

Your Real Estate Chances Might Improve with the Help of Modern Technology.

Several firms that create apps for mobile devices are starting to focus on Augmented Reality (AR). By superimposing a digital representation on top of the actual environment, augmented reality (AR) may be a powerful tool for developers creating mobile apps for the real estate industry.

Take the case of a client who wishes to remodel a particular piece of real estate as an example. Using augmented reality (AR) in your real estate mobile app development, you may take your clients on a virtual tour of the refurbished property instead of just drawing out a 2D design.

Customers may change the trip to their liking and evaluate the offered plan based on the results.

Customers may get up-to-the-minute information on remodelling and property tools with the help of the real estate mobile app's full specs. More property viewings and higher conversion rates may be achieved using cutting-edge real estate mobile app development features.

You Can Close More Deals At A Faster Pace

Just because your real estate company's mobile app is fun doesn't mean it's good enough. Building an app requires careful planning to ensure that company goals and consumer needs are aligned.

Building a real estate mobile app allows you to give out free bonuses like discounts and bonuses to clients. With push notifications, customers may be kept abreast of all the latest happenings in your business, including sales, new developments, and real estate listings.

The EMI calculation is a crucial part of any real estate enterprise. Include a mortgage and loan calculator in your real estate mobile app; even the most basic features may increase the likelihood of making a sale.

Rather than relying on a calculator, prospective buyers may rapidly choose any home by calculating their monthly payments using the real estate mobile app.
Do You Need an Ultimate Solution For Real Estate Mobile Apps Development?
Finding a real estate mobile applications development company with a fresh perspective and extensive knowledge of the industry's evolution is essential if you want to build your apps.
Here at SolGuruz, we know it's essential for your real estate mobile apps to use cutting-edge innovation so you can respond swiftly to market changes and the requirements of your target audience.
We follow the rapid creation and release of custom real estate mobile applications for Android, iOS, and the Web. If you work with SolGuruz, you'll never have to worry about missing out on another potential customer.
FAQs
How Much Does it Cost to Build a Fully-Functional Real Estate Renting App?
The entire cost of designing and developing a real estate renting app depends on the resources, development tools, and number of hours required for building an app. Hence, it can vary as per the size of the application and the time required to complete the app development process.
Can I expect seamless maintenance and support post-development?
Depending on the contract that you have signed with us, you can expect maintenance and support communication.
How many hours does it generally take to build a real estate app?
Depending on the type of application development framework, the hours are estimated. We can assume somewhere around 500-800 hours for developing a fully-functional real estate app.