Ready to do business with us?
The real estate industry has long been a reliable source of income for developers. Still, it may be difficult for homebuyers to obtain fair offers. Spending six figures on a single contract is not a choice you can make lightly. Real estate mobile apps speed up the paperwork and payment processes while assisting customers in resolving their problems while purchasing real estate.
Millions of people use real estate apps every month because they are helpful for quick, on-the-go research. According to the National Association of Realtors, a whopping 97% of prospective buyers start their hunt for a new home online, with 76% of those using a smartphone or tablet device.
With the help of smartphone real estate mobile apps, you may carry an extensive catalog of residential and commercial properties. Buyers, renters, and investors may all profit from them since searches can be narrowed down based on factors such as proximity to desired amenities, desired price range, and more. This is why real estate application development is taking the world by storm.
Overview of What are real estate mobile apps?
Generally speaking, real estate apps may be considered a platform with various tools where real estate agents and brokers can advertise available homes for sale or rent and where prospective tenants and purchasers can be located.
Together, it provides filters such as property type, location, amenities, price, etc., so users can extract relevant searches.
As a bonus, thanks to Google Maps, you can look around the area relevant to your search and see what it looks like from any angle.
This adds a lot of interactivity for the users and fosters the development of platforms and suppliers for new businesses. Thus, it is now vital for any real estate app developer to provide a wide range of functionalities with custom mobile app development.
7 Real Estate Mobile Apps That Are Making Good Sales
We looked at 7 real estate applications and compared them based on ease of use, search functionality, inventory depth and accuracy, and quality of customer service. For your convenience, we have compiled a list of the top-rated real estate applications with their features.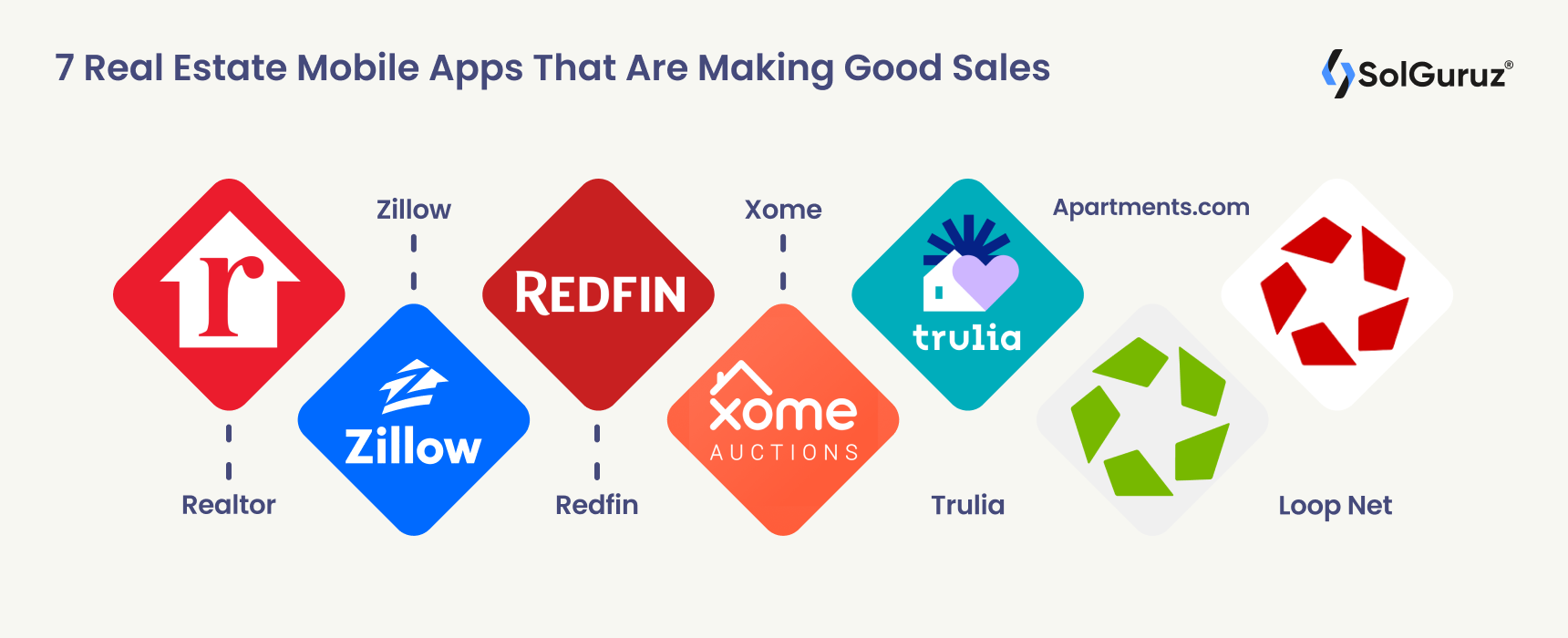 Realtor

Realtor is associated with the National Association of Realtors. Updating their listings makes finding good renters a boon for landlords.

The Realtor app is the most excellent option for landlords since it displays the latest update time for a rental property, which is very useful for renters seeking the most recent information. Information about nearby schools and noise levels is also included.

Many people use an app like Realtor since it is designed just for them. When you factor in the sheer volume of renters using the app plus the fact that landlords may post rental listings and get applications at no cost, it's easy to understand why we picked Realtor as the top rental app.

The real estate mobile app showcases available rentals through photographs and, in some cases, video tours, allowing landlords to show off their houses to potential renters before they ever set foot inside. The Realtor app is ad-supported, so users don't have to pay to use it.

Pros

An individual's ability to obfuscate a listing from their search results
Easily navigate to a variety of nearby rental options
Indicates the time since which the listing has been updated
Listings now provide noise surveys of the surrounding area.

Zillow

Zillow's app is the finest in class due to its extensive feature set. Zillow has the unique monthly visitors of any U.S. real estate website. Sharing a potential rental with a partner or roommate is one of its time-saving perks. It also allows prospective tenants to jumpstart the application process with little delay. The program meets nearly every possible demand or requirement of the user.

You may post your apartment for sale, rent, or lease, take a virtual tour of available units, and get in touch with local real estate professionals on Zillow. Zillow also allows users to access video tours and images of available properties. The app also allows users to subscribe to property update alerts.

Listings for houses, apartments, land, and other real estate may be found in multiple listing agencies, on private websites, and in newspapers.

Zillow does not charge any fees to either buyers or sellers. The software makes money primarily via realtors paying for advertising and leads generating. Zillow is the most comprehensive option since it has the most listings, the most flexible search options (including filters tailored to apartment hunters), and other useful features (including the ability to save searches and share them with others).

Pros

Advantages Over 135 million households can connect
Access Zillow-owned homes via the app.
Detailed search and filter options
Descriptions of individual tenants

Redfin

The name "Redfin" may be used in two distinct ways: as an app or as a real estate agency. It provides a wealth of information on the property being viewed, including surrounding properties, open houses, schools, top-down maps, condos, and much more.

Several useful functions, such as alerts for impending foreclosure, regularly updated listings by the owner, a tool to modify short sales, etc., are included. The estimated values it provides for houses are also more reliable than those offered by competitors like Redfin.

Therefore, more than half of online real estate searches begin with commercial real estate services. At the same time, another quarter starts with a search engine. Every ongoing real estate search necessitates a feature that conveys the notion about the houses in the neighborhood and the projected price for your pick.

There's little question that Redfin-style real estate application development has to take advantage of applications that meet the high standards of today's consumers. In the same vein as a shopping app, you can create a wish list of the homes you prefer by touching the love button. The services of redfin Agents are now only offered in 90 cities throughout the United States.

Pros

Personalized searches
The accurate valuation of real estate
Mortgage, property tax, and insurance are computed.
Xome

If you're looking for a real estate site to help you find your dream house quickly and easily, go no further than Xome. It bundles together several functions or instruments to make the user experience seamless.

Xome Zoom, one of the greatest features, allows users to "zoom in" on their search by a variety of criteria, including the sort of home they're looking for, the schools in the area, the square footage, the number of bedrooms and bathrooms, the price range, and more.

In addition, Homes Only gives users a chance to get a bargain on foreclosed, short-sale, bank-owned, and regular house listings. At the same time, Xome Concierge puts them in touch with an agent who visits the property at their convenience and answers their questions.

Consequently, all real estate application development companies must consider a comparable structure when creating applications like Xome, which effortlessly provides its consumers with the ideal alternative and all the needed facilities or features.

Pros

Prominent among auction property databases
Obtaining Property Before Auction
It has the same set of capabilities as the website.
In the event of a competing bid, you will get a notice through push.
Electronic signature capability inside the app


Trulia

Trulia was chosen as the top home-valuation app because it gives users the most data about the factors that affect property prices.

Home valuations and other data are derived from Zillow's databases; however, the site's layout differs from Zillow's.

The service provides several perspectives from which to examine a given property. The property, local shops and restaurants, schools, transportation options, and demographics of the area may all be a concern. Trulia and Rent Trulia are two applications that allow you to do tailored house and apartment searches, respectively.

If you're interested in demographics, the app can show you what the residents have to say about parking availability and safety for nighttime strolls. Unlike its competitors, Trulia uses various data sources to arrive at its home value estimates, including local assessments, comparable sales of similar houses in the area, and price patterns over time. Their predictions are usually within 20% of the final price.

Pros

Information on local areas, schools, and businesses
Notifications of newly listed properties
This platform offers pre-approved funding and calculators.
Draw on the map with your finger to personalize your searches.
Each property listing has a link to the listing agent

Apartments.com

Apartments.com is the go-to spot for renters since it has listings for over 1.1 million apartments and houses, along with stunning photos that provide a clear picture of the amenities each building has to offer.

The CoStar Group (CSGP) has controlled Apartments.com since 2014. The website was launched in 1992.

CoStar analyses and ranks the leading commercial real estate firms in the United States. Apartments.com has benefited from this partnership because of the extensive research team it has provided, and the high quality of the photographs and videos included with each listing.

Most of the app's income comes from in-app purchases and advertising costs, amounting to as much as $29 per ten uses each month. The combination of Apartments.com's extensive listings for apartments and rental houses, condominiums, and townhouses, plus the app's user-friendly "apply now" button, earned it the title best for renters. We found its search and sorting features more robust than competing applications.

Pros

Apartments.com also lists single-family homes, townhomes, and condominiums.
Using the "Apply now" button within the app, you may submit your application directly to the landlord or property management.
Wheelchair access, climate control, dishwasher availability, and washer/dryer in unit vs connection status are some available search options.

LoopNet

Google Trends data reveals a 60% increase in commercial real estate-related internet searches since 2008. LoopNet claims that it has more users, listings, and geographic reach in this space than any other commercial real estate app marketplace in the United States. Brokers and organizations in the retail real estate sector have recognized the pervasive impact of LoopNet, given the present condition of mobile use in general.

In addition, the feature-rich app needs to hire specialized app developers who can support the incorporation of relevant elements.

It lets customers examine a property with detailed images, financial data, street views, and other features and apply filters to narrow down their search results.

LoopNet gives a big nod to the importance of images and online information, including real estate agent contact details, virtual tours, and photos.

Pros

Users may get in-depth views of the available homes via photographs, videos, neighborhood statistics, street views, investment highlights from the broker, and full property details.
Extensive search parameters for houses for sale or lease
Alerts indicate when your preferred properties have been modified.
You may contact the listing agent with a single click.
Wrap Up
Because the real estate sector is predicated on trust and exceptional consumers, the real estate app development firm maintains creating applications for the local market.
The following selection of applications was developed based on a global survey of app stores and features those currently enjoying the most popular among real estate professionals.
If you're a company owner or broker. In that case, you can also try contacting the real estate application development company to have your fantastic app created, which will allow you to reach a larger audience with fewer efforts.
Choose the greatest app concept and leave the rest to SolGuruz (Top rated custom mobile app development company).
FAQs
What Factors Influence Real Estate Apps' Evaluation of a Property?
Apps in the real estate industry do a CMA (comparative market analysis) to ascertain an asset's worth. These applications employ state-of-the-art technology to monitor and import data such as market tendencies, geographic area, neighborhood, property condition, tax records, and recent transactions in the immediate vicinity. Once this is done, the app examines specifics about the property, such as the number of bedrooms and bathrooms, the size of the porch, the presence of parking, gardens, and pools, and so on. The app will then look at comparable local sales to see what has recently sold.
Can You Trust a Real Estate App?
Since their inception, real estate applications have been plagued with accuracy problems. Even while real estate apps have become more popular and have mostly replaced traditional property search methods like newspapers and visits conducted by real estate agents, these applications have faced difficulties with accuracy. Because they trawl existing databases on the internet, apps provide access to far more properties for buyers, tenants, and investors. A database's inaccuracies will be carried over to the app if they exist.