Ready to do business with us?
The real estate industry has long been a reliable source of income for developers. Still, it may be difficult for homebuyers to obtain fair offers. Spending six figures on a single contract is not a choice you can make lightly. Real estate mobile apps speed up the paperwork and payment processes while assisting customers in resolving their problems while purchasing real estate.
Millions of people use real estate apps every month because they are helpful for quick, on-the-go research. According to the National Association of Realtors, a whopping 97% of prospective buyers start their hunt for a new home online, with 76% of those using a smartphone or tablet device.
With the help of smartphone real estate mobile apps, you may carry an extensive catalog of residential and commercial properties. Buyers, renters, and investors may all profit from them since searches can be narrowed down based on factors such as proximity to desired amenities, desired price range, and more. This is why real estate application development is taking the world by storm.
Overview of What are real estate mobile apps?
Generally speaking, real estate apps may be considered a platform with various tools where real estate agents and brokers can advertise available homes for sale or rent and where prospective tenants and purchasers can be located.
Together, it provides filters such as property type, location, amenities, price, etc., so users can extract relevant searches.
As a bonus, thanks to Google Maps, you can look around the area relevant to your search and see what it looks like from any angle.
This adds a lot of interactivity for the users and fosters the development of platforms and suppliers for new businesses. Thus, it is now vital for any real estate app developer to provide a wide range of functionalities with custom mobile app development.
7 Real Estate Mobile Apps That Are Making Good Sales
We looked at 7 real estate applications and compared them based on ease of use, search functionality, inventory depth and accuracy, and quality of customer service. For your convenience, we have compiled a list of the top-rated real estate applications with their features.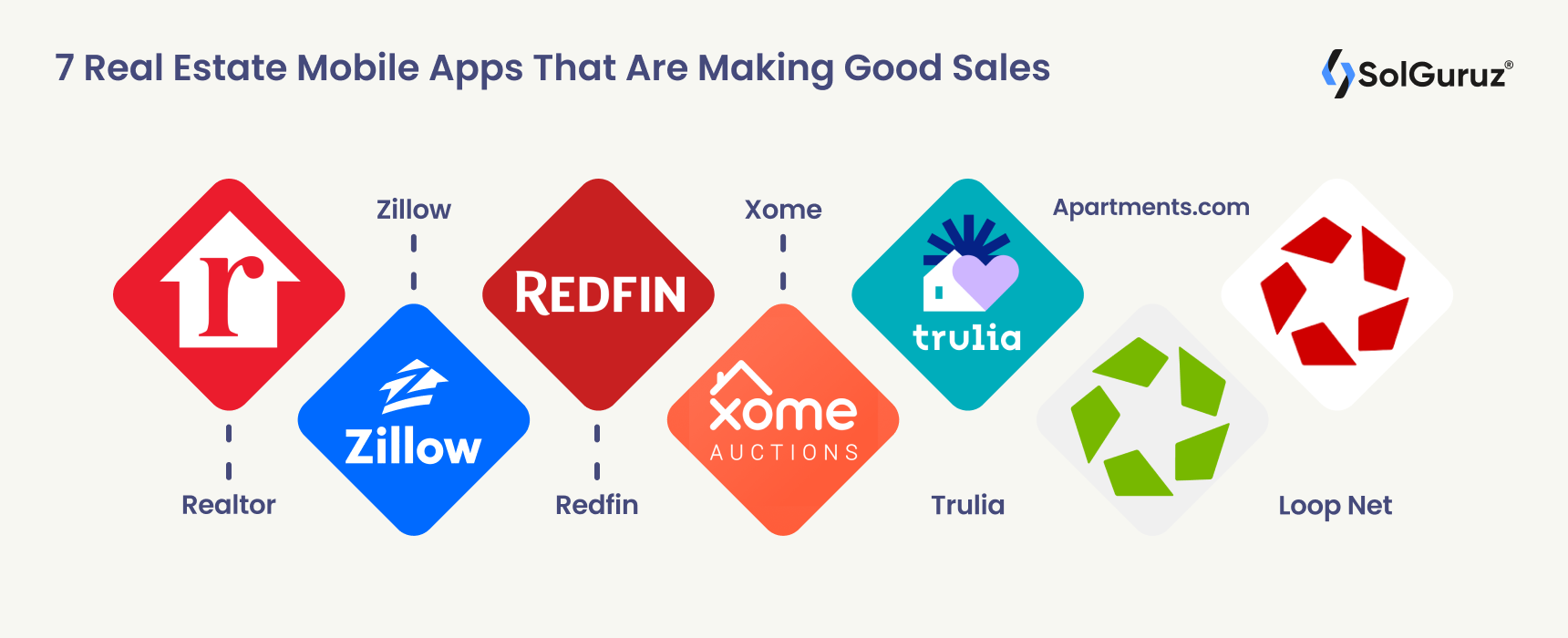 Wrap Up
Because the real estate sector is predicated on trust and exceptional consumers, the real estate app development firm maintains creating applications for the local market.
The following selection of applications was developed based on a global survey of app stores and features those currently enjoying the most popular among real estate professionals.
If you're a company owner or broker. In that case, you can also try contacting the real estate application development company to have your fantastic app created, which will allow you to reach a larger audience with fewer efforts.
Choose the greatest app concept and leave the rest to SolGuruz (Top rated custom mobile app development company).
FAQs
What Factors Influence Real Estate Apps' Evaluation of a Property?
Apps in the real estate industry do a CMA (comparative market analysis) to ascertain an asset's worth. These applications employ state-of-the-art technology to monitor and import data such as market tendencies, geographic area, neighborhood, property condition, tax records, and recent transactions in the immediate vicinity. Once this is done, the app examines specifics about the property, such as the number of bedrooms and bathrooms, the size of the porch, the presence of parking, gardens, and pools, and so on. The app will then look at comparable local sales to see what has recently sold.
Can You Trust a Real Estate App?
Since their inception, real estate applications have been plagued with accuracy problems. Even while real estate apps have become more popular and have mostly replaced traditional property search methods like newspapers and visits conducted by real estate agents, these applications have faced difficulties with accuracy. Because they trawl existing databases on the internet, apps provide access to far more properties for buyers, tenants, and investors. A database's inaccuracies will be carried over to the app if they exist.