Ready to do business with us?
In the modern era, mobile apps have become an integral part of our daily life. Discover the essential features for a real estate mobile app to ensure a seamless user experience.
Imagine life ten years ago. People did have mobile phones, but one could use them for calling purposes only. Nowadays, we will not find a single phone with no apps. Mobile apps cover a large area of our day-to-day life. We are indeed surrounded by technology and digitalization. The digital world has moved up so much that everything comes under one click now.
How About Buying a Property?
Property searches have become so easy with the help of Real estate mobile apps. Buying property online or selling it all is possible under one roof through a mobile application. Mobile apps have extended everywhere, and when it comes to real estate, there are several available apps nowadays.
Features For Real Estate Mobile App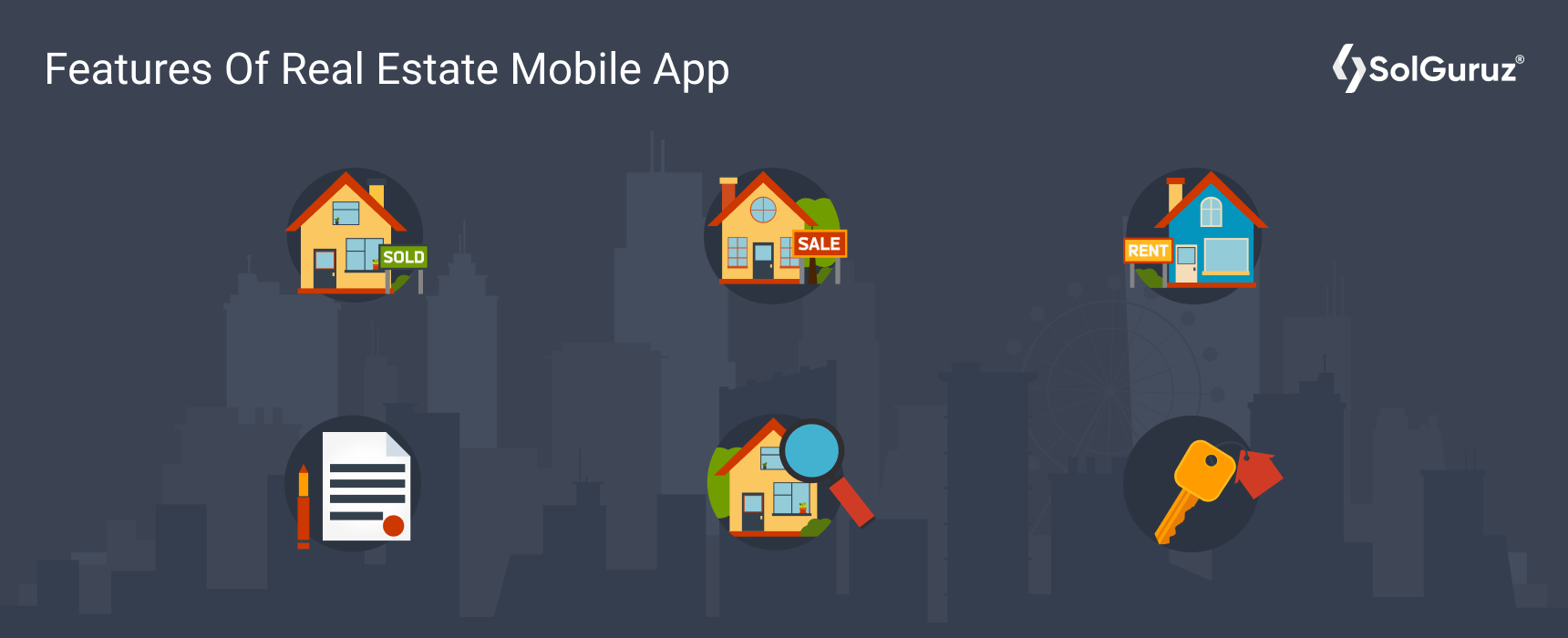 What do we exactly want when we reach out to applications? What are our exact expectations from an app dealing with property searches and real estate? Let us see some of the features that a real estate mobile app must-have. It is not possible to include all the features in one particular app but let us see some of the features that should be there in the apps.
User Onboarding

The must-have feature for any mobile app is the user-friendly interface. If mobile app development companies cannot provide a simplistic, user-friendly interface, no one will ever download and use it. Hence it is imperative to have an interactive and easy app that helps customers. Let us see what exactly user onboarding means.

Real estate mobile apps first and foremost target is onboarding customers. This means the first target of any app should be its availability and more accessible downloads.
The real estate mobile app company should make their app available in the play store for android users and in-app store for Apple users.
After the successful downloads, the mobile apps ask users to log in or signup.
For first-time users, it is essential to sign up as the first step; they have to fill in certain details.
These details include their name, age, contact number, and email id.
The mobile app asks you whether you want to register as a buyer, seller, or tenant. Once you choose your criteria, you are redirected to the next page, where some more details are asked.

The application interface changes for each customer.

If you are a buyer, then the app asks specific questions.

Questions asked for a buyer are as follows:

What kind of property are you looking for? Whether you want a residential or non-residential property.
What is the size of the space you need?
What is your budget?
What is the choice of the area?

If you are a seller, then the app asks the following questions.

Questions asked for a seller are as follow:

How do you want to list your property? Whether it will come under commercial property or residential property.
The size and area of the property.
It will ask you to upload pictures if any.
Price at which you are listing the property.

If you are a tenant, then the app asks the following questions.

Questions asked for a tenant are as follows:

What kind of property do you need?
When do you need the property?
How long are you planning to stay?
What is your budget?

These are some basic questions that every real estate mobile app will ask you as soon as you download the app. They will use these questions to onboard their customers.

Listings and Database

This feature is another prominent feature that every real estate mobile app must have. The listing includes the properties that are listed under the same mobile application. The properties that are listed come under several categories.

Buying Properties

If you are listed as a buyer, then the mobile application will only feature properties listed by sellers. Once a customer logins as a buyer, they can see all the details of the properties, contact directly with the seller, negotiate and even visit the property that he likes. This section also includes property details such as the area, the size, the budget, etc. This also shows the property images.

Selling Properties

If you are listed as a seller in the mobile app, you will have to list your property. The listing should be attractive so that it catches the attention of the buyers. The sellers should mention every detail about the property, including the area, the size, and the valuation. While listing the property, the seller should attach supporting pictures of the property and mention if he is looking for a buyer or a tenant for renting purposes. He must also mention the price at which he is listing his property and his contact details.

Tenants

When tenants are viewing the mobile app, they must mention their requirements and the availability they are looking for. They must also mention their budget and the tenure of their stay. The tenant must specify whether their requirement is for a residential or commercial space.

Database

A database is a storage place where all the information is stored. Every application has a database. Similarly, every real estate web and mobile application also has a database where all the customer's information is stored. What is the function of the database?

While every application has a database, there must be a valid database in use. There are several users of an application; hence it is a critical stage for the app developers to create a database for storing information.
The developers also use a particular language known as the structured query language or SQL to retrieve data from the database.
As soon as the customer enters the property's details that he is looking for immediately some search results are retrieved.
If we go beyond logic, this is it. The stored information remains in the database, and the SQL queries help to retrieve the perfect result for the perfect search.

It is very important for any application to build a robust database; real estate apps are no less. The real estate app companies hire an excellent team of engineers and expert app developers who help them with a strong foundation for their app. A mixture of suitable hardware and an excellent software team is really needed to build an excellent mobile application.

Filters and Categories

This feature helps the real estate app have different filters and add different categories. Let's see the difference between the filters and categories of a real estate-based mobile app.

Filters

Any app requires to have filters where customers can filter their search, and helpful something that matches their requirements comes up. The filters every real estate app must have are:

Choice of the area- the location where the property is situated.
Budget- this counts as the maximum and the minimum fund you can spend on the property.
Size of the space- the square foot or the specifications of several rooms.
Type of property- residential or non-residential.
Amenities included or not. Amenities such as a playground, swimming pool, gyms and many more. These are some of the amenities to look for in a residential property.

Categories

We have already seen what comes under the filter. Let us see what comes under categories in a real estate mobile app. These categories narrow down your search and help you find the perfect and the best property.

Residential

Housing Societies- societies means a combination of 10-12 floor buildings.
Housing complexes- complexes refer to buildings with more than 20 floors of space.
Individual house- small one or two-floor houses.
Standalone building- apartments with a maximum of 6 floors.
Standalone flats- flats that do not belong to any society or complexes.
Villas-individual staying purpose mostly 2-3 floors with private pool and garden.
Row houses- duplex houses for a family.

Non Residential or commercial

Commercial buildings- the entire building rents out to offices.
Commercial office spaces- one particular floor in a residential; space which is given to an office for its setup.

Rent
Buy
Sell
Mixed use-for both renting and selling.
Industrial
Agricultural
This segment has shown the difference between filters and categories that every real estate mobile and web application must have. Nowadays, almost every real estate app comes with this feature and helps its users with a perfect user-friendly interface. The mobile app must have these features to help its customers. Having such features will help the application and its users and differentiate the application from others.
Property Profiles

This segment shows another important mobile app feature, a must-have for any successful real estate mobile application. Property profiles are essential thing when you are doing a property search. It is imperative to know the profile of any property before you choose. What comes under property profiles?

A property profile comprises details and characteristics of the property, including ownership details and many more.
This also includes the transfer history of the property. For example, if the property was transferred to the current owner, then those details come along with the property profiles.
The plotted map and the comparison of the property also come under this segment.
The plotted map shows the entire structure and plan of the property. This is basically a blueprint of the property uploaded from the builder's side.

Mobile apps must bring these features as customers should know everything related to the property before finalizing it. Although this feature majorly helps buyers. As buyers, people should know every detail before purchasing any property. Tenants and sellers are not helped that much by this section. Yet every mobile application needs to have this feature and help the buyers build their trust in the information provided. The mobile apps must provide 100% accurate details in this section as it is vital, especially for buyers.

Favorites or Wishlist

Suppose you are looking for a property but immediately will not finalize it. Finalizing a property is a task that takes time to complete; it is not right to make quick decisions without considering other options first. Hence you need time and also if you want to consult with someone, including your family or friends or if you want to do thorough research on other platforms and then get back. What happens to the already seen properties? Next time you visit, you will have to search from the beginning or how it works.

Like most shopping platforms have a wish list where you can add your choice, and when you log in next time, you will be able to see your previous choices and decide. Similarly, every real estate app has a favourite tab that works similarly to a wish list. Once you like a property and click on the favourites tab, that particular property goes under your favourite section. Whenever you log in the next time, you will be able to see your chosen properties from your last visit under this tab.

Maps

This feature was first introduced in a few real estate mobile apps, and now it is an essential feature that most of the apps are introducing, helping customers and also gaining good user reviews for the apps. Customers are highly benefitted from the introduction of this feature as they separately need to check the locality or the distance of the property they searched. Everything comes under this feature.

What does this feature do?

Maps show the location of the property as you select it.
It also shows the nearby areas and basic amenities connected to it, like it shows how far the school or hospital is from this property.
It also shows the distance between the user and the property chosen by the user.
It tracks the user's distance based on the location facility of the user. Then, it accurately tracks the user's current location and calculates and shows the distance from the user's current location to the property's location.

Push Notification

This is a powerful marketing method, and to succeed in the long-run real estate companies must incur this in their apps. These notifications help you hold and stay on every customer's top priority list.

You can send push notifications to reach out to real estate companies' users or send important real estate industry-related news every time as real estate apps.
Companies can send notifications to their prospect users whenever there is a price drop for any properties they have searched for in recent times.
They can also notify their clients whenever any new property is listed in the app.
Push notifications work best with personalized messages. Along with basic push notifications, if a company messages to its users daily, it becomes easier for them to retain its customers.

What's Happening Around My Property

This is one of the most desired features in a real estate application since it is vital to users who want to know what's going on or near their property. For example, the app should provide thorough information about the property, such as images, descriptions, videos, price data, market trends, neighbourhood information, value proposition, news about that specific area/city, and so on. The majority of users select whether or not to buy a property depending on the photographs and videos provided on the application. In addition, the app should have the contact information of the property owner or agent in question.

Virtual Tour

Source: Hoa.org.uk

This particular feature type is entirely new to any system and is growing in popularity in app development. This mobile app feature gives buyers an incredible experience of a virtual walkthrough of the property. A 3D visit to your upcoming home is something every customer will prefer. Of course, uploaded photos and videos help the customers, but a virtual visit to the properties is something no one will beat up to. There is no comparison between a virtual tour and seeing a picture. Hence this feature is a must-have for real estate mobile apps nowadays.
Conclusion
To conclude, this article mentions all the must-have features that a real estate mobile app should have. These features make the search for a property hassle-free, and convenient and hence such apps are super easy for most users to work with.
If you want to develop mobile applications with the highest care, and flawless UI design, SolGuruz is the correct spot to go. We have a team of highly experienced professionals who can help you build flawless real-estate apps.
Real estate companies can use this as a checklist for them before launching the app. Also, clients can use this as a checklist for them after downloading any real estate app for searching for a property.
Real Estate App FAQs
How do you create a real estate app?
An app development company creates a real estate app. Any software company that creates an app can make a real estate app, but it is always advisable to go to an expert company that deals with only real estate apps.
Real estate app Development Company in India?
Any software company can make real estate apps, but if you want to go to someone who has domain knowledge and expertise in real estate apps development. Then, SolGuruz is a renowned solution in this field that you can trust for the service.
How much does it cost to develop a real estate app?
When designing a real estate app, development firms evaluate all aspects such as fundamental functionality, business strategy, advanced features, and technological stack. The cost of real estate applications may vary depending on various factors.
Which is the best real estate app development company?
SolGuruz is the top real estate app development company, with over ten years of industry expertise in a wide range of industries. With their combined experiences and created a one-of-a-kind method that adheres to our core values of deep expertise, dependability, integrity, and transparency. Furthermore, SolGuruz is the one-stop-shop for online and mobile app development.