Ready to do business with us?
Let us see in the article some of the most successful real estate apps in the US, India, and Australia. This article also tells how real estate apps work, the cost and labor required in building these apps, and much such information about real estate applications.
In today's world, we all are surrounded by technology and digitization. We have all moved digitally from finding the best food delivery option to searching for a good doctor. Everything has come under just a click, and why not when it comes to real estate. Searching for a real estate property has also come under digitization, and there are currently many applications that show us the best properties according to our choice.
Real estate apps
The apps focus on searching for a perfect property according to the choices that you have entered. Therefore, the apps work based on the choices you have provided, and the search engine optimization of each app accurately brings the list of properties that is best relevant according to the customer's need and entry.
Future of the real estate app
Presently, these apps have occupied a huge market space and have given tough competition to brokers. However, this article mentions only some of the companies that are the leading players in real estate app development. At the same time, there must be more sets of companies catering to the customers' real estate needs and providing solutions.
Also, as the number of companies has increased over the years, this industry's future looks bright.
In the world of competition, companies must provide the best solution in an affordable range and accuracy.
These qualities will help them stand amongst their other competitors. Hope this article will help you reach out to the best App Development Company and best application for your next property search.
Successful real estate apps in the US

Apps that help US citizens search property are mentioned in this segment article.
Zillow

Zillow is another leading marketplace for property search which has a global presence. They operate in India and are also known to operate across several countries, and even in India, their presence is witnessed in many cities, including both Tier 1 and Tier 2 cities.

The sale and rental listing help customers compare prices and finalize their properties. So what makes them a differentiator in the business? First, they have Zillow homes that refer to the complexes they have acquired fully for rental purposes. These are known as Zillow homes.

Trulia

Trulia is an American online real estate company that is a subsidiary of earlier mentioned Zillow. This app helps buyers and renters across the USA to search for a property. Founded in 2005, it has nearly 250 employees working and helping the company achieve a user-friendly mobile app interface.
Successful real estate apps in Australia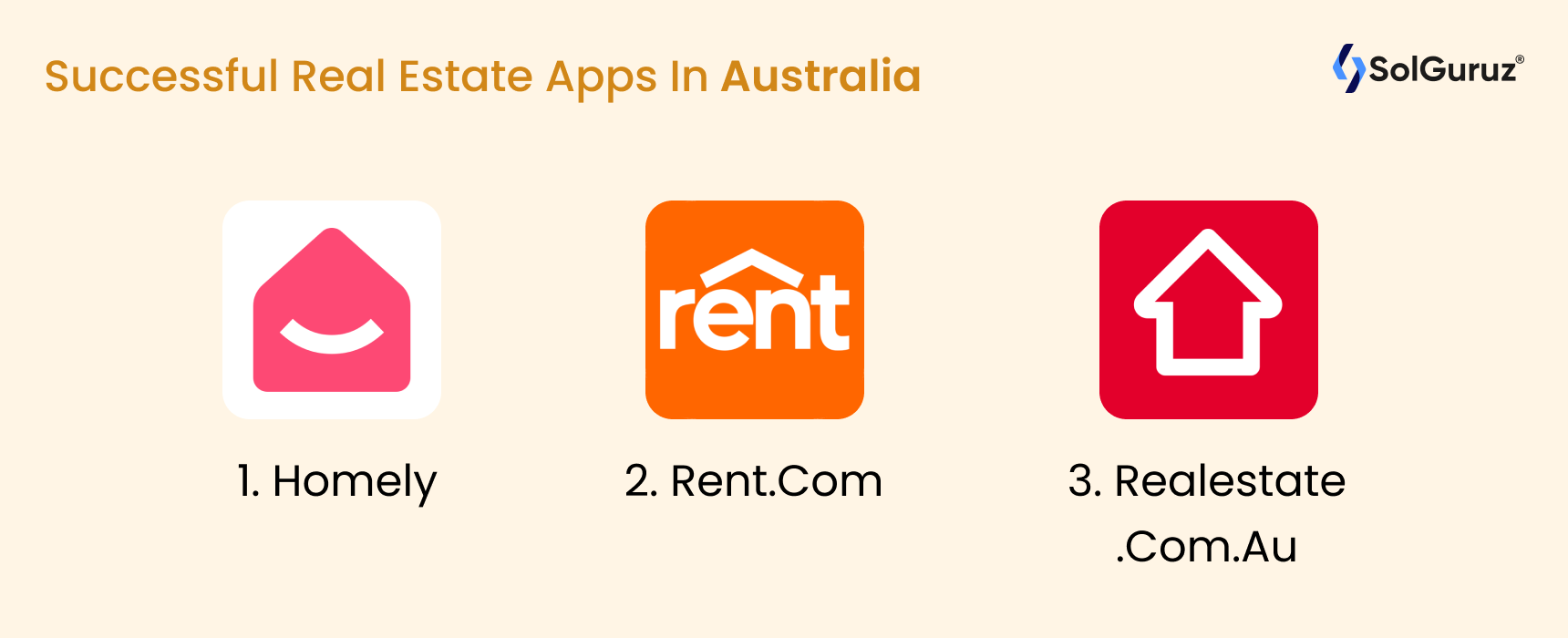 Let us see some of the Australia based mobile apps for real estate
Homely

An app that helps Australian citizens buy or rent a property. It also ensures you can customize your search according to filters like price, the number of rooms, and other specifications. In addition, this app allows you to add inspection and auction reminders. The major difference that this app brings is a "sold" tab. This tab shows all the properties sold recently with the auction feature. You also get to see the details of these sales.

Rent.com

This app is a little different from the other apps as it primarily aims at matching renters with available homes. This app helps renters to stay with landlords in their empty rooms. This app shows the properties that owners have listed for rent across Australia. This is basically for tenants and landlords.

Real estate.com.au

This helps users search for all types of properties across Australia. Users can search for property to buy, rent or sell. You can also contact agents through this app. There are many search filters in this app, including location, number of rooms, price range, and many more. You can also save properties for future use in this app. The app alerts you about any changes in the status of those properties.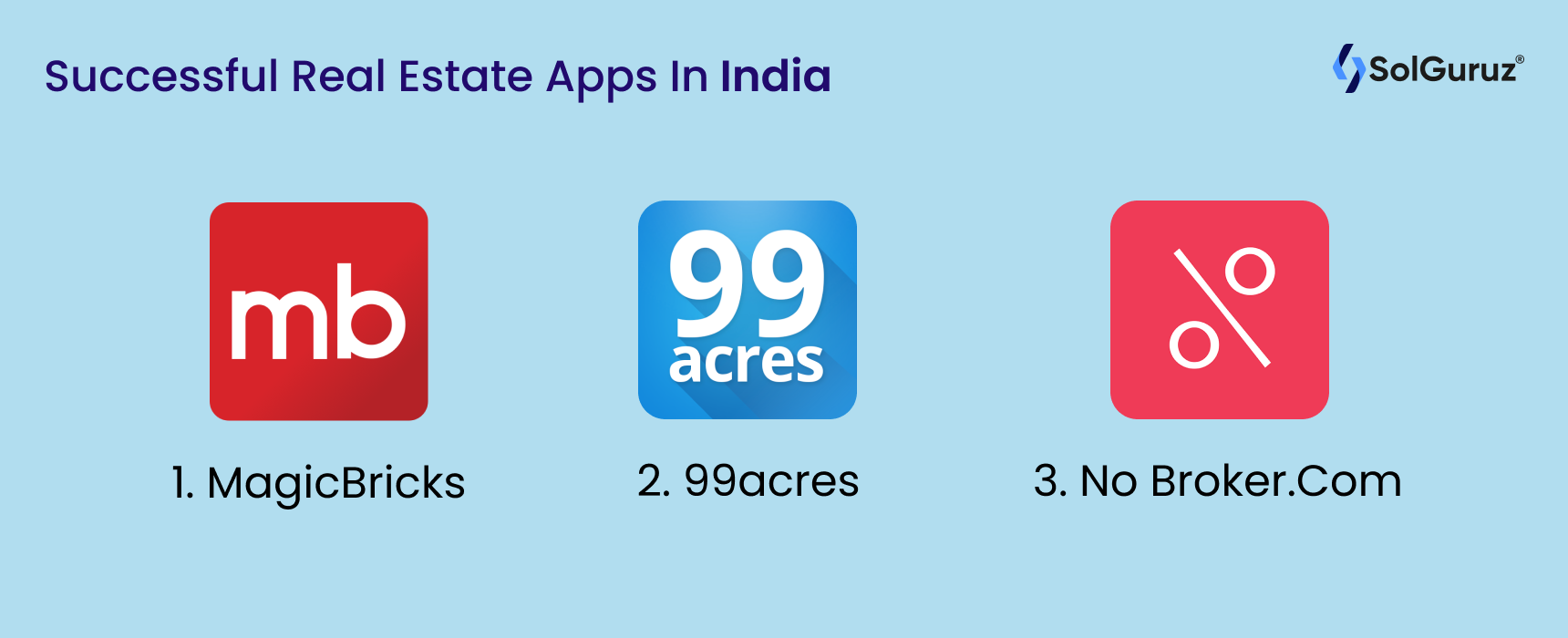 Successful real estate apps in India
This segment brings some of India's famous and successful real estate apps. These apps have outperformed and have made a name for themselves.
MagicBricks

This mobile application was launched in 2006 and has become India's no one nonstop solution for property search. It has grown into one of the biggest marketplaces for property where you can buy, sell, and rent residential and commercial properties. Functional in almost 40 cities across India, MagicBricks have brought a revolution in real estate business development.

This mobile and web-based app gives customers a search for any kind of property. So even if the customer has a residential or a commercial place he wants to give on rent, he can easily list the properties in this app.

All he needs to do is write details about the property, its specifications, price range, and some pictures and post them in the app. This marketplace gives both buyers and sellers a chance to come together and do business.

Buying and selling a property using MagicBricks is useful, and you must have seen their success stories so far. The app allows one to buy or sell properties and provides equal assistance for renting properties. Both owners and tenants come together in order to reach a successful deal in renting out spaces. This also includes renting out PGs as well as commercial and residential places. This mobile-based real estate application has been known for helping clients for a long time now.

99 acres

Launched early in 2008, this app helps customers buy, sell or rent properties. In addition, they help customers to manage their listings and connect to the sellers and buyers with just a click. Currently, over 8 lakh properties are listed under this application, with an overall 60000 and above customer base.

Everyone comes together in this marketplace, starting from real estate owners to brokers to buyers and sellers. Operating nearly across all metro cities of India, they have started moving globally, marking their presence across the globe.

They come with a special feature of listing high-demand projects and handpicked projects for customers, which you can view as soon as you log in.

The high-demand projects are the ones that are most searched in their apps by viewers, and the handpicked projects are some of the finest properties that are trending and come as a suggestion for you when you decide to search properties through this mobile app.

No Broker.com

As the name suggests, this is one of the few platforms or apps that do not charge any brokerage. Brokers are not welcome in this marketplace, giving customers a free brokerage platform for their property search. This is another famous real estate app that is widely used across India. Operational in almost every city, this mobile app is known to occupy a large market share. Standing hard against the competitors, this app is doing good.
Let's see how SolGuruz can help you build a successful real estate apps
Come and build your next real estate app with SolGuruz. They provide a wide area of services that include:
Mobile application development
Web development
Developing UI Prototypes
Enhancing User experience designs
Project management
Quality Assurance
They employ senior developers having more than ten years of software development experience. Moreover, their developers use best industry practices and modern solution designs to build a successful real estate application.
Their development approach utilizes the agile methodology framework's collaborative and iterative approach. Some characteristics of using the agile approach in developing an application include:
Integration and Iterative delivery: They continuously integrate all software components using an iterative delivery model. It ensures the product is stable with the least number of issues. The approach mainly focuses on continuous development in sprints with an enhanced prototype.
Coding reviews: Their developers perform frequent coding reviews to ensure code scalability and quality. Having performed code reviews would help you easily in adding up more features in the future, the reason being is code quality and code scalability since code is very well maintained. These reviews are user-centric and focus on live working scenarios.
Requirement gathering: Requirement gathering is fundamental to any web and mobile application development. Their experienced team can collaborate with clients to understand the business requirements and propose unique solutions which are both user-friendly and cost-effective.
UI/UX designing – Each development version of the application will result in a prototype. The prototype is exhibited to their clients for reviews and feedback. However, they also focus on the user community and look at what their users feel about the products. Enhancing the user experience is one of their prime approaches employed during mobile or web development.
We at SolGuruz utilize certain tools and software practices to follow the above approach.
Delivery Model and Agile Methodology – These classify their products as scalable, provide assurance and help achieve business continuity. In addition, their delivery model focuses on areas that include:
Understanding business requirements
Developing a prototype based on initial requirements. It is also referred to as wireframing.
Considering all kinds of UI/UX strategies for building robust software.
Using quality coding techniques and ensuring proper coding reviews are in place.
Using an iterative approach for continuous integration and development.
Undergoing rigorous quality assurance employs unit testing, business testing, user acceptance testing, and regression testing.
Delivering solutions on time with minimum delay.
Providing after-sales support and maintenance procedures.
The agile solutions are more robust, secure, UI friendly, and scalable design. Latest frontend technologies like React.Js, NextJs, VueJs, Angular, Flutter, etc., are utilized to power the web and mobile application and increase its interactive user capabilities. In addition, they offer a collaborative approach and work remotely with businesses for operational efficiency.
If you are looking to build a successful real estate app for your business, then SolGuruz should be your ultimate solution.