Ready to do business with us?
Buying and selling property was a daunting task 10 years back. If you wanted to buy or sell your property, you needed to hire a real estate agent or agency. It was primarily the agent's responsibility to inspect residences that were up for sale or rent and arrange for potential buyers to see the available homes.
But thanks to advanced technology, we can now buy, sell and even tour the property virtually on our smartphones. Yes! With the help of a real estate app – everything is possible.
According to "Real Estate in the Digital Age: 2019," over half of all purchasers begin their search for a property online. Most of these internet users are either elder millennials (98%) or boomers (89%). Sixty-eight percent of millennials and younger boomers discovered their homes using a mobile device.
Most first-time homebuyers in the United States are millennials, so catering to their preferences is a no-brainer.
It's important to break down the components of successful real estate apps like Trulia and Zillow before attempting to create your own. Let's find out in this post what it takes to create a successful real estate app.
What Does Zillow App Offer?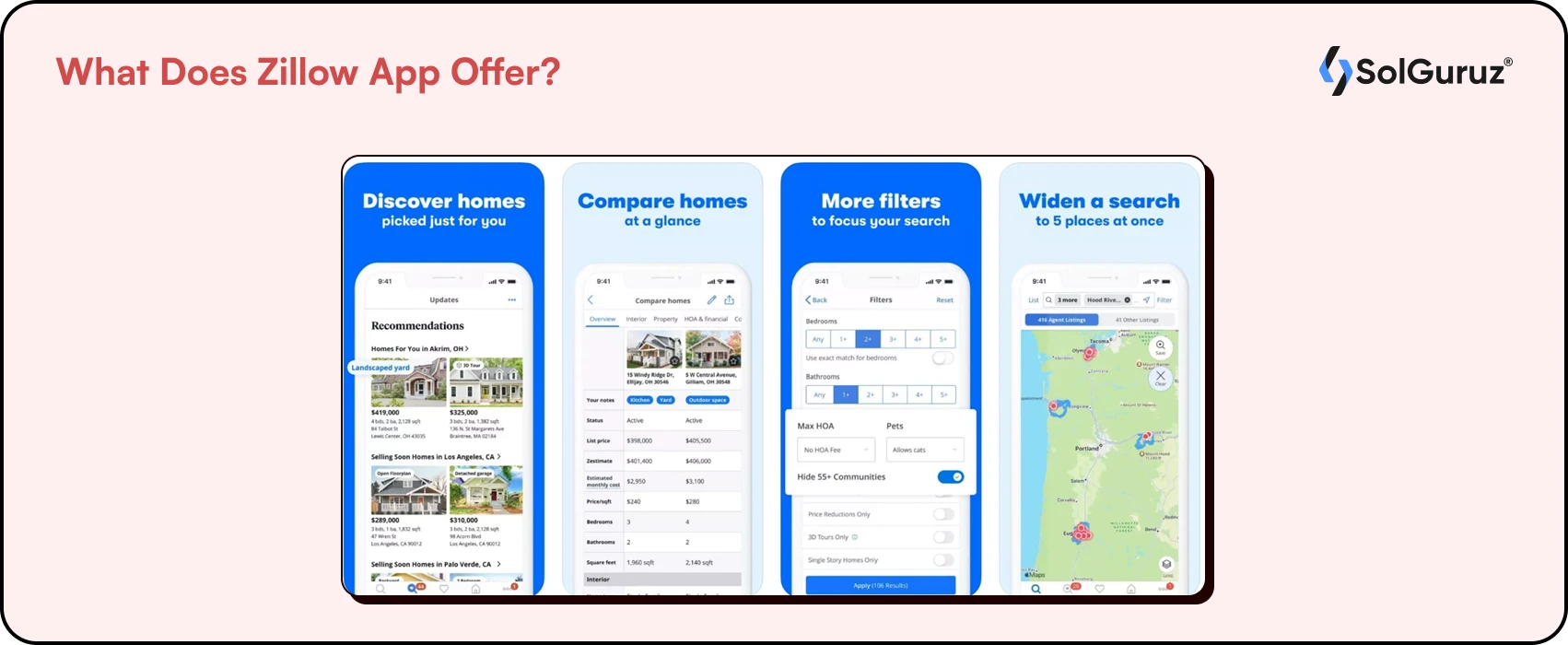 Zillow, Inc is a Washington, US-based top Land Organization giving solid land administrations starting around 2006. It entered the web-based land business in 2010 through Zillow Application (Android and iOS).
The app enables users to locate properties or homes in various states nationwide, including California, Texas, Illinois, Atlanta, Florida, Philadelphia, Virginia, Washington, and several other states. These states include Buying a home, renting a home, and selling a home.
Direct land owners and realtors recorded many condos, business structures, and private free spaces. Zillow, a well-known real estate app in the United States, helps users locate the ideal space at attractive prices based on their preferences for location and amenities.
Free downloads of the Android and iOS versions are available from Google Play and Apple Stores. Only the Android app store has reported more than ten million downloads. The Apple app store has reported more than seven million downloads. Android users gave it a 4.7 out of 5-star rating, while iPhone users gave it a 4.8 out of 5-star rating.
What Key Factors Influence The Cost of A Real Estate App?
In this section, we will see the key factors directly or indirectly affecting the cost of developing a real estate app like Zillow or Trulia.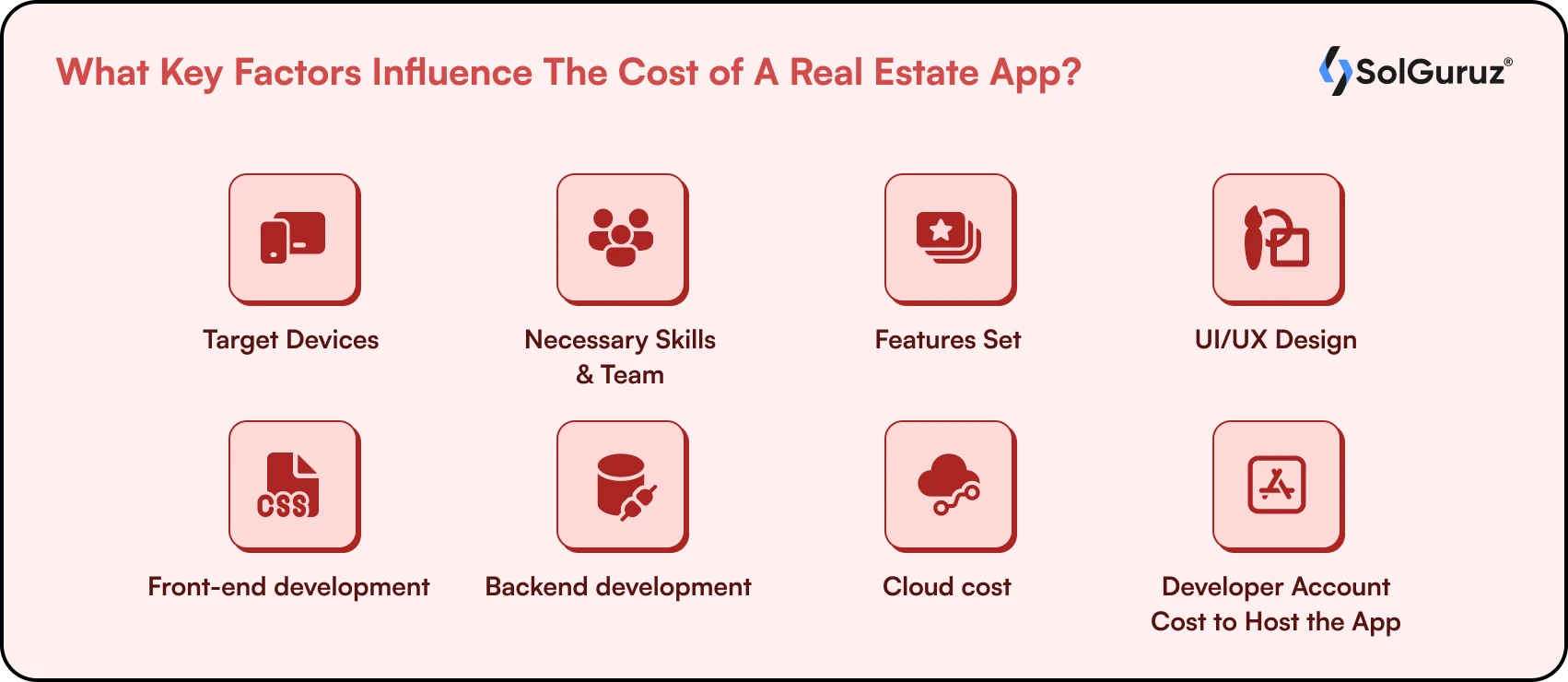 Target Devices

This includes the devices you want to target as a real estate app development company. It is known that creating an app for the android platform is 30% more costly than creating apps for iOS devices, primarily because of the number of operating system versions in an android platform.

The cost and time increase if apps are launched on platforms like IOS, Android, and web platforms. Nowadays, SDKs like Flutter are widely used for developing cross-platform mobile applications. Developers can create a standard version using Flutter and deploy it for Linux, Android, iOS, and Windows.

Necessary Skills and Team

Yes. Who You are employing to develop the real estate app decides the cost. Having a best-performed team of web and mobile developers increases the cost of the app. Also, The cost depends on the team's location – like if you are a company from the US but outsourcing web and app development services to India, then It would be cheaper.

Features Set

Another cost factor is the features you want to provide in your application. The more features, the higher the cost.

UI/UX Design

For a mobile application, the most important factor is User Interface. Designing a clear and intuitive user interface can cost you a lot when developing a real estate app because, without it, users may discard your app in a few seconds.

The Front-end development

This includes how your app looks; depending on how beautiful your app looks, the cost increases.

Backend development

This includes the hardware and software used to make this app perform better.

Cloud cost

The cost involved in hosting these apps on the internet. Servers such as Amazon web servers and Google cloud platforms provide these services for app hosting.

Developer Account Cost to Host the App

There are also costs associated with hosting the real estate app using your Android and iOS accounts. A one-time charge of $25 for Play Store or an annual $99 for iOS is required for the store accounts.
Key Features To Keep In Mind While Developing A Real Estate App Like Zillow Or Trulia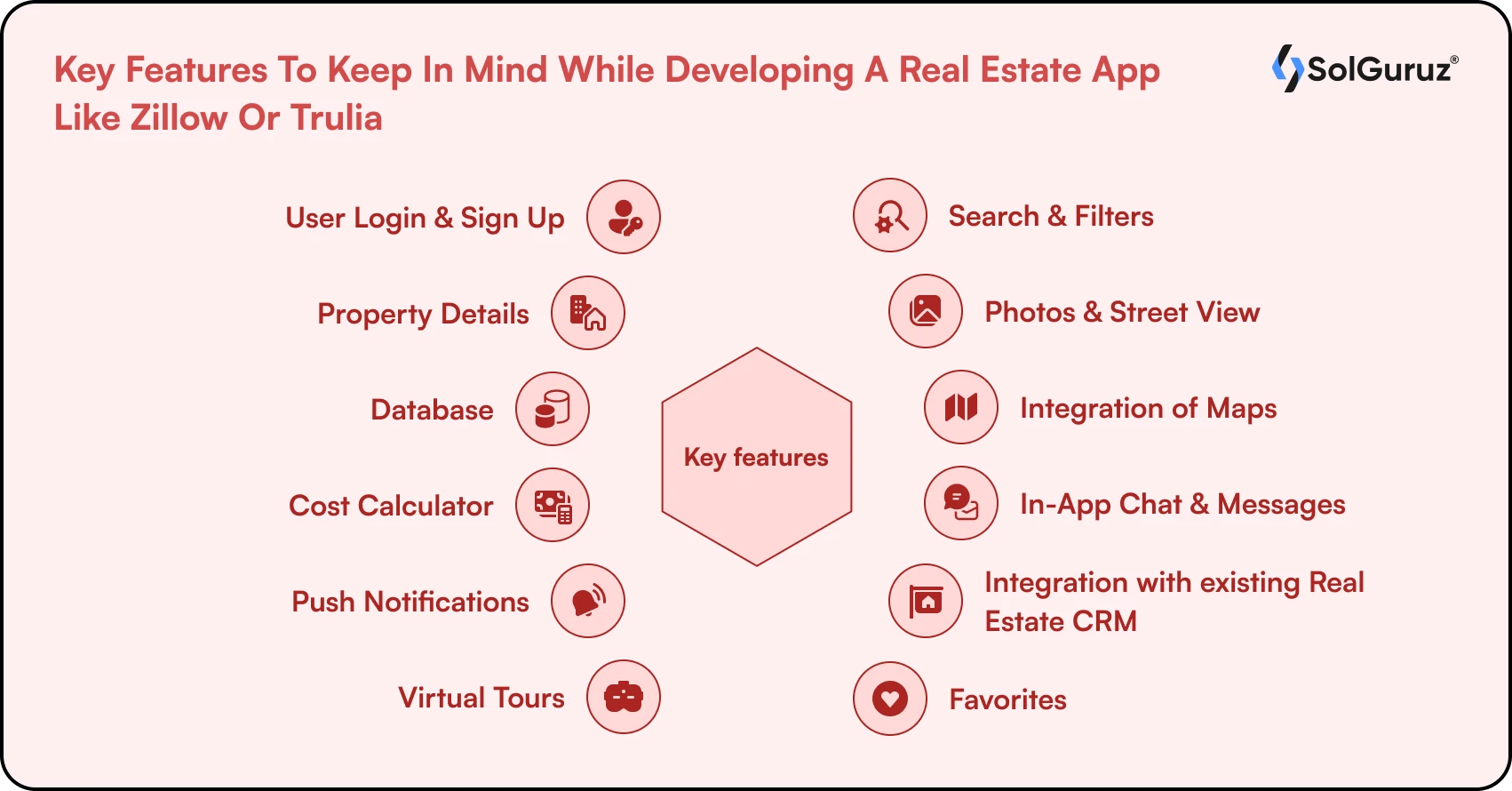 This section reviewed the features that should ideally be included in a real estate app allowing users to purchase and sell properties. These factors will affect your real estate mobile app development cost.
User Login & Sign Up

It will be simpler to navigate your app if you provide multiple alternative sign-up and sign-in methods. The more options you provide, the better. Recently, individuals have been able to join up using their social network profiles, Google+ accounts, or a biometric touchpoint.

You could wish to authenticate the user's identity by utilizing two-factor authentication, sending an SMS code to the user's smartphone, or signing in using the user's biometrics to make your app more trustworthy.

You can also direct your audience and make the first sign-up process easy for them if you provide seamless assistance and recommendations at appropriate points throughout the path.

Search & Filters

Provide your users with the ability to filter residences based on price, location, and room number. Buyers have access to a new degree of versatility because of Trulia's more than 30 search criteria.

One can filter available rentals in various ways, including by keywords, property types, whether or not the owners accept cats or dogs, and more. Consider how you can make users' lives easier at every process stage.

For instance, if consumers search for the best-matching property based on the publication's date, the area, the amount of parking available, or the home's attributes, they may quickly locate it.

Property Details

Detailed information about the property, including description, video, photos, price, landmarks, nearby areas, owner details, and more, can be found in each listing. Only if you provide detailed information about each property featured in your app will people perceive your platform as genuinely useful.

The real estate app should be extremely specific about every aspect, from price per square foot to location and point of contact. The property's information in one convenient app raises its market value.

For instance, Trulia provides information on 34 communities, such as pictures, videos, facilities, and resident accounts. This amenity piques potential buyers because it helps them learn more about the area.

Photos & Street View

Did you know that photographs are the aspect of real estate websites that get the most positive feedback? This should not come as a surprise, given that they provide you with an accurate representation of each house or apartment.

You can also include an immersive 360-degree virtual tour and videos shot inside a particular building as part of an upgraded feature set. However, integrating a VR feature requires substantial work and specific expertise to be implemented successfully.

Database

Your real estate mobile app's database is one of its unseen but crucial components. The success and popularity of your real estate app are directly tied to the quality of the data it stores. The database integration in your real estate mobile app development process is crucial to the app's basic functionality. Your chances of keeping people engaged in your app increase with the breadth and freshness of its coverage.

There are two primary places where Zillow and Trulia get their information:

The Real Estate Brokers National Association
A Wide Variety of Outside Listing Resources

Collaborating with local real estate dealers and specialists to compile a comprehensive database is essential for any mobile app's success.

Integration of Maps

A property search mobile app is incomplete without a well-integrated map since maps provide users with useful information. It's the only way to ensure the people looking for property arrive at the right place and time.

The app should also include a smart map function, so users can easily see where they are and what other options are nearby. Information regarding local amenities and services, such as schools, banks, hospitals, average incomes, crime rates, etc., may be shown.

Cost Calculator

You can use certain apps to determine the interest rates that apply to a mortgage loan. There are many others, such as a calculator that estimates a home's value depending on the loan amount, taxes, and other parameters.

You can also integrate push notifications, informing users when a suitable item becomes available.

In-App Chat & Messages

The app lets users complete a transaction by contacting a real estate agent. Inform him as to whether or not the interested individual is now online.

Users may travel farther along a sales funnel by engaging in online dialogues to get further information about a particular property. This translates to more transactions and a more efficient sales process for you.

Push Notifications

The marketing potential of push notifications is immense. When used properly, push notifications can provide enormous benefits. With this function, you can maintain a high profile in the minds of your clients and thus keep them as customers.

The same rules apply to mCommerce apps and apps that help you find a house to buy. With the app's push notification function enabled, users are kept abreast of any new information, whether a message, a pricing change, or a change to a scheduled event.

Integration with existing Real Estate CRM

This one is great for real estate companies who want to create a mobile app. Having a centralized system to keep tabs on your leads and sales and accessing analytics in real-time is helpful. You can better target your customers with personalized promotions and news based on this information.

Virtual Tours

Virtual tours of homes are quickly becoming standard in real estate applications in the wake of the epidemic. Promoting virtual tours and allowing end-users to view the property before purchase virtually is greatly aided by augmented reality and virtual reality technologies. It may do wonders for your sales in today's highly connected world. Including a virtual tour of the property in an app may be a great approach to pique the interest of prospective clients and transform them into serious leads. The revenue model and user engagement of your real estate app may be greatly improved with the addition of virtual tours.

Favorites

Let's say you're in the market for a home but not ready to commit just yet. You should consider your choices or talk to your loved ones before deciding. But if you close the app, what will happen? Even if you may have to start from scratch with your investigation, why not put off the task until later, if possible?

The success of any real estate app depends on the usefulness of its favorites function, which allows you to save listings for later viewing. This feature makes it simple for your customers to select only their desired properties. Accessing their selected homes from any device, at any time, is a huge time-saver for your consumers throughout the purchasing and selling process.

Multiple listing services, user activity monitoring, and similar high-end features may make or break your app.

These are some of the most important features of a reliable real estate mobile app. You may also use the currency manager to choose the money you require, the Favorite Items function, and the AI-powered recommendation engine. But don't jam too many features into your application.
Cost basis on the advanced features of the Real Estate app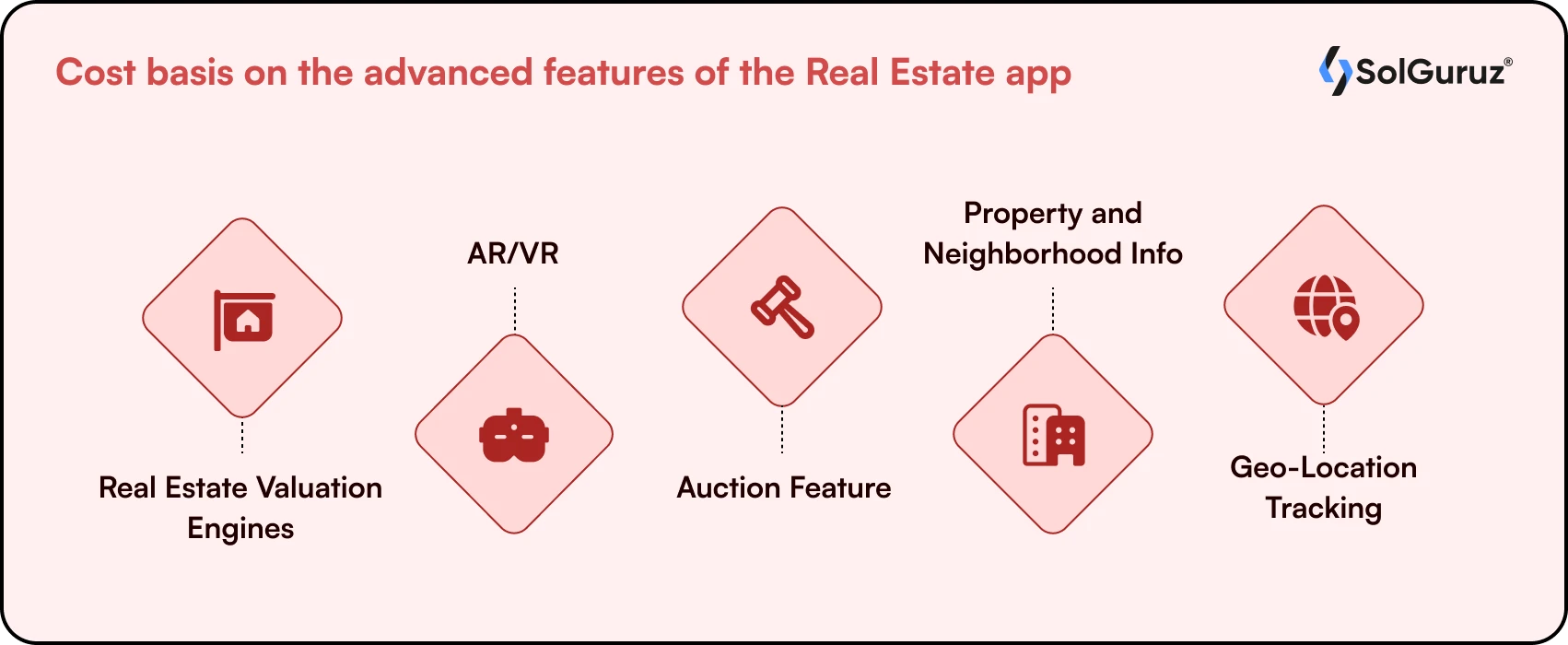 As already discussed, the cost of the app depends on the number of features that the companies want to include in their app. Therefore, this section will list out some of the advanced features that we have seen or have developed in some of our real estate app development projects.
Real estate valuation engines

The software that makes the real estate app best for analyzing and evaluating a wide range of real estate properties is real estate development software. This software makes the analysis more accessible and convenient and helps to display 100% accurate results.

AR/VR

In the growing world of digitization, mobile apps must be capable enough to give customers a rich experience. To incur this, apps have to install a particular software that ensures they provide this to all customers without any disturbances. Virtual tours of the properties are famous for apps like Zillow and Trulia.

However, they help users take 3D tours quickly, ensuring users do not need to move from the comfort of their homes to purchase the property.

Auction Feature

Real estate apps like Zillow and Trulia also have features like an auction. For this, they require a particular type of software. These features of the app bring buyers and sellers together in the marketplace. All the properties under auction come together, and they allow the sellers and the buyers to check the prices of the properties and use the auction feature.

Property and neighborhood info

The main target of real estate apps like Zillow and Trulia is to provide the most detailed knowledge of properties to the users. Apps like Trulia involve data and details about 34 neighborhoods, including photos, amenities, and experiences from locals. This requires a massive database management system, which affects the cost of the app.

Geo-location tracking

This feature is installed in both Zillow as well as Trulia. While this feature is active on the app, users can quickly get the nearest displayed property. This feature uses GPS and geotags to enable a fast and accurate search. However, the inclusion of these automatically adds to the cost of the real estate apps.

These are some of the features that Zillow and Trulia have apart from other essential features, and they are going nationwide with their success. We have seen all the charges incurred to these apps when certain extra features are added.

Modern Tech stack needed for apps like Zillow and Trulia
A property search app must have a technology stack that helps them go technologically vast and provide a better user experience. This will again not come for free. The more technology is added, the more a real estate app costs. Let us see some of the technology stacks involved in this app.
Core data or ORM frameworks
API for google place
Firebase SDK
Apple push notifications
Facebook SDK
Zillow app API
Amazon or Azure, or Google cloud for the cloud storage
MERN (Mongo, Express, React, Node) or MEAN (Mongo, Express, Angular, Node) for the web, backend, and database
Native Android or Native iOS for the mobile app. or Flutter stand-alone for developing mobile apps
The cost for these technology stacks varies from $20,000-$50,000, depending on the functionalities we choose to develop in a real estate mobile app.
What would be the Cost of Building a Real Estate App Like Zillow or Trulia?
The number of additional features and the hosting hardware used determine the prices. For instance, the cost of developing a real estate mobile app with basic features will range from $20,000 to $50,000. However, creating feature-rich real estate apps like Zillow or Trulia costs approximately $100,000.
The price of developing a mobile app is not set in stone. It depends on the real estate app's features. The cost of the real estate company's app increases proportionally to the number of features it contains.
However, the company is still developing a basic app with no features. In addition, the company should research where they can obtain a low-cost mobile app for their business based on their requirements.
You can keep your app development process on track by developing and validating an MVP before investing your entire budget in the project. Now that you have developed your app, it is time to investigate the monetization options available to you.
What adds to the success of Zillow?
Besides the features mentioned above that Zillow incorporates, various other factors make this app successful. One of them is the customer-centric feature set. Apps like Zillow give first preference to customer experience and engage the users.
An estimate of a property price is based on the public data the app users enter. An intelligent software algorithm uses data across the country and the app. Based on the above-mentioned factors, Zillow calculates the cost of more than 90 million properties across the US.
Through this app, users can self-educate themselves about property prices and know how much their chosen property will cost.
How To Stay Ahead in The Market with Your Real Estate App?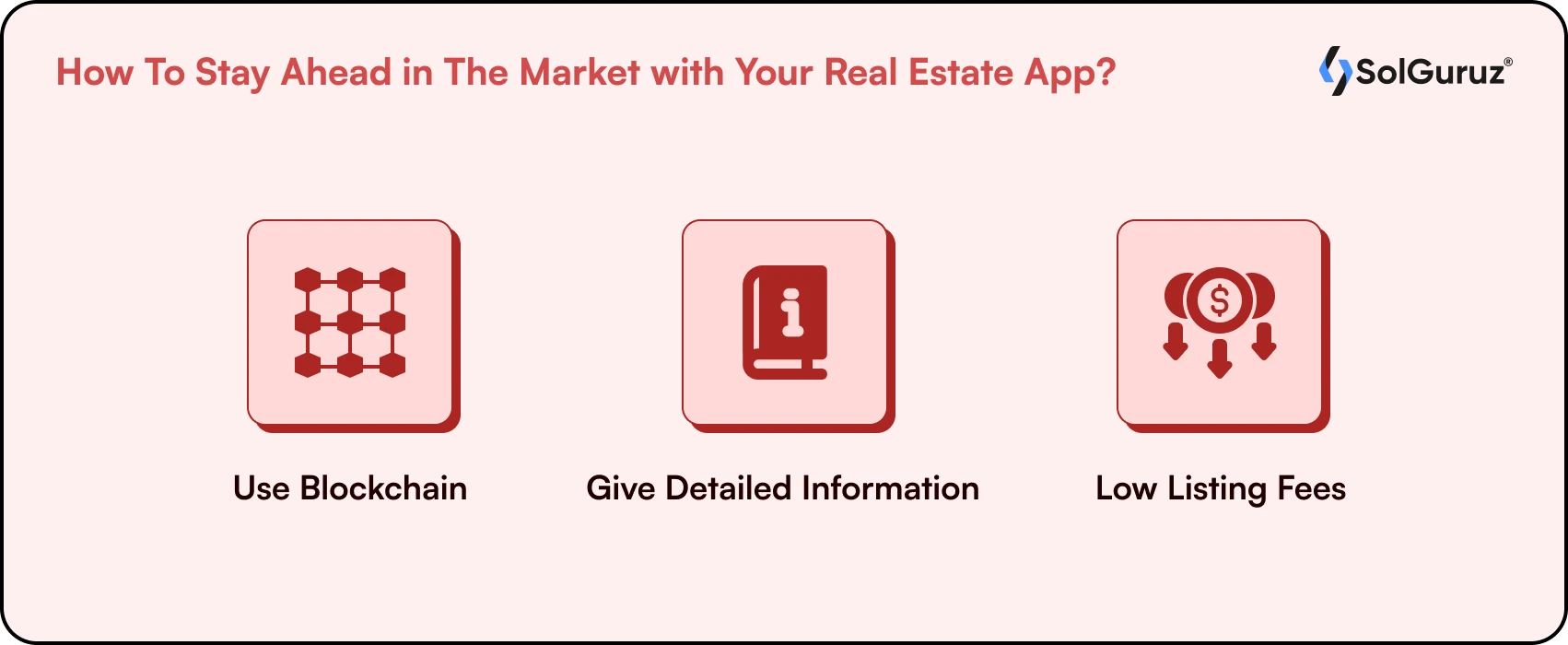 Knowing how to do things better or simply having an advantage over the competition is strong enough to get ahead of the growing number of active real estate players entering the app market.
You can think of several ways to improve the user experience and add several features to make the experience more valuable and profitable.
As the leading real estate mobile app development company, we have identified these functionalities that can give your app brand the competitive edge it needs to survive based on our experience developing multiple housing apps like Zillow and Trulia.
Use blockchain

Despite its low adoption rate, blockchain technology is already significantly altering the outlook for real estate worldwide. The technology is poised to become a concrete solution to creating an app similar to Zillow because it is one of the most significant disruptive technologies affecting the real estate industry.

You can incorporate the technology into your real estate app to establish yourself as a disruptive player in the market. With Blockchain technology in the app, you can decentralize several aspects, such as property verification and name transfer in property documents.

Give detailed information

Giving people in-depth information about the locality, security, the mode of conveyance around the area, the market valuation of the area, the area's potential for growth in the future, etc., is another way to transform your app into a go-to platform for people looking to buy, rent, or sell a property.

Low listing fees

The listing fees are typically the primary factor that keeps realtors and advertisers switching real estate apps. The listing fees should be kept low compared to other applications currently on the market, even though doing so would be completely unprofitable. You can even get an inauguration waiver, in which you don't charge users anything for a certain amount of time.
Wrap Up
The above-mentioned feature-wise cost of Zillow and Trulia is on an approximation basis and may differ in number. But mostly, these are the factors that affect the cost of the app. Built on such advanced features, apps like Zillow and Trulia are known globally for success stories.
Moreover, it is good to contact the experts to consult about developing feature-rich real-estate apps and the related charges. The team of professional developers at SolGuruz, a leading software solution company, is a one-stop solution for building robust, appealing, and secure real-estate mobile applications at a minimal price.
Real estate app cost FAQs
How much does it cost to develop a real estate app's MVP?
The development and release of an MVP typically take three to four months. The period, however, could be extended or shortened depending on the features you want to add to your real estate MVP.
A personal mobile app benefits a real estate agency in what ways?
There are numerous advantages to real estate companies' mobile apps. The company gains a significant share of the expanding market. There is a huge real estate market, and more people use your website or app daily. You can collect potential leads by analyzing user data using the appropriate analytics tools. In addition, thanks to your app, you have become one of the top agencies that are always available to answer questions and schedule property visits.
Which is the best real estate app development company?
Deciding the best app will depend on your expectations from the app and who is providing these in your budget. Many companies in this domain are significant players and comprise a considerable market size. Some of the big names in this industry are Zillow, Magic Brick, SolGuruz, 99 acres, and many more.
What is the requirement of mobile application development in the real estate industry?
The mobile real-estate apps help the agents function remotely and sell houses online. It also helps them reach new audiences. For example, the listing of properties posted on the app is visible to all the people who are using the app. Moreover, a mobile real-estate app helps agents to sell their properties soon.