Ready to do business with us?
In this guide, we'll provide valuable tips and insights to help you select the best mobile app maintenance and support company. It'll help ensure that your app thrives in a competitive market.
In today's fast-paced digital landscape, mobile applications have become indispensable tools for businesses across various industries. As a result, ensuring that your app remains up-to-date, secure, and efficient is crucial. To ensure optimal satisfaction for your users, it's crucial to provide them with an exceptional experience.
The importance of choosing a reliable and efficient mobile app maintenance and support company cannot be overstated here. 
Imagine you have developed a game-changing mobile app that has garnered a massive user base. But as your app's popularity grows, you notice performance issues and bugs. They could harm your reputation and user experience. 
This is where a trusted mobile app maintenance company comes in. 
7 Reasons Why Mobile App Maintenance and Support Is Important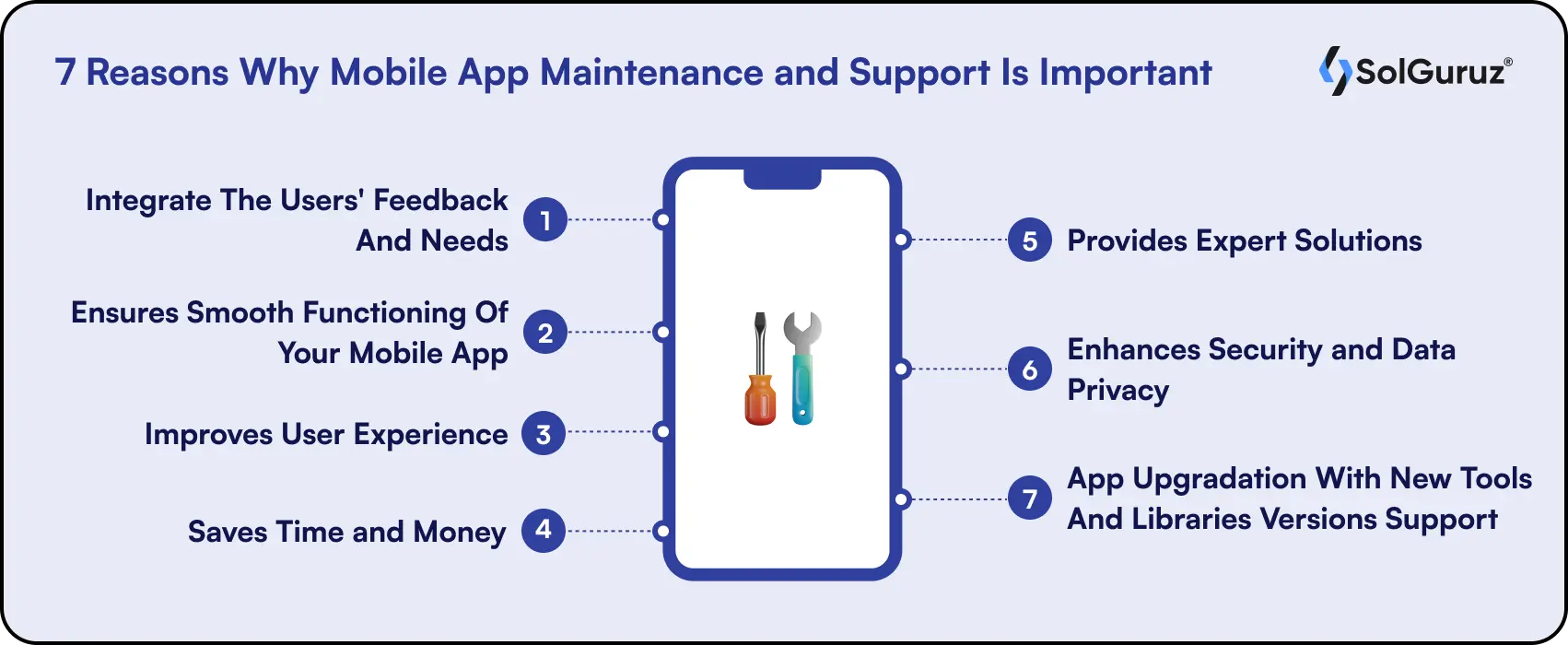 In the dynamic world of technology, mobile app maintenance and support play a pivotal role. It ensures the success and longevity of your application. Businesses that invest in proper application maintenance and support are more likely to provide a seamless experience to their users and gain a competitive edge in the market. 
Here are six reasons why mobile app maintenance and support are essential for businesses:
Integrate The Users' Feedback And Needs

Users are the backbone of any successful mobile app. Their feedback and needs help businesses make informed decisions about the app's features, design, and user experience. 

According to Apptentive's study, a one-star increase in an app's rating in app stores can lead to a 25% increase in conversion rates. This emphasizes the need for an excellent app that meets user requirements and expectations.

Engaging a mobile app maintenance and support company ensures you incorporate user feedback into your app's development process. This helps you address their concerns and improve your app's functionality. It results in satisfied users and increased brand loyalty.

Ensures Smooth Functioning Of Your Mobile App

Mobile apps are susceptible to various performance issues, such as: 

Crashes
Slow loading times 
Incompatibility with newer devices or operating systems. 

Proper mobile app maintenance and timely updates can mitigate these problems. They ensure a smooth and reliable user experience. Resolving the issues before they escalate and affect your app's performance is important.

Improves User Experience

For its users, a well-maintained mobile app offers a fluid and satisfying experience.

Consider the following: 71% of users uninstall unappealing apps within 90 days of installation due to a lack of exciting or new features. A once-useful app could no longer satisfy customers' needs today. In such a competitive market, falling behind is not an option you want to entertain.

Investing in mobile app maintenance helps businesses update their apps. They can include new features, fix bugs, and improve the app's performance. This, in turn, enhances user satisfaction and encourages them to continue using the app, boosting its popularity and success.

Saves Time and Money

Maintenance cost of mobile apps may seem like an added expense, but they can save businesses significant time and money in the long run. A well-maintained app is less likely to experience severe issues that need costly fixes or even complete redevelopment. 

Recent findings from the Uptime Institute's 2022 Outage Analysis Report show that the costs associated with downtime continue to escalate:

Over 60% of outages have costs exceeding $100,000, marking an increase from the 39% reported in 2019.
15% of outages incur costs of more than $1 million, up from the 11% recorded in 2019.

These figures show the importance of minimizing downtime through effective app maintenance and support. 

Addressing potential issues during the maintenance phase is often more cost-effective than fixing them after they've become bigger problems. By partnering with a reliable application maintenance company, businesses can reduce their app development and maintenance costs while ensuring their app remains competitive.

Provides Expert Solutions

Customer expectations for seamless and responsive applications continue to grow with time. Businesses must address any issues that could impact the performance of their apps. 

A professional mobile app maintenance and support company has the technical expertise. They have the experience needed to address complex issues that may arise during your app's lifecycle. 

In-depth knowledge of different platforms, such as Flutter app development and maintenance, is crucial for the app. The maintenance company can provide expert solutions and implement best practices for your app. This expertise ensures that your app remains up-to-date. The app can also adapt to the ever-changing technology landscape.

Enhances Security and Data Privacy

In a rush to launch their apps, 43% of organizations neglect mobile app security, putting it on the back burner.

In the era of cybersecurity risks and unauthorized data access, safeguarding user data's confidentiality and protection is of utmost importance. Some of the common security and data privacy concerns faced by mobile apps include the following: 

Unauthorized access
Data leakage
Weak encryption
Malware infections
Insecure storage
Phishing attacks
Man-in-the-middle attacks
Insecure communication
Poor authentication and authorization mechanisms

Regular mobile app maintenance helps businesses identify and fix potential security vulnerabilities. It'll protect sensitive user information and maintain their trust. 

A professional application maintenance and support company can assist businesses in staying compliant with data privacy regulations. The company will assist in making sure the app complies with standards and criteria set by the industry.

App Upgradation With New Tools And Libraries Versions Support

App upgrades ensure that your mobile application stays up-to-date with the latest technological advancements. It contributes to the app's overall performance, stability, and user experience. 

There are several reasons why app Upgradation in mobile app maintenance are important:

Compatibility: App upgrades ensure seamless functionality across different devices and platforms, adapting to ever-changing mobile operating systems and hardware specifications.
Security: Regular updates incorporate security patches and improvements to protect your app from vulnerabilities and safeguard user data, maintaining user trust.
Performance: Upgrading tools and libraries enhances app performance. It provides a faster and more responsive user experience crucial in a competitive market.
Access to New Features: Utilizing the latest tools and libraries allows your app to incorporate innovative features and functionalities, enriching the user experience.
Bug Fixes: Regular updates help resolve existing issues, minimizing bugs, crashes, and other problems that can negatively affect user satisfaction.

Regular app upgradation not only keeps the app competitive in the market but also helps retain user trust and satisfaction. Ultimately, it contributes to the app's long-term success.
Factors to Consider When Hiring a Mobile App Maintenance and Support Company 
Expertise and Skills

The mobile app maintenance and support company should have a team of professionals with a strong background in app development, maintenance, and support. This includes knowledge of various programming languages, platforms, and frameworks. They must have experience with different types of applications. 

Additionally, the company should have experts in user experience design, app security, and performance optimization. It'll ensure that all aspects of your app's maintenance and support are covered. 

By choosing a company with the right expertise and skills, you can be confident that your app will receive the best possible care.

Previous Projects

Before finalizing things, examine the previous projects/portfolio of the company to assess their capabilities and experience handling similar apps. 

A company with a track record of maintaining and supporting apps in your industry or with similar functionality can provide valuable insights and solutions. Analyzing their previous work can also help you gauge the quality of their services, giving you a better idea of what to expect. 

It is recommended to request case studies, client testimonials, or references. It helps you gain deeper insights into the skills of the company and the degree of contentment of their past customers.

Cost of Service 

The pricing model should be transparent. It must outline the services included, such as bug fixes, updates, security patches, and performance optimization. Maintaining a balance between the expense of a service and the value it delivers is crucial. It'll ensure that you are receiving high-quality support without breaking your budget. 

Opting for the least expensive choice might be tempting. But the quality of service and the long-term success of your app should be the top priorities. Thus, finding a balance between affordability and quality is key.

Response Time and Availability 

Issues and bugs can arise anytime, and timely support is essential to ensure your app's smooth functioning and user satisfaction. The company should have a dedicated support team, depending on your requirements. 

The response time should be prompt, addressing issues. It'll help cut downtime and prevent negative impacts on your app's performance and user experience. 

Before signing an agreement, discuss the company's response time and availability. It's essential to ensure they meet your expectations and keep your app running.

Industry Domain and Specialization

A company with expertise in your specific industry will better understand: 

Market trends;
User expectations;
Regulatory requirements that may affect your app.

This domain-specific knowledge can help them provide tailored solutions and more effective maintenance strategies. It'll contribute to your app's long-term success. 

While assessing potential collaborators, seek out firms with a demonstrated history of success. It'll help you ensure the company can deliver the specialized support your app needs.

Platform Expertise

Your chosen partner should have extensive experience and knowledge in maintaining and supporting apps on your app's platforms. It may be iOS, Android, or cross-platform frameworks. 

Platform expertise is critical for addressing platform-specific issues, and optimizing performance. They must also ensure compatibility with different devices and operating systems. 

A company with strong platform expertise will be better equipped to handle your app's unique challenges and requirements. 

Communication and Collaboration 

The company you choose should prioritize open and transparent communication. You must have knowledge and seek active participation in the maintenance process. 

A collaborative approach allows you to provide feedback and discuss issues. Then, you can make informed decisions on your app's maintenance and support strategy. 

Search for a firm that designates a dedicated project manager or contact person, streamlining communication and attending to your inquiries. A strong communication and collaboration culture will foster a more productive working relationship. It'll lead to better outcomes for your app.

Security and Data Privacy 

Your chosen partner must commit to maintaining the highest security standards and protecting your app's sensitive data. This encompasses periodic security updates, vulnerability evaluations, and compliance with industry standards and regulatory obligations.

Furthermore, the business should be open about its data privacy policy. This way, you can understand compliance with data protection laws and safeguard user information. 

By choosing a partner that prioritizes security and data privacy, you can ensure your app remains protected against threats and maintains the trust of your users. 
5 Steps to Hire The Best Mobile App Maintenance and Support Company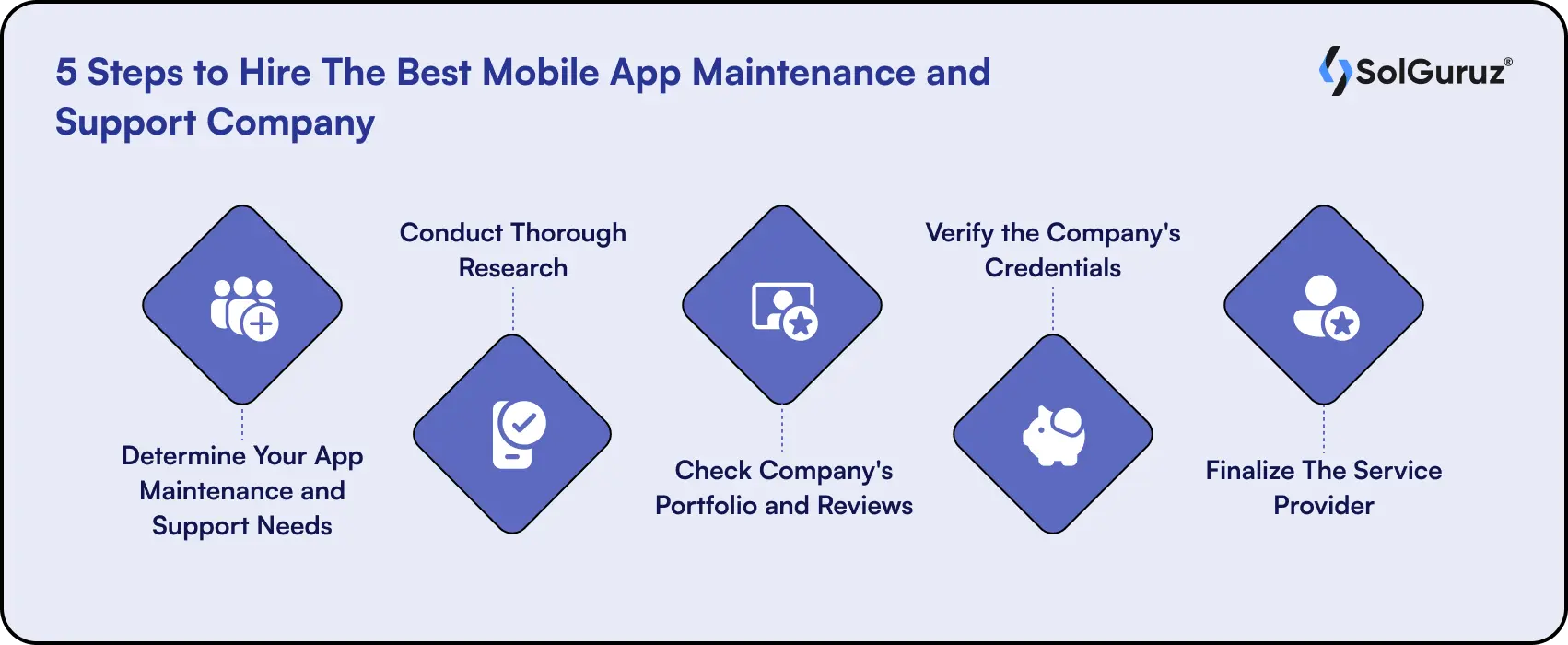 Determine Your App Maintenance and Support Needs 

Before you start looking for a mobile app maintenance and support company, it's essential to understand your app's specific needs. Consider factors such as: 

The platform your app runs on (iOS, Android, or both)
The type of app (native, hybrid, or web)
The complexity of your app

Identify the tasks you need help with, such as bug fixes, performance improvements, feature updates, or security enhancements. Additionally, estimate the level of support required, like 24/7 availability, response time, and communication channels. 

A clear understanding of your requirements will help you find a company that can cater to your app's unique needs and ensure long-term success.

Conduct Thorough Research

Start your search for the best mobile app maintenance and support company by conducting thorough research. Explore the internet, peruse directories or listings, and recommendations from colleagues or peers in the industry.

Create a list of potential companies based on their experience, expertise, and location. Check their online presence, including websites and social media profiles. This helps you assess their professionalism and reputation in the industry. 

Make sure they have experience maintaining and supporting apps like yours. Don't hesitate to join forums or online communities where you can seek advice and recommendations from fellow app developers and users.

Check Company's Portfolio and Reviews 

Once you've narrowed down your list, look at each company's portfolio and reviews. Examine their previous work, focusing on the apps they've maintained or supported. This will provide you with a more comprehensive understanding of their skill and the caliber of their work.

Read client testimonials and reviews on third-party platforms like Clutch or Dribbble. Look for patterns in feedback, both positive and negative. It will assist you in comprehending the firm's strengths and weaknesses.

Pay attention to how they handle customer complaints or issues. This will be an essential aspect of their ongoing support.

Verify the Company's Credentials 

Before finalizing your decision, verify the company's credentials, such as certifications, awards, or recognitions. Ensure they have a valid business license and are financially stable. 

Get in touch with their references and inquire about their encounters collaborating with the company. You must emphasize on aspects such as communication, dependability, and issue resolution. It's also crucial to ensure the company has a skilled team with the necessary mobile app maintenance and support expertise. 

Check their developers' and engineers' qualifications, experience, and familiarity with current industry standards and best practices.

Finalize The Service Provider

After considering all the above factors, you should be able to make an informed decision and choose the best mobile app maintenance and support company for your app. Assess your discoveries and evaluate the advantages and disadvantages of each potential candidate.

Draft a comprehensive contract that delineates the extent of the project, the deliverables, payment conditions, and other important terms and conditions. Make sure both parties understand and agree to the contract before signing. 

Finally, establish a clear communication plan and reporting structure. It'll help establish efficient collaboration between your team and the service provider. 

Following these steps will maximize the chances of a successful partnership and ensure your app's long-term performance and stability.
Get The Best Mobile App Maintenance And Support Services With SolGuruz


SolGuruz is a leading provider of top-notch mobile app development services provider, offering a comprehensive range of solutions to meet your app's unique needs. With a team of skilled and experienced developers, engineers, and support staff, SolGuruz ensures your app stays up-to-date, secure, and efficient, driving user satisfaction and business growth.
Having worked on diverse projects across various platforms, SolGuruz has an extensive understanding of mobile app ecosystems, including iOS, Android, Flutter, native, hybrid, and web applications. This wealth of experience enables us to tackle even the most complex maintenance challenges and deliver seamless support tailored to your requirements.
At SolGuruz, customer satisfaction is a top priority. Our dedicated support team is available 24/7, providing prompt responses and effective solutions to keep your app running smoothly. By utilizing the latest industry standards and best practices, we ensure your app remains compatible with new devices, operating systems, and other technological advancements.
Moreover, SolGuruz's transparent communication and reporting structure facilitate a hassle-free partnership. It'll allow you to focus on your core business operations while they handle the app maintenance and support. As a result, choosing SolGuruz for your mobile app maintenance and support services guarantees the best-in-class technical expertise and an unwavering commitment to your app's long-term success.
Conclusion:


Hiring the best mobile app maintenance and support company is crucial for ensuring your app's long-term success and stability. Following the tips outlined in this blog, you can confidently navigate the selection process and find a reliable partner who understands your app's unique needs. 
Remember to define your requirements, conduct thorough research, and examine portfolios and reviews. You must verify the credentials and select the service provider. 
By doing so, you can have peace of mind knowing that your application will receive the skilled care and attention it deserves. It allows you to focus on driving business growth and providing an exceptional user experience for your audience. 
FAQs
How expensive is it to maintain an app?
Mobile app maintenance costs range from 15-20% of the initial app development cost. However, the exact cost depends on the app's complexity, platform, and maintenance requirements.
What is included in app maintenance?
App maintenance includes bug fixes, performance optimization, security updates, and feature enhancements. Additionally, compatibility updates and server management are imperative to ensure the application operates seamlessly and effectively.
How many people does it take to maintain an app?
The number of people required to maintain an app depends on its complexity, technology, and support requirements. A small app may only require one or two people, while a larger, more complex app may need a dedicated team of developers, testers, and support staff.
What does app maintenance include?
App maintenance includes tasks like fixing bugs, optimizing performance, updating security features, and adding new functionalities. Also, it helps ensure compatibility with new devices or OS versions and manages servers or backend infrastructure to keep the app running smoothly.