Ready to do business with us?
The market data for building a real estate app shows that with proper administration, the company has several benefits. Success and financial gain may be achieved using the real estate mobile app.
Several benefits are using a literate approach to design with the help of a mobile app development services company. For instance, it may help solidify the brand's standing, boost consumer loyalty, and bring the business closer to its target audience. However, blunders while building a real estate app may be very harmful to a business.
Let's tackle the most common mistakes to avoid for real estate app development and find out how to stay away from them.
What Role Does Building a Real Estate App Play in Today's Online Market?
The data certainly answers the above question.
Research by the National Association of Realtors found that in 2021, approximately 97% of homebuyers used the Internet to aid in their search for a house (NAR).
According to the same research, 51% of homebuyers in every age group except the silent generation (those aged 76 to 96) started their search online. Compared to this, only 28% of homebuyers used a real estate agent to find their perfect property, and only 7% of buyers responded to an Open House sign.
Nearly 90.7% of potential buyers prefer a real estate app to other channels, including blogs, email marketing, social media marketing, print, and TV & radio commercials.
It's safe to assume that your real estate app will represent your business online. To attract more customers, you need to stop seeing your website as a mere calling card.
For those who are just getting started, what are the common mistakes for real estate mobile app development to avoid?
Can You somehow stay away from them?
Okay, then, let's find out.
5 Mobile App Development Mistakes for Real Estate
However, the success of your approach will depend on how well you carry it out. Even if your real estate company has a mobile app, it doesn't mean business will improve automatically. If your applications annoy most customers, they may defect to a rival, causing significant financial loss.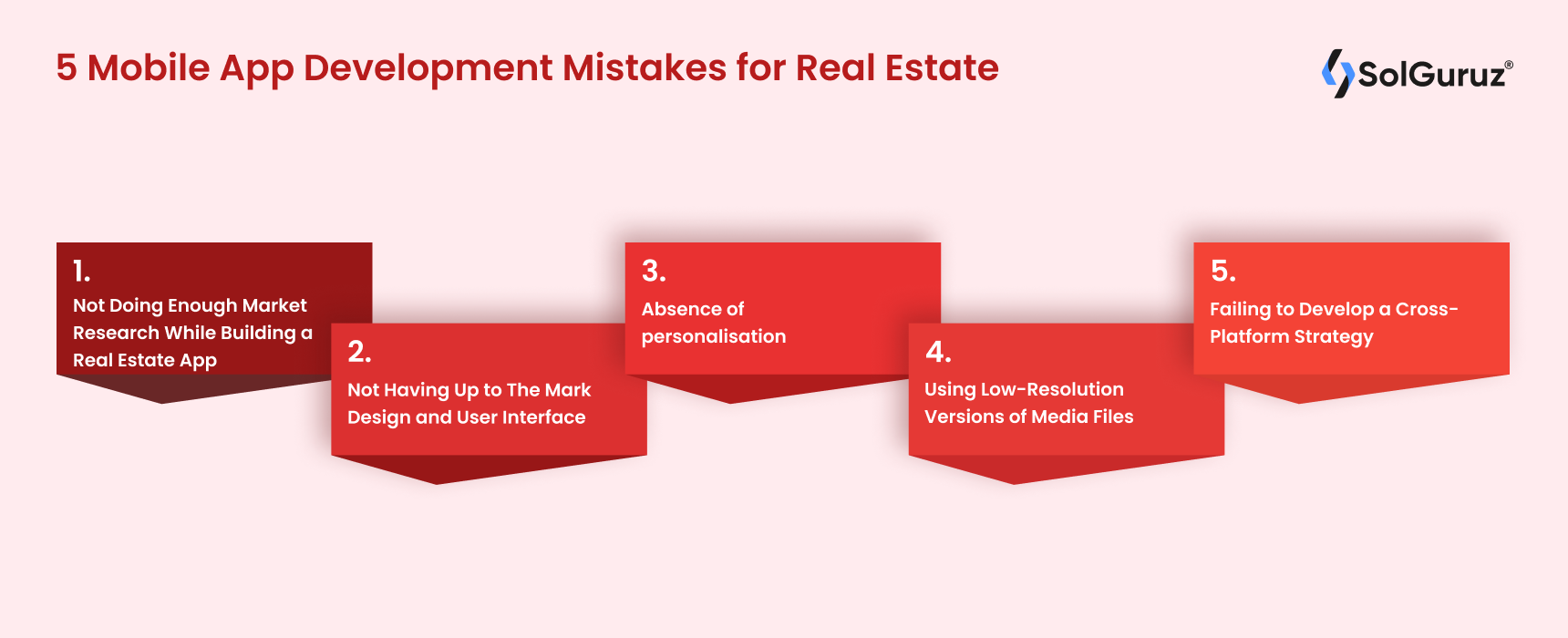 As such, we have included a list of potential mistakes to avoid for real estate app development when creating a real estate-specific mobile app.
Not Doing Enough Market Research While Building a Real Estate App

Regarding features, awesomeness is measured by how beneficial they are to the customer. Businesses often make the first error when developing their app to create it with preconceived notions about the audience they are trying to reach.

The goal of the app that you build should be, first and foremost, to alleviate the problems that your consumers are experiencing. And who better to ask than the people who are using the product?

Before beginning development on your app, it is important to do market research with potential users, investigate already available mobile applications in the market, and analyze the shortcomings of such apps. There are occasions when the demands of customers are considerably more straightforward and uncomplicated than the expectations of the mobile app development company.

We at SolGuruz, make sure that customers' comments get acknowledged and utilize them as a source of inspiration for product and app development.

Market research is the first order of business, and it must consider the breadth and depth of the competitive landscape. Other concerns also need investigation.

First, it's a targeted demographic that has to be inextricably tied to the user profile. Ultimately, it is up to the company representatives and marketing experts that make up the team to figure out the solutions to the most pressing problems.

Who is the app's target audience?
The second question is, "How do they act?"
How do people feel after they've used the app?

Understanding and satisfying customer requirements are the primary objectives.

Not Having Up to The Mark Design and User Interface

Out of many mistakes to avoid in real estate app development, another important mistake is bad UI.

Users like interfaces that are easy to use. To resolve their issue quickly and easily, they want the quickest and least arduous method feasible. Despite its potentially impressive features, an excessively complicated interface is a barrier to the user experience.

While building a real estate app, make it easy to use, and you should design it with a wide range of users in mind. This includes users who aren't very mobile-smart. Simplifying your interfaces will benefit your users and leave a good impression on your customers.

The application's user interface has to be simple. Buyers' wants and the product's intended function must be reflected in the design. While striving to build cutting-edge apps, developers, designers, and clients may often lose sight of this.

The bright design doesn't help if the user can't figure it out. Both buyers and sellers have yet to grasp this concept fully. It's vital to remember that there are at least four crucial steps to making a modern design a hit:

The backdrop is either completely blank or very blurry.

App backgrounds are often kept deliberately simple so as not to detract from the app's primary features. As a bonus, this choice will hasten the development of the real estate app.

As of late, it's been enjoying a widespread vogue among creative types. In 2023, we may anticipate this trend to go on.

Using a swiping motion from the screen's margins


One other development is the rise of gesture sets that simplify app administration. Distinct gestures have different effects, such as tapping, double-tapping, pinching, and dragging. They contribute to the development of user-friendly, versatile, and intuitive software.

The interface is very user-friendly and straightforward.

The complicated menu is off-limits. Avoid causing problems for other people to utilize your product. The ideal choice is a minimalist design, such as a hamburger menu or one concealed on the app's left side. It's easy to hop from one part to another.

Colour Scheme

Using solely primary colours is a common flaw in the design of real estate apps. The application's intended use will dictate the colour scheme to be used.

Colourful elements should draw attention to key points without overwhelming the user. Green, for instance, symbolizes the environment, vitality, and reliability. The colour blue is often associated with cleanliness, luminosity, and airiness concepts.

Absence of personalisation

The app's popularity would suffer if users couldn't make any customizations. It may seem obvious, but customers like being treated as individuals. Avoid the typical pitfalls of real estate app creation, such as a lack of customization.

Designers and developers must provide a service that can recall a user's prior search and make suggestions comparable to their preferences. Customization like these drives users to return and recommend the software to their social networks.

Furthermore, the application benefits from another excellent concept. It entails making offers to rent, lease, or sell the property. As alerts, they may be sent quickly and efficiently.

Using Low-Resolution Versions of Media Files


Photos and videos are the backbones of any real estate business. And if you're trying to sell a house and not utilizing photos and videos, good luck! Additionally, visual material, such as photos and videos, is universally recognized as the most attention-grabbing medium.

It would be foolish to neglect this material while developing your internet real estate firm. Given that prospective buyers do extensive research before making an offer, setting yourself apart from the competition by providing high-quality media assets, such as movies, maybe a real advantage.

Also, as was previously noted, a SaaS-based property listing platform is more likely to offer a media upload editing tool, which may increase the quality and engagement of your listings.

The mobile app development company understands the critical nature of the high-quality photographs and videos they produce. This is fundamental to the functioning of any online service.

That's why hiring a professional photographer who can take stunning shots showing what makes the property special is smart. When the design is aesthetically pleasing, users are likely to stay with the app and have a positive experience.

As a result, app owners have more success in terms of conversion. There are a few additional tricks that may increase the success of your application and are directly tied to its content:

Encompassing vistas of residential buildings. Customers are better able to visualize the space thanks to these detailed floor plans and elevations. Any way you cut it, panoramic images are a must for putting up these virtual tours using various online resources.

Failing to Develop a Cross-Platform Strategy

We started by saying that a mobile app must be part of a larger, more comprehensive plan. It's not something to be checked off like a box on a marketing to-do list. You find out what your customers want and need and provide it to them using the greatest tools at your disposal.

To achieve this, you may supply prospects with information on your websites, including calls to action encouraging them to download an app and then use it to keep their interest. At the same time, you provide them with more details about your company and find out what they like.

While the steps may vary from company to company, and further research will be required, the basic principle of developing a competitive advantage stays the same. Your app's success depends on being an integral part of a system that accomplishes your goals.
Wrap Up
Your real estate company will profit greatly by building a real estate app. However, it would help if you made sure you don't make mistakes to avoid real estate app development. Doing so might be a costly endeavour that does more damage than good for your organization.
In this respect, experience is essential, as is the technical ability necessary to create various types of real estate web and mobile app development services that have been repeatedly shown to be effective. Contact Real estate mobile app development company to get a free quote.
FAQs
Why should I spend on establishing an app for real estate?
Before the rise of the Internet, realtors advertised their services in local newspapers and publications. Having a website has advantages beyond advertising. It is a dynamic arena where, with the appropriate material, you can exponentially expand your company.
Should I understand coding to design my app?
No. There are two options for acquiring an app for your real estate company. You may use a mobile app development company specializing in real estate apps design or tools like Wix and WordPress that provide pre-built templates for creating websites.
What kinds of things should I include when building a real estate app?
Your app should contain an appropriate balance of graphics, videos, and text. You may also experiment with white papers, infographics, market studies, and fact sheets. User-generated content, such as video and text testimonials, live streams, guest blogs, influencer partnerships, and social media postings, generates substantial interaction. Here are some suggestions for maximizing your efforts: Produce engaging, high-quality material. Perform thorough editing to eliminate typos and grammatical problems. Always submit photographs and videos of good quality. Encourage your users and clients to share the content of your website on social media networks.