Ready to do business with us?
We live in 2023, and no business could survive without a website and digital presence. With a unique web application and website, businesses can increase and expand Brand awareness. Regarding web development services and UI/UX design – there are other ways to go about the development process, including employing an in-house team or outsourcing web development services.
While we will discuss the pros and cons of web development outsourcing– here are some statistical facts related to IT outsourcing. 
Outsourcing web development services instead of hiring an in-house team may be a cost-effective alternative for many small and medium-sized enterprises. Nevertheless, numerous additional factors might make outsourcing difficult in practice.
In this post, we'll discuss the risks associated with outsourcing web development and provide guidance for successfully doing so.
Pros of Outsourcing Web Development Services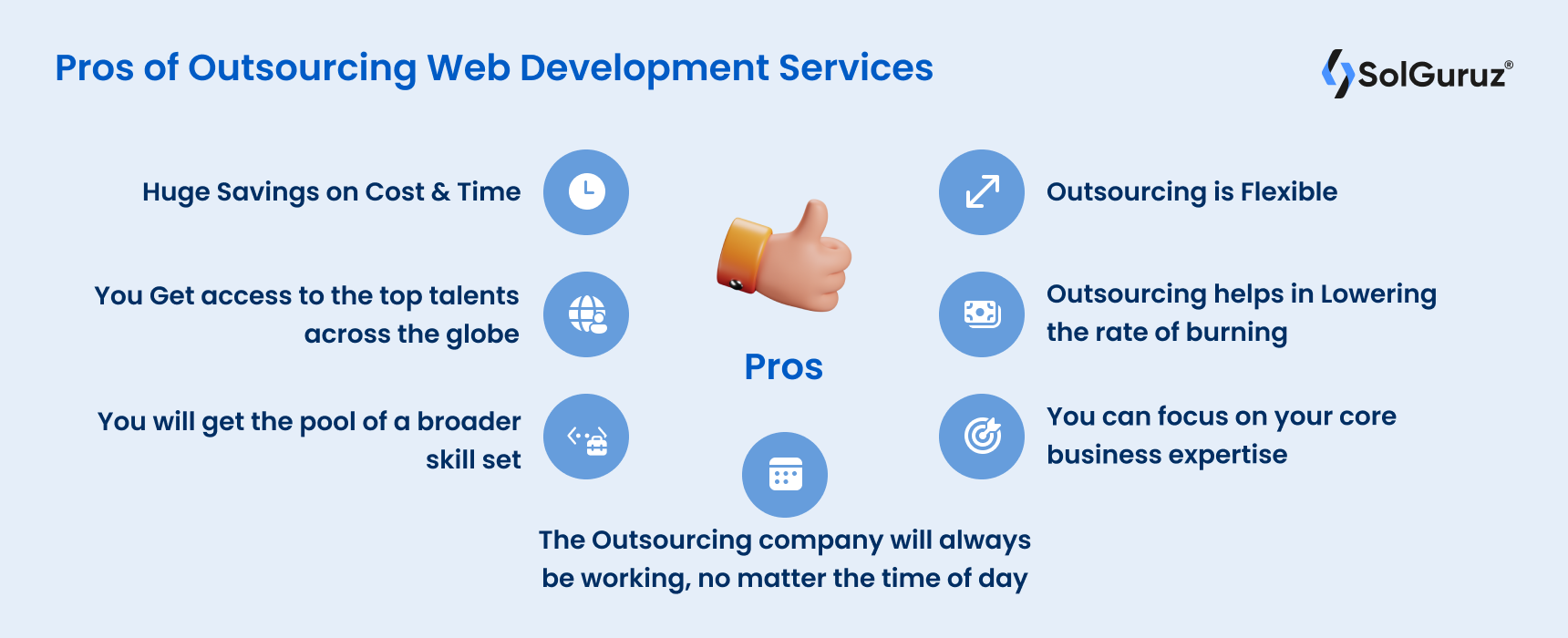 Outsourcing web development services to a web development company may be beneficial in several ways, such as decreasing costs, accelerating time-to-market, and facilitating access to top IT professionals. 
Based on our expertise in helping customers bring their ideas to life, we've compiled this list of the benefits of outsourcing web development.
Huge Savings on Cost and time.

Everyone works under a specific budget, from solo entrepreneurs to multibillion-dollar businesses. The finances can only go so far. If you're trying to achieve your company objectives on a tight budget, then outsourcing is something you should consider. After all, two financially viable choices exist in the agency world: nearshore and offshore. One must only know where to search.

To begin, it's important to note that developers' hourly charges might vary widely depending on where you live.

In the United States, paying $150 per hour is possible, whereas hiring a company from India could be much cheaper. Since they have spent so much time working in the business, web development companies have already established effective workflows. 

Please take advantage of their streamlined processes, so you won't have to go through all that trial and error alone. When you outsource things to a top web development company, you save time and money that would have been spent recruiting, onboarding, and training an in-house team, as well as covering the expenses of that staff's office space and equipment.

Rapidly acquiring the services of a front-end web development organization is possible. Get your project off the ground as quickly as possible so that you may concentrate on your core talents and reduce the time it takes to get your product to market.

You can save significant money on labor costs if you recruit workers from countries such as Poland or India. This money is then available for you to invest in other aspects of your company, such as creating new products and promoting those products.

You Get access to the top talents across the globe.

When you outsource web development, you save money and have access to the most qualified individuals from all over the globe. You are no longer restricted to hiring people from inside the area. You can get the services of the most qualified specialists, regardless of where they make their home.

To meet your requirements for web development, agencies will also have access to the most recent technologies, extensive market knowledge, and the necessary expertise. You do not have to depend just on the skills you possess.

You will get the pool of a broader skill set.

Outsourcing web development services enables businesses to tap into a pool of highly skilled workers. In addition, when you work with an outsourcing firm, you have access to a larger talent pool of experts who can care for your unique business needs.

In addition, doing so improves upon the collection of abilities already at your disposal. By seeing how others do things, you may pick up tips on improving your methods. Several different tools, frameworks, and libraries are used in modern programming. One need not be fluent in all of them to be a practical front- or back-end developer.

By outsourcing services, you may have access to a wide variety of professionals in various fields. It's considerably simpler (and faster) to recruit them as an outsourced, remote team, whether you're seeking a PHP or Python developer or a front-end one versed in React-based projects.

The Outsourcing company will always be working, no matter the time of day.

One of the benefits of outsourcing projects to a custom web development company is the time difference. This is a benefit rather than a curse, despite popular belief. Developers working from afar may finish off work on your project without being interrupted by the time your in-house staff members go home.

Your local team members are probably not working on anything related to your business during regular office hours. This will allow these skilled workers to return home at the end of the day and go back to work.

Consider the nine to ten hours difference between the United States Eastern Time Zone and Indian Time Zone. Opportunities for flexible scheduling and teleconferencing with customers who can't make it to your office are two of the many benefits of this arrangement.

You can focus on your core business expertise.

When done in-house, web development may be a significant time sink. It's essential to keep a close eye on the procedure. Outsourcing your software development to a team of skilled programmers, QA experts, and project managers allows you to concentrate on essential business responsibilities you would have overlooked. 

You may focus on other crucial tasks while your technology partner handles the development and keeps you informed.

Outsourcing helps lower the rate of burning.

Despite the allure, there are expenses associated with building your team. 

Employee onboarding expenses
Office leasing payments
IT infrastructure and set-up expense
Administrative overhead.

In the early stages of a product's development, when revenue is unpredictable, these expenditures may significantly impact the burn rate. We understand that you will be spending a lot on your application. In truth, however, outsourcing web development services lets you keep costs in check by hiring just the staff members you need.

Outsourcing is Flexible.

The speed at which you may expand your website will increase dramatically when you outsource its development. Good planning necessitates action. You may test something out, get some user input, and make adjustments as necessary. There's a lot of work involved, and it'll be tough for your team to do on its own.

A lot of effort is required to get your site up and running. A team of developers, designers, project managers, etc., would be helpful. Your team will have more leeway in its schedule. It will be able to expand more rapidly if you implement the changes above. The burden of inducting and supervising entry-level employees is not yours to bear.
Cons Of Outsourcing Web Development Services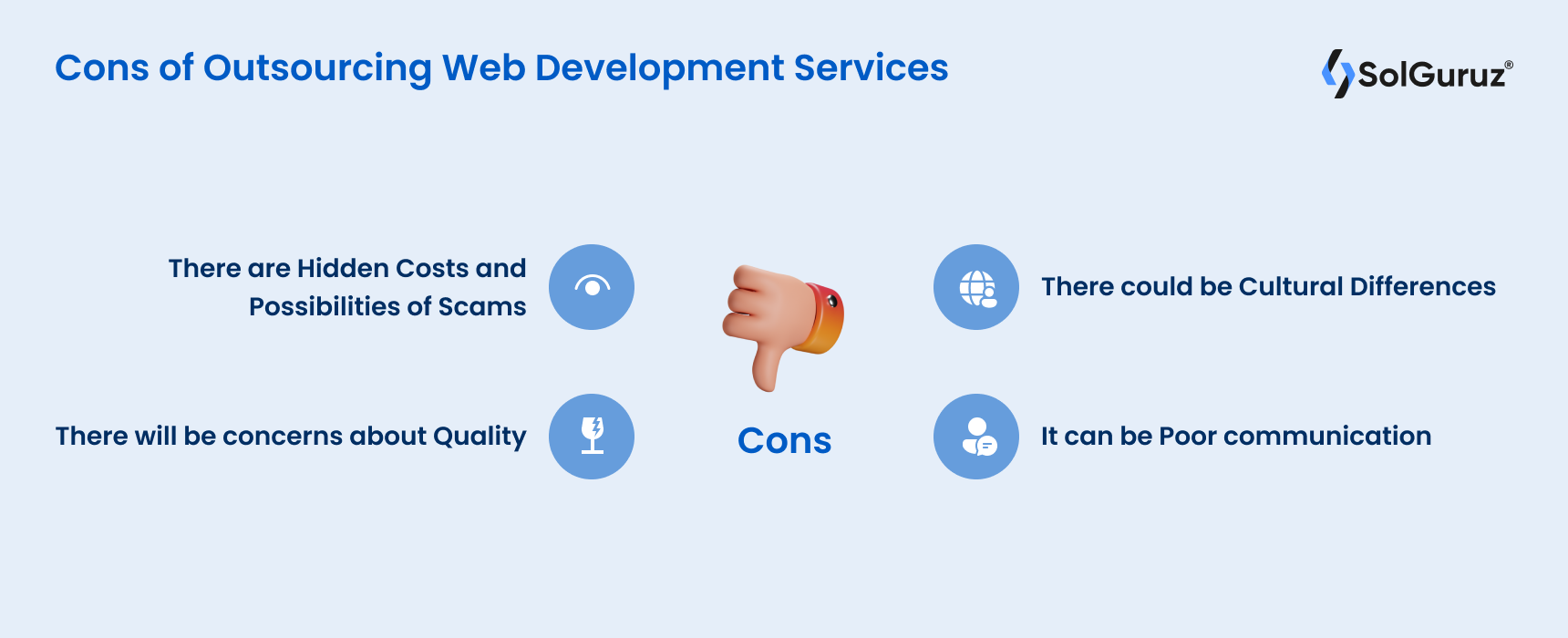 Not everything that shines bright is gold – there is a dark side when outsourcing things to a web development company.
We can start with issues related to managing the web development project by an outsourcing company. There could be major problems in outsourcing due to the inability to transfer the work to the client, lack or absence of communication and transparency, etc. 
Here are a few critical disadvantages of outsourcing web development services to a web development company.
There are Hidden Costs and Possibilities of Scams.

Although outsourcing projects to a web development company provider are often less expensive, you still need to keep your eyes open. Some outside groups may approach smaller firms and have them sign lengthy contracts with pages and pages of fine text at the end. 

Even if you have a good feeling about an outside development team and they have an impressive portfolio, you should still read the terms carefully. In the alternative, you could have to pay more money.

To reiterate, you should make sure you clearly understand all the terms and conditions in your agreements so that you are not financially liable for the developers' failure to perform.

There will be concerns about Quality.

One of the most typical drawbacks of outsourcing web development services is a loss of focus and a decrease in the likelihood that performance and quality can be controlled. Unfortunately, there are freelancers and companies whose only goal is to maximize profits. 

A minority of people use antiquated practices even if data show that outsourcing has progressed and the emphasis has switched from quantity to quality. It would help if you kept an eye out for people and groups whose primary motivation is to make money. Try to find a reliable team that is on the same page ideologically and can help you accomplish your goals.

It can be Poor communication.

This situation compounds the difficulties of communicating with a corporation you are working with. In some instances, a face-to-face meeting won't work. Coordinating phone and video conversations might be complicated if you and the other party are in different time zones.

This might force you to rely on less-than-ideal forms of asynchronous communication, such as emails and instant chat, especially if urgent matters arise.

Setting expectations for communication and following up when necessary might help alleviate these issues. It is better to over-communicate than under-communicate at all times.

There could be Cultural Differences.

Finally, collaborating with an outside organization may be detrimental to the culture of your team. Having a diverse team always yields the most significant outcomes. However, there are cases in which cultural differences might prove detrimental. 

It's just the tip of the iceberg regarding the difficulties you may encounter, such as things being lost in translation and moral quandaries. Your in-house team's morale may suffer due to these miscommunications and problems. Also, the unfriendly environment might be picked up by the final clients, leading to a loss of revenue and public criticism. 

Furthermore, there may be legal complications if the rules of the country you have decided to outsource from differ significantly from yours. Do a thorough search before you hire an external web development company.
How Are All the Cons of Outsourcing Web Development Services Nullified at SolGuruz?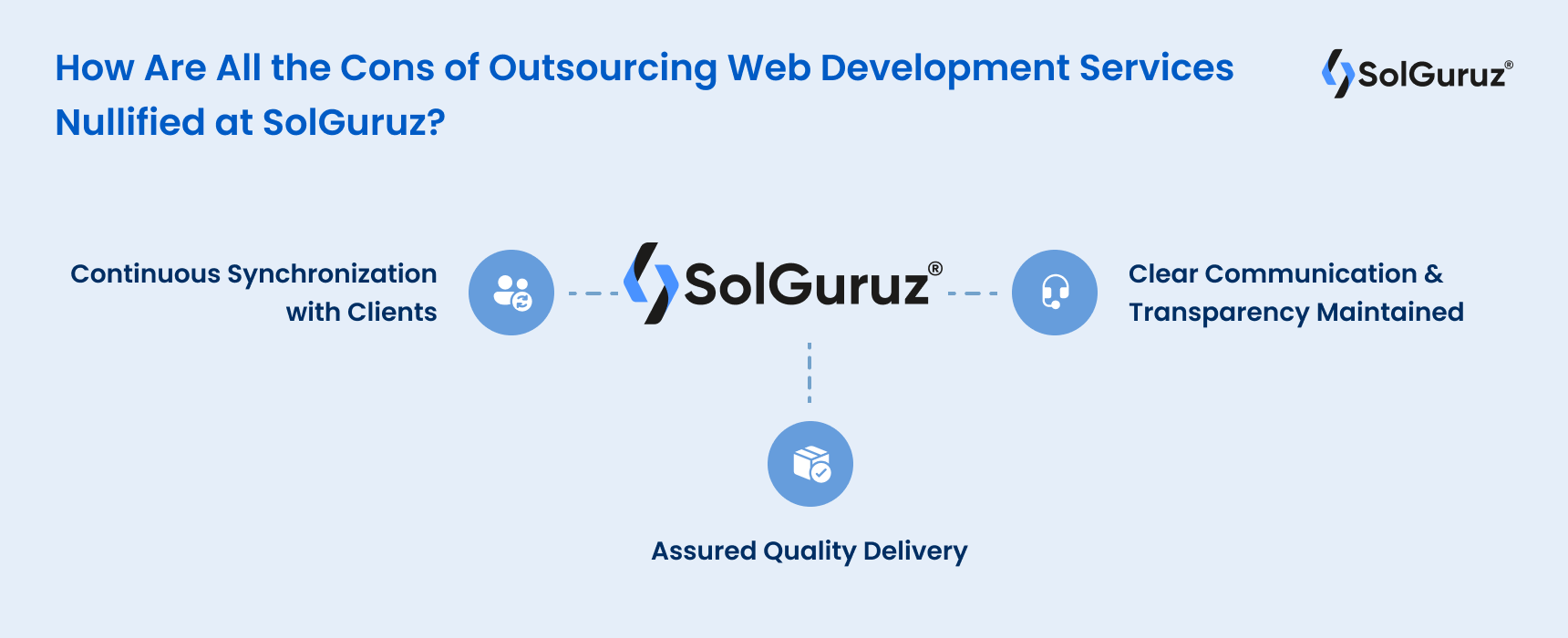 At SolGuruz, we follow standard processes that almost nullify the disadvantages of outsourcing web development services. 
Here is How We Make Sure That our Clients and we stay on the same Page –

Some of the practices we follow are mentioned below; this is to ensure the client team is on the same page and to avoid future mishaps or misunderstandings regarding cost, timeline, team, scope of work, etc.

We share day-wise weekly timesheets with all the clients, keeping them on the same page regarding hours spent by team members on specific tasks on particular days.
We sign strict NDA and Non-compete agreements.
We sign the Statement of Work proposal document by listing the features we agreed to develop and deliver in the decided milestones, payment cycles, third-party tools requirements, cloud costing, and various other things. 
We prepare and share the project plan document with our clients.

Here is How We Make Sure Quality Delivery –

At SolGuruz, we also write user stories about their requirement
We Prepare detailed wireframes and clickable prototypes so that the client can visualize the app development in the early stages
We Also Write test cases for Clients as per their requirement
We follow the practice of logging defects using a project management tool and solving them regularly with our experts.

How are we managing communication at SolGuruz?

We at SolGuruz have overcome this challenge by following items as part of the project execution:

We share daily status updates in an agile way.
We take daily scrum calls in the morning and the evening – We schedule a weekly demo call with the client's team.
We share a weekly progress report with the client and internal stakeholders.
Wrap Up
So, we have laid out all the pros and cons of outsourcing web development services to a leading web development company. 
We have expertise working with customers ranging from startups to digital production companies at SolGuruz. Contact us if you want to outsource your web development project from UI/UX to final custom software development.
FAQs
What is outsourcing in web development services?
Businesses may outsource their web development to an independently managed provider, keeping as much or as little say over the development process as they choose. A few examples of web dev outsourcing include staff augmentation, specialized teams, and complete outsourcing.
What are the two negatives of outsourcing?
Two major concerns - Loss of control, Data protection, and confidentiality risks.
What is the major impact of outsourcing?
There are fewer obstacles to entry and more competition as a result of outsourcing. Although more competition is typically good for customers and firms who can keep up with it, it may be detrimental to those that can't. New companies may enter high-labor-cost markets thanks to outsourcing.