Ready to do business with us?
Cannabis delivery app development has become a hot topic as the cannabis industry grows. With the legalization of cannabis worldwide, the demand for on-demand delivery apps has also increased. For centuries, the plant referred to as "cannabis" or "marijuana" has been used for recreational and medical purposes.
In 2021, the legal marijuana market size reached USD 22.5 billion globally. As per marketsandmarkets' estimation, it will increase at a compound annual growth rate (CAGR) of 24.3% between 2023 and 2026.
In this article, we'll provide comprehensive insights on developing a cannabis delivery app.
So, let's get started!
Cannabis Delivery App: An Overview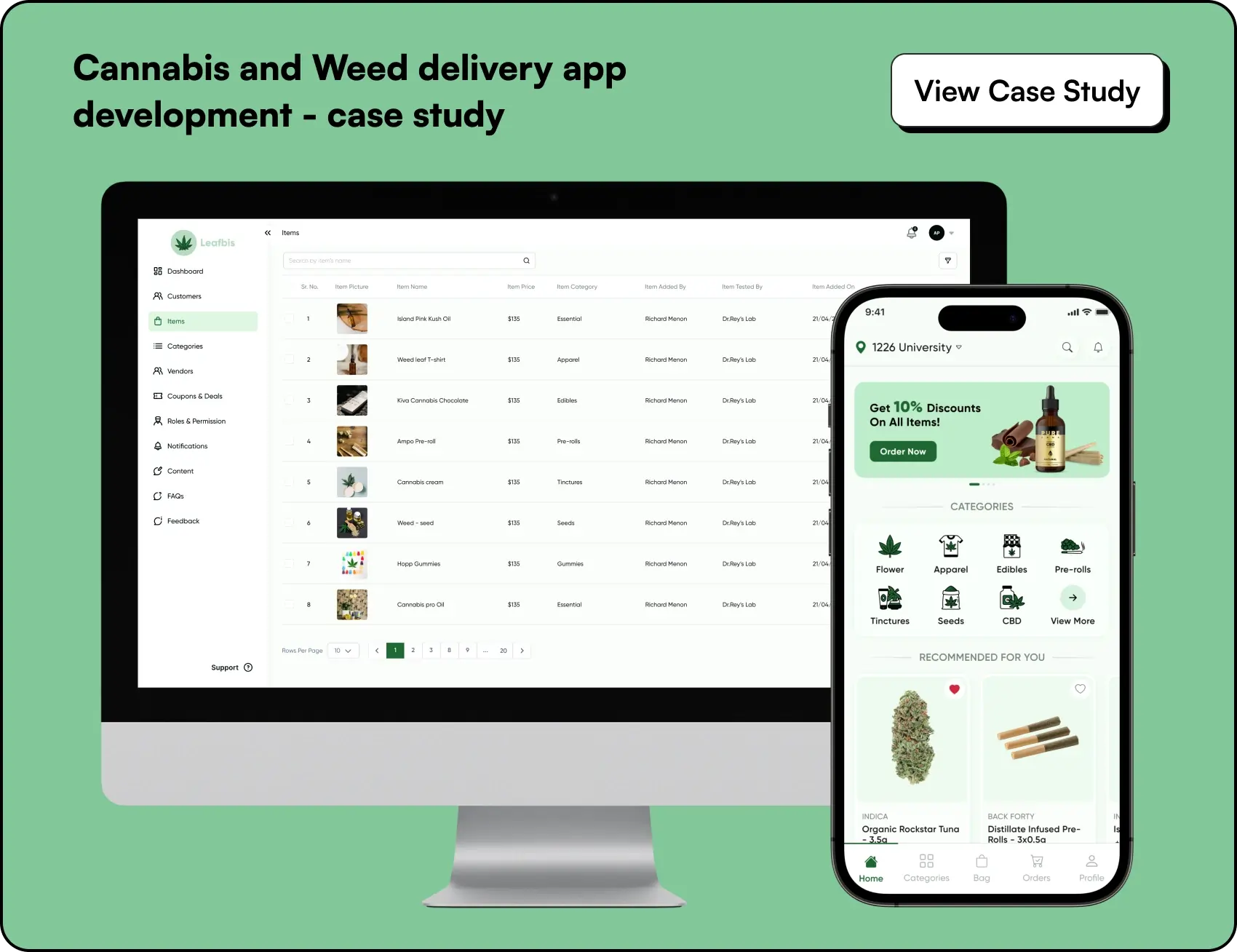 A cannabis delivery app is an on-demand mobile application. It allows users to order cannabis products from a licensed dispensary. They can have the product delivered to their doorstep. These apps provide a convenient and discreet way for users to access cannabis products.
The way a cannabis delivery app works is like other on-demand delivery apps:
Users download the app, create an account, and browse licensed dispensaries' products. Users can add products to their cart, select a delivery time, and complete their purchases.
Once the order is confirmed, a licensed delivery partner can collect the product from the dispensary. They'll pick up the products and deliver them to the user's location.
Users can track their delivery in real-time via the app. They can receive notifications of the status of their order. For example, when it is on its way or has been delivered.
It's important to note that cannabis delivery apps are only legal in certain areas where cannabis is legalized for medicinal or recreational use. The app must also follow all local laws and regulations for selling and delivering cannabis products.
10 Must-Have Features Of A Cannabis Delivery App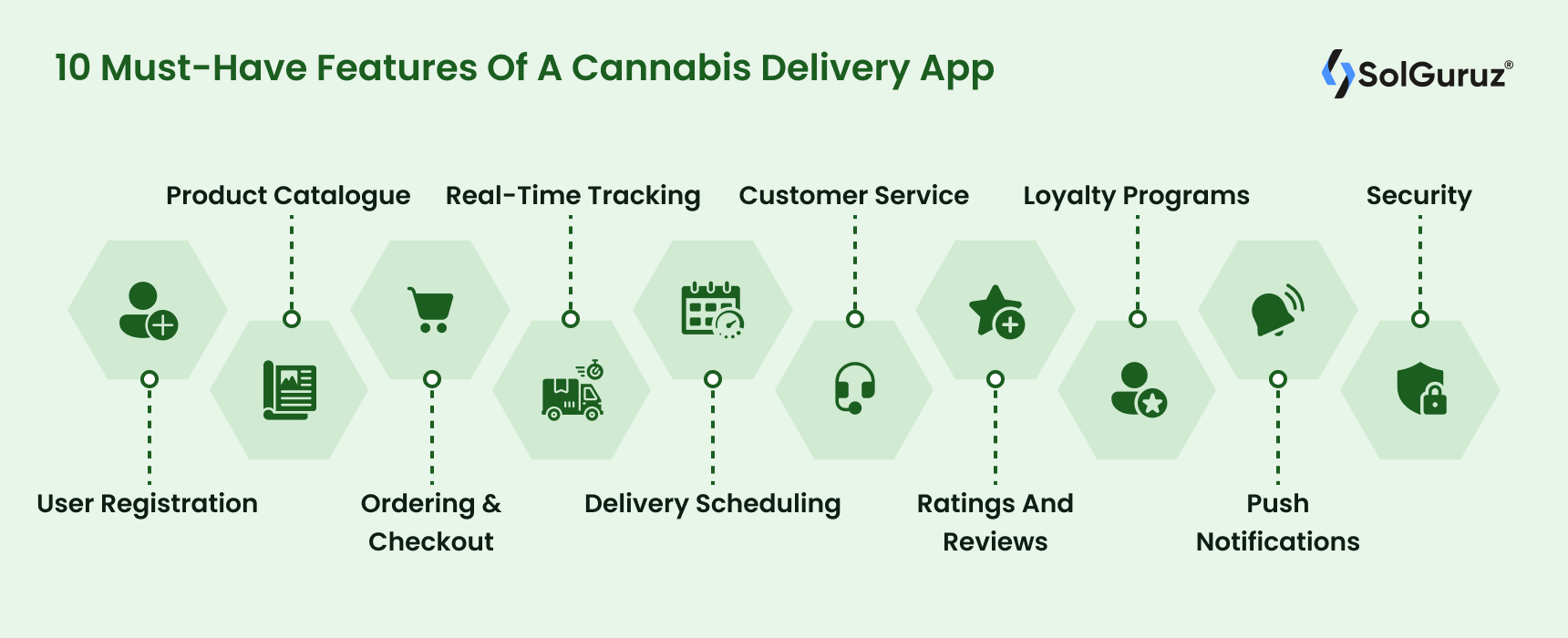 User Registration

The first step to using a cannabis delivery app is to create an account. Users must provide basic information, such as their name, address, and age, to ensure they can buy cannabis products. After creating an account, users can browse the catalog of products and proceed to place orders.

Product Catalogue

An essential feature of any cannabis delivery app is its product catalog. It should be easy to navigate and provide detailed information about each product, including:

Strain type
THC and CBD content
Pricing

Users should also be able to filter products by categories, such as flowers, edibles, concentrates, and more. A good cannabis delivery app should also offer various products from different brands. It allows users to choose the products that best meet their needs.

Ordering And Checkout

The ordering and checkout process should be simple and intuitive. The cannabis delivery app should allow users to:

Add products to their cart
Review their order details
Input their delivery and payment information

The total cost, which includes taxes and delivery fees, should be presented. The app should also offer payment options like credit cards, debit cards, and digital wallets to cater to users' payment preferences.

Real-Time Tracking

Real-time tracking allows users to track their order status from when it is placed until it arrives at their doorstep. This feature gives users a sense of reassurance, as they can expect their delivery's arrival time. It's also helpful for the delivery driver, who can use the app to navigate to the delivery location and confirm the delivery was made.

Delivery Scheduling

Users should be able to schedule their delivery for a specific date and time that works best for them. This feature benefits users with busy schedules or who want to ensure they are home when the delivery arrives. The app should offer flexible delivery windows, such as 2-hour or 4-hour, to accommodate users' schedules.

Customer Service

A cannabis delivery app should provide excellent customer service to ensure users have a positive experience. The app should have a support team to answer user questions or concerns like product recommendations or delivery issues. The app should provide users with various channels to contact customer service, such as phone, email, or chat, and guarantee prompt responses.

Ratings And Reviews

Users should be able to rate and review products they have purchased, providing feedback to other users and the app itself. Ratings and reviews can help users decide which products to buy. They can also provide valuable feedback to the app and brands about the quality of their products.

Loyalty Programs

A loyalty program can be a great way to incentivize users to continue using the app. Users can earn rewards, such as discounts or free products, for making purchases or referring friends to the app. A good loyalty program should be easy to understand and provide clear benefits to users.

Push Notifications

Push notifications can be valuable for maintaining user engagement with the app. Users can receive notifications about new products, promotions, or delivery updates. But, it's important to ensure notifications are manageable, as this can lead to users disabling them altogether.

Security

The security of your customers' information is paramount in any business. You should ensure that your app uses SSL encryption and that all user data is encrypted while stored on your servers. You must also use two-factor authentication (2FA) so only authorized users can access sensitive account information.
Benefits Of Developing A Cannabis Delivery App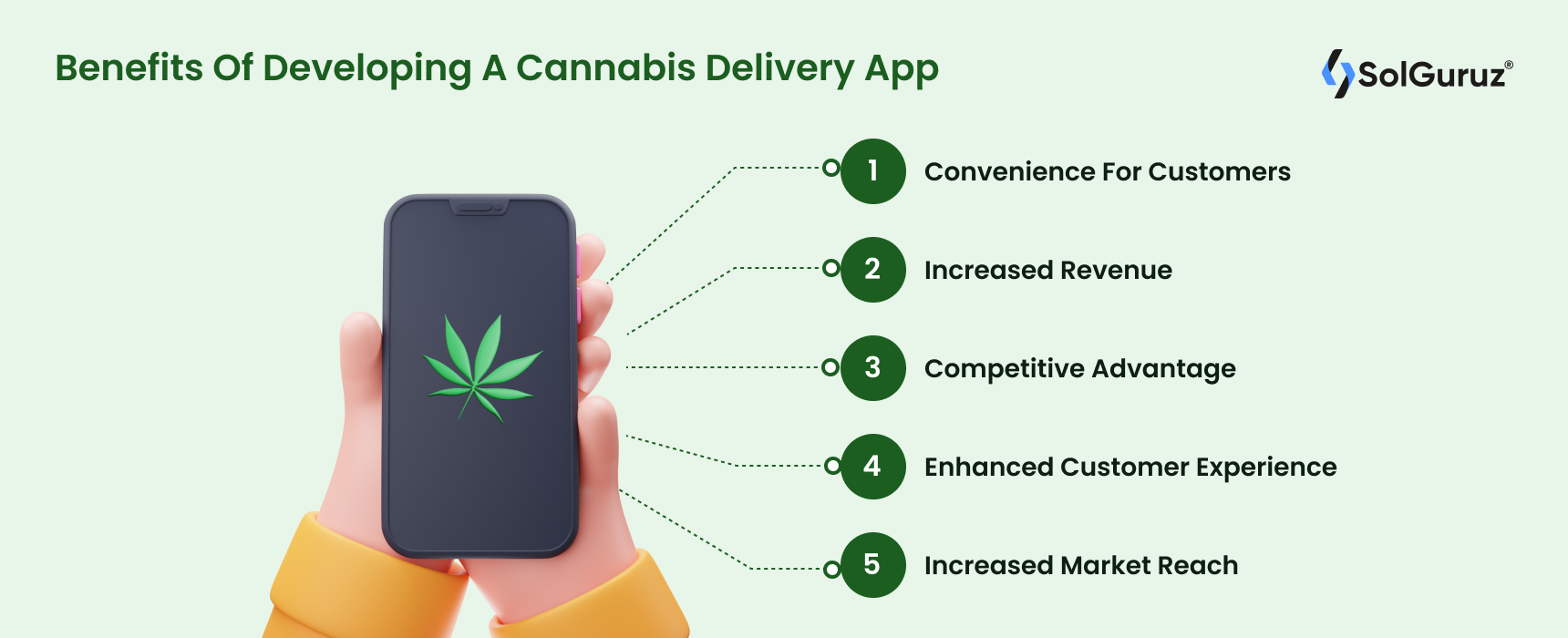 Convenience For Customers

With a mobile app, it is easy for customers to find the cannabis dispensary closest to them. This eradicates customers' need to visit a dispensary or retail store. It can be especially convenient for those with mobility issues or limited access to transportation.

Using the appropriate app, customers can order and have their cannabis delivered straight to their doorstep.

Increased Revenue

Online delivery services are all about convenience. But they're also great for business owners because they increase revenue. The average consumer will likely spend more money on an online delivery service. It's more than they would spend if they had to find their product at a physical location.

You can increase revenue since delivery services offer products in larger quantities and with more options than dispensaries. More customers will want to buy from you instead of going elsewhere for their cannabis needs.

Competitive Advantage

As more countries continue to legalize marijuana, the industry is expected to become more competitive. There will be plenty of competition in the coming years. Everyone has entered the market with their apps, from other dispensaries to tech companies.

Creating a cannabis delivery application can provide your enterprise with a distinctive edge over competitors, as there is a strong possibility that they do not provide a comparable service. This can aid in expanding your customer base and attracting fresh clientele. Additionally, it can be a valuable tool in retaining existing customers who seek a more convenient way to purchase their desired products.

Enhanced Customer Experience

Cannabis delivery apps offer a new way to increase customer loyalty and engagement.

There may be some cannabis brands still struggling with the legalities of direct-to-consumer sales. Yet, others are forging ahead with innovative products and services that place the customer at the center of the experience.

When you create a cannabis delivery app, you can be sure that your customers will have an enhanced customer experience because:

There will be no hassle involved in buying cannabis products from your store.
Customers can view the products and buy what they like.
The cannabis delivery app market is relatively new, so customers would find it fascinating.

Increased Market Reach

Finally, developing a cannabis delivery app can help increase your market reach. By offering your products through an online platform, you can reach customers who are located outside of your immediate geographic area. Businesses located in areas with limited access to dispensaries or retail stores can get a special advantage through the app.

A delivery app can also help you expand your business into new markets. It allows you to grow your customer base and increase your revenue.
Types Of Cannabis Delivery Apps For Different Parties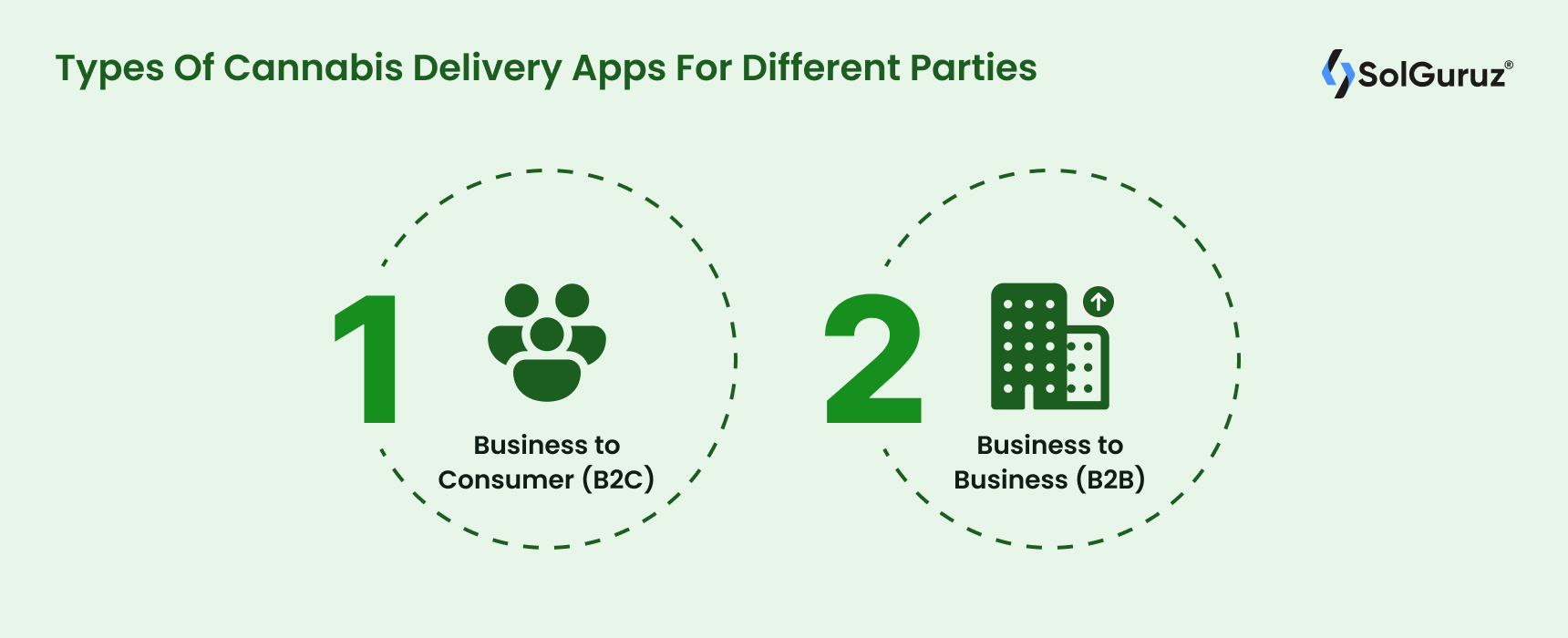 Business To Consumer (B2C)
The online marketplace model is a platform that allows multiple cannabis vendors to list their products on a single app. The app functions as an intermediary between customers and dispensaries.
Customers can browse the products listed by different vendors and order their desired products. The app charges a commission fee for each order placed through the platform.
Online marketplaces like WeedMaps provide a central hub for dispensaries to list their products and services. Customers can browse dispensary menus, reviews, and location information. They can also use the online marketplace to find deals on medical and recreational marijuana products.
Single Medical Dispensary
Patients with a medical marijuana card use a medical dispensary to buy cannabis products from nearby licensed dispensaries. These apps are only available for medical patients with prescriptions from doctors. They must also have been registered in the state database as qualified users of medical marijuana.
The app will help them find nearby dispensaries, view menu items, and buy with their device.
A single medical dispensary app offers a more personalized experience for customers. The app is designed to cater to the needs of a specific dispensary. It also provides customers with a seamless ordering experience. The app also allows dispensaries to build their brand and develop loyal customers.
Business To Business (B2B)
White-Label Delivery Apps
A white-label app is a pre-made platform that can be customized and branded to fit the needs of a cannabis business. Third-party service providers specializing in developing delivery apps create the app.
A cannabis business can then purchase the app and add its branding, menu, and pricing information. This allows the business to have a branded delivery app without the hassle and cost of developing one from scratch.
While-label delivery apps are ideal for dispensaries that want to provide their branded delivery service without locking themselves into one system.
Custom-Built Delivery Apps 
Custom-built delivery apps are developed for a cannabis business. These apps are built from scratch and tailored to the business's needs. Custom-built apps offer more flexibility and control than white-label apps but can be more expensive.
There are two main benefits of custom-built delivery apps:
Create a unique user experience: Businesses can develop an app that aligns with their branding. It should also provide a tailored experience for its customers.
Custom features: Custom-built apps can be designed with specific features that meet the needs of the business. It may include customized inventory management systems or advanced analytics tools.
Custom-built cannabis delivery apps are ideal for businesses with specific needs that a white-label delivery app cannot meet. 
For example, a business may need custom integrations with its existing point-of-sale system. Also, they may need advanced analytics tools to track customer behavior and sales trends. A custom-built app can also be designed with unique features that align with the business's branding.
Step-By-Step Guide to Develop Cannabis Delivery App
What does it really take to create an app like Uber for Weeds delivery? Let's go through all the required steps one at a time.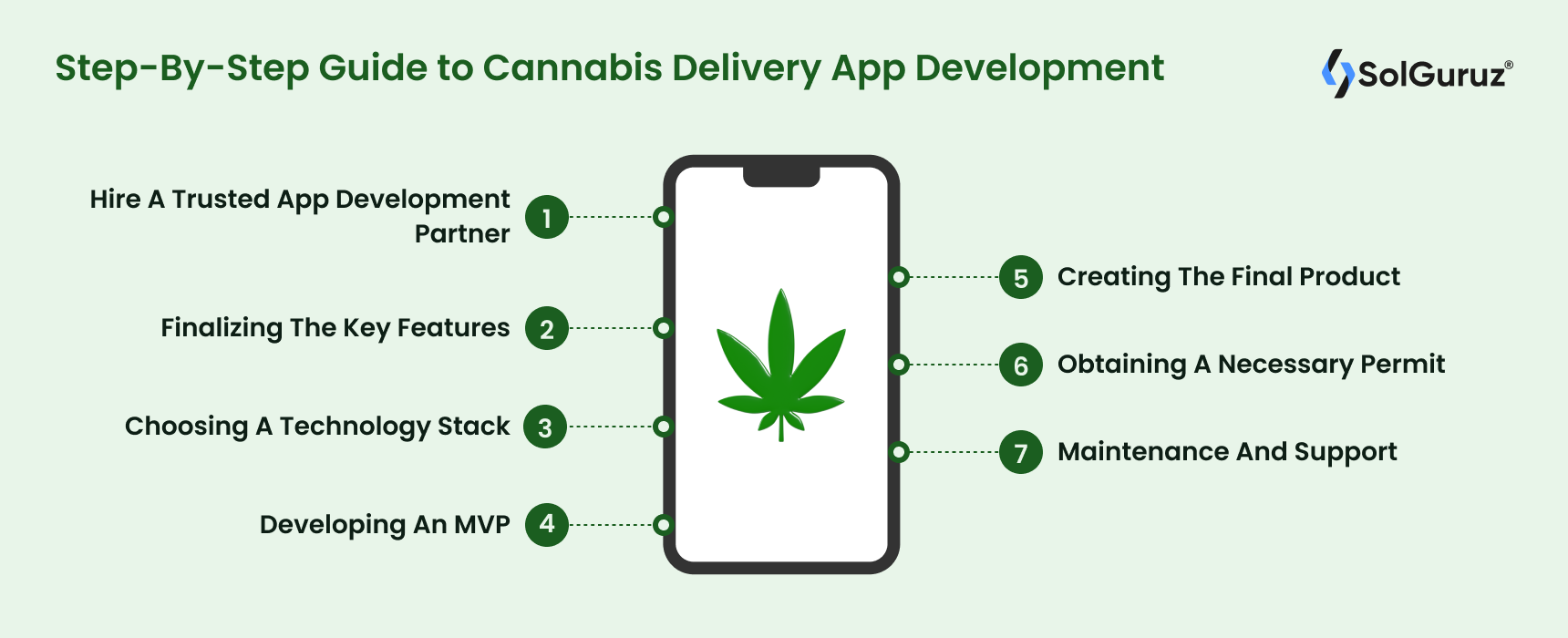 Hire A Trusted App Development Partner

When developing a cannabis delivery app, hiring a trusted app development partner with experience is crucial. They should be knowledgeable about app development and the regulations surrounding the cannabis industry.

To ensure that you're choosing a trusted partner, do the following research:

Look for a development partner with experience working with similar projects. They must be able to provide valuable insights and guidance throughout the app development process. It's also important that they follow secure development practices, including:

Data encryption
Secure server infrastructure
Regular security audits

This will ensure your app is safe and secure for all users.

Finalising The Key Features

Developing a cannabis delivery app presents a lucrative business opportunity. However, it requires careful consideration of the key features essential to meeting the needs of both customers and businesses.

The app must include essential features such as online ordering, a product catalog, a payment gateway, and delivery tracking. Also, having some vital advanced features can help set your app apart from the competition. These key features include:

Personalization: The ability to provide personalized recommendations based on a customer's past orders, preferences, and browsing history. This can enhance the customer experience and drive repeat business.
Loyalty programs: Loyalty programs incentivize customers to continue ordering through the app. A referral program that rewards customers for referring new users to the app can also be effective.
Compliance: Features that ensure compliance with local regulations. It can be age verification and purchase limits. These are crucial for businesses to maintain their license and reputation.

Careful consideration of critical features is necessary to develop a successful cannabis delivery app that caters to the needs of both customers and businesses. It can make your app a successful and profitable venture in the expanding cannabis industry.

Choosing A Technology Stack

The selection of the appropriate technology stack is critical to the development of a cannabis delivery app. It impacts the app's performance, scalability, development process, and success.

The technology stack comprises the programming languages, frameworks, libraries, and tools used to build the app. It includes both the front-end and back-end technologies, such as the server, database, and APIs.

The technology stack selection depends on the app's requirements, target audience, and development team's expertise. For instance, if an app needs to handle a high volume of transactions, a scalable database like MongoDB and a robust framework like Node.js may be suitable.

It's essential to choose the right technology stack because:

It can affect the app's performance, speed, security, and user experience.
It can impact the development time and cost, making it crucial for businesses to make informed decisions.

Choosing the technology stack differs from selecting the app's features. While features determine what the app does, the technology stack determines how it does it.

By selecting the appropriate technology stack, businesses can ensure that their cannabis delivery app is efficient, secure, and scalable. It helps improve their chances of success in the competitive cannabis market.

Developing An MVP

Developing a Minimum Viable Product (MVP) is crucial to building a successful cannabis delivery app. An MVP, or minimum viable product, is the basic version of the app. It contains enough features to attract early adopters and gather feedback. It allows businesses to test their assumptions, validate the market, and identify potential problems early on.

MVP is created based on the core features. The MVP should focus on delivering these core features to the target audience, even if they could be better or more complete. Here's how MVP development works:

First, the app development company will develop a prototype demonstrating the app's functionality and user experience. You can achieve this using wireframes or mockups representing the app's interface and navigation.
After creating the prototype, the company will gather feedback from early adopters, stakeholders, and potential customers. This feedback can refine the app's design, functionality, and user experience.
Based on the feedback, they will develop an MVP that looks a lot like the final product. It helps identify new features or improvements that can be added to the final versions of the app.

Developing an MVP is different from developing the final product. It is focused on delivering the core features to the target audience rather than building a fully-featured app.

By developing an MVP, businesses can reduce development costs and time-to-market. They can also increase their chances of success in the competitive cannabis delivery market.

Creating The Final Product

Creating the final product of a cannabis delivery app involves building on the MVP. There's a refinement in the app's design, functionality, and user experience to meet the needs and expectations of the target audience.

A cannabis app development company focuses on three things:

Test the app for performance, security, and scalability before launching. This can involve rigorous testing of the app's back-end, front-end, and APIs. It helps identify and fix issues impacting the user experience or the app's stability.
Ensure that the app complies with local regulations of cannabis delivery, such as age verification and purchase limits. This is critical to maintaining the business's reputation and license. It also ensures the app complies with local laws and regulations.
Focus on delivering a seamless and enjoyable user experience. For this, features such as easy payment options, personalized recommendations, and fast delivery times might help. This can help enhance customer loyalty and encourage repeat business. It will lead to long-term success in the competitive cannabis delivery market.

Obtaining A Necessary Permit

One of the most essential steps in developing a cannabis delivery app is obtaining the necessary permits from the appropriate regulatory agencies. Different regulatory requirements may need to be met depending on the delivery service's location. A permit or license will often be required to operate a cannabis delivery service.

To get a permit, you must research the requirements for your specific location. Also, ensure that your app and business model follow all relevant regulations. This may involve filling out application forms, submitting documentation, and undergoing inspections.

Regulations around cannabis delivery can be complex. It can vary from state to state or country to country. So, stay current with the latest regulatory developments and seek legal advice if necessary.

Maintenance And Support

Once your cannabis delivery app is up and running, ensure it is maintained and supported. This means ensuring the app is updated, bugs are fixed, and customer support is available.

Maintenance and support are crucial for ensuring your app remains functional and compliant with changing regulations. This may involve hiring a dedicated team to manage maintenance and support or outsourcing these tasks to a third-party provider.

Implementing adequate security measures to safeguard user data and prevent unauthorized access is crucial. This may involve utilizing encryption, firewalls, and other security protocols to protect against cyber threats.
Top 5 Challenges In Developing A Cannabis Delivery App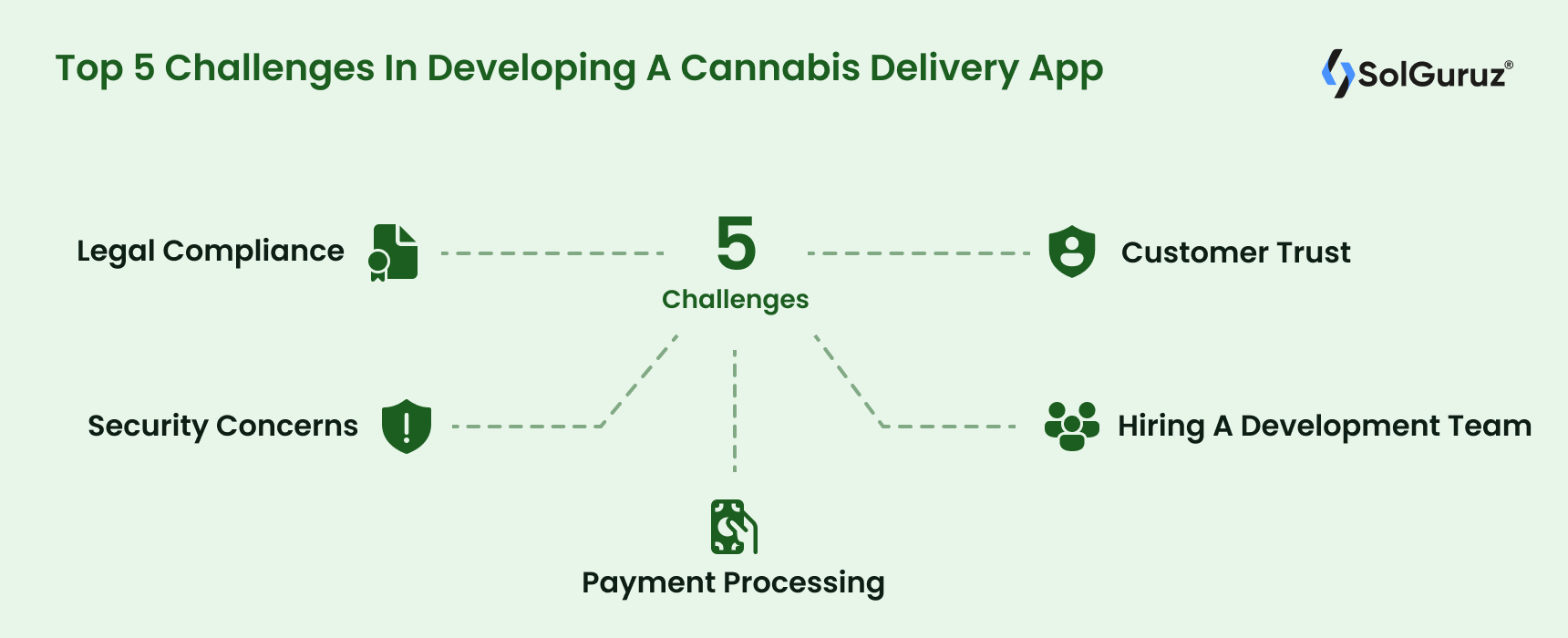 Legal Compliance

The cannabis industry is regulated. Compliance with local and state laws is essential for operating a cannabis delivery app. The legal framework surrounding the use and sale of cannabis products varies based on the region.

Ensuring that your app adheres to all applicable laws and regulations is imperative. Noncompliance can lead to substantial fines or the suspension of your application.

Security Concerns

Security is a critical concern for any app. But it is even more crucial for a cannabis delivery app. It is crucial to ensure the security and protection of customer data within your app. This entails implementing measures such as strong passwords, two-factor authentication, and encryption of sensitive information.

You must ensure that the app is secure against cyberattacks. There must be proper protocols in place in case of a security breach.

Payment Processing

Processing payments can present a challenge. Many payment processors hesitate to work with the cannabis industry due to its legal status.

You must ensure your app has a secure and reliable payment processing system. It should comply with all relevant laws and regulations. This can involve working with specialized payment processors or developing your payment processing system, which can be time-consuming and costly.

Hiring A Development Team

Hiring a development team with experience developing cannabis delivery apps can be challenging.

You must find a team that understands the cannabis industry's unique challenges. They must be able to develop an app that meets all legal and regulatory requirements. You must also ensure the team has experience developing secure, reliable, and scalable apps.

Customer Trust

Building customer trust is essential for the success of your cannabis delivery app. It's no secret that cannabis is still stigmatized in many parts of the world. Considering that, you must ensure that your app provides high transparency. The customers must feel safe and secure using it. This can involve implementing customer reviews and ratings, providing detailed product information, and protecting customer data.

Create A Stunning On-Demand Cannabis Delivery App With SolGuruz
SolGuruz is a leading bespoke software development company specializing in creating on-demand cannabis apps. We have years of experience developing custom cannabis apps. Our experienced team can help you create a stunning on-demand cannabis delivery app that meets your unique business requirements.
Whether you want to build a cannabis delivery app or a cannabis marketplace app, we have the expertise and knowledge to build a world-class solution. Our team of experts will collaborate with you to understand your business requirements and objectives.
With SolGuruz, you can expect a comprehensive and customizable solution. We can help you with an app containing all the necessary features, including user registration, order management, real-time tracking, etc. The app will be designed to offer a user-friendly experience, with intuitive navigation and a straightforward interface.
SolGuruz uses the latest technologies to develop on-demand cannabis apps, ensuring your app is scalable, secure, and optimized for performance. In addition, we offer ongoing maintenance and support services to ensure that your app remains current and continues to meet your evolving business requirements.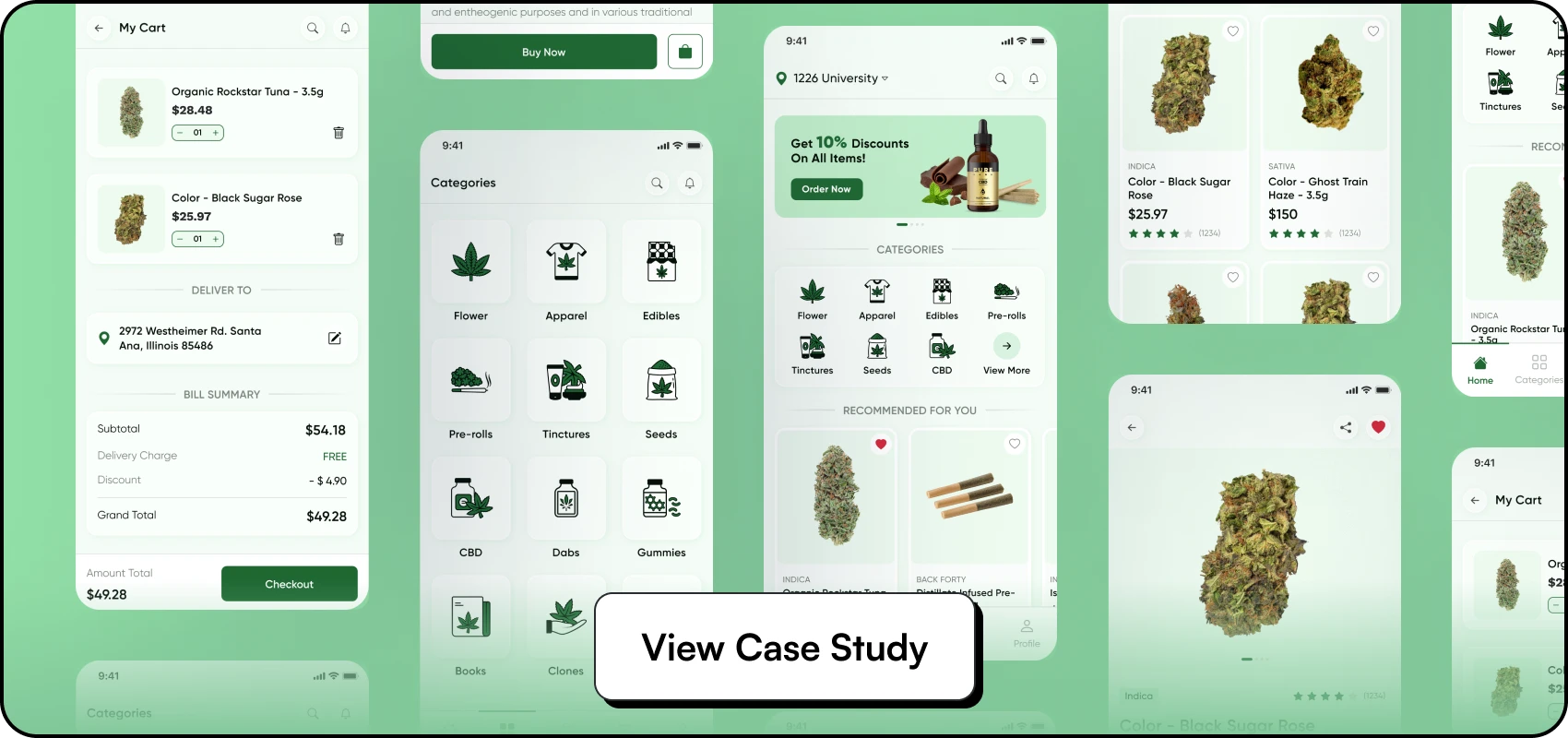 Developing a cannabis delivery app like Weedmaps requires careful consideration.
Yes, developing a cannabis delivery app requires careful consideration of various legal, technical, and operational aspects. To succeed in this highly regulated industry, conducting thorough research is crucial. Following compliance guidelines and providing an exceptional user experience are also essential.
By leveraging the latest technologies, implementing robust security measures, and building a reliable team, cannabis delivery apps can provide convenient and accessible access to medical and recreational cannabis products.
As more states legalize cannabis, the demand for delivery services will likely increase. Entrepreneurs and investors can consider it a lucrative opportunity. But, it's important to consider this industry's unique challenges and regulations. It's crucial to approach the development process with caution and expertise.
With the right strategy, cannabis delivery apps can revolutionize how people access and enjoy cannabis products. Thus, it'll provide a safer, more convenient, and more enjoyable experience.
FAQs
Are cannabis apps allowed on the App Store?
Indeed, as of June 2021, cannabis apps are permitted on the App Store as long as they are associated with a legal and licensed entity. These apps can help sell and deliver medical and recreational cannabis in legal jurisdictions. However, they must be restricted to licensed legal entities. Geo-fencing within the legal jurisdiction is also required for this. This information is based on Apple's updated "App Store Review Guidelines," released in June 2021.
What is the cost of creating a cannabis delivery app?
The cost of developing a cannabis delivery app can vary. There are some desired features and functionality that might impact the overhead. Basic apps can cost anywhere from $30,000 to $50,000. More advanced apps can cost upwards of $150,000.
Are cannabis delivery apps legal?
Cannabis delivery apps are legal in some states where marijuana is legal. But, they may be subject to specific regulations and restrictions. Before launching a cannabis delivery app, conducting thorough research is essential. You must check the laws and regulations applicable in your region. This can help ensure that your app complies with all relevant legal requirements and avoids potential legal issues.
How Much Does It Cost To Start An Online Cannabis Delivery Service?
The cost to start an online cannabis delivery service can vary depending on several factors. It may include licensing fees, legal compliance costs, marketing expenses, etc. Starting a cannabis delivery service can cost anywhere from $50,000 to $250,000.
What do I need to know before I make an on-demand weed app?
Before creating an on-demand weed app, it's important to research the legal and regulatory requirements in your area. Aspects such as payment processing, inventory management, and customer support can significantly impact the success of your app. It's essential to research and plan for them during the development process.
How much time does it take to develop an online cannabis delivery app?
The duration of developing an online cannabis delivery app may differ. It depends on various factors, including the app's complexity and the development team's skill set. Creating an operational cannabis delivery app may take between 4 and 6 months.