Ready to do business with us?
We have great news if you're a cannabis consumer needing the most cutting-edge and useful pot applications. We've researched top weed delivery apps for you to use this year. Some of these applications are well-established, while others are on the rise.
According to a report by IBISWorld, the cannabis industry has become one of the most rapidly growing industries in the United States due to the increasing acceptance of marijuana for medical and recreational use. The market size of the cannabis industry is currently estimated to be over $8 billion.
Currently, apps like Weedmaps and Leafly are the best option if you are looking to buy marijuana online through the app.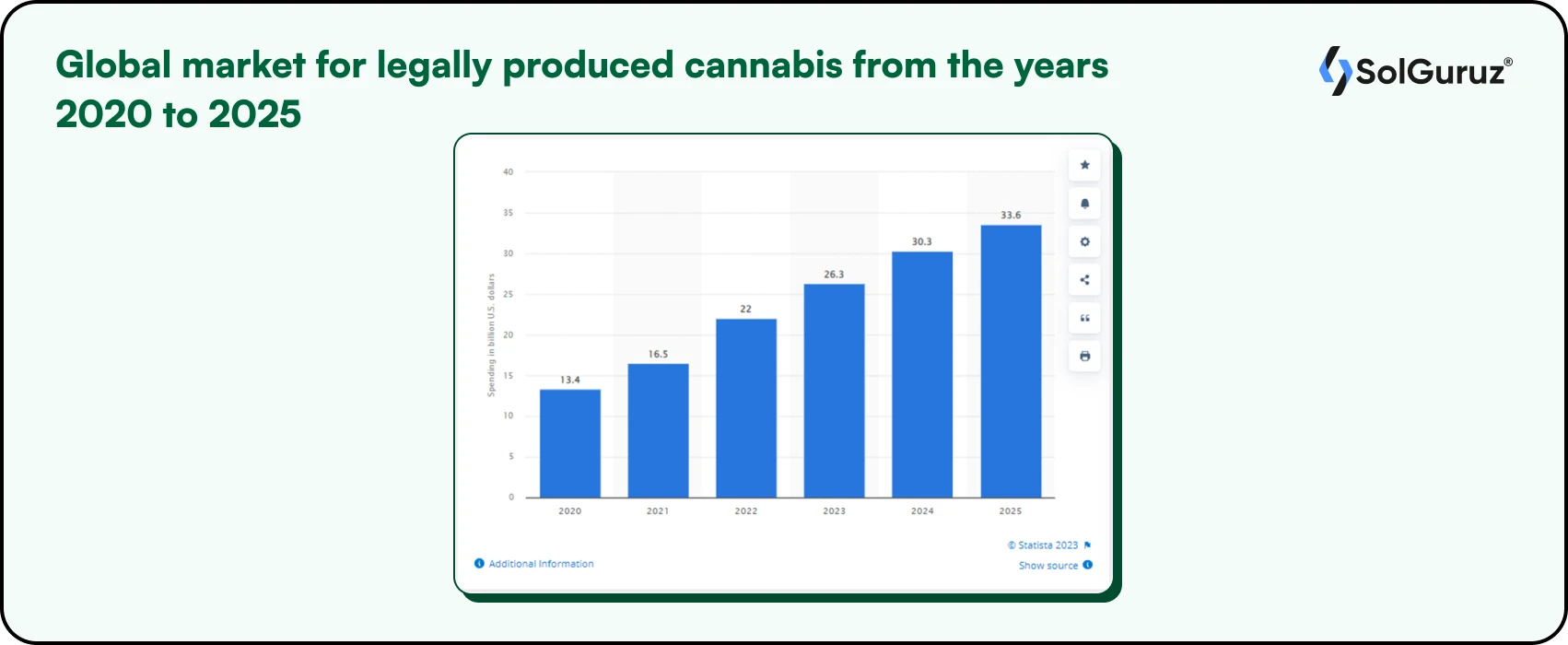 This figure illustrates the amount of the global market for legally produced cannabis from the years 2020 to 2025. It is anticipated that expenditure on cannabis in countries where it is legal to do so will reach more than 33 billion dollars by 2025.
By 2027, the worldwide legal marijuana industry is predicted to be worth USD 73.6 billion, according to Grand View Research. The projected growth rate for this sector is 18.1% each year. This is the time to get into the game of on-demand cannabis delivery apps.
This blog is for business owners, particularly those who want to sell medical marijuana on demand through the app. Since SolGuruz is the industry leader in the creation of marijuana delivery apps, we have decided to share with you the essential information you need to have before creating your weed delivery app.
A Brief About On-Demand Weed Delivery Apps
Marijuana is another name for the plant cannabis. The psychotropic substance derived from the cannabis plant is used for both recreational and therapeutic reasons. Due in large part to its supposed medical advantages, the cannabis sector has quickly expanded to become one of the world's most lucrative. This is a significant factor in the growing demand for cannabis-related mobile applications.
Few of the existing marijuana applications provide accurate dosing information or provide access to high-quality cannabis items.
Demand for weed delivery apps has skyrocketed, making it more challenging for patients to get the medical marijuana they need quickly. Anyone considering a career in the cannabis sector would do well to seize the opportunity presented by the rise of the medical cannabis delivery marketplace and get in while the getting is good.
What's The Point of a Weed Delivery App?
As the cannabis plant is being used for recreational and medical purposes, investing in developing a weed delivery app might be one of the best decisions you make. The above data suggest that future expenditures will likely be far greater than anticipated.
But, before custom cannabis app development, you need to think about the following:
Introduce Authentic Cannabis Shop to Valid Customers

The second thing to consider when making a cannabis delivery app is including maps and filters that direct legitimate customers to the nearest legal dispensary. The customer's uploaded prescription must be checked against a database for accuracy before you can accept them as a legitimate client.

Provide the most recent information on marijuana.

As cannabis is still illegal in many places, you'll need to send out push notifications with the latest information on changes to marijuana laws as they occur.

Study the Market and Gather Data

It is essential to understand the cannabis industry completely before building a delivery app for the plant. Blaze is one of the major participants in the marijuana delivery sector. Knowing which jurisdictions have legalized cannabis is necessary for launching a delivery service.

In addition, reaching your market's specific demographic is essential to your company's success. Promoting a product effectively requires establishing trusting relationships with potential buyers.

You should research the best marijuana apps like Leafly before making your own. You may use it to see what improvements can be made to the program and what benefits you should take advantage of.

There are a lot of popular applications out there, like Leafly, providing weed delivery services. If you want to compete with them, your app must stand out. The greatest marijuana-related applications currently available are listed below.
Top 6 Cannabis and Marijuana Apps
Examine and evaluate these top alternatives to Leafly, the most popular marijuana app. Additionally, while designing cannabis delivery applications, it's important to stand out by offering something unique and high-quality to the end user.
Based on user evaluations, frequency of use, unique features, and total downloads, these are some of the finest cannabis deliveries in the USA.
Leafly: Find Cannabis, Marijuana, Weed, CBD

With over 1 million users and a 4.7 Star rating on Playstore, There is no better place to learn about cannabis than on the Leafly app.

Weedmaps's main rival is Leafly, a comprehensive cannabis-related data platform. The app, created in the early 2010s, is a treasure trove of useful information and advice on all things cannabis-related. Get your region's top dispensaries, sales, and discounts, with detailed recommendations for medical cannabis strains and lab testing results.

This marijuana discovery tool also serves as Cannabis 101, helping users learn about cannabis and locate the strains that suit their needs. This cannabis discovery app has a mature content rating of 17+. Over 2.3 million unique users visited Leafly monthly, and 50,000 mobile app downloads were made.

One of the weed delivery apps, Leafly, is a business app with some of the following features:

Use the built-in Leafly map to locate nearby dispensaries and peruse their menus for the cannabis you need.
See which cannabis products other people with your condition have found most helpful by reading through their reviews. Locate cannabis remedies such as flowers, oils, pills, edibles, and vapes for various ails.
Leafly's News & Culture area is where you can get up-to-the-minute information on developments in the cannabis research, legalization, and policy worlds (among others).

Weedmaps: Find Weed & Delivery

Weedmaps has been around for quite some time in the cannabis sector and has been called the "king of marijuana." It has 5 Millions downloads and a 4.7 Star rating on Playstore.

Weedmaps has been wildly popular in the United States and internationally since it first appeared. Since its release, millions of individuals have used the app to discover which cannabis varieties are ideal for their medicinal needs (among other fantastic features).

Weedmaps is a great marijuana delivery app that acts as a guide to the cannabis industry, helping users locate local shops, delivery services, offers, and physicians. Readers may get the newest information on the cultural and commercial developments in the cannabis business and learn more about hash.

Leafly and Weedmaps are excellent tools; choosing between them depends on personal choice.

Weedmaps has various great features, and here are a few of them:

Quick and easy to use. Superb organization and ease of use. Find out where you are about the legal cannabis market by using the map tool.
Insightful, tailored strain suggestions for cannabis as well as constructive user feedback.
In addition to recommending physicians willing to prescribe medicinal cannabis, the app provides up-to-date information on the legalization and regulation of the cannabis industry.
Used in the handful of states in the U.S. where recreational marijuana use is allowed, the app connects users with hundreds of reputable regulated outlets offering bargains, coupons, discounts, and suggestions.

Eaze: Cannabis Delivery App

Out of so many weed delivery apps on Playstore, Eaze is one app on the rise with a 4.4-star rating and 100,000+ downloads.

Eaze is not just one of the most popular medical cannabis apps in California but also one of the most popular cannabis delivery applications in the state. Eaze is a go-between for you and legal cannabis retailers throughout the Bear Flag State. With a few clicks, you may get items containing CBD that is sourced from either hemp or marijuana, earning it the nick moniker "Uber of Weed."

Eaze is a popular marijuana delivery app linking unaffiliated, regulated cannabis retailers with verified legal customers. Its primary function is to facilitate the delivery of medicinal cannabis. The application is well-known for offering delivery services in areas where they are allowed while adhering to all state and municipal legislation with complete adherence. One of the other websites similar to Leafly is this one.

Here's a list of features of this weed app:

Use an electronic wallet, like Google Pay, to purchase online.
Find out what's happening in cannabis edibles and related news.
See the newest offerings and in-depth lifestyle data.
Find out where your order is and when it will arrive at your door.
Orders may be monitored in real-time, and their expected delivery time can be determined.

Vana: Find Marijuana, Cannabis & Weed Delivery

Vana is a weed delivery platform that is getting a lot of attention. It is often known as the younger brother of both Weedmaps and Leafly.

The organization, once known as Muncheez and will change its name in 2020, has been going from strength to strength in recent years. It currently provides cannabis education, cannabis/CBD shop locators, and extensive information on cannabis brands throughout the United States.

If you find that the larger cannabis applications aren't meeting your needs very well, this is an app that you should download and test out for yourself.

The only thing that users need to do to obtain access to unique money-saving discounts from their preferred and most reliable legal dispensary services, delivery companies, and brands is to join up for the service.

The Weed delivery app has several great features, some of which are listed here:

Information and news about cannabis that is comprehensive, up-to-date, and helpful, covering topics including law, legalization, science, and more.
Save money on your next purchase of cannabis with these special offers and discounts.
The UI/UX design is straightforward to use. Perfect for first-timers.
The CBD and Cannabis dispensary map. Investigate the restaurants, menus, etc., in your area.
Regular emails informing you of the best local cannabis specials.

PotBot: Medical Cannabis App

With a few thousand downloads & 3.4-star rating marijuana delivery app is to look for. PotBot is another PotBot developed by New York-based data aggregation and technology firm PotBotics and is intended to help patients hunt for medicinal marijuana.

PotBot is an essential tool for all patients who appreciate cannabis's medicinal value since it was developed to give you highly tailored recommendations on which medical marijuana strain meets your needs.

All recommendations and data come from the most recent studies and user feedback, compiled with the help of cutting-edge A.I. technology.

A few of PotBot's most notable functions are as follows:

Detailed cannabis information, store suggestions, and clinic locations make it easy for newcomers to navigate the often-confusing purchase procedure.
Researches, tests, and validates cannabis and cannabinoid-based therapeutics using cutting-edge medical technology. After collecting this data, the app can provide precise, personalized recommendations.
Completely individualized cannabis advice (not a "one size fits all" approach). Each prescription targets your medical needs and includes information on the ideal cannabinoid dosages, intake techniques, and strains.

High Tide – Cannabis Delivery

High Tide provides customers with first-rate cannabis goods. You don't need to look for a pot app on the dark web when you can just place a safe purchase for cannabis goods from High Tide. Customer service doesn't get much better than what they provide.

High Tide has all of the necessary licenses from the state of California to distribute cannabis for both medical and recreational use. All of the High Tide's wares have passed rigorous purity and efficacy tests in the lab. The organization also offers incentives and discounts, making cannabis delivery convenient and enjoyable.

Have a look at the highlights of High Tide:

You won't be charged until they've delivered your purchase to you.
Choose the product's intended use from the menu for medicinal or recreational reasons.
Monitoring of orders in real-time
It's simple to place an order through the web or mobile app.

When Breaking into the Cannabis Industry, What Should You Keep in Mind?
A custom cannabis app development requires careful consideration of the following factors.
Personalized Solutions

The nature of the development is another factor to be aware of. You may now choose between tailor-made solutions and white-label/pre-packaged services.

Although bespoke solutions are tailored to your unique company requirements, white-label solutions focus on streamlining operational complexities. So, instead of opting for a white label, it is recommended that you go with a solution that is developed just for you.

Permits

Suppose you want to shop as an online cannabis retailer, distributor, testing lab, microbusiness, or event organizer. In that case, you'll need official government approval. You must either fill out the paperwork or apply for it online to get this license.

Legality

While designing a cannabis delivery app, compliance with all applicable laws and regulations is paramount. Understanding all the legal processes that must be fulfilled before releasing the app for the worldwide market is essential, given the sensitivity of marijuana delivery in most countries.

Delivery Specifics

It's based on the principle that you may arrange your business around delivering and shipping orders to make a profit.

Business Model

Profits from your bespoke web app may be maximized with the right business plan. That's why choosing a company structure that works for you is crucial. The top three business models are outlined below for your perusal.
How Much Does Cannabis Delivery App Development Cost?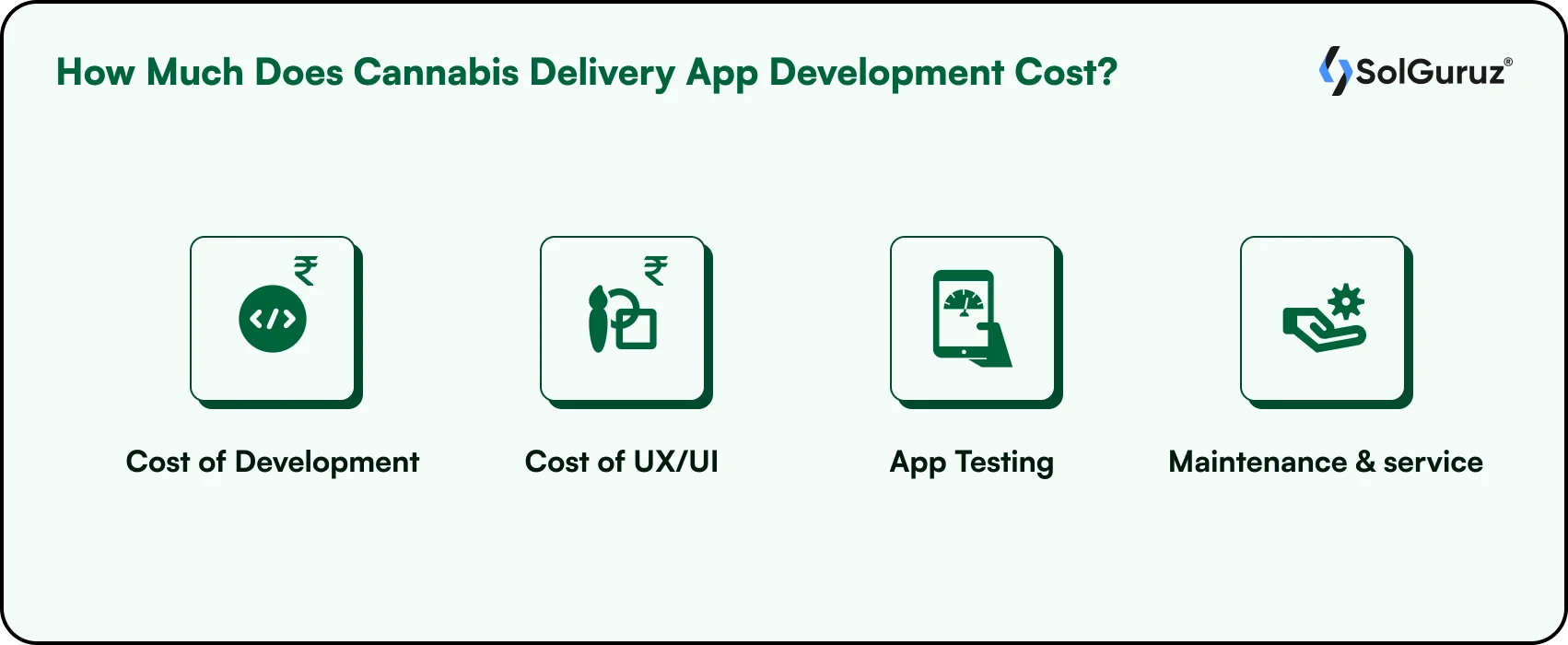 You may get estimates of $30,000 to $50,000 from several mobile app development companies to develop weed delivery apps. Nevertheless, a reliable estimate of the time needed to build the application cannot be made without first consulting with experts in the field.
The amount of money required to create a cannabis app will depend on several factors, some of which are detailed below:
Cost of Development

Do you intend to create a native Android app, an iOS app, or a cross-platform app? The app development cost might vary greatly depending on the sort of app launch platform you choose. The cost of custom cannabis app development might range from $5000 to $7000 and above.

Cost of UX/UI

The app development team never has it easy to make a cannabis delivery app. You'll need to find a group of designers to decipher the underlying business logic and tailor the app's layout to your company's requirements.

How long it takes to personalize an app's design is proportional to the number and sophistication of its features and functions. App designer rates typically start between $15 and $50 per hour.

App Testing

The total price tag may change depending on the method and quantity of resources used to test an app. But, by working with an app development company, you may manage the testing budget since they often use automated testing methods to reduce the likelihood of errors.

Maintenance and service

The expense of making an app doesn't disappear when it's finished being made. Updating your weed delivery services app to the most recent version ensures it continues to function without hiccups. The ongoing upkeep of the cannabis delivery app might account for up to a quarter of the ultimate price.

Including the cost of app upgrades and maintenance is important when creating your budget for developing an app.

Conclusion
As this blog comes to a close, it's safe to say that just as the globe is changing quickly, so are global demands. These numbers paint a picture of a rapidly expanding market for cannabis delivery services in the United States. Businesses of all stripes are eager to put money into the burgeoning weed delivery app now that medicinal marijuana has been legalized in most US cities.
Hence, marijuana on-demand cannabis delivery apps may help you fulfill your expanding demands, whether you are just getting started in the cannabis delivery industry or are searching for methods to expand your current operations.
Send us a message using the form below if you have any more questions about the medical cannabis app or have any plans to create an app for your company and are wondering what features you should include. Our team is having the required knowledge, as they have worked on multiple Cannabis Delivery app development projects.
Frequently Asked Questions
What is the best app for getting weed?
Leafly is the most popular app for cannabis resources in the world. You may use Leafly to get information about cannabis, read reviews of strains, and locate local shops.
What are the best weed websites?
Leafly.com, Marijuana.com, Grasscity.com, Hightimes.com, etc., are the best websites.
Is it legal to use weed delivery apps?
Yes. It is legal to use weed delivery apps only if they are legal and have required permissions.
How long does it take to develop an on-demand weed delivery app?
The time required to build an app to facilitate the online distribution of cannabis varies. It all comes down to the intricacy of the software and the expertise of the team working on it. It might take 3–5 months to develop a fully functional app for delivering cannabis.
How much does it cost to make an On-demand Weed Delivery app?
Although $30,000-$50,000 is about the going rate for cannabis on-demand app development, how much you spend will vary greatly depending on the specifics of your project.
Do I need legal permission to develop a weed delivery app?
Yes. Depending on your region of operation, you need legal permissions to develop and operate a weed delivery app.
What are the challenges faced in developing a weed delivery app?
Here are the key challenges faced in developing a weed delivery app. 1) Marijuana Delivery Is Time-Sensitive 2) Supply Chain Visibility 3) Orders Allocation 4) Poor User Experience
Will you provide Weed delivery app maintenance and support services?
Yes. Definitely. We provide free maintenance support and services post making the web and mobile apps live over the production server and app stores.