Ready to do business with us?
You might know that many US countries have legalized Cannabis. And even if not, it is widely popular in trafficking, production, and use illegally. With the rapid growth of Cannabis globally, businesses are more actively looking to invest in Cannabis delivery app development with apps like weed delivery near me 24 hours.
We know to back any statement – there must be relevant stats. Here are the stats:
The above graph is from Statista. It reflects the size of the legal cannabis market worldwide from 2020 to 2025. It shows that the Cannabis market can reach 42.7 billion USD in 2024.
So, it is a proven fact that this is the right time to build a cannabis delivery app. So, in this blog, we will see cannabis app development costs in India and several other components. Let's begin.
What are the Key Factors That Determine the Cost of Cannabis App Development (Weed Delivery Apps)?
With custom mobile app development services – the cost of development depends on many factors like Choice of Platform, features to be included, UI & UX, etc.
In this section, we will look at them all in detail.
App Complexity and Type
The first and fundamental factor one needs to consider is the type of application and its complexity.
It's a simple rule – The higher the app complexity, the Higher the Cost. 
For example, if you are looking to hire mobile app developers – who can make you an informational app, then the cost would be meagre. But Now that you want to develop a fully functional delivery app or e-commerce platform such as weed delivery apps, the cost would be higher.
So, In the pre-development stage of the application – you and your team sit together and think about the key components of the application. You can also discuss features like user profiles, product listings, ordering systems, payment processing, and real-time notifications.
These features drive the complexity and, consequently, the development costs.
Design and User Experience (UX/UI)
The next component is to focus on the User Experience or User Interface. The cost of development largely depends on how the app will look!
To go through this stage, you need to have a quick look at the cannabis delivery app development case study. There will be the cost of UI but also the cost of having professional UI/UX designers on the board.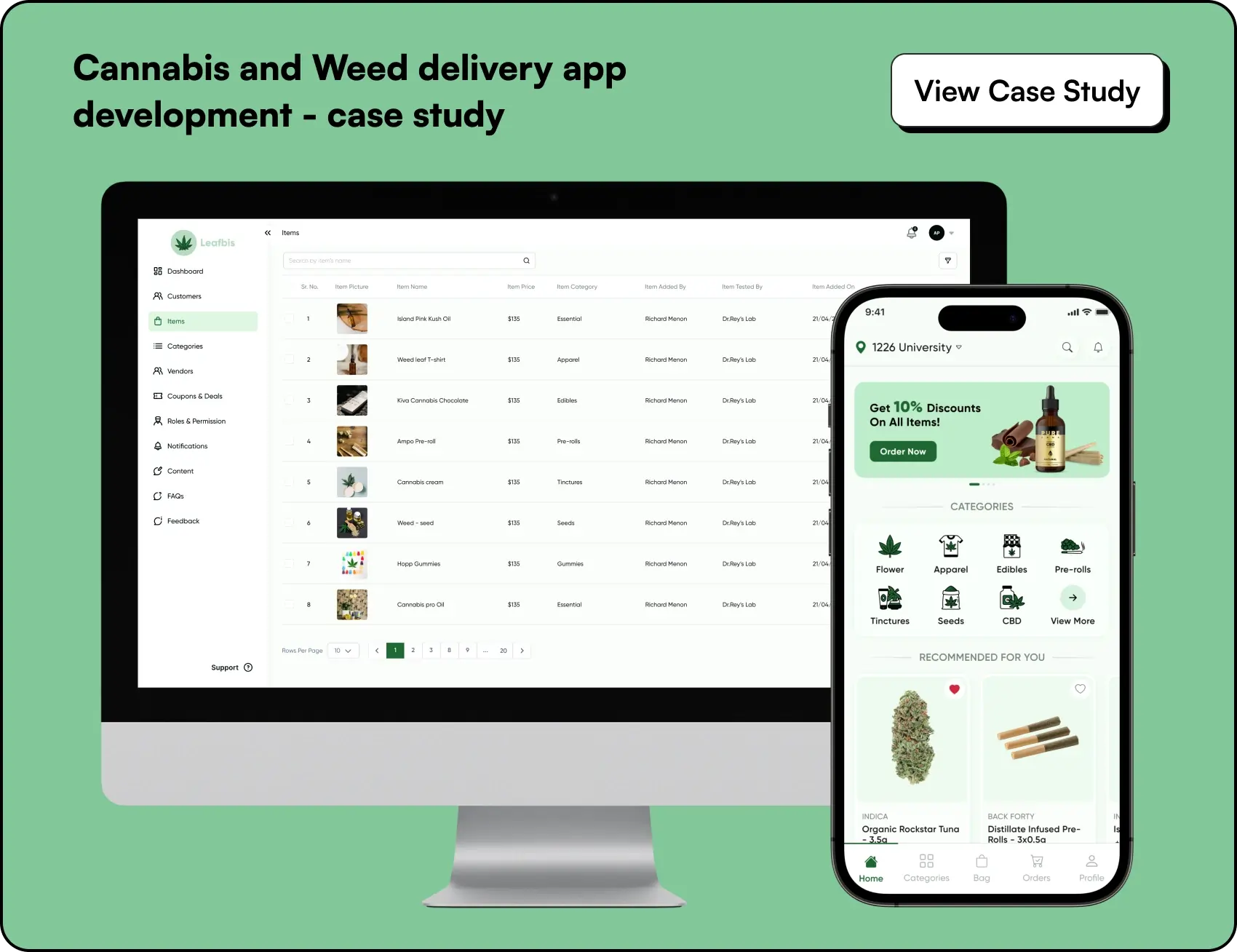 If done well, this could be a worthy investment.
Feature Set and Functionality:
The breadth of features and functionalities your app incorporates directly impacts development costs. Including geolocation, real-time chat, integration with external APIs (e.g., for cannabis strain information), and augmented reality can significantly raise the budget.
Platform Considerations:
Another critical factor many companies neglect is that their budget increases twice or thrice the original amount. As a business, you must be clear about "On what platforms will your app run?" "Are you targeting only the Android Platform?" "Are you targeting only iOS? Or is it both?"
If the answer is both, then you just need to select a platform and tech stack that works on cross-platform concepts (like React or Flutter). This will bring down the cost part.

Development Team:
We rate this factor as high as any other one in the current list.
Why?
Because the size and geographic location of your development team are cost determinants, if you are looking to have an in-house team, then the cost would be different. If you are outsourcing the web delivery apps development project to a top-class company in India, then the cost part would be other.
Studies have shown that the Outsourcing decision would save nearly 20-30% money of the original budget. The global outsourcing market will be about 261.9 billion dollars in 2022, as per Grand View Research.
Data Security:
This factor would go with any app development, not just cannabis delivery app development. The app will handle sensitive data such as personal information and transaction details, Details of sellers, etc.
Hence, the app must be secure at every possible layer, which adds to the development cost.
Compliance and Regulation:
Cannabis delivery app development often relates to a lot of legal challenges. You need to be very careful about where you are operating, delivering the product, and ensuring that your app aligns with these requirements is pivotal.
Marketing and Promotion:
Now that you have seen all the significant factors that relate to the development stage or pre-development stage. But this factor also governs the cost as you need to make sure that how much money you are pouring for the promotion and marketing of the cannabis delivery app development.
Ongoing Operational Expenses:
Last but not least, you need to consider the cost of hosting, server maintenance, customer service support, etc, once you are taking up complete control over the application.
To get an exact estimate of the development cost, it is essential to participate in careful planning, offer precise needs, and work with seasoned specialists. Don't forget that the ultimate price tag will be affected by the goals and features of your cannabis app.
How to Start A Cannabis Delivery Service With Legal Aspects?
Now that you know the factors governing the development cost, there is still a big question.
What are the Legal Aspects? 
Developing a mobile app for the distribution of medical cannabis is a complex procedure due to the number of necessary permissions. Because of the strict laws that govern the cannabis app industry in many states, it is in your best interest to work with a reputable U.S. firm that specializes in app development.
Here are the critical points about legality to look into the cannabis delivery app development case study:
Know Government Regulations
Get a License
Packaging, Delivery, and Advertising Restrictions
How Much Does it Cost to Develop a Cannabis Delivery App Like Eaze, Leafly, and Weedmaps?
According to the reports, After acquiring Green Dragon, Eaze is set to become the most prominent cannabis delivery business in the United States.
Now that we are discussing the most important part, you need to be clear that the cost would be much higher than the regular on-demand delivery apps like Uber Eats.
If you are looking for the app development cost in India, we suggest beginning with the MVP first; the average cost of cannabis delivery app development will be around $40,000 to $50,000. It's only a ballpark figure since there are so many variables to consider, including how many devices the app has to work on and how many integrations it needs to support.
An app like Eaze may cost more or less depending on the variables discussed below. Suppose you're considering joining the cannabis delivery app development market. In that case, it's a good idea to receive a real-world estimate by speaking with a reputable iOS app development business or Android app development services.
Although developing a cannabis delivery app typically costs between $40,000 and $50,000, your actual expenditure will mainly be determined by several variables, including the app's functionality, needs, and other elements that impact costs.

Wrap Up
That wraps up our look at what goes into calculating the weed delivery app development cost in India. Hopefully, after reading this post, you feel well-equipped to create a cannabis delivery app.
Building a highly functional, feature-rich cannabis delivery app won't be difficult if you have a bespoke mobile app development services business.
SolGuruz has the expertise and experience to assist you along the road. Feel free to contact us anytime with any inquiries about the cannabis delivery app we are developing.
FAQs
What are the steps involved in the development of the cannabis delivery app?
Here is the step-by-step process
Research the market and analyze the needs of the project first.
Second, you must design the user interface and experience (UI/UX).
Third, design and code the interface and functionality.
Application testing constitutes.
Fifth, release the app to users.
How much time does it take to create a marijuana delivery app?
The application development cycle can take up to 6 to 12 months. But the time also depends on the complexity, features, platform, tech stack, etc., features mentioned in the blog.
How much does it cost to develop a cannabis delivery app in India?
You can ask for a consultation to get the exact quote from our end. But in general, the overall cost would be between 25,000$ to 30,000$ in India.