Ready to do business with us?
Now that you've decided to enter the world of mobile app development, you can go one of two ways: create an app from scratch or choose white label app development. Although the concept of a ready-to-use and deploy framework may seem enticing and cost-effective, it has drawbacks. In most cases, the problems with white label apps are too severe to be ignored.
In this post, we will explain what "white label" means in the context of mobile app development, and I'll show you why it could benefit your company.
When the cost per user for mobile apps rises to $10.64, businesses are eager to provide their clientele with the most advanced white label app creation. You might benefit from this trend in several ways, such as by providing software or placing ads. But we think the fastest and simplest way to benefit from expanding mobile entirely is to build and sell white label software.
The question is, what precisely is white label mobile app development? Is there a way you could design one that also increases revenue? This guide will answer all your questions concerning the problem.
What is White label app development?
So, how can we define white label applications? White labeling refers to reselling a product made by one company (Company A) under the label of another (Company B). For instance, Amazon often buys finished goods from unaffiliated producers and then rebrands and resells them under its name.
In truth, white labeling applies to every sector, including mobile app development. For illustration, consider the following:
Assume that you, Company A, have developed a white label Android app for food delivery.
Company B operates a restaurant and would want to provide mobile ordering to its customers. So, you pitch the app to a restaurant, and they buy it.
The restaurant's logo is included in the solution, giving the impression to customers that the restaurant, and not you, developed the application. While you're handling the app's upkeep and maintenance, the staff at the restaurant can concentrate on serving customers.
The app includes everything needed to order and deliver meals. As a result, you market it to other eateries, each adding a twist to the app's branding.
By forming the kind of collaboration outlined above, based on a white label mobile app, restaurants may acquire a fully supported solution rapidly and with low outlays of money.
A white label app is built by a white label company or a private label design business, then redesigned and resold by another company. This strategy is mainly used for generic products and services in mass production.
To fulfill this increased demand, several organizations hire IT companies to assist them in developing an app and even software. There are several white label app development Ideas for Investors that you may use to help your company grow. You must be mindful of the benefits and drawbacks of white label applications to avoid unnecessary mistakes.
Companies may more easily reach more consumers with less work when they employ white labeled mobile applications as a marketing tool.
What are the different types of white label apps?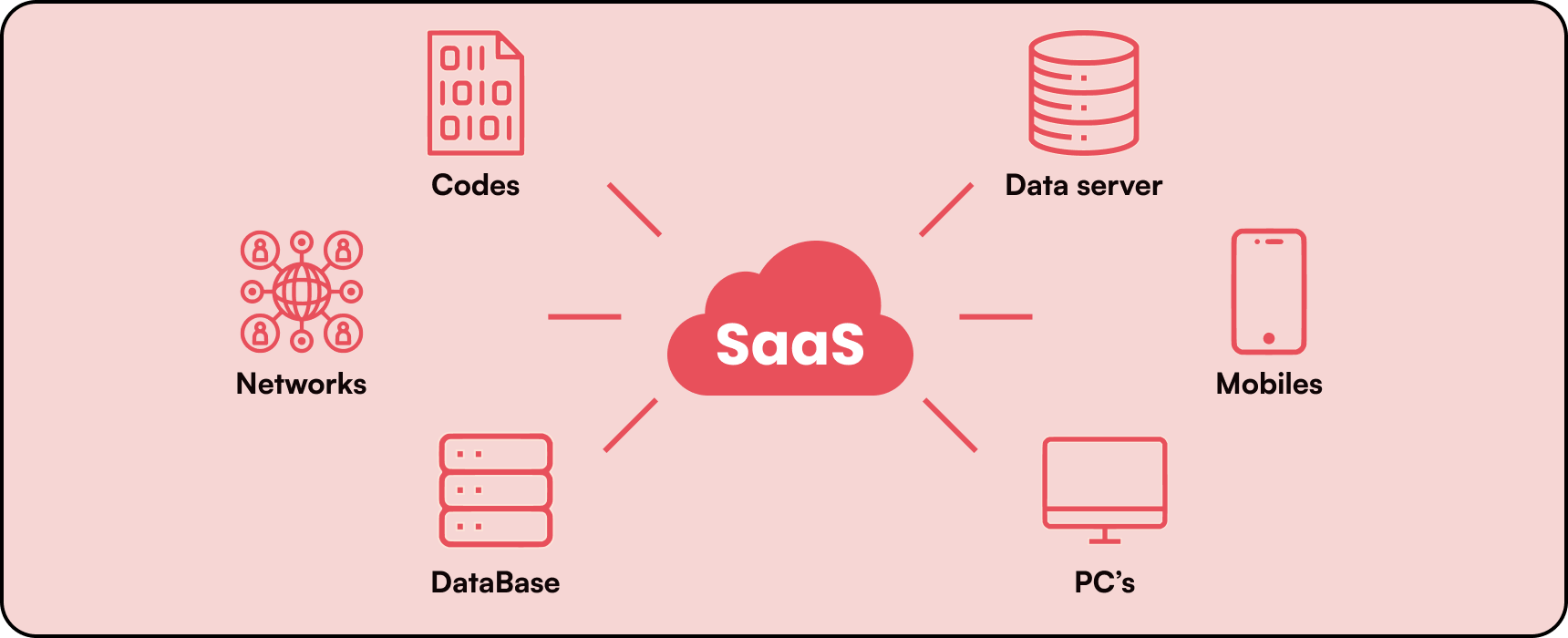 Now that you are interested in white label app development – How do you do it?
If you want to develop a white label app – consider the following two types to it –
Create and Develop a Multi-tenant App or Software, which implies that while the app would remain the same, every renter will receive an app with various features. In such cases, the SaaS model is used.
The second method involves reusing the backend code of the application, but doing so necessitates modifying the front end of the app to give it a distinct look and prevent it from being an identical duplicate of the same application. In contrast, the multi-tenant model is far more challenging to construct and then continue to manage.
Custom App Development vs. White label Apps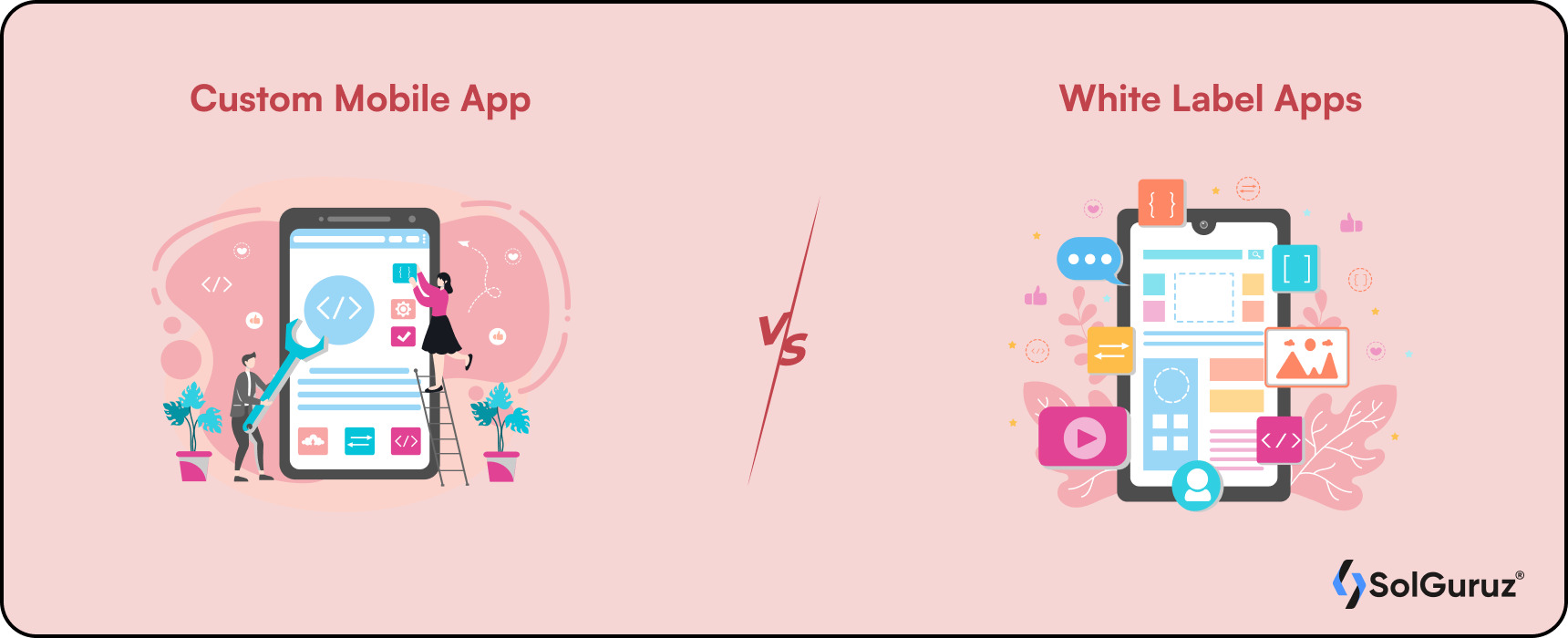 As we said, a white label is a solution already developed for companies operating in a particular market. You need to rename it and give it a new market positioning to make it seem like you originally came up with the idea. Given this, it's possible that white label applications won't meet all of your company's specific requirements.
Yet, a custom mobile app is designed for your company alone, considering your particular needs and those of your intended customers. The app might be built in-house, or a reputable mobile app development firm could be hired.
Getting an app under your company's name may be accomplished in two ways: purchasing a premade "white label" app or developing a unique one from the ground up. Each strategy serves a unique set of business requirements and has its own set of advantages and disadvantages.
We may further distinguish between white label and custom applications by discussing the following: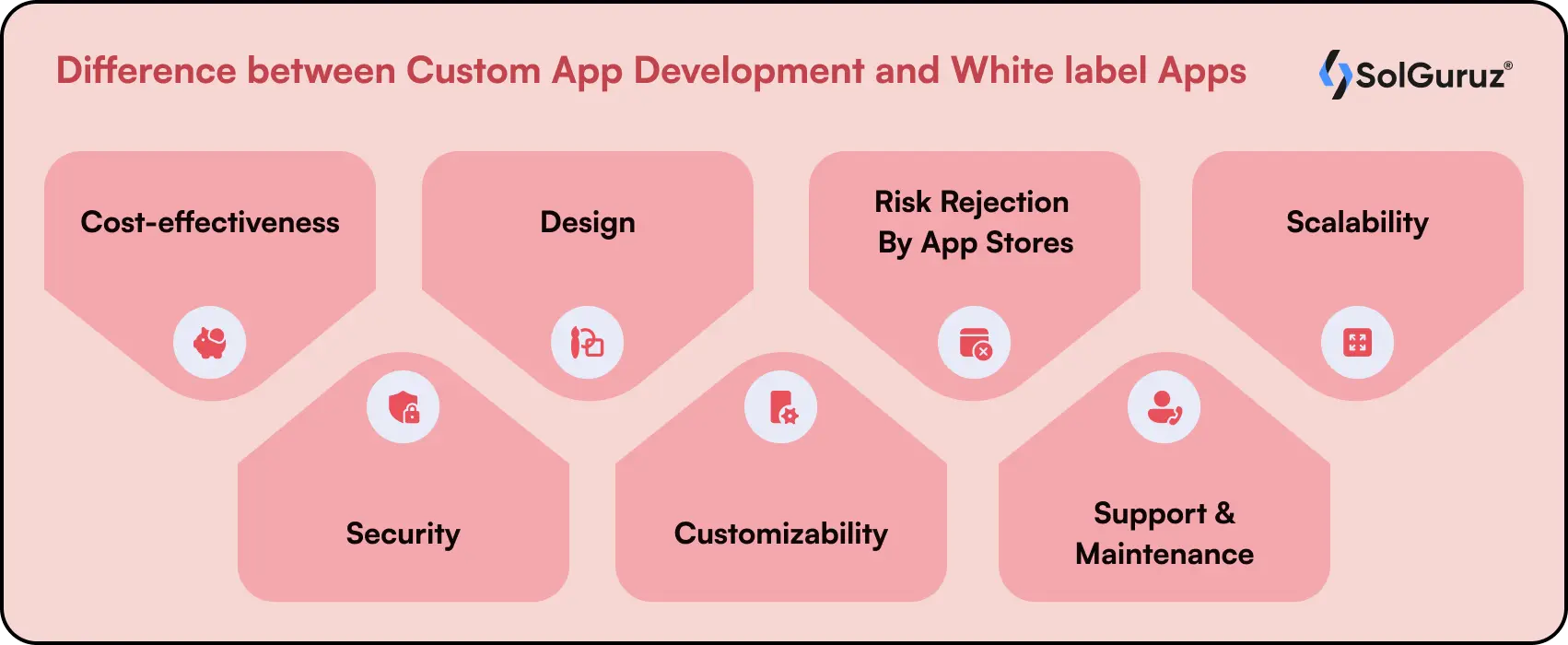 Cost-effectiveness

White label app advantages include saving money. A white label app may be purchased for a fraction of the cost of developing one from scratch. When you create an app in-house, you incur costs in many other areas, such as business analysis, design, QA, maintenance, project management, etc. Because of the high requirements set by the industry, most apps built nowadays demand a sizeable financial outlay.

While there are numerous advantages to having a custom app developed, many organizations must go for less expensive alternatives due to limited budgets.

Compared to developing from scratch, white label applications can be had for much less money while still providing all the features the user needs. But if you want to add more features to your app, you'll have to pay for development, and you may not be able to make the necessary adjustments even if you do.

With a white label app, you can receive an MVP and put your concept to the test in the real world before committing to a costly custom build.

Security

It's not easy to code a safe app, but if you choose the custom app development route, you'll have to shoulder the burden of ensuring your app is safe. It means more effort and more frequent security inspections. The bright side is you'll have a complete say over your software's safety, speed, and quality.

You don't have much say over the safety of the code in white labeled apps, and you receive a readymade product in return. To ensure the safety of your white label app, it is recommended that you get it inspected by a professional application development company.

Design

In this article, we will primarily focus on white label solutions, which provide you with a premade design for the app's client side. White label applications adhere to industry standards to appeal to the broadest possible audience.

You probably won't have much control over the design beyond tweaking minor details like color schemes and product names. Since hundreds of other businesses have already acquired the same white label solution, your app will seem identical to theirs.

When you commission a unique design for your app, you can make it look and feel exactly as you want, including any details like animations. As little as it may appear, your app's design reflects the time and energy you put into it and the value you place on your consumers.

Although this may not be crucial for an MVP, it is essential to consider the aesthetic experience while designing for mobile.

Customizability

A custom application has much more scope for personalization. Assuming a comprehensive solution with a back end and a front end, white label apps don't provide much leeway for modification and customization and generally allow you to modify specific colors and labels.

If you buy the backend, you can alter the app's appearance and add new features. However, the backend's capabilities still limit you.

When you build an app in-house, however, you can ensure that it accurately represents your company's values and objectives while meeting its intended users' needs. Maybe the most significant advantage of a tailored app is this.

Choosing an app development company that can account for your evolving demands is essential in custom app development since the degree of customization is limited only by the underlying architecture and technologies used. By using white label applications, you have no idea what features are being used behind the scenes.

Risk Rejection By App Stores

Apple prohibited white label applications from being uploaded to the App Store in 2017. Once it became clear that this decision would harm many small enterprises, it was quickly reversed. White label applications continue to suffer a poor reputation in app stores.

White labeled apps are more likely to be rejected by app stores like Google Play and the Apple App Store due to the stores' tight standards against the distribution of similar applications.

Even if your white label app is accepted, developers or designers may need to make aesthetic and functional tweaks to set it apart from other white label applications.

Building a personalized app with a one-of-a-kind look and set of features is the only way to eliminate rejection from app stores.

Support & Maintenance

Custom Apps & White Label Apps both require support & maintenance. The only issue is it requires less maintenance.

White label applications are resold so often that their code is already tried and proven. Developing an application from scratch may result in more faults and inconsistencies.

In the end, software quality is the only factor that counts. A decent white label software might be simpler to maintain than a poorly crafted bespoke app. However, low-quality white label applications are typical. Regardless of your strategy, you must purchase a high-quality product or collaborate with expert developers.

Scalability

Scalability in software development may be understood in a variety of ways:

Getting extra features
Managing more users
Shifting to other platforms
Developing new gadgets

In each of these instances, white label applications are rarely scalable. Suppose you acquired an iOS application and determined that you also need access to Android users. In that case, you must either develop an Android app yourself or wait for your App Development Company to produce one.

Assume that your firm has flourished in one market, and you want to expand into other nations. Consumers may use different devices and operating system versions in these nations compared to your original market. Your app must be compatible with these variants.

Your white label application is designed for a particular operating system and set of devices, making adaptation difficult. Custom applications are far more adaptable in this aspect.

When to go for a White Label App Development?
There's no one-size-fits-all choice, so you should decide based on your unique situation and needs.
You mainly run Offline Business.A white label app is an excellent option if your company doesn't rely heavily on having a mobile app and can still supply its services without one. Maybe you own a gym and want to offer members a straightforward app for managing their accounts and scheduling sessions. What we need is a white label app. But to monetize your online training videos, you'll need a specialized tool with easy video streaming features.
You have Tight Budget.White label applications are more appealing to companies due, in large part, to their lower cost. A white label app is a fantastic option if you don't have the resources to build a custom app.
You want to have a demo before you go for custom development.Your minimum viable product (MVP) may be a white labeled app. Get a white label app with rudimentary features and try it out with your target audience before committing to a custom app development project. Keep in mind that even if there is a need for the app you're developing, people may reject it if it doesn't meet expectations that go beyond what a white label app can give.
You want an Application As Soon As Possible (Like in a Week).White label applications are a viable option when time is of the essence since they do not need months of planning and development. However, it would help if you remember that the app store might reject your application anytime.
You are Happy with the Fix Set of Features.Small companies that don't need advanced features might benefit the most from white label applications. White label apps are suitable for essential travel apps, ecommerce listings without loyalty schemes and sophisticated bonus and discount systems, and other similar apps.
Pros and Cons of White label app development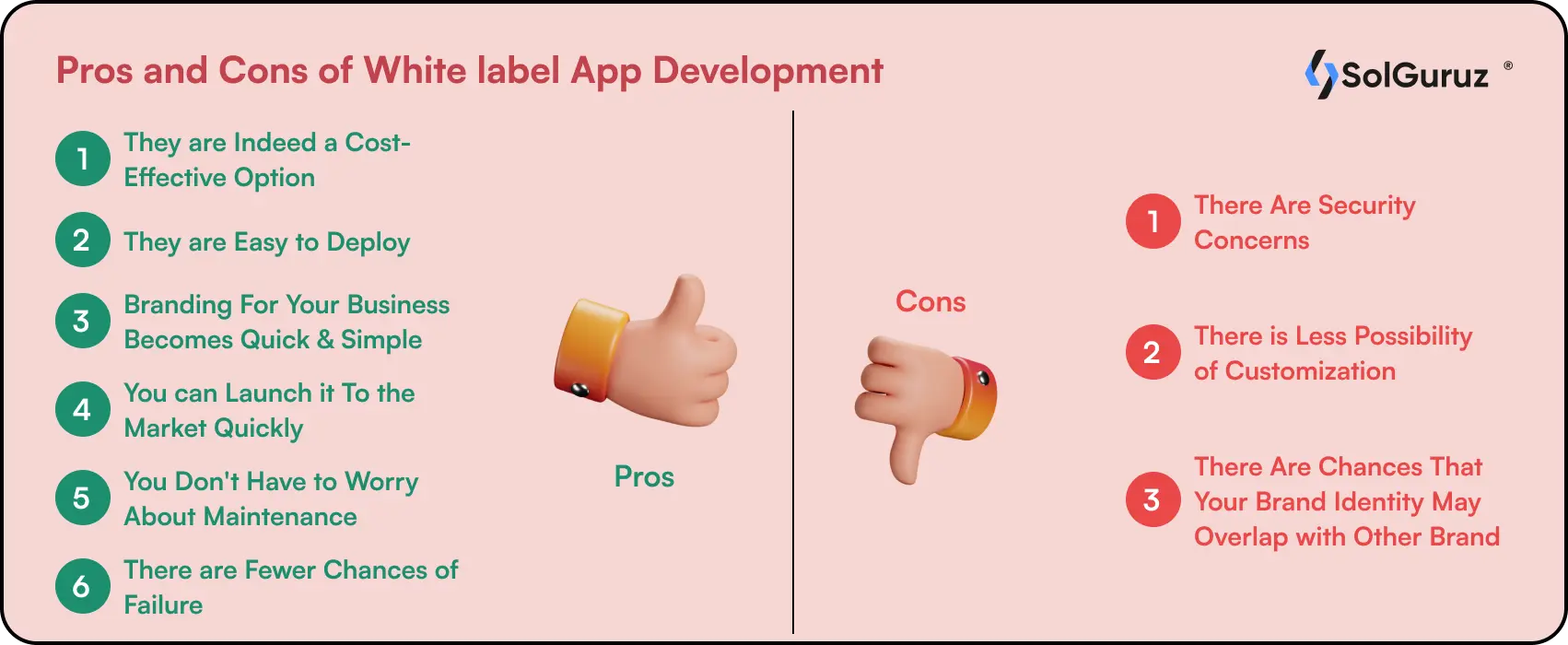 It is essential for companies, especially startups, to know the ins and outs of mobile app development for white label apps. On that note, it is essential to understand this project's main advantages and disadvantages.
Benefits of White label apps development
At their most fundamental level, white label items are those resellers can readily rebrand. The same holds for the creation of mobile apps. White label applications may be readily customized to fit the aesthetics of any company by adding a logo and changing the colors.
Here are the key benefits of using White Label Apps.
They are Indeed a Cost-Effective Option

White label applications have this as a significant selling factor. As they save money long-term, white label applications are often used by startups and organizations that use SaaS.

A custom app development project may cost tens of thousands of dollars, whereas buying a readymade app solution can cost a fraction of that. A custom app development team must be hired, which may be costly for startups and other small enterprises. Research, validation, development, and app maintenance are all costs that must be incurred, even if you choose to outsource app creation to a third-party organization. Due to these variables, developing a unique app might be rather costly.

They are Easy to Deploy

Given that you are not the one kicking off the app's development, you don't need to manage its development. It's built or operated by an outside entity. Your only worry should be that the final product fully satisfies your needs.

Let's say you've decided to commission a bespoke mobile app from a business in India. To keep tabs on the project's development, you'll need to make an effort to learn about their workflow and allocate specialized personnel to the task. This adds pressure and prevents you from concentrating on what matters to your organization.

Buy a white label app from a reputed app development company. You won't have to worry about managing the development project. Also, you benefit from utilizing a tried-and-true solution supported by the knowledge of trained app developers.

Branding For Your Business Becomes Quick & Simple

Let's talk about the other apparent benefit of white label apps: branding them is easy. Resellers can alter and rebrand white label solutions as they see appropriate.

Putting your company's name and logo on it is one way to do this, but there are plenty of other possibilities. Selling a business service has never been easier than with this readymade sample. You won't have to spend resources (both time and money) developing anything from scratch since you'll be using a method that's already been proven effective. Stamp your identity on it and go to work.

You can Launch it To the Market Quickly

The time it takes to choose to build a custom app, and the time it takes to launch the app might be months or even a year. No one knows the future regarding market trends or how far ahead of the game your rivals may be.

The process of creating a mobile app is lengthy and complex. When it takes you to finish developing your software, your rivals might have already attracted a thousand or more users.

Companies use white label applications, so they don't have to worry about being left behind. As the program is already developed, all that remains is to acquire it, make a few tweaks, and release it under your brand. Using this method, you may reduce the time to market by a significant amount.

You Don't Have to Worry About Maintenance

The developer of your white labeled application will provide ongoing maintenance and support. This covers many of your responsibilities and ensures everything is done well. Due to the high likelihood of fixing bugs discovered in pre-release builds, post-release maintenance is essential to every software project.

Most white label app distributors employ QA specialists and developers to keep tabs on how their apps are doing. Tell the Development company about any technical problems, and they will resolve them.

Instead, a custom app requires constant maintenance. To resolve problems and roll out fixes to repair bugs regularly, you must keep a team of developers and QA/testing personnel busy.

There are Fewer Chances of Failure

The potential for failure is reduced when using white label applications since third-party developers are held liable for any mistakes. Because of this, you can be confident that your money will not be wasted and instead focus on reaping the advantages of a fantastic product. At the same time, the developer handles any issues that may arise.

If you're unsure whether a white label app fits your business appropriately, you may try it out with no risk. Verify that your service provider gives you enough time to evaluate the app and enquire about the degree of customization available to meet your needs as a company.
Disadvantages of white label solutions
Despite all of the benefits, nothing is ever perfect. Here are the cons of buying a white label app development.
There Are Security Concerns

You are purchasing access to the app itself; however, you are not purchasing access to the server or the source code. Because of this, you will not be able to determine how reliable the source code is or how securely your users' information is stored.

If you build the app yourself or engage a team to do it for you, you can instantly mitigate the effects of those risks. You will never know what it is until you inquire about a white label application.

There is Less Possibility of Customization

The lack of flexibility is the most significant drawback of white label applications. To get precisely what you want out of an app, it's best to build it from the ground up. In most cases, you get exactly what you see with white label applications. You may customize the look by changing the colors, adding a company logo, and rearranging specific modules.

You may get the desired application by contracting with a white label development company. They may create the framework just for you, or they may resell it. See what a white label developer can achieve for you by giving them a call.

There Are Chances That Your Brand Identity May Overlap with Other Brand

When options for personalization are restricted, there is little room for uniqueness. Suppose another firm has purchased the same app framework as you did last year. In that case, it may be challenging to distinguish your brand and app from the competition.

No matter what you do, the look and format will be identical, which might confuse consumers who use both applications.
What businesses employ white label apps?
Even though white labeling has helped every industry, it is instrumental in the service industries. While certain companies may get some benefits from this white label app creation, this is hardly the norm. The following are just a few examples of successful companies that have reaped the benefits of our white label solution:
Traveling

Developing itineraries, designing search algorithms, and integrating payment gateways are just a few additional tasks that must be completed when building a tour or flight booking application from the ground up. But, the result is often a solution with standard features.

Public Catering

Most of the time, restaurants don't do anything new to attract mobile device customers. Apps for restaurants often include features like menus, information about the establishment, ordering and table bookings, and details on loyalty and rewards programs.

Retail

The fact that Shopify, the most successful online store developer in the world, raised its yearly income by 97% in 2020 is evidence of how popular pre-built solutions are in the retail industry.

Taxi and Ride Sharing

You may choose a vehicle, date, and price, leave reviews, and receive incentives on most taxi ordering applications or ride sharing services. Putting together a branded version of such an app is the last step before releasing it to the public.

The examples of white label apps provided here barely touch the surface. Most businesses, including banks, ride sharing providers, fitness studios, beauty salons, florists, dry cleaners, and mechanics, purchase pre-built solutions such as white-label applications or use app builders. Other types of businesses include beauty salons, florists, and dry cleaners.

This does not imply that their applications are necessarily exceptional in performance, security, and usability or that they genuinely cater to their requirements in an ideal manner. And this is the secret to distinguishing your white-label applications from the competition: all you have to do is add some flair and beef up the safety features to make your software more marketable.
Who can use White label apps?
White label apps are generically sold from one company to another. They are further relabelled and rebranded by an organization or company to suit its needs. These apps offer affordable branding solutions to new-age businesses, small startups, etc., to build effective communication channels with their customers.
White label apps are focused on businesses with the bandwidth to build software directly and hence can buy and relabel generically made, readymade solutions as their own.
White label apps can prove especially useful for new and small businesses and those organizations that are new to the playing field. Almost all industries, from travel and hospitality to private healthcare service providers, can benefit from using white label apps cost-effectively. In the retail sector specifically, White label apps can help display the complete inventory of products to prospective customers, thus significantly increasing online sales and traffic conversion.
With the need for mobile applications on the rise, white label apps can help even small, relatively unknown players reach an array of consumers. Their power lies in their easiness and being low on the pocket. With White label technology, even individuals can own apps to promote their businesses.
How to Create a White Label App?
Here are the step-by-step ways to create a white label app for your business:
Initial Stage

With the end user and the app's intended function in mind, a service provider, also known as a white label development company. It focuses on and develops a fully working app.

Resellers might employ apps that have been rebranded with their logo and tagline.

Resellers, or businesses that have ordered a solution or bought a premade app for a particular purpose, are the ones that end up with ownership of the app. White label applications benefit service providers and small business owners/resellers alike.

Creation of white label applications for service providers

Many development teams are beginning to see the potential advantages of white label applications, which may include:

Build a sustainable income model;
Get unrestrained access to resale options;
Provide core features, then resell and build new ones for customers, all using the "feature as a service" approach.

Personalization and Customization Stage

There's no question that your customer would want to tweak the software to their liking. So, the white label app you create for them accurately must represent their company's image. That's why judging all apps by the same standard is unfair.

Making intelligent adjustments in response to your client's target demographic and their stated preferences can assist. Before starting work on a client's app, it's a good idea to read through any existing style guides detailing the brand's preferences for font choice and layout.

In this way, the app harmonizes with the rest of the company's promotional materials, helping them solidify their brand and increase their internet visibility.

Study & Analyze

When working on a "white label" product for a client, it's a good idea to research how similar apps for related industries have been built. Consider how you can best comply with industry standards, and research what your client's rivals have done to stay ahead.

So don't just copy what others are doing; find a way to set yourself apart by providing something exceptional to your customer. If your customer's website is responsive and mobile-friendly, you won't need to recreate it in app form.

And then, you need to determine whether a customer demand hasn't been fulfilled yet.
How do you pick a white label application development company?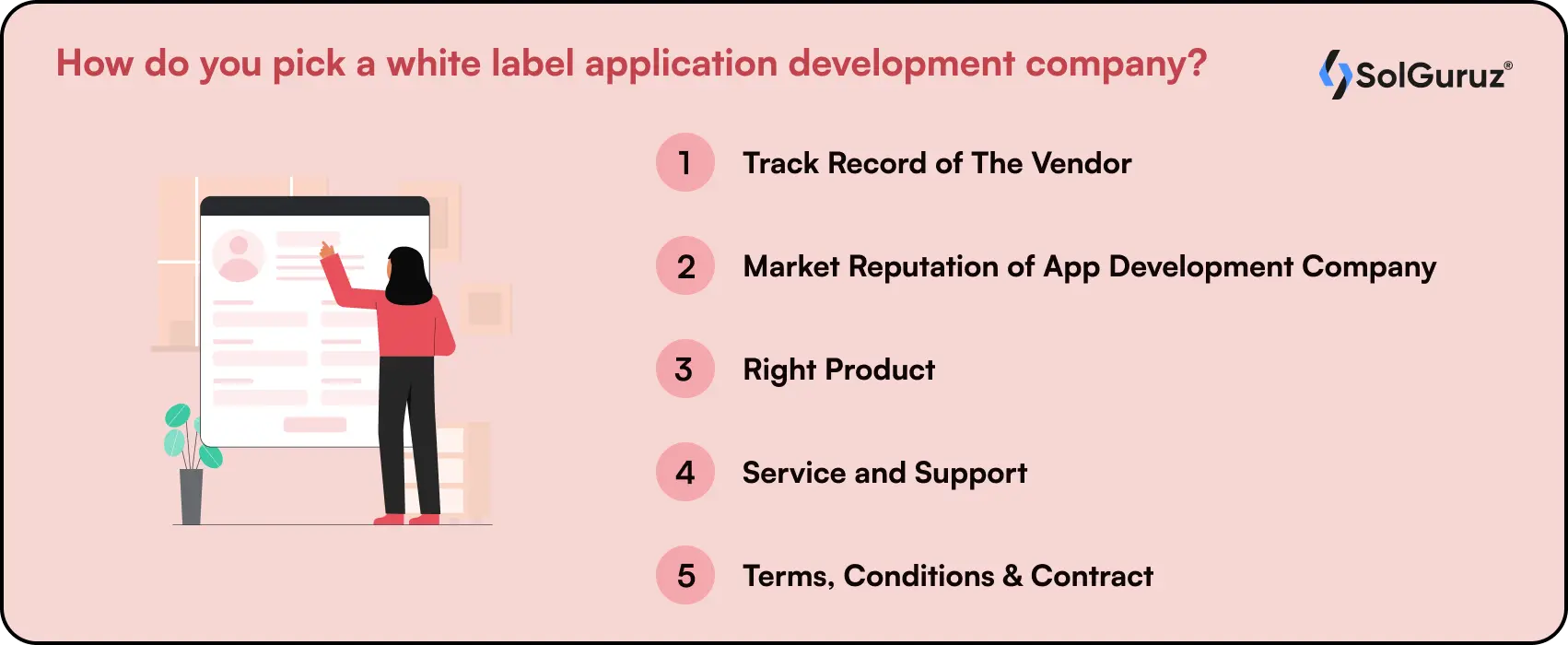 Selecting a white label planning process is comparable to hiring an application developer to outsource any other development company. Consider the company's expertise, knowledge, price, conversational skills, testimonials, relevant experience, and anything else the requirements of outsourcing plans.
Working with a reliable white label app development company is essential if you've chosen to go with white labeled, resalable application services or solutions. Before settling on the required solutions and signing the contract with a white label provider, it's essential to think about the following.
Track Record of The Vendor

Examine the histories of the White label app development company you have chosen, making a note of their achievements and the scale of their operations, evaluate the business strategies they use, and determine how they will avoid conflicts of interest.

Market Reputation of App Development Company

Since you'll be using the vendor's services, their reputation is crucial. A negative reputation for the vendor will reflect poorly on your business. To avoid working with a shady vendor, checking their references and talking to some of their previous customers is essential.

Right Product

A good product isn't enough criterion for making a choice; you also need the product best suited to your company's needs. You can trust a product with your data and the data of your customers if it is simple to use, flexible, and secure. It should also be compatible with the other services your company offers.

Service and Support

Investigate the services and support your white label app development company offers; find out how soon they can supply and whether or not they will allow you to market their software services. Also, enquire as to whether or not the sellers provide free instruction for the items.

Terms, Conditions & Contract

Pay close attention to the contract since this is the last item on the list. Engaging in commercial relationships, particularly with white label service providers, is essential.

Both parties should agree upon the terms and conditions of the contract, including specifics on the minimum lock-in time, trial period, and the price of the items.
How much does it cost to develop a White label App?
White label app development may cost between $15,000 and $30,000 for a single platform (Android or iOS) with just the most basic functionality. Including sophisticated features and building the application for various platforms might increase the price to between $50,000 and $70,000.
The price varies depending on your chosen white label mobile application development company.
What makes SolGuruz the finest white label app development company?
Now that you have covered all the things related to white label app development – one thing is sure, creating an app is now a very straightforward process. One needs very little time to get their company up and running with the help of this technology. Users may use these applications under their name, and there are several to choose from. It's not dissimilar to stealing a company concept before making a few tweaks and passing it off as your own.
A white label app is the latest innovation in the world of technology. Several popular applications, such as those for ordering and delivering food or other goods, are white labeled versions of existing apps. Their developers are raking in the severe dough as a result.
Today's fast-paced, cutthroat business environment leaves little room for error. As a result, everyone is looking for quick fixes. Thus, if you are eager to build your app and want to start making money quickly, white label app development is the way to go.
At SolGuruz, our developers and staff members have over ten years of involvement expertise. They have occupied top roles in various firms, ranging from early-stage entrepreneurs to Fortune 500 corporations.
We've merged our skills to create a one-of-a-kind method that adheres to our core values of a unique experience, honesty, reliability, and openness.
We employ innovative development methods and cutting-edge technology to create aesthetically beautiful, scalable, robust, and trustworthy software. SolGuruz is your one-stop agency for online and mobile application development.
FAQs
White Label Apps Are Legal?
No laws prohibit the creation of white label applications anywhere in the globe. The white label is available for purchase by anybody interested in promoting their brand to smartphone users.
How much does a White Label application cost?
White label app development costs might vary significantly from one project to the next due to the various features involved. White label app development may cost between $15,000 and $30,000 for a single platform (Android or iOS) with just the most basic functionality. Including sophisticated features and building the application for various platforms might increase the price to between $50,000 and $70,000.
How can I get a white label app?
At the outset, you must define your needs, such as whether you want a single-tenant white label software or a multi-tenant one. The next step is to choose a trustworthy white label app supplier that caters to your specific needs regarding white label service and cost. When you've paid, you'll have access to the app.
What is the cost of developing a white label mobile application?
For a specific application (Android or iOS) and all the essential functionality, the white label application software might cost between $15,000 and $30,000. The pricing might grow to $50,000 – $70,000 if sophisticated functionality is included and the software is developed for numerous platforms.
Where can I find a white label app development company in India?
SolGuruz app development company has skilled and expert developers who can work on various app development trends, techniques, technologies, and specific white label app development-based training. It is simple to search for the company, or other options, through the browser by searching for their official website. Reach out to the experts through the Contact Us section.
What are the advantages of white label mobile application development?
Since they frequently utilize the same manufacturers, white label brands may be just as excellent as name brands; great quality leads to delighted customers.
What is the difference between a White Label Service and a Private Label Solution?
Selling items of another firm under your industry's identifiers, such as its brand, logo, labeling, and so on, is known as white labeling. White label products have assisted businesses in lowering expenses, increasing business efficiency, and saving time and money to concentrate on their core competencies.
What does 'white labeling' imply?
A white label good or service is created by one company but sold by a different one. The latter company buys unbranded white label products and services. A white label software has been built by a white label company or a private label design business, then redesigned and resold by another company.
What would be white label web development, and how does it work?
White label web development involves writing code or building up an app by a white label development company for the clients. For example, white label mobile apps are software foundations that may be modified with your original company, brand, and data about your products or services. The app's functionality, layout, appearance, and other components may be subject to your restricted or complete control.
What is the best way to distribute white label solutions?
Begin by registering for reseller accounts with your preferred white label solutions development provider. Next, choose from various white label products your clients require and are willing to pay for. When your customer agrees, the white label supplier will commence fulfillment.