Ready to do business with us?
Creating a website is an exciting journey that opens doors to endless opportunities. However, for people inexperienced in coding, it may be an uphill battle.
The biggest challenge is finding a website builder that strikes the right balance between ease of use and robust functionality.
The two leading website builders in the industry, Webflow and WordPress, often confuse people due to the fundamental differences in their approaches.
However, it's important to note that a suitable website builder is one that aligns with your goals and design preferences.
If you're also finding it hard to decide on the right website builder, follow along as we uncover the key features between the two, along with the pros and cons. We'll comprehensively explore Webflow vs WordPress so that you can easily pick one.
What is Webflow?
Webflow is a comprehensive web development and content management tool. As it's a no-code platform, you don't need any coding skills to build a website with this platform. It comes with a user-friendly drag-and-drop interface that lets you build complex sites effortlessly.
With Webflow, you have the choice of building customized websites from scratch or using pre-made templates. You can hire Webflow developers if you wish to create a highly-personalized website that speaks your brand's language.
What sets Webflow apart from its rivals:
Its ability to generate clean, production-ready HTML, CSS, and JavaScript code in the background.
Webflow's user-friendly CMS interface makes managing your blog effortless.
It features an effortless editor that allows you to make changes with one easy click.
Key Features And Advantages Of Using Webflow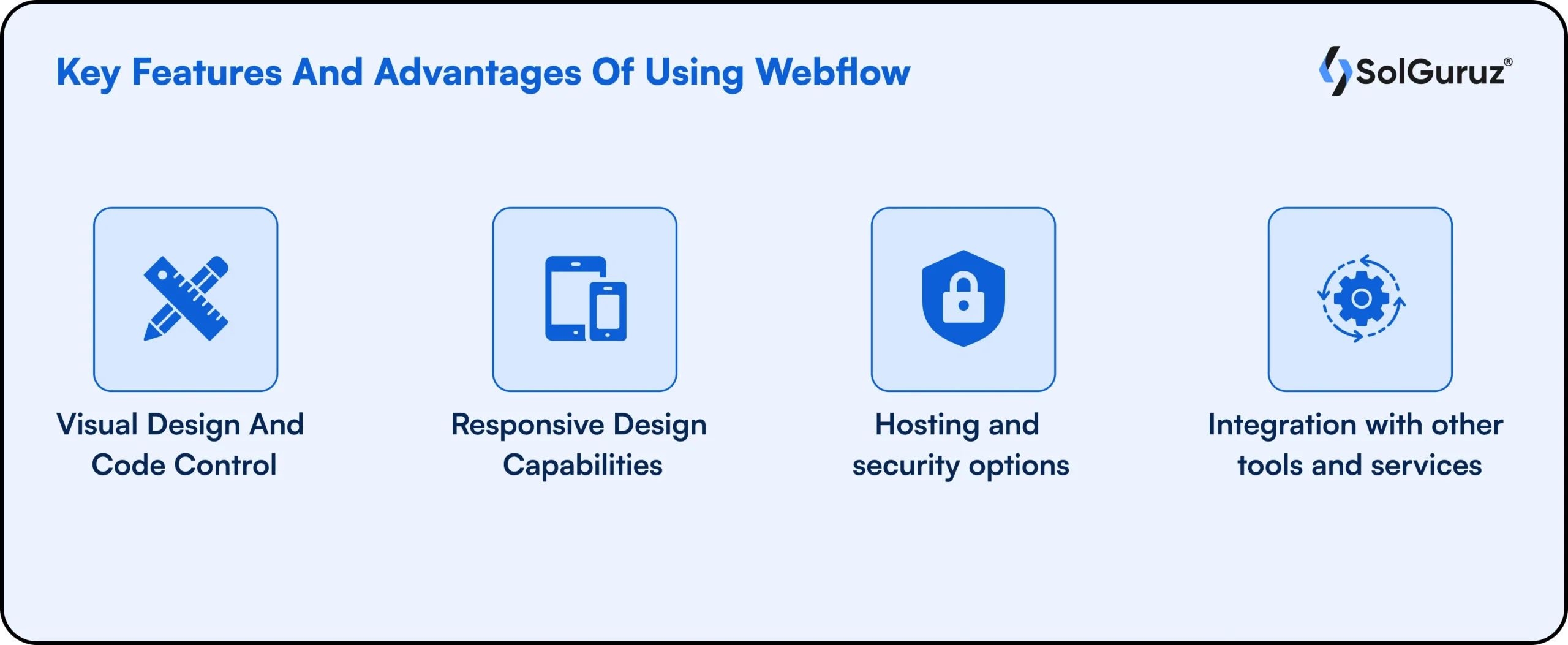 Here is what makes Webflow the ultimate choice for web development:
Visual Design And Code Control

Webflow offers a great suite of visual design tools and code control. With its drag-and-drop interface, you can create visually customized websites. This feature comes in handy for rapid prototyping and easy design changes.

Responsive Design Capabilities

Studies have shown that nearly three-fourths of web designers (73.1%) consider a lack of responsiveness as one of the reasons for visitor abandonment of websites.

Webflow is specifically designed with responsive design in mind. It allows you to build responsive websites that are compatible with different screen sizes and ensure optimal usability.

Hosting and security options

Recent research by Acunetix highlights that 60% of detected vulnerabilities directly impact web applications, posing a substantial security risk.

Webflow is the perfect solution to address this concern. Webflow's solutions are highly secured and backed by a free SSL certificate. It also offers hosting services for websites, eliminating the need to search for options outside the platform.

Integration with other tools and services

Webflow equips you with the flexibility to integrate several third-party tools into your website. You can harness this feature to complement the functionality of your website.
Limitations and potential drawbacks of Webflow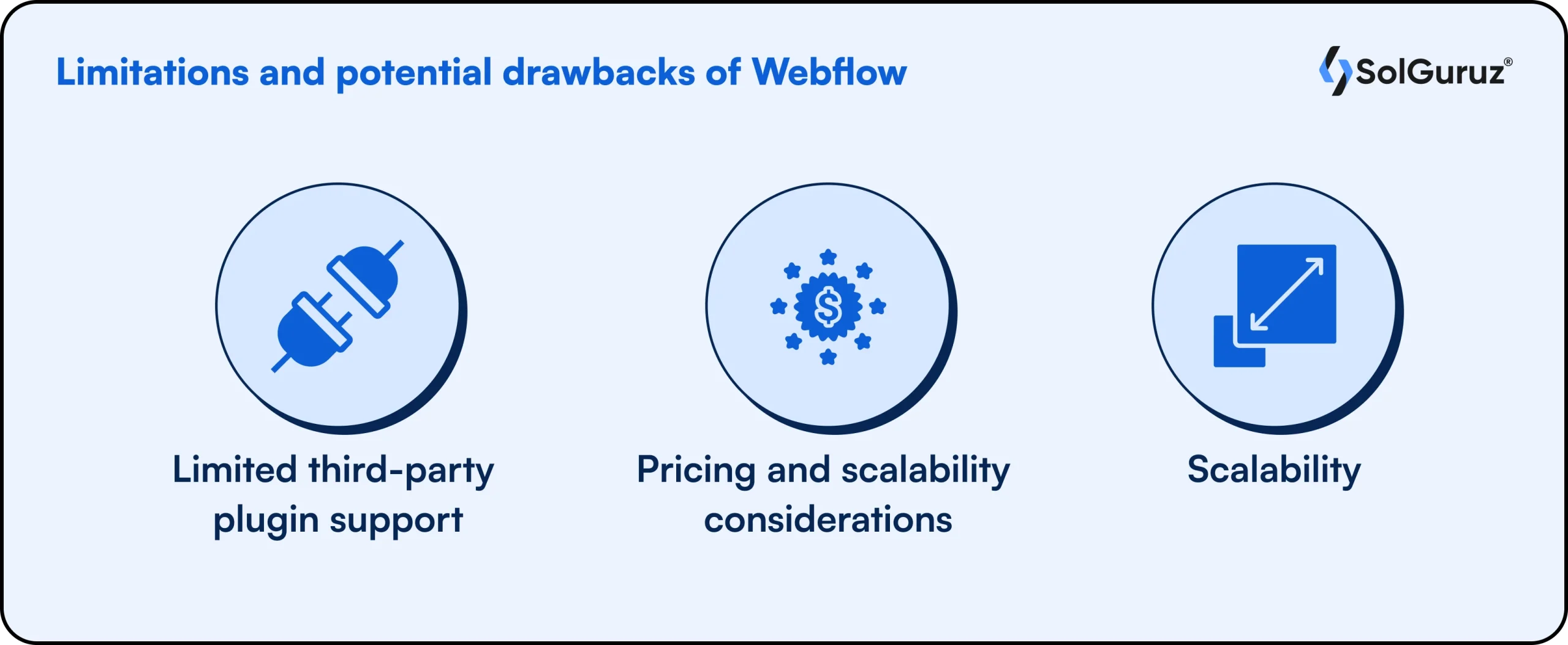 Along with so many benefits, Webflow has some limitations too.
Limited third-party plugin support

Unlike some other content management systems or website builders, Webflow's plugin ecosystem seems limited. While it offers native integrations with various tools, it may not have the same extensive plugin library as more established platforms.

 Pricing and scalability considerations

Webflow's pricing structure is comparatively more costly than other web development platforms. If you want to get a custom domain name, you'll have to buy any of their paid plans which start from $14. If you wish to access more advanced features, the cost may increase.

Scalability

As Webflow is primarily designed for small and medium-sized businesses, scalability could become a concern for high-traffic websites or those with complex requirements. To operate complex websites, they may need extensive optimization or additional server resources.
What is WordPress?
WordPress is a popular yet simple website builder and content management system (CMS). It dominates the web, as over a quarter of the top 10 million websites use this platform.
WordPress is noted for its intuitive interface and impressive collection of customization options. If you want a secure and cost-effective website builder, create your website with WordPress or hire WordPress developers for your project.
What makes WordPress stand out:
It features a single dashboard for content creation and management.
It's an open-source ability that lets you view the core code.
Its adaptability to various search engines makes it an SEO-friendly option.
Key Features And Advantages Of Using WordPress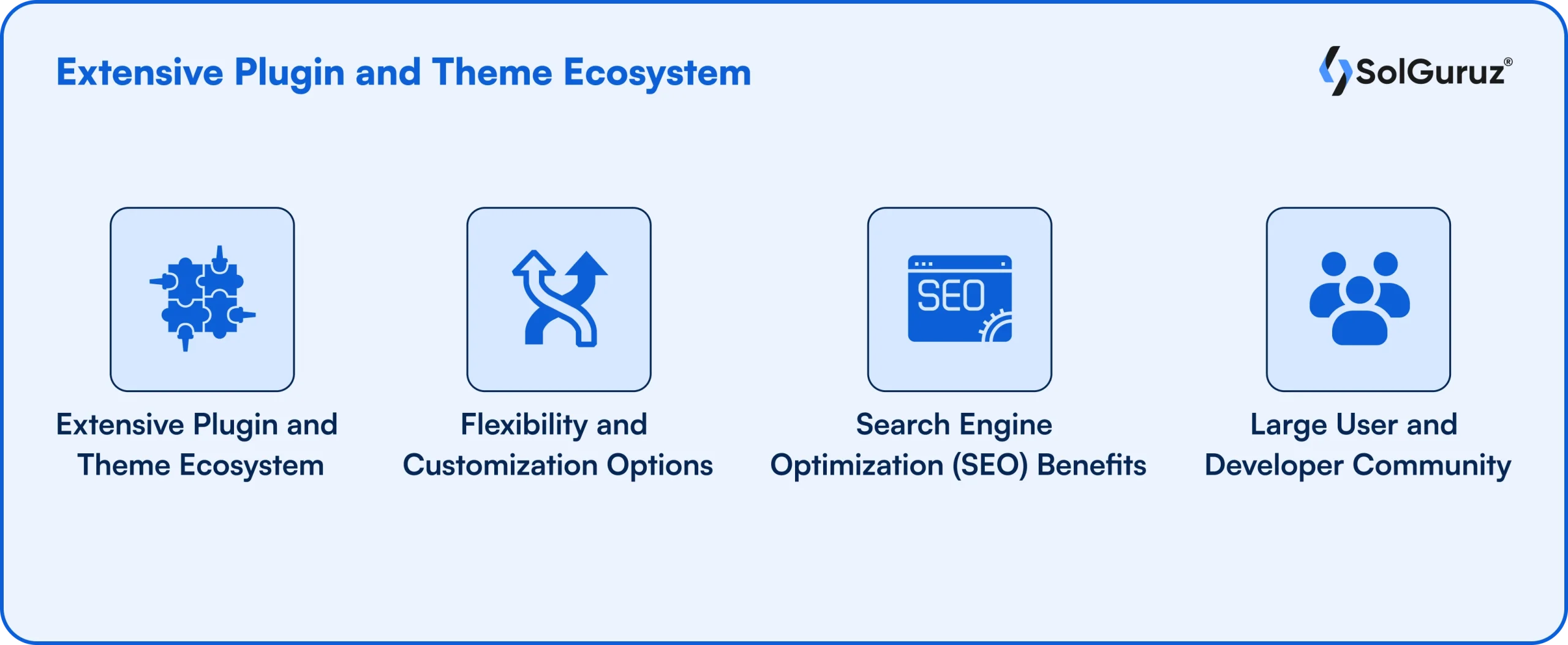 Here is why WordPress is the go-to option for website development:
Extensive Plugin and Theme Ecosystem

WordPress has thousands of themes and plugins to choose from, catering to different needs and preferences. This feature empowers you to create fully-functional websites without spending hours on coding.

Flexibility and Customization Options

WordPress offers a high degree of flexibility. From simple blogs to corporate websites, it offers exceptional solutions for every need. Its open-source nature grants you the freedom to create custom software and tailor the codebase according to specific needs and preferences.

Search Engine Optimization (SEO) Benefits

WordPress is essentially SEO-friendly. It features clean and well-structured code making it easier for search engines to index your website. Additionally, various SEO plugins are available to optimize meta tags, generate XML sitemaps, and manage other essential aspects of search engine optimization.

Large User and Developer Community

WordPress boasts a great active user base along with an incredible developer community. Their inclusive network enables you to access ongoing support, regular updates, and a myriad of online resources, including forums, tutorials, and documentation.
Limitations and potential drawbacks of WordPress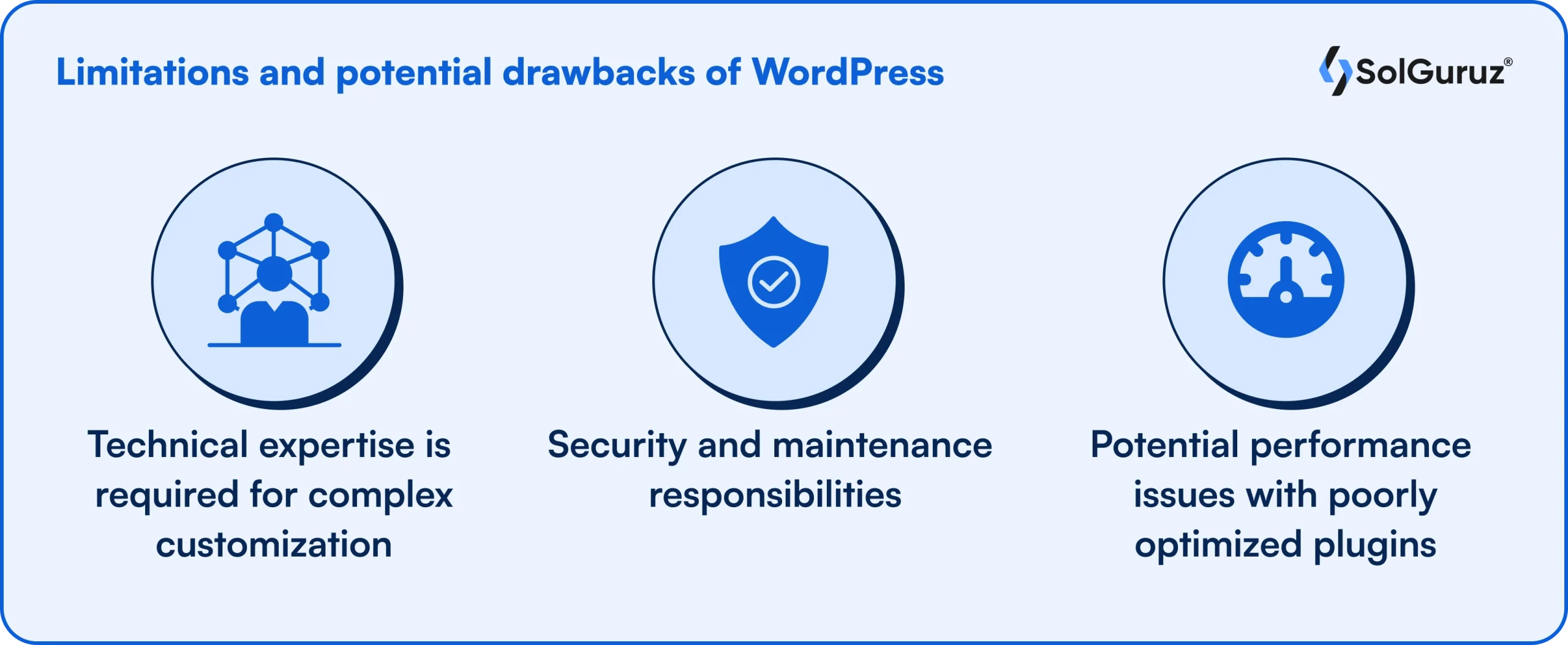 While WordPress offers multiple advantages, it's vital to be aware of its limitations, which may impact your website's development.
Technical expertise is required for complex customization

It's no doubt that WordPress allows users to create websites without extensive technical knowledge. However, more complex customizations may demand coding skills and a deeper understanding of the platform's structure.

Security and maintenance responsibilities

WordPress can attract attention from hackers seeking to exploit vulnerabilities since it is very popular. Therefore, you must regularly update themes, plugins, and the core WordPress software to ensure website security.

Potential performance issues with poorly optimized plugins

While plugins enhance website functionality, using too many or poorly optimized ones can negatively impact website performance. Some plugins may be resource-intensive, slowing down page load times and affecting the user experience.
Comparing Webflow vs WordPress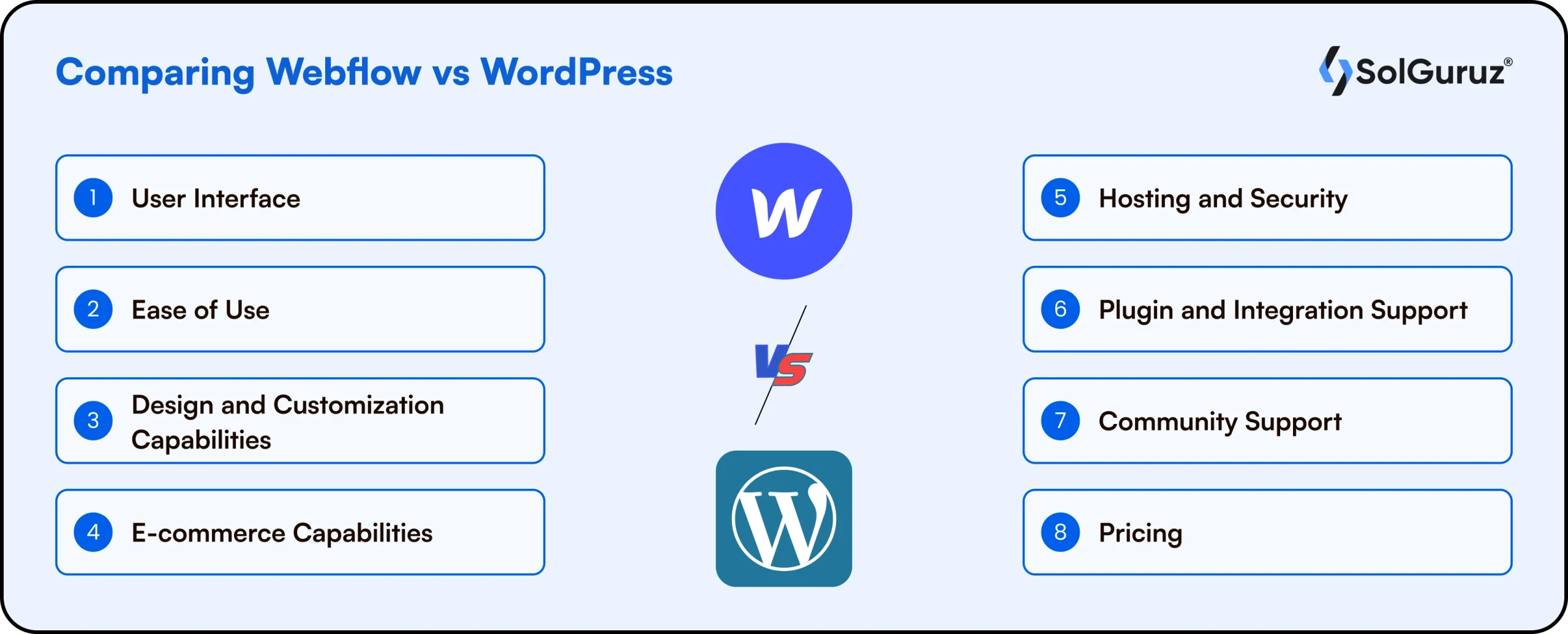 Here's a comprehensive comparison between WordPress vs Webflow:
Webflow vs WordPress: User Interface

Webflow's visual design editor offers a more intuitive and visual approach to website creation. Its drag-and-drop functionality simplifies building complex websites without coding from scratch.

On the other hand, WordPress's editor is block-based, which provides a structured and modular approach to content creation. For novices, it may take some time to grasp the work.

Webflow vs WordPress: Ease of Use

Webflow has a more design-centric nature, with complexities involved in handling interactions and animations. This might make the learning curve for beginners and non-technical users relatively steeper.

In contrast, WordPress is suitable for a wider range of users. No matter if you're a novice or a tech geek, its user-friendly dashboard simplifies content management and publishing. Beginners can find WordPress more approachable, especially when using pre-built themes and straightforward plugins.

Webflow vs WordPress: Design and Customization Capabilities

Webflow shines in its design control and responsive design features. The visual editor allows you to have precise control over layout, animations, and interactions, resulting in highly customizable and visually appealing websites.

WordPress offers design capabilities primarily through themes. While themes provide you with a wide range of design choices, customization options can vary depending on the selected theme.

Webflow vs WordPress: E-commerce Capabilities

Webflow introduced built-in e-commerce functionality. With this feature, you can build and handle online stores directly within the platform. This all-in-one approach simplifies the e-commerce setup process, making it convenient for users who require basic online store functionalities.

WordPress relies heavily on e-commerce plugins, with WooCommerce being the most popular option. These plugins extend WordPress's capabilities to create comprehensive online stores with various features, payment gateways, and shipping options.

Webflow vs WordPress: Hosting and Security

With Webflow, you don't have to look for external hosting solutions as it provides hosting as part of its service. This streamlined approach ensures a more seamless experience, and Webflow handles hosting-related tasks such as updates and maintenance.

On the contrary, WordPress is an extremely versatile website builder. It offers both self-hosted and managed hosting services. If you wish to set up and oversee your WordPress site, you can opt for self-hosted sites. Otherwise, managed WordPress hosting providers handle various technical aspects.

Webflow vs WordPress: Plugin and Integration Support

Webflow's third-party integration options are more limited compared to WordPress. While Webflow offers some native integrations and interactions with external services, it may not have the same extensive plugin ecosystem as WordPress.

WordPress offers an extensive and diverse collection of plugins, offering you a wide array of choices to improve your websites by incorporating various functionalities. You can effortlessly integrate third-party tools and services.

Webflow vs WordPress: Community Support

Webflow excels in all aspects when it comes to possessing excellent community support. They have designers, developers, and enthusiasts actively involved in forums and discussions. Moreover, the platform also features extensive documentation, video tutorials, and how-to guides for users.

WordPress has a well-expanded user base and great community support. The WordPress.org support forums are a central hub for users to seek assistance, ask questions, and get guidance from the community.

Webflow vs WordPress: Pricing

Coming to the most anticipated part – pricing. Webflow offers a great array of packages ranging from $14 to $39 per month.

WordPress is an open-source FREE platform. There's no need to purchase anything to build a website. However, for hosting, you would need server space.

Webflow and WordPress accommodate diverse user needs and tastes. Selecting one of these depends on individual requirements, design preferences, and technical expertise.

Considerations for Choosing the Right Website Builder
The website builder you choose impacts the ease of creating a website. A more compatible platform will likely simplify your website development project. Here are a few considerations to keep in mind: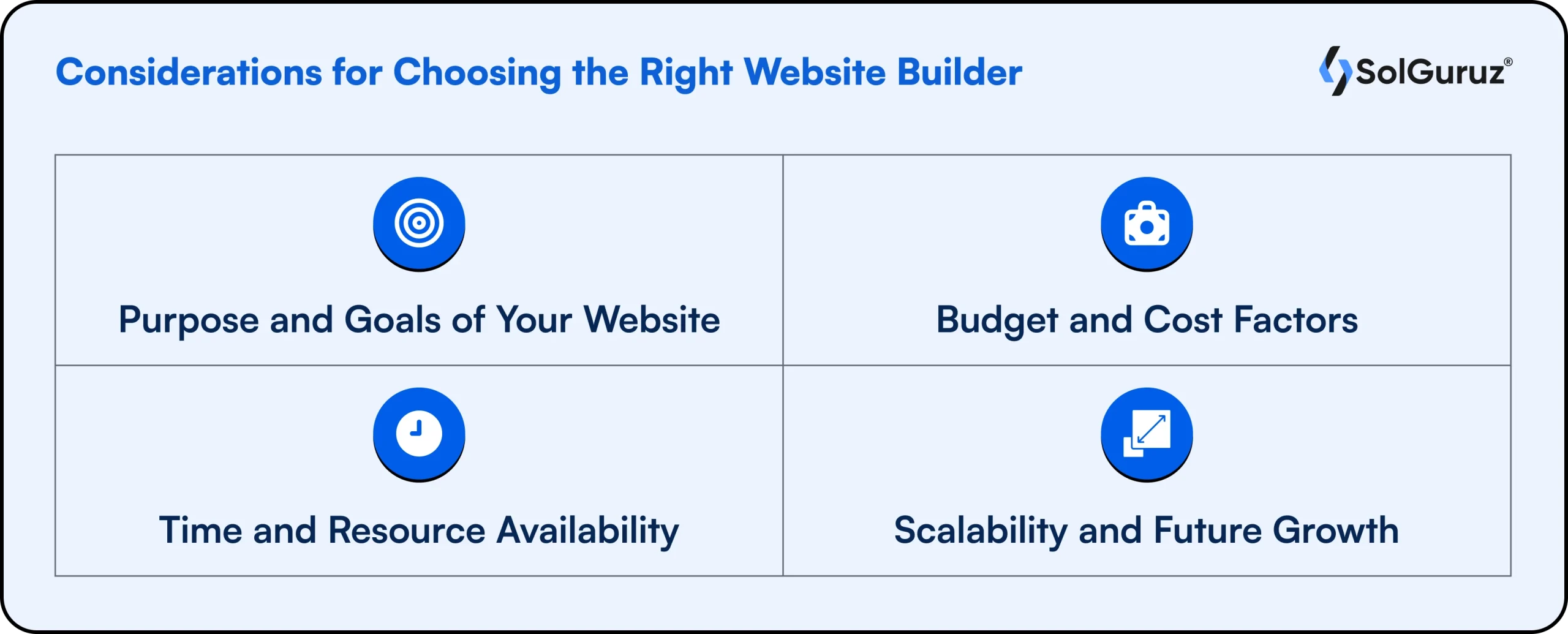 Purpose and Goals of Your Website

When choosing a website builder, determining the objectives and goals of your website is a fundamental step to start with. Determine what kind of website would work best for your requirements.

Different website builders cater to different niches and functionality. So, matching your website's purpose with the correct platform will ensure you have access to the features and resources you need to reach your objectives efficiently.

Budget and Cost Factors

Website builders come with several pricing structures. The free plans come with basic features, while the paid plans highlight some advanced capabilities. Consider your budget constraints and evaluate the cost-effectiveness of each platform.

Factor in not only the initial setup costs but also ongoing expenses such as hosting, domain registration, and potential third-party plugin purchases. Be mindful of any hidden costs and assess whether the features offered in higher-tier plans are necessary for your current and future needs.

Time and Resource Availability

Determine how much time and resources you're ready to invest in your website. With drag-and-drop platforms, you might require little to no coding experience, which can fast-forward your website's development.

On the contrary, more complicated platforms may necessitate technical skills or the hiring of professional developers. When you make the decision, consider both your team's skills and the level of customization required to find a builder that is compatible with the available resources.

Scalability and Future Growth

Choosing a website builder that can accommodate your future needs is vital, as your website will likely grow and evolve with time. Consider whether the platform allows easy scalability, whether it supports e-commerce expansion, and if it can handle increased traffic and data volume.

A flexible website builder will save you the hassle of migrating to a different platform as your business or project expands, ensuring a seamless transition and continuity in your online presence.
Whether You Choose Webflow Or WordPress, SolGuruz Has The Expertise To Help You Build High-Quality Web Solutions
After working as a leading web development company for over years, we have the expertise to build next-level websites using both Webflow and WordPress.
With a team of highly skilled and experienced software developers, we pride ourselves on delivering exceptional results that elevate your online presence and drive unparalleled success.
Why choose SolGuruz?
Our portfolio boasts an extensive range of 40+ top-notch websites, spanning various industries, that have consistently received rave reviews and exceeded our clients' expectations.
With an extensive portfolio encompassing numerous successful web development ventures, SolGuruz brings a wealth of hands-on experience to every project we undertake.
Our team stays up-to-date with the latest trends and best practices in web design and development, guaranteeing that your site remains at the forefront of innovation.
Hire Webflow Designers and Hire WordPress developers from SolGuruz and achieve an unmatched online presence!

Final Thoughts: Which One Should You Choose between WordPress vs Webflow?
Consider the essential factors that coincide with the needs of your website and your level of technical expertise when deciding between Webflow and WordPress.
Webflow excels at visual design control, responsive design, and integrated e-commerce, making it an excellent alternative for designers and people who want a more hands-on, code-free approach.
WordPress, on the other hand, has a massive plugin ecosystem, user-friendly content management, and versatility, appealing to a wide range of users, from novices to expert developers.
For designers or those who prioritize a visually appealing and interactive website, Webflow's visual editor and integrated e-commerce features can provide a seamless and creative website-building experience.
However, if you seek extensive customization options and a wide range of functionalities through plugins, WordPress remains a robust and versatile CMS for various website types. Consider your specific use case, design preferences, and technical skill level to make the best choice for your website.
FAQs
What is the main difference between Webflow and WordPress?
The main difference between Webflow and WordPress is that Webflow offers incredible customization options, whereas WordPress limits you to some ready-to-use templates. Along with that, in terms of code quality, Webflow boasts clean code, while in WordPress, the code may mess up.
Which platform offers better design flexibility and customization options?
Webflow is the superior choice for people who prioritize designing. It offers better design flexibility and customization options as compared to WordPress.
Does Webflow or WordPress provide a more user-friendly interface for beginners?
In terms of offering an intuitive interface for beginners, Webflow steals the show.
How do Webflow and WordPress compare in terms of SEO capabilities?
Both Webflow and WordPress offer strong SEO capabilities, allowing users to optimize meta tags, URLs, and other essential elements. WordPress's extensive plugin ecosystem provides more options for advanced SEO features.
Which platform offers better third-party integrations and plugin support?
WordPress excels in third-party integrations and plugin support with a vast ecosystem, offering seamless integration with various tools and services. Webflow has more limited integration options.
What are the cost differences between Webflow and WordPress, including hosting and additional expenses?
Webflow offers an all-in-one solution, including hosting, with plans ranging from $14 to $39 per month. WordPress is more cost-effective initially, but additional expenses for hosting, themes, and plugins can vary depending on user needs.