Ready to do business with us?
In the dynamic landscape of modern business, integrating technological solutions has evolved from a mere convenience to an indispensable necessity. Within this realm, the realm of custom software development has emerged as a pivotal tool that empowers enterprises to not only keep pace but truly thrive in their competitive endeavours. Whether you've established a digital footprint through your company's website, harnessed the efficiency of electronic documents, or huddled in the realm of client communication via email, you're inherently partaking in the tech-driven business ecosystem.
As per the latest reports, nearly 90% of companies have already switched to a digital model of operation, and this trend is only going to increase with the multi-billion-dollar investments made by tech giants in areas such as AI, IoT, ML, and big data analytics.
Furthermore, from 2022 to 2030, the worldwide market for custom software development is projected to increase at a CAGR of 22.3%, reaching USD 24.46 billion. Custom software development is a process of creating unique applications that cater to specific business or individual requirements.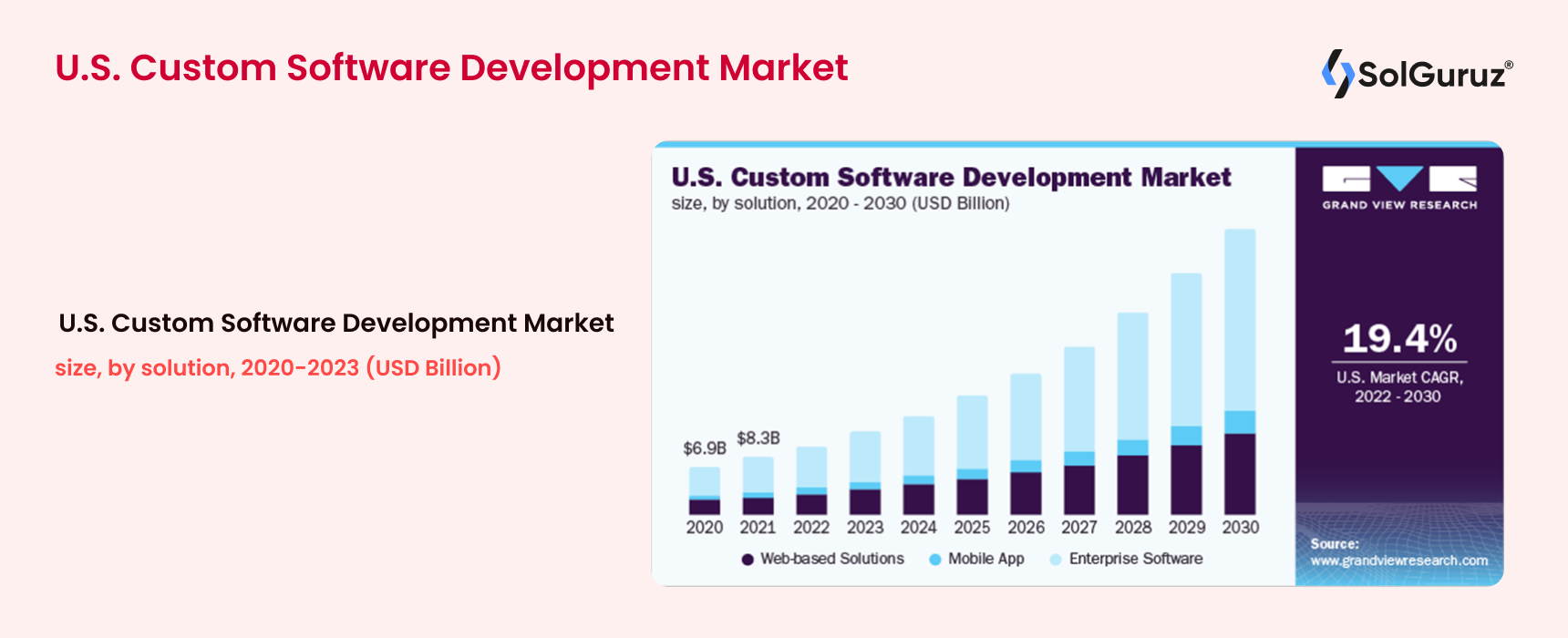 The real issue is not whether to implement new technology or software for your company but how to do it. When you have a firm grasp on your company's workflow and realize that Businesses may use custom software to make things more efficient. There is only one way to proceed: create or use a service that develops software as unique as your company.
As a result, in today's high-tech environment, custom software creation is no longer nice. It enables you to differentiate yourself from rivals by providing customers with an exceptional experience. In addition, it pinpoints client bottlenecks and pain areas so you can meet their current and future expectations.
And suppose you're considering introducing custom software to automate a business process. In that case, this article will teach you the ropes. Also, you'll get the learning of custom software development and discover why it's so crucial to your company's future success.
Well, there are enormous benefits and practices linked with the development of custom software that has been mentioned in the blog. Also, choose the company that is fit for developing your personalized software. Try to avoid the mistakes we have said and look for the qualities in the custom software development company that we have listed in the blog below.
So, Let's dive into the informative blog on custom software development with its definition of it.
What is Custom Software Development?
Suppose you or your business requires software that can meet the current or upcoming needs of the company. Then you must go for certain additions or any other software customization; the whole process is called custom software development.
In simple words, the process through which a specific software is designed, created, deployed, and maintained to perform specific operational activities is a custom software development process.
Custom software development is tailoring an existing software product to a new group of users, from the first phases of conception and design through testing and deployment and ongoing maintenance.
A summary of interesting facts about the development of custom software.:
The name Custom Software Development itself suggests much more than software development. Yes, it is related to designing and then developing it. This is not the end, as these days, steps are being taken to deploy and maintain the software for a long time.
These services are provided to certain specific organizations or a few individuals.
This proves that this type of development is only done for a narrow requirements scale. One of the reasons is that it is not for commercial purpose development, so custom software development focuses only on a narrow base of users.
Now, you may wonder about how to develop custom software. You must consider hiring a custom software development company to enjoy custom software development services.
3 Core Reasons Why You Need to Invest In Custom Software Development?
Now that you have a basic understanding of custom software, you can go on to the next step, determining if it is the right time to jump into custom software development. Or What are the key reasons for developing custom software?
You want to optimize and streamline your business workflow and processes.

Several enterprises within the same industry use different business procedures and activities. Businesses should adjust workflows to correspond with standard operating procedures to improve efficiency.

So, you want to optimize and streamline a specific business process or operation per your requirement. In that case, you must consider custom software development.

An example is: "If you are running a construction company that requires dealing with several material vendors and equipment suppliers. To manage the process of handling vendors, you need to digitize the whole process in your manner – this is where custom software development becomes a helping hand."

You want Adaptability and Modernization in the business

In today's dynamic business climate, it's crucial to recognize and respond to emerging trends. If not, your company will soon be extinct. Businesses will meet the objective via custom software development that adjusts to new market conditions.

Suppose you want to boost your company's value by releasing new products and services before the competition. Custom software development may help you integrate system changes.

You are looking to Scale Up.

While building a website or software, company owners have one primary issue: Will the software last in the long run? Will the software be scalable as the enterprise expands and technology advances?

Yet, custom software development may solve such problems and overcome unanticipated obstacles. Custom software is future-proof, enabling developers to include additional technologies to improve the process.

Thus, custom software development helps you to prepare for enhanced business operations as your organization grows, positioning it for future expansion.
What are the Key Benefits of Custom Software Development?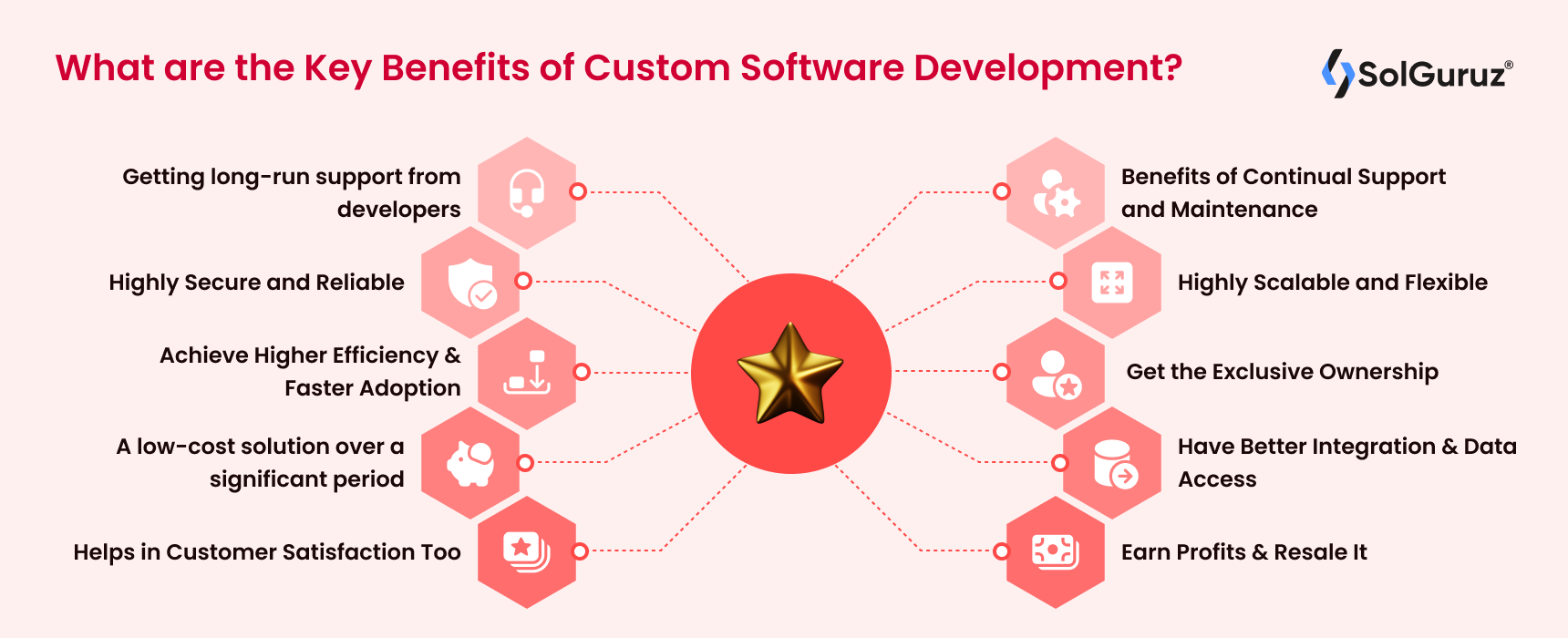 In today's highly competitive working environment, businesses are expanding quickly. And almost every company has many sub-parts among them.
So, software designed for all is incompatible in the current working environment. There was a need for software applications in a personalized form. And the custom software development concept has made customization in software possible as per the requirements of each business or user.
The advent of custom software development as a proven contemporary B2B solution has facilitated a digital revolution across all sectors of the economy. The Forrester study confirms this, showing a massive increase of 33% CAGR, to $136 billion, between 2011 and 2015. It's a warning of the rapidity with which custom-built software will shake up every sector in the coming years.
In the long term, your firm's growth will be fuelled by a solution that is both successful and tailored to your specific needs: custom software development.
Let us now broadly discuss the benefits of customized software development:
The opportunity of enjoying long-run support from developers.

If custom software development is your idea, then there is a sure opportunity for your business to remain in close connection with the software developers for a long time. Because each time the trend or requirements for the business change, you need to work closely with the developers to come out with modified software applications.

It is Highly Secure and Reliable.

When you use off-the-shelf software for any reason – they are easier to hack. The reason behind it is – they are built with open-source code. But in the case of custom software – since it is tailored to your exact needs, it is more secure. It is built using the latest and greatest technology available to your company and industry.

Healthcare, insurance, and fintech businesses rely heavily on custom software development to ensure complete compliance with all rules and secure sensitive data.

Custom solutions are developed after careful consideration of your needs is assessed, best practices are used, and potential pitfalls and threats are identified.

After extensive testing, tailored software minimizes security risks, boosts productivity, and guarantees dependability.

With Custom Software, You Can Achieve Higher Efficiency & Faster Adoption.

A more streamlined business process is possible with the help of custom software developed to match each company's unique requirements.

The software has already been configured to work as companies do. They are familiar with their tasks and help businesses improve their productivity, efficiency, and competitive edge.

As a result of the produced custom application's specialized business solutions and capabilities, it is more easily adopted throughout the whole company with much less time and money spent on training.

Organizations that invest in custom-built software can maintain their processes to accommodate the software since it is tailored to how they conduct business.

It is a Low-Cost Solution Over a Significant Period.

At the beginning of an application implementation or development process, the appearance of custom software cost might look like a sky scrapper. And although it would seem like a good deal at the time to purchase pre-made software rather than build custom software from the ground up, that's different from how it works out in the long run.

Proprietary software suppliers know that licensing spending is only the beginning of their financial commitment. After a customer has signed the dotted line, companies may demand astronomical amounts for ongoing support, upgrades, and alterations. Costs associated with using proprietary software tend to increase steadily over time.

While custom software development may have a higher upfront cost, they often save money in the long run while being more beneficial to the business. After all, you'll only ever pay for what you use, and regular maintenance costs will be minimal.

It Helps in Customer Satisfaction Too!

Everyone interacting with a company wants to feel like they're getting special treatment. One of the keys to happy customers is making them feel like they matter. Adding value to the business/customer connection is a primary goal for every successful organization. Customer loyalty and retention rates increase when businesses go above and beyond for their clients.

McKinsey found that 71% of customers want firms to provide customized solutions, and 76% become dissatisfied when companies fail. Understanding the significance of a personalized user experience and custom software development is crucial to ensuring happy clients.

You Get the Benefit of Continual Support and Maintenance

A reliable technical support staff contributing to creating your custom software is another perk of investing in custom software development. They have experience working with your software and can troubleshoot problems as they emerge.

Different organizations have various requirements. Most have come to terms with the fact that generic software and tools won't live up to their hopes and desires. Businesses using tailor-made software may implement innovative ideas and gain a competitive edge over competitors utilizing generic software.

At SolGuruz, we love what we do: offering software solutions and services. We specialize in custom software development solutions that enhance your company's operations.

You can trust SolGuruz to execute your needs effectively regardless of your sector or your business size.

It is Highly Scalable and Flexible.

Companies need to be able to respond quickly to changes in the business climate if they want to maintain their competitive edge.

Although off-the-shelf options may be adequate for meeting immediate demands, they may need to be more readily adaptable to changing circumstances.

In contrast, custom software is made to include all the features you need. Even if your demands change over time, you can think creatively about potential outcomes if you do a thorough analysis throughout the exploration and prototype stages.

Custom technological instruments may meet any need, whether it's to implement new capabilities, expand existing products' capacities, or meet the expanding needs of an organization.

You Get the Exclusive Ownership

Unlike off-the-shelf options, custom software offers your organization complete control over its data and operations. It gives you total freedom to alter it as needed and use its potential in any way that serves your company.

Moreover, you are not bound by licensing costs, laws, or regulations when investing in custom software.

You can Have Better Integration & Data Access.

Upgrading or modernizing an application by creating custom software tightly links the current IT infrastructure and interfaces with other applications and programs with little financial and time expenditures.

Access to data through the already-developed tool is complicated, mainly when the program is pre-built and does not provide modification. Instead, we can control access privileges at granular levels using custom software.

You Can Earn Profits & Resale It

Businesses may profit from custom software development. Based on the terms and circumstances of the customized project, companies may license or sell their customized apps to other organizations and earn substantial profit margins depending on the market demand and the need for their applications.

Before beginning the development process, enterprises must respect the intellectual property rights of custom mobile applications. An organization that pays bespoke software development businesses for application creation has complete ownership of intellectual property, source code, patents, copyrights, and trademarks. So, they may resell the application for profit or commercial requirements.
What Are the Types of Custom Software Apps to Develop?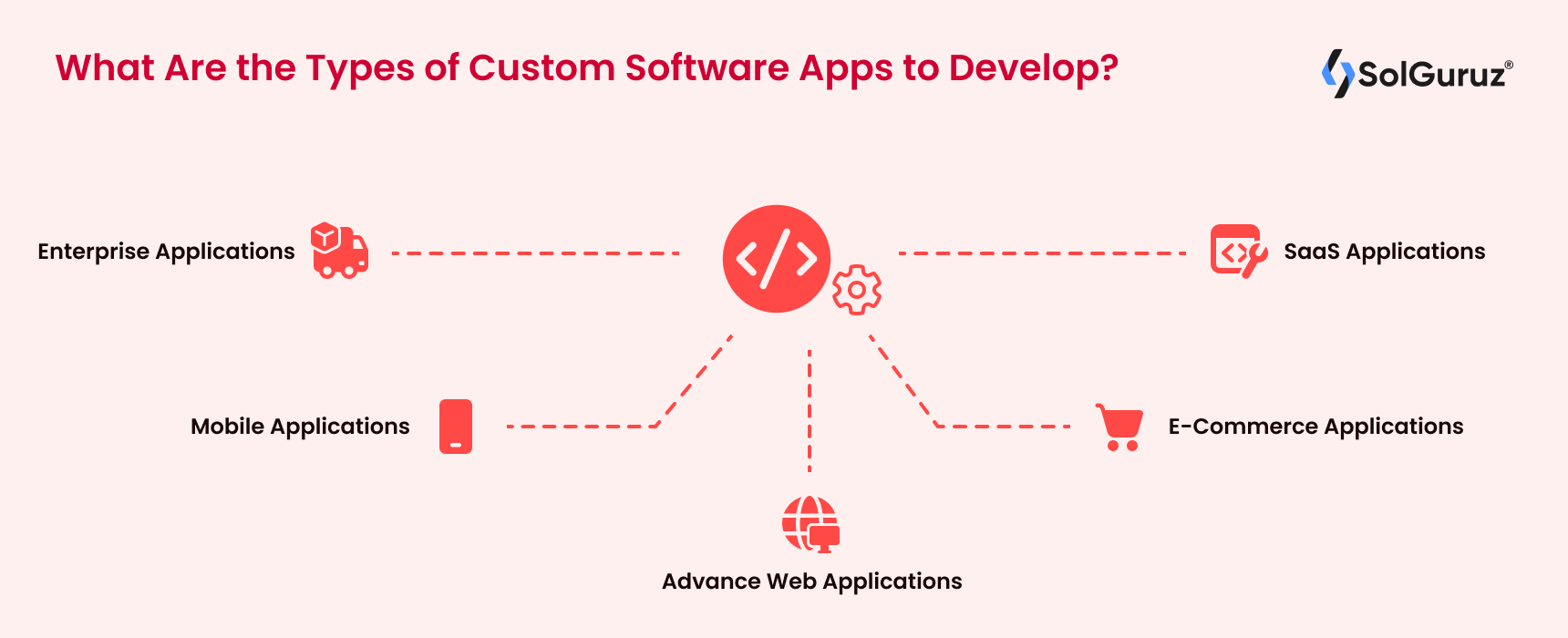 The needs of your organization and the nature of your industry should guide your selection of the most appropriate custom software. Consulting a seasoned development company is a significant first step when deciding on custom software development.
The most sought-after custom software apps to create are listed below.
Enterprise Applications

Enterprise applications integrate existing departmental software into one user-friendly interface to better manage and share data across the company and are built to grow with the company.

Mobile Applications

As a staple of custom software application development, mobile applications offer the most efficient user interface, are highly responsive across all mobile devices, and are developed to deliver the best possible experience for users in all industries.

Advanced Web Applications

Advanced web applications can reduce costs, are highly responsive, and do not need to be installed or updated by individual users. Scalable and highly accessible, these options provide high levels of efficiency.

E-Commerce Applications

E-Commerce Software Solutions allow an online store to be integrated into a company's existing website to sell goods with a customized storefront, track payments and easily organize products.

SaaS Applications

SaaS applications are developed with a user-friendly interface that promotes sales, integrates with almost any platform, and is highly secure to prevent costly data breaches.
What are the Major Concerns to Look After in Custom Software Development?
After discussing the benefits of custom software development, it is necessary to examine the drawbacks of the same.
It is pretty Risky.

Depending on the magnitude of your project, the risks associated with designing bespoke software vary. Still, it's easy to lose sight of your ultimate goals. It is essential to clearly understand your organization's demands and communicate with the product's developer about how you want the product to achieve those goals.

It is relatively uncommon for additional features and functionalities to be identified throughout the bespoke software development process. It will increase development expenses and duration.

The Cost Could Go a Bit High

Several software applications use either a one-time charge or a monthly subscription basis. Choosing custom software development services, however, takes substantial financial resources. The commissioning organization is liable for all development-related costs. Some specialized solutions might cost more than five figures.
What Are the Steps Involved in Custom Software Development?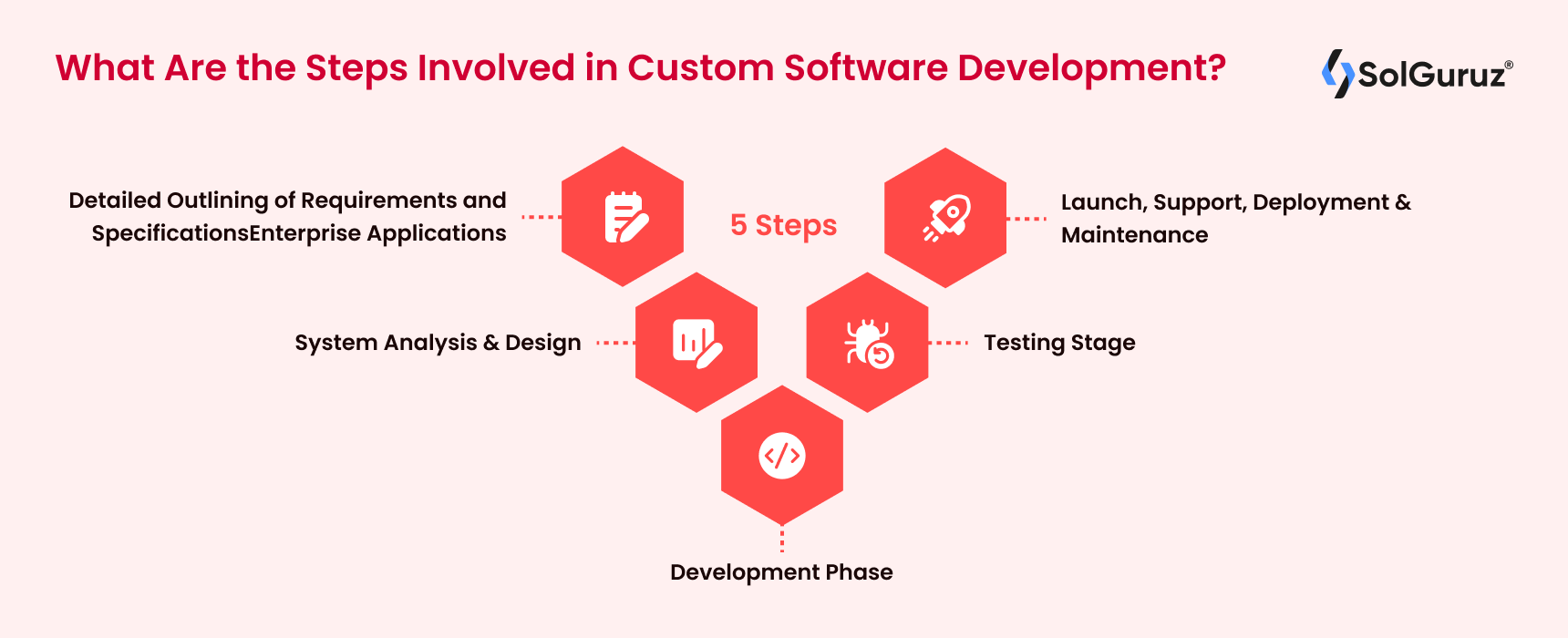 Now that we have outlined the reasons and benefits of custom software development – here are the steps that are involved in custom software development.
Custom software development is complicated depending on the specific features and functions the customer desires. Often, businesses collaborate closely with custom software development teams to build software in great depth. The software product should address difficulties a firm may have with its existing software and provide adequate flexibility for expansion and change.
The custom software development process consists of the steps involved in custom software development:
Detailed Outlining of Requirements and Specifications

The first stage in creating custom software is gathering the development group to define the project's scope. The goals of the software, the features that must be included, the available resources, and the anticipated completion date are just a few of the many factors that must be considered before beginning development.

Gathering relevant data and making intelligent decisions is essential to planning the project scope and developing a workable application without additional costs.

When you Hire SolGuruz for the custom app development, our initial focus would be to understand your business niche, values, and operations. With the help of internal stakeholders and our experts – we carefully outline the requirements and specifications of custom development software.

"We recommend businesses to focus on this stage as much as possible – because one mistake here and there in planning could cost you hundreds and thousands of rupees."

System Analysis & Design

By examining the software development concept from the perspective of a company executive looking to mitigate risk, system analysis seeks to uncover ways to improve the idea.

Essentially, you are doing a feasibility analysis to see whether your plan can succeed. At this point, you'll need to flesh out the remainder of the notion and provide further justification for its continued growth. Mostly, this stage is for mapping out the design and development phases.

But, before diving into the analysis, you should be aware of the following:

Analyzing systems requires going into more depth than before. Hence, this stage is when the whole software system is specified, down to creating a blueprint for each subsequent step.
To prevent anything from falling through the cracks, the scope of work breaks down the whole project into manageable modules. These modules consist of clearly defined tasks at each step.
In custom software development, it is crucial to divide the project into manageable chunks with well-defined duties. Many people are involved: clients, collaborators, designers, project managers, and more.

At this stage, a complete blueprint of the custom software is built. Before the development team begins working on a project, the planning and design take place here. Because of the complexity of coordinating resources and establishing infrastructure, the development team is usually also engaged.

Before completing the software design process, you must also have a workable strategy. Everything from the software's appearance and operation to its architecture and construction is part of the design process.

The team may get a clearer picture of the project's outcome during the design phase when they also sketch out all the features and functions that will be implemented. While discussing the design, no matter how minute, you should include it in the conversation.

Development Phase

Development of the program starts once extensive planning has been completed. Generally, development tasks are segmented so that the project's code may be developed in sections.

Developing code in sections facilitates more accurate evaluations and reduces interruptions and delays. At this phase of software development, it is essential to have tracking tools in place to monitor the project's progress.

Backend development is responsible for web application functionality. Backend development enables every interaction in the human-computer system while it is not visible on the screen.

Backend development refers to the server side of action, which emphasizes how the website functions. This code handles user connections, links the web to a database, and drives the web application.

Testing Stage

System testing may commence on the custom software when development and coding are complete. At this point, the software is thoroughly tested before being given to the public for input. During software testing, the QA team uses technologies such as automated testers. These technologies enable users to simulate situations that might aid in locating software bugs.

Before commencing this phase, it is essential to keep the following in mind:

After coding and development for exhaustive testing, the program is delivered to the quality assurance (QA) team. Successful tests are likely to identify a certain number of faults. Before the product is released, these flaws are fixed to gauge their experiences.

After every test on the product demonstrates no errors to be found, the program is forwarded to the next phase for implementation.

Launch, Support, Deployment & Maintenance

It does so when everything is in place, and the product is ready to go live. This is an excellent option for consumers to get a feel for the development and provide feedback.

Customers that pay for support services engage closely with the product's development and design teams at launch. Both groups are involved in a joint effort to learn more about consumer problems and desires. Because of this, teams can address the concerns of all their clients. Nonetheless, keep in mind that.

After the product has been implemented, its lifespan is complete. This phase comprises the product's actual usage by the firms and customers to assist them in adjusting to it before its debut.
If a problem is found at this stage, it is reported to quality assurance, who then works with the product's creators to fix it. When the product has been tested for the allotted period and has run without a hitch, it may be put into use.

The ultimate goal of the custom software development process is to have the finished product deployed into production. The product has reached this point because it is ready for deployment into the wild.

Preparation, deployment processes, product deployment, transfer of product ownership, and concluding the deployment stage are all parts of the deployment life cycle. The company will acquire ownership in most circumstances, but the original development team will be responsible for its ongoing upkeep.

After the launch of a software product, the next phase is maintenance. Repairs, updates, and bug patches are part of a software product's maintenance. The customer's new systems must be compatible with the company's software applications.

The development team deals with any problems or faults found at this stage. At this stage, we monitor how the product is doing.

What are The Ways to Accelerate Custom Software Development Processes?
It is now clear that custom software development aids organizations in enhancing their relationships with customers, speeding up the automation of internal procedures, and simplifying their working relationships with external parties.
How?
Change is one of the most important things here. To equip oneself with a scalable solution that can adapt to fluctuating consumer requirements. Increasing customer happiness and retention, operational efficiency, and return on investment should be the top focus for any firm today.
In the fast-evolving digital business world, this is one of the most important criteria for a brand to remain competitive.
This section will cover how custom software expedites the development process while promptly addressing client needs at a reasonable cost.
Focus On the Key Performance Indicators (KPIs).

Your software development process has to be accelerated; therefore, you should probably figure out how fast it can enhance it. If you want to meet your deadline, keep your eye on the actual numbers, such as the number of items you've crossed off your list.

Instead of tracking how many lines of code were created, focus on how many jobs were done daily. Companies always aim for improvements in software development speed and cost-effectiveness. And it would help if you didn't spend time away on things like reworking, refactoring, in-person meetings, etc. If you take the time to do all of this, your product will be a success.

Use Cloud Technologies

Nearly every company strives to improve the efficiency and economy with which it operates its business applications. That's the case. You may easily and quickly relocate your apps without disrupting service using cloud computing services.

Most companies today are interested in establishing cloud-native apps. They use cloud platforms and technologies to migrate their bespoke applications to the cloud.

Undoubtedly, application developers' time is better-spent thanks to cloud technology.

Go For Agile Development

Agile software development emphasizes the quick iteration of working software over lengthy planning and design phases. It facilitates the fastest possible prototyping, facilitating further bespoke development.

Timely project completion is now possible with agile software development.

More closed project completion times are guaranteed, and more significant client input is encouraged. When a large project is broken down into manageable chunks, you can keep tabs on the status of each phase. Increased adaptability and scalability are two benefits it offers.
What Are the Key Parameters Involved In Fixing The Cost of Custom Software Development Projects?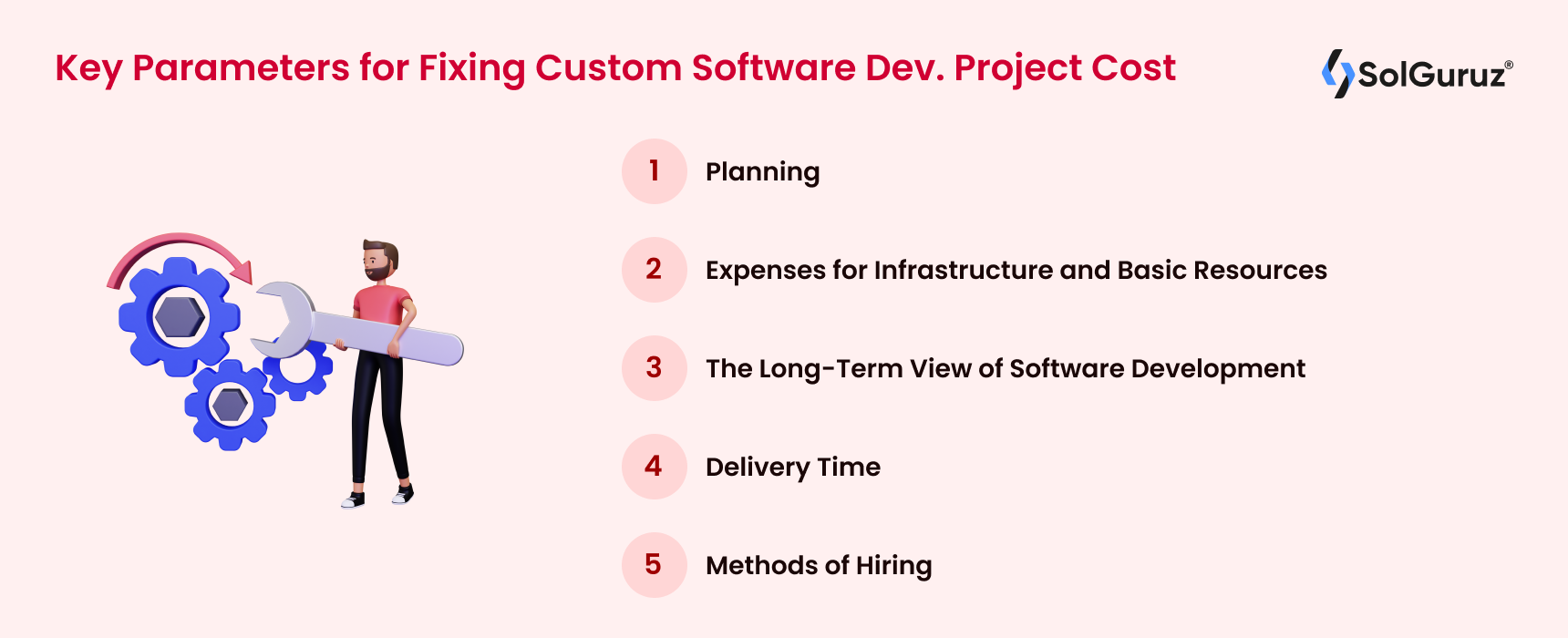 Businesses must devote significant resources (time, money, and technology) to developing custom software. So, all companies must be able to make this choice effectively based on financial and other relevant considerations.
We are already aware of how the competitive advantage of business application development contributes to increased price points and development expenses.
Custom software development has several facets to consider before settling on a price estimate.
Planning

The development environment also has to be considered. After the project's specifications, timeline, and team members are all set in stone, the cost will be split in two again, this time according to the chosen platform.

Critical factors in determining overall costs include the required technological stack, software license fees, and any fees associated with the cloud.

Expenses for Infrastructure and Basic Resources

Choose a bad outsourced offshore partner. The price of your custom software might be far greater than you had anticipated. Another crucial cost factor is the team's choice of geographic location for outsourcing. The cost of development in the Philippines and India will indeed be different.

It's possible to overpay for outsourcing services if you don't choose the correct place. Choose your tech collaborator carefully.

The Long-Term View of Software Development

When determining whether or not to invest in bespoke software development, firms first consider the expertise and breadth of experience of the developers they employ. The complexity, urgency, and available technology affect the estimated price tag. The amount of time and effort put in by the developers is also crucial.

Without a well-crafted budget, the company may be forced to skimp in essential areas or go without access to necessary human and financial resources.

Delivery Time

As the adage goes, "time is money," so if you need the job done more quickly than usual or have a tight deadline, be prepared to spend more.

Methods of Hiring

Businesses have varying recruiting procedures, and it is from these that cost estimates are derived. The recruiting models may be completed based on the expertise and track record of the team. The Dedicated Development Team and Fixed Price models are the most typical ways.
Custom Software Vs. Off-The-Shelf Software
Whether to go for custom software development or purchase a ready-made product is perennial for business owners.
Finding the right software at the right price involves thoroughly understanding the organization's needs and the total cost of ownership of all available solutions.
The company should consider the following before deciding on bespoke or commercial software.
What is Off-the-shelf software?
We have early discussed custom software development. But there is another famous software development called off-the-shelf software. What is off-the-shelf software development?
The software generally produced for commercial purposes and can be used to fulfill users' needs is called off-the-shelf software.
How to use it?If the off-the-shelf and custom software is compared, the off-the-shelf software is straightforward to use. Because there is a control panel that comes with it helps users understand and start using its functions very quickly.So enough time gets saved, which is not possible with custom software. Because with customized software, your company's staff members take a lot of time to understand its functionality and work smoothly.
What Is Their Cost?Comparing the custom software with the off-the-shelf software in terms of cost, the latter is more cost-consuming than the first. Not only low, but sometimes the off-the-shelf software is available free of charge too. This has become possible because the developers of the off-the-shelf work only for more than just earning or profit motives. But with custom software, there is no such case.
What Are the Options Available with Both?Suppose your organization has opted for custom software for running your business operations smoothly. Then you can make changes or additions to the functions of the software you already have and the needs of whatever arises.But do not think about something other than the availability of these opportunities with the off-the-shelf software. Here your organization needs to remain satisfied with whatever in-built options are available. You cannot make modifications or alterations as per your need.
Diversified Or Non-Diversified CompetitionNot only you, but you may notice your competitors using the same off-the-shelf software. And in this way, there may remain no competition or enthusiasm to do better between the companies.But with custom software, the scenario is different. Because the customization or additions or any other requirements always vary from one organization to another. So, the competition remains diversified and exciting.
Is There Customization Possible with Off-The-Shelf Software?Customization facilities are sometimes available with off-the-shelf software. Still, you can use them only if you have paid for those services. Otherwise, not. It seems costly in such cases. But with a custom one, you need to pay, which you have asked to be in the software and nothing else. So, it is undoubtedly a cost-effective option in this scenario.
Is There Any Chance of a Mistake from The Side of Developers?If you work with off-the-shelf software, there is no chance of a mistake on the developers' side. Because everything in it is in-built. Nothing needs to be developed on the spot.But the scenario is different in the case of custom software. Here remain the most excellent chances of mistakes from the developers' side because everything needs to happen as fast as changes occur in your business or the overall market.
Who Is Quicker to Respond in Case Of ChangesThe changes in the organization's business operations are inevitable. It may call for any customization to the software your business uses at any point in time. And only custom software has been developed to face and quickly respond to the changes your business operations need.Moreover, the changes are made without affecting the logistics. But since customization is impossible with off-the-shelf software, you cannot react quickly to the changes you need in your already available software.
Which Can Provide the Best Results? Best results are possible only when you work on approved software. Well, that is possible only when you choose the off-the-shelf software because the clients get it with all its ready-made features intact. But the same is not going to happen with something other than custom software. Because in the process of new additions or modifications, the developers may commit any mistake.However, that will not happen if you hire software developers with an intensive knowledge of custom software development.
Some Successful Businesses Rely on Custom Software Development
We have gathered a list of successful, early-stage organizations specializing in custom software application development to provide more context and tangible examples.
Netflix

The attention and participation of a significant audience are only guaranteed on some platforms. Nevertheless, due to its superior video streaming content, Netflix is now the most sought-after and widely used service. It has a stranglehold on the digital video business and phenomenal user engagement.

The business often consults with specialized software development firms to improve its infrastructure. Furthermore, it provides a streamlined interface for users to customize their content's visual appeal and engagement. This involves thoroughly and consistently meeting the needs of your subscriber and user base.

Amazon

It's hard to believe that Amazon, the largest online marketplace (eCommerce) platform in the world, which now ships its many items and services to every corner of the globe, started selling simple books.

With unwavering dedication, the firm consistently and reliably meets the needs of its clientele in areas as diverse as food, apparel, technology, and more.

Amazon is a vast online marketplace where people can purchase and sell goods easily and quickly. They are pioneers in the e-commerce sector thanks to the innovative software solutions they developed themselves.

Uber

Most of us rely on Uber to work, the store, the train, etc. Choose Uber, the world's most reliable and efficient taxi service, to get about town in style.

The ride is smooth and comfortable because of the custom software they've developed for their customers. Up to this point, Uber's sophisticated algorithm has helped the company increase its market share in the United States by 76%.

To arrange a ride, use the app's booking feature. The service provides a one-of-a-kind and streamlined experience for passengers by quickly matching them with a local driver. Commuters will have the smoothest ride possible, thanks to this.
Popular Trends in Custom Software Development for 2023
The software development industry is poised for a significant shakeup due to the ever-changing nature of technology. To succeed in today's cutting-edge market, businesses must adapt to the shifting landscape. They anticipate tele operated systems, full automation, accelerated rollout, streamlined corporate procedures, etc.
Thus, we have developed innovative technologies that will rapidly rise to the forefront of next year's custom software development trends.
Development with Minimal or No Code

To what extent have newer code creation methods altered the software development process? In short, growing state-of-the-art technologies lighten a load of programmers, allowing for quicker and simpler code creation.

No- or low-code implementations make this a breeze. You can make valuable programs with this with hardly any code at all. Rapid application creation is possible using low-code development environments that rely on graphical user interfaces and tools.

Without the assistance of a programmer, non-technical users may construct their software solutions with the help of low-code development. It frees up time for developers to work on mission-critical projects.

In recent years, interest in these strategies for growth has increased. Research indicates that the world will need 500 million applications within five years. Yet, the study predicts that by 2024, 65 percent of applications will be developed using low-code methods.

You've probably heard of Canva, a website that lets users create designs by dragging and dropping elements. One of the many sites providing no-code development services is this one.

Certainly, for automating the designing and development tasks, we have been exclusively trusting the DhiWise, a coding platform. And we are the only exclusive solution partner with DhiWise in building next-gen web and mobile app platforms.

Software Integrations

Previously, companies were expected to achieve their commercial requirements with only one software. Yet, the technological environment is now completely different. Consumer needs and wants have moved to the forefront due to technological advancements.

To provide their users with the best possible experience, developers have included support for external features in their software programs. In-house development teams have been inspired to employ pre-existing frameworks and codebases thanks to the popularity of bespoke development. For instance, Amazon increases the exposure of its products by integrating email and social media APIs across all of its e-Commerce platforms.

Eighty-three percent of businesses consider API integration essential to their strategies, with the top advantages being higher productivity (60%), more innovation (51%), and higher revenues (43%).

Concepts of IoT

By 2023, the estimated market value of IoT infrastructure will be over $639 billion, demonstrating its critical significance in software development.

When it comes to IoT, it's all about making life easier for consumers by connecting their many smart home apps in one unified system.

Because of IoT, several sectors may now collect, deploy, and analyze the massive amounts of data generated by the proliferation of networked devices used in various contexts.

Automating processes on an enormous scale has helped businesses tap into untapped income opportunities. The evolution of the Internet of Things indicates the increasing difficulty of developing software for non-conventional devices.
Some of the Best Practices to Follow When It Comes to Custom Software Development:
While you have already grasped the step-by-step process of custom software development, here are some of the best practices to follow:
Be Specific About the Motive Behind Developing Custom Software

Custom software development is not merely for development purposes but to fulfill the business's specific needs, Which may arise at any time and in any situation.

Suppose a problem may arise in the technical tools while running the business, or any modification can help the organizational operations become better. So accordingly, you can ask the developers to customize the software.

But the customization first requires you to set your objectives, which calls for changes or additions in the software. And to set the goals, you need to discuss with your team members the functionalities your software must include.

It means detecting the needs of your changing business environment helps you set objectives for developing custom software.

Go For Building the Right Team

After setting the objectives, you must build the right team for the ultimate custom software development. You must have heard that people advise hiring the best flutter developer. Similarly, it would help if you choose the right and well-experienced team members for the best custom software.

When selecting a Custom Software Development Company – you must carefully examine their background, previous projects, feedback and reviews, time taken to complete projects of similar sizes, etc.

Do Proper Planning & Keep an Eye on Your Budget

Now you are done choosing your custom software development company, you need to sit with them and decide about the technologies to use. Besides, it would help if you ensured that your budget is feasible or reasonable to go with the development processes used.

Because with the compatibility of your budget and methodologies, it is impossible to proceed to a good end.

Test – Test & Test Before You Release Your Custom Software

Whenever custom software is developed, its testing is essential. No matter whether you choose manual or automated testing, both are fine. Then the step is to fix the bugs that arise.

The fewer errors or bugs in the custom software, the more the availability of the satisfied end-users. But that needs regular or frequent monitoring of the functioning of the software.

Don't Forget to Maintain Simplicity.

Do not think that the custom software you develop for the betterment of your business needs to involve many complexities because it must have the valuable functionalities you want to have in it but in a more straightforward fashion.

Otherwise, it may become difficult for the employees or staff of your company or any other individual user to operate the software applications. So, the simpler your custom software looks and functions, the more effective it is for you or your company.
Here Are the Top Mistakes You Must Avoid While Selecting a Custom Software Development Company?
After identifying the needs and objectives of developing the custom software, you must select the best company specialized in developing the custom software.
But sometimes, companies or individuals need to correct their choice of an effective custom software development company. So, we have listed several errors you must avoid to get the best results from your custom software.
List of mistakes you must prevent:
Do Not Stick to One Single Pricing Amount

When looking for custom software development, you must be flexible when spending money. The concept of hiring the best software developers for customization at low prices needs to be corrected. Because you cannot expect high-quality and error-free custom software at lower prices, you must be prepared with a high budget to get the best results.

Be Careful About Minor Communication Errors

Proper communication and discussion of ideas are essential to building the best-customized software. But many people often fail to follow the valuable tips and tricks for communicating with the software development company.

However, differences in languages, operations, and business culture sometimes create problems in proper interaction with the custom software development team. But if overcoming these barriers is possible, you can easily construct ideas for developing custom software.

Always Have Well-Defined Organizational Needs and Objectives

If you need to achieve the best results with the help of custom software, then you need to be clear with your objectives and needs linked to the software.

Because if you fail to make those objectives properly defined to your custom software development company, then the result may not be able to fulfill your or your business demands or requirements. So, avoid making mistakes in defining your custom software development objectives correctly.

Be Careful with Poor Detailing System

When you are available with the finalized customized software, you must also be handed the full details of its technical and functional specifications. Because without a formal statement of its technicalities or functionalities, it becomes tough to handle the custom software.

Moreover, the absence of accurate details may cause damage to the software from the user side, too, and there remains a possibility of extra cost. So, try to avoid such mistakes and always ask for the minute details of the making and the working of the customized software solution.

Don't Start and Share Things Without NDA.

Suppose you have hired a company that will develop custom software for your company. There, you need to discuss your business needs or demands and share your precious ideas that can bring something unique and valuable to the business.

This is the point where many people make mistakes. How? They ignore signing the NDA with the hired custom software developing company. Because without signing your NDA, there remains a chance of your business's confidential information or ideas getting leaked.

Don't Forget to Get The Source Code

Do not forget that the hard-earned money you have spent is not only for buying the custom software but also for getting ownership of the software's source code. Because without the source code, you cannot be considered the actual owner of the software.

And the absence of the proper source code can also obstruct you from hiring any other software development company in the future. So do take the source code from the hired software development company.

Whenever you decide to go for custom software development, you must start looking for the software development company that best fulfills you. We have listed ten qualities the presence of which in the company can help you to select.
What Are the Top Qualities to Look for When in Search of a Custom Software Development Company?? As Follows:
After the list of mistakes you shall not make, we will describe the top 10 qualities you must search for in a custom software development company.
Good Communication Power

Before entering into any contract with any company, you must have an idea about the communication power of the company. Because the more they can exchange words, the more effective and helpful the custom software will be developed.

You may ask several questions about their working process, the benefits of hiring, and other related questions. You must judge or rate them on how much better company members interact or answer your questions.

Presence Of Experience and Innovation

Do not only judge the experience factor only because, besides experience, innovation should also be the mantra of every individual of the custom software development company you choose.

Enough Positivity and Dedication

Suppose the company's members are enthusiastic about developing something unique or fully dedicated to continuing at any worst condition and completing the work. In that case, the growing custom software company is good to go.

Presence Of Futuristic Thinking

For the best outcome of custom software, you must choose a software development company having decision-making and analytical skills. The company needs to have futuristic thinking and the ability to focus on the vision of making custom software.

Presence of Diversification

For the best results, you must go for team members that can tackle different problems and have enough diversity to create customized software.

Consider Testing Very Important

Proper and effective custom software development is possible with its best development procedure and requires frequent testing. So you must proceed with a company that gives both development and constant testing of the custom software equal importance.

Check Out the Honesty Factor as Well.

You must check the honesty factor of your chosen company by asking several tricky questions that companies may hesitate to answer because an honest software development company will always remain honest and transparent with the custom software they provide for you.

Consider Safety Very Crucial

It is always best to move with a custom software development company for whom the safety of the client's documents is vital. And take the required steps, and make arrangements to safeguard the records.

Other than these, your search should always be for companies that try to keep transparency in all their actions. And it is always recommendable to go for a firm that follows the intervention policies.
Wrap-Up
Here is everything you need to know about custom software development. In this guide, we have discussed the pros and cons of custom software development. Not only these, but we have also tried to help you in selecting the best custom software development company. So, if you are looking to hire a company for your next project, you must go through all the qualities and mistakes mentioned above.
If you're interested in custom software development and want to talk with an expert about developing software, set up an appointment with them online.
Hire SolGuruz for Tailored Software Development. We are a flexible custom software development firm with a team of developers that are experts in a wide variety of fields. Our software engineers always do their utmost to meet or exceed expectations.
Also Read
FAQs
What is the cost of developing custom software for my business?
Our research shows that the average cost to plan, create, and execute a custom software application is between $30,000 and $100,000. It's an extensive range, so it will only be beneficial if you're trying to pinpoint an exact cost. This is because there is a wide variety of software to choose from. Everything from a simple calculator to a complex corporate billing system with millions of users may be considered a custom development project. The apps that are designed specifically for a company are unique.
I want to develop a website/custom software solution. Where do I start?
A custom app development project at SolGuruz begins with the submission of a request for proposal (RFP). It'll allow us to build a specific, personalized answer. Among the components of a complete request for proposal are: Short description of the firm and contact details; Executive summary and objectives; the kind and range of the services and results to be provided; Timeline and cost preferences; Technical prerequisites; Any other pertinent information.
I've collaborated with a different software development company, but some problems still need to be solved. Can you take over what I've already got going on and keep it running while you add to it?
That's not a problem at all. SolGuruz has the necessary expertise in this area. We also have experience with a wide variety of technologies. Suppose another company began your software development project. In that case, we will evaluate it, devise a plan of action, and go on with the development - not an issue.
What are the types of custom software development services?
The four main types of custom software development services include Mobile app development, eCommerce development, SaaS development, and product development.
What is the process of custom software development consulting?
We have a very simple procedure at SolGuruz for custom software development consulting. Connect with our business team by making a prior appointment, and we are open to consult for any type of custom software development services.