Ready to do business with us?
A functional website is crucial to the success of any modern business – the finest technique to get your message out to more people. Mobile phone usage has surpassed desktop computer use among users and customers, making a mobile-friendly website a must.
Web designers and developers are soon reaching a point where they can no longer keep up separate coding for new resolutions and devices. It would be impossible, or at least complicated, for many websites to develop a different version of their site for each solution and new device. Should we accept the inevitable drop in traffic from one device in exchange for an increase in traffic from another? Or is there anything else we can do?
Having a Responsive Design
For this reason, we now have a responsive design. By analyzing the width of the user's browser or screen, responsive web design may easily reorganize and reformat the site's information and pictures. A responsive website will work properly on any device, regardless of the screen size. Websites built with responsive design consider several screen sizes, including those used by desktop computers, laptops, smartphones, and tablets.
The majority (94%) of complaints about websites may be traced back to design issues.
There's no denying that responsive web design is a significant talking point in the industry. The expanding variety of devices and browsers website visitors use justifies the notion of responsive web design. Our online designs now must work across various platforms, including desktop computers, laptops, iPads, iPhones, Android mobile devices, and netbooks.
In terms of market size, the global responsive web design market was valued at USD 11.57 billion in 2020 and is projected to reach USD 29.49 billion by 2026, growing at a CAGR of 16.4% during the forecast period 2021-2026, according to Mordor Intelligence.
First coined by Ethan Marcotte, the term "responsive web design" has been a hot trend in the tech world for a few years. The concept of "responsive web design" has been a critical player in the tech industry for several years. With a growing number of mobile device users and Google considers a website's mobile-friendliness as a ranking factor.
What Is Responsive Web Design?
The term "Responsive Web Design" refers to a technique for creating websites that adapt to the viewing device's width. Developers create a fluid layout that adapts dynamically to the width of the browser rather than a separate mobile version.
The concept of responsive web design refers to a method that proposes design and development that should react to the actions and surroundings of users depending on the screen size, platform, and orientation of their devices.
A combination of flexible grids and layouts, graphics, and judicious use of CSS media queries make up the practice. The user should be able to switch between their laptop and iPad. The website should adjust automatically to adapt to differences in resolution, picture size, and scripting capabilities.
Suppose the user has a virtual private network (VPN) for iOS installed on their iPad, for instance. In that case, the website should not prevent the user's access to the page. This is one of the things that one may have to take into consideration. Put another way, and the website should have the technology necessary to adapt automatically to the user's choices. Because of this, there wouldn't be a need for a distinct design and development process for every new piece of technology that hit the market.
As a result, it is no longer a choice but rather a need for web developers and owners to construct flexible websites to deliver a better experience for their target audience. And as a consequence, see a rise in the number of visitors, produce leads, and get a better ranking on Google.
A responsive design responds to different sizes, orientations, and types of devices. With a responsive web design, website developers and designers aim to offer visitors a delightful user experience, irrespective of their device.
This article will discuss why you need a responsive website along with its benefits, comparison with adaptive design and critical responsive web design elements for all website owners. However, let's begin first with what is the need of responsive website.
Why Do You Need a Responsive Website?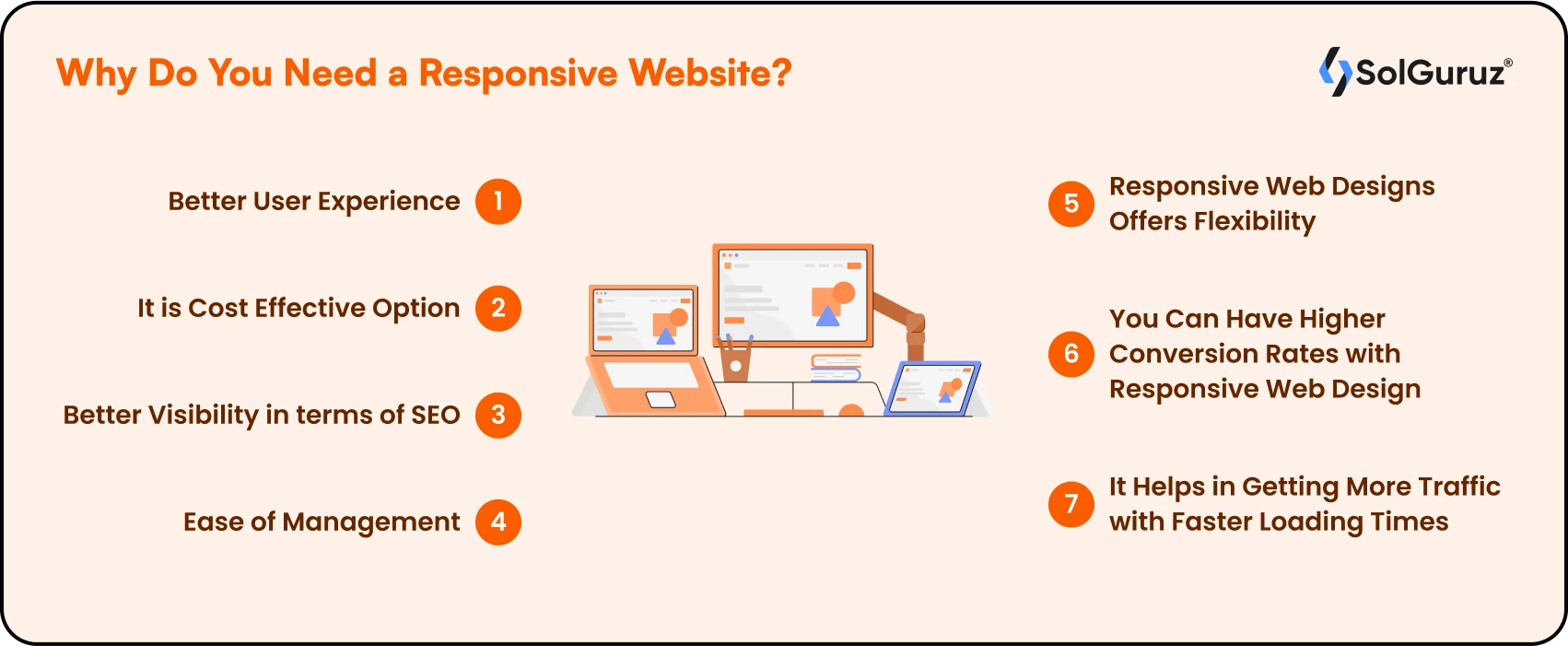 Statistics on responsive websites show that catering to mobile users is just as important as catering to desktop users. There are already more mobile viewers than desktop watchers. That ratio is only expected to grow as more people get access to smartphones throughout the world.
Google also declared in early 2015 that it would start using mobile-friendliness as a ranking criterion. Because of this, mobile-friendly sites might see a drop in their search engine rankings since they wouldn't meet the needs of mobile users.
Let's examine these seven advantages to understand further why you should invest in outsourcing responsive website development.
You Can Have a Better User Experience

The satisfaction of users is of utmost importance to website proprietors. You want visitors to enjoy using your website, and you also want it to be straightforward in its navigation so that they will return.

If someone accesses your website from a mobile device and it takes an inordinately long time to load, or if the images on your website do not have the appropriate quality, this might give the impression that your firm is not professional.

Nobody is interested in doing business with a location that lacks professionalism. Yet a responsive design, which provides a much better user experience, may help customers come around to the idea of giving your organization a go.

The content may be seen more quickly, and the overall impression visitors will be much more favorable due to eliminating the need to zoom in and scroll.

It is Cost Effective Option

Managing different sites for your mobile and non-mobile consumers may grow pricey. When you use responsive design, you may save the expense of paying for a separate mobile website, which results in cost savings. To make your website appealing to all visitors and all types of devices, you just need to spend on a single website design.

Better Visibility in terms of SEO

Search engine optimization, sometimes known as SEO, is a tactic many businesses use to improve their positions on the search page rankings provided by Google. The higher up on the page you are, the more likely prospective clients will discover and do business with you.

As was said before, Google prioritizes websites compatible with mobile devices; thus, having a responsive design might be beneficial to SEO. When combined with the effects of other SEO elements, responsiveness may offer your site a significant boost in the results of search engines.

You Will Have Ease of Management

The majority of companies, and notably the smaller ones, don't have a lot of time to spend updating or revamping the appearance of their website. With responsive web design, though, you won't need to pay a designer to manage every component of your website since you'll be able to make the modifications yourself in a way that's both quick and straightforward.

In addition, having just one website will make it much simpler for you to handle the many components of your marketing strategy. You won't ever have to question whether or not all of your redirect links will be functioning to bring the appropriate visitors to the appropriate site. You won't ever have to worry whether or not you should link the mobile site or the desktop site on a social media update. The management of a website for a company is much less stressful when it is responsive.

Responsive Web Designs Offers Flexibility

When your website has a flexible design, making adjustments is possible but also fast and simple. There is no cause for concern over the necessity to make adjustments on two different websites. Whether you only want to make a simple design modification or amend a mistake on your site, this flexibility is a tremendous benefit since it only requires you to do it once.

You Can Have Higher Conversion Rates with Responsive Web Design

According to the research, the average conversion rate for a smartphone is around 64% greater than that of a desktop computer. A greater conversion rate may be easily attained by designing a user-friendly, mobile-friendly website.

Your website's conversion rate will increase as more people spend more time there. People are annoyed when they are forced to click a new link to subscribe to a service, such as receiving emails or completing a purchase.

Furthermore, a study by Google found that 61% of users are unlikely to return to a mobile site they had trouble accessing, while 40% visit a competitor's site instead. This highlights the importance of responsive design in not only attracting but also retaining website visitors.

It Helps in Getting More Traffic with Faster Loading Times

According to the latest data, mobile devices account for approximately 80% of all internet traffic worldwide.

This makes up more than half of all data sent via the Internet. This highlights the growing significance of ensuring your website displays correctly across various mobile devices. Your website's visitor count and average time spent will naturally rise after switching to a responsive layout.

Sites that load content over three seconds see a significant drop in visitors. Websites with a responsive design benefit from quicker loading times across all devices. Web pages that use responsive images and fluid grids load far more quickly for users, increasing their time spent on your site.

Responsive Web Design vs. Adaptive Design
Adapted designs are a collection of templates crafted to work with a variety of display widths. The browser on the device will then choose the most suitable layout from those shown.
Adaptive design is one approach to making websites responsive across a range of screen sizes. Graphical user interfaces (GUIs) might be designed for a wide variety of screen sizes, from smartwatches to televisions.
While creating a website with adaptive design, various fixed-layout sizes are used. The technology automatically determines the optimal layout based on the size of the user's browser window.
Six different layouts are often provided in adaptive designs to accommodate the most popular screen sizes (320, 480, 760, 960, 1200, and 1600 pixels).
Similar to responsive design, adaptive layouts change in response to the size of the user's device's display. On the other hand, responsive layouts have one design that adapts to different screen sizes. Content created using adaptive design methods is able to choose the optimal setup from a number of predetermined alternatives.
Adaptive design's strength is that it allows for individualised resolutions. The user interface will maintain its proper formatting regardless of the screen size. The downside is the high cost of adaptable design. Up to six variations of a website are made by the designer to accommodate various screen sizes. Users using displays that aren't the industry standard may not benefit optimally from an adaptable layout.
Both adaptive design and responsive design aim to provide optimal user experiences regardless of the device being used. Unlike responsive design, which just considers the device itself, adaptable design also considers the user's environment. The optimum strategy may be a combination of methods.
The rendering of a single-page version is modified differently in responsive design than in adaptive design. On the other hand, adaptable design produces several variations of the same page.
They both assist web admins in managing how their sites appear on various screen sizes, but they use distinct approaches.
With responsive design, users may access the same core file via any browser on any device; however, the layout will be controlled by CSS code and rendered differently depending on the user's viewport. With an adaptable design, a script detects the viewer's screen resolution and loads the appropriate theme accordingly.
The Building Blocks of Responsive Web Design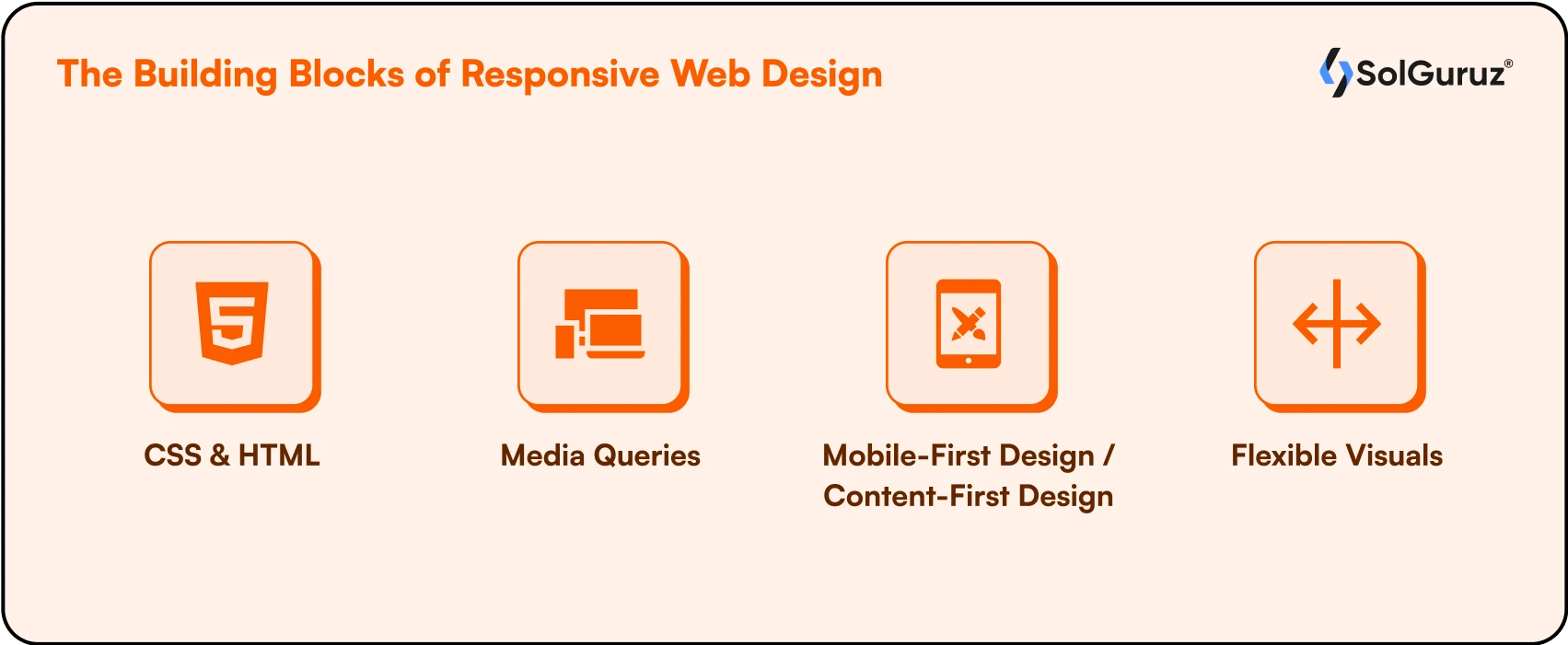 In the next part, we will discuss the fundamental basis for responsive website design and the many components that make up this foundation.
CSS and HTML

HTML and CSS, two languages that govern a page's content and layout in any specific web browser, are the basis of responsive design. Together, CSS and HTML lay the foundation of a responsive web design. While HTML dictates a web page's elements, structure, and elements, CSS edits the design and display of HTML elements.

Handheld devices such as mobile phones and tablets, primarily touchscreens, demand individual consciousness of the size of the interactive elements within these interfaces.

Media Queries

One of the essential features of CSS3 is the media query, which allows you to modify how your information is shown based on criteria like the viewer's screen size and resolution.

When combined with CSS, Media Queries aid in making a responsive web design.

Introduced in CSS3, media queries are a technique in CSS that lets you create layouts for different sizes and devices. For instance, using media queries, you can make certain parts of your design behave distinctively by adding a breakpoint.

You can understand it better through the below diagram.

Mobile-First Design / Content-First Design

Squeezing desktop content to fit it onto a smaller screen defeats the purpose of making our website responsive.

One thoughtful approach to creating your responsive website is considered mobile-first design or content-first design.

Due to less space on our mobile screens, web developers prioritize content and focus on what visitors seek, such as navigation bars or call-to-actions. This approach makes it less overwhelming for visitors and gives the website a minimal look.

Flexible Visuals

Flexible visuals, often known as adaptive images, are becoming increasingly popular for creating responsive web designs as they automatically resize to fit screens of different sizes and resolutions.

Flexible visuals are the second pillar of responsive web design, as they don't bind us to a fixed display size. Flexible visuals can also be optimized to load faster.

Fluid Grids are another critical element of responsive web design. They are excellent tools that help us specify various layouts for different devices on which our content will be viewed.
Different Features of Responsive Design
In its most basic form, responsive design may be broken down into the following four components:
Breakpoints

For differing style rules on devices like laptops, mobiles, tablets, etc., the most detailed filters applied to CSS styles are breakpoints, commonly known as media queries. Design and layout may be adjusted to fit a variety of screen sizes. The site's surroundings may be detected to be optimized for various devices, and the site's design can be adapted accordingly.

Relative Sizing

Using relative sizes, elements are scaled according to the viewing window or browser width. For responsive layouts, a relative length unit is required. There is no standard size for a relative unit of length. Images and other items may respond to the width of the viewing window by using relative sizing. The percentage, viewport width (VW), em, viewport minimum (Vmin), viewport height (VH), etc., are all examples of relative units of length.

Adaptation to all Devices

A responsive website's primary feature is its adaptability. Its adaptability to various screen sizes enhances the user experience and increases its allure. Independently resizing pictures, modifying font and navigation sizes, repositioning information, etc., is only the beginning of what responsive websites can do. As a result, more people will be attracted to the company and have a better user experience.

Reflowing Content

As content reflows, its width changes to accommodate the viewing window. New gadgets with different-sized displays are constantly being created. This causes the browser to refresh the page again while it recalculates all components' sizes and positions. It's crucial to provide designs that work well on smartphones and tablets.
Responsive Web Design: 5 Key Components (With Examples)
While designing a responsive website, keep these five things in mind.
Consistency is the key.

Inconsistent design is considered the biggest turn-off for your visitors. It often results in increased bounce rates and decreased traffic on your website. Make sure information is easily accessible on your website. All the essential elements, such as crucial content, products, and contact information, are properly visible.

Twitter Bootstrap is widely regarded as the best framework for developing flexible, mobile-first designs that look great on any screen size. Klientboost – Klientboost is a fantastic example of responsive web design.

Klienboost stands out because, along with its tailored made user-experience, it is successfully consistent across all devices. You will find the call to action and callout viewable on desktops, laptops, and even on handheld devices, such as mobiles and tablets.

Progressive Enhancement is an essential element.

Progressive Enhancement is a simple design strategy for websites. It starts with a simple foundation and gradually adds improved or complex elements to create a robust system.

For instance, if a new browser is available, you can easily add more functionality without changing the whole setup.

Progressive Enhancement approaches content-first design, which we discussed above. To refresh your memory, the content-first design prioritizes all essential content for improving the visitor experience.

Sure, the aesthetics work sometimes, but the content remains the king!

Github – Using a content-first approach, Github offers its visitors a consistent experience across all devices.

On mobile devices, where there is less space, GitHub removes the search bar and menu button and reduces its above columns to one. And they present a call-to-action, unlike the desktops and laptops, where they focus more on the signup form.

Intuitive navigation should be a priority.

Navigation plays quite a significant role in creating a responsive web design. Visitors should be able to navigate their way through your website without any inconvenience. All the menus should be easily visible and accessible to them.

Many designers don't give much thought to navigation, which is honestly a wrong approach. The right approach is to design and plan the navigation. Your plan should comprise these key elements:

Internal linking
Sidebars
Main navigation bar
Call to action
Landing Pages

Keep in mind that the navigation menus are often altered on different devices. Their position and locations can be changed due to different factors, such as size and resolution, rendering different user experiences across your website across various platforms.

Navigation menus help create a responsive website design, increasing website traffic and generating more leads.

WillowTree – WillowTree is an excellent example of responsive web design. On handheld devices at the top, it provides a static navigation bar, and menus are condensed, creating a gratifying user experience.

While on the desktop, it provides a full-menu option. They have also added a text-based call-to-action on small screens for more convenience.

Optimize your images.

Including visuals in your post increases its appeal. Statistics show that image-heavy websites are more likely to retain visitors' attention. However, it's not as easy as it may seem initially.

Website image optimization means ensuring all images are high quality and load quickly.

Because they require less storage space, optimized images reduce content delivery and web hosting costs. Optimized images have many benefits, including a higher Google PageRank.

The following methods can help you optimize your images better:

Resize your images – Even if the photo has been compressed, it is essential to maintain a healthy size and increase the resolution. As you are downsizing photographs, remember that those with high quality will be much larger and will take longer to load.
Compression – To compress a picture is to lessen its overall size. Images may be compressed in one of two ways: Lossy compression is one method to lower the file size by eliminating data redundancy. Lossless compression is another option that preserves quality at the expense of file size.
Choose the correct format – Verify that the picture format is appropriate. Standard image file formats include JPEG, GIF, and PNG. High-quality images may be created using PNG, although GIF is often used for animations. The jpeg quality of your picture may be adjusted anywhere from 1% to 100% to get different results in terms of both quality and file size in JPEG. The use of JPEG also helps photos load faster.
Caching – Caching may be used to speed up the picture-loading process. Caching is a method that keeps numerous data versions to retrieve quickly. To prevent having to refresh images, cache them on both the client and server. Another quite effective method is to use CDN to optimize your image delivery.
Wired – When it comes to adaptable visuals, Wired is an expert. Wireframed pictures transfer across devices without a hitch. Pictures are crisply cropped using a 16:9 ratio on mobile devices instead of the more forgiving aspect ratios used for desktop and laptop displays. Customers can easily traverse their menus and zero in on the items they want since they simply provide a link to subscribe and a menu symbol on the portable devices.

Padding And White Space

You might overlook this aspect of web designing when creating your website. It can cost you less traffic and frustrated visitors.

Whitespace, according to the writings of author Colin Wright, acts as an "amplifier" to assist readers in concentrating on the information presented.

When it comes to responsive website layout, ensuring the user has a pleasant experience reading the content is one of the most important considerations.

In a nutshell, you must take precautions to guarantee that the padding and margins are not cut off on displays with a reduced resolution. The quantity of whitespace on the screen should determine how large the font should be and how far apart lines should be spaced.

Your eyes are the recommended instrument. No ratio is generally accepted that dictates the quantity of whitespace that should be present on a web page; thus, you should explore your website as if you were a visitor and follow your intuition on what seems comfortable.

Dropbox – Dropbox has done a fantastic job of providing tailored-made experiences on each device. Dropbox uses fluid grids and flexible visuals to create its responsive website.

For instance, the images are oriented, and the font color changes to match the background as soon as we shift from one device to another.

One exciting thing that we found interesting was that on desktops, an arrow guides you to scroll down for more content to prevent users from bouncing.
Tips for designing your responsive website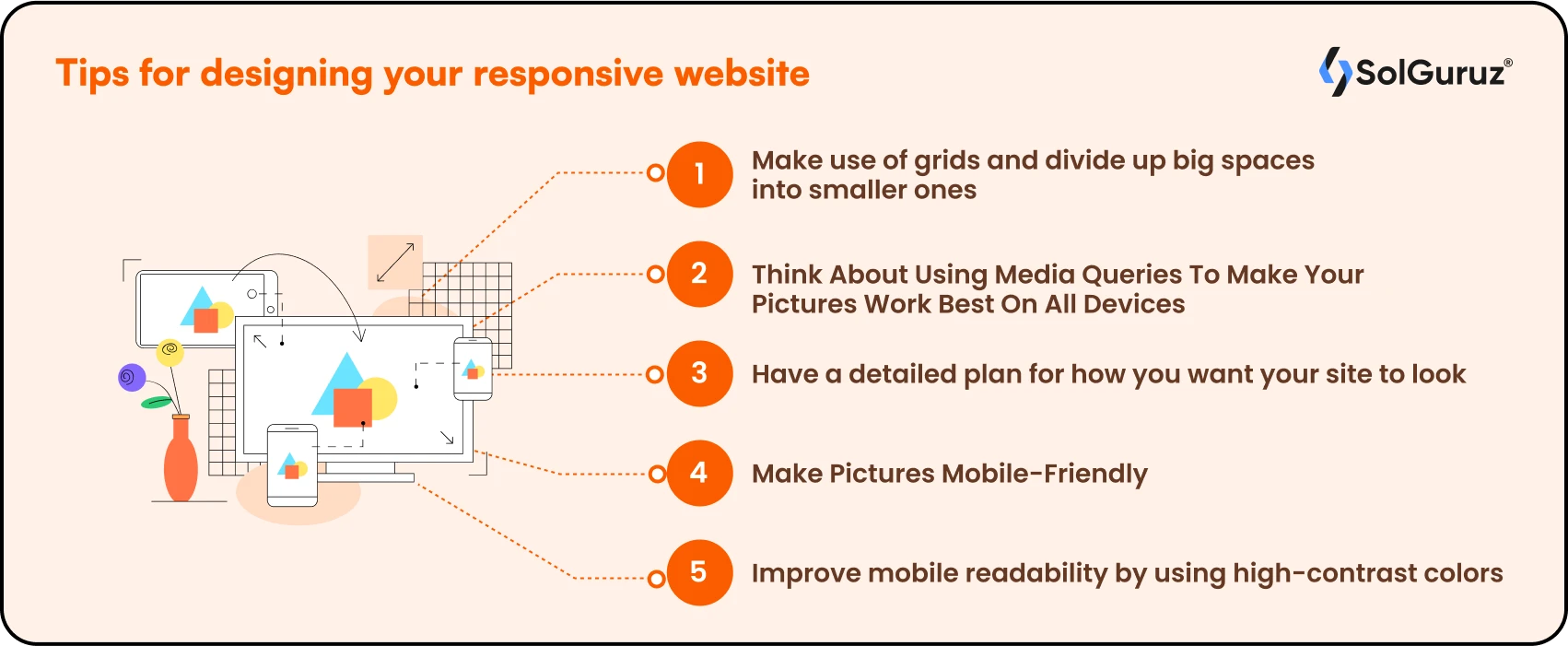 Your website may be optimized for viewing on mobile devices like smartphones, tablets, and laptops by designing it to be responsive to the device's screen size. Responsive web design allows you to develop a single layout that will function properly across all devices instead of creating separate layouts for each kind of device.
While flexible web design is not a new concept, there are a few things that inexperienced web designers should keep in mind when creating a responsive website. The following are five pointers for those who have never worked with the responsive design before but wish to get started:
Make use of grids and divide up big spaces into smaller ones.

Grid systems and breaking up vast regions into smaller ones are crucial when designing flexible websites. This will make the site easier to use on mobile devices and provide more breathing room for content.

In addition, grids may be utilized to maintain visual continuity throughout the whole surface, regardless of the size of the user's device.

Think About Using Media Queries To Make Your Pictures Work Best On All Devices

Before beginning a responsive design project, you may choose to educate yourself about media queries. Adjusting pictures for different screen sizes and resolutions is possible using media queries.

As a result, pictures may improve quality and display consistency across a wide range of platforms.

Have a detailed plan for how you want your site to look

Having a clear vision of your site's final form is crucial before beginning its design. This will allow you to concentrate on the bigger picture of your site's design rather than little details like responsiveness.

Knowing your end goal will help you make the necessary adjustments.

Make Pictures Mobile-Friendly

Thinking about compression artifacts and screen resolutions is crucial when creating photos for mobile viewing. The likelihood of users encountering problems with photos is reduced when they are optimized for mobile viewing.

As a bonus, specific devices' performance may be enhanced by utilizing low-resolution photos.

Improve mobile readability by using high-contrast colors

Text on mobile devices may be read more quickly and easily with high contrast and vibrant color. Adhering to these guidelines may make your site easier to navigate and more readable for everyone.

In addition, it is crucial for responsive design that all text is readable across a wide range of screen resolutions.
Free Tools for Testing Responsive Web Design
In this section, now, we will look at the free tools for testing responsive web design.
ScreenFly

ScreenFly lets you test the responsiveness of your website for different resolutions at zero cost. You just need to browse screenfly.org and select the resolution for which you want to check your website, and you are done. It will give you a preview of your web page on different devices. Featured devices include desktop computers, tablets, televisions, and smartphones.

Am I Responsive?

Awarded by The Net Awards for the Side Project of the Year. The Am I Responsive site is perfect for checking the responsiveness of your website easily and quickly, which is not suitable for pixel-perfect accuracy, however.

It is also essential to understand that it is not a tool for testing. Instead, it lets you take quick screenshots of your site to get an idea of what it looks like on different devices.

Some standard device types that AM I Responsive supports are smartphones, tablets, laptops, and desktops.

Another excellent pro of this site is that you can preview projects you build locally on your computer.

Designmodo Responsive Test

Design Modo has a free responsive test tool as part of its site. It is a website and email builder, however.

The interface of DesignModo is quite convenient and intuitive as you do not have to change the browser window; it is entirely resizable and draggable. On the top of the page, you have a ruler fixed and manual input for resizing.

It also has drop-down menus for standard devices such as smartphones and tablets.

DesignModo Responsive Tool doesn't show the measurement by the viewport but instead by the resolution, which is considered its drawback.

Responsive Design Checker

Responsive Design Checker is yet another tool for testing the responsiveness of websites.

It features screenshots that can come in handy for mockups.

Offering the checking for various screen sizes, Responsive Design Checker can even check screen sizes up to 24 wides.

Responsive Design Checker also has predefined screen sizes for common devices such as smartphones, for instance, Google Pixel, Nexus tablets, and kindles.

Responsinator

Responsinator is again a popular site for checking the responsiveness of your site. It also allows you to preview the locally built projects.

You can preview for devices such as iPhone, iPads, and the Android Nexus devices in landscape and portrait. For easy perusal, it presents several devices silhouettes one after another. It is also quite flexible and can be used with any other site. Responsinator also lets you preview your site for both HTTP and HTTPS.
Screen Sizes for Responsive Design in 2023
Before discussing the popular screen sizes for responsive design, first, let us look at specific criteria that you need to keep in when optimizing a page layout for different screen sizes:
Initial Visibility: Visibility is an essential aspect of a web page. Is your website's key information and CTA right in front of your visitor, or do they have to zoom in or scroll for the information? Make sure your site makes things easier for the users.
Readability: Your most essential aspects and information are visible! But is the text clear and easy to read in columns on various devices?
Aesthetics: While designing the website, designers must also consider aesthetics. A well-designed, aesthetically pleasing page can improve the user experience.
Let's look at the top typical screen resolution of different devices for responsive web design:
Most Common Screen Sizes for Desktop 2023
The typical screen resolutions for desktops are mentioned below. However, 1280×720 screen resolution is often considered the best choice for screen resolution.
Also, the screen resolution width of over 1280 pixels is considered user-friendly and perfectly readable.
| | |
| --- | --- |
| Screen Size | Percentage |
| 1600×900 | 3.68% |
| 1440×900 | 6.17% |
| 1280×720 | 5.79% |
| 1536×864 | 10.05% |
| 1366×768 | 20.48% |
| 1920×1080 | 21.04% |
Most Common Screen Sizes for Tablet 2023
Experts believe 768×1024 is an ideal resolution size while designing a tablet website. And 1024×768 size is a landscape orientation. Other Common Screen Resolution Sizes include:
| | |
| --- | --- |
| Screen Size | Percentage |
| 962×601 | 3.79% |
| 810×1080 | 4.47% |
| 601×962 | 5.21% |
| 800×1280 | 5.36% |
| 1280×800 | 6.91% |
| 768×1024 | 40.53% |
Most Common Screen Sizes for Mobiles 2023
Screen Resolution for smartphones depends on the target users, and it often varies in width, the most common being 320, 360, or 375. Popular Screen Sizes include:
| | |
| --- | --- |
| Screen Size | Percentage |
| 360×780 | 4.76% |
| 375×667 | 5.25% |
| 360×780 | 5.43% |
| 360×800 | 7.13% |
| 414×896 | 7.29% |
| 360×640 | 9.25% |
Conclusion
It could seem at first glance that responsive web design is nothing more than tailoring design to suit a variety of various devices. Nevertheless, it is much more than that and seeks to give a more pleasurable experience by emphasizing the content first.
If your website is not yet responsive, you should make the change as soon as possible to boost the number of customers who buy from your company and communicate with them appropriately.
All the essential responsive aspects, such as Progressive Enhancements and Intuitive Navigation, discussed earlier, will assist website owners and developers in accomplishing the same goal.
For assistance in enhancing the functionality of your website, you may get in touch with us or engage knowledgeable web developers and knowledgeable front-end developers from SolGuruz. We have an in-house team that comprises both web developers and mobile app developers that are experts in their respective fields.
SolGuruz is a team of experts with fair experience in building Minimum Viable Product (MVP) Development and custom software development that stand out and grab users' attention. If you are looking for either Minimum Viable Product (MVP) Development or Custom Software Development, your search is over. SolGuruz is the company for you.

FAQs
What are the benefits of responsive web design?
There are four benefits of having Responsive web design. 1) It helps in reaching users on small devices. 2) It is cost-effective. 3) It enhances user experience, and 4) It improves SEO ranking.
Is it necessary to have a separate website for mobile devices?
No, having a separate website for mobile devices is not necessary. A responsive website design, which automatically adjusts to the size of the user's screen, is best for a good user experience on desktop and mobile devices. This approach eliminates the need for a separate mobile website. It can improve overall website performance and maintain consistency in branding and content across all devices.
How does responsive web design improve user experience?
Responsive web design enhances the user experience by offering an optimal viewing experience across different screen sizes & devices. With a responsive design, the website layout and content adjust dynamically to fit the device's screen size, providing easy reading and navigation without scrolling and zooming. The process leads to a more streamlined & seamless UX, increasing engagement & satisfaction.
How does responsive web design impact search engine optimization (SEO)?
Responsive web design can positively impact SEO by providing an optimized user experience, avoiding duplicate content issues, improving page load speed, and leading to improved user engagement.
How does responsive web design help businesses and organizations?
Responsive web design helps businesses and organizations in several ways: A) Improved User Experience, B) Increased Traffic, C) Better Search Engine Rankings D) Cost-effective solution E) Improved Brand Consistency.
How does responsive web design help website owners save time and money?
Responsive web design helps website owners save time and money by allowing them to develop and maintain a single website that can adapt to different screen sizes and devices, rather than building and managing separate websites for each device. It eliminates the need for additional resources and costs for developing, testing, & maintaining multiple websites. Additionally, responsive design streamlines the website maintenance process, making it easier for website owners to update and make changes to the site without having to repeat the process for multiple websites. As a result, website owners can focus their efforts and resources on improving their website and reaching their business goals rather than spending time and money on maintaining multiple sites.