Ready to do business with us?
Do you know what Webflow Development is or What is Webflow used for? We have got you covered in our latest blog post.
Webflow is a powerful web development solution that allows users to create sophisticated websites without requiring them to possess coding expertise. Aside from its ability to produce adaptive designs, eCommerce aid, and personalized domain names, Webflow also offers several useful functions. Based on a recent study by BuiltWith, Webflow's worldwide acceptance stands at 3.9% during September 2021, suggesting rising recognition amongst its client base of over 3 million across various locations globally.
For your site to accurately depict your brand identity and assist you in attaining your targets, pick a reliable Webflow application growth solutions companion, who could collaborate effectively and share knowledge and skill sets. By teaming up with a proficient and experienced organization, it is possible to generate a visually appealing, user-friendly, and SEO-optimised webflow site which can be accessed effortlessly via different devices.
Follow these suggestions and guidance to ensure practical cooperation with your Webflow services associate. This piece offers insights and strategies for making collaboration between yourself and the agency smooth and beneficial.
What is Webflow Development?
Webflow is a Software as a Service (SaaS) platform hosted in the cloud that enables clients to build versatile sites using a drag-and-drop interface. The platform streamlines web development processes such as coding, debugging, and deployment, allowing individuals without technical backgrounds to establish complex web pages without composing codes.
The platform presents pre-defined templates, completely modifiable UI elements, and active constituents to enable end users to fabricate feature-rich and refined websites speedily, cost-effectively, and efficiently. Additionally, the Front End Editing capability makes it straightforward for experts to administer, modify, or amend their layouts promptly within the web browser.
The Webflow Development segment grants all-embracing prowess for intricate online schemes and first-rate end-user experience owing to seamless integration with numerous APIs and tools furnished by third parties.
In essence, Webflow transforms web development by facilitating accessibility to persons irrespective of their varying aptitudes, concurrently preserving the scalability imperative for enterprise-level resolutions.
Webflow is an organization based in San Francisco, in the state of California, in the US. Vlad Magdalin, the creator of Intuit Brainstorm, his sibling Sergei Magdalin, and Bryant Chou, before Vungle Inc.'s CTO, founded the venture in 2013. They endeavored to devise a graphical user interface for building modern and responsive web pages, obviating the necessity for coding and enabling anyone to materialize their thoughts on the World Wide Web. Ever since Webflow has grown exponentially and now serves countless patrons across the planet.
Key Reasons to Use Webflow Website Development Services In 2023
Webflow is a comprehensive design solution equipped with an intuitive visual interface at its core. Unlike traditional platforms, Webflow development expedites the process by constructing websites swiftly – often in several days rather than weeks or months. It's ideal for designers seeking contemporary and interactive sites rich in animation and dynamic effects.
Webflow provides several unique features that distinguish it from traditional Content Management Systems (CMS), including: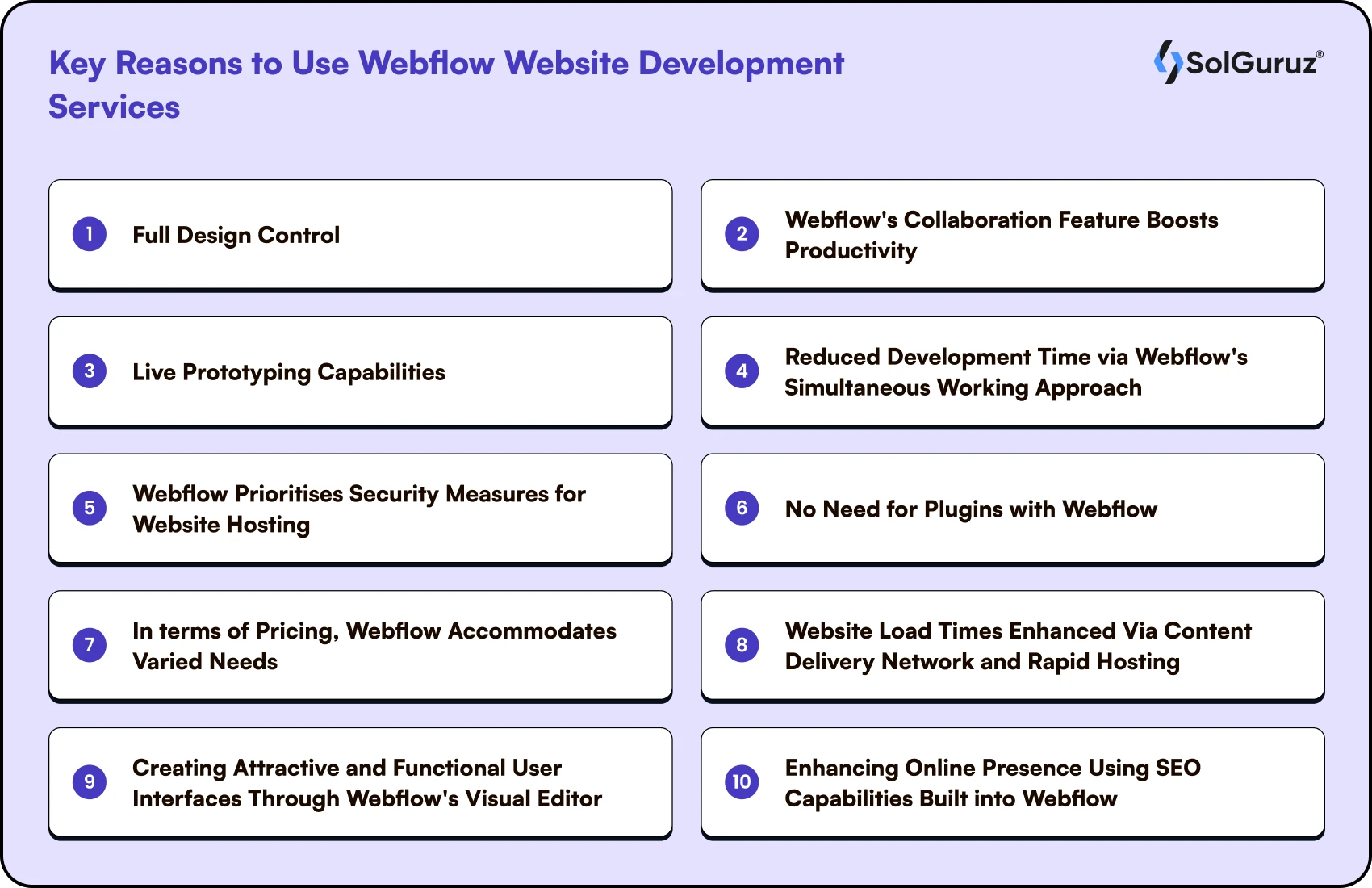 Full Design Control

Unlike alternative Content Management Systems (CMS) platforms that provide restricted template choices, Webflow guarantees absolute design latitude. Customers may individualize themes or initiate from zero utilizing a blank slate strategy.

This contributes significant inventiveness command and superior precision when embodying an establishment's principal principles.

Webflow's Collaboration Feature Boosts Productivity

Webflow website development services simplify collaboration between developers and designers by enabling both parties to work concurrently on the same website. As such, projects progress faster than traditional methods where one party completes tasks sequentially.

Content teams can add pages, blog posts, or articles at any project stage without interrupting the design process. Managers appreciate this aspect as they retain oversight throughout the entire development cycle.

Live Prototyping Capabilities

Another key benefit of choosing Webflow is its ability to conduct live prototyping sessions. Not only does this allow the designer to grasp complex interactions better, but it also creates more accurate previews of the finished product.

Stakeholders gain insight into the project's potential before committing resources or budget to implementation.

Reduced Development Time via Webflow's Simultaneous Working Approach

By implementing parallel efforts between designers and developers, Webflow drastically diminishes development timelines. Teams accomplish simultaneous objectives and avoid delays associated with linear processes standard in conventional software.

Moreover, responsive layouts built within Webflow development accommodate adaptation across all device types — phones, tablets, and desktops. Consequently, users enjoy consistent functionality irrespective of their interface preferences.

Webflow Prioritises Security Measures for Website Hosting

Providing an essential level of security is crucial when managing an online presence. To address this concern, Webflow website development services adhere to industry best practices for secure hosting.

Doing so safeguards access to the back end while offering a complimentary SSL certificate to protect against unauthorized intrusions. With global distribution via Amazon Web Services, visitors receive optimal speeds regardless of geographic locale.

No Need for Plugins with Webflow

Unlike competitor systems reliant on additional extensions, Webflow doesn't require plugins for essential functions or performance improvements. Removing plugin dependencies guarantees stability and prevents compatibility issues affecting sites otherwise managed through plugin installation and updates.

Overall, Webflow development operates efficiently without these complications, promoting seamless functionality without distractions caused by unpredictable extensions.

In terms of Pricing, Webflow Accommodates Varied Needs

Catering to different financial constraints or budgetary needs is central to Webflow's success. The company offers various monetization choices for individuals experimenting with the platform, small ventures, established businesses, independent contractors, and large organizations. All compensated packages grant customers access to adaptable features like responsive design templates, interactive elements, animated transitions, color palettes, data backup solutions, and reusable components that help craft top-notch websites.

Website Load Times Enhanced Via Content Delivery Network and Rapid Hosting Technology

Websites often fail due to slower page loading times. Webflow optimizes user experiences by leveraging a Content Delivery Network (CDN). Visitors encounter swift response times since files are cached near their physical locations.

With advanced hosting technology tailored for speedy operation, Webflow maximizes user retention and satisfaction.

Creating Attractive and Functional User Interfaces Through Webflow's Visual Editor

Flexibility drives the appeal behind Webflow's popularity. For instance, the intuitive Drag & Drop builder enables quick creation of visually stunning designs without writing code.

Site owners can use ready-made themes or construct fresh ones via Webflow's versatile platform, suitable for novices and experienced web designers.

Enhancing Online Presence Using Search Engine Optimisation Capabilities Built into Webflow

Webflow supplies powerful Search Engine Optimisation resources integrated directly into its user-friendly interface to boost visibility via prominent search engine rankings. Users may manage and modify essential aspects impacting search engine results, such as markup headers and redirects while enforcing proper guidelines about indexed content and Schema markups.

Furthermore, adjusting Meta headlines and descriptions combined with appropriate image tags improves discoverability among internet browsers searching specific keywords relevant to individual sites.

How Does Webflow Facilitate Holistic Design Solutions?
Does superficial appearance guarantee client engagement? Not! Webflow empowers designers to create immersive encounters that showcase a company's essence through textual interplay, alluring visuals, and identifiable iconography.
Achieving these objectives requires deliberation and implementation of seven key measures: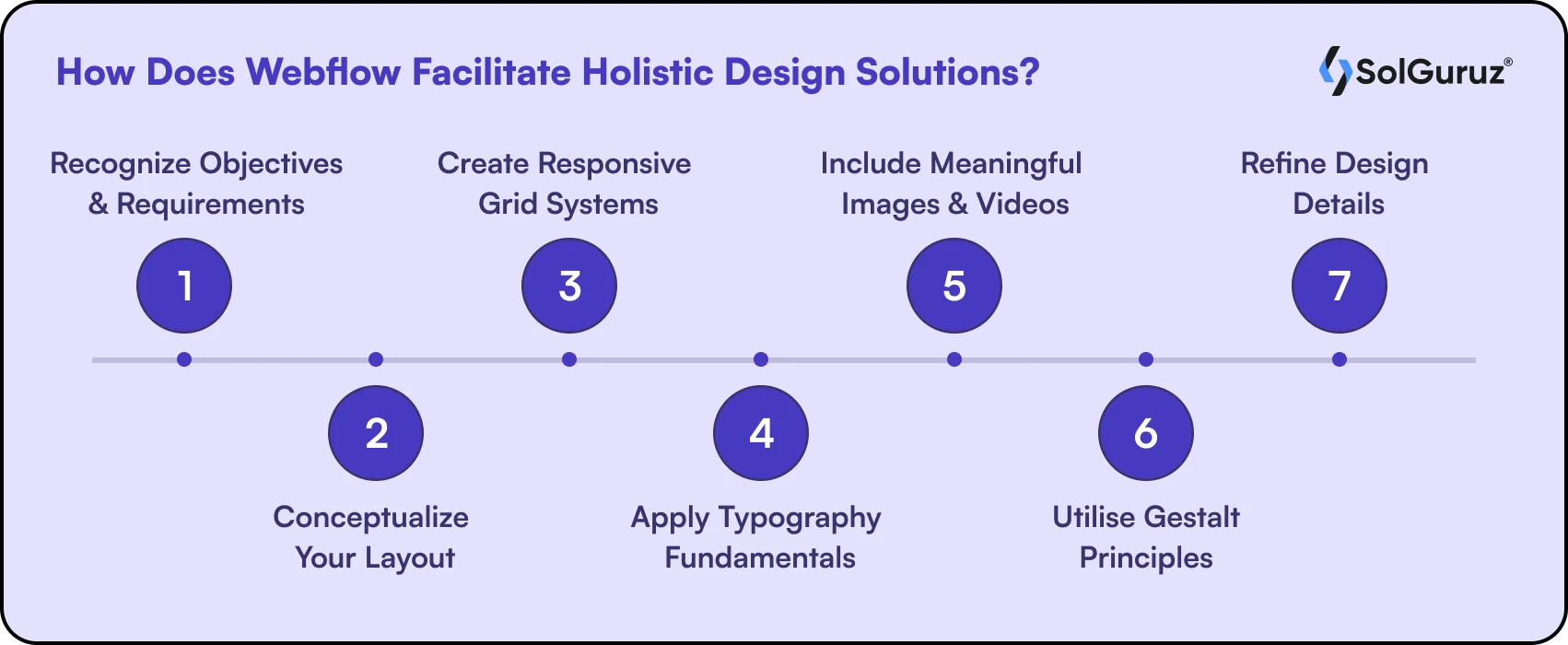 Recognize Objectives and Requirements

Before commencing Webflow development, grasp fundamental intentions and necessities. Identifying primary users, functions expected on the site, intended outcomes, and competition analysis will guide decisions made throughout the process.

Conceptualize Your Layout

Decide how information should be presented based on user experience research insights. Wireframing techniques foster clear thinking about placement and structure before investing time in visual design details. Sketch out anticipated layouts for desktop, tablet, and mobile viewing modes.

Create Responsive Grid Systems

Applying grid systems ensures coherent positioning and alignment across diverse screen dimensions. This step generates a flexible framework accommodating dynamic content adjustments and responsiveness.

Apply Typography Fundamentals

Text hierarchy considerations include font family selection (serif vs. sans serif), line height and leading settings, tracking/whitespace management, and color pairings. Focus on legible fonts, readability, and stylistic consistency across pages and sections.

Include Meaningful Images and Videos

Aside from pure decorative purposes, images and videos add meaning and depth to content storytelling. They establish moods, evoke emotions, and explain ideas. Make sure media selections align with overall style and messaging objectives.

Utilise Gestalt Principles

Based on psychological theories, gestalt principles aid in creating well-organized and visually pleasing interfaces. Ensure proximity grouping, similarity, continuity, closure, and figure-ground relationships are accounted for during the composition process.

Refine Design Details

Once all significant design components are in place, attention shifts towards refining subtle details vital for an exceptional user encounter, fine-tuning typographical elements, modifying spacing configurations, incorporating micro-interactions and hover states, testing cross-browser compatibility, optimizing file sizes, enabling SSL certificates, leveraging preprocessor code snippets, previewing designs on actual devices, and conducting usability assessments comprise this crucial phase. By diligently executing these actions, designers ensure their Webflow creations meet contemporary web standards and cater to user preferences.
Wrap Up
In conclusion, Webflow development provides an easy-to-use platform that enables non-technical individuals to build complex websites without extensive coding knowledge. Its visual interface helps simplify the design process by allowing designers to concentrate solely on the website's visual appeal.
Furthermore, Webflow integrates easily with popular tools like Typekit, Google Analytics, and more. Overall, Webflow offers simplicity, aesthetic control, and full integration with necessary features, which makes it an excellent option for building and maintaining modern websites efficiently while meeting clients' needs and expectations.
If you require professional assistance in building a Webflow website, contact SolGuruz, and we will provide top-notch Webflow website development services to help you achieve your goal within budget and timeline constraints.
FAQs
Can I use Webflow even if I don't know how to code?
Yes! One of its core advantages over traditional website creation methods is that no technical skills are required. Webflow lets people build sites using drag-and-drop technology similar to software found in high-end video editing suites. Their front-end system creates clean, streamlined pages with robust functionality right out of the box. With minimal effort and training, small businesses or solo entrepreneurs can create a unique, engaging digital destination today.
Will there be enough flexibility for large-scale projects with Webflow?
Webflow has been used by companies such as TEDx, Adobe, Red Bull TV, Airbnb, National Geographic, and others. So yes, they cover quite a range of project sizes. The real determination depends on what someone wants to accomplish online and how much complexity they are willing to manage themselves versus having programmers handle those tasks behind the scenes. For most situations, though, the capabilities included in Webflow are robust enough to satisfy almost anyone interested in crafting or running a new website.
Is Webflow only for basic projects, or can it create complex ones too?
While very little programming work is required when constructing a website through Webflow due to their emphasis on intuitive UI components, certain aspects demand some degree of familiarity with development concepts such as APIs, data feeds, server logic, etc. However, for everyday tasks and cases where websites mirror existing offline processes but go online instead, the software can support those goals too. It may take longer compared to doing something less involved. However, the potential still exists, considering Webflow intends to keep simple and intricate workflows.