Ready to do business with us?
Key Takeaways
The world is shifting from Quick Payments to a Buy Now Pay Later concept, and Stats support my statement, too! The main reasons why BNPL applications are so popular are their increased convenience, interest-free options, credit scrutiny, and clear fee structure.
There are 7 Steps to Develop the BNPL App. Also, when it comes to selecting the right BNPL app development – look for several factors like Experience in Fintech and BNPL Apps, Portfolio and References, Technical Expertise, User-Centric Design, etc.
The current era is the Internet. The world is on the web. And you might have observed that in recent times, there has been a trend of Buy Now Pay Later. Yes, you might have seen the advertisement on TV, the Internet, or on radio – that you can make a purchase now and pay later for the same purchase.
And you won't believe that people like the trend. We can say that many companies are looking forward to BNPL App development in 2023. Don't you believe us? We have some statistical proof.
Don't worry! We will also be describing the steps to Develop a Buy Now Pay Later App. According to Statista, Global buy now, pay later (BNPL) transactions are predicted to increase by nearly 450 billion USD between 2021 and 2026.
When comparing worldwide app downloads from one year to the next, BNPL is clearly the winner. One of the newest developments in the world of Internet transactions is the option to "buy now, pay later." The number of BNPL app downloads increased by 47% in 2022 compared to the previous year. Compared to 2020, when annual app download growth in the BNPL category was 27%, this represents an increase of 20 percentage points.
I rest my case in terms of stats that why you must think about BNPL App development and what are the steps to Develop a BNPL App.
Let's begin our journey with an understanding of the BNPL app.
What is the BNPL App?
A Buy Now Pay Later (BNPL) application falls within the domain of financial technology (fintech). It empowers consumers to make purchases while deferring payments over a defined timeframe.
Importantly, these deferred payments typically do not entail any interest charges when fulfilled within the mutually agreed-upon schedule. This innovative payment method has garnered substantial recognition, especially in the realm of online retail and e-commerce.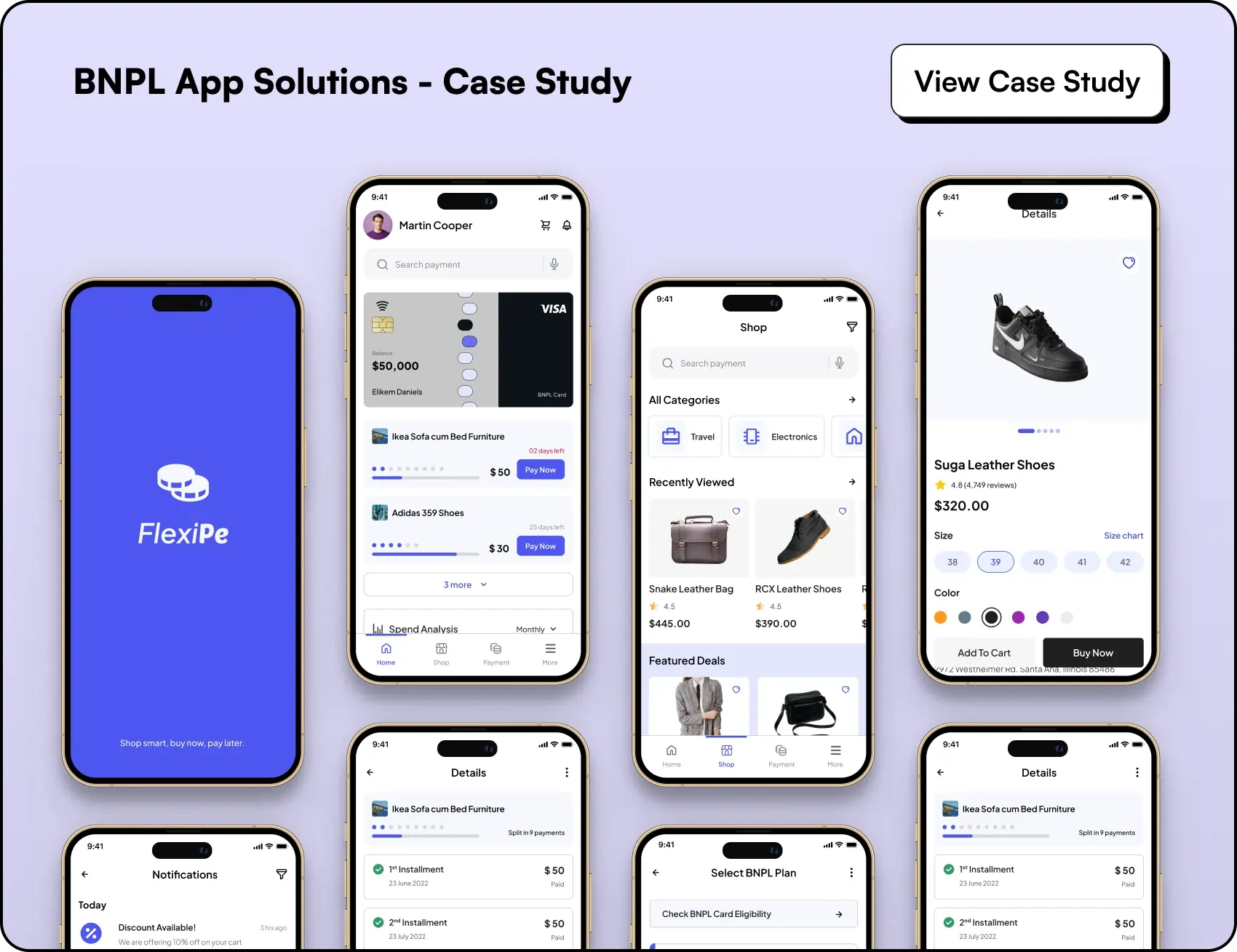 What are the Reasons for the Popularity of BNPL Applications?
While we still discuss the steps to develop a Buy Now Pay Later app, here are the core 4 reasons why BNPL applications are so popular.
Enhanced Convenience

These applications grant users the flexibility to divide substantial expenses into more manageable, smaller payments.

Interest-Free Alternatives

Many BNPL services abstain from levying interest when payments are made punctually, rendering them an enticing substitute for conventional credit cards.

Minimal Credit Scrutiny

Certain BNPL providers abstain from conducting extensive credit checks, thus broadening accessibility to a broader spectrum of consumers.

Transparent Fee Structure

BNPL applications frequently present comprehensive information regarding fees and payment conditions, fostering transparency.

However, users must take caution while using BNPL apps to avoid debt building and related late fees.
What are the Steps to Develop a Buy Now Pay Later App?
Now that you are convinced that BNPL App development is a thing – here is our complete outline, including steps to develop BNPL app.
This blog post aims to guide you through the process of developing your own BNPL app, from conceptualization to deployment. By the end, you'll have a clear understanding of the steps involved in creating a successful BNPL app in 2023.
Market Research and Analysis

Before starting work on an app, BNPL developers conduct market research. Understanding this context is crucial for identifying target customers, product appeal, and competition. Conducting research will help you identify the selling points of your app and establish a strong niche.

Conceptualization and Planning

Once you have gained knowledge about the BNPL market sector, you can proceed with developing and planning your application idea. The next step involves outlining the functions that the app needs to fulfill.

Also, this is the stage where you draft your initial budget and resource requirements. At this point, most aspects of development are likely to be completed, making any further adjustments potentially costly.

Therefore, it is essential to prioritize ease of accessibility and user-friendliness during the planning stage.

Design and User Experience

Users should be able to navigate through the app and utilize its feature of Buy Now Pay Later without any difficulties.

It's a simple logic – if I, as a user, encounter difficulty using your app, I will not come back, especially when it comes to finance. Also, I will tell 10 more people about it. So, an intuitive Interface is a must. Furthermore, it should be possible for users to access either the application or web version on their PCs and laptops.

Remember, it's essential to prioritize branding and design in order to leave a lasting impact on your users.

Development Process

Now, let's talk about the development process. At this stage, you'll need to make decisions regarding the technology you'll use for development.

Remember, since you're dealing with transactions, it's crucial to prioritize security measures and a reliable backend infrastructure. You should create functionalities such as bill payment, credit checking, and account management. Additionally, integrating third-party APIs for tasks like Know Your Customer (KYC) verification will ensure the safety and legitimacy of your BNPL app while complying with all laws and regulations.

Testing and Quality Assurance

Once the development phase is complete, it's time to focus on Testing and Quality Assurance. It is essential to test features like data protection and encryption. Remember usability testing, too; it helps uncover and address any flaws in the user experience. Also, keep in mind that performance testing becomes crucial when your application is deployed for an audience.

Launch and Deployment

Now comes the exciting part—releasing your BNPL app on both Google Play Store and Apple App Store. Let's imagine you've already partnered with a BNPL app development firm; in this case, they will handle tasks such as distributing your app across platforms, ensuring its approval process goes smoothly, designing captivating materials, and monitoring feedback from users.

To ensure the success of the launch, it is crucial to address any problems that may arise after the product has been released in a manner.

Post-launch Optimization

Now that you've finished developing and launching your app on the app store, the journey doesn't end there. It's important to continue optimizing it after its release. Take the time to understand how your app is performing and make any adjustments. Keep its quality high by updating and refining it based on evolving market trends and user preferences.
How To Select The Best App Development Company for BNPL App Development?
Choosing the app development company is a crucial part of the BNPL App development journey. To guarantee the success of your project, take into account these factors while selecting the most suitable app development company:
Experience in Fintech and BNPL Apps

Seek out a company that possesses expertise in creating fintech apps, particularly those related to BNPL services, after thoroughly studying the Steps to Develop a Buy Now Pay Later App. Their familiarity with BNPL app development will greatly benefit your app as well.

Portfolio and References

Take a look at the company's past work to get a sense of the quality and level of difficulty they can handle.

Technical Expertise

Verify that your development team has the specialized knowledge needed to complete the project. Payment processing, security, and adherence to banking rules are only some of the difficult aspects of BNPL applications.

Regulatory Compliance

Various financial restrictions apply to fintech applications, including BNPL services. Make sure the app developer has dealt with these rules and regulations before.

Scalability

Scalability is essential as the number of users and volume of transactions on your BNPL app grows. The company's approach to scalability and its plans for accommodating user and data expansion should be discussed.

User-Centric Design

A user-friendly interface is vital for BNPL apps. Ensure that the development company emphasizes user-centric design and conducts usability testing to optimize the user experience.

Post-Launch Support and Maintenance

Ask your potential development company if they are providing post-launch support. If not, then how will you do the maintenance part? It would be challenging to look after the app and core business activities. Inquire about their services for helping you out after the product has launched.

Conclusion
2024 is still 3 months away. It is the right time for BNPL app development, and for the same, we have already provided the steps to Develop a Buy Now Pay Later App.
If you are one of those who want to check the portfolio and then select the company, then be our guest – SolGuruz has successfully launched 48+ products in the last year. To get in touch with us, mail us at [email protected].
P.S. Here is how we helped Flexipe to build a revolutionary BNPL app!
FAQs
What IT Professionals Are Required to Create Your Own Buy Now Pay Later App?
The following experts make up the kind of cohesive development team needed to create a first-rate BNPL app: 1) iOS developers 2) Android developers 3) UI/UX designers 4) Backend developers 5) QA engineers, etc.
What Are the Most Popular BNPL Apps?
As more and more people discover the convenience of BNPL, the number of businesses offering this option continues to rise. Let's have a look at the most often-used BNPL tools: 1) Affirm 2) Sizzle 3) Klarna 4) PerPay 5) AfterPay, etc.
What are the key features to look for in BNPL app development?
The following are required components of every BNPL application: 1) Signup / Login 2) In-Store 3) Purchases 4) Account Settings 5) Interest-free EMIs 6) Automatic Deductions 7) Reminders, etc.