Ready to do business with us?
Are you someone who is into the Buy Now, Pay Later app development? If the answer is yes, then this is the blog post you must read.
You might think that BNPL is just here to benefit the user, wondering how getting into BNPL app development can help merchants. Then, here is a fantastic stat that will make you believe how fast the fintech sector is growing.
More retailers provide BNPL (buy now, pay later) options during checkouts because of potential benefits like boosted conversion rates and larger shopping carts. Research shows around 70 percent of customers tend to spend more money when utilizing these services, according to a recent LendingTree poll from March 2022.
By doing this, merchants also minimize their exposure to payment defaults, allowing the liability to fall on the shoulders of the finance providers instead. They can avoid potential issues like chargebacks and credit card fraud.
Are you still trying to be convinced about Fintech App development?
According to the same report, in four years, the percentage of American Internet users employing buy now pay later solutions will increase by nearly 30%, reaching approximately 38.9%. This means over two million more people will be taking advantage of BNPL by 2026, based on data from eMarketer.
The total amount spent through BNPL is projected to rise by almost half (43%) to $1,371 on average, with each consumer spending roughly $540 annually. These findings illustrate how quickly BNPL adoption and usage are expanding among Americans.
What is a Buy Now Pay Later App Solution?
Now that we are getting in-depth about Buy Now Pay Later app development – let's start with the BNPL solution.
As the name suggests, the BNPL app solution refers to a financial technology platform that permits individuals to acquire goods or services without settling the total cost immediately. Instead, consumers can opt for monthly installments over several weeks or months.
This approach provides accessibility to people who may otherwise struggle to finance large purchases simultaneously. By opting for BNPL mobile app development, retailers can extend credit to their customers, making sales easier and boosting business volume.
Customers benefit from improved flexibility and increased spending power without incurring debt too quickly. Ultimately, BNPL platforms act as intermediaries between buyers and sellers, simplifying the financing process and facilitating mutually beneficial relationships.
What Key Features Should Be Included in a Buy Now Pay Later Application?
Now that we are talking about Buy Now, Pay Later app development – don't you think discussing the app's core features is a must here?
Because, as the title suggests, "Redefining Consumer Financing in the Digital Era" with core features, you cannot do it.
A Buy Now Pay Later (BNPL) application offers several key features to enhance the shopping experience for merchants and customers.
You must take care of the following features while BNPL app development:
User-friendly Interface

The very first thing is what you see when you open the application. And that is the User Interface. If you cannot provide a user-friendly interface, the user will not return. The app shall be easy to navigate; by navigating, they must monitor their transactions and update their payment details. Providing regular notifications regarding payment schedules can help reduce missed deadlines.

Simple Sign-up Process

Easy sign-up methods like email, Google, or social media integration allow users to connect multiple merchant accounts within a BNPL network, improving overall usability and user interaction with the app.

These intuitive features go a long way toward enhancing the end-user experience and strengthening consumer engagement. These design principles will help developers craft more effective fintech solutions.

Flexible Payment Plans

No matter how good your app's interface is or how easy your sign-up process is, the user uses your application to get the flexible payment plans he can afford. So, if you are not focusing on that feature, then it is a blow. Offering flexible payment options makes shopping easier for clients and increases their likelihood of completing sales.

Secure Transactions

Your customer should feel secure while making a transaction using your BNPL app. If you cannot provide a secure transaction guarantee, your customer will leave you with a wrong impression. Incorporate Two-factor authentication and SSL encryption as critical safety measures in protecting user privacy during electronic transactions.

Accessible Customer Support

Now that your customer has trusted you, it shall be your utmost priority to provide continual support in every possible manner. Providing options like live chat support, email ticketing, and phone assistance ensures prompt resolution of problems.

Consider the customer's BNPL problem as your own problem.

Merchant Integration

Now that we have covered the customer part of BNPL app development, your app must have the seamless feature of merchant integration. It shall protect various online storefronts, shopping carts, and point-of-sale (POS) systems. This integration enables merchants to implement the BNPL feature directly on their websites, streamlining the checkout process.

Fraud Prevention

No Buy Now, Pay Later app development is complete without security. As with traditional credit cards, BNPL applications require effective anti-fraud measures. Implementing advanced risk assessment tools and conducting regular checks can minimize instances of unauthorized transactions.

Remember, one false incident, and people will not trust you and start uninstalling your BNPL application.

Reporting and Analytics

Reports could highlight user behavior patterns during different buying cycle phases, helping merchants optimize their marketing strategies to increase engagement and sales. Additionally, these reports can help identify areas of improvement and detect potentially fraudulent activities before they escalate.

What are the Essential Integrations for a Buy Now Pay Later App?
To function correctly, the BNPL platform is dependent on several factors. The seller's platform is crucial and might be a traditional website, an online marketplace, or a POS terminal. This system processes requests for loans, informs borrowers of their approval or denial (particularly in the context of in-app purchases), validates the accuracy of merchant claims about their goods and services, and alerts sellers of consumer transactions.
Integrated payment gateways form an integral part of modern-day BNPL services. Both banks and external providers like PayPal or Stripe offer efficient gateway systems, facilitating effortless transactions among all parties involved. To ensure user convenience, real-time updates regarding the status of payments are available.
Additionally, linking to credit agencies such as Experian, TransUnion, and Equifax enables quick access to credit scores and report submissions. The implementation of such features simplifies credit verification procedures for customers.
When keeping track of loan repayments, service fees, and initial distributions to merchants, the BNPL provider relies on its in-house accounting software. The platform's ability to accurately monitor monetary transactions is largely thanks to this automated approach. In summary, all of these factors are crucial in creating a BNPL system that serves the interests of all parties.
Check out this recent success story of the BNPL App Development: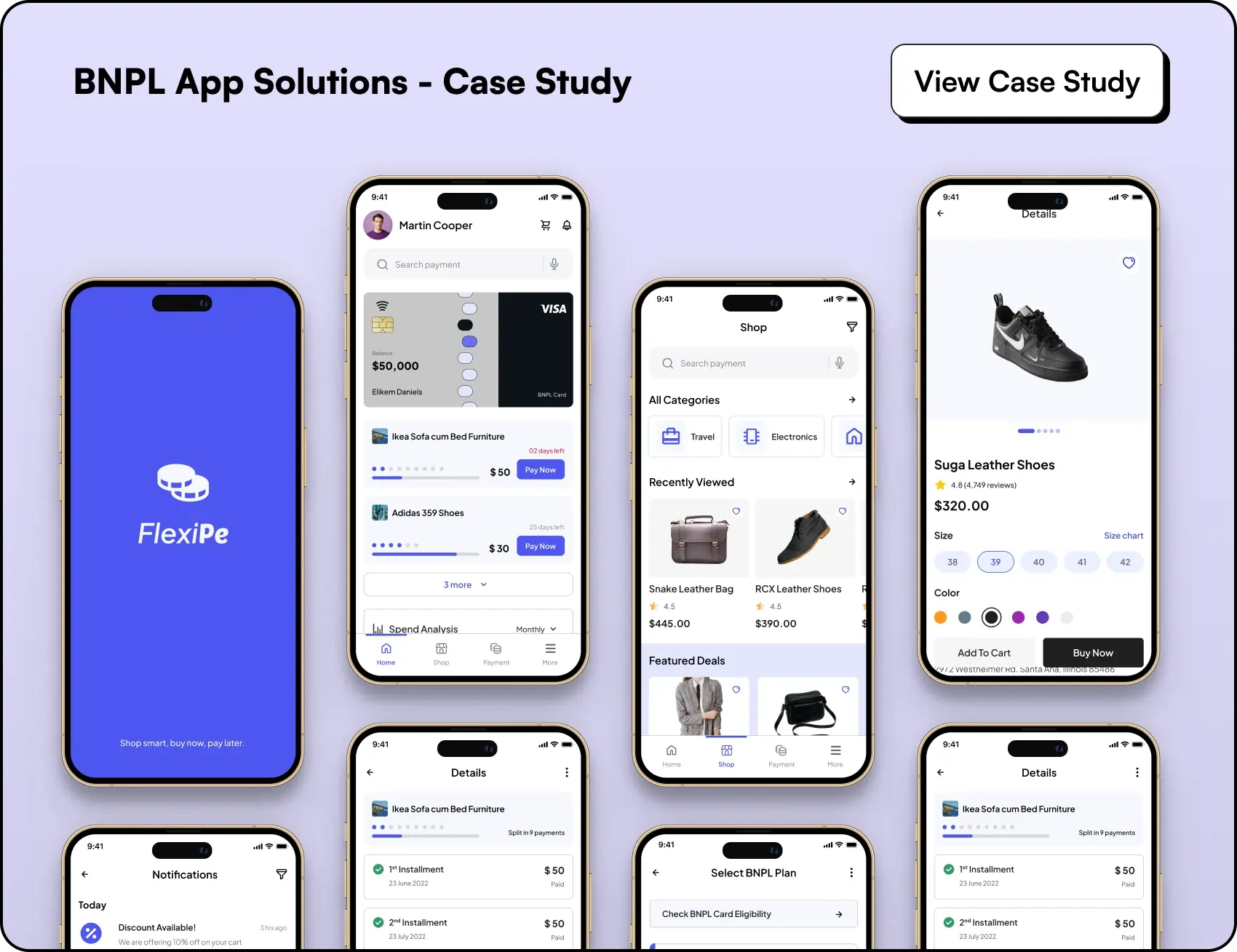 Conclusion
So, that is it for the Buy Now, Pay Later App development from our end. It is the generation and era who wants to have hassle-free shopping experiences from products to payments, and therefore– we will see a rise in BNPL App numbers.
And why not? The BNPL app benefits all – the users, lenders, and the businesses. BNPL mobile app development presents an exciting and lucrative opportunity for entrepreneurs seeking to disrupt conventional forms of payment processing.
We are here if you still have any queries about BNPL app development. Our experts specialize in delivering exceptional software solutions tailored to suit your specific requirements. Let us help you take your next step toward achieving business growth and success. Contact – A Leading buy now, pay later app development company Today!
FAQs
What are some common challenges associated with developing a BNPL app?
While you are in the BNPL development, the following are the potential challenges:
Data Security
Customer Information
Payment & Transaction Information
Regulatory Compliance
difficulties in calculating interest and installments, etc.
How does BNPL differ from financing options like loans and layaway programs?
Using BNPL is much different than the other financing options because here, it doesn't matter that the borrower has collateral or a perfect credit history, in contrast to the requirements of conventional loans.
Can I build a custom BNLP solution tailored to my business needs?
Definitely Yes. It is possible to do Buy Now, Pay Later App development that meets your specific company's requirements. However, this can only be accomplished with app design and development skills, knowledge of payment gateway protocols, and observance of all applicable regulations.