Ready to do business with us?
As mobile technology advances, so do users' expectations regarding app performance and functionality. If you need to develop a brand-new mobile application but aren't sure where to start, you should explore an option to hire dedicated Flutter developers from a Flutter app development company.
These professionals possess the knowledge to build top-notch cross-platform applications efficiently and effectively. To convince you further, we will discuss ten major advantages you and your business will get when you hire dedicated flutter developers.
Do you know? Flutter adoption grew rapidly between March 2018 and 2020, increasing by nearly 350%. Another survey by YouSpect revealed that almost half (48%) of respondents prefer to use Flutter because it simplifies the creation of UI components.
What is Flutter?
Flutter is a software development kit (SDK) created by Google that helps developers build native mobile apps for Android and iOS devices. It uses the Dart programming language, which is optimized for high-performance rendering and smooth animations.
The framework provides a set of widgets and tools that enable developers to create user interfaces with ease. Flutter also supports hot reloading, allowing developers to change their code without restarting the entire app, making development faster and easier.
With its portability across multiple platforms, ease of use, and ability to provide a consistent experience across different screen sizes, Flutter has gained popularity among mobile app developers worldwide.
Here are the Top 10 benefits to Hire Dedicated Flutter Developers Online
As technology continues to evolve, the demand for innovative apps has skyrocketed. Finding the right developer becomes crucial when embarking on a new mobile application development venture.
One emerging solution is to hire dedicated flutter developers. Not convinced yet? Here are ten reasons why to hire flutter experts could revolutionize your development experience:
Create applications in Quick Time.

Flutter is the greatest option for building applications with a single code base for all three platforms—Android, iOS, and cross-platform. As a result, there is no need to develop codes repeatedly to ensure that the program is compatible with various operating systems.

It expedites the app development process and frees up a significant amount of time for the developer to focus on the subsequent phases of the app's release. So, when you hire Flutter developers – you get your work done quickly.

Build Your Application at Lower Pricing.

Because developers need to write code for a variety of different operating systems to produce a single application, the creation of a native app may be a prohibitively costly endeavour for businesses.

Whereas when you hire dedicated Flutter developers, the one code base that Flutter supplies may help them to develop apps in a shorter amount of time that function faultlessly across numerous platforms, which helps you decrease the expenses associated with app maintenance.

Make use of user-friendly plugins.

When it comes to the process of designing an application utilizing the Flutter framework, developers have access to a comprehensive library of plugins. Because of this, the whole process of developing mobile applications is streamlined, accelerated, and improved. And that's one of the key advantages to hire flutter experts.

Decrease the amount of testing you do

When building an app using Flutter, hiring Flutter developers to test the app's functionality on two different platforms is unnecessary. You spend less time testing since there is just one version of the program that has to be evaluated by quality assurance professionals.

Easy to Maintain & Update

As you hire flutter development team, it becomes simple to maintain and update. Because there is just one codebase, maintaining and upgrading the application is made much simpler. This brings us to point number six.

It is possible to deploy updates for all platforms simultaneously, guaranteeing that the user experience will be consistent across all devices.

Greater Community Support

Community Support Flutter is supported by an active developer community that is expanding quickly. Because of this, Flutter developers will benefit from rapid updates, a wealth of shared expertise, and access to a wide pool of resources, all of which will assist them in overcoming obstacles more quickly.

Modest Resource Utilization

Despite its capability of creating visual material of high quality, Flutter has needs that are modest in terms of resource utilization. This helps to guarantee that the gadget will operate smoothly even on configurations of less powerful hardware.

Rich Widget Library

Flutter contains a rich library of premade user interface elements known as widgets. These widgets enable developers to rapidly design user interfaces that are both functional and aesthetically pleasing without spending excessive time developing individual UI components.

Seamless Integration with Other Technologies

Because Flutter works directly with pre-existing mobile ecosystems, adding additional third-party APIs, plugins, and SDKs is often rather simple. In addition, the integration of Firebase makes it possible to simplify the process of creating server-side logic.

Rapid Development & High Performance

With Flutter's hot reload capability, developers can instantly change their code, enabling them to iterate more rapidly on design concepts and test out new ideas at a pace impossible with other technologies.

Flutter applications have better overall performance than those built using alternative cross-platform development frameworks due to their ability to compile directly to machine code instead of interpreting code like others do.

You know the primary arguments supporting why you need to hire Flutter developers. The decision to collaborate with a prominent Flutter app development firm is excellent for you to make if you want to develop quicker and more useful apps.

To take advantage of all of these advantages, hire flutter development team, which ultimately results in a mobile application that is high-performing, aesthetically beautiful, and cost-effective.

How Can I Find the Best Flutter Developers to Hire?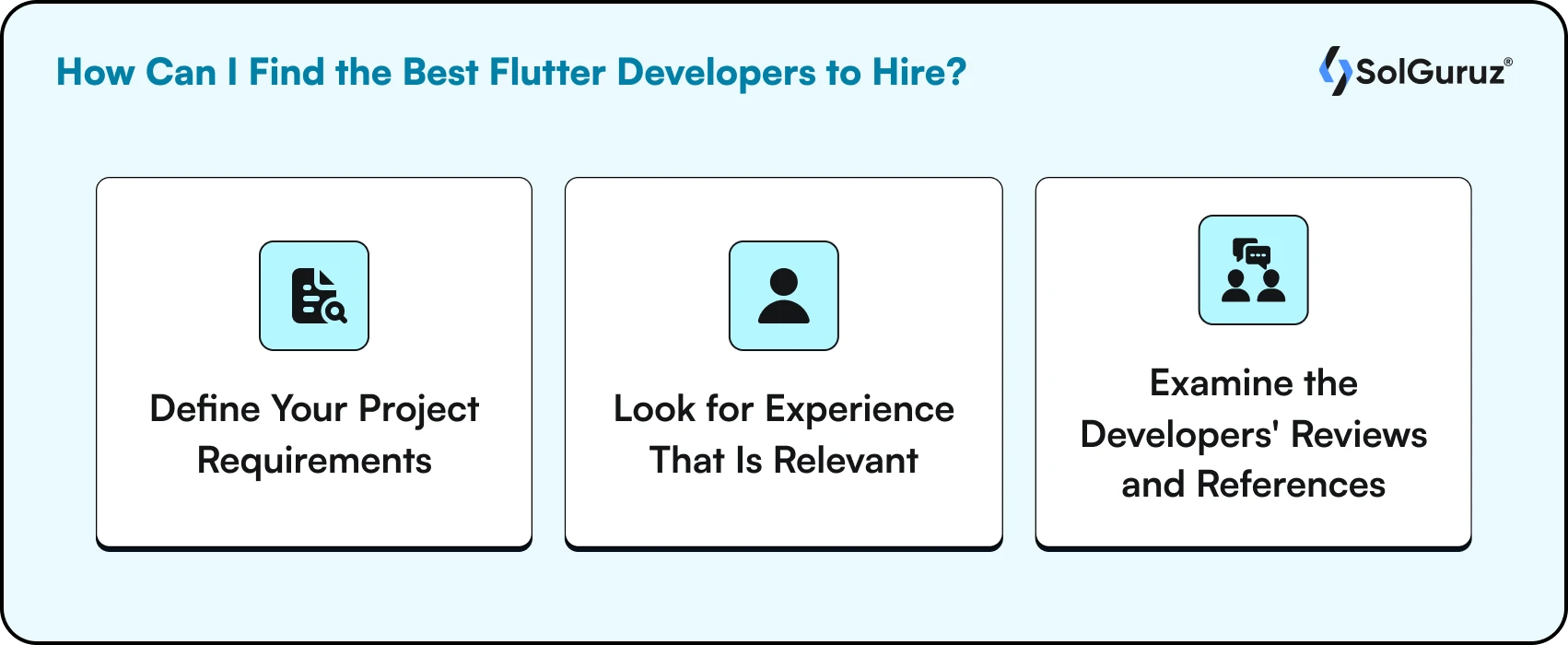 "To hire dedicated flutter developers" may tremendously impact the final product's quality as an application as a whole.
The procedure entails several important actions that must be taken to guarantee that you identify developers that not only comprehend your project but are also able to bring your vision to life successfully.
You will find the following comprehensive instructions to be of use to you on this journey:
Define Your Project Requirements

The first stage in the process of employing an appropriate Flutter developer is to comprehend and completely describe your own personal project requirements. This contains the project's technical needs as well as its business requirements.

Determine the operating systems on which your program will operate, the features and capabilities it should possess and the aesthetic standards it must adhere to in its design.

Suppose you have a crystal-clear vision of the needs for your project. In that case, you will be able to communicate more effectively with possible developers and determine whether they can meet your criteria.

Look for Experience That Is Relevant

Experience is really important, particularly when it comes to the creation of mobile applications. When vetting prospective Flutter developers, it's important to seek individuals with a track record of producing applications comparable to what you're trying to do with your venture.

This might be about the business sector, the features of the app, the demographics of the users, or even the level of sophistication in the design.

Choose developers who have previous expertise in the appropriate field. They will be more ready to foresee and manage any possible issues throughout your project.

Examine the Developers' Reviews and References

As a last step, you should examine the reviews and references of the developers or the agency you want to collaborate with.

Testimonials from previous customers may provide insightful information about the developers' dependability, professionalism, and communication abilities, in addition to the quality of their work.

This might further confirm whether the developer or agency is an appropriate match for your project.
Why is SolGuruz the best choice when it comes to hiring Offshore Flutter developers?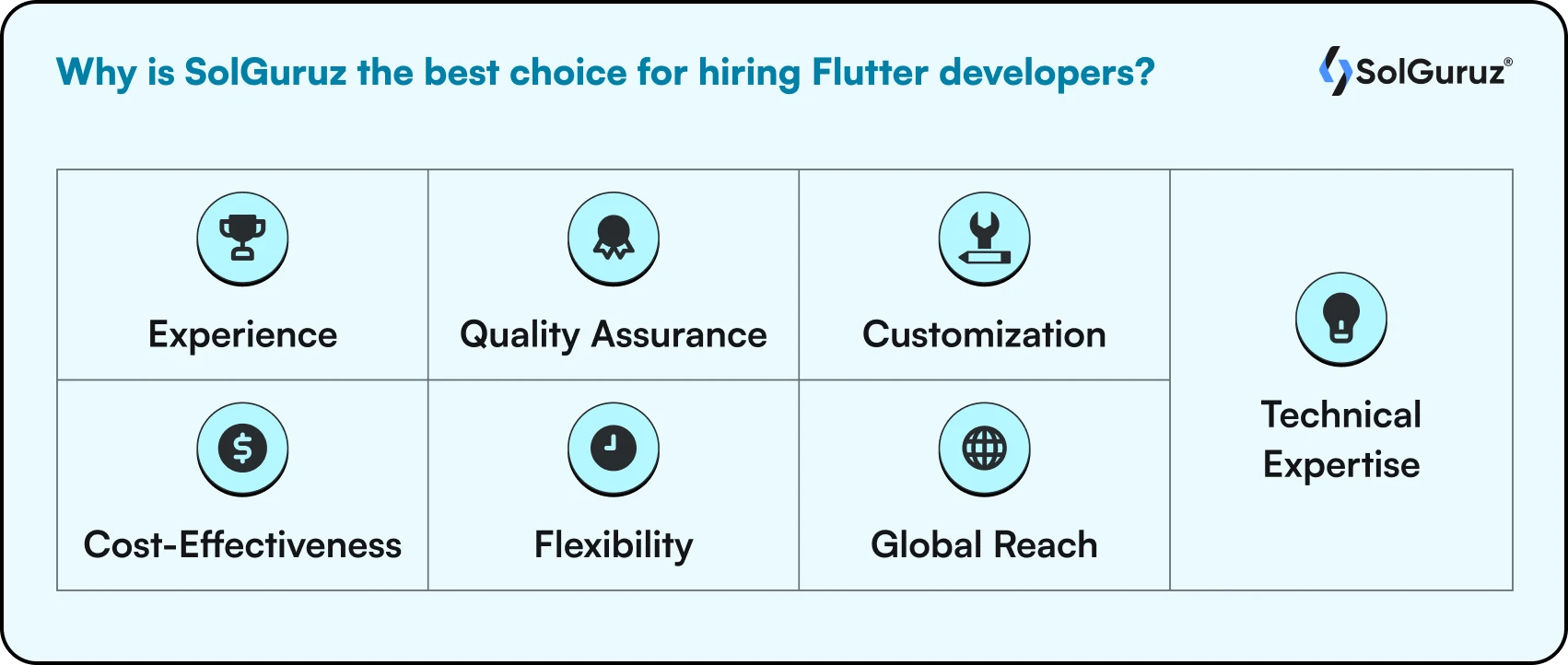 If you're looking to hire Flutter developers for your next mobile app project, here are the top ten reasons why choosing SolGuruz could be advantageous:
Experience

SolGuruz has significant experience providing professional Flutter development services to clients worldwide. The company has worked on diverse projects ranging from small startups to large enterprises.

Quality Assurance

At SolGuruz, quality assurance is taken seriously. Each developer undergoes rigorous training to ensure their skill set meets industry standards. Additionally, a dedicated QA specialist is assigned to monitor the progress of each project, guaranteeing the highest level of quality throughout the entire process.

Customization

Every client is different, and so are their requirements. SolGuruz recognizes the importance of personalizing solutions according to specific needs. Their experts will tailor the app design and development approach to suit your business goals and expectations.

Cost-Effectiveness

Hiring Flutter developers through SolGuruz provides cost savings compared to building an internal development team. The company operates on flexible pricing models, including hourly rates, fixed price contracts, and Dedicated Team arrangements, offering affordable options for any budget.

Flexibility

Whether you need a short-term consultant for assistance during critical stages of development or want to build a long-lasting partnership, SolGuruz adapts to your preferences. You can choose between ad-hoc cooperation, part-time/full-time engagement, or establishing a dedicated development unit.

Global Reach

SolGuruz employs developers across multiple locations around the globe, ensuring there's always someone available to work during your preferred hours. The company also provides round-the-clock customer support via phone, email, chat, or video conferencing.

Technical Expertise

SolGuruz's expert Flutter developers keep up-to-date with the latest tools, libraries, frameworks, and best practices in the field. They leverage their knowledge and skills to deliver cutting-edge solutions.
Wrap Up
As a result of Google's introduction of Flutter and its concentration on the Dart programming language, developers working with Flutter are already acquainted with the comprehensive capabilities required to create adaptable applications comparable to native apps.
Our developers can quickly create Flutter, integrate applications without hiccups, significantly improve performance, and adjust the user experience.
Even though Flutter has only been around since 2017, its many useful features have quickly gained popularity among app developers.
To hire Flutter developers, it is essential to define the requirements and the parameters of the project, the hiring budget, the issues and the tasks list, and the amount of time you are prepared to devote to recruiting and supervising the developers team.
Contact our experienced team of Flutter app development professionals if you are seeking a Flutter developer.
We provide out-of-the-box Flutter development services here at SolGuruz Solutions, and we have assisted many customers in moving their company activities online, enabling them to generate digital value despite the pandemic.

FAQs
What Expertise Do You Offer for Flutter App Development?
For Flutter app development, we offer the following services: Cross-Platform App Development, Flutter App UI/UX Design, Flutter for Web Development, Native to Flutter App Migration, Flutter App Maintenance, Flutter App Upgradation, etc.
How to Hire Flutter Developers from SolGuruz?
To hire Flutter experts from SolGuruz, kindly connect with us online by signing up for the form. We will schedule a call followed by an interview process, where you can take charge of the interview and select the best Flutter developers for your project.
How Much Time Does It Take For Your Flutter Developers to Start the Project?
It takes approximately 48-72 hours for our Flutter app developers to start with the project development after the interview and selection process.
What Development Methodology Do You Follow?
At SolGuruz, we follow agile methodology for designing and developing various cross-platform applications.