Ready to do business with us?
ExpressJS is one of the most popular frameworks for building web applications in NodeJS. It has been around since 2010, and since then, it has gained strong developer community backing. According to Statista, over 20% of developers worldwide use ExpressJS. However, as the JavaScript ecosystem grows, the need for diversified ExpressJS alternatives arises for better performance in certain areas.
While the ExpressJS framework has many advantages, it's not necessarily the best fit for everyone. There are products on the market that can compete with ExpressJS.
In this article, we'll cover all about ExpressJS and the top ExpressJS alternatives that may better suit your needs.
What is ExpressJS?
Express is a minimal and flexible NodeJS web application framework providing robust features for web and mobile applications.
It's designed to provide the foundation for the full-stack web apps you build with NodeJS, with APIs that are easy to scale. It offers a powerful development experience with a simple learning curve for beginners and experts alike.
Express is built on top of Connect, a minimal HTTP server written by TJ Holowaychuk. Express builds on top of Connect's functionality to provide additional features such as URL routing, view templating, and middleware functionality.
Many options are available if you consider creating a Node application. Work with SolGuruz to hire expert Node developers! We can be your one-stop web development partner for creating unique custom applications.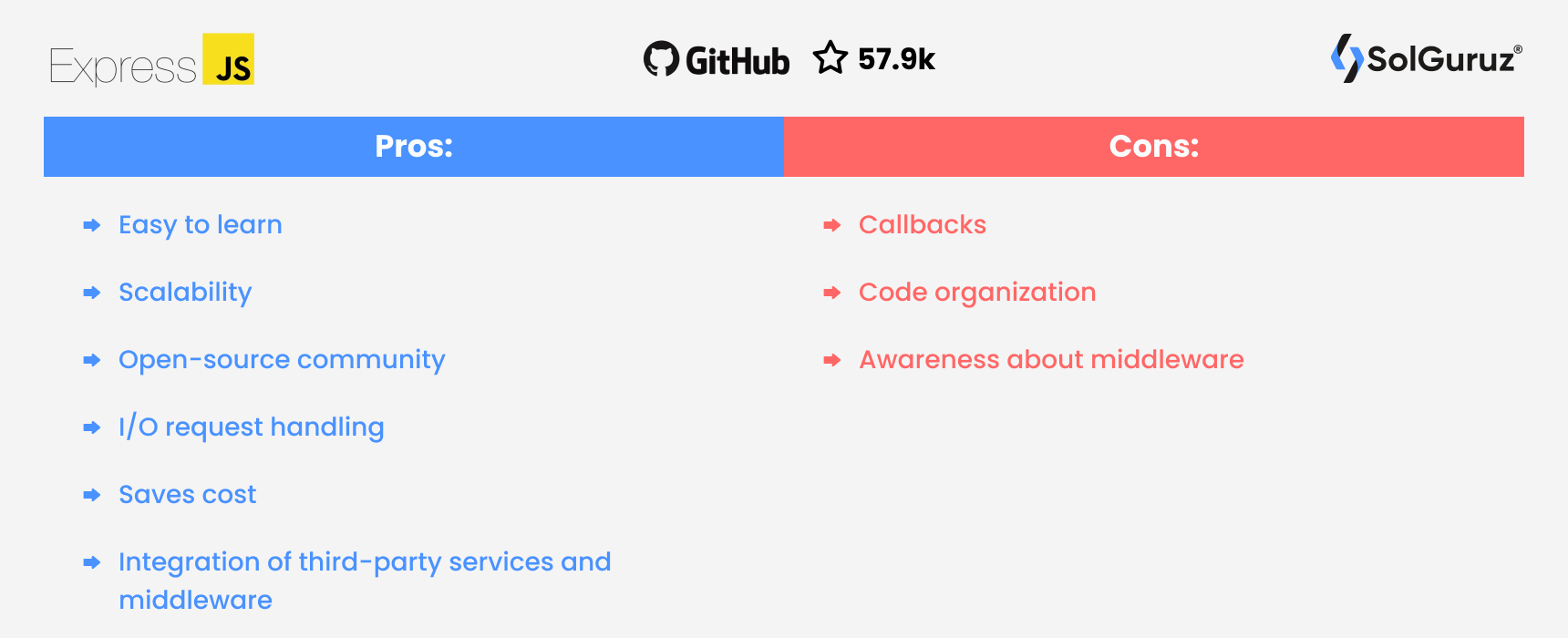 Advantages of ExpressJS
Easy to learn

ExpressJS was developed as an alternative to Ruby on Rails, which had become popular among developers then. The syntax of ExpressJS is similar to other JavaScript frameworks such as AngularJS and VueJS. So, you can hire JavaScript developers with experience in these frameworks, making it easy for you to start working with ExpressJS.

Scalability

Express has been built to scale, making it perfect for small applications through to large enterprise-level systems. Its modular design makes it easy to add more functionality as your application grows.

Open-source community

Express has an active community, contributing code and helping other users with problems they encounter when developing with Express. Many open-source projects use Express as their base framework, so you can find many examples and documentation on how to use it effectively in your application.

I/O request handling

One of the main advantages of using Express is its simplicity when dealing with I/O requests and response handling. It can handle multiple requests and notifications simultaneously. A developer must write a few lines of code to make all this work.

Saves cost

ExpressJS has an easy-to-use routing system, making it easy to design and launch complex applications. It also supports HTTP sessions, cookies, URL parameters, headers, etc.

Few developers can work efficiently with ExpressJS. It allows developers to easily create RESTful APIs with minimum effort, which is helpful in modern web applications.

Integration of third-party services and middleware

ExpressJS can easily be integrated with any third-party service or middleware, such as authentication libraries or analytics tools (MongoDB). This means a developer doesn't have to worry about setting up everything from scratch, saving time, money, and effort while building your app.
Disadvantages of ExpressJS
Callbacks

Callbacks are the most preferred way of working with Express, but when it comes to large applications, they can get out of hand quickly.

Also, debugging might not be easy if the developer doesn't understand what's happening in the code.

Code organization

Code organization is one of Express's most significant challenges because no packages or dependencies are required for creating routes, controllers, or views in Express.

A developer needs to do everything manually. It is time-consuming and very difficult for beginners to learn how to organize their code correctly without guidance from anyone else.

Awareness about middleware

There are no official middlewares for any task like authentication or authorization, etc. So, the developer needs to create the middleware from scratch.

It takes a lot of time and effort from developers who want to build simple applications quickly without worrying about security or performance issues.

Now, let's look at the top 10 ExpressJS alternatives that are available in the market.
Top Alternatives of ExpressJS
Final Thoughts
Express is best suited for highly interactive online projects since it makes it simple for developers to create scalable and speedy web apps.
Lack of standardization can be a productivity bottleneck for your teams if you're working on a big project that many engineers will support.
Therefore, before choosing a web framework for your project, you must carefully analyze the needs of your project.
Consider speaking with the specialists at one of the top app development companies if you want to proceed best.
Hire Backend developers from SolGuruz for your Backend development
SolGuruz is a top web development company for building feature-rich, usable, and accessible mobile apps. SolGuruz is a team of web development experts and the best web development agency in India.
If you're keen on hiring expert node developers, then you'll need to choose a top backend development company.
If you're keen on hiring expert ReactJS developers, then you'll need to choose a ReactJS development company.
SolGuruz acts as a complete web development solution that helps fulfill any requirement a company may have, no matter how complex those requirements may be. SolGuruz helps you hire expert NextJS developers to help you manage both frontend and backend development processes.
FAQs
What can we use instead of ExpressJS?
ExpressJS is a great framework, but it has its limitations. Some alternatives to ExpressJS can be used, like Koa, Hapi, Sails, Feather, etc. These are the most popular alternatives to ExpressJS.
Is KOA better than express?
Since Koa Js was developed to outperform Express, it is capable of everything Express is capable of and more. Koa can process more requests per second, making it perform better. Because of this, it is a preferable option for web applications and APIs that serve numerous customers simultaneously.
Is NestJS better than Express?
ExpressJS doesn't adhere to MVC; hence, the application is less efficient and less optimized because there is no correct structure. NestJS is based on an architecture containing elements like modules, controllers, and providers, making it a better option for developers.
Why is NestJS popular?
Any decent framework should have performance as one of its essential characteristics, and developers love NestJS for its fast performance. In addition to saving time, NestJS can triple developers' productivity and application speed because it works with Node.js and plugins like Express and Fastify.
Is Fastify faster than Express?
Fastify claims itself as the quickest web framework available. Benchmarks support this assertion, with Fastify outperforming Express in a straight overhead "hello world" benchmark by over two to one. Fastify only lags behind Express when processing empty requests.
Is Next JS good for the backend?
Going one step further, NextJs eliminates the need for a backend framework. It allows you to create React applications that are totally server-rendered. This means the user's browser will download a whole HTML page with all the required resources, such as JavaScript files, CSS files, and graphics.
Is NUXT JS a backend?
NUXT is a frontend framework for Vue.js, not a backend. You can use Nuxt to build an entire app with only the frontend, or you can add Nuxt to an existing application.