Ready to do business with us?
Searching for a home has never become easier than it is right now. You may search for your ideal house not only on many websites and in person but also on your mobile phone or other device utilizing a House Hunting App.
In this post, we will thus discuss several features of a real estate app and house-hunting App that you must consider while designing one.
House Hunting App has altered the process of buying and selling properties for some time. In fact, over the last few years, there has been a substantial movement toward online platforms, allowing purchasers to browse for properties in a virtual setting.
Using apps and websites to look for your ideal home may be beneficial. It can help alleviate some of the stress associated with house shopping. In addition, real estate app development trends for purchasing a house are improving at assisting customers in locating reliable housing information and providing features that enable users to focus their search.
What Do House Hunting Apps Do?
For a first-time home investor, searching for the perfect property may be a highly stressful experience. It's intimidating to change after seeing tens of thousands of listings.
The home-buying process is simplified with the help of the House Hunting App, which combines real estate data and technology in an intuitive interface. Regardless of your level of expertise in the real estate market, you can quickly and easily locate the ideal investment property with the click of a mouse.
You can get your real estate career without leaving your couch. In this age of home-hunting apps and real estate apps development, the housing market is more approachable than ever before.
Key Benefits of House Hunting App
Apps that facilitate property purchases provide users with access to a wide range of useful real estate services, which benefits not only the purchaser but also the seller, the agent, and the buyer's lender.
You can use the House Hunting App to do various things, like looking for property listings, locating real estate agents, and determining the worth of your house.
Using a house-hunting app on your mobile device is also a great way to keep track of the homes that catch your eye. Some applications, for instance, let you snap pictures of a house, give it your star rating out of a possible 100, and even comment about it.
Remember that your browsing history, in-app communications, and real estate agent listings contribute to a personalized feed on apps like Trulia, Zillow, and Realtor.com.
These are only a few advantages of looking for a home on wheels, but the shortage of homes means you'll need to be creative. These time-saving applications allow you to find a realtor quickly, learn about a property's hidden features without scouring the internet, and learn about a neighborhood's amenities in a snap.
Similarly, home-related applications may streamline and simplify other aspects of the house-buying process, such as browsing listings, making a monthly budget, calculating a mortgage, getting pre-approved, and even shopping for home furnishings. Now, it's time to look at some of the features of a real estate app.
7 Must-Have Features of a House Hunting App
To what end do real estate apps often serve? The solution is to grab the attention of prospective buyers while also making the whole transaction less complicated. Do you want your app to stand out from the crowd, just like Zillow and MagicBricks? Thus it mustn't seem generic.
Therefore, you should always be mindful of the most recent market trends and the expectations of homebuyers and sellers. If you're looking to create a real estate app, the following list of features of a real estate app will be helpful to you.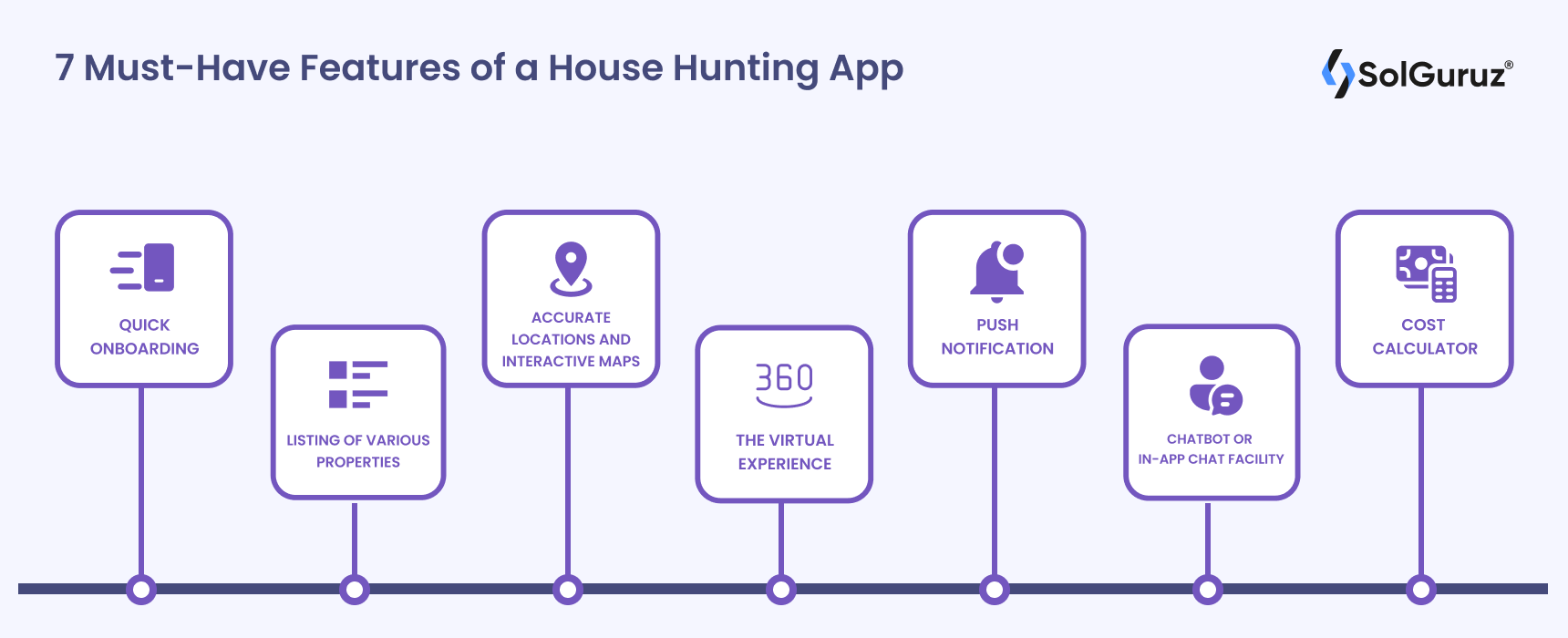 Quick Onboarding

All construction and real estate smartphone applications must include this capability. Many users will be attracted to your real estate App if it has a quick and painless signup or onboarding procedure.

With one-time password (OTP)-based authentication, you may accept user onboarding from social network accounts or email accounts. It is also acceptable to provide consumers with a choice between these approaches by combining them.

Listing of Various Properties

When we talk about features of a real estate app, property listing is the most fundamental component. Users may find out what they need about real estate on the market. Users may list their homes for sale or rent.

In this case, the sophisticated real estate app requires a large database or many servers to accommodate the ever-growing number of available properties. The number of people using the real estate app will grow. Therefore, you should guarantee that the databases are scalable.

Accurate Locations and Interactive Maps

No House Hunting App worth downloading doesn't have a map. Your app users will appreciate the added value of the interactive maps that your real estate app development firm can provide for you.

More information may be shown about a property than just its location. The average income of locals, the number of crimes committed per capita, and the proximity of adjacent schools are all data points you might provide.

With SolGuruz's assistance, you may enhance your maps with all the relevant data engagingly and dynamically. Prospective buyers may easily locate the property and see all relevant details through an interactive map.

The Virtual Experience

Including virtual reality in your House Hunting app is a smart move. Your App's users will appreciate the time savings and increased confidence in their purchase choice made possible by the 360-degree property view and virtual tour.

A 3D walkthrough, essentially the same as a virtual tour, may offer potential buyers a real sense of what it would be like to live in the home they are seeing.

Push Notifications

Marketing campaigns that use push alerts tend to be successful. Long-term success for your real estate App hinges on this particular function. You may alert your subscribers to market news, price changes, newly listed properties, and favorite updates through push notifications.

It's a great method of getting in touch with potential clients. On the other hand, the communications need to be relevant to sound personal. Put another way, your App's alerts should be useful to those who use it. You risk alienating your App's user base if you use this function too much.

Chatbot or In-App Chat Facility

With the option to chat or phone real estate agents directly from inside the App, your clients will always have a way to reach out to you. It may help you boost revenue by guiding app users to the final purchase decision.

You may reach the App's developers through a phone call, call-back, or text chat. Users looking to purchase a home may ask the listing agent or seller questions regarding the listing.

Cost Calculator

The value of property fluctuates often. Customers may now obtain instantaneous help determining the whole price of the property thanks to the integrated cost calculator. Your real estate app needs a feature that allows users to estimate the cost of a property based on certain criteria.

However, it's important to ensure the calculator can accurately provide information like taxes, the first payment amount, the loan's interest rate, etc.
Process of Building a Real Estate App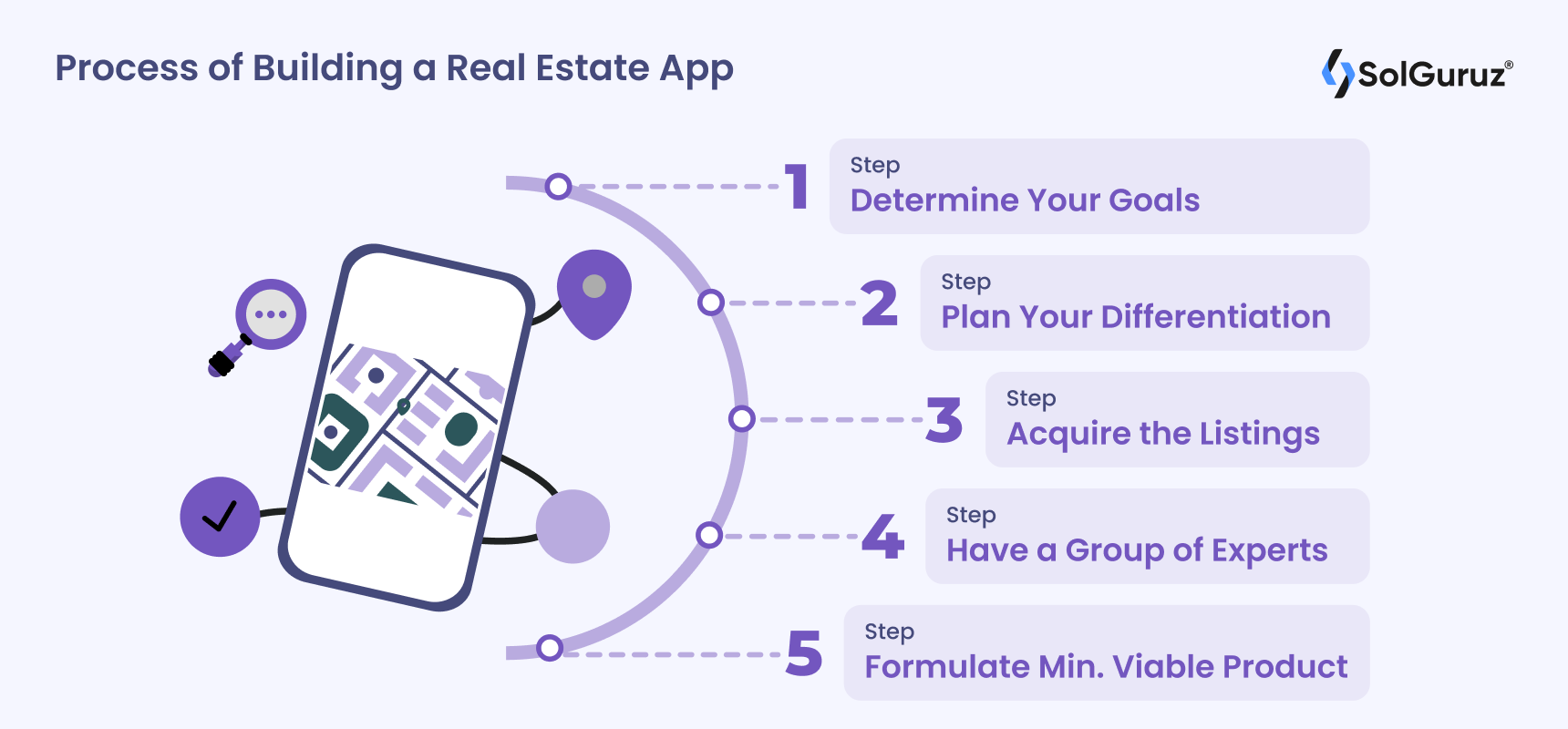 Step 1: Determine Your Goals

You can't create your house-hunting App in isolation. It's still probable that your product won't succeed, however. Knowing whose needs the product will fulfill is essential for avoiding this result. To do this, you must:

Determine your market niche; pick your intended audience.

Find the market pain points and see how you can help.

Within the scope of the Nomad project, the customer contacted us with a specific problem: the disorganized nature of the Dubai property market. At that very time, all listing-based platforms were inundated with phony listings and overzealous salespeople. As a result, finding an apartment took months of hard work.

Step 2: Plan Your Differentiation

Now that you've done your market research and know your direct competition, you need to answer this important question: what sets you apart? What would it be if you had to choose one thing that makes you different from the competition? In other words, why do you hold this opinion?

You see, the point is that your product shouldn't be special. However, originality may not be your strongest suit. So, what if the product's value is contingent on it being readily available to customers? Or maybe you provide streamlined operations that your rivals cannot match.

Step 3: Acquire the Listings

All real estate apps revolve mostly around listings. Using this database, you can easily add apartment and home listings to your App. Having available listings is crucial before launching a real estate app since you need content to give your customers.

It's excellent news that listing data may be readily added to your App. Unfortunately, this isn't always a viable option since not all markets have access to Multiple Listing Services (MLS). However, in certain markets, you may join specialized broker groups that handle such postings. For once, you'll be able to form a partnership with them and call it a day.

However, there isn't always a centralized repository available. You'll have to do your data collection under these conditions.

Step 4: Have a Group of Experts

It's easy to develop a crush on a new concept after putting some time into it. You can't help but think about your new product through the night, and even as you wake up, you're already planning out its functionality.

Unfortunately, it is difficult to confront something you love. You may learn the hard way that nobody wants your product.

To prevent this, you'll need access to a group of product team members who can field-test your concept with actual customers. After the concept has been shown to work, the development phase can begin. Here, too, a group of programmers is required.

Step 5: Formulate Minimum Viable Product

The next step, development, will follow when you and your product team have confirmed the idea's viability. Everyday matters in the growth of a business. A simple and quick prototype is the key to a successful minimum viable product. However, you must consider the possibility of your product's growth and adjust the architecture accordingly.
Wrap Up
When it comes to buying, selling, or renting a home, greater convenience is always welcome, and that's exactly what you get with a real estate app, whether it's for Android or iOS.
The house-hunting App streamlines the purchasing and selling procedures, reduces stress, and provides round-the-clock help. To create a successful real estate app with these features and outstanding functioning, you must contact a reputable and trustworthy real estate apps development company.
FAQs
What is the cost of real estate apps development?
The app development business calculates the App's final price tag using three primary factors: app complexity, development time, and platform. The developer's hourly rate is also a big consideration.
Once the App is developed, will I own the source code?
Yes. Absolutely. You will own the source code once the development process is over.
Do you provide post-development support?
Yes. We provide post-development support per the contract's terms and conditions.