Ready to do business with us?
Staff Augmentation: Overview
Augmentation, the word suggests something in excess or the addition of something or some value. In short, doubling is what we call augmentation. In any company or organization, there is a term called staff augmentation. Many of you must have heard about it. But the meaning could be more apparent to many of you.
Suppose your company needs more expertise or developers to develop a software project. Then you need to hire professional developers to help your company develop the software and achieve company goals. But what if we say you can hire dedicated developers on a per-project basis? Great, right? Well, it is possible with the staff augmentation model. This model helps your software project get done without affecting other business tasks or goals.
As per Forbes, Staff Augmentation is one of the three strategies for filling tech roles during the talent shortage.
After implementing the staff augmentation model, you can engage/augment your current team with the software experts you hire. In this blog, you will discover several things you need to know about staff augmentation.
What is Staff Augmentation?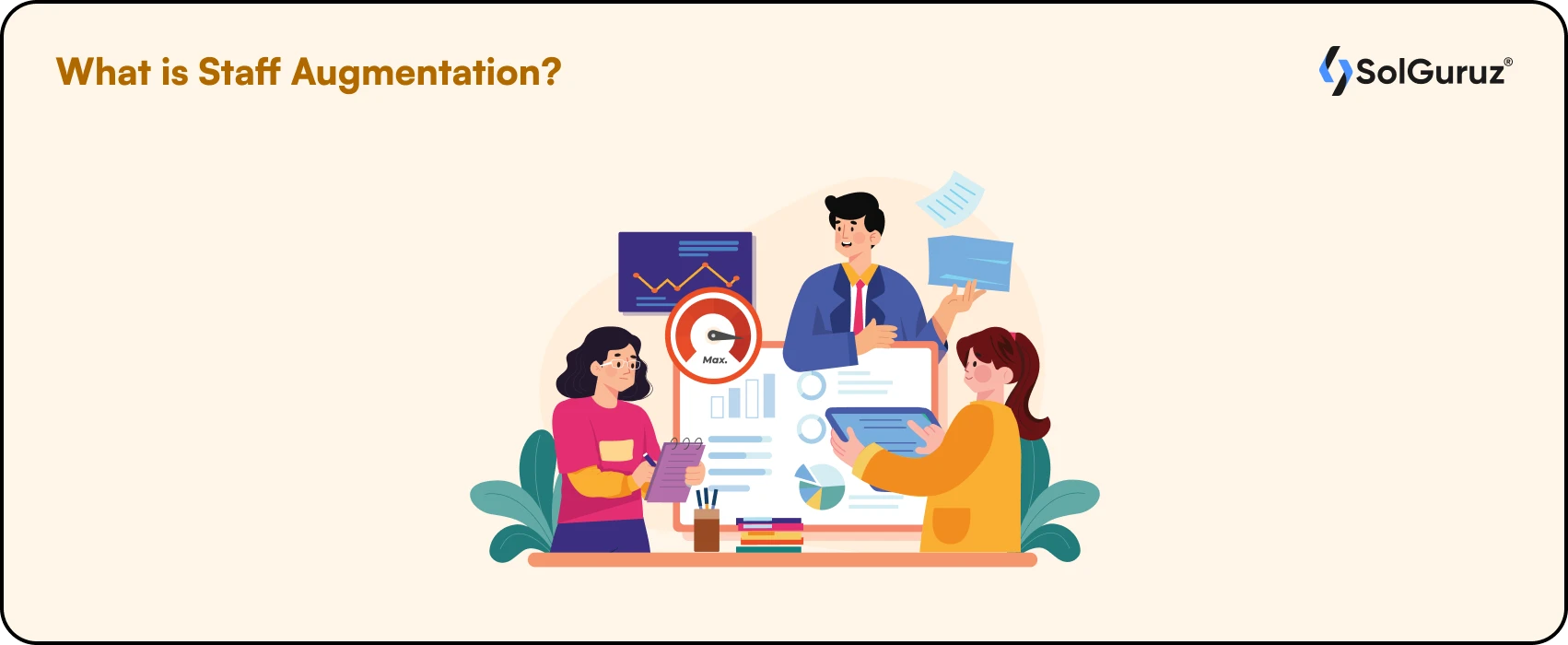 Hiring experienced software developers to let your custom software development project or minimum viable product development be done with 100% success is nothing but the process of staff augmentation. So whenever you hire a new software development team to support your existing team, you will be considered augmented by the staff. When these augmented staff join your current team, you can progress to make business achievements. Well, you can hire these developers, providing the option of working from home. However, you can also appoint them on the condition of working at the workspace.
Today the demand for the software development industry is very high. And the competition is high at the same time. These companies suffer due to high demand but need more supply. Moreover, there remains the pressure of deadlines, too. In that scenario, proceeding according to the staff augmentation model is beneficial. To stay on a safer and better side, try to apply this model on a per-project basis.
Wow, so many IT companies have preferred to opt for staff augmentation! But why?
What are the reasons for preferring augmentation of staff?
Some software developing experts are skilled enough and looking for short-term positions like part-time or freelance. These experts always help software companies take up more projects and fulfill them within the deadline.
The staff augmentation model helps IT companies choose the right talent for ongoing projects.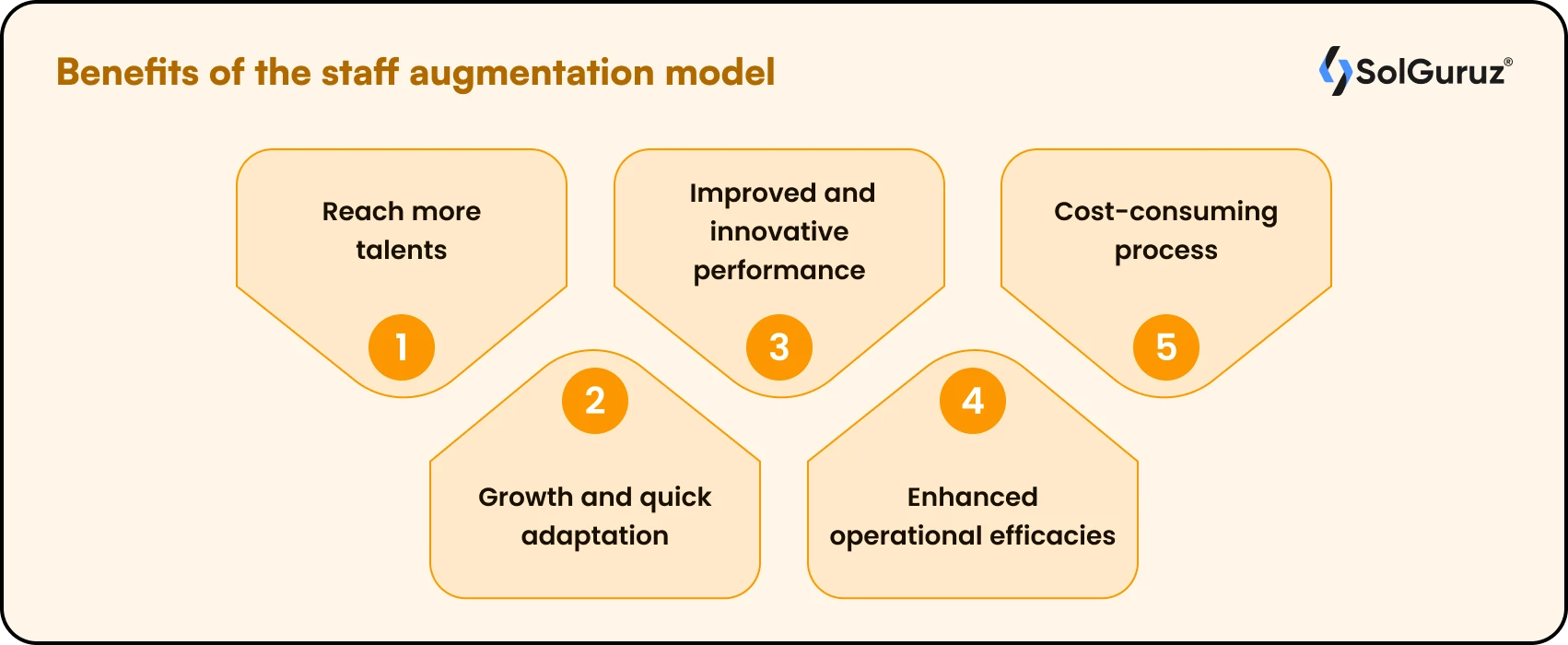 Benefits of the staff augmentation model in detail
Now let us discuss the pros of the staff augmentation model in detail:
Reach more talents

This augmentation process is different from the normal hiring process. The typical hiring model generally supports long-term hiring, whereas the staff augmentation process is meant to appoint employees on a short-term basis for specific projects. The projects that we are talking about require professionals who think innovatively.

So are you looking for professionals who give your team a lead for a short period? Then, nothing can be better than this augmentation model. However, comparing the full-time and employee augmentation hiring process, staff augmentation is more cost-effective.

Growth and quick adaptation

Several software companies desire to grow fast and grab a significant portion of the market. But the primary obstruction they face is the need for more capital. Not only this, but they often fear investing, thinking about the risks or failures in the future. In that case, this augmentation model is an excellent aid for these companies because this hiring process does not require you to appoint costly and time-consuming full-time employees.

What if the company needs more adaptability capacity? Well, let us understand this situation with an example. Suppose a company wants to hire dedicated software developers on a project basis. Then no other option can help you to avoid market fluctuations other than the staff augmentation process. If any changes occur in the market conditions, your short-term extended employees quickly reach those changes and enable your project to be fulfilled.

Improved and innovative performance

Do you know the result of continuously working with existing team members? Well, it becomes impossible to come out with something different from the existing workforce for the improvement/growth of the business. So if you want your business to reach a new level, you need innovative ideas, imagination, and discussions. And that calls for outstaffing.

Give your business a new outlook with the facility if you extend your team. It concludes that for excellence in the current projects and attracting new software projects, you need the guidance of new software developing professionals or go for team extension.

Enhanced operational efficacies

Are you going to initiate a start-up soon? It means you will have to bear those heavy infrastructural costs first. But with the staff augmentation process, you can select employees to do the work from home and let your project be done in time. So this automatic outstaffing eliminates high infrastructural costs as there remains no need to appoint full-time workers.

Are you worried about high operational costs? When hiring a remote team of talented software professionals, you can indirectly save many operational costs.

So start investing in start-ups and expect huge revenues in return with staff augmentation support.

Cost consuming process

It is always better to start a new business set up in a location with high living costs from the revenue earning viewpoint. But it can cost you a lot if you need to hire full-time employees from the same locality.

Do not get worried because there is a way out. Extend your team with our developers belonging to locations with low living costs and having enough expertise and experience.

Many people question when staff augmentation is the suitable model for you. Well, nothing such as a right or wrong concept works over here. If all the following points are your requirements, then no model is suitable for you other than the out-staffing model. Apart from these, you should also choose this model if you find any match of your requirements with the below-mentioned points. However, all these points can also be coupled as the types of staff augmentation.
Types of Staff Augmentation
Short-term needs: Suppose your regular software developers are on holiday for some days. But you require immediate work to be done. Then outstaffing can be a good option.
Long-term need: Say, for example, your company has achieved a new project for the long term. But in-house hiring can take a long time. Then it is clever to pick up outstanding talents through staff augmentation.
Other than these situations, you may need to hire remote software developers or any additional expertise if your company deals with the following:
Product-based work: No particular skills are required. Only hard-working employees are the selection criteria.
Skill-based work: Skills are essential here, but unpolished skills are good to go.
Highly skill-based work: Only good knowledge and highly polished skills are entertained here.
Demerits of Staff Augmentation
Now let us take a quick look at the drawbacks of the Staff Augmentation model:

Involvement of new members may create hassles

Suppose you have invited new software developers to work with your existing team. It may take some time for them to understand your current team members and vice versa. Moreover, you must be patient and thoroughly let them know your projects and writing style. And many confusions or slowdown of activities may also take place.

Training cost

When appointing staff on an augmentation basis, you may need to provide the required training to let them understand your working process. They might need to gain skills for which they may request training. So you need to keep a sufficient amount available for providing training.

Management of additional team members

When there are additional team members through outstaffing, you must also manage the exceeded team. So, management needs to be of high quality. You may also require spending high on it then.

So now the question is whether you should go for the staff augmentation.

Then it is advisable to notice the weightage of the benefits and disadvantages of staff augmentation. Then you may observe that the benefits win over the demerits of outstaffing. So you can hire additional employees for your team to become stronger.

Suppose now you are ready to augment additional employees. Then you need to follow a proper way for the same described below.
Key things to keep in mind while choosing the suitable Staff augmentation model

The type of staff required

A business comprises different staff members who have different talents and specialties. But if you cannot understand the requirement, sit for a discussion with HR and other company employees. Find out which team category needs improvement for the company's betterment. Is it the front-end developers, full-stack developers, or any other? Suppose it is the lack of excellence in the back-end for which your company is currently suffering. Then, extend your back-end developers' team size. So choose the model that is based on the criteria of the staff.

Contact types

Suppose a project comes incidentally. That time, you need the support of some brilliant and highly experienced staff members who can get your project done instantly. So you must choose the services that help you for the same.

Need for better communication.

Are you looking for staff augmentation services with clearly designed communication protocols? Then you need to choose the augmentation model having clearly defined communication objectives because communication is also required for a better flow of operations in a business.

Project-specific need

Some companies need employees who can serve all the needs of the project. Nothing matters other than these. Then, those companies should go for the staff augmentation model that offers you project-specific staff members.

Besides these, you must always carry out a staff augmentation company before availing of their services. You must check their track record and choose the company based on your requirements.

People often need clarification on Staff augmentation and project outsourcing. So, are they the same or different? Suppose you want to give the entire burden of the project to an outsourcing company. Then, it is called project outsourcing. However providing your existing teams with additional staff members in the form of valuable resources is termed out staffing or staff augmentation.

There is another term called Dedicated team. Is there any interconnection between staff augmentation and a dedicated team? Well, there is no connection but a distinction between them.

With staff augmentation models, you must limit the skill sets you want from the augmented employees. But when you ask for a dedicated team from any outsourcing company, you are always plated with employees with different skill sets.

So now you are all set to move forward with the staff augmentation process. The first step is to choose a perfect staff augmentation company that further includes a variety of steps mentioned below.
Steps to choose a staff augmentation company or partner
Firstly, find out whether it is any skill or human resources that your company lacks.
Then it would be best to decide whether your requirements are long-term or short-term.
Decide whether the onshore or offshore outsourcing company is suitable for you.
Then list at least five outstaffing companies in different locations your company is comfortable with.
Then do detailed research on each of the companies. You can check their reviews, testimonials, social media updates, etc.
After shortlisting the companies, you need to go for a detailed discussion with these companies. After finalizing the company, you can start the process by signing a contract.
If you are still confused about when the staff augmentation model is suitable for you, watch the answer below:
When your company needs to save your money.
When you are in search of new employees at an affordable salary
When your project requires some specialization.
When you are required to test the product before releasing it.
Apart from these facilities, this model is also cost-effective as it has no permanent implications but many temporary benefits.
Why augment your team with SolGuruz?

Start knowing your needs.

We always first welcome your needs and demands. We first understand the market and requirements thoroughly and analyze them deeply.

Fix the meeting with the employees.

We help you hire remote developers for your team, conduct the interviews, and provide technical support.

Support till the end

We offer end-to-end support even after your project is over.

Other than these, you should choose us because we have many years of experience handling your projects.

Are you looking for a company to augment your team with any staff augmentation company? Then SolGuruz can be a great choice, but do not go blind; understand the reasons.
Conclusion
We have tried our best to give you an idea of the whole staff augmentation scenario. So, whenever you hold the hands of outstaffing companies, it is better to go through this blog for a one-stop solution to employee augmentation. In case of any queries or confusion, we are always here and happy to help!
We can assist you if you want to create a custom software solution that meets your needs. SolGuruz is a top-rated web and mobile app development company that has professional mobile app developers and professional web developers who can assist you at any stage of mobile app development. What are you waiting for? Reach out to our experts and see your app idea turn into reality.

FAQs
What is staff augmentation?
The hiring of experienced software developers to let your custom software development project or Minimum Viable Product (MVP Version) development be done with 100% success is nothing but the process of staff augmentation. So whenever you are hiring a new software development team to support your existing team, you will be considered as augmented the staff.
What are the benefits of Staff augmentation services?
The staff augmentation model helps IT companies choose the right talent for their ongoing projects. Some of the benefits of the staff augmentation model are: 1) Reach more talents 2) Growth and quick adaptation 3) Improved and innovative performance 4) Enhanced operational efficacies 5) Cost consuming process and the most important one is 6) Stay focused on driving the core business.
What is strategy for staff augmentation?
Staff augmentation is an outsourcing strategy to extend the existing team by hiring temporary personnel for a project or to increase the capacity of the organization as per business objectives.
What is the difference between staff augmentation and dedicated teams?
Dedicated teams can be for the long-term projects, while staff augmentation is better for the short-term contracts.
Does SolGuruz provide Staff Augmentation services?
Yes, we do project staff augmentation services. We provide software development team resources on contract, as per the client requirement.