Ready to do business with us?
When you hire dedicated developers in India, the process involves identifying qualified candidates or firms that match your specific needs. To aid your search, here's a step-by-step guide covering essential aspects to consider when selecting an ideal developer or agency to join your enterprise. We hope these pointers contribute to successful outsourcing decisions in today's evolving marketplace.
As more companies move their operations online and emerging technologies like the Internet of Things become mainstream, when you hire developers in India – who can work on such cutting-edge projects could give you the competitive advantage your business deserves. Finding good talent locally can be challenging due to fierce competition for skilled workers, but there are no geographical boundaries anymore, so why limit yourself?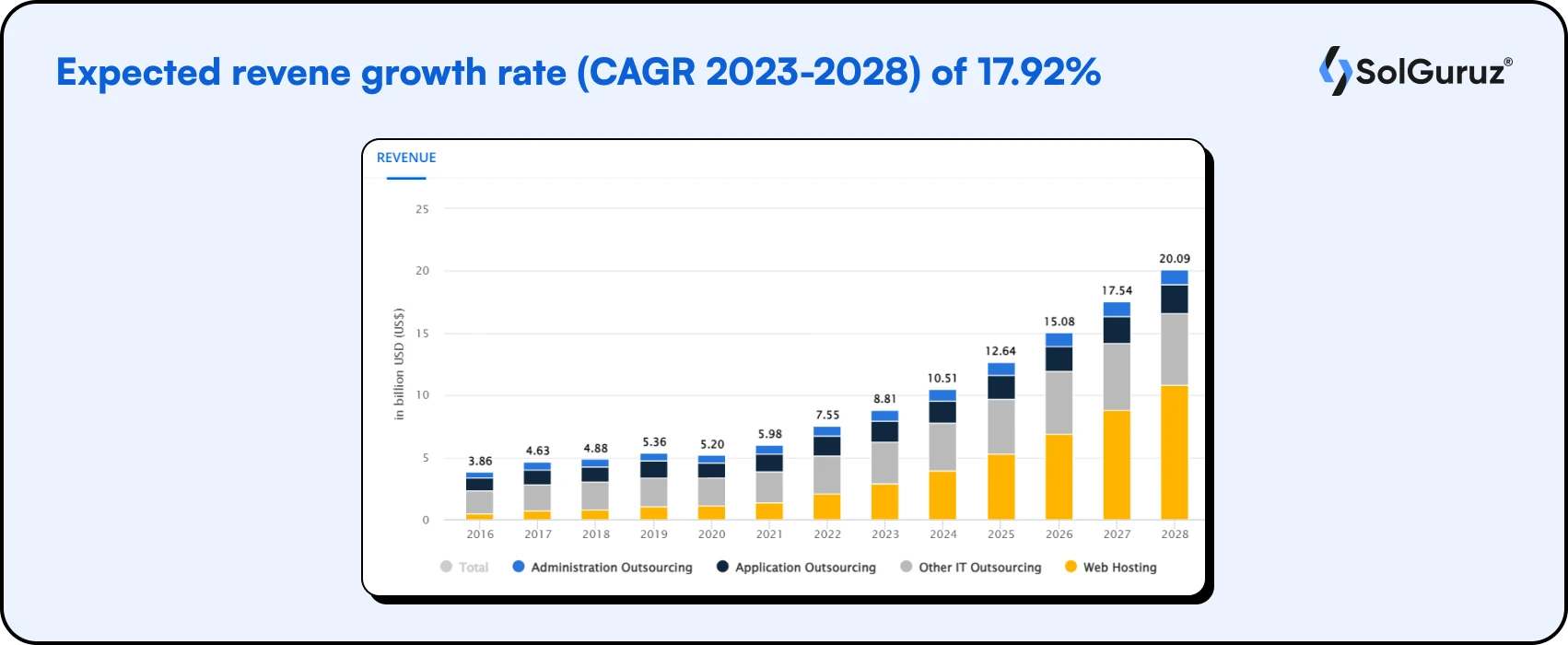 Here is one of the proven data research from Statista with expected revene growth rate (CAGR 2023-2028) of 17.92%, resulting in a market volume of US$20.09bn by 2028.
Hiring In-House Developers isn't the Best Solution? Here are some common challenges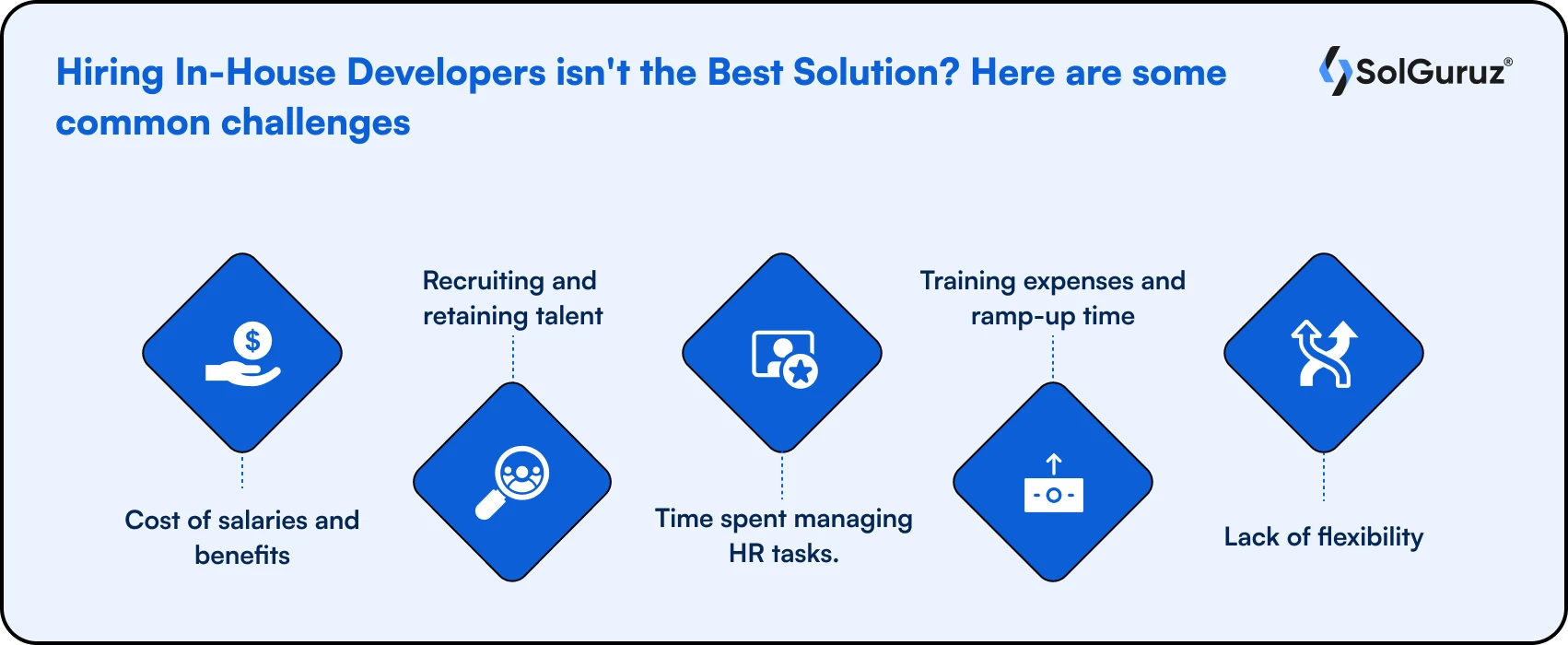 Here are some common challenges that companies may face when hiring In-House developers:
Cost of salaries and benefits

Hiring a full-time developer incurs substantial expenses due to their typically higher compensations and benefits packages, including medical coverage and pension schemes. Employers must evaluate whether their finances allow these expenditures before extending an employment offer.

Recruiting and retaining talent

Locating appropriately trained programmers capable of fulfilling particular tasks can prove challenging and consume valuable time. Moreover, personnel turnover poses a constant threat, potentially causing issues like those resolved by their initial engagement. This dilemma amplifies if the worker possesses exceptional expertise related to unique facets of your operations or exclusive familiarity with company-specific hardware/software configurations. Therefore, sourcing skilled experts necessitates persistent monitoring to mitigate such risks.

Time spent managing HR tasks.

For every new hire, there's paperwork, background checks, and interviews with potential candidates. It could take several months before someone comes on board after deciding on a course of action. These things also eat into a CEO's or Manager's productive working hours since all this needs hands-on attention from critical decision-makers.

Training expenses and ramp-up time

With changing technologies constantly being introduced, new hires will need lots of training to understand how our legacy system works, never mind helping us transition out of it! Plus, the learning curve will slow their contributions while starting something completely new means lost opportunities elsewhere in terms of innovation speed, but at least you got the resources you wanted – sort off!!

Lack of flexibility

An in-house team requires long-term planning and resource allocation. If your project requirements change rapidly due to market conditions or customer demands, having an in-house development team may limit your ability to pivot and respond quickly. A fully remote-staffed solution gives you access to experts worldwide without these constraints
How to Hire Best Developers in India: Steps to Follow
When you decide to hire dedicated developers in India, let me share some effective methods to find developers or development companies.
Outsource Application / Software Development Firms
Through Search Engines
Word-of-mouth marketing
Choosing the Right Option
Follow this guide to narrow down your list of preferred options to hire a dedicated development team:
Portfolio Review – Evaluate their past work performance
Analyse the variety of customers the company has served, including the types of applications they created earlier.
Check the contact data of former clients & get their feedback directly.
Examine Dedicated Developer Skills
Check the skills of the committed developers in the chosen company that meets your project demands.
Compatibility Considerations
Working alongside offshored software development service providers based in various locations may lead to compatibility issues related to diverse schedules, languages, cultures, & others. Get clarification on their approach to dealing with such concerns.
Communication Matters
Ensuring smooth communication between distant dedicated developers becomes crucial. Inquire about their strategies to tackle distance & cultural variances during discussions.
Once you examine these factors effectively, choose the most suitable option suiting your demands.
What Are the Advantages When You Hire Dedicated Developers in India?

When considering to hire developers in India, it may offer various advantages.
Get the Benefit of Skilled & Experienced Developers

India boasts a large talent pool of skilled and experienced professionals proficient in numerous technologies. In fact, as of October 2022, approximately 9.75 million Indians utilize GitHub, with around 2.5 million joining within the previous year. This represents a significant 35% year-over-year growth, positioning India as the second-highest global contributor behind the United States.

India's vast talent pool ensures that when you engage remote Indian developers, you can capitalize on their technical abilities to develop remarkable software solutions. Given the country's rapid population expansion, predicted to equal America's population by 2025, India remains an excellent source of competent tech professionals.

Get the Benefit of the Communicative Competency of Indian Developers

One significant advantage of employing Indian developers is seamless language comprehension. These individuals often possess impeccable fluency in the English language, enabling effortless conversation between both parties. By working closely with Indian developers, you won't encounter language obstacles since they'll effectively convey project requirements while requesting additional details if needed.

Cost-Effective Rates of Indian Developers

The compensation varies globally based on geographic location. While Western countries like the U.S. typically feature higher developer wages, Asia and Eastern European nations provide more cost-effective options. For example, comparing Ukrainian or Indian developer rates against American counterparts reveals substantial differences. It's crucial to research regional rates before deciding who to employ.

Timezone Convenience with Indian Developers

Working remotely poses unique challenges due to potential timezone differences. Employing developers located far away can cause difficulties during communication. But many Indian dev teams address this concern by adopting flexible schedules that fit clients' work hours. Therefore, you won't experience issues collaborating efficiently or meeting timelines because of differing time zones.

Trustworthy Partner Selection

Finding a credible Indian software development company entails locating proficient programmers. Evaluate their portfolios to gauge previous projects. Client feedback provides insight into reliability—assessments aid in determining if the company serves as a suitable partner for your enterprise. Select wisely by verifying skill sets before engaging in partnerships.

Data Security and Confidentiality

By signing an NDA when hire Indian developers, you can keep your project details confidential. This legal agreement ensures the safety of your intellectual property rights and keeps sensitive info secure. Entrust your project only to established firms with a proven successful project delivery track record. Their professional approach guarantees compliance with international regulations while permanently preserving confidentiality.
Wrap Up
So, that is it from our end if you want to hire dedicated developers in India. The above guide will aid you in selecting competent Indian developers either through freelancing or remote web development firms.
In addition, when you hire a dedicated development team, you can significantly decrease your development costs compared to traditional local hires.
To achieve the greatest possible outcome, consider collaborating with top-ranked Indian development companies such as SolGuruz. This organization possesses an in-house staff of seasoned developers trained in numerous technological fields and excellent communication abilities to provide premium software solutions.
Connecting with remarkable Indian developers ensures the seamless production of superior software merchandise.

FAQs
What should I look for before hiring a dedicated developer?
Before deciding to hire a dedicated developer, several aspects are worth considering. Some of those include evaluating their technical capabilities, adaptability to novel technology stacks, ability to conduct research relevant to your specific industry requirements, efficient task delegation, and punctual delivery of assignments.
What are the benefits of hiring a dedicated developer from you?
Working together with our dedicated professionals entails a set of advantages that emphasize customer satisfaction and affordability. Our team comprises certified developers for both web and mobile applications equipped with flexible job arrangements tailored according to individual client budgets. Additionally, we strive to render prompt service while promoting transparency and precision and putting the customers first to ensure a gratifying experience throughout all stages of collaboration.
Can I trust Indian developers, especially from SolGuruz, to maintain intellectual property rights on my codebase?
By signing appropriate legal agreements like NDA (Non-Disclosure Agreement) and Non-Compete Agreement, our developers must uphold your copyright ownership over shared codebases. If necessary, seek additional assurance through confidentiality clauses specifying that sharing sensitive IP information with third parties requires written authorization solely from the proprietor or authorized representatives.