Ready to do business with us?
Blockchain for Mobile Apps would be one of the best sought-after advancements in new technology. At this moment, all businesses, large and small, are adopting Blockchain and implementing it into their old systems.
For a lengthy moment, this innovation was strongly aligned with cryptocurrencies such as bitcoin, but it has now penetrated the realm of mobile app development, improving payment speed and security.
It is expected that its global market will soon cross $20 million valuation by 2024.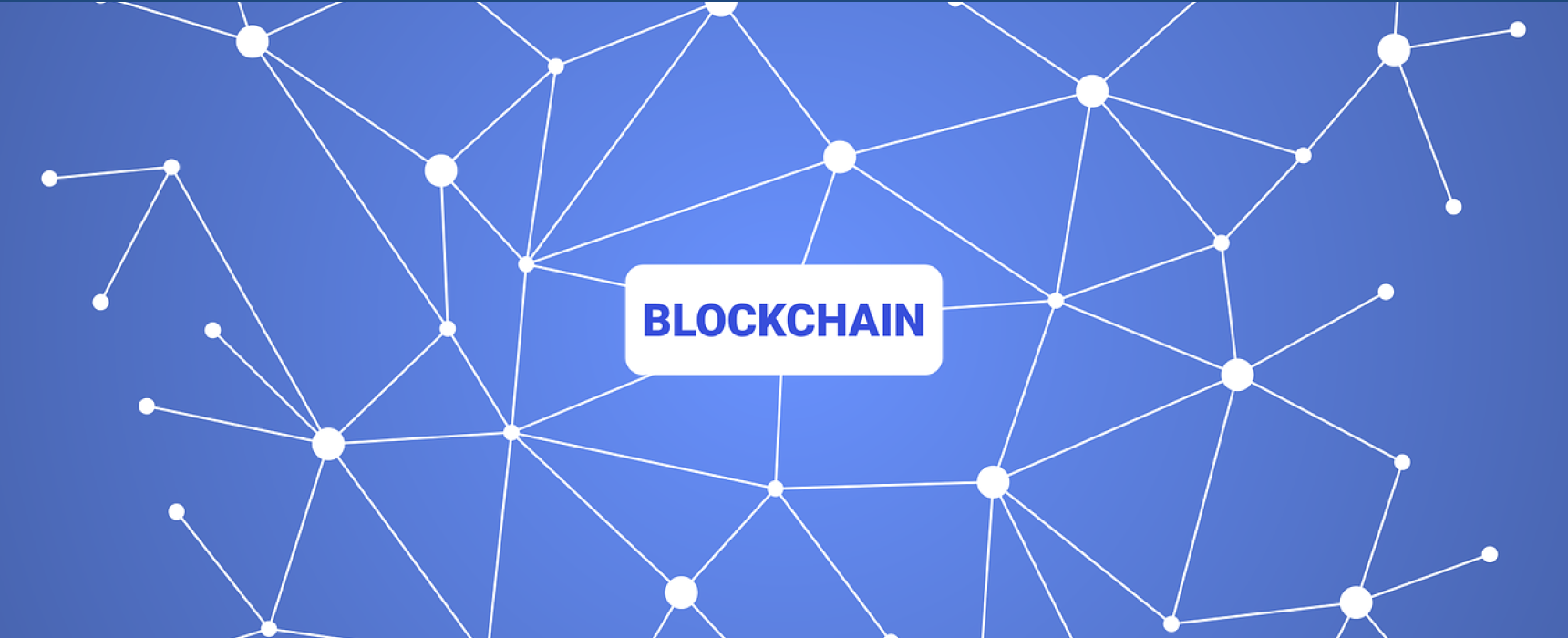 Blockchain has arisen as a technological marvel for many businesses in recent years, including mobile application development.
With features such as a fully decentralized blockchain network, peer-to-peer disbursement architectural style, keyless development and programming.
It has been expected to benefit the mobile app business in several ways, allowing developers to create mobile apps that become free of fraud, information leakage, and security concerns.
Blockchain, In A Nutshell
Are cryptocurrency and Blockchain associated? People commonly associate it with digital currencies, Litecoin, and others. But that's not all; cryptographic protocols are now being utilized extensively in various scenarios other than bitcoin. Blockchain is being employed in practically every business and area. It's the way mobile app development will go in the future. Investing heavily, mobile application development, investment firms, security architecture, and health insurance are just a few examples.
Given that the adoption of blockchain for the mobile apps market is still in its early stages, the options for how top mobile app development businesses may fully use this game-changing technology are limitless. Blockchain is a digital ledger that allows businesses and individuals to conduct real-time transactions over a network without a middleman. Deals made on the Cryptocurrency are completely safe and are recorded. Powerful computer programming guarantees that no established validity on the Blockchain might be changed after the actuality.
How Does It Function?
To comprehend the mobile app development trend. First and foremost, we shall learn about history. As a result, a Blockchain is a ledger of transactions. It's a series of blocks that convey information in a certain order. It mostly operates like a ledger, except that data entered into it cannot be changed. Each block of data describes a new ledger operation. Individuals and businesses may conduct and verify the transfer of funds this way.
First and foremost, the destiny of mobile app development Cryptocurrency is critical for securely monitoring transactions and something that each trade will have to do at a certain point. So, let's look at how app developers may profit from developing application development technologies by incorporating blockchain-based into the mobile applications they produce in the future. With Blockchain technology, there is a higher chance of user retention and engagement. Use the right related strategies.
Since all software and software designers must be informed of any advancing technologies in this field, we've compiled a summary of the benefits and advantages that cryptocurrency has brought to mobile application development and how it could shape the future of the business.
Given that blockchain for mobile apps in the high-tech marketplace is still in its early stages, the options for how leading software businesses may fully use this game-changing innovation are limitless. In 2021, 230 billion new mobile app downloads will have occurred across Apple and Android devices. So, without further ado, let's look at how Blockchain is slowly but steadily making a difference in mobile application development.
Benefits of Blockchain for Mobile Apps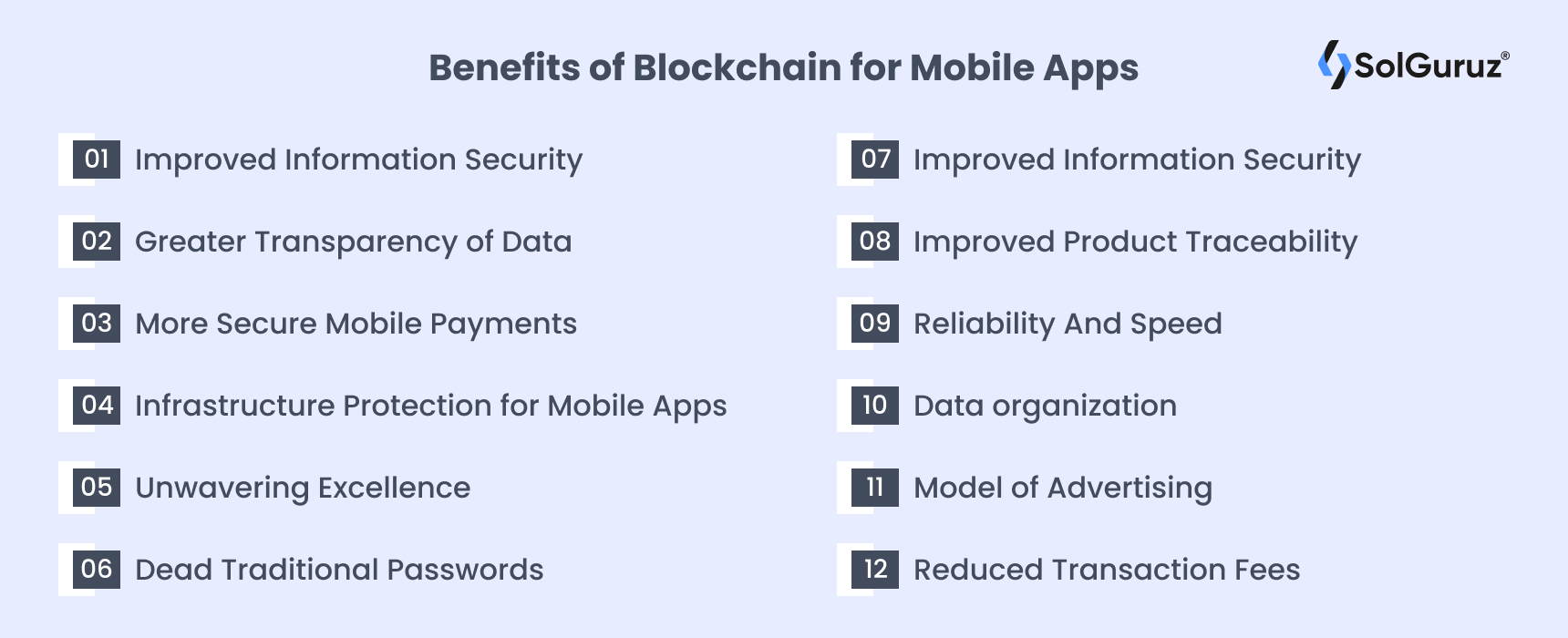 Improved Information Security

Blockchain is famed for its impenetrable confidentiality. Enabling developers to add an outermost coating to their information and assigning private keys to consumers makes it almost difficult for anybody without a decrypted key to change users' activity-specific data, whether in and around the network.

Furthermore, because Blockchain is a decentralized system, it maintains a duplicate of the information across a computer system, reducing the risk of a data breach to the greatest extent possible. Blockchain gives mobile application developers a fantastic opportunity to secure customers' data from counterfeit and unauthorized actions in a world where hackers abound and guarding sensitive information is difficult.

Greater Transparency of Data

The Blockchain system employs a set of interrelated blocks, which contain financial data and a date for the previous block on the chain. Blockchain makes it imperative for anyone to modify the information in a specific block and go unnoticed by providing real-time access to any participant linked with the system.

Because the major goal of Distributed ledger technology is to provide users with a durable, public, and accessible digital blockchain network, no data alterations are concealed from any telecom's customers. Everyone saw who sent/modified what to whom without providing any private information. This removes anything like a middleman while simultaneously ensuring entire transaction transparency.

More Secure Mobile Payments

Blockchain for mobile apps offers quicker, more secure, and much more efficient contactless banking because of its sophisticated and decentralized peer-to-peer infrastructure. Many programmers are already utilizing the potential of peer-to-peer contactless banking for their programs, so they're more secure and less expensive to create and manage.

Furthermore, the accessibility of hundreds of millions of devices, or "nodes," precludes the possibility of an interruption or outage since it is improbable that all endpoints could crash simultaneously. Also, because Blockchain is a decentralized system, it maintains a duplicate of the information across a computer system. Above all, heightened security gives consumers more confidence in using the smartphone website.

Infrastructure Protection for Mobile Apps

Blockchain eliminates the danger of a breach to the mobile application development architecture by allowing corporations to store DNS records on a private, decentralized platform. Designers retain complete control over their registration records, which could be changed without their consent, thanks to the Blockchain technique's open and transparent, and decentralized DNS. In other sense, nobody could get into the network without the approval of the parties concerned, such as the administration.

But since Cryptocurrency has used a Keyless Safety Facilities (KSI) to store all information as an encryption key and operate hash functions for confirmation, any data deceptions can be detected in real-time because the initial hash item is always accessible on other buildings in the sequence, trying to ensure the mobile app infrastructure's high security.

Unwavering Excellence

Concerning data protection, technology may improve the dependability of mobile apps. This is because the Blockchain's foundation is solid and trustworthy. The creation of Blockchain allows the entire architecture to be protected from any accident or collapse. The Blockchain has always been more secure since it has multiple squares with the same data as a single location.

Dead Traditional Passwords

Whereas other technologies rely on a flawed password-based mechanism to verify users' authentication tokens, Blockchain would not. Software developers may utilize this cutting-edge technology to authenticate users, gadgets, and payments without asking for a password.

Because Blockchain-based identification solutions are constructed on top of an unassailable, irreversible, incorruptible, and secure communications reputation authentication scheme based on community encryption, sensitive information serves as a password manager to access all digital content for all concerned parties. This allows for a smoother sign-on and payment procedure for device users.

Digital Identification

Insurance firms, banks, and other businesses involve expert mobile app developers to create digital ID administration apps. This ID Control is imperative since government agencies, banks, academic facilities, and other organizations rely on individuals' digital identities produced using Blockchain nodes. Now that each transaction on the Blockchain has its distinctive personality and is trustworthy, it is simple to publicly or secretly register personally identifiable information on the public Blockchain.

Improved Product Traceability

Mobile app developers may utilize blockchain for mobile apps to record it so that consumers can track any data in real time. The entire Blockchain technology is structured so that any fault may be quickly identified and corrected. This aids developers in verifying asset validity and prevents unnecessary the formation of fraudulent trades and the distortion of genuine data.

For instance, if you're constructing a supply management mobile app, you may use Digital currency to trace a product's whole route from manufacture to sales. On the other hand, end customers may obtain transaction information such as device number plates, specs, available quantities, shipment alerts, and more using a Blockchain-powered mobile phone app.

Reliability And Speed

One of the biggest features of Distributed ledger technology is that it eliminates the need for a third-party intermediary to conduct a transaction. It promotes quicker and more convenient trade refunds by simplifying and streamlining the whole process. According to several sources, Blockchain-based operations are 10 times quicker than traditional bank exchanges.

Whereas a typical bank may take several days to execute a payment, Blockchain-based requirements are met in only a few minutes. Furthermore, Blockchain software is utilized for operations 24 hours a day, 7 days a week, significantly reducing payment processing time.

Data organization

Blockchain technology provides a comprehensive data systemization solution that allows data to be stored over numerous chains and implemented securely. The customizable Blockchain architecture in Android development services improves security against possible threats.

Model of Advertising

Users are paid with app currencies for the time they spend utilizing blockchain for mobile app platforms, which improves the advertising business. This cost-per-attention technique would remove any need for intermediaries or agents to share in the sales revenues at first.

Reduced Transaction Fees

There are no intermediary costs to assure assurances since Distributed ledger technology handles peer-to-peer payments without the intervention of a third entity or intermediaries. Rather than paying a predetermined payment processing fee to a third-party provider, such as a bank, you may trust Digital currency to execute the transactions. As a result of the eviction of intermediates, transaction prices for both enterprises and consumers are lowered over time. Startups should focus on this to avoid excessive cost-related problems for app development and later management.

Blockchain technology's expansion and progression inside the mobile app sector have created new doors of opportunity for enterprises and startups. Many reputable firms are utilising Blockchain technology, and many of them claim to have saved $8 billion to $12 billion each year. Blockchain can help disrupt a wide range of industries, including financial products, medical, and government. Several equity investors and big corporations invest heavily in ledger technology research to re-engineer established business structures and processes.
Blockchain Technology's Impact on Various Industries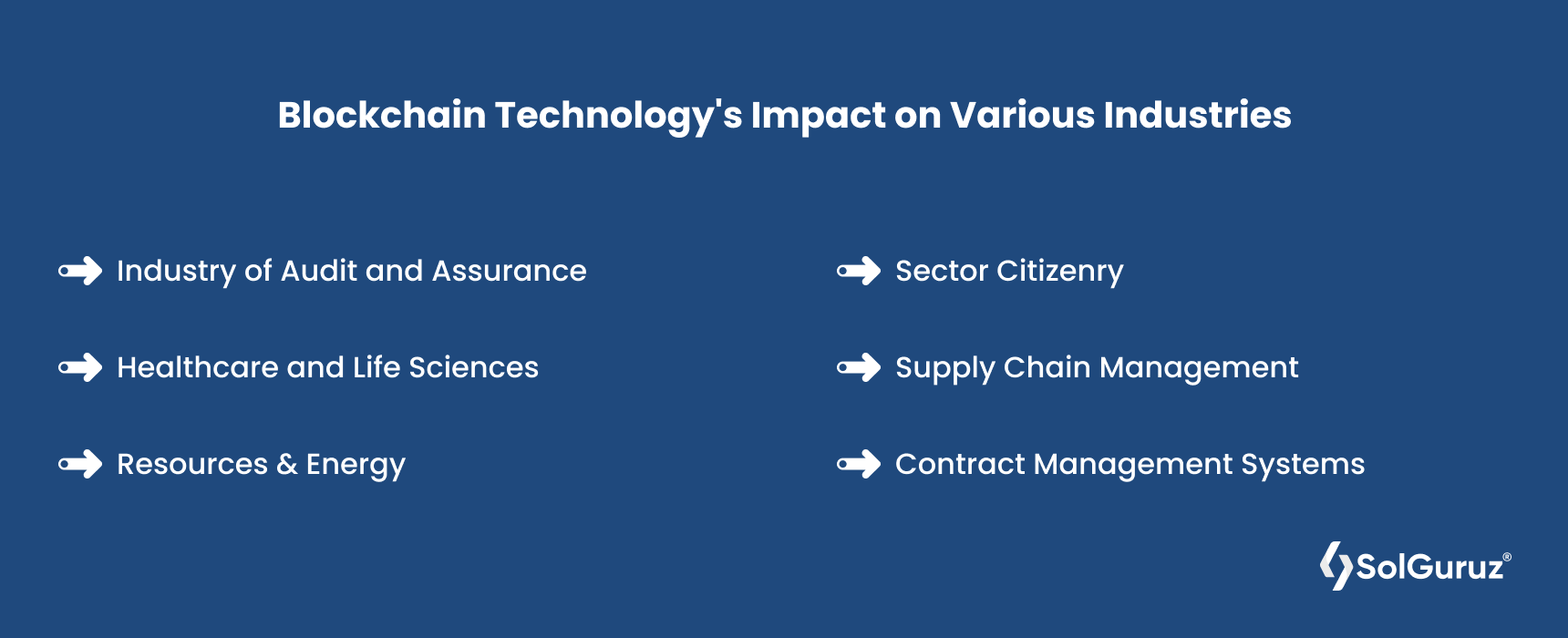 After that, let's look at the consequences of Blockchain usage in mobile application development throughout various sectors.
Industry of Audit and Assurance

With real-time accessing data via read-only networks on blockchain systems, blockchain system offers a possibility to expedite financial reporting and inspection processes. It is critical for firms involved in accounting and auditing to keep up with the newest advances and advancements in this field. Major stock exchanges are using a cryptocurrency platform to facilitate the issuing and transaction of private assets concerning the monetary audit and assurance professional.

Healthcare and Life Sciences

The potential of Cryptocurrency in the medical business is infinite since Blockchain has disrupted the business and boosted pharmaceutical application development on a big scale in recent years. Many healthcare institutions use Blockchain's promise to safeguard or preserve the stability of medical bills, electronic health records, healthcare benefits, and other documents. Choosing the right app development partner is essential to create best solution for diverse industry leaders, like those in healthcare industry.

Resources & Energy

Energy companies, entrepreneurs, financial firms, and government bodies have all expressed interest in blockchain-based. According to Global Market Insights Inc's analysis, Cryptographic protocols in the energy sector are expected to rise from $300 million in 2019 to $19 billion in 2025. Ethereum, the second-largest virtual currency and a decentralized, open-source Cryptocurrency, is being utilized to develop smart-grid software that enables excess electricity to be traded as virtual currencies among customers.

Sector Citizenry

Governments worldwide are looking at using Cryptocurrency technologies to enable asset registers, such as land and company shares. Companies, people, and municipalities may benefit from a Blockchain-based administration model that allows them to exchange resources and information across an encrypted shared database. Additionally, a blockchain-based public administration may improve transparency and credibility by safeguarding data, expediting operations, and minimizing fraudulent incidents.

Supply Chain Management

Blockchain is being integrated into the systems of some forward-thinking supply chain operations. With information spreading like wildfire, global system software for all distribution networks can attract the whole globe, truly open and almost unassailable. By introducing openness to resource mobility, eliminating the human factor from the monitoring process, and connecting items with solid tracking systems, distributed ledger technology can strengthen supply chains.

Contract Management Systems

Blocks may store any data on the Bitcoin network, including timestamps, provenance, and even values. Blockchain for mobile apps may be used to develop intelligent contract systems in this manner. Its peer-to-peer design allows the notion of payment systems between companies and customers because data tampering is extremely unlikely.

As a result, mobile applications rapidly evolve to include a mechanism for discarding such payments. Compared to proper real-world proceedings, such contracts would become increasingly secure and cost-effective for the participants.
Why Should You Use SolGuruz to implement Blockchain for Mobile apps?
SolGuruz, a top technology company that works with blockchain for mobile apps, has completed several Cryptocurrencies for customers in various industries. Here are several reasons whether you should use SolGuruz to design your Blockchain software:
Advanced knowledge of the most recent Blockchain frameworks and technology
Development of a full-spectrum Blockchain software with complete accuracy and quality management
For future changes, a transparent, easy-to-understand system is necessary.
Each project has its dedicated crew.
Our future-proof, profit-driven apps may help your business develop by leaps and bounds, regardless of the sort of software you need. Contact a leading B2B app design company immediately to take your concepts to life. All mobile app and software developers must be informed of any evolving technology in this field. You may find the benefits that have been brought by the blockchain for mobile apps business and how it will shape the future of mobile app development.
Given that Blockchain adoption in the mobile app market is still in its early stages, the options for how top mobile app development businesses may fully use this game-changing technology are limitless.
Conclusion
There are some of the few examples of how blockchain for mobile apps influences mobile application development. However, given the unparalleled visibility, productivity, and reliability that Blockchain enables developers, we can confidently predict that the mobile application development business will benefit. To summarise, this ground-breaking innovation assists developers in creating extremely safe and accessible mobile apps and creates a huge universe of possibilities for both programmers and end-users. And to accomplish so, enlisting the help of one of the finest blockchain for mobile app companies, such as SolGuruz will be critical in ensuring accurate counsel on how to get the most out of working frameworks for mobile applications. SolGuruz's Android app development businesses provide a wide range of unique Blockchain online marketing services tailored to your program's specific requirements.
FAQs
Is it possible to integrate Blockchain in apps?
Private information is enhanced when programs are built with Blockchain, rendering the services more reliable. Because every data is encrypted and preserved with a cryptographic algorithm, its encryption process is deemed impenetrable.
What apps are using Blockchain?
Blockchain enables the creation of a robust and reliable tamper-proof ledger of sensitive activities. This makes it ideal for global currency transactions and transactions.
How many blockchain applications are available?
The Ethereum blockchain presently hosts over 3,000 decentralized apps per the crypto app monitor. These applications are not like other mobile or web-based software.
How do blockchain systems work?
The creation of blockchain-based apps is enabled via blockchain platforms. They might be either permissioned or unpermitted. There are just a few cryptocurrencies frameworks that enable anyone to design and deploy blockchain apps.
How blockchain enhances mobile app development process?
Blockchain makes the entire mobile app development process tamper-proof and safe against fraudulent activities. In addition, it helps entrepreneurs gain the trust of their users by ensuring safe transactions and the protection of their personal data.
How is Blockchain used in mobile applications?
It is simple to create mobile-based blockchain applications since it just requires a basic understanding of Blockchain.
How do I use Blockchain for app development?
You can take the help of top technology companies such as SolGuruz, that work with this technology to have an easy and efficient blockchain for your mobile app development.
How is Blockchain technology revolutionizing the mobile app development industry?
With its increased data security and transparency, Blockchain has minimized the cases of fraudulent transactions and app based data breaches. The technology is also simple to implement and allows for low-cost mobile app development with top-notch features making it an impressive choice for mobile app development companies.