Ready to do business with us?
In India, viewers have turned to OTT Platforms (Over-the-Top) services like fish to water. Its introduction has caused a shift in the status quo of TV and cable distribution. Companies selling products or services quickly responded to the shifting media environment by spreading their resources over many platforms.
Now is the moment to jump into OTT App Development since there are no restrictions on how widely OTT material may be disseminated. A growing number of producers are betting on OTT production to boost viewership and income by as much as 30 percent. 
According to Statista, The OTT Video market is expected to generate $3.76 billion in revenue by the end of the forecast year (2023). By 2027, the market is forecast to be worth US$5.51bn, with a compound yearly growth rate (CAGR) of 10.01% from 2023 to 2027.
The stats are enough to motivate you to go for a Custom Mobile App Development.
One thing that isn't clear is how to create a state-of-the-art platform that will provide people with the greatest possible experience across all devices. Our goal with this blog post was to provide a high-level overview of the steps involved in the OTT App, illustrated with useful examples from market pioneers and other important stakeholders.
What is an OTT Platform?
OTT Platforms refer to media that is streamed directly to a user's device without the need for a cable or satellite subscription. The most common method is through a cable or satellite television service provider. You only need an Internet service provider and a payment plan to view the various streaming programs. These over-the-top (OTT) services provide you with the best entertainment without leaving the sofa.
Through-the-top (OTT) refers to distributing media services such as television and radio to customers directly over the internet rather than through intermediary services like cable companies. In this sense, over-the-top (OTT) may be both a service and a technology that allows users to broadcast both recorded and real-time streams. 
Mobiles, cellphones, tablets, smart TVs, streaming sticks, and personal computers are just some devices that may access this information through the internet. These days, most OTT services provide more than simply a place to watch videos online.
Names like Hotstar, Amazon Prime, and Netflix stand out as the industry leaders in over-the-top (OTT) streaming services. People choose the best OTT services because they are convenient, inexpensive, and provide more personal freedom. You have complete discretion over the shows you watch and when you watch them; moreover, you can join up for a premium ad-free service that gives you a clear look at all of your material and lets you pick and choose whenever you choose.
The ability to cancel a subscription is another useful function of OTT platforms. Instead, then paying for something you aren't using, canceling a subscription is a better option.
There is little doubt that OTT has revolutionized the digital environment for media producers, other businesses, and brands. They may also provide content to the site via partnerships with other businesses, which benefits both parties.
Remember that most individuals started utilizing these OTT platforms to watch their favorite programs from the comfort of their sofa rather than going to a movie theatre. COVID greatly affected the emergence of OTT platforms.
For now, it's safe to say that over-the-top (OTT) platforms are immensely popular everywhere. What the future holds for these services remains to be seen.
Access your favorite programs whenever and wherever you choose with an over-the-top (OTT) subscription that works on your computer, phone, tablet, and smart TV. If you have access to the internet, you can link them together and discover a new world of enjoyment. It prevents you from buying overpriced airline tickets as well. In a nutshell, OTT services are convenient, popular, and conducive to commerce.
One further perk of using a leading OTT platform is that you may more easily and directly communicate with your intended audience, giving them more agency over their media consumption. 
It's easy to get started; choose a subscription length (monthly or annually) and an entertainment option. They provide handy tools like alerts at the appropriate times to ensure you never miss an episode of your favorite OTT series or payment.
Key Advantages of Over-the-Top (OTT) Platforms for Users
Anybody paying for membership may get into the service and see the premium material whenever possible. Furthermore, OTT Platforms provide a wide range of advantages. Amid a global epidemic, over-the-top (OTT) platforms and enterprises have expanded rapidly, becoming pivotal players in the data revolution and economic growth.
The use of over-the-top (OTT) services like Netflix, Amazon Prime, Hotstar, and Hulu has skyrocketed in recent years. People are subscribing to streaming services in greater numbers as they seek out more and more on-demand media. We have listed a few justifications for internet streaming services below: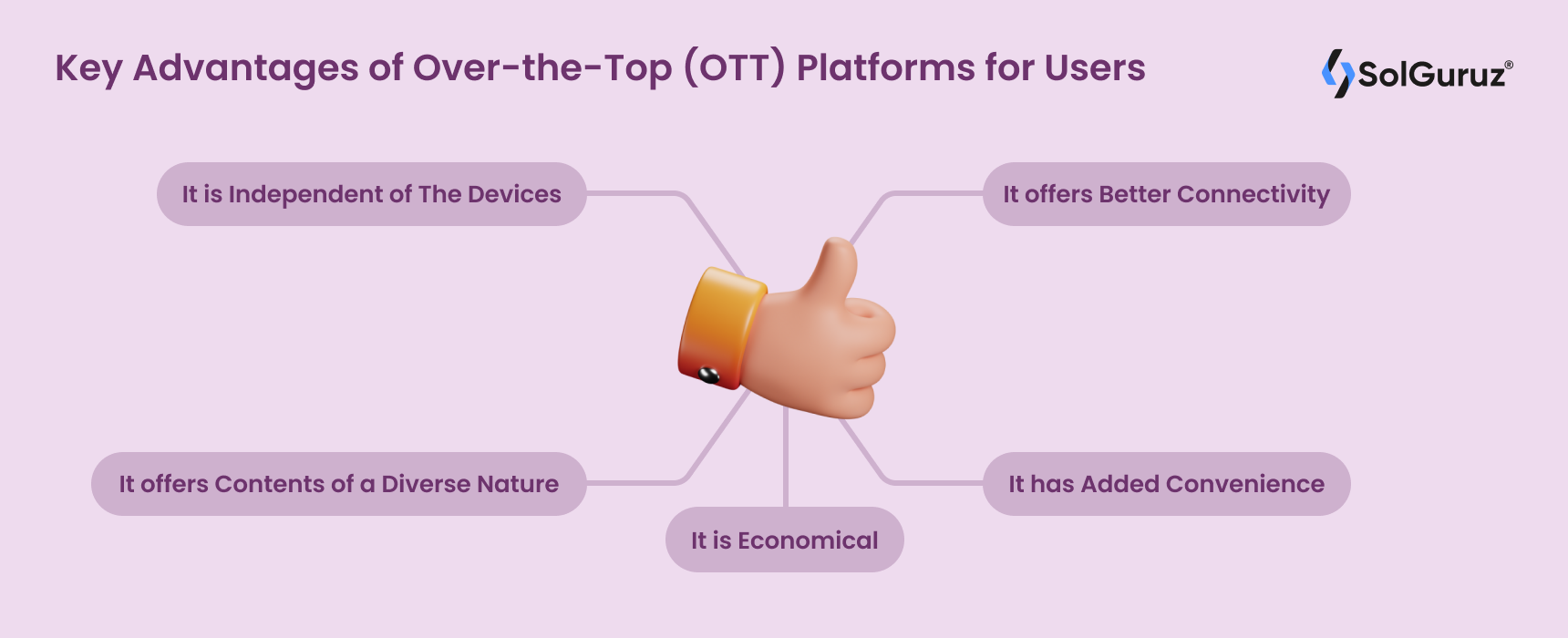 It is Economical

When compared to the cost of a traditional cable or satellite TV subscription, OTT services are a great value. In contrast to the high cost of TV cable, OTT services provide access to the same material. The only real expense is the internet data package you choose, which determines how often you use OTT services and any membership fees you want to pay.

It offers Contents of a Diverse Nature

Regarding channel options, material quality, and diversity, subscribers to standard cable packages have fewer options. The kind of programs kids will play is limited. Examples include television shows, news broadcasts, live sports, movies, programming aimed at children, and various other forms of media. 

While over-the-top (OTT) services provide free and commercial programming access, the former is more ubiquitous. Users may pay to join the Prime membership tier, but they still get access to a wealth of information even if they don't.

It is Independent of The Devices

Media services are available on OTT platforms whenever and wherever they are needed. And this is the primary benefit of a streaming service. Streaming video on demand (VoD) allows you to watch your favorite programs whenever you want. You may now view it on your Smart Android TV or another digital device. There are no network restrictions, so you may use it with any mobile provider.

It offers Better Connectivity

Over-the-top (OTT) broadcasting services are very user-friendly. A good internet connection and a suitable viewing device (smart TV, smartphone, etc.) are all needed. In exchange for a monthly fee, the viewer receives internet service from the network provider and may tailor that service to his own needs.

It has Added Convenience

Over-the-top (OTT) services provide you with the freedom to watch your favorite shows whenever, whenever. Accessing material on OTT platforms is convenient on any device now that the internet is widely available. In contrast, conventional cable networks restrict you to locations where cables may be laid. 

This mobility greatly facilitates the accessibility of viewers' preferred streaming material. They may access their account remotely and begin streaming immediately.
Top Reasons Why you need to Go For OTT App Development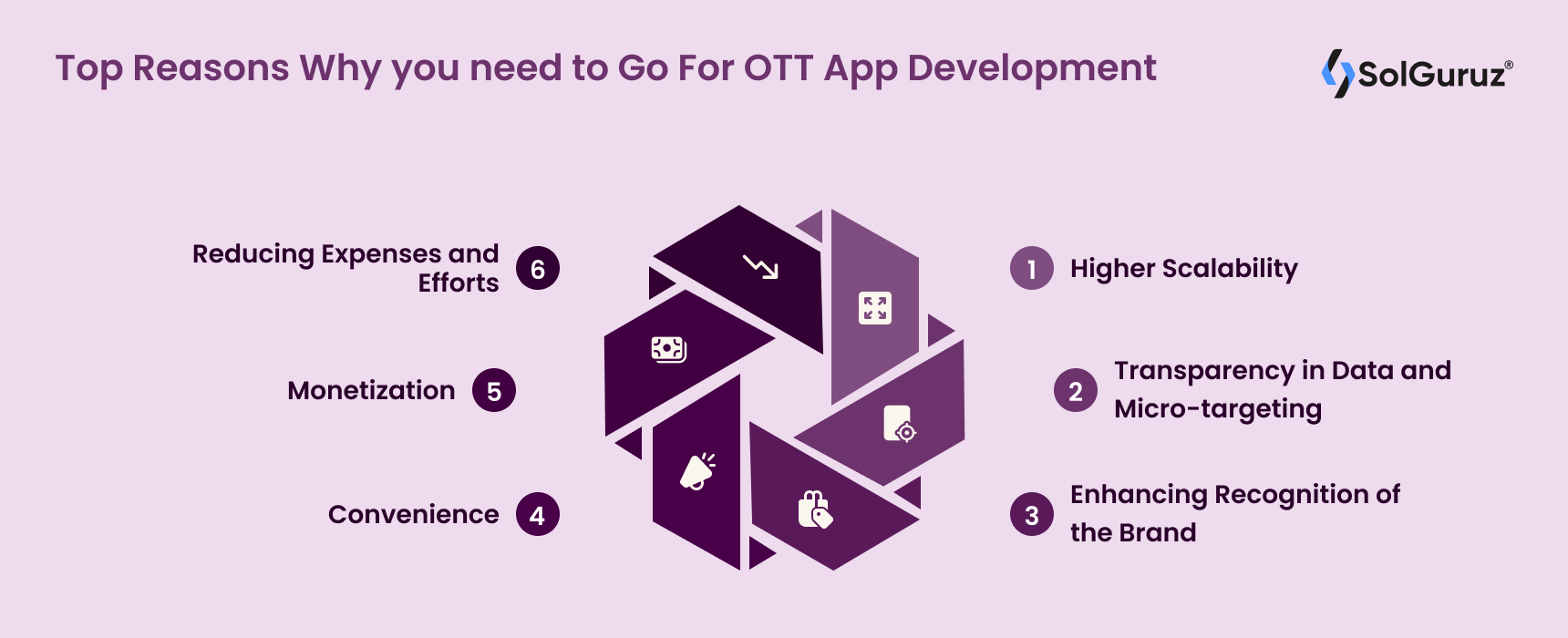 Video streaming services allow artists to connect with their audience and keep their attention by allowing them to provide a personalized marketing experience. Users can access your content, so your brand will quickly become more recognizable and known to them. 
Users nowadays are used to the Convenience of being able to watch films whenever and wherever they choose on a variety of different devices.
Higher Scalability

Launching OTT platforms with the support of a cutting-edge technical OTT custom app solution would allow companies to gauge platform and user engagement better, leading to higher profitability and return on investments.

Transparency in Data and Micro-targeting

To create the most successful online video platforms, it is crucial to focus on the fundamentals, such as data encryption and content uniqueness. Films should be published with security in mind so that geo-location restrictions may be set up. Microtargeting should be used to convince an audience to view the videos.

Enhancing Recognition of the Brand

The OTT videos effectively raise the brand's profile in the audience's eyes. About 70% of viewers spend at least three hours a day watching videos. More brand loyalty will result from a cascade of factors, including increased brand recognition and user behavior.

Convenience

Planning the launch of an over-the-top (OTT) platform requires careful consideration of several factors, not the least of which is picking a niche that fits the on-demand mould. The OTT streaming industry offers a wealth of content in areas outside of entertainment, such as sports, e-learning, spirituality, fitness, and many more.

Monetization

When it comes to making money, video, and audio streaming are two of the most popular options. Thus, it makes sense for OTT service providers to build their platforms.

Reducing Expenses and Efforts

Creating your online video platform with a white-label streaming service may save time and money.
What are the Things Included in OTT Platforms?
Users that watch videos through a third-party app or website that hosts streaming media are known as "over-the-top" (OTT) users.
Linear OTT video service users:Paying customers of a service that streams live TV channel bundles over the internet to subscribers. For instance, YouTube TV and Sling TV.
Connected TV (CTV) users:Customers whose televisions have internet access are integrated into (like in a Smart TV) or linked to the internet through a set-top box (STB) and another device. Examples include Apple TV and Fire TV.
Common sub-categories of OTT/CTV users include:
Subscription video-on-demand (SVOD):
Users who have paid a membership fee (either monthly or annually) to watch online videos.
Transactional-based video-on-demand (TVOD):
Viewers subscribe to a pay-per-view (PPV) service to see a certain show or movie.
Advertising-based video-on-demand (AVOD):
Users get free access to the material, which is then monetized via video advertising.
What is the process of OTT App Development?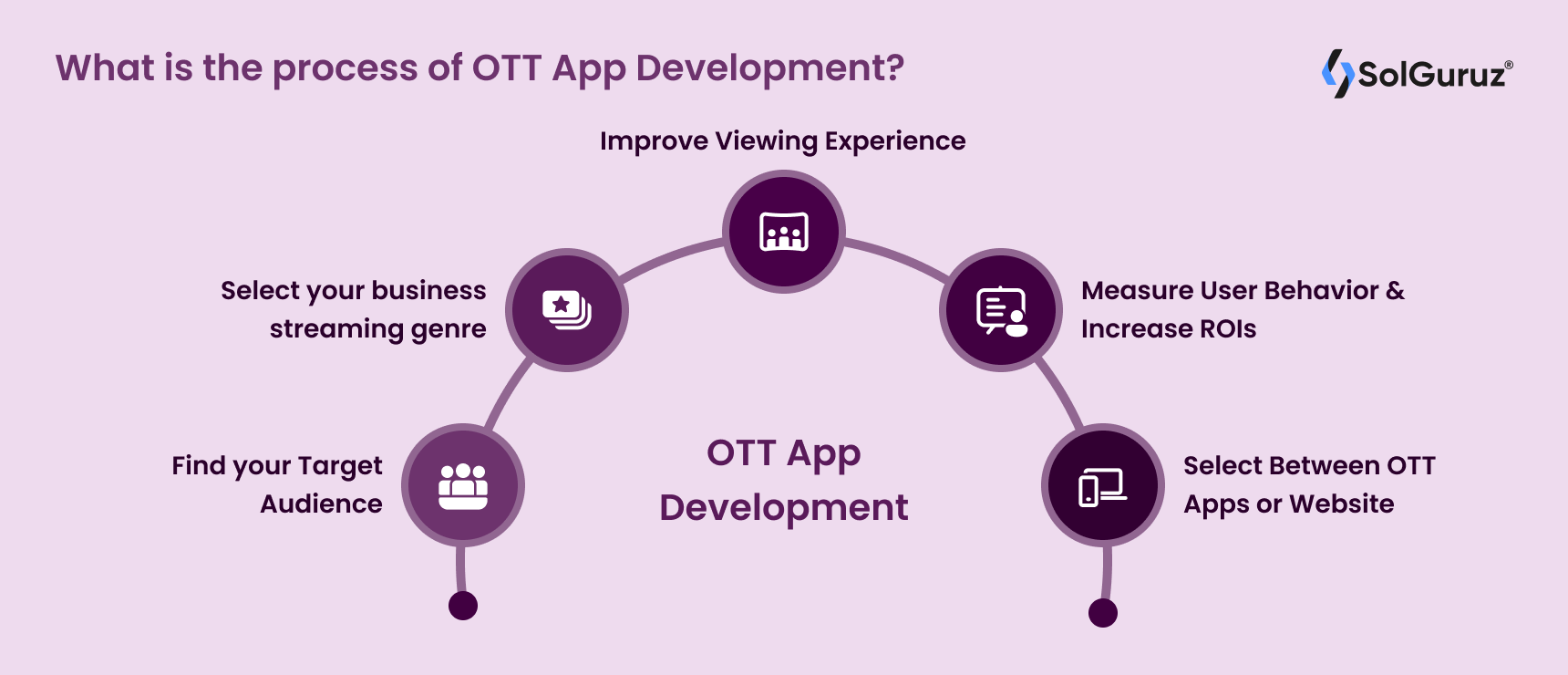 Different over-the-top (OTT) providers offer different capabilities, so it's important to identify the most crucial ones for full streaming. When deciding on an over-the-top (OTT) service, it's important to think about streaming technology.
Find your Target Audience 

When designing your own Over-the-Top (OTT) app platform to showcase content, On-Demand videos, events, or movies, choosing a genre that will appeal to your target audience is important.

Select your business streaming genre

Employing a well-planned content distribution strategy, you can make your audio or video material adaptable and suitable for streaming on any platform and device.

Improve Viewing Experience

Create your own Over-the-Top (OTT) platform tailored to the content you want to stream to your audience. Get your resource allocation to provide your clients with a more satisfying viewing experience.

Create your material and put your attention on making it interesting to watch. Now that there are several over-the-top (OTT) service providers, it is more important than ever to focus on streaming high-quality content to a wide audience.

Measure User Behavior & Increase ROIs (Monetization business models)

Real-time traffic updates, Current viewing status, User behavior analytics, Revenue Report, etc., are all useful analytical tools for catering to a diverse and ever-changing audience and establishing a foothold in a particular demographic.

Over-the-Top (OTT) video services consist of both live streaming and VOD. Choose a monetization strategy that works for your company, and you'll see increased earnings due to more ad income. As over-the-top (OTT) streaming service providers, you have several opportunities to generate revenue from more substantial clientele segments.

Select Between OTT Apps or Website

Access to over-the-top (OTT) material may be made available to viewers via the development of a dedicated app or a website. The best OTT service will provide standardized layouts that can be used by app developers, web designers, and launch teams across the board.

Activate In-App Purchasing and Payment Processing – Integrating safe payment gateways within your OTT channel will make it easy for subscribers to make purchases from inside the app without hiccups.
What are The Key Features to Focus While OTT App Development 
Building a trustworthy OTT platform might be a challenge. So many over-the-top (OTT) services are available, so making the best one may be challenging. When selecting an OTT service to provide dependable video streaming, keep the following criteria in mind.
Tools for Live Streaming

Tools for live streaming might be useful if you want to use the internet to impart wisdom and knowledge to others. If not, any video-hosting service should do as long as it offers additional functionality.

Extreme Personalization

Ensure your OTT platform allows appropriate video player and library adjustments to meet your business requirements. You may, for instance, like to use your brand colors and include a logo.

Custom APIs and SDKs

With software development kits (SDKs) and application programming interfaces (APIs), you may build a highly individualized platform for streaming videos. It also helps in providing uniform video playback across different software platforms.

Online Video Using HTML5

High-quality, uninterrupted video streaming is impossible without a solid HTML5 player with solid coding. The ability to stream at many bitrates ensures that your films will play properly on any device, regardless of connection speed.

In-Depth Reporting

You've put in a lot of time and effort to keep your users interested. Now you need an effective analytics platform that can provide detailed information about how well your videos and other forms of consumer interaction are doing in real time.

The Best Customer Service Possible

After a long day, you deserve to wind down with helpful customer service. Having reliable customer service is crucial to the success of any company.
Essential Components to Focus on in OTT App Development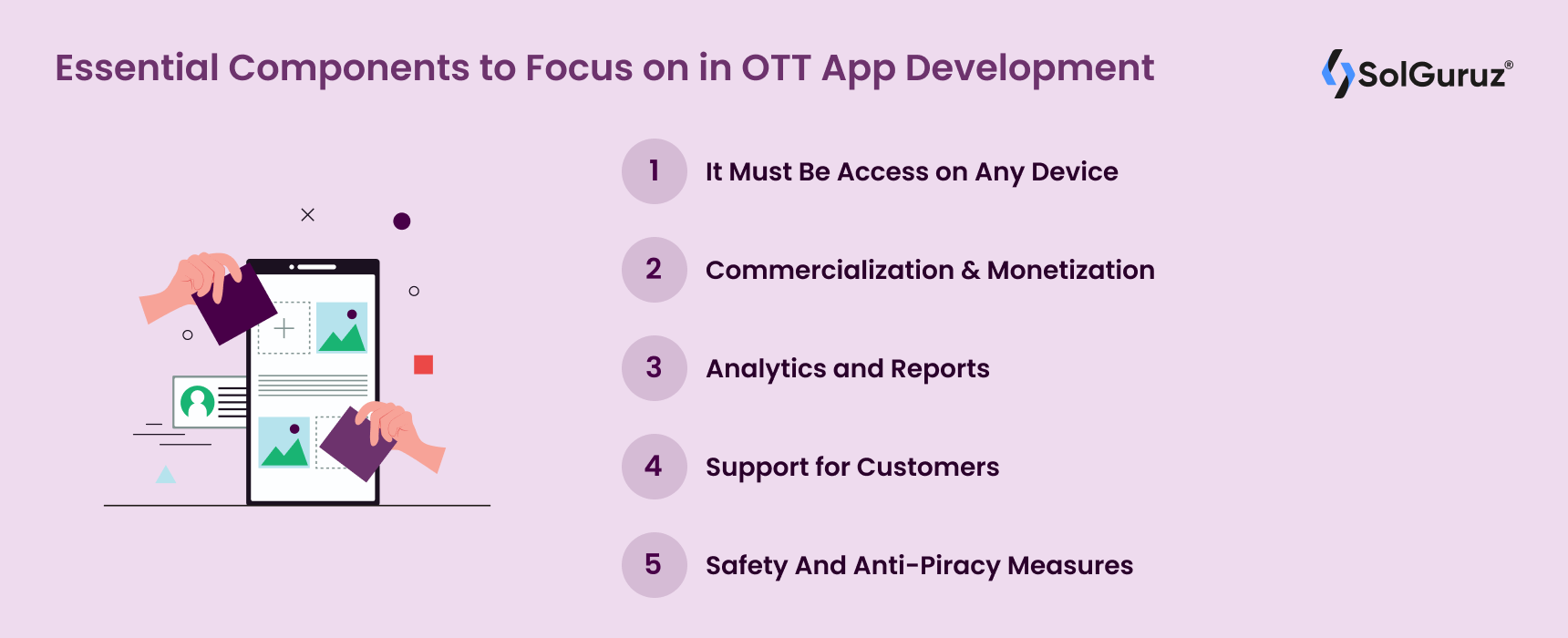 It Must Be Access on Any Device

How do you ensure that material is viewable on all screens? At whatever hour of the day or night, viewers anticipate a viewing experience on par with a broadcast. The platform's ability to identify the requesting device and tailor content delivery appropriately is crucial for a smooth user experience. 

Maintaining several versions of each film would be necessary to accommodate viewers using various devices and display sizes.

Commercialization & Monetization

When will you start making money? You will need to answer this question to succeed as an entrepreneur. Subscriber VOD (SVOD), Transaction VOD (TVOD), and Ad VOD (Advertiser VOD) are the three main methods to make money off of your videos (AVOD).

Analytics and Reports

Metrics like what, where, and on what devices your consumer view are crucial for making educated business choices. Most video hosting providers and CDNs will offer statistics and insights into user behavior.

After tracking how viewers interact with your material, the next stage is correlating that data with information about the viewers. This would allow you to divide your audience into groups based on their shared preferences. You may tailor the service to each user's preferences using this information.

Support for Customers

The platform construction would merely be the beginning. Any viewers experiencing technical issues should be able to contact your staff so that you can help them. This means you need to be ready to answer questions and address concerns from your viewers at any time of the day or night.

Creating an over-the-top (OTT) platform is no easy task, but it must not involve undue difficulty. Finding reliable collaborators may lighten your burden and free you up to concentrate on core competencies.

Safety And Anti-Piracy Measures

What measures will you take to prevent illegal copying of your work? In 2016, distributors in the United States lost $9 billion due to online piracy. As a result, forecasts predict a near-30% increase by 2022.

DRM, encrypted video streaming, dynamic watermarking, password protection, and IP/Geo-Lock are just a few choices. Once you begin producing proprietary material, one of your top priorities should be protecting your films from being downloaded illegally.
What is The Cost of Creating an Over-the-Top Platform?
Adding and maintaining more desirable features on an OTT platform will increase development and maintenance costs. For a branded over-the-top (OTT) platform, you may assume the development cost ranges from 30,000$ to 150,000$.
After you've mapped out your OTT app strategy, you'll need to hire video app developers or use an automated development method. Ultimately, the cost of your broadcasting channel will depend on the technological stacks you choose.

The Next-Generation Technologies Behind an Over-the-Top (OTT) Platform
Suppose you want greater returns on investment (ROIs) from your streaming material. In that case, you must include certain tools and exceptional innovative and future technologies.
High-Performance, Reliable Cloud Hosting

Regarding their cloud-based data storage infrastructure, most OTT providers rely on Amazon Web Services (AWS). Business professionals may profit greatly from cloud-based solutions when creating an OTT platform.

Distributed Information Systems (DIS)

Content distribution that runs without a hitch requires platforms to work together without a hitch. The most efficient video streaming solutions will reduce the need for other forms of IT funding.

The Best Content Delivery Network (CDN)

It is widely believed that content delivery network (CDN) providers are the primary factors in reducing traffic inside the core network, hence enhancing low latency. The optimal content delivery network (CDN) guarantees improved functionality.

Mandatory Streaming Protocol

HTTP live streaming and RTMP are the two most common protocols for over-the-top (OTT) content delivery. A Real-time messaging system allows for high data throughput and low latency communication.

Servers

Use the Nginx server to manage the increased number of concurrent connections. An edge server is undoubtedly the finest option when storing static files and facilitating the streaming of information in HD quality.

Solid Security 

To conclude, solid security measures are essential for the growth of over-the-top (OTT) streaming services. The two most popular security measures are digital rights management (DRM) and AES encryption to prevent illegal access to your material or copyright violations.

The ability to use and support a wide variety of devices

The distribution of video content on various devices, including Mobile, Web, Smart TV, Tablet, etc., necessitates supple accessibility across numerous platforms. It's crucial because it allows for the broadest possible company possibilities.
What is the Future of OTT Platforms?
Over-the-top services (OTT) are constantly changing the market. The popularity of streaming applications and over-the-top (OTT) services has caused viewers to abandon traditional media sources. The rise of online video streaming services like Netflix, Amazon Prime, Hotstar, and Hulu has led to a decline in the popularity of conventional television. The possibilities inside the OTT industry will only increase as the market expands. For instance, companies use over-the-top (OTT) videos to further their marketing and sales efforts.
When the global pandemic hit, OTT platforms were a huge assistance, one of the main sources of entertainment. Consumers are taking advantage of the free trial offers made available by almost every streaming provider.
However, keeping existing customers is the true litmus test for these systems. Both high-quality programming and cutting-edge tools like Netflix are necessary to attain this goal. 
Providers of over-the-top (OTT) content must evaluate the whole subscriber's lifetime to provide their customers with the best possible service. And getting there begins with finding and sending material. 
Wrap Up
By now, we imagine you have a solid grasp of OTT Platforms. What are OTT platforms, how do they function, what advantages do they provide, and what do they look like for the future? All of these questions have been answered here. Finally, we can say that OTT is the best option for providing media over the internet. It's also an easy swap for your regular TV cable.
OTT Platforms are plentiful nowadays. And each of these systems has its specialized tools and capabilities. Most are also compatible with live and video-on-demand (VoD) streaming. 
To choose the best OTT platform for your needs, it's important to look closely at those needs and set aside some money. You'll be able to choose more wisely with this information in hand. In addition, we've provided tools and guidelines for determining which OTT service is right for you and making money off of your videos.
Want to launch your OTT Platform? Get your OTT App Development with SolGuruz. We provide Custom Mobile App Development services with a safe video hosting and distribution environment. 
Contact us at [email protected] for more information about our secure Custom Mobile App Development.
FAQs
Why should you invest in an over-the-top (OTT) business?
If you are considering why and how to launch your own OTT platform, having access to streaming data and the associated infrastructure is critical. This is due to the fact that people spend more time than ever consuming video content on their mobile devices. By investing in OTT services, you may capitalize on opportunities that pay TV cannot provide and directly communicate with your target audience.
How to Make Money Using an OTT Platform?
Boost your streaming income potential by leveraging the most profitable monetization alternatives the market has to offer. VPlayed provides a solution that is adaptable to your company's specializations and viewers. Some of them are based on Subscription (SVOD), Transaction (TVOD), or Advertising (AVOD) (AVOD). You may also investigate choices such as Catch Up TV, coupons and promotions, the hybrid model, and more.
When is the Appropriate Time to Introduce an OTT Platform?
As it is common knowledge that OTT streaming platforms are leveling the playing field for independent producers, you might investigate how to develop and own your own. Among the most important aspects to consider is an established audience to target, frequent content additions that may assist in selling others in the archive transactionally, original material with a niche following, establishing a long-term and consistent content publication schedule, and a specialized audience.