Ready to do business with us?
According to data from Statista, as of March 2023, there were approximately 8 million available applications on the Google Play Store. This represents an increase of around 4.5 million apps compared to four years earlier in 2019, when there were approximately 3.7 million available apps. The growth rate suggests a trend and wave to hire Android developers to create or update new apps, leading to an expanding app marketplace for Android users. And Yes! There are many benefits of hiring Android developers, which we will discuss in this blog post.
The popularity of Android apps continues to grow at a rapid pace. With various categories such as games, utilities, education, and others, the overall number of apps on the Google Play Store keeps rising monthly. Entrepreneurs should build competitive apps to attract and retain customers to stand out amidst stiff competition and improve visibility via search rankings.
If you, too, wish to enhance your brand presence and generate income through an Android app, this article emphasizes the importance and benefits of hiring Android programmers.
When businesses hire dedicated Android development team, they can leverage their specialized knowledge, technical skill set, and industry know-how; these professionals can develop feature-rich, user-friendly apps tailored to your specific business requirements.
Here we discuss the advantages of partnering with dedicated application programmers for your business.
Key Benefits of Hiring Android Developers on Demand
As technology advances and smartphones become more accessible, having a solid online presence through mobile apps is crucial for many companies today. However, creating high-quality Android apps requires extensive knowledge and technical skills that may only sometimes be readily available within a company.
Therefore, it is necessary to hire Android development team to achieve desired results. Research shows that investment in IT services generates $5.9 trillion worth of economic value globally each year.
So, let's dive into understanding the benefits of hiring Android developers on demand and outsourcing Android development to unleash business potential.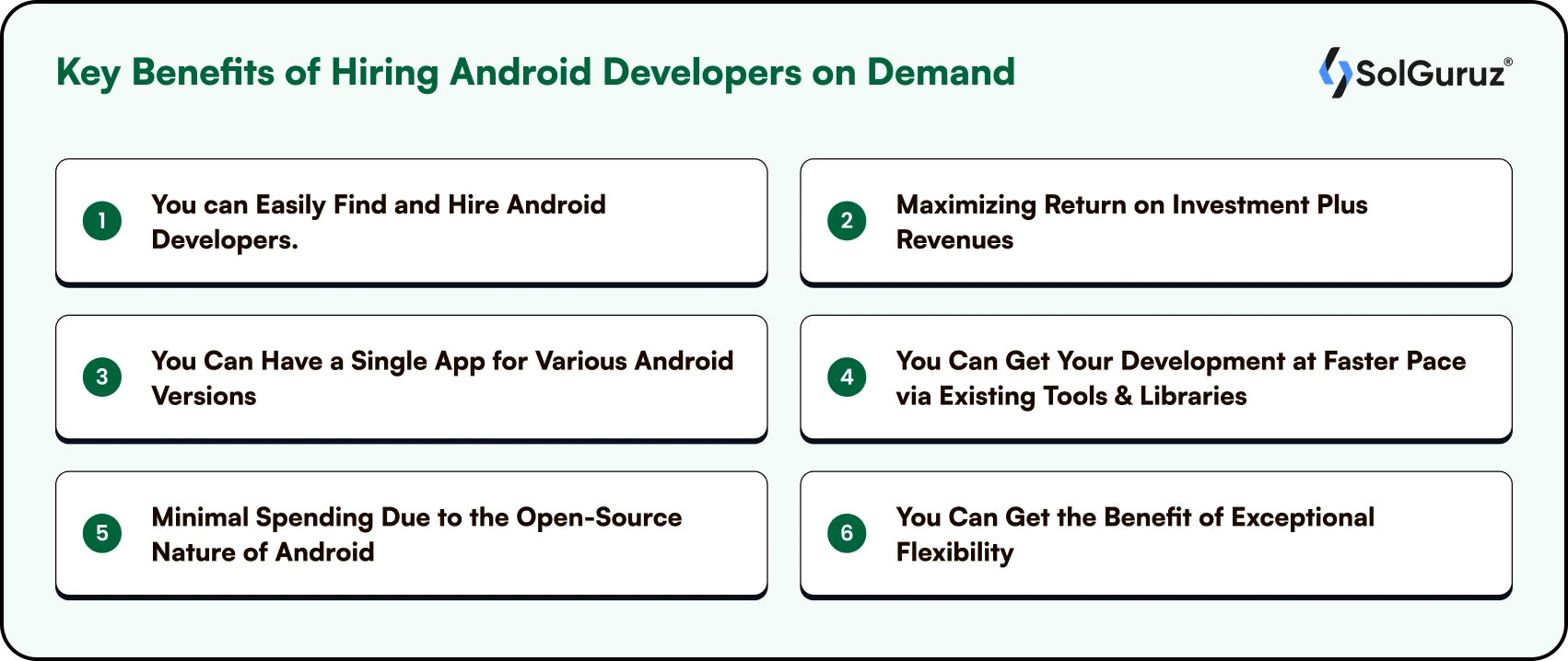 You can Easily Find and Hire Android Developers.

Java and Kotlin are the primary programming languages Android developers use for creating mobile applications on the platform.

The prominence of Java and Kotlin in Android app development arises primarily from certain factors. Firstly, Java was integrated with the Android framework from its beginning and Kotlin was introduced later on but Kotlin provides interoperability (Kotlin is designed with Java interoperability in mind. Existing Java project code can be called from Kotlin code in a natural way, and Kotlin project code can be used from Java smoothly as well.) which enables smooth interaction with the platform's attributes and APIs.

Java and Kotlin provide plentiful features via built-in libraries and external frameworks, enabling more effective coding and swifter development lifecycles. Adaptability across dissimilar editions of the Android OS guarantees that designers can create and preserve programs obtainable to users possessing differing gadget specifications and OS updates.

Maximizing Return on Investment Plus Revenues

A presence on both Apple's App Store and Google's Play Store provides higher exposure to potential clients; focusing primarily on Android is wise considering its dominant global market share among active mobile connections.

Promoting your cutting-edge mobile application with the right digital marketer on retainer ensures greater customer interaction and paid options, boosting overall profits.

You Can Have a Single App for Various Android Versions

Talking more about the benefits of hiring Android developers, by hiring Android programmers and choosing to create an app for multiple devices (Phone, TV, Tablet, Wear, Auto) in Java or Kotlin , you can ensure compatibility across various versions of Android and various different devices.

Because Android apps are typically optimized for multiple screen sizes and resolutions, they often run smoothly on diverse hardware configurations. Therefore, when you contract with a professional android developer fluent in developing android apps, you end up with one robust product that reaches numerous people regardless of device settings.

You Can Get Your Development at Faster Pace via Existing Tools & Libraries

When coding for Android using React Native or Flutter, developers benefit from prebuilt open-source code and libraries/packages that support modern interfaces. They also take advantage of predefined components so they don't have to code everything from scratch.

Over the past decade, Android has established a robust ecosystem encompassing various resources, including open-source projects, libraries, reusable components, discussion boards, instructional videos, and training materials. As such, modern-day mobile app creators can develop Android applications rapidly and efficiently.

Consequently, a seasoned frontend android engineer working remotely would likely finish tasks quickly and efficiently since they would only spend a little effort debugging common errors related to UI customization.

Minimal Spending Due to the Open-Source Nature of Android

Thanks to Android being an open-source project managed by the Linux Foundation.

Due to Android being an open-source project managed by the Linux Foundation, comes with minimal costs associated with software license fees compared to proprietary closed-source solutions. Android also benefits from readily available third-party libraries and SDKs that offer similar functionalities without additional licensing costs, resulting in significant savings for your organization while still achieving desired outcomes.

When evaluating competencies required for long-term success, you should look beyond technical skill sets alone. A strong candidate must possess emotional intelligence attributes crucial for fostering successful stakeholder relationships and driving positive results. That means seeking individuals adept in self-awareness, empathy, collaboration, communication, conflict management, adaptability, and accountability.

You Can Get the Benefit of Exceptional Flexibility

When hire dedicated Android developers on demand offers exceptional flexibility for organizations. This scalable approach allows companies to quickly increase or decrease staff levels depending on current workload demands without binding themselves to permanent employees.

Additionally, when you hire Android development team, Android app development extends the talent search beyond geographical limits. Thus, enabling swift adaptation to alterations in project necessities and optimally allocating human resources accordingly.

The decision to engage an Android developer with thorough knowledge of the platform, user interface design, and user experience ensures the delivery of top-notch products. Efforts invested in close collaboration with these professionals guarantee projects adhere to prerequisites, are punctually completed, and are perpetually refined for premium performance.

Ultimately, this results in a superior quality final output offering faultless functionality, pleasant visuals, and enjoyable user experiences.

To summarize the benefits of hiring Android developers, when you hire Android development team and choose Android as your primary target platform, you position yourself favorably regarding budget constraints and technology limitations without compromising quality standards.

You then further optimize your investments by addressing essential non-technical qualifications for sustaining mutually beneficial partnerships focused on long-lasting growth.

Conclusion
In conclusion, unleashing your business potential through the assistance of skilled Android developers holds remarkable advantages. The agility provided by remote employment opportunities enables easy scaling of the labor force according to dynamic needs.
Moreover, expanding your recruitment scope via offshore partnerships broadens your reach to a diverse talent pool. Dedicated Android developers offer superlative quality outputs due to their comprehensive grasp of the platform, user interfaces, and user experience.
Working together harmoniously enhances the likelihood of meeting deadlines, ensuring reliability, and providing gratifying user encounters. By recognizing the merits of engaging Android developers, your enterprise can embark on a prosperous path filled with limitless possibilities.
At SolGuruz, we stand ready to support you every step toward realizing these rewards. Contact us today to begin transforming your business prospects and get the benefits of hiring android developers.
FAQs
Can you provide some examples of how hiring Android developers has helped other businesses?
Yes! For instance, many startups have witnessed rapid growth after launching their Android applications, thanks to their hired Android developers' creativity and technical skills. Companies such as Instagram, Snapchat, and WhatsApp attribute much of their achievement to having talented programmers developing their mobile solutions natively for the Android ecosystem. Similarly, major brands like Google, Amazon, Uber, Airbnb, and PayPal rely heavily on their Android teams for continued expansion and success within the digital marketplace. Therefore, embracing the benefits of hiring proficient Android developers opens doors to immense possibilities, both locally and globally.
How do I choose the right Android developer for my organization?
Selecting an appropriate Android developer involves multiple factors, including researching past accomplishments, analyzing portfolios and case studies, reviewing technical capabilities and soft skills, verifying availability and language fluency, negotiating rates and contract terms, checking communication styles and cultural compatibility, and confirming professional references. To streamline the process, consider contacting industry peers, joining online communities, attending relevant events, utilizing job boards and networking platforms, and exploring freelance marketplaces and specialized agencies. Ensure you're matching candidates with your unique needs based on your venture's type of application and complexity. Finding the ideal Android developer requires effort but contributes significantly to your company's growth and prosperity.
What makes Android different from iOS when discussing app development?
While both Android and iOS share common features like touch screens, internet connectivity, camera integration, GPS navigation, and push notifications, they diverge significantly in several aspects. About the operating systems themselves, Android functions on Linux kernel underneath a customizable Java environment compared to Apple's proprietary iOS software running on Darwin, which uses Objective-C or Swift programming languages. Furthermore, Android devices come in various shapes, sizes, configurations, price points, manufacturers, form factors, and distribution channels, whereas iPhones generally maintain consistent hardware and software uniformity. Lastly, Android presents greater openness for customization, allowing for increased personalization options, third-party integrations, alternative stores and payment gateways, and extended device lifespans, although sometimes leading to fragmentation issues requiring version updates or vendor patches. On the flip side, the closed nature of iOS often results in tighter security measures and tighter integration between hardware and software components, producing smoother user experiences overall. Understanding these dissimilarities is critical in determining whether to focus exclusively on one platform over another when building a mobile app.