Ready to do business with us?
Talking about event booking app development, but first, let's talk about the latest event trends happening across the globe. It's 2023 – and life is becoming fast; now and then, several events are happening worldwide and even in your surroundings. As for our routine activities, everything can be managed through apps – events are not behind using app technologies. Companies like CVent began long before the dot com domain bubble burst. Companies are starting to adapt to the modern era due to the fast development of technology. This is the time to invest in event booking app development. 
Organizing a large event is daunting and demands detailed attention to every aspect. Businesses have begun to see the problems and are using technology to provide an improved remedy in the form of an application.
These days, businesses are spending money on event management app development, which allows event planners to contact their attendees. Statista predicts that the Market for event booking apps will expand by $11.6 billion over the next several years. The Market for event-scheduling software development is expected to explode in the coming years.
Using event planning apps effectively increases attendance, enhances the event experience, and minimizes the organizer's workload. According to Mordor Intelligence, the Market for event technology is expected to expand by 10.65% between 2019 and 2025.
In other words, this is the right time for event booking app development, don't think twice. Here, we will explain why you need an event booking app, how to make one, what features it should have, what other successful businesses are doing, etc.
What is an Event Booking App?
The overall concept is to provide a platform where other event organizers may post-event information and reach larger audiences. Businesses such as CVent, Eventbrite, etc., are prominent examples. This strategy benefits event organizers and attendees, and your company model will generate profits.
Before we get into the step-by-step guide for Event Management App Development, let's look at the types of Event Apps in the Market.
Types of Event Apps
There are many different kinds of events to consider when making an event booking app for them, and each has its own specific needs. This means they need specialized software with capabilities tailored to their needs. Below are three examples of event-related mobile applications.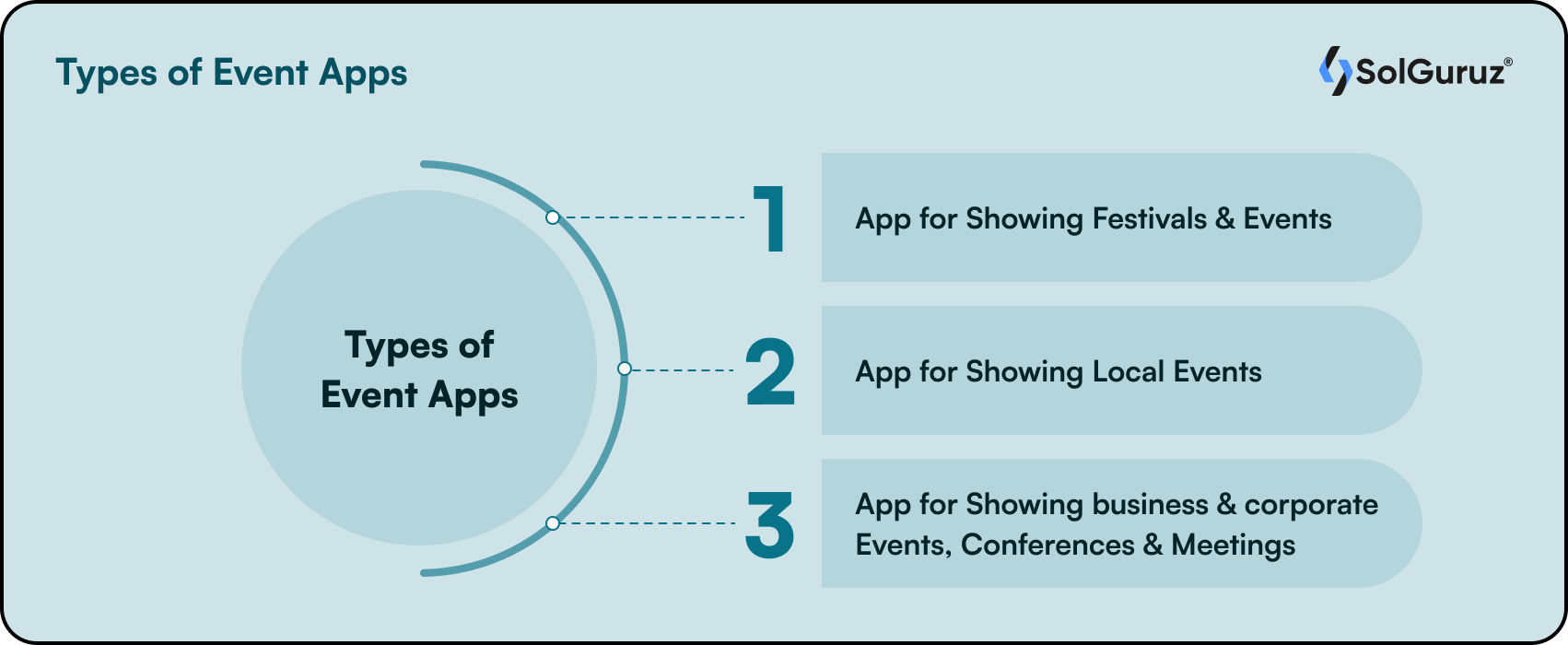 App for Showing Festivals & Events:
In the world, several celebrations occur throughout the year. It is possible to inform users of planned local activities over the holiday season. Anyone may sign up with ease now that all the information is provided.
App for Showing Local Events:
New local events unfold daily in our communities, but how can businesses and their consumers keep up? Companies like Meetup and Eventbrite play a crucial role in this arena. They allow users to look for local events by entering their precise location or browsing categories and facilitating communication between users and others with similar interests.
App for Showing business and corporate Events, Conferences & Meetings
Conferences and corporate gatherings would collapse without event applications. Large-scale events may be easier to plan and arrange with the help of professionals, who can save you time that would otherwise be spent frantically mingling with guests. 
Companies may be targeted by designing event booking applications with specific features.
You can concentrate on just one of these things or develop an event management application that includes all of these different features. Choose the one that works best for you based on the kind of company you run and the customers you want to attract.
How Investing in Event Booking App Development is Beneficial?
Considering the scenario that currently, you have not gone for event management software development – below are some of the issues which you are likely to face:
Your customers getting frustrated in standing in a long queue
Your customers are not able to find the location of the event
You are wasting too much paper, ink, and printing accessories
Not Everyone is aware of all the terms, conditions, rules & regulations
So, investing in event booking app development will provide you with the following advantages: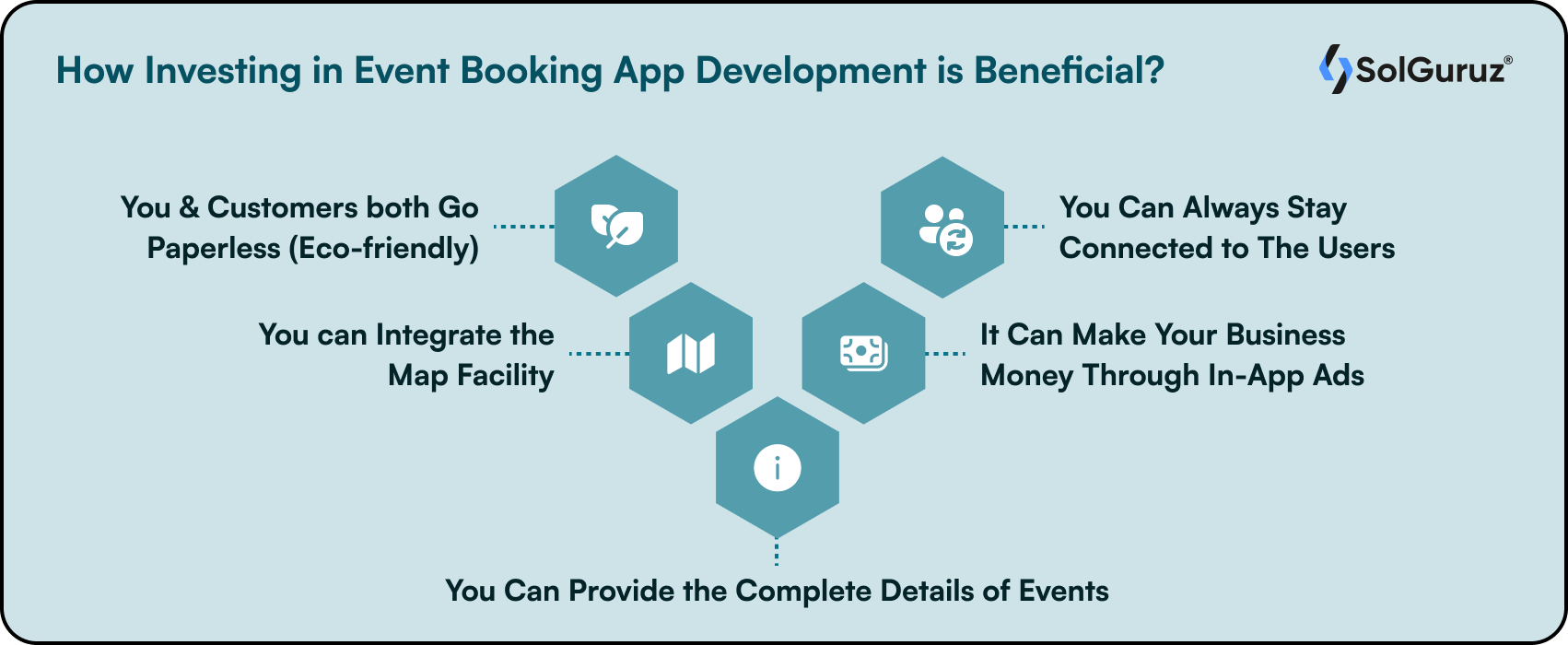 You & Customers both Go Paperless (Eco-friendly)
With event booking application development, you eliminate the need for paper tickets from your users and customers. When customers make reservations, their electronic tickets will be automatically created in the app and sent to their email. 
You can Integrate the Map Facility 
There is a good chance that one may get lost when looking for the spot. But that's no longer the case. When you first begin event booking app development and schedule events, you may include either Google Maps or Apple Maps.
You Can Provide the Complete Details of Events
The event's date, time, whether it's free or not, ticket price (if it's not free), location (with integrated maps for simple transportation), description (including relevant background information), etc., are all available to customers. By providing this information, you will reduce customer inquiries and frustration. This will allow them to make a well-informed choice before purchasing tickets.
It Can Make Your Business Money Through In-App Ads
You may generate income for yourself and others by allowing them to conduct advertising campaigns on your platform for a predetermined fee. Since your app is anticipated to be installed on users' mobile devices for an extended time, third-party companies stand to acquire clients.
You Can Always Stay Connected to The Users 
When you establish your community, you feel a sense of pride and accomplishment. Planning an event, finding individuals interested in attending, and forming a tight-knit group of people with similar interests are all made easier with event booking applications. 
Meetup is a fantastic example of this kind of site. They help unite like-minded people, paving the way for developing tight-knit communities. Make it possible for your event's organizers to maintain contact and develop a group using the medium you provide.

Step-By-Step Guide to Event Booking App Development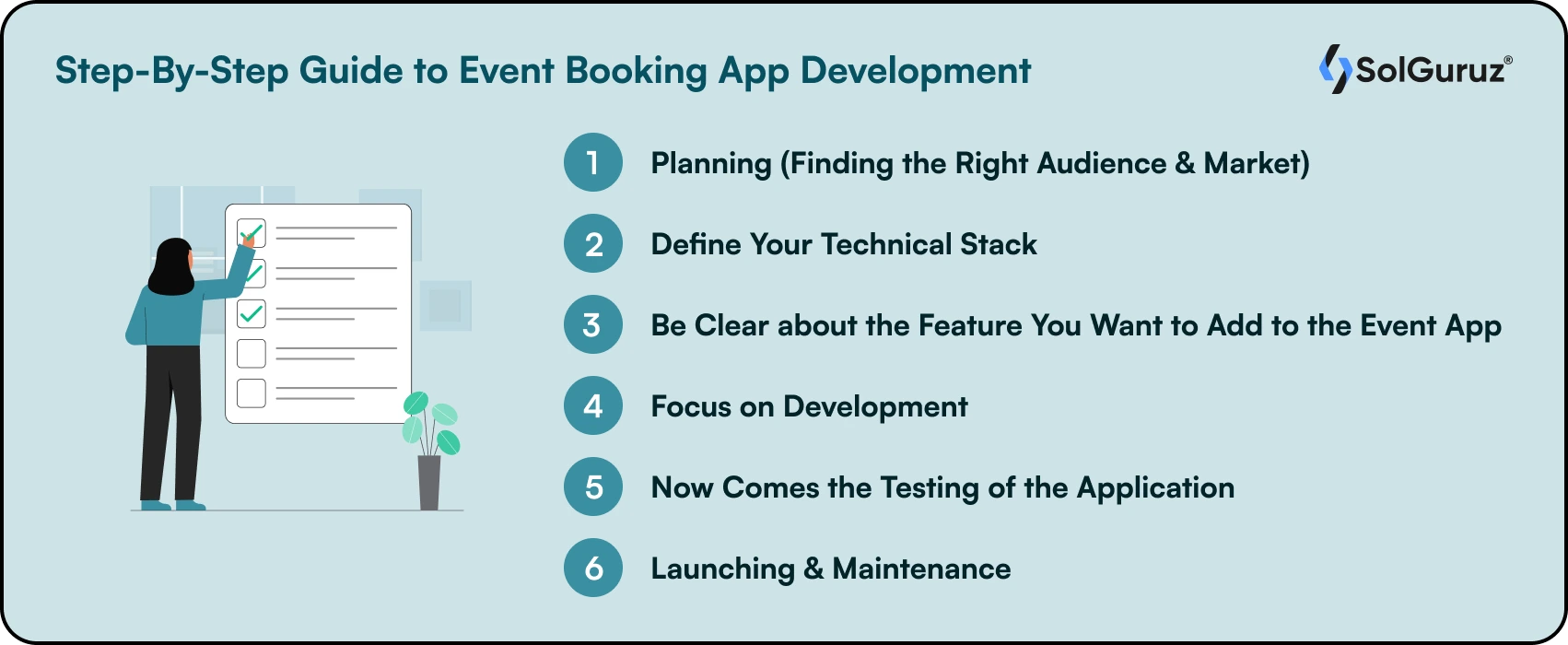 So, are you prepared for event management app development? Here is a step-by-step tutorial on creating an event planning app, how to monetize it, and what to remember at every stage.
Planning (Finding the Right Audience & Market)

It's crucial to have a thorough understanding of the Market of event management software development and the needs of your target audience. 

The first thing you should do when you decide to create an event booking app is to do market research to learn about the needs of the Market, your potential customers' preferences, your rivals' business models, and other useful information.

When you decide on event booking application development, knowing your target demographic is crucial to select which features are best for your consumers. By doing market research, you can zero in on your ideal customer and learn all there is to know about their wants and requirements in the product and the industry.

Define Your Technical Stack 

Thousands of people will use your event booking app. Thus, it must be reliable and available at all times. More availability may be maintained with more robust, secure, and dependable technology stacks. Several kinds of event scheduling programs may be written in various languages. Create the ideal app with the aid of a solid set of technologies.

Cross-platform and native app development are two options for creating your app. Choose a development strategy that best fits your company goals. It is important to weigh the benefits and drawbacks of each development model and determine which is best for your application and target audience before making a final choice.

It's OK if you don't want to hear all the technical language; we get that. If you have any queries about how to design an event booking app, feel free to contact us, and one of our skilled engineers will help you choose the proper technology stack and answer any issues you may have.

Be Clear about the Feature You Want to Add to the Event App:

Features play an important role – be it customers, event management companies, etc.

Features for Customers

User Registration & Profile 
Dashboard
Category and Location-based Events Searching
Event Details
Check-in / Check-out
Event venue virtual tour
Booking Details
Networking – Community & Groups of like minded people
Networking – Chat/Calls with the like minded people
Uploading photos/videos of the events
In-app Secure Payment
Wallet Management
Navigation

Features for Event Management Companies

Event Manager Profile
Add/Update Event Detail
Register/Update Event Locations
Configure Cost and Cancellation Policy
Instant Booking

Focus on Development

As soon as you've settled on the team building your event booking app, start sketching some wireframes. Every function and operation of the app must be clear and simple to use, and the app itself must have a clear purpose.

A prototype's development time is proportional to the amount of thought given to the final product's specifications. Investigate the marketplace by taking notes on the strategies of the leading rivals.

Throughout the globe, businesses are beginning to see the transformative potential of design. Take Google's new Material You UI (Android 12) as an example; consumers respond positively to firms that provide uncluttered designs. 

Now Comes the Testing of the Application 

After the event planning app development, A necessary step, application testing, might help you save money if performed early in the app development process. A mobile app's QA team must also evaluate its functionality, user interface, compatibility, security, and performance.

The quality assurance team tests the app's features and procedures for bugs. If issues are discovered, the program is sent back to its creators so they may be fixed.

Launching & Maintenance 

Although the app is complete, you should review app stores' rules to approve and inspect mobile applications.

Your event organizer app for booking events, free of bugs, may be distributed on critical platforms such as Google Play and the App Store.

Even after an app has been released, it will continue to undergo development in the form of updates and bug patches that will improve its performance.
Wrap Up
Selecting the correct event management app development company for your app concept is a key step. Yet, many individuals hurry through it without much consideration.
When you choose an event booking app development company, you select someone who will oversee the technical development and execution of your app.
You want to ensure that this agency has the talents and expertise required to develop the kind of product you have in mind—or even better. You may enter this new industry with the support of event management app development companies, which can help you create a successful product. 
SolGuruz is the place to go if you are looking for a technical collaborator. Contact us Now to get a free consultation!
FAQs
How does an event booking system work?
Users can make online reservations using the booking system. The following is a rundown of the many phases involved in the functioning of a booking app: 1) Users either register with your booking app or check in using it. 2) Customers may examine the available times for their desired events on a calendar after entering them into their accounts. 3) The user confirms the booking by providing the required information after first picking the service to be reserved and the time of day that is most convenient for them. 4) After that, the customer pays for the ordered service and gets a booking confirmation.
Can Users Share & Like Events?
Indeed, platforms like Idea Usher make it possible for attendees to let their social networks know how enthusiastic they are about a certain event.
What are the key features of event booking apps?
Here is the list of features that are a must for an event booking app: 1) Social sign up-login 2) Event feeds 3) Booking 4) confirmation screen 5) Push notifications 6) In-app navigation 7) Real-time analytics 8) QR/barcode scanner 9) In-app chat 10) Reviews and feedbacks.